Today I want to share with you the stunning fall cake – apple layer cake with whiskey almond cream. Made with layers of light and airy sponge cake, light whiskey scented cream and an aromatic apple filling! This can be a Thanksgiving apple layer cake, a special occasion layer cake or a cake to celebrate the most flavorful season – autumn. One thing for sure – this cake steals the show!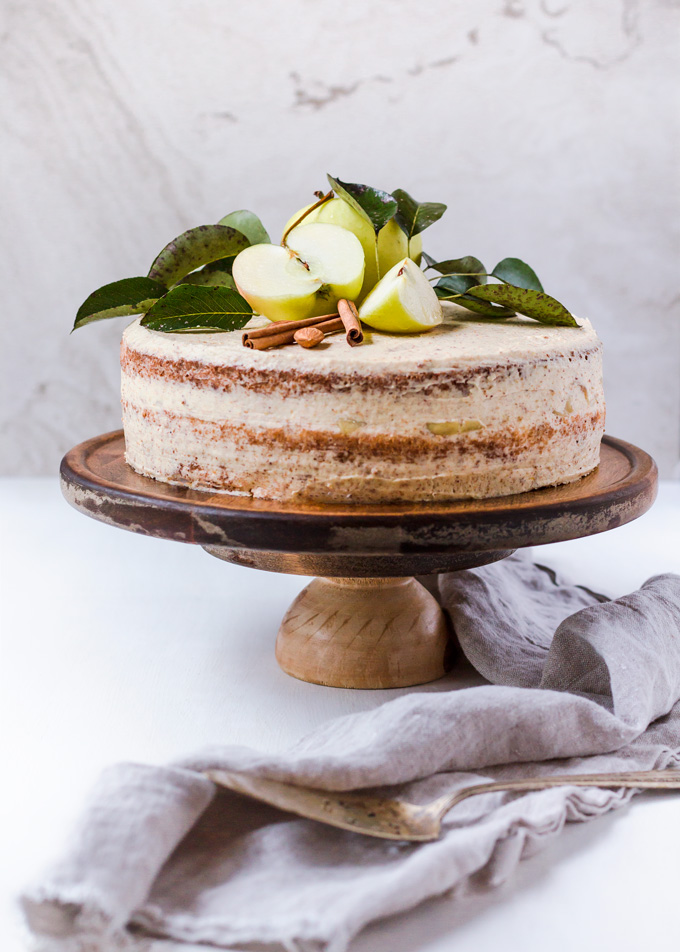 My love for apples pushed me to create the unique recipe that differs from others and showcases the beauty of the fall season. Layer cakes are something we all love but rarely make.  Too many dishes, too complicated, too time-consuming. Easier to go to the store and buy one. It sure does. But most of the bakeries sell the heavy butter cakes. And only few make seasonal cakes.
My challenge was to create the moist apple layer cake and make it as light as possible. The lighter but moist and flavorful apple and almond layer cake recipe mission is complete. And I'm thrilled to share it with you.
As much as I hate to use the word best but this is the best apple layer cake I have ever made and ate!
The light and airy sponge layers soaked with barely sweet whiskey syrup. The delicate lighter buttercream scented with roasted almonds and whiskey. And my favorite part soft and tender cinnamon infused apple filling. All the layers are meant to be together. The pinch of cinnamon in apple filling, the tablespoon of whiskey here and there, the scent and flavor of roasted nuts in layers and in cream. All the flavors are well balanced and create the true fall apple layer cake.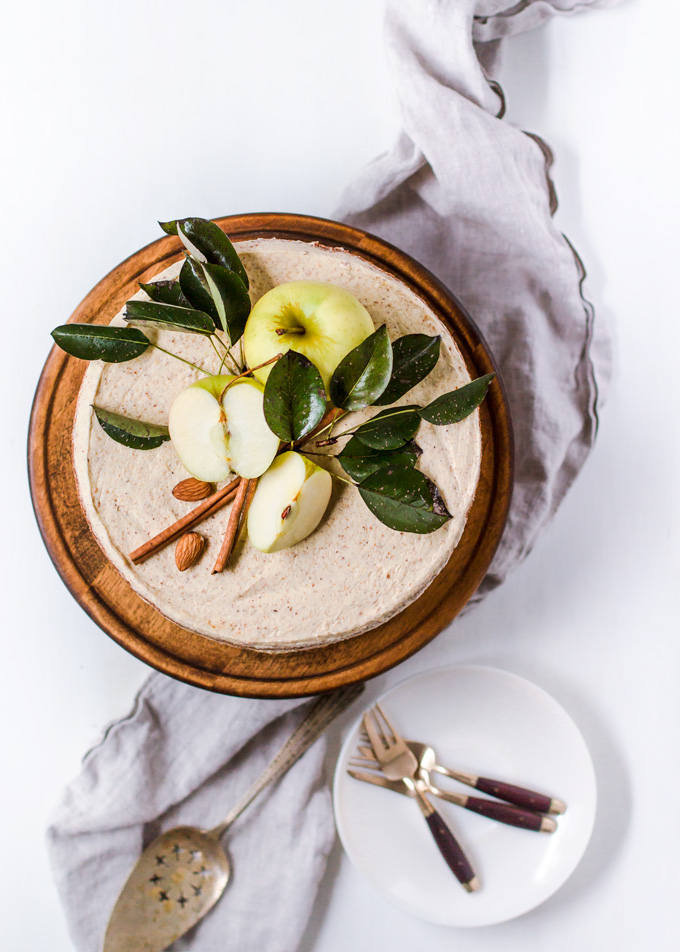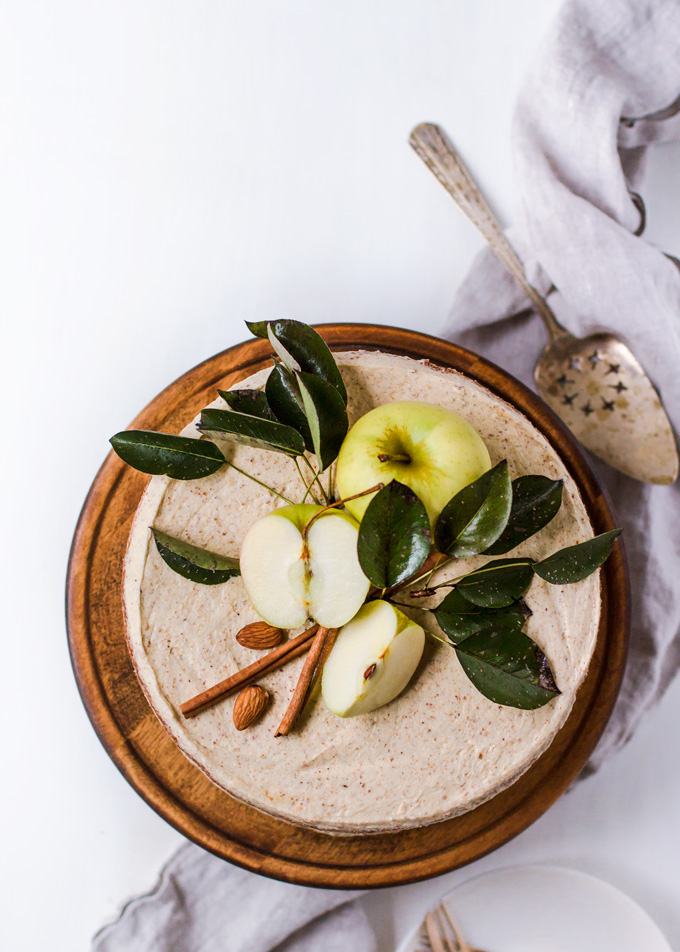 The best part you can enjoy it without any guilt. The whole recipe calls for little more than 2 sticks of butter for a 9-inch cake! Most of the butter goes into the frosting.
Instead of heavy butter cake, I chose the genoise. This is a sort of sponge cake but with much less butter. It is delicious, light and universal. You only need a one 9 inch pan for it, and the recipe I share is foolproof. Every time it yields the stunning tall and crumbly genoise.
And please, don't be scared about the lengthy recipe. I wanted to explain every step thoroughly, to make sure you succeed. Overall it is not that hard to make it if you plan well.
When you making a complex, layered cake planning is crucial. Here is the time-saving plan for this multi layer apple cake.
Genoise cake.
Egg yolks mixture.
While Egg yolks mixture is cooling make an apple filling.
While apples are cooking make simple syrup.
Finish the
Assemble the cake.
The toughest part – put it in the fridge and stay away from it for at least a couple of hours!
By following this plan you save the time, all your mixtures should cool down to proper temperatures, and you will end up with fewer dishes to clean.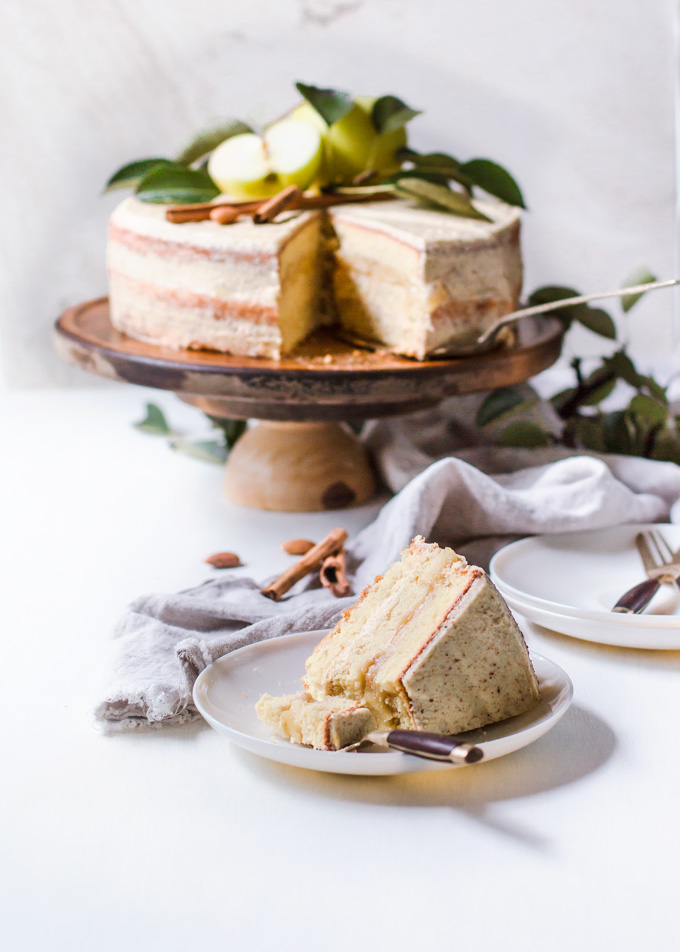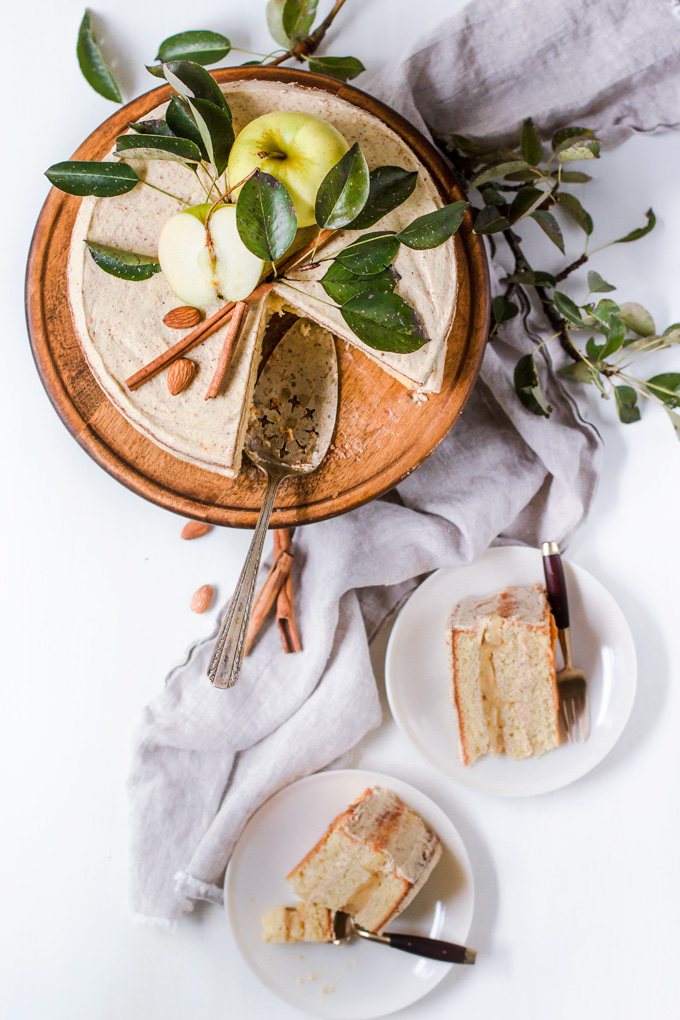 Writing the post about this apple layer sponge cake and knowing I have the slice in the fridge is the hardest today's thing. Now if you excuse me, I have the unfinished cake business to do. Freshly brewed coffee is poured, the cake slice is at room temperature, rainy day is on… This is the day when I genuinely appreciate food blogging!
Happy Baking 😉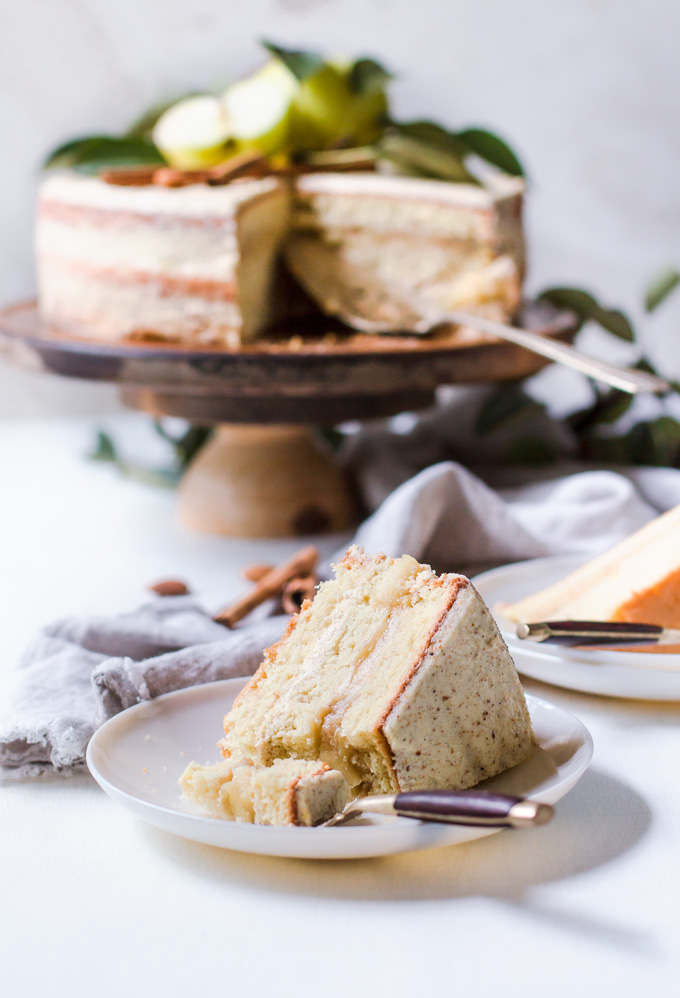 Apple Layer Cake Recipe Tips and Tricks:
Eggs for the batter should be room temperature.
Melted butter should not be hot.
Usually, it is recommended to make genoise cake one day ahead. I made the same day and a day ahead and did not notice any difference. Although making a day ahead saves some time. Make the genoise in the evening and in the morning finish the cake. Other than that start the recipe with the cake, so it has the time to cool down.
Folding technique is something every baker should learn. This How to Fold Cake Batter video is pretty good tutorial.
The egg yolks mixture should cool down completely. If the temperature is too high, it will melt the butter. So make sure they are the same room temperature before incorporating them together.
Pay attention to all temperature notes in the recipe.
Bourbon, whiskey, cognac don't really matter. Quality does. Use what you love or prefer.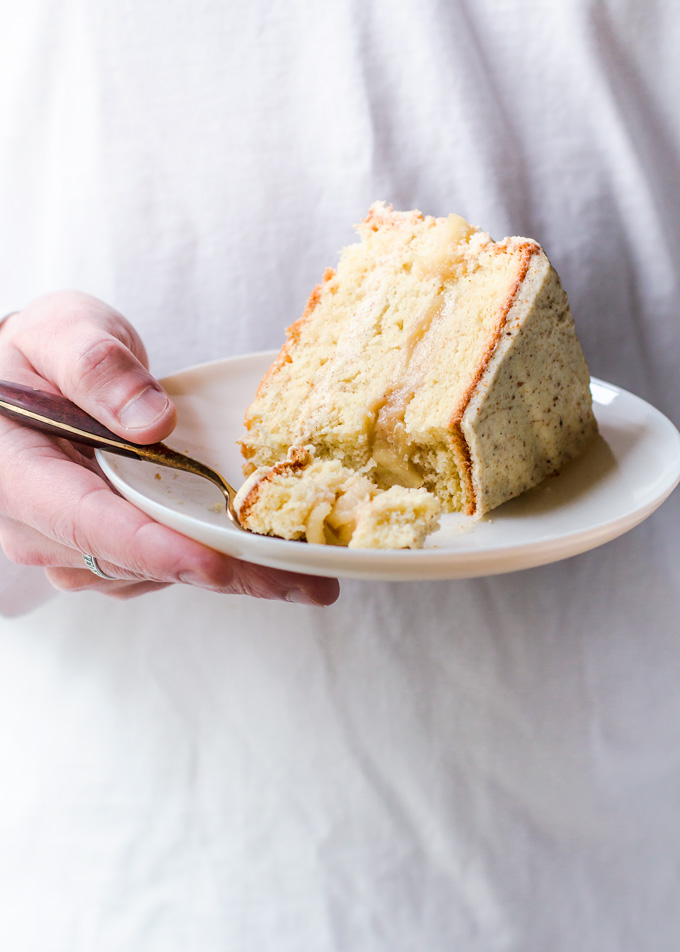 If you make this recipe, please share your picture with me by tagging it #thepuretaste on Instagram. Or share your results in the comment section down below. It means a whole world to me knowing someone is making my recipes.
Thank you for sharing and support ❤️❤️❤️
Maria
Yields: 9 inch cake
Lighter Apple Layer Cake with Whiskey Almond Cream
Lighter apple layer cake with whiskey almond frosting
1 hr, 15 Prep Time
1 hr, 15 Cook Time
2 hr, 30 Total Time
Ingredients:
For the genoise (sponge) cake:

1/3 cup (35 gr) almond flour
¾ cup (100 gr) all-purpose flour
¼ cup + 3 tablespoons (45 gr) cornstarch
3 ½ tablespoons (45 gr) unsalted butter, melted
6 large eggs
¾ cup + 2 tablespoons (180 gr) granulated sugar, divided

For the frosting:

4 large egg yolks
¾ cup (150 gr) granulated sugar
150 ml. whole milk
1 vanilla bean
¼ cup almond flour
14 tablespoons (200 gr) unsalted butter, room temperature
1 tablespoon whiskey or cognac

For the syrup:

¼ cup (50 gr) granulated sugar
130 ml water
1 tablespoon whiskey or cognac

For the apple filling:

1 ½ tablespoons unsalted butter
3 medium apples, washed, peeled, cored and thinly sliced
2 tablespoons brown sugar
¼ teaspoon ground cinnamon
1 tablespoon cornstarch
2 tablespoons water
1 tablespoon whiskey or cognac
Instructions:
To make the sponge cake:
Preheat oven to 385 F. Line a 9-inch springform with parchment paper. Lightly butter the sides. Set aside.
Spread almond flour evenly in the frying pan. Heat over medium heat and pan fry it until golden brown color. Remove immediately and transfer to a dry ingredients bowl. Let it cool and then add flour and cornstarch. Whisk everything together. Prepare the sifter.
In the same frying pan melt butter and set aside.
Separate egg whites and egg yolks into two different bowls. With an electric mixer beat egg whites on medium speed until tripled in volume and small bubbles forms throughout. Continued beating and slowly start adding half of the sugar, in 3 additions. Beat until the stiff peaks. Set aside.
Add rest of the sugar to egg yolks. Beat on medium speed until tripled in volume, thick and very pale color, about 3 minutes.
Add egg yolk mixture to egg whites and with mixer running on low mix them together.
Sift the dry ingredients over egg mixture. Fold with a large spatula just until incorporated. Stop when you no longer see the flour pockets.
Around the edge gently pour melted butter. Fold couple more times until everything comes together.
Pour the batter into prepared pan and bake in the middle of the oven for 30 minutes. Do not open the oven until the cake is done. The cake should be golden brown color and springy. Transfer the pan to a cooling rack. Let cool for about 20 minutes. Run a knife around the edge. Remove the cake and leave it to cool further on a rack.
To make the frosting:
Set a fine mesh strainer over a medium bowl, set aside.
In a medium saucepan combine egg yolks, milk, vanilla bean seeds, and a pod. Whisk everything together. Bring to a boil over medium heat whisking constantly. Keep whisking until thickens, about 2 minutes. Using a spatula strain the mixture into the bowl. Discard vanilla pod. Cover with plastic wrap and let it cool completely. Whisk the mixture from time to time.
Spread almond flour evenly in the frying pan. Heat over medium heat and pan fry it until golden brown color. Remove immediately and transfer to a dry ingredients bowl you used for a batter.
In a medium bowl beat butter on medium speed until light and fluffy, about 3 minutes. Start adding the cooled egg yolks mixture in 3 additions, beating well after each addition. At the end add whiskey and almond flour. Beat for an additional minute and the cream is done.
To make the syrup:
In a small saucepan combine sugar and water. Bring to a foil boil and cook until sugar dissolves. Remove from heat. Let it cool slightly and then add whiskey.
To make the apple filling:
In a large frying pan melt butter over medium heat. Add apples, brown sugar and cinnamon. Cook until soft and tender. In a small bowl whisk cornstarch and water. When apples are cooked, add cornstarch mixture to a pan. Keep cooking until thickens, about 1 minute. At the end add whiskey. Give it a final stir and remove it from heat. Let cool to room temperature.
To assemble the cake:
Cut the sponge cake into three equal layers. Place the top layer upside down on a serving plate. Brush it with the syrup. Dollop half of the frosting and spread it evenly. Place the middle layer on top and brush with syrup. Spread the apple filling evenly. The third layer is the bottom of the cake. Brush the cut side and place the cut side on top of the apple filling. Basically, you are assembling the cake backwards, and the bottom of the cake should be on top. Spread rest of the frosting on top and sides of the cake. Even out with offset spatula. Decorate any way you like it. Mine was simple: small apples, apple leaves, cinnamon sticks, and almonds.
Let all the layers develop overnight.
When ready to serve, bring to room temperature.
Can be refrigerated up to 4 days.
Enjoy!
Notes:
Total time does not include cooling time. Please, plan accordingly.
7.8.1.2
59
https://thepuretaste.com/apple-layer-cake-with-whiskey-almond-cream/
Disclosure: This post contains affiliate links, which collects some cookies.  If you purchase a product through one of my links, I will earn a small commission at no extra cost to you. I only recommend products that I use and love myself. Thank you in advance for your support! It means a lot!
Products used in this post: