Mouthwatering tres leches cake recipe just in time for Cinco de Mayo. In this post, you will learn how to make a tres leches cake with coconut flakes to celebrate Mexican-American culture. This is a lighter version with reduced sugar for full and guilt-free enjoyment.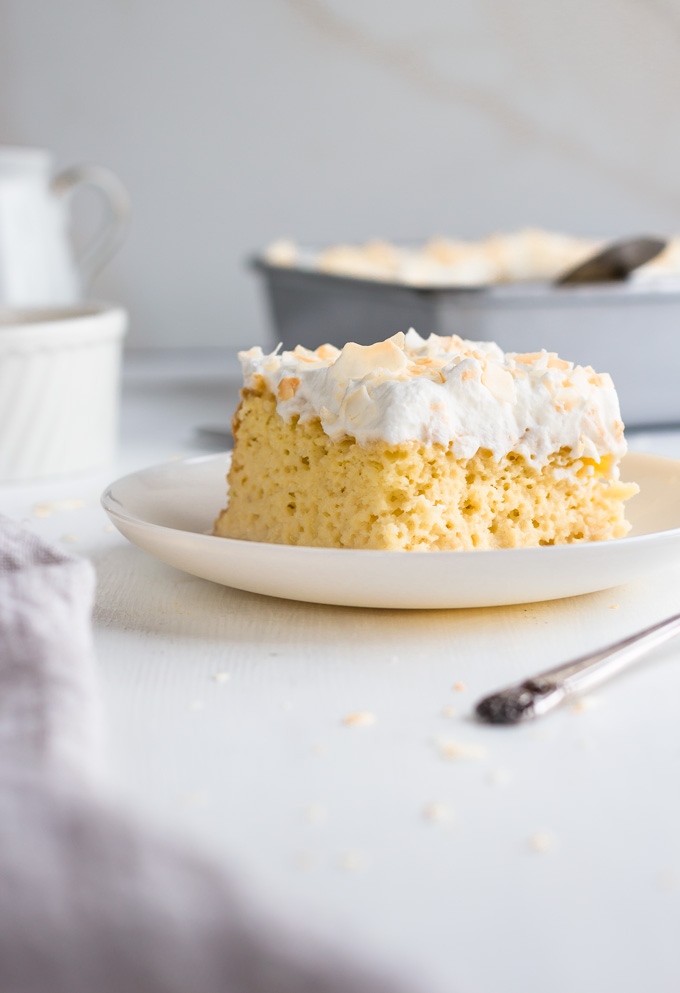 Have you planned Cinco de Mayo menu yet? Because I have a great dessert option for you: Tres Leches cake with whipped cream and toasted coconut flakes! It is easy to make and does not require specific skills like flan or churros. Tres Leches is a simple sponge cake soaked in a combination of different kinds of milk and topped either with the meringue or whipped cream. Despite the soaking and cooling time you only need about 20 minutes of active time. For the rest of the time soaking does magic with this cake.
A lot of tres leches cake recipes I found are loaded with sugar. The first tres leches cake I made was overly sweet. I cut some sugar from the sponge cake and omitted it in whipped cream. The result is well-balanced cake and soaking mixture where unsweetened whipped cream evens out and balances the sugar lever. I was so proud when modified tres leches cake recipe turned out better then original!
After all adjustments, I'm confident to say this is the best tres leches cake recipe I have ever made. Plus, lighter version brings peace of mind to me. Now I can enjoy this pillowy soft and fragrant cake without extra guilt. Because once it's on your plate, it is impossible to resist eating it.
The cake just melts in your mouth. Piece by piece it is magically disappearing from a pan… That is why in the recipe I say: "Can be refrigerated for up to three days." This is a usual time for us to finish it. For that reason, I can't say if this cake CAN and WILL last longer in your fridge  😉
The melt in your mouth secret lies in texture. The sponge cake itself is airy and soft. And when you soak it in the right combination of milk, the cake becomes even more fluffy and silky.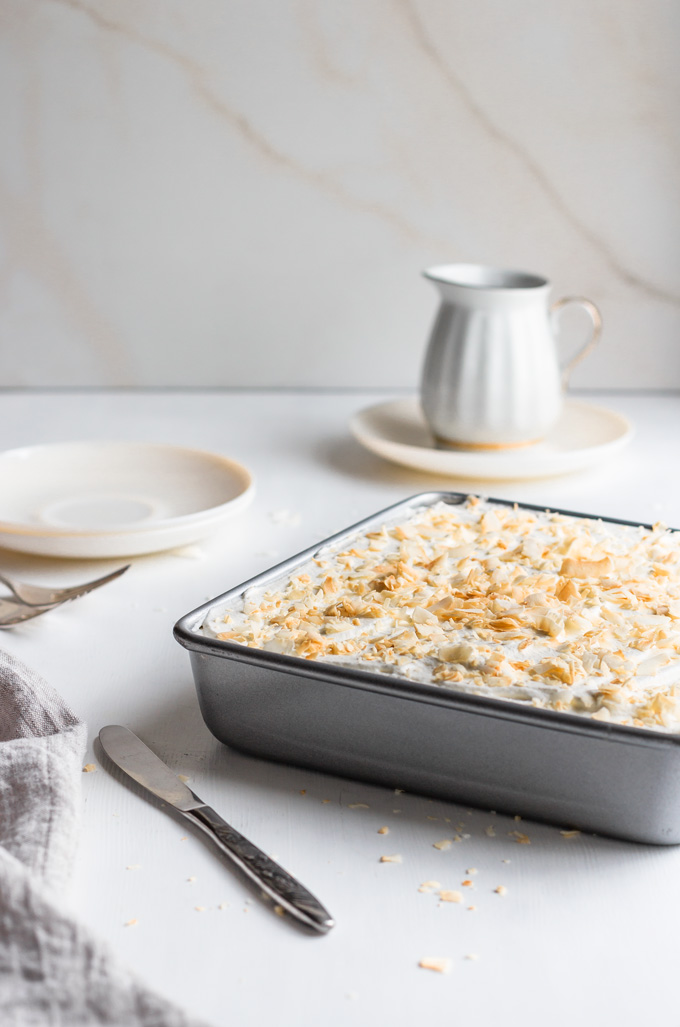 I like to use the combo of condensed and evaporated milk. This combination reminds a slightly burned caramel flavor. Now top the soaked fragrant cake with pillowy whipped cream. Finish with freshly toasted coconut flakes. And there you have an irresistible tres leches cake to enjoy! No wonder this cake became widely popular throughout Latin America after nestle printed a recipe on condensed milk!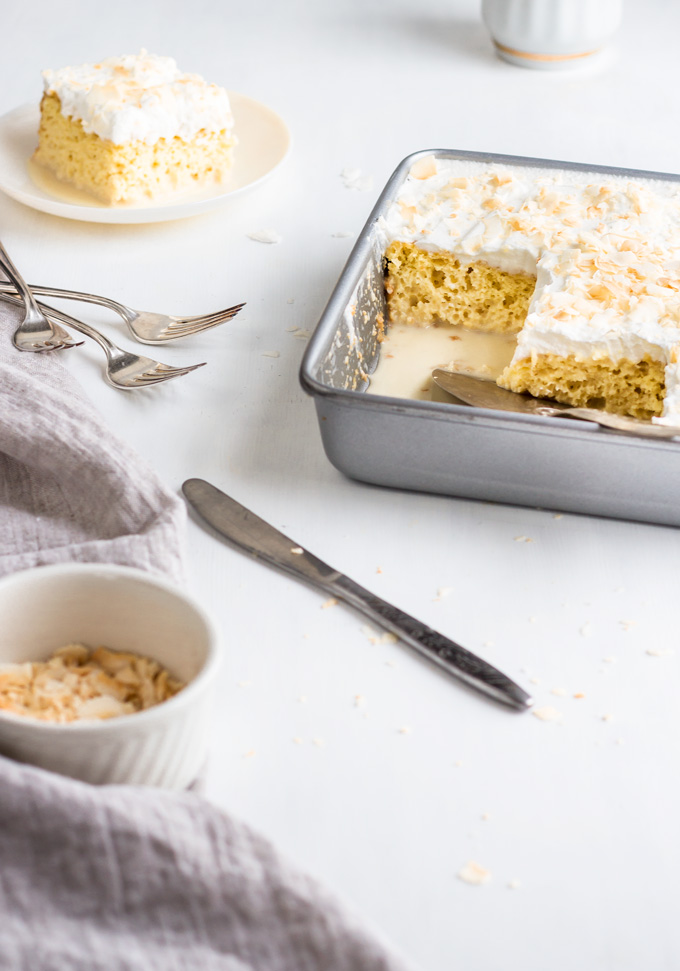 Cinco de Mayo is the best time to make tres leches cake. But don't limit it just for a holiday. It's a simple dessert to make any day or for any occasion. First time I made wasn't on Cinco de Mayo. But for sure it was a good day!
Enjoy and Happy Baking!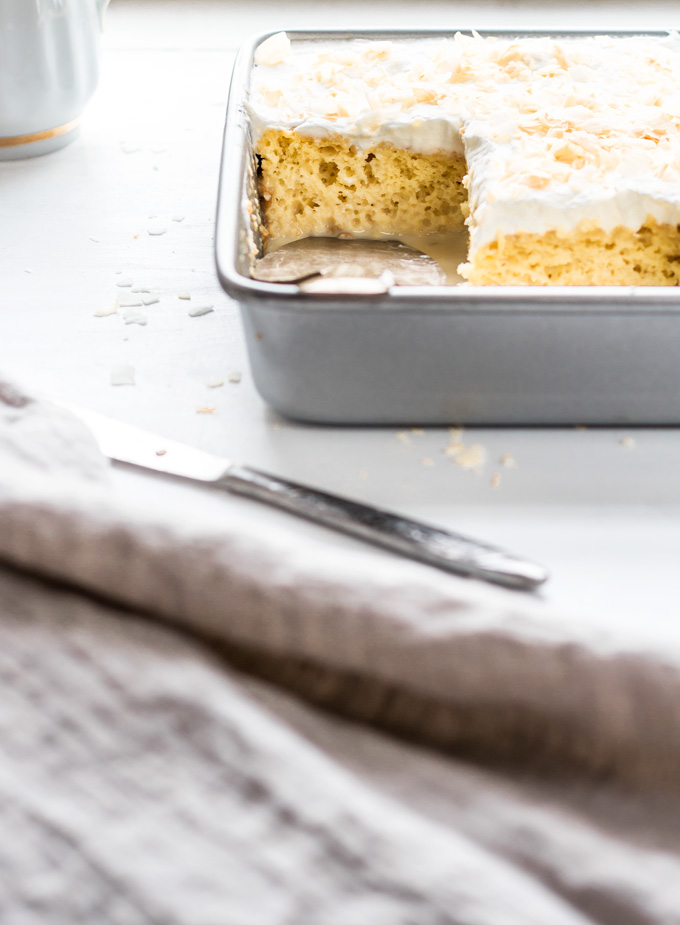 Tips and Tricks for Tres Leches Cake:
You can make this cake a day ahead. Soak it, wrap it and put in the refrigerator for the flavors to develop.
You can substitute vanilla extract for dark rum. Equally delicious!
I usually pour off any excess of the milk mixture (after soaking step) to prevent it from being too soggy.
This cake MUST be refrigerated. Wrap it tightly with plastic wrap and refrigerate up to three days.
Other Cinco de Mayo Recipes: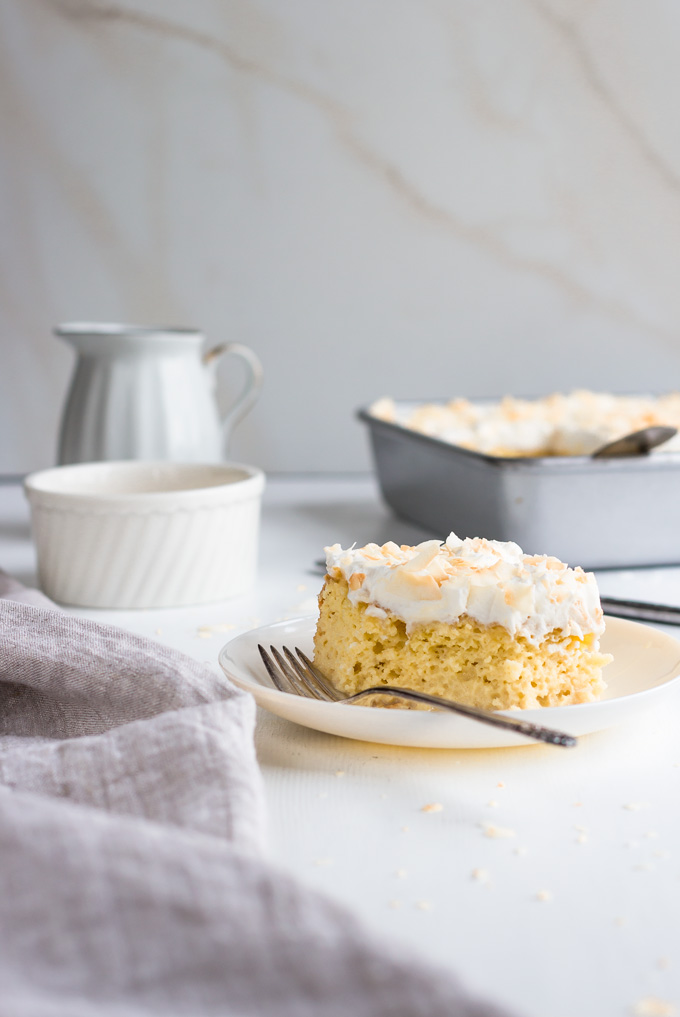 If you make this recipe, please share your picture with me by tagging it #thepuretaste on Instagram. Or share your results in the comment section down below. It means a whole world to me knowing someone is making my recipes.
Thank you for sharing and support ❤️❤️❤️
Maria
Yields: 9x9 inch square pan
Luscious Tres Leches Cake With Coconut (Lighter Version)
20 minPrep Time
40 minCook Time
1 hrTotal Time
Ingredients:
1 tsp. unsalted butter for greasing
1 cup all-purpose flour
1 tbsp. baking powder
½ tsp. salt
4 large eggs, separated
¾ cup sugar
¼ cup whole milk
1 (14 oz.) can sweetened condensed milk
1 (12 oz.) can evaporated milk
1 teaspoon vanilla extract
1 cup heavy cream
1/3 cup unsweetened coconut flakes
Instructions:
Preheat oven to 325 F. Grease 9x9 inch square cake pan and set aside.
In a medium bowl using a hand-held mixer on medium-high speed beat egg whites until soft peaks form, about 2 minutes.
In a large bowl beat egg yolks with sugar on medium-high speed until light and fluffy, about 3 minutes. Slowly add milk continuing beating on low speed. Sift flour, baking powder, and salt over the egg yolk mixture. Beat until just incorporated.
Using a rubber spatula gently fold egg whites until no white streaks remain.
Pour the batter into the prepared pan. Bake in the middle of the oven for 35-40 minutes until light golden color and a clean toothpick. Do not open the oven while it's baking.
Transfer the pan to a cooling rack and let cool completely, about 2 hours.
When cake is thoroughly cooled, gently poke it with a toothpick all over the cake.
In a medium bowl whisk together condensed milk, evaporated milk and vanilla extract. Slowly spread the mixture evenly over the cake allowing to fully absorbing it. Let it soak for about 2 hours.
Meanwhile, preheat oven to 350 F. Spread coconut flakes on a cookie sheet and roast for about 4 minutes stirring halfway through. Remove and let cool completely.
Pour off any excess milk from the cake to prevent it from being too soggy.
In a medium bowl on medium-high speed beat the whipping cream until soft peak forms.
Dollop whipped cream on top of the cake and sprinkle with toasted coconut flakes.
Serve and enjoy!
Cake can be refrigerated up to three days. Before serving let it come to room temperature.
Adapted from Food & Wine Best New Chefs All-Star Cookbook
Notes:
Total Time does not include cooling and soaking time (about 4 hours)
7.8.1.2
40
https://thepuretaste.com/tres-leches-cake/
Disclosure: This post contains some affiliate links.  If you purchase a product through one of my links, I will earn a small commission at no extra cost to you. I only recommend products that I use and love myself. Thank you in advance for your support! It means a lot!
Products used in this post: