In this post you'll learn how to make low cal margarita mix and classic margarita recipe. Hopefully, after reading this post, you will never again buy the bottled margarita mix full of sugar, food coloring, and other nasty stuff. Instead will always have a fragrant, delicious sour mix to make simple margarita cocktail anytime you want.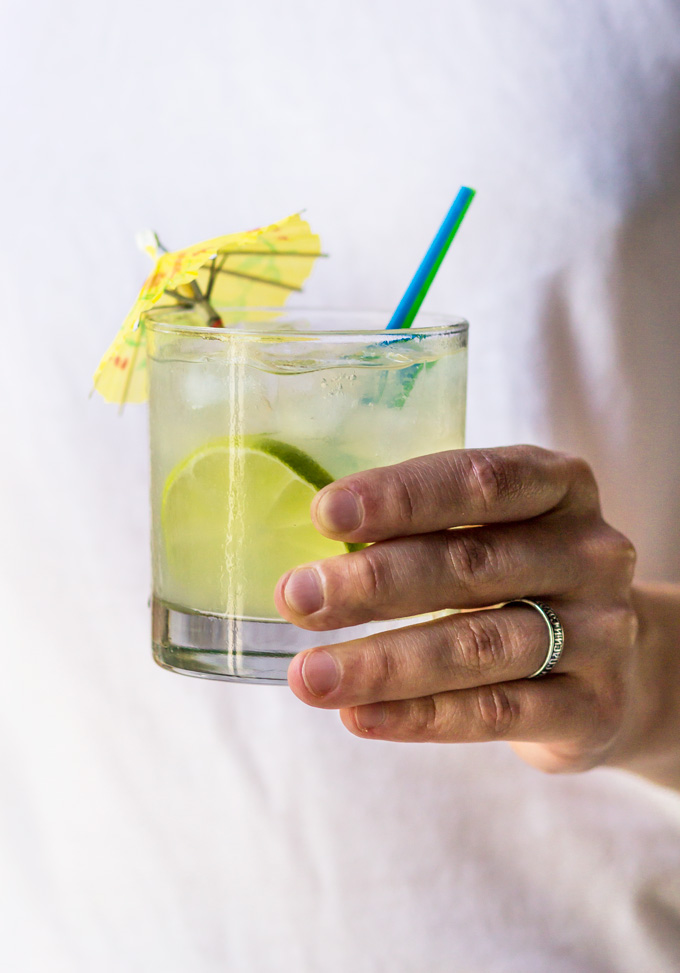 Cinco de Maya is almost here. What people usually have on Cinco de Mayo? Lots of Margaritas and I'm no exception to it. The first time I tried classic Margarita I immediately fell in love with it. So today I want to share with you both recipe for margarita mix and a classic margarita recipe.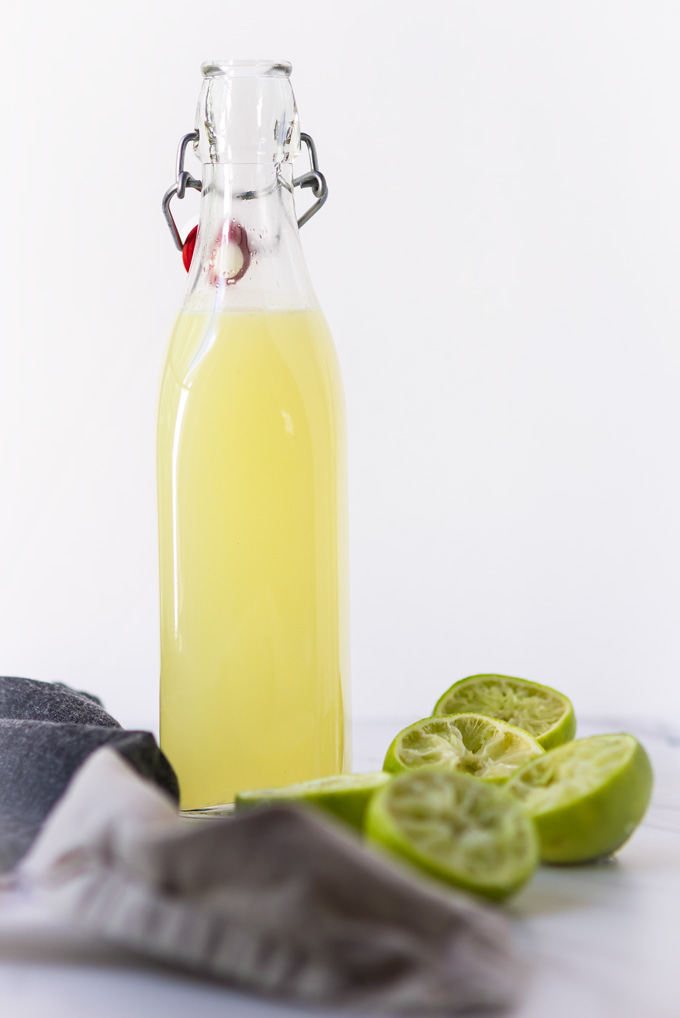 Why should you bother making a homemade margarita mix?
Because above all it is MUCH healthier than store-bought mixes.
Next time you go shopping read the label of most popular margarita sour mixes. Usually, the first ingredient is SUGAR. Then producers typically don't care much about limes & lemons quality, so don't expect it to be super flavorful. But do expect additional artificial flavors and food colorings in the ingredients list. As well as some preservatives which are unnecessary there because of the acidity of citrus.
In a homemade mix you can add as less sugar as you want. Make it a low calorie, low sugar sour mix to make it even more pleasant to drink.
The next reason is how simple it is to make. Scroll down to a recipe and see how short it is. All you need to do is juice the limes and lemons and mix everything. With a tiny effort you have three cups of fresh, crisp and flavorful sour mix to make best margarita cocktail.
And last but not least reason is the freshness and fragrance of your sour mix. Great ingredients are what make finest Margaritas.  Use the best ingredients and your margaritas will taste like expensive Mexican restaurants' ones.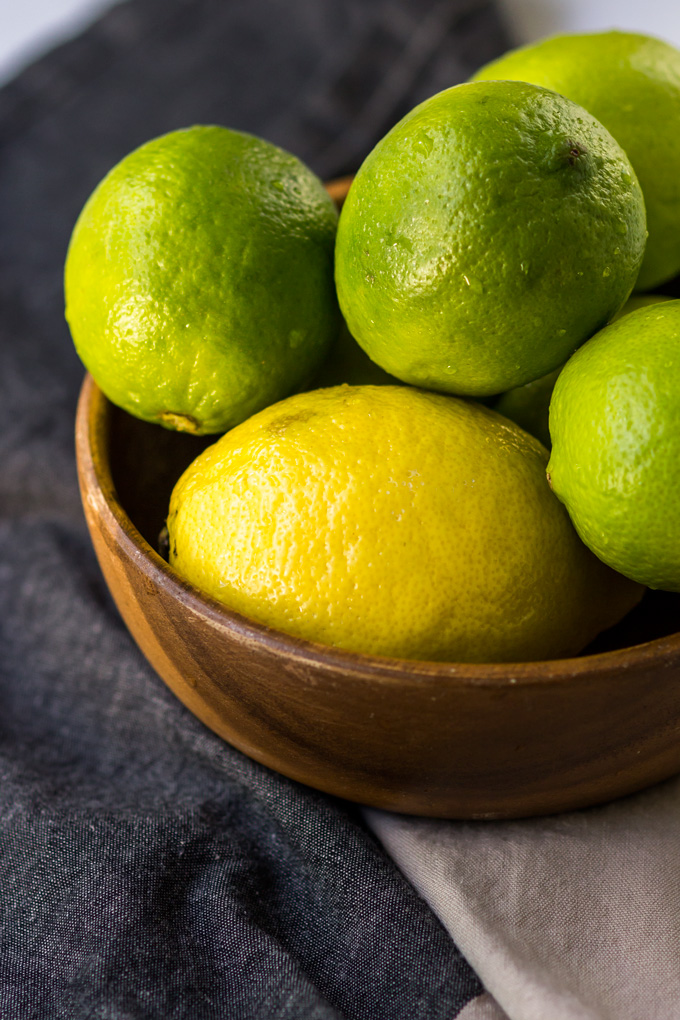 If you want fresh, crisp, citrus aromas and taste, then go with organic limes and lemons.
You will have the best sweet and sour mix using organic produce. I usually don't care about organic limes and lemons, but for Margaritas, it makes a difference. First, they are more fragrant. Second, when you use lemon squeezer, you are extracting the essential oils from the skin. All pesticides and other harmful stuff live on the surface of the produce. That is why I go the extra mile for margarita mix ingredients. Plus, the price for a bag of organic limes and lemons at Costco is very low.
Now let's talk a little about tequila and how to choose the right one for Margarita cocktail.
There are four tequila categories to choose from:
Silver (Blanco) – clear and ungagged tequila. Has an intense agave flavor. This is my choice for every day margaritas.
Gold – usually ungagged tequila with added caramel coloring. The higher end brands blend silver and reposado to make Gold tequila. I usually don't buy this one because for me it doesn't make any sense.
Reposado – aged from two to eleven months. Has a golden hue, gentle flavors of agave and wood. Good for upscale margaritas or enjoy as it is.
Añejo – aged from 1-3 years. Has a beautiful amber color and smooth complex flavor. Do not use it for Margaritas. It is best to enjoy it straight.
As you can see to make classic, straightforward margarita, you don't need fancy tequila. Silver will do fine. However, if you want a more complex margarita then go with Reposado.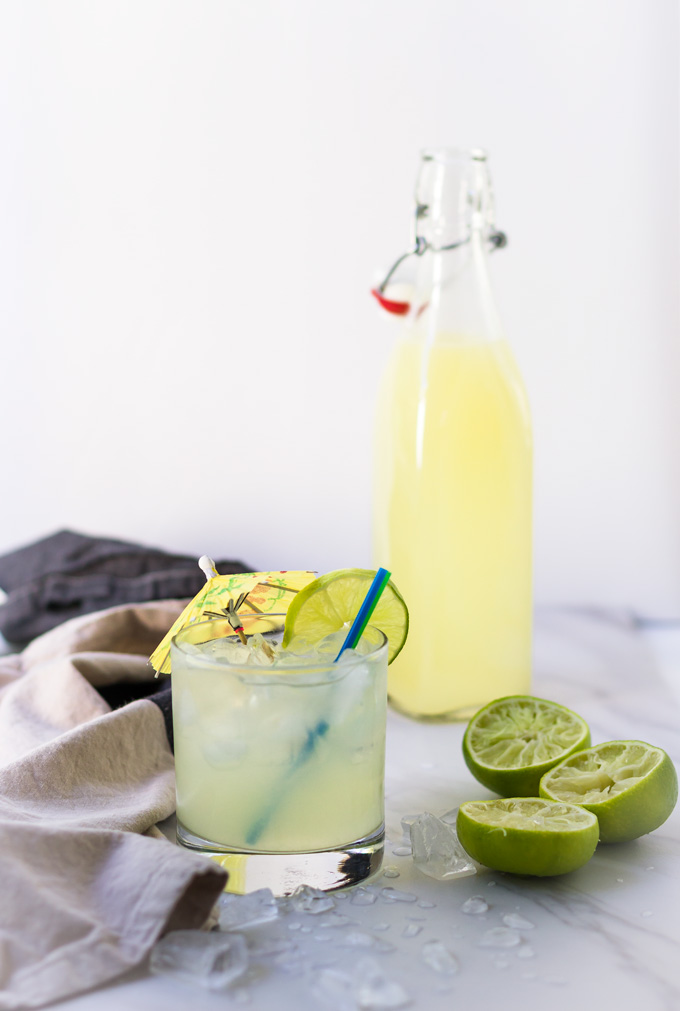 Alright, now you know how to make sweet and sour homemade margarita mix recipe and a classic margarita. Hopefully, from now on, you will never buy a store-bought mix again. Instead will use this fresh, crisp and fragrant sour mix for all your margaritas.
If you have any questions, comments or add-ons, please feel free to use comment section down below.
Have fun making and enjoying it.
Cheers!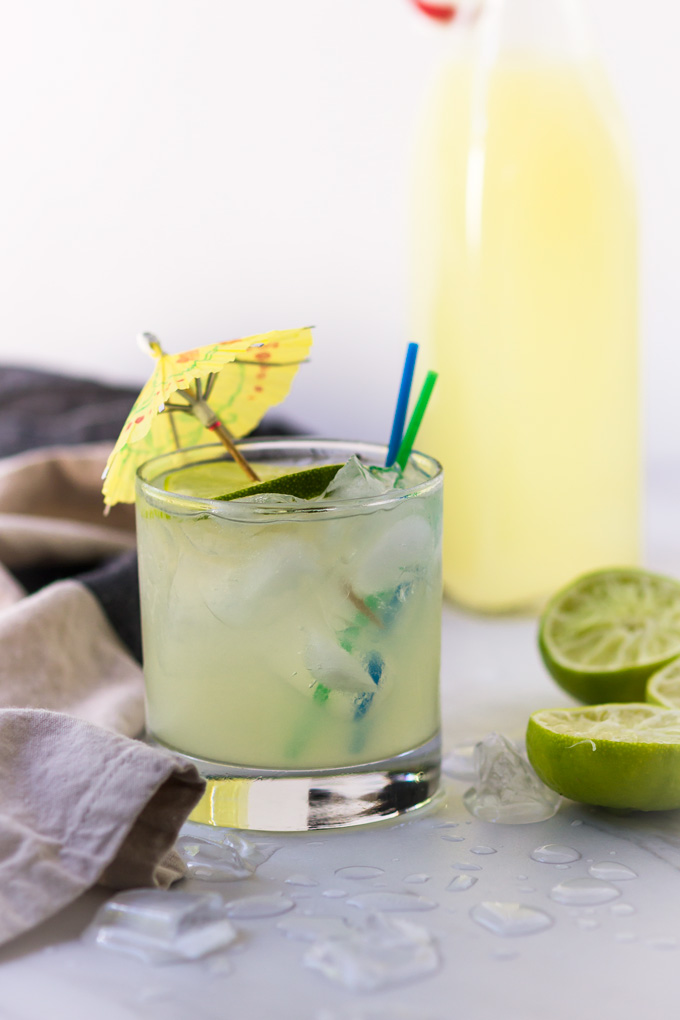 Tips and Tricks for Margarita Mix And Classic Margarita:
Remember a great Margarita starts with the high-quality Use the best tequila and triple sec you can find.
Organic lemons and limes are preferable. I buy a bag of each from Costco.
In the margarita sour mix, you may reduce or increase sugar amount. It all depends how sweet you like your Margaritas.
I usually skip salting the rim of the glass step. I only do it for guests or on special occasions.
To avoid plastic contamination and to make our planet greener I recommend glass bottle or jar to store homemade margarita mix.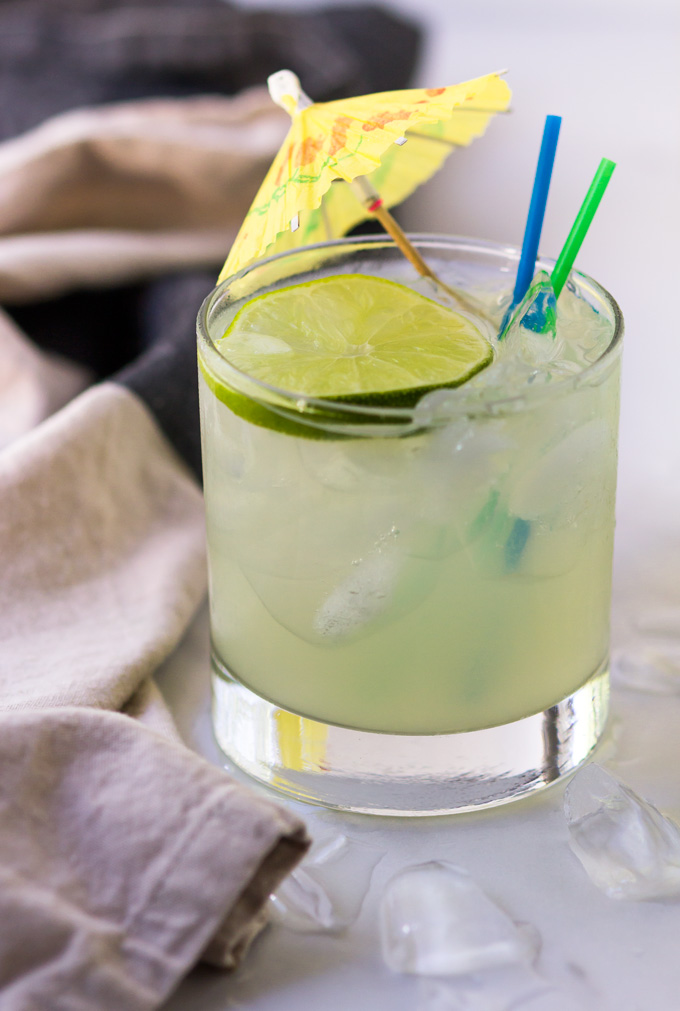 If you make this recipe, please share your picture with me by tagging it #thepuretaste on Instagram. Or share your results in the comment section down below. It means a whole world to me knowing someone is making my recipes.
Thank you for sharing and support ❤️❤️❤️
Maria
Yields: 3 cups of margarita mix
How To Make Best Margarita Mix And Classic Margarita
15 minPrep Time
5 minCook Time
20 minTotal Time
Ingredients:
For the sour margarita mix:

1 cup water
2/3 cup granulated sugar (more or less, depending on your sweetness preference)
1 cup freshly squeezed lime juice
1 cup freshly squeezed lemon juice

For the margarita cocktail:

1 ½ oz. tequila
½ oz. triple sec
2 oz. margarita sour mix
Instructions:
To make margarita sour mix:
In a medium saucepan combine water and sugar. Heat until sugar completely dissolves.
Remove from heat and add lemon and lime juices. Let mixture cool completely. Transfer to a glass bottle or jar and keep refrigerated up to 2 months. Shake well before each use.
To make margarita cocktail:
Rub the rime of the glass with lime or lemon wedge and dip it in the salt (optional step). Fill the glass with ice. Add little ice and all ingredients to a cocktail shaker. Shake well and pour into prepared glass.
Sip and Enjoy!
7.8.1.2
39
https://thepuretaste.com/margarita-mix-and-classic-margarita/
Disclosure: This post contains some affiliate links.  If you purchase a product through one of my links, I will earn a small commission at no extra cost to you. I only recommend products that I use and love myself. Thank you in advance for your support! It means a lot!
Products used in this post: