Alright, let's talk about detox green smoothie recipe, shall we? It is packed with vitamins and antioxidants. It helps to burn fat and cleanses your body. It helps to lose some weight. Generally, it is good for you and you should give it a chance. This easy green smoothie is made with simple ingredients, you only need 2 minutes to make it, and it tastes delicious.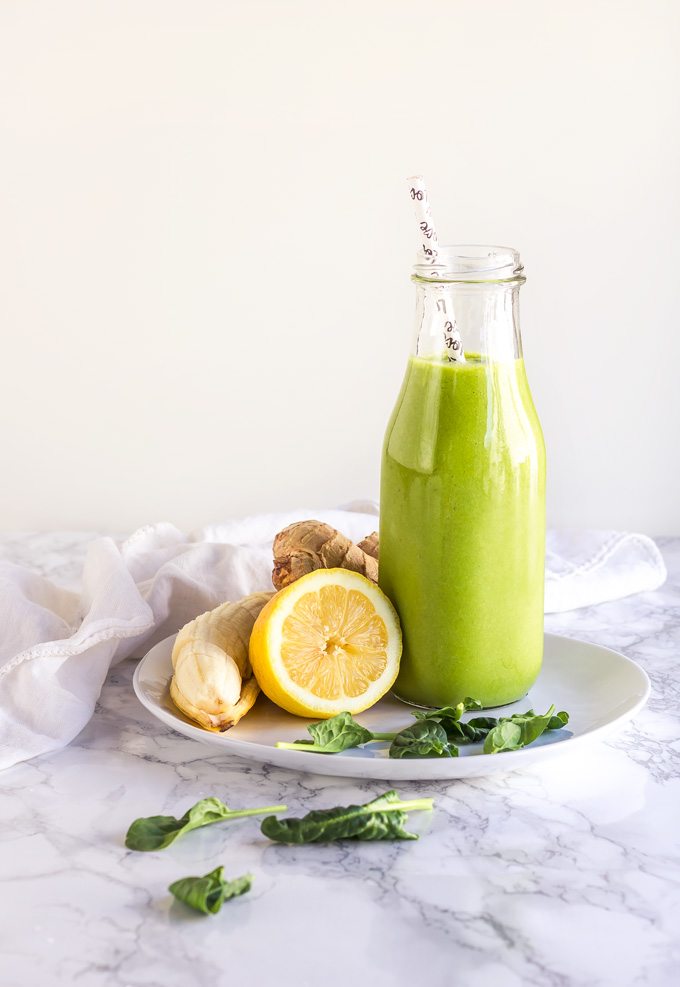 Couple years ago I introduced myself to smoothies. Ever since it secured its place in my diet. One smoothie was fighting with me though. It was a green smoothie. Since childhood, we are programmed to refuse anything green. Whenever we see green smoothie, we naturally opt out.  So let's talk a little about it. And let's start why you should give green smoothies a chance.
Green smoothie benefits:
It boosts your immune system, because
It is packed with vitamins and antioxidants.
Green smoothies help to clean and remove old and bad food leftovers from your body.
They are beneficial for your skin. We all want that healthy glowing skin, ain't we?
Detox green smoothie helps to burn some fat. Drink some post-workout smoothie, and you will notice the difference.
It also helps to lose the weight because of the fat burning properties.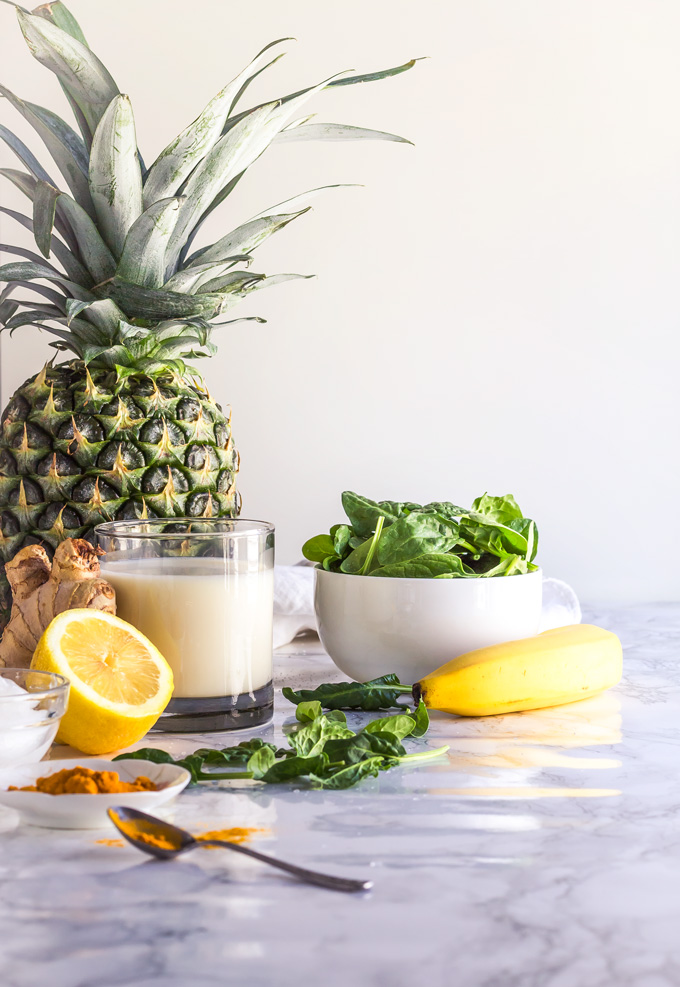 If you make the healthy green smoothie recipe without any sweeteners, then you do a big favor to your body and immune system.
The general rule is once in a while do a green smoothie cleanse. Especially between seasons to help your body get on a right track. But don't overdo it. Drinking green smoothies every day is not a good idea at all. Listen to your body. When you feel lightness and healthiness in your belly, that means it is time to stop but continue a healthy diet. With green smoothies you prep your body for a healthier life. But definitely do not make it your everyday food. You can mix your morning routine with different smoothies but do not drink green smoothies every single day.
I do green smoothie cleanse once at the end of every season. 7 days every morning starts with a detox green smoothie. Then I stop. For me, 7 days is enough because I consider my food routing as a healthy diet. Everyone is unique so listen to your body! Also, during summer I try to drink it once or twice a week, in between my other favorite smoothies.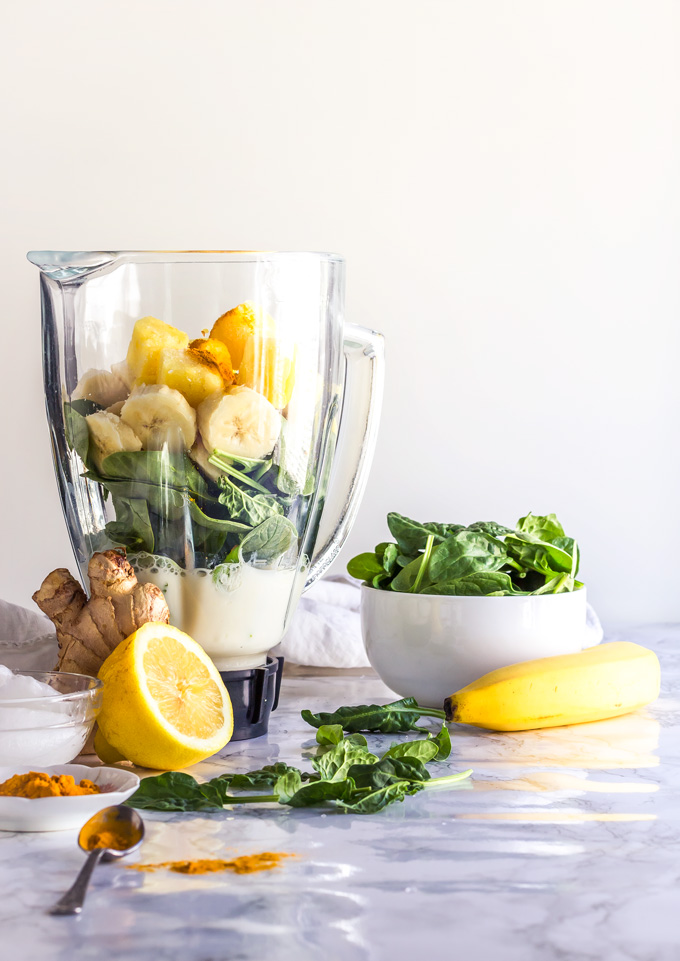 You can drink a green smoothie for breakfast, for lunch, after a workout, but never replace dinner with it! And please don't listen to people who swear drinking smoothies all day long will change your life. It will but not in a right way.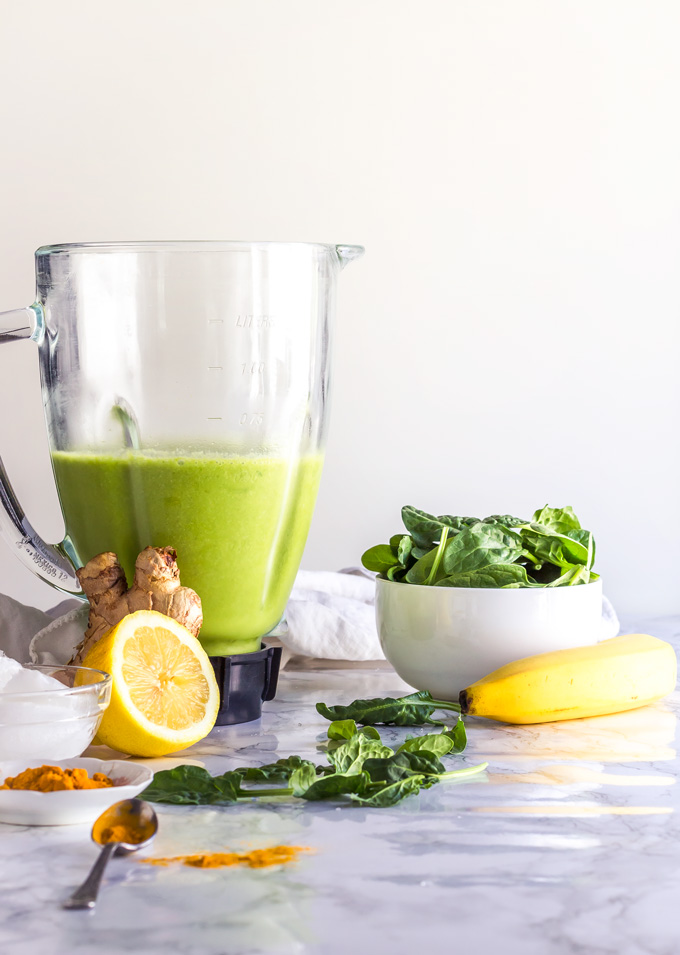 There are plenty of green smoothie recipes out there, and I'm sure they all are good and delicious. I tried many of them. And some were indeed good, but some tasted like grass.
I have an anti-smoothie person in my house, my husband. If he ain't liking it, he will not drink it. No matter how big my lecture on how healthy green smoothies are, he will refuse it.
After some trials, I created the simple and easy green smoothie recipe that he not only drinks but enjoying it. It is packed with simple ingredients, like spinach, banana, and pineapple. And enriched with power spices like ginger and turmeric. If you don't have these spices, not a big deal. Omit them. However, these are the healthiest spices on earth! Once you learn where and how to use them, they'll become staple in your kitchen pantry.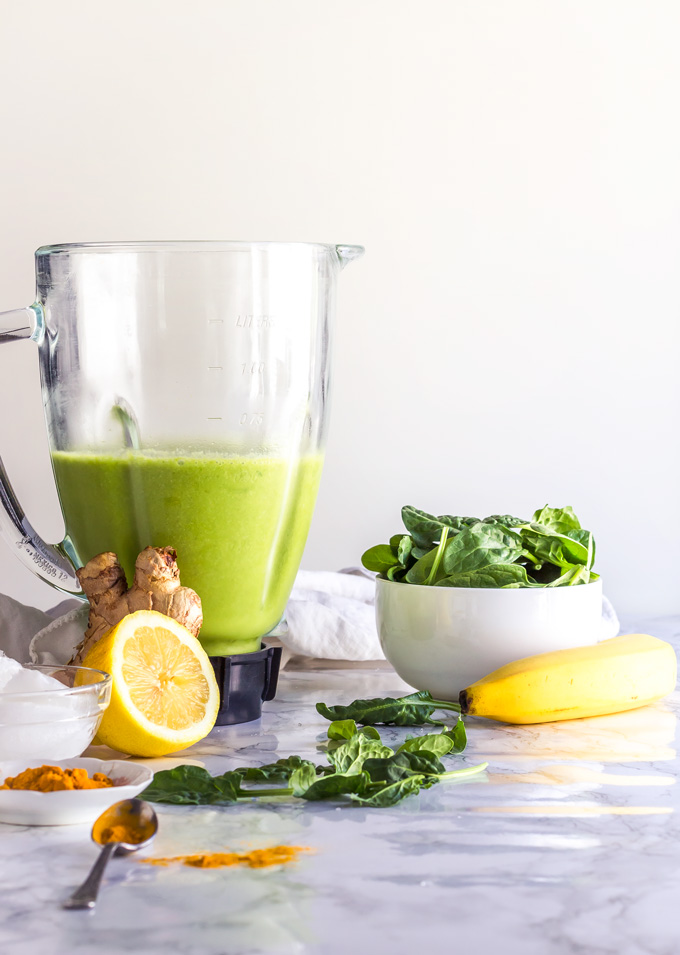 And coconut oil. You guys, when coconut oil hit the market, I was skeptical. I thought this would be one of the come and go item. So I protested for a while and did not buy it. Then Costco offered a massive jar for super cheap, and I bought it. Ever since it is always in my kitchen pantry! Moreover, my mother in law got hooked on this delicious stuff as well! If you haven't tried it yet, please do. You are going to love it and the endless uses of it…
I think I should stop selling this green goddess smoothie now. It is definitely hard to convince yourself to drink something green, no doubts about that. But you are missing so many benefits. Give it a chance and see what body says. There is a huge chance you and your body is going to love this green detox smoothie.
Cheers for healthy us!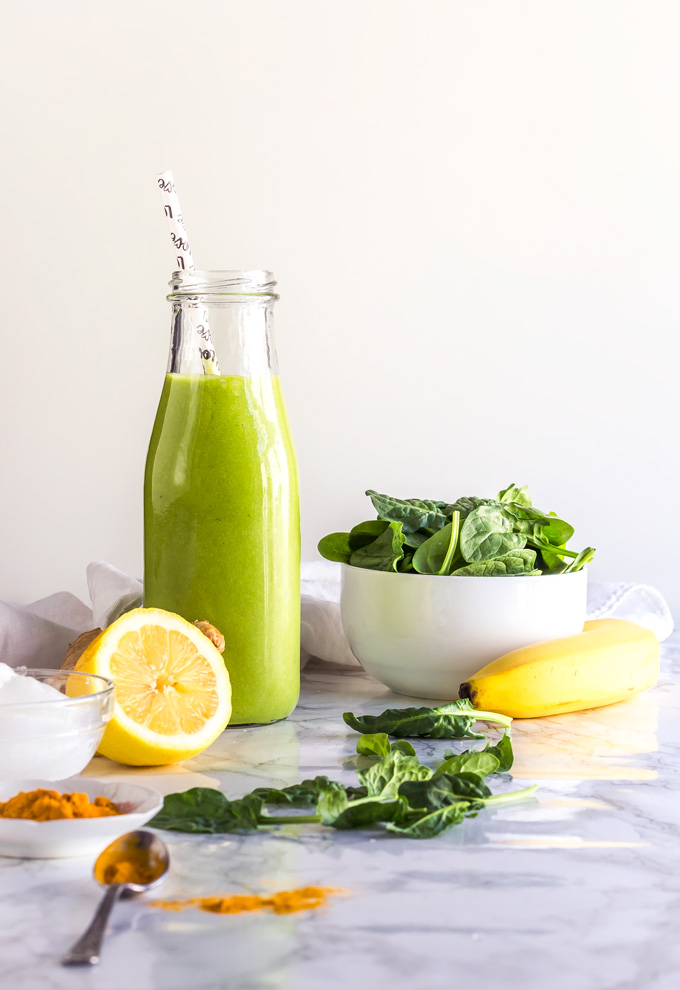 Tips and Tricks for Detox Green Smoothie Recipe:
Layering Guide to a Better Smoothie. Pin this guide, memorize it, and you will always have a hassle-free smoothie. The secret is to go from softest to the hardest.
Best liquids to use in smoothies are carton unsweetened almond milk or coconut milk, unsweetened coconut water or plain water.
If you like sweeter smoothies consider the natural sweeteners: honey, agave or maple syrup.
If you use coconut oil always melt it and add it slowly through the opened small cap on top of the lid. Otherwise, it will not incorporate, and there will be white solids in your smoothies.
Products I use and love for this smoothies: Kirkland signature coconut oil and unsweetened almond milk from Costco, dried turmeric and dried ginger.

How to Clean a Blender

, 3 methods is a must read article for smoothie makers.
Make Your Blender Clean Itself is a Life changing video on how to clean your blender for everyday.
Also, if you have a broken blender, don't rush to buy a new one. Enbizio has a wide selection of replacement parts for major brands.
Want more smoothies for a better health?
Download this Free 3 Healthy Smoothies E-book.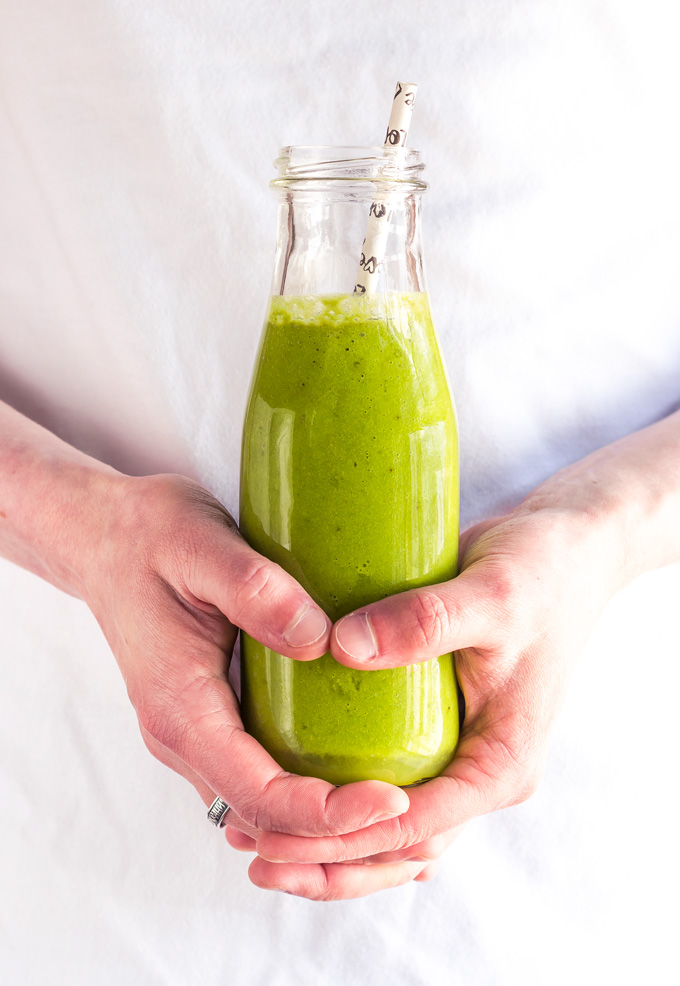 If you make this recipe, please share your picture with me by tagging it #thepuretaste on Instagram. Or share your results in the comment section down below. It means a whole world to me knowing someone is making my recipes.
Thank you for sharing and support ❤️❤️❤️
Maria
Yields: 2 medium glasses
Detox Green Smoothie Recipe
2 minPrep Time
2 minCook Time
4 minTotal Time
Ingredients:
1 cup liquid (almond or coconut milk, coconut or plain water)
2 cups fresh spinach
1 medium banana
1 cup fresh or frozen pineapple cubes
1 tablespoon lemon or lime juice or organic apple cider vinegar
1/2 teaspoon dried turmeric
1/3 teaspoon dried ginger
1 tablespoon melted extra virgin coconut oil (optional)
Instructions:
Add liquid of your choice, fresh spinach, banana, pineapple cubes, lemon juice, turmeric and ginger to a blender. Blend on a frozen drink mode or on high. When everything is blended, push high mode button for continuous blending. Open a small cap on top of the lid and slowly pour melted coconut oil. Blend for couple more seconds. Try smoothie and adjust it to your liking.
Drink it immediately.
7.8.1.2
46
https://thepuretaste.com/detox-green-smoothie-recipe/
Disclosure: This post contains some affiliate links.  If you purchase a product through one of my links, I will earn a small commission at no extra cost to you. I only recommend products that I use and love myself. Thank you in advance for your support! It means a lot!
Products used in this post: