Banana coconut bars recipe is an elegant and easy to make dessert to enjoy all year round. The active prep time is less than 20 minutes. The ingredients are very simple, and most of the time you have them in your kitchen!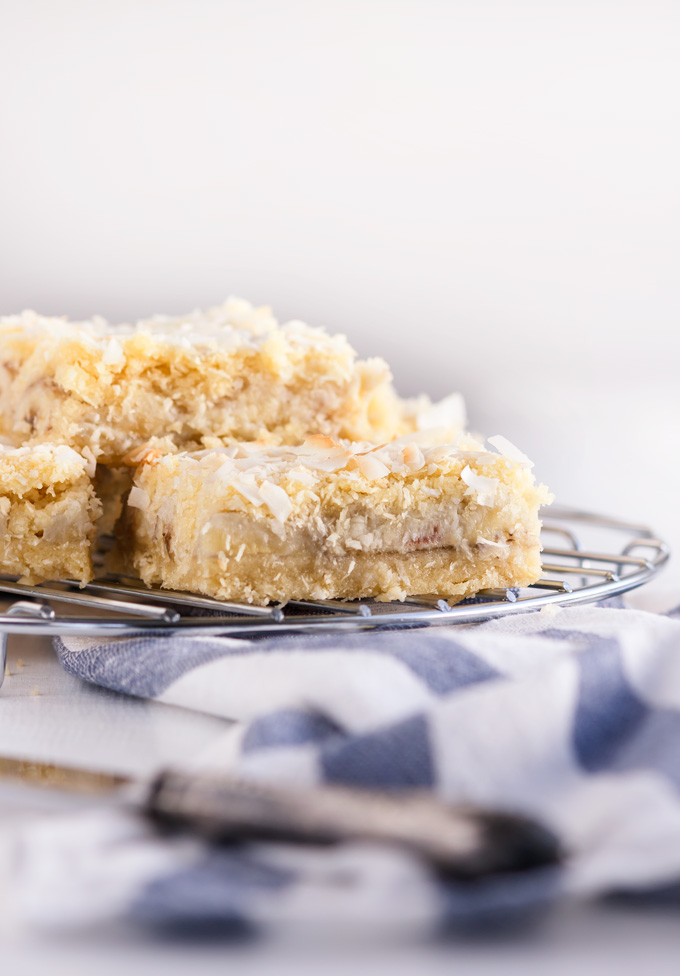 I was thinking what to write in this post and what words to use to describe these banana coconut bars. I don't like convincing people to make any particular recipe from my blog. We all different and have different taste and preferences. My job as a food blogger to describe recipe in the best possible light and sparkle an interest for you to make it. Different story with this recipe. I actually want you to make them. They are incredibly simple yet so delicious! If you love banana and coconut combination, then I'm sure you'll fell in love with these coconut banana bars.
I love everything coconut. As a kid, I asked my mom to buy coconut flakes as a treat and was eating it right from the bag. So no wonder I instantly fell in love with this recipe.
These banana coconut bars are the easiest and most elegant bars I've ever made. Very tender, soft and crumbly. Every bite is melting in your mouth leaving the sweetness and fragrance of bananas and toasted coconuts.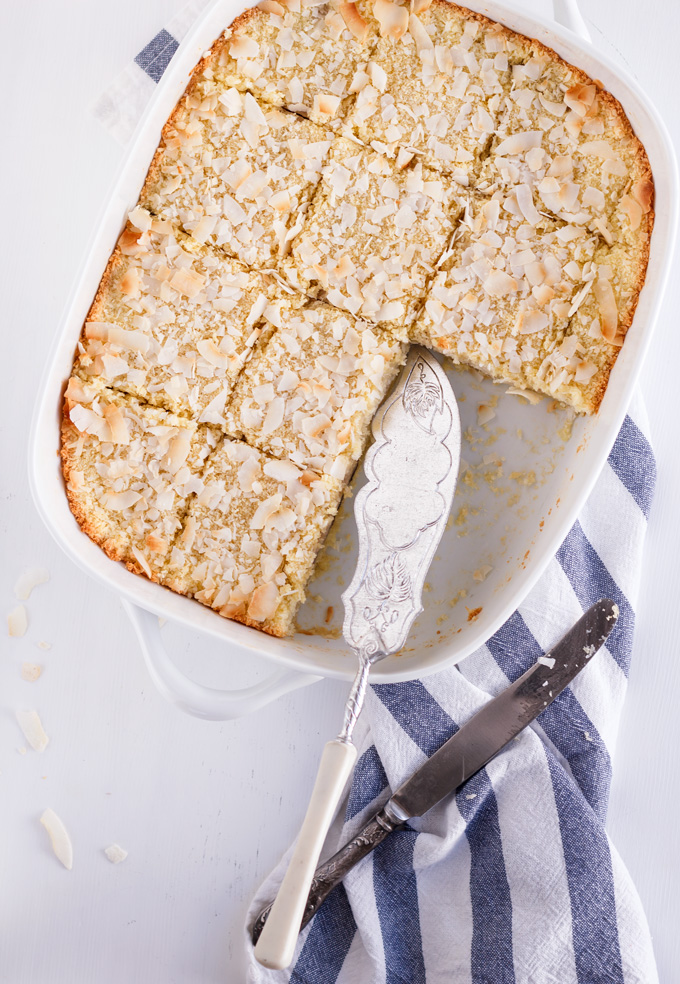 They are very easy to make. The active prep time takes no more than 20 minutes! Prep the dough. Once the dough is baking, mix the filling, which is put everything in the bowl and mix. Slice bananas, arrange them on top of the dough and cover with coconut mixture. Rest is just baking and waiting matter.
The hard part is to stay calm while the baked bananas and toasted coconut aromas fill the room. The entire place smells like Tropicana.
The next HARDEST part to wait for the bars to cool completely before slicing. When you make a recipe for the first time, it is slightly easier to wait. When you love the recipe and know how delicious it is, it takes a whole lot of self-control not to slice and eat a piece of it. I didn't wait for this one. It was still warm, and I broke the slice. That didn't stop me, nor my husband to enjoy it.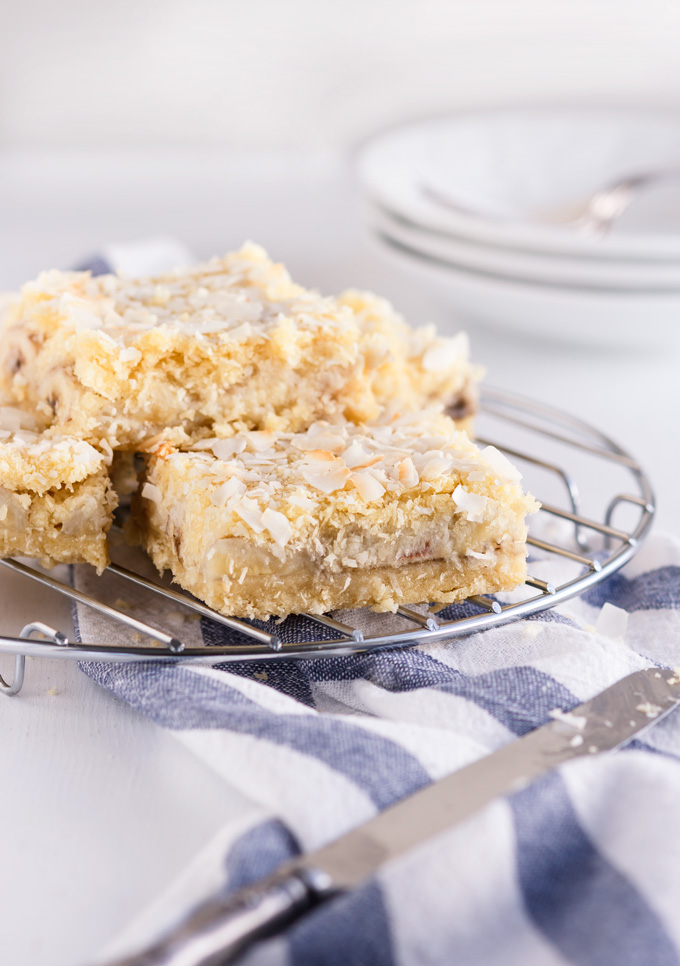 One negative side effect of these coconut banana bars is you can't stop eating them. While shooting, I ate two bars. My husband walked around during the whole shoot checking if I broke any piece so he can eat it. And kept proposing: "If you need to shoot a piece with a bite, I'm here for it."
After the shoot half of the tray was gone. Shame on us! But they are that good and addictive!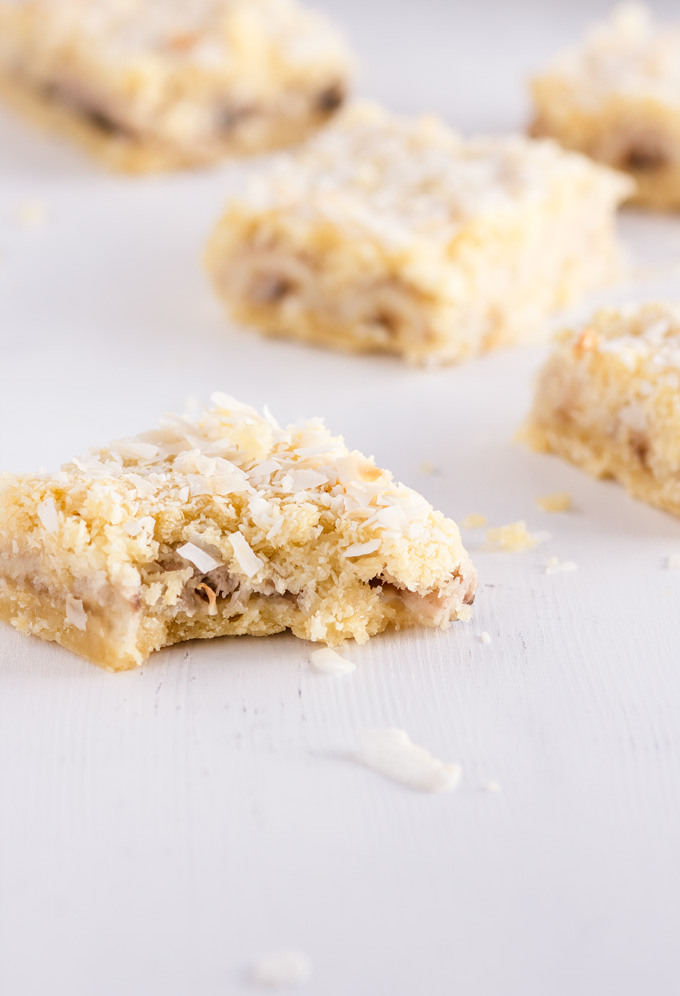 These banana coconut bars strongly secured the quick and easy dessert position in my collection of favorites. You can make them any time of the year, for any occasion or as a sweet treat on a busy week. I hope I interested you enough to give these bars a chance. If you make them, please let me know what you think of them.
Happy Baking!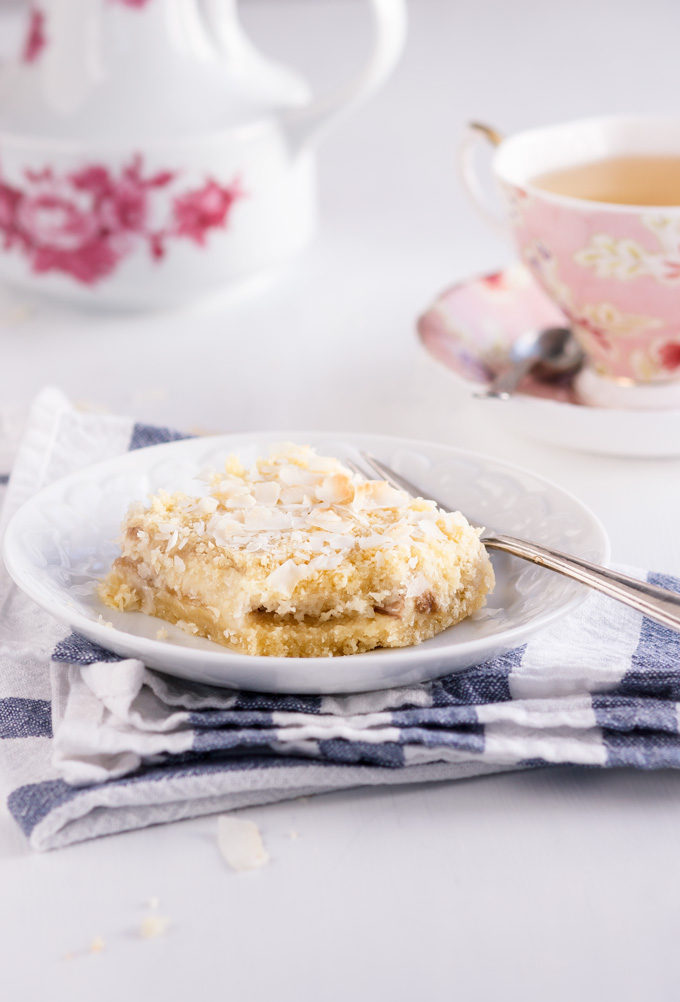 Tips & Tricks for Banana Coconut Bars:
You can transfer the dough to a baking dish by rolling the dough on a floured surface with the rolling pin. Or spread the dough using your fingers in the baking dish. When I don't want to wash extra dishes, I prefer to spread it with my fingers. Takes little longer though.
Use only unsweetened coconut flakes. If you don't have one, then omit all the sugar from filling.

Bob's Red Mill Shredded Coconut (Unsweetened)

is my choice. And while you there, also buy Bob's Red Mill Unsweetened Flaked Coconut for any dessert decoration and toppings.
Depending on your coconut flakes you may need to adjust the liquid. The filling should hold its shape when you squeeze it with your hands. If too dry and crumbly, add more milk. Be careful not to make it too soggy.
Keep the bars in the baking dish covered with plastic wrap on a kitchen counter or any other cool, dry place. During summer season I like to keep them in the fridge. They are equally good from the fridge as well.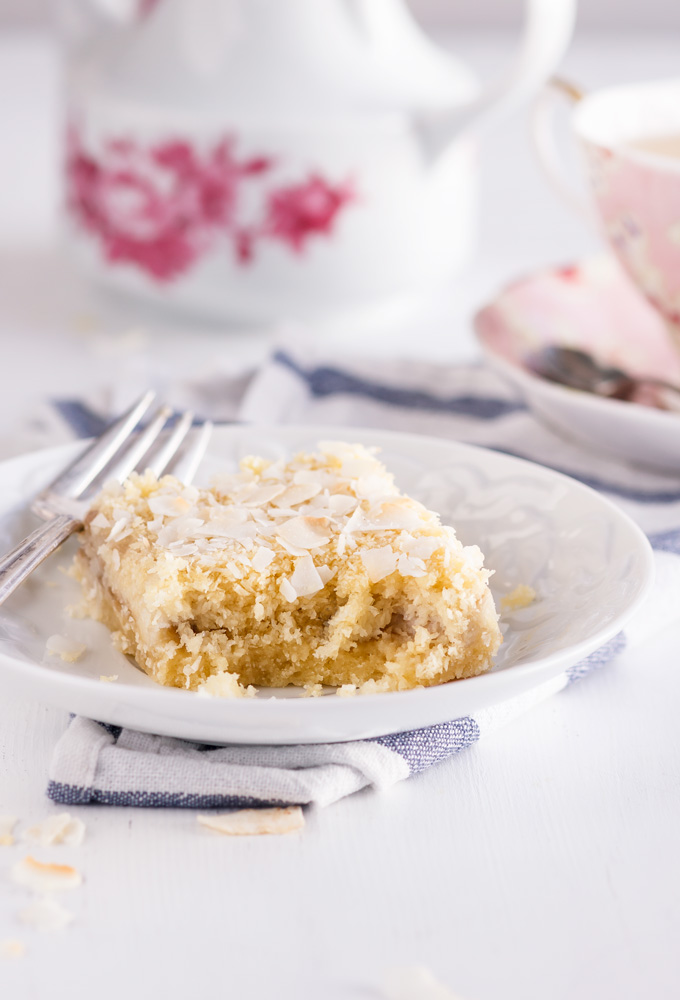 If you make this recipe, please share your picture with me by tagging it #thepuretaste on Instagram. Or share your results in the comment section down below. It means a whole world to me knowing someone is making my recipes.
Thank you for sharing and support ❤️❤️❤️
Maria
Yields: 9 x 13 baking dish
Easy and Elegant Banana Coconut Bars
20 minPrep Time
35 minCook Time
55 minTotal Time
Ingredients:
For the dough:

6 tbsp. (80 gr.) unsalted butter, melted
1/3 cup + 2 tbsp. (100 gr.) sugar
1 large egg
1 ¼ cups (180 gr.) all-purpose flour
½ tsp. baking powder
¼ tsp. salt

For the filling:

5 medium bananas
2 ½ cups (180 gr.) unsweetened coconut flakes
1/3 cup (70 gr.) sugar
2 large eggs
1 tbsp. whole milk
1 tsp. vanilla extract
Instructions:
To make the dough:
Preheat oven to 360 F.
Grease the 9x13 baking dish. Set aside.
In a medium bowl combine sugar and egg. Mix on low speed with a hand-held mixer for 1 minute. Add melted butter. Mix on low for another 1 minute. Add flour, baking powder, and salt. Knead the dough only until it comes together. Do not over knead it. It should be very soft, pliable and slightly sticky. You can either roll out the dough with the rolling pin and transfer it to a baking dish. Or spread it in the baking dish using your fingers. Bake in the middle of the oven for 12 minutes.
To make the filling:
In the same medium bowl combine coconut flakes, sugar, eggs, vanilla extract, and milk. Mix until everything comes together and hold the shape when you squeeze it.
Peel all bananas, cut in half and split.
Remove baking dish from oven and place it on a towel. While still warm arrange all banana slices starting from the shorter edge of the baking dish. Lightly press bananas into the dough. Spread the coconut filling evenly, gently pressing on top of the bananas. Sprinkle with the fancy large coconut flakes.
Bake in the middle of the oven for 23 minutes.
Remove from oven. Let it cool completely. Cut bars into desired shapes.
Enjoy!

Adapted from Dolce Vita
7.8.1.2
37
https://thepuretaste.com/banana-coconut-bars/
 Disclosure: This post contains some affiliate links.  If you purchase a product through one of my links, I will earn a small commission at no extra cost to you. I only recommend products that I use and love myself. Thank you in advance for your support! It means a lot!
Products used in this post: