This Classic French Apple Tarte Tatin recipe is a pure pleasure to enjoy during apple season. Despite the scary name it is very easy to make, requires only one pan, simple ingredients and a tiny portion of your day. Enjoy this golden caramelized treat with the fragrant vanilla bean ice cream.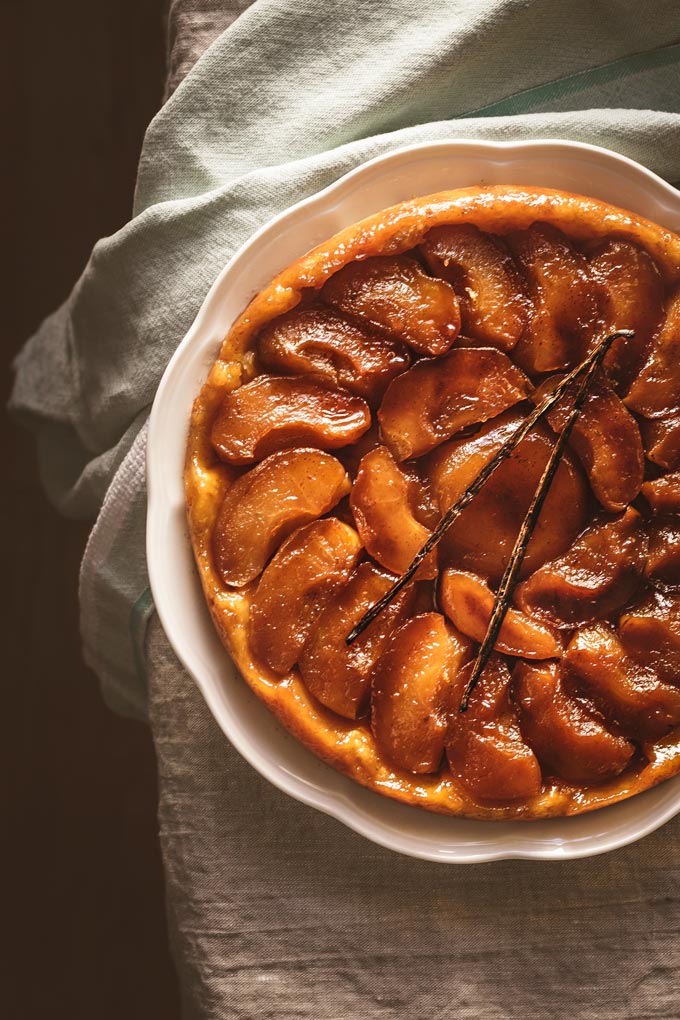 I made many apple tarte tatins before and was happy with the results. Until I discovered a new completely different Classic French Apple Tarte Tatin Recipe. Without the doubt, it became my favorite apple dessert.
I discovered this recipe in a new book of Mimi Thorisson "French Country Cooking."  This is her second book about French cooking. The most calming, charming and elegant cookbook I've ever owned. Fast enough it became one of my favorite cookbook in my collection.
I made many recipes from it from easy to more time consuming, and so far loved almost all. There is one recipe that I'm very grateful for and so glad Mimi included it is Apple Tarte Tatin. Thank you, Mimi, so much for sharing this special recipe.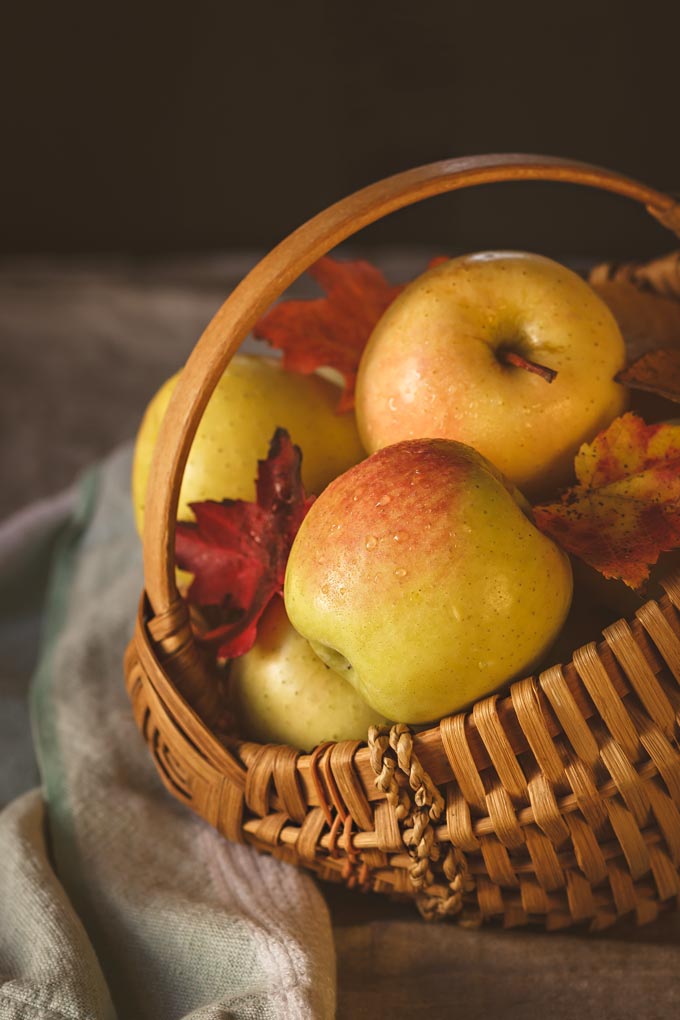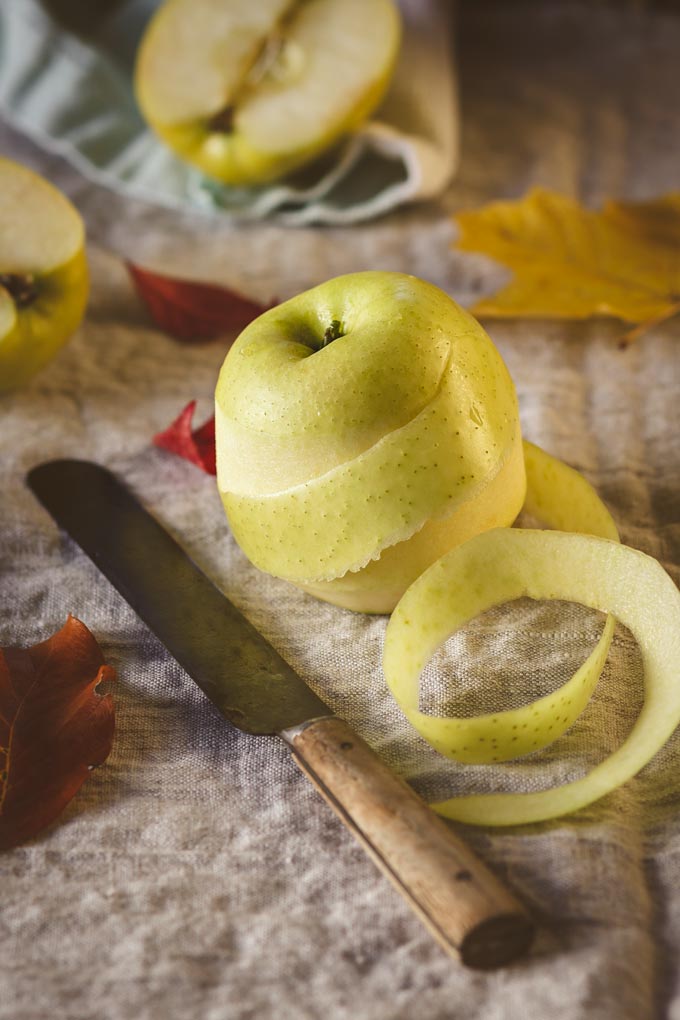 Despite the fancy French name, this is a very easy dessert to make. By bad luck, this is one of the desserts full of myths on how hard and scary it is to make. It is nothing more than caramelized apples and tart crust. The "hardest" part of this recipe is the tart dough. And even this part you can skip by buying store-bought puff pastry or pie dough. Yet, I encourage you to make a homemade tart dough because it makes a significant difference in taste. Also much cheaper to make your own rather than buy.
For some reason, the tart dough recipe from this book didn't work out for me, and I changed it to my favorite one. Maybe the quality of ingredients is different. Or maybe I've done countless tarts and figured out my best tart dough recipe and use it ever since.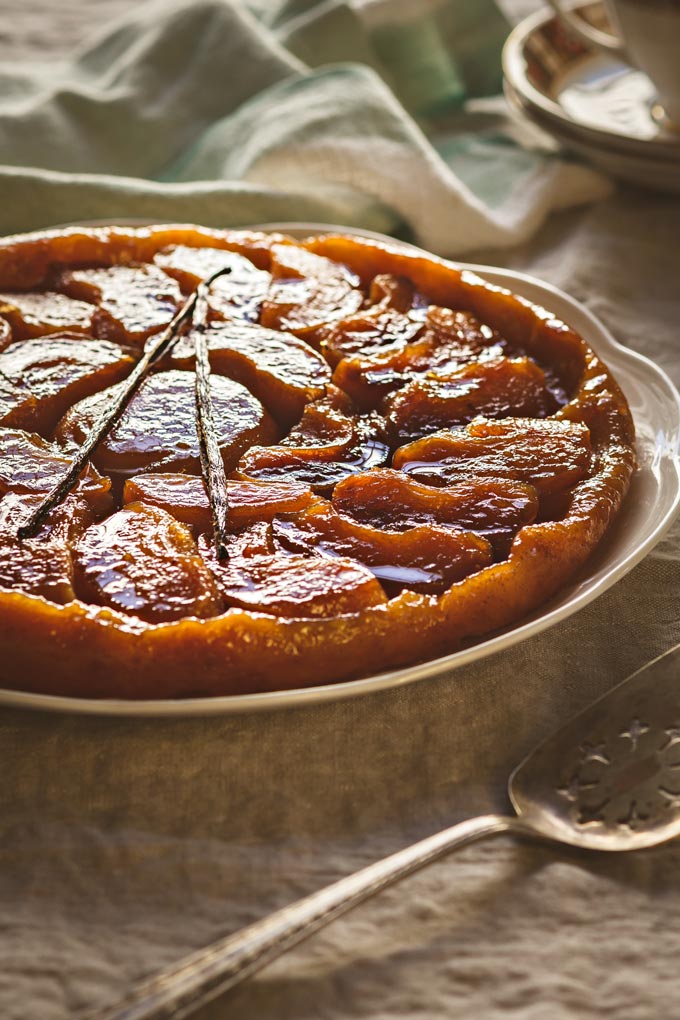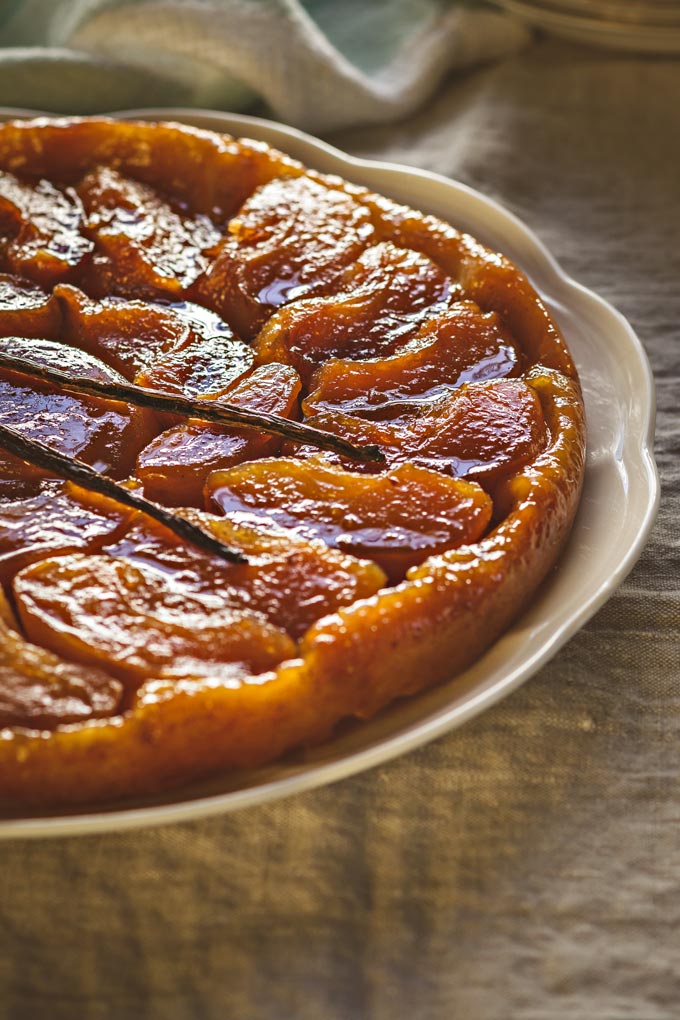 Use only the best seasonal apples for this classic french apple tarte tatin recipe. I always favored the Golden Delicious apples for Tarte Tatin. They give an extra depth of taste and magnificent smell to it.
Mimi's method is to caramelize apples along with butter and vanilla bean in one pan. This method eliminates making the dry caramel, which is harder and time-consuming process. You simply arrange all ingredients in a skillet and let bubbling and sizzling do the magic. Meanwhile, let the aroma of apples caramelized in browned butter fill your home.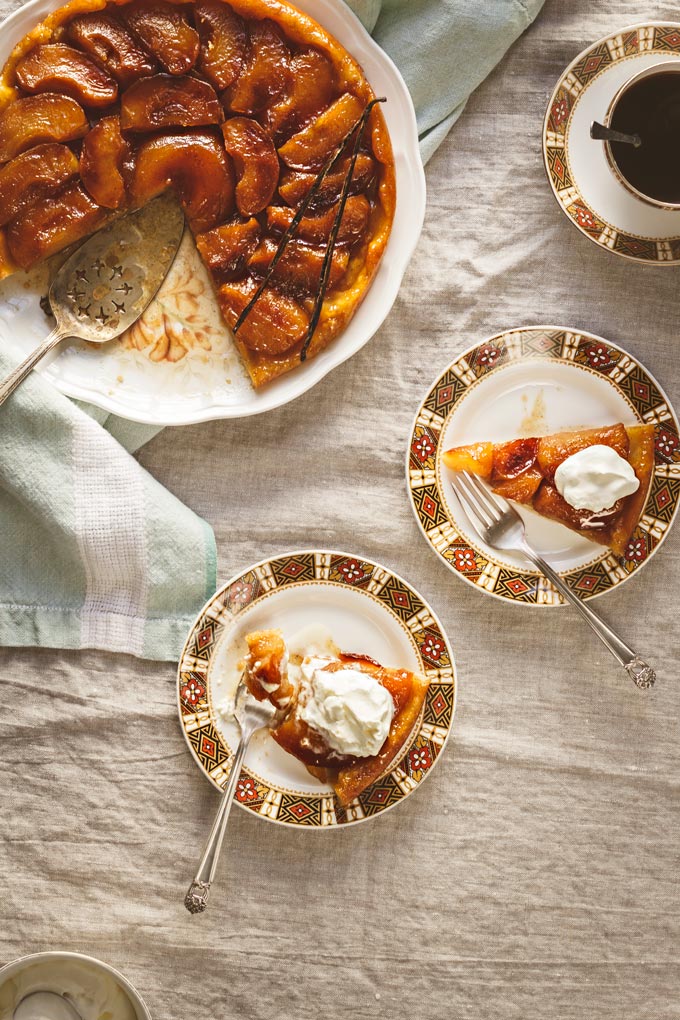 Only a month ago I discovered this recipe and already made it three times. With all the confidence I can tell you this is a foolproof Apple Tarte Tatin recipe. It is easy to make and requires only ONE skillet. Your tiny effort will be rewarded with a delightful classic French dessert.
I encourage you to conquer this classic french apple tarte tatin recipe. Make it once, and you will crave for more every time you finish it.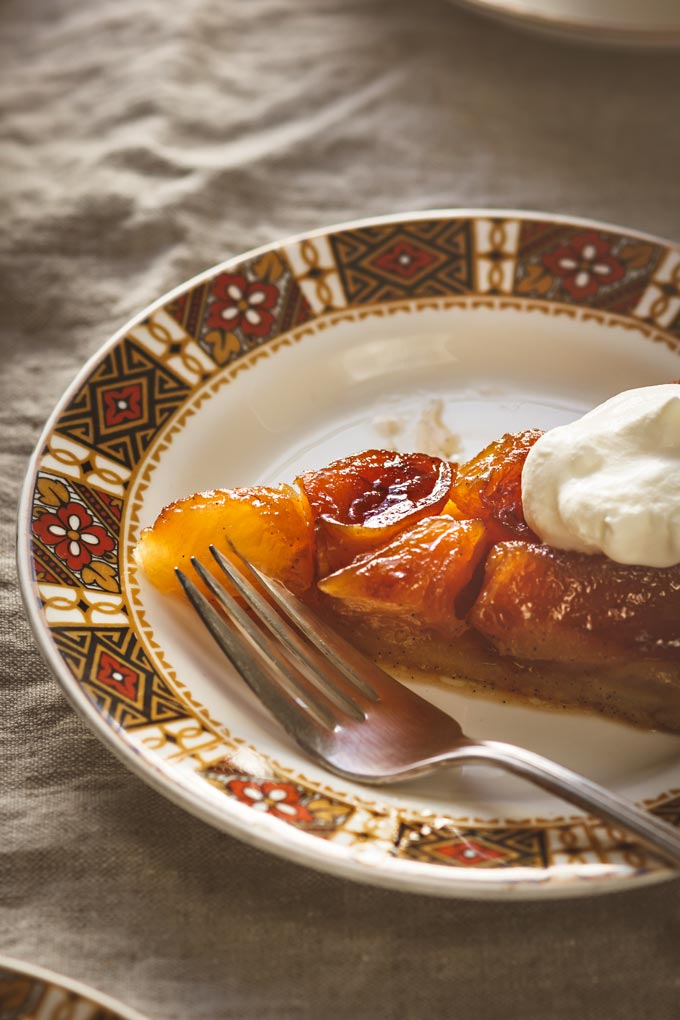 Tips and Tricks for Classic French Apple Tarte Tatin recipe:
A straight-sided stainless steel skillet is the best option.
For my 8.5-inch stainless steel skillet, I used 9 medium Golden Delicious apples.
Use only the highest quality unsalted butter. It makes a huge difference in taste, smell and color of your apple tarte tatin.
I find Golden Delicious to be the best option for the Apple Tarte Tatin recipes. However, Jonagold, Honey Crisp, Cameo, and Cortland are good options as well.
I included both instructions on how to make the tart dough (shortcrust pastry) by hand and in a food processor. For a deeper look watch this 2 useful videos on How To Make Sweet Shortcrust Pastry by Jamie Oliver and Pie Crust Tutorial: Food Processor Method.
Serve this deep golden brown Tarte Tatin as it is. Or my favorite way with the whipped cream or vanilla bean ice cream.
Maria
Yields: 5-6 stuffed peppers
Ukrainian all Beef Stuffed Peppers Recipe
30 minPrep Time
1 hrCook Time
1 hr, 30 Total Time
Ingredients:
For the stuffed peppers:

1 cup uncooked rice
1 pound and 6 oz. 85% ground beef
1 medium carrot (grated with a big hole grater)
1 small onion, finely chopped
3 tablespoons fresh parsley, finely chopped
1 big garlic clove, finely chopped
1 teaspoon kosher salt
½ teaspoon ground black pepper
5 medium size bell peppers (color doesn't matter)

For zagarka (tomato sauce):

1 ½ tablespoons olive oil
1 medium onion, quartered and sliced
1 large carrot (grated on the grated on a big hole grater)
1 medium garlic clove, finely chopped
3 tablespoons good quality tomato paste
3 tablespoons sour cream
1/2 teaspoon kosher salt
½ teaspoon ground black pepper
2 cups chicken, beef or vegetable stock or plain water

For serving:

Chopped parsley
Sour cream
Instructions:
To make zagarka (tomato sauce):
Heat a large oven-safe pot (preferable Dutch oven) over medium-high heat. Add oil. Add onions, salt, and pepper. Fry for 3 minutes, Add carrots and fry for additional 3 minutes. Add garlic and stir for I minutes. Add tomato paste, mix well with the rest of ingredients and caramelize it slightly, about 3 minutes. Reduce heat to medium. Add a little of the chicken stock, so everything comes together. Then add sour cream. Mix everything. Taste and adjust seasoning. Add the rest of the chicken stock. Bring to boil. Taste and adjust seasoning. Remove from heat.
To make stuffed peppers:
Preheat oven to 360 F. Wash the rice very well. In a medium pot bring the rice to a boil and cook for 3-5 minutes (depending on your rice variety) until al dente. Strain and let it cool completely.
In a large bowl combine ground beef, carrot, onion, garlic, parsley, salt, and pepper. Add chilled rice and mix everything with the spoon. All ingredients must distribute well but do not over mix it. Otherwise, the mixture will be stiff.
Remove the top and insides of pepper. Wash them well.
Stuff peppers with the mixture. Place peppers vertically in the pot with the sauce. Cover the pot with the lid or foil tightly, so the steam does not escape.
Bake for 1 hour. Baking time depends on the size of your peppers. It may require less or more time. Mine took 50 minutes. To check for doneness cut the peppers slightly to make sure the beef is cooked.
Remove from oven.
Serve stuffed peppers with plenty of sauce, sour cream, and freshly chopped parsley.
Enjoy!
Notes:
Please, read tips and trick for more information
7.8.1.2
26
https://thepuretaste.com/classic-french-apple-tarte-tatin-recipe/
Disclosure: This post contains some affiliate links.  If you purchase a product through one of my links, I will earn a small commission at no extra cost to you. I only recommend products that I use and love myself. Thank you in advance for your support! It means a lot!
Products used in this post: