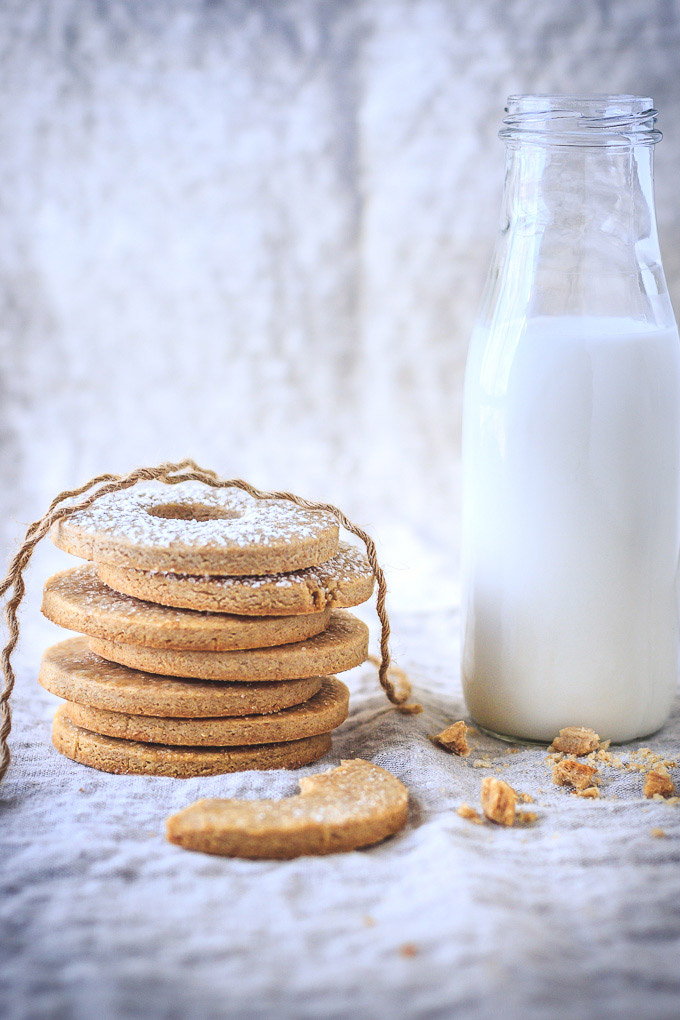 Winter is here, and it's time for stews, soups, roasted meats and all other comforting food. The same goes for desserts. Cookies and simple cakes taste completely different during winter. There is something magically soothing eating buttery baked sweets during winter. Light and skinny desserts are not doing a good job during cold days. And I'm okay to eat extra fatty food during winter. First, it makes our bodies warmer, which is good sense. Second, to survive short dark days without extra sweet treat is kind of hard if not impossible. Yeah, all those treats will find their way to settle down in our butts and bellies. But hey, we have a New Year's Resolution to fix it, right?! So during winter I allow myself to eat anything that brings me comfort and happiness, and cookies are one of those things.  Today I want to share with you soft and tender, crumbly Swedish Whole Wheat Butter Cookies recipe.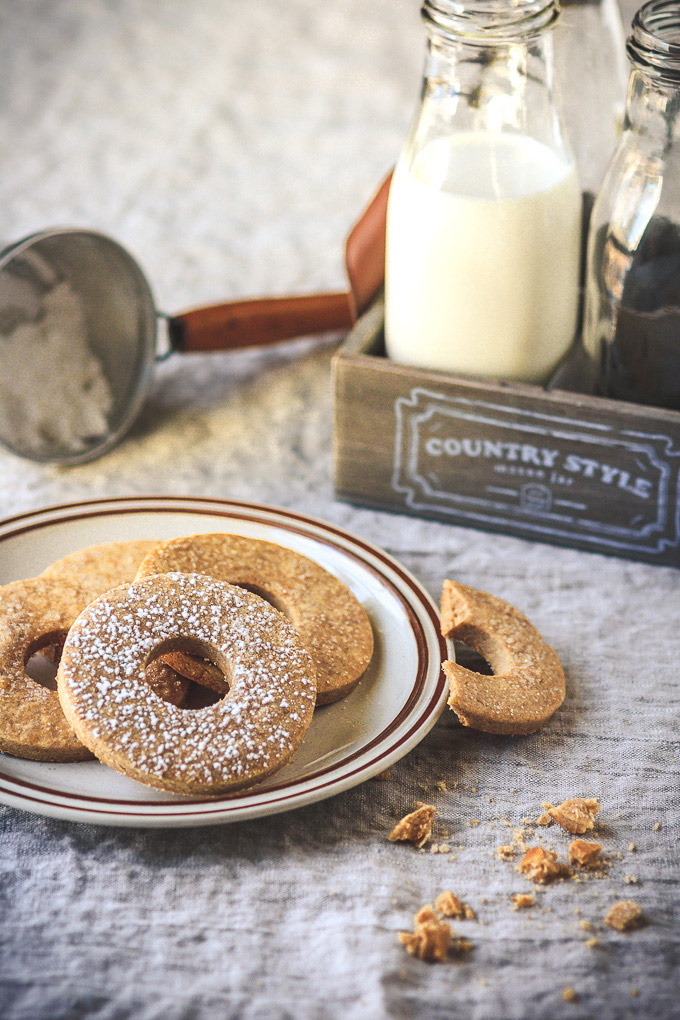 Not so long I learned about cookie swap tradition, and I think it's a fun thing to do. The major jokes and complaints though are about ending up with the whole bunch of chocolate chip cookies from different bakers. I'm not against chocolate chip cookies, and I think to find a good chewy, not too dry, not too sweet is hard. But I believe it is so much better to bring a different variety so that people will ask more questions about it, and you can create a conversation. Maybe even make a new friend? Chocolate chip cookies are of course a safe zone but wake up that inner child and explore with more fun options.
I stumbled on this recipe on Heidi's 101 Cookbooks blog, and not the rye flour got me interested but the word Swedish. Those folks just know well what the winter baking goodies should taste like!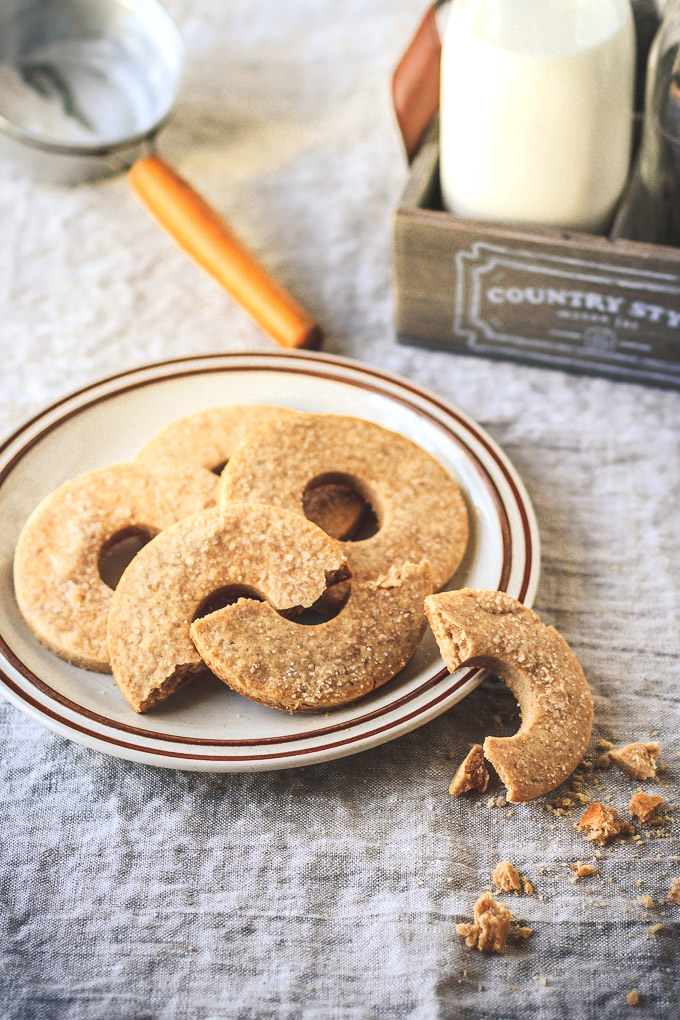 The hardest part in making these Swedish whole wheat butter cookies is to find rye flour. Please do not substitute it for all purpose. The rye flour has a unique nutty, and I would say caramel flavor, which brings such an aroma and unusual flavor to these cookies. I found Rye flour at Whole Foods Market. Other places are Ocean State Job Lot or as always Amazon. As a bonus, this is considered as healthy flour, a great way to calm yourself down with the winter weight and unhealthy diet thoughts. As though the whole wheat flour, I don't think you will have a problem finding it. All grocery stores carry it now. Here is a quick tip how to properly store whole wheat flour. There is also a great whole grains storage chart.
The rest is pretty much not a new thing. It is an easy recipe to make that yields buttery, soft and tender, crumbly cookies with a unique and unexpected nutty flavor.
Pour some milk, get comfy on the sofa with kids or loved ones and enjoy these cookies. Afterward, you will love Swedish baking forever and ever!
Bring it to a cookie swap, wrap them nicely and gift it to someone, share with friends and family or eat it all by yourself! Anyway,you will be pleased and happy about your new experiment with the cookies!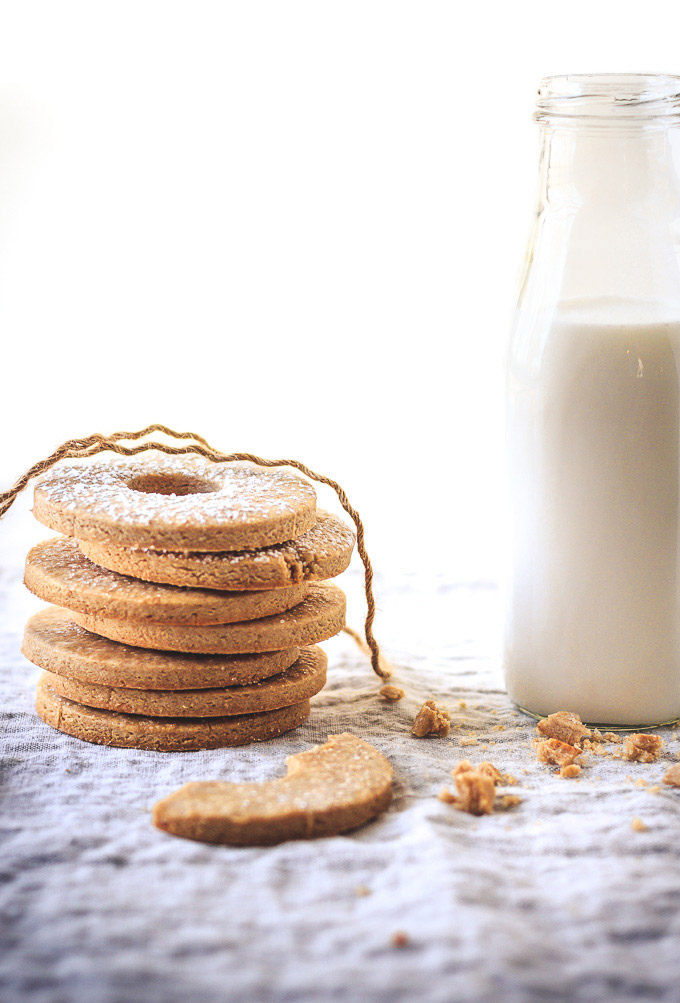 Whole Wheat Butter Cookies Tips and Tricks:
Never over bake butter cookies. They will be dry and tough. You want soft and tender. When you see they are almost done, then it is a perfect time to take them from the oven.
Please, do not skip on the rye and whole wheat flours. They add a complex nutty flavor.
Do not over mix the dough. The gluten will do its thing while resting in the fridge.
Feel free to double the recipe without any adjustments.
Yields: about 18 medium size cookies
Swedish Whole Wheat Butter Cookies
2 hr, 15 Prep Time
7 minCook Time
2 hr, 22 Total Time
Ingredients:
1 cup rye flour
1 cup white whole wheat flour
1/2 teaspoon sea salt
1/2 cup (4 oz.) cream cheese, room temperature
1/2 cup (1 stick) unsalted butter, room temperature
1/2 cup granulated sugar
large grain sugar or powdered sugar (for decoration)
Instructions:
1. Line 2 baking sheets with parchment paper or Silpat.
2. In a medium bowl combine both flours and salt.
3. In a stand mixer with a paddle attachment or using a handheld mixer beat the cream cheese until light and fluffy, about 3 minutes. Add the butter and mix until light, fluffy, and fully combined, about 3 minutes. Add sugar and mix until well incorporated.
4. Add the flour mixture and mix until the dough comes together, no longer than that. Turn the dough out onto the kitchen counter and knead gently until it comes together. Flatten the dough and wrap in plastic wrap. Let it rest in a refrigerator for at least 2 hours, better overnight.
5. Heat the oven to 350F degrees, and arrange the racks in the top and middle of the oven.
6. Take the dough out of the refrigerator and let it rest for 3 minutes to warm up slightly for easier rolling. Dust the kitchen counter well with the flour, and roll out the dough ¼ inch thick. Cut into your favorite shapes with cookie cutter. Gently transfer cookies onto baking sheets spacing an inch apart. Sprinkle with large grain sugar (optional).
7. Bake for about 7 minutes rotating the baking sheets halfway through. When the edges begin to brown and cookies look slightly under bake, they are done. Transfer to a wire rack and let cool completely. Dust cookies with powdered sugar (optional).
Can be stored for up to 5 days in the airtight container.
Recipe adapted from 101 Cookbooks
7.8.1.2
15
https://thepuretaste.com/swedish-whole-wheat-butter-cookies/
Disclosure: This post contains some affiliate links.  If you purchase a product through one of my links, I will earn a small commission at no extra cost to you. I only recommend products that I use and love myself. Thank you in advance for your support! It means a lot!
Products used in this post: