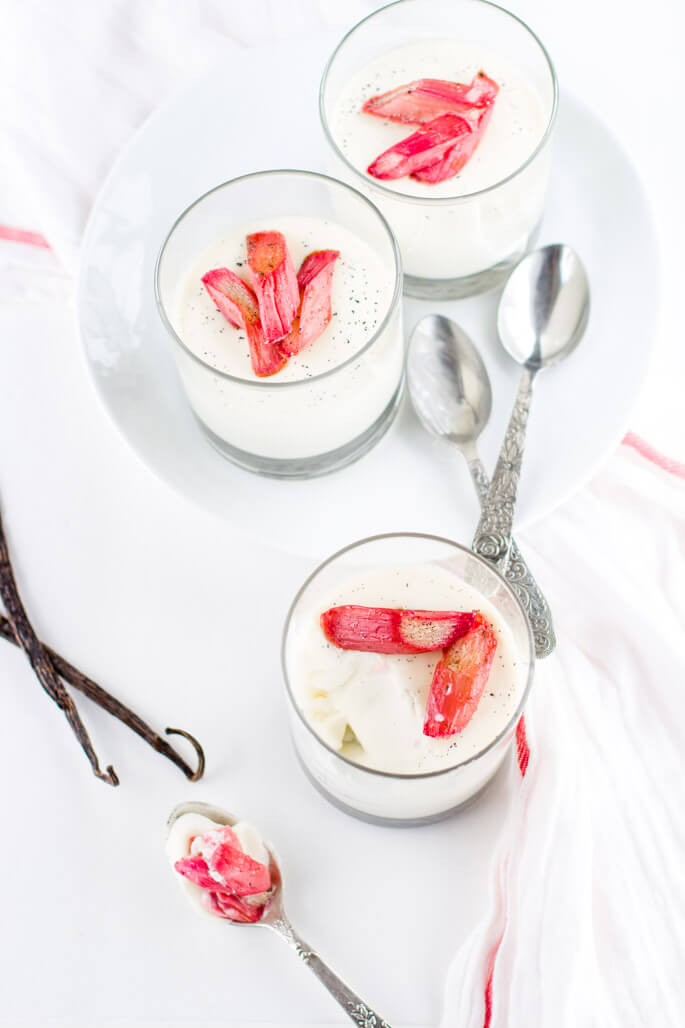 If you want an impressive dessert but feel lazy and don't want to fuss around in the kitchen, then panna cotta is a go-to dessert in such cases. It doesn't take long to make, and the pleasure it yields worth every minute spent in the kitchen which means more time to enjoy this delicious Italian dessert. Today I want to share with you this luxurious vanilla panna cotta with roasted rhubarb.
I discovered this creamy Italian dessert when I ordered it at the restaurant. Luckily, the restaurant was good so was the panna cotta. At the restaurants, we always expect the food that we cannot or don't want to cook at home, and it tasted soo creamy, light and delicious that the idea of a long process or some genius secret behind it crawled in my mind. So I assumed this is a very hard to make, time-consuming dessert. I forgot about it and left panna cotta in my mind as a restaurant dessert option to order now and then.
It was a long time ago. And I don't even remember what excited my curiosity, but somehow I found my first recipe and made it at home. IT DID NOT TURN OUT WELL. Not even close to a delicious thing I ate at a restaurant. It was too buttery, did not set well and was way too heavy! It took me some time to find the perfect balanced dairy ratio to create a light, yet creamy panna cotta.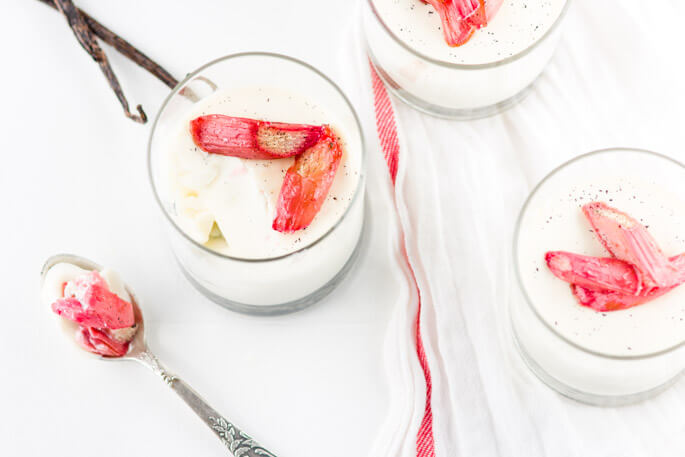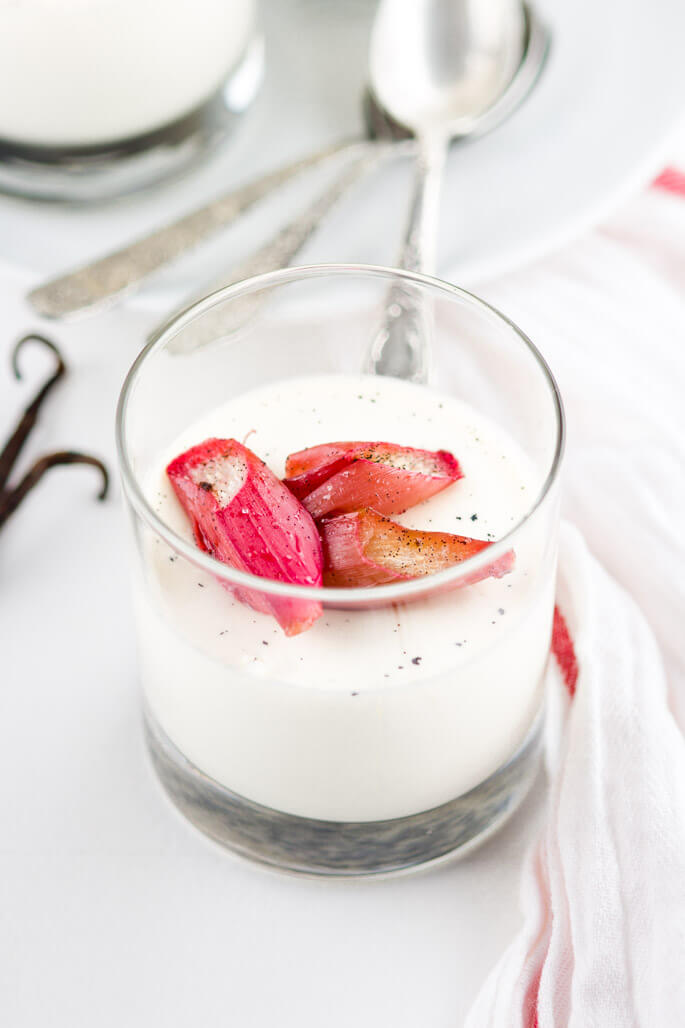 Although this is any season dessert, but I think summer is the perfect season for it. It is a chilled dessert after all. Nobody wants to bake or cook long hours during summer. It is hot enough outside and long cooking inside just make it worse. And during summer you can top your panna cotta with ANY fruits that are in season. Roast them, boil them, caramelize them, make a fresh sauce and spoon it over or simply cut and serve fresh fruits on top of your panna cottas. Pssst nobody banned the caramel or chocolate sauce to top with either!!! Just a crazy delicious idea 😈😉👍
Anyway, I took advantage of the rhubarb season (because I love the tartness of rhubarb), and the result was AMAZING. The combination of creamy, rich vanilla panna cotta with the sweet and sour roasted rhubarb made a perfect marriage. The whole panna cotta turned out not too sweet, light and with fresh summery flavor. I love the combination of sweet and sour flavors in desserts. This is what makes a perfect balanced dessert, and this vanilla panna cotta with roasted rhubarb proved it all the way.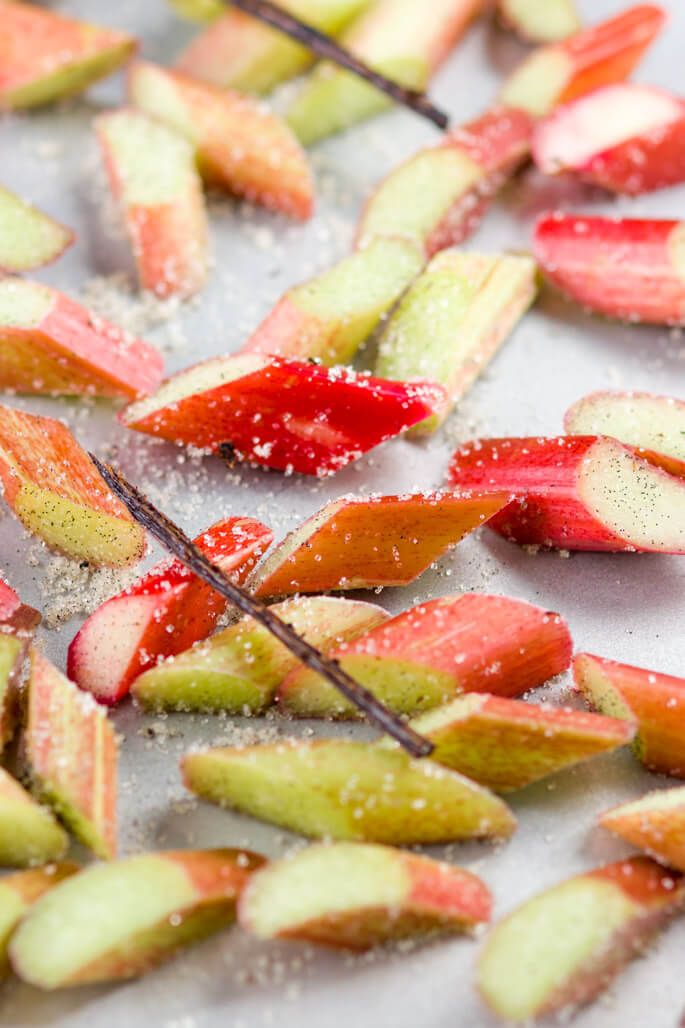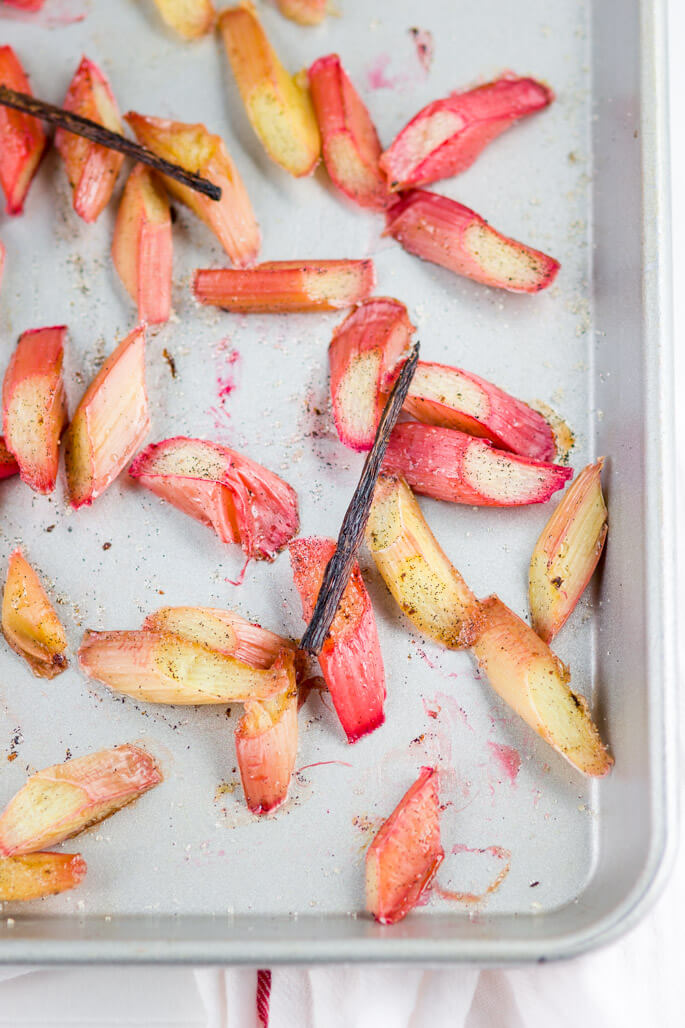 Now let's talk about the main ingredient in panna cotta: DAIRY. Originally the panna cotta is made with the 100% cream or 70-80% cream + 20-30% milk or half and half. I find 100% cream is way too buttery and heavy. After experimenting I found that 50% cream and 50% whole milk ration yields not too fatty, but still remarkably creamy, light, melt in your mouth texture. I ALWAYS, ALWAYS prefer whole milk, but you can use your favorite. You can even make it dairy-free; the ratio, however, should be right, more on that in the later posts 😉.
In this recipe and many others, I use vanilla beans instead of the pure vanilla extract. I always have vanilla beans in my kitchen. I can't live without them and don't even know where to start why you need to have them. Let's just say they are 100% better than vanilla extract and YOU JUST NEED TO TRY THEM. They store really well so if you prefer to buy in bulk I would recommend doing so. Here are the best options and places where you can buy them:
Premium Madagascar Bourbon Planifolia Gourmet Vanilla Beans, Fresh & Prime Grade A

(from 5 to 50pack options)
Wild Vanilla Beans, Single-Origin Grade A Black Gourmet Vanilla Beans (from 3 to 20pack options)
If you want to make vanilla panna cotta right here, right now, then please read an instruction on how to substitute vanilla bean for the vanilla extract in the TIPS and Tricks section down below.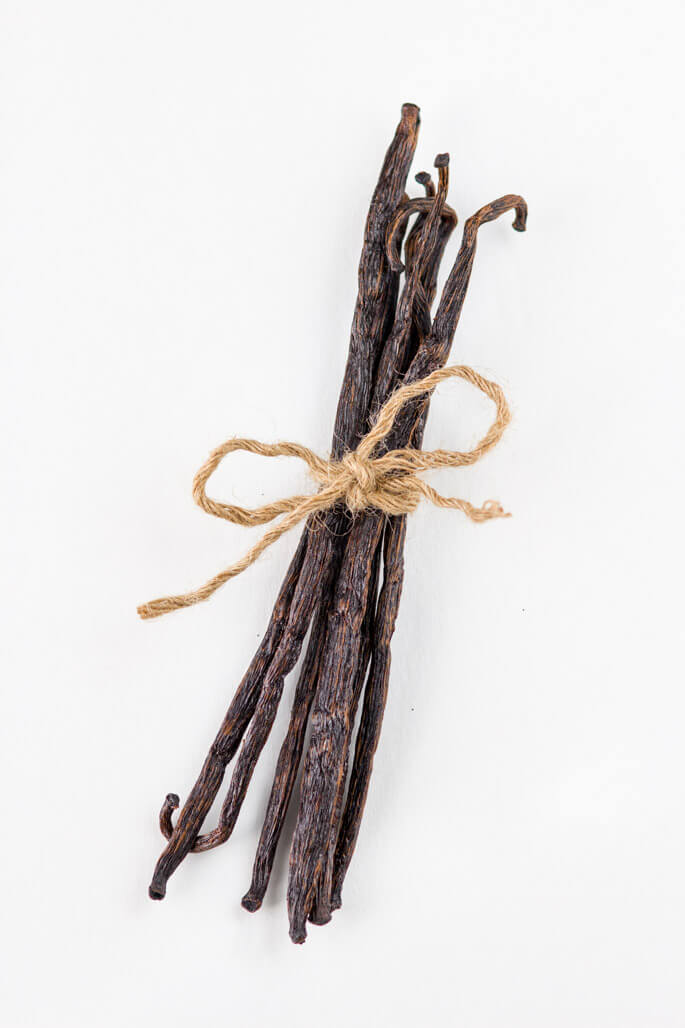 The longest and the hardest part in making this vanilla panna cotta is a waiting time! When I made my first panna cotta I opened the fridge so many times and every time I just HAD TO jiggle it to see if it's ready to eat 😀. Just leave it alone. Unfortunately, you HAVE TO allow at least 4 hours for it to set. So hang in there! Your patience will be greatly awarded. 👍
Make it for your loved ones, next family get together, or a party and your guests will be pleased with this dessert. You can even pretend it's so incredibly time-consuming and laborious to make for more credits 😉 In reality, it is so easy to make yet, always look fancy and make you look like a professional chef. If I still did not convince you to make this dessert, then you better order it next time you are at a restaurant.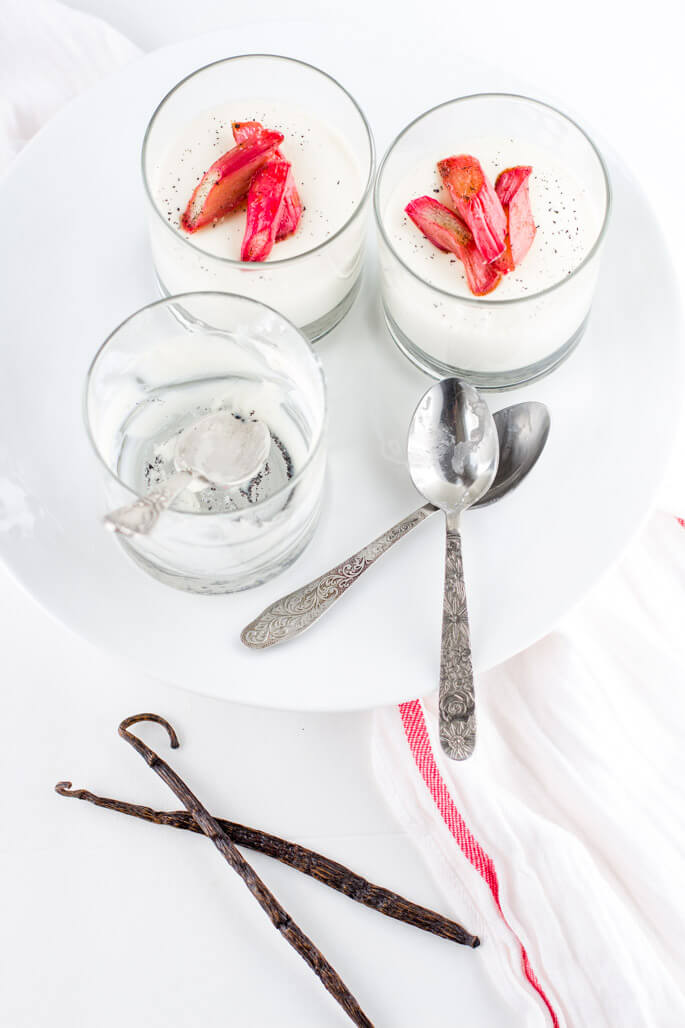 Vanilla panna cotta with roasted rhubarb Tips and Tricks:
Substitute vanilla bean for 1 teaspoon pure vanilla extract. Add it at the end when everything is combined.
The best gelatin substitution for a vegan option is agar-agar. Here is a good article on 3 Vegetarian Substitutes for Gelatin and how to use them.
I don't recommend substitute cream and whole milk for the dairy-free products in this recipe, because the gelatin ratio is different for the dairy-free products.
Yields: 4 servings
Vanilla panna cotta with roasted rhubarb
5 minPrep Time
5 minCook Time
4 hr, 10 Total Time
Ingredients:
For the panna cotta:

1 cup whole milk
1 cup heavy cream
½ granulated sugar
1 vanilla bean
1 3/4 teaspoons unflavored powdered gelatin

For the rhubarb:

3 long rhubarb stalks
2 tablespoons sugar
2 tablespoons lemon juice
½ vanilla bean
Instructions:
To make panna cotta:
1. In a medium saucepan combine the milk, cream, and sugar. Split the vanilla bean lengthwise leaving the end untouched. Scrape the vanilla seeds into the pan and add the vanilla pod. Heat over medium heat until it comes to a near-boil.
2. Meanwhile, place powdered gelatin in a small bowl and add 3 tablespoons of cold water. Mix well and let the gelatin soften.
3. Once softened add it to the cream mixture. Stir until completely dissolved. Remove the whole mixture from heat and strain through the fine-mesh strainer.
4. Divide the cream mixture among 4 glasses or ramekins. Let them cool for 20 minutes. Then refrigerate for at least 4 hours to set.
To roast rhubarb:
1. Preheat oven to 400 degrees Fahrenheit.
2. Rinse the rhubarb stalks and pat them dry with a paper towel. Trim and discard the ends. Cut rhubarb into 1-inch pieces. Spread the rhubarb pieces into a single, even layer and sprinkle with 2 tablespoons of sugar and lemon juice.
3. Cut vanilla bean in half. Reserve the 2nd half for another use. Split the vanilla bean lengthwise leaving the end untouched. Scrape the vanilla seeds over the rhubarb and add the vanilla pod on top.
4. Roast the rhubarb until it's soft, about 15-20 minutes. Remove the roasting pan from the oven and allow the rhubarb to cool completely before topping panna cotta with it.
To serve:
Just top panna cotta with the roasted rhubarb and dig in.
Panna cottas can be stored for several days in the refrigerator but good luck with that.
Enjoy!
7.8.1.2
9
https://thepuretaste.com/vanilla-panna-cotta-with-roasted-rhubarb/