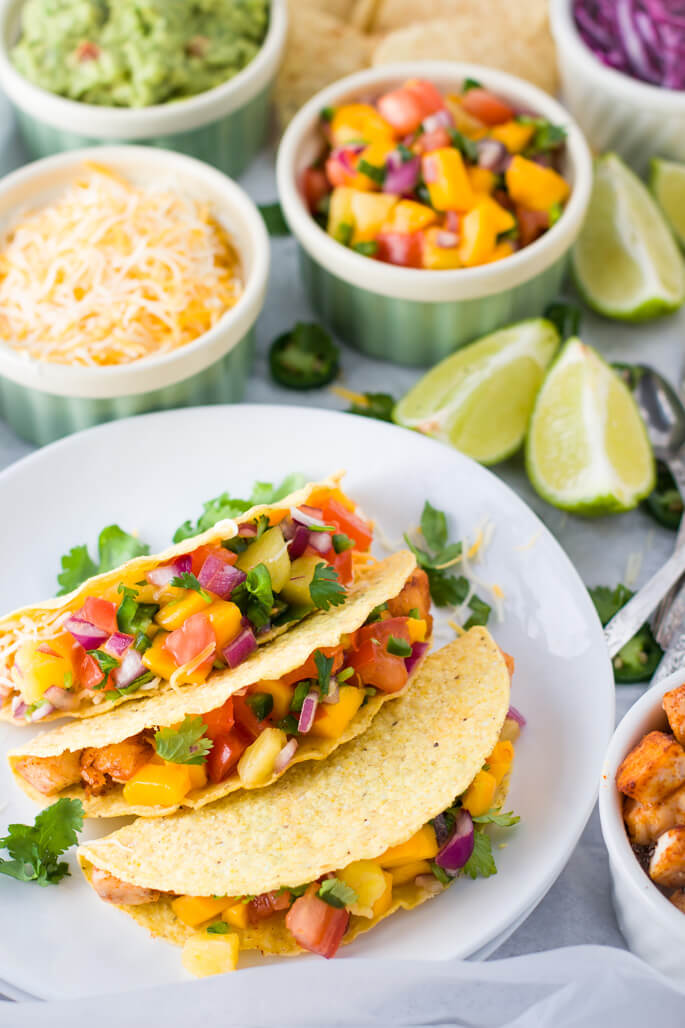 Summer is the perfect season for tacos. OK, for me there is no perfect season for tacos. I can eat them any day, any time, any season. And it's also fish season. Tons of varieties of fishes and so many ways to cook it. One of my favorite fish is Mahi-mahi. It has a sweet flavor that pairs perfectly well with fruits, great texture, and mild fishy flavor. Combining fresh fish with fresh seasonal fruits and vegetables always seems like an organic choice for me. This is a tropical fish after all and what pairs well with it? Of course tropical salsa. Combine these two and there you have mahi-mahi fish tacos with mango salsa.
Tacos are best to enjoy with a good company or a fun weekend thing to do with your family. I love the fact that every person can create own taco and enjoy it to the fullest. Let the kids be creative and let them build their own tacos!
It's such a festive dish: vibrant colors, different textures, all mixed flavors, the building process everything is just meant to brighten the day. Think about crunch, juicy salsa, delicious fish topped with your favorite veggies and cheese… Sounds like a very tasty and fun thing to eat. This is one of my go-to dinners to stir up boring menu, plus it is fast and easy to put together, and the result is worth every minute spent in the kitchen. I usually make tacos on a lazy weekend night, when I don't want order take-out and want something special to go with the movie. By the way, this is one of VERY FEW dinners that I allow to eat in front of the TV. It's just more fun to eat tacos either with a good movie or in a good company.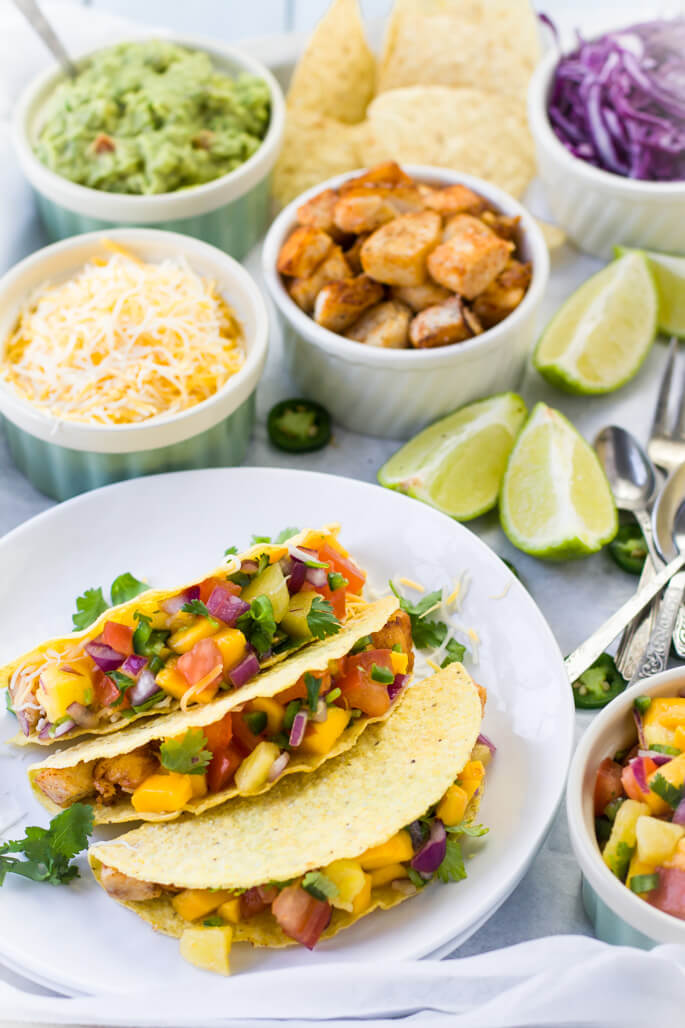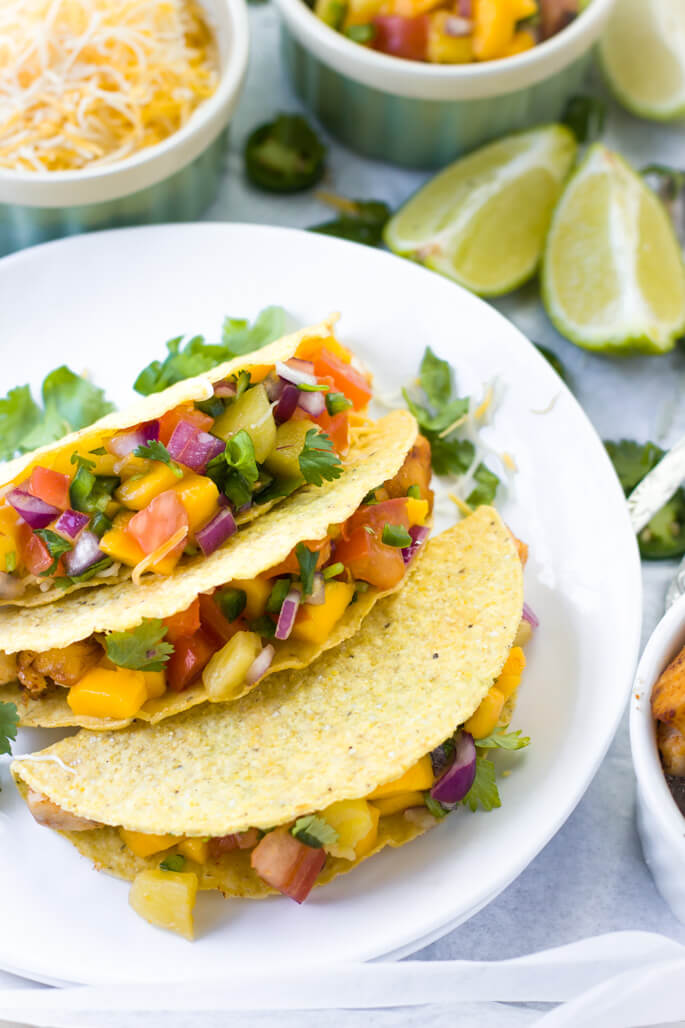 Ok, back to the recipe. Let's talk about main components of the tacos.
Fish: I used mahi-mahi in this recipe because first, this is what I had at that moment and second, this is probably the best fish for tacos: sweet flavor, nice texture to withstand cutting into cubes, and affordable. You can use any white medium-heavy weight fish that is currently in season. Haddock, Tuna (not a white fish but also good for tacos) are good choices for tacos. You can also use frozen fish (I do this pretty often), just thaw it properly beforehand. Here is the FDA guide on selecting, storing and thawing fish and seafood. Very useful and helpful information.
And I always prefer baked or roasted protein rather than deep fried. Much lighter, tastier and healthier choice.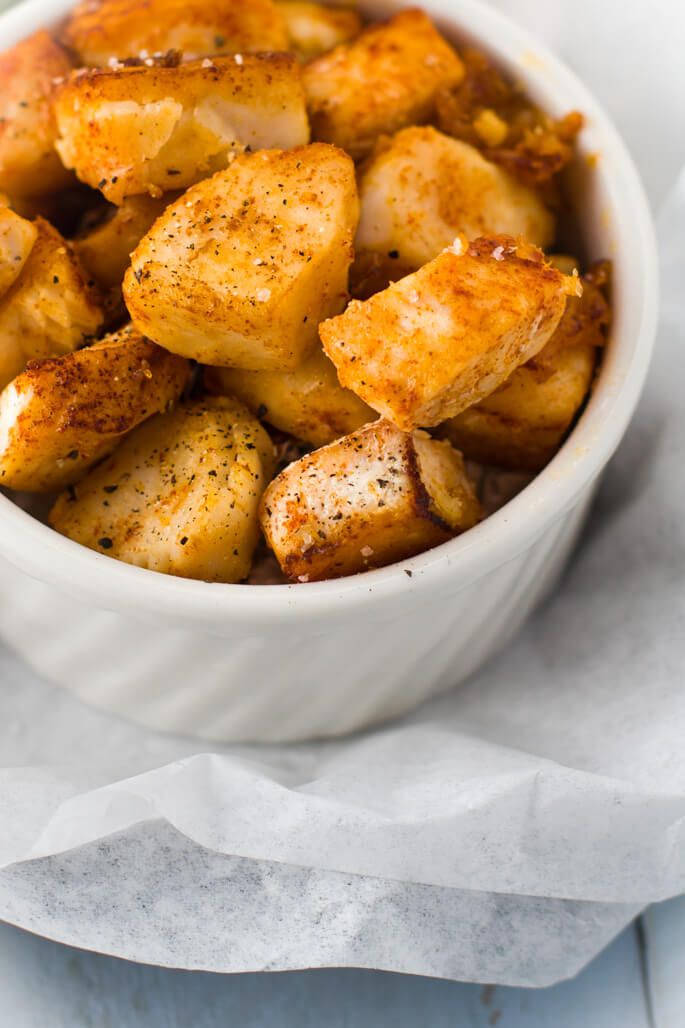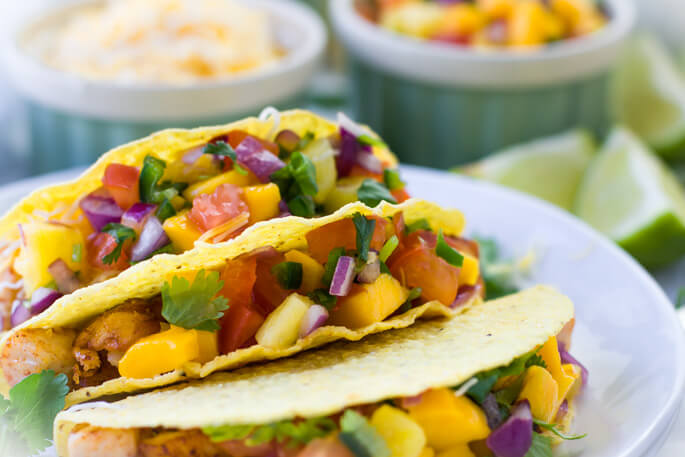 Salsa: Basically there are no rules about fruit salsas. You can add to it anything you want. My two main "must to" for fruit salsas are:
It has to be sweet and spicy.
The ingredients must complement each other.
For this salsa, I chose the tropical fruits (pineapple and mango) mainly because of the Mahi-mahi fish. But you can use any fruits that are in season. Just don't forget rule# 2.
Taco shells: There is always back and forth what to use for tacos: the crunchy store-bought corn shells or regular soft corn or flour tortillas. Personally, I don't have a preference. However, I prefer to buy whole-wheat tortillas rather than plain white. Also, Aldi stores sell AMAZING small soft corn tortillas: great ingredients list, taste great and extremely cheap. Use what you like more.
Always warm taco shells and tortillas either in the microwave or toss them in the oven for a few minutes right before serving. I recently stumbled upon this mind-blowing 3 DIY tortilla tricks: How to make your own taco shells, taco bowls, and tortilla chips. This is definitely a game changer tricks
Garnishes: The rest of garnishes can be anything you want. In my case, I had a bit of red cabbage left, and it worked well with fish and salsa. I have to admit I'm an avocado lover, and if I have a chance to add it to a dish, I always take such opportunity. I made guacamole for toppings but ended up eating the whole thing with corn chips. If you like avocado and don't want to fuss with guacamole than just chop it and top your tacos with it. Or you can use tropical salsa only. And of course, don't forget about the cheese. You can shred your own favorite hard cheese or make a smarcut and use shredded Mexican-style cheese blend. Obviously, the freshly grated cheese tastes better, but sometimes you have to break the rules. Remember we are talking about quick and fun dinner not standing and grating cheese! Here is the extra tip for you:
If you see your sweetheart wondering around and pretending he/she is busy, then let him/her do the grating for you. Now you have freshly grated cheese with no extra effort from you 😇😉👍
Avoid overloading your tacos. With tacos less is more is the smart decisions!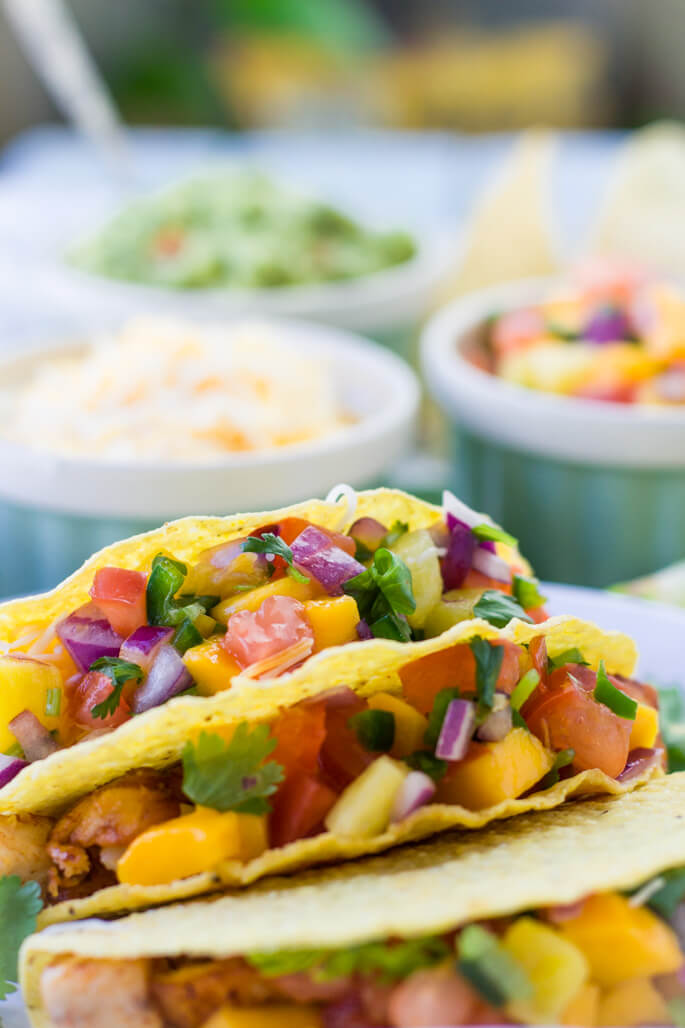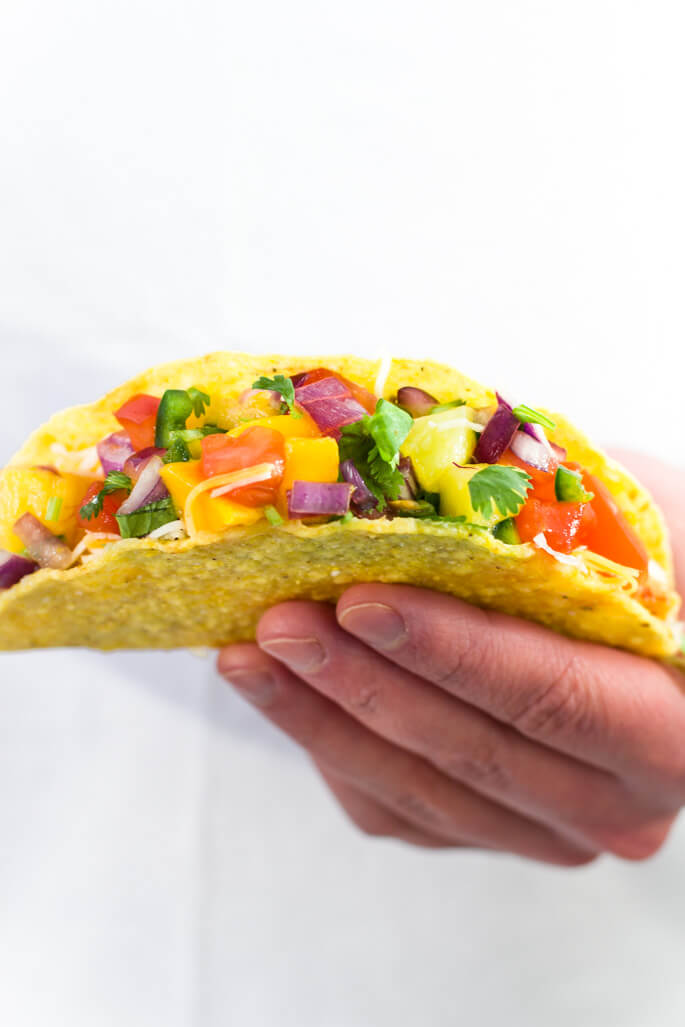 I believe there is no point mentioning that these mahi-mahi fish tacos with mango salsa are best to serve with a beer or couple of Margaritas 😉
So here is the formula for the lazy fun dinner: 🌮🌮🌮 + 🍻🍹 + 👫👨👩👧👦 or 🎦🎭 = 👍😌😎
Hope you will have fun and will enjoy these tacos!
Fish Tacos with Mango Salsa Tips and Tricks:
I almost always use frozen pineapples and mangos for the salsa. Thaw fruits properly and discard the liquid. If you use fresh, just follow the recipe as is.
Other fish options: haddock, tuna or any other medium-heavy weight fish.
Yields: 6 servings
Mahi-mahi fish tacos with pineapple mango salsa
20 minPrep Time
10 minCook Time
30 minTotal Time
Ingredients:
For the fish:

1 ½ pounds Mahi-mahi fillets
1 ½ teaspoon Smoked paprika
½ teaspoon Salt
½ teaspoon White pepper (or black)

For the salsa:

½ cup pineapple pieces*
½ cup mango pieces*
1 medium tomato
1 Jalapeno, diced
3 tbsps.Red onion
3 tbsps. Cilantro
Lime juice from 1 lime
Olive oil splash
Salt & Pepper

For the tacos:

1 ½ cup shredded Mexican cheese blend
8-10 tortillas*
Lime wedges (optional)
Shredded cabbage (optional)
Guacamole (optional)
Instructions:
For the fish:
1. Preheat oven to 400 F
2. Rinse and pat dry fish fillets. Cut fillets in small cubes. Season with salt, white pepper and smoked paprika.
3. Bake for 5-7 minutes. Check for doneness and set aside.
For the salsa:
Cut tomatoes in half and remove all the juice and seeds. Cut into a small cubes pineapple, mango, and tomatoes. Finely dice jalapeno and red onion. Mix everything together. Add lime juice and a splash of extra virgin olive oil. Season well with salt and pepper. Add chopped cilantro. Adjust seasoning.
For the tacos:
Toast the taco shell or warm tortillas to your liking or follow the instruction on the package*. Place fish in the taco shell. Top with salsa, cheese and/or any garnishes you have.
Enjoy and have fun!
Notes:
* Can use frozen fruits instead.
* See Tips and Trick for the taco shell guidance.
7.8.1.2
8
https://thepuretaste.com/mahi-mahi-fish-tacos-pineapple-mango-salsa/