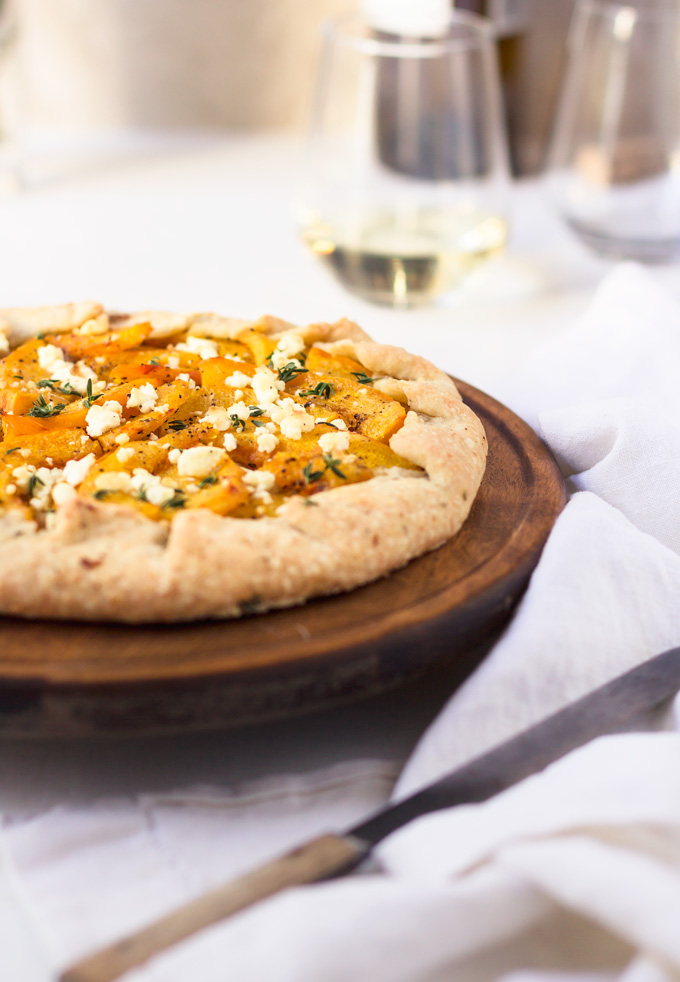 Fall grocery shopping is a challenging thing to do. Pretty colors, beautiful shapes, aromatic smells are tempting to put more and more produce in the shopping cart. And pumpkins are the best tempters. You stop by them looking how pretty they are, and the cheering orange color and the cute lines. The next thing you know it is in your shopping cart. First, you decorate your kitchen or house with it and then thinking what to cook with it.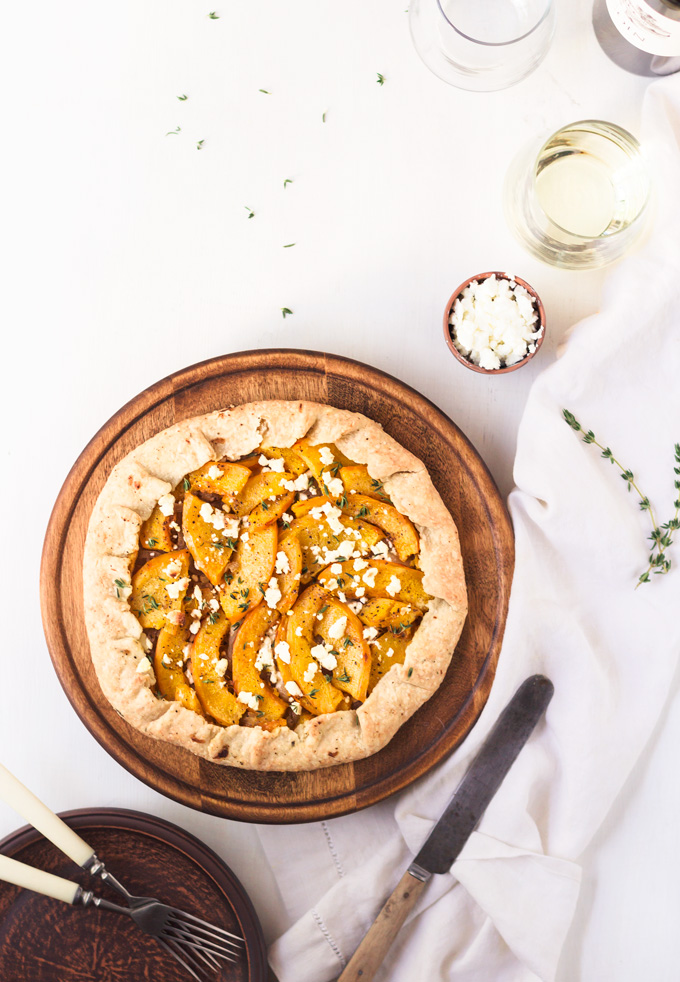 Pumpkin has never been on my favorite list to cook dinner with. And I'm not much into pumpkin desserts either, especially into a beloved pumpkin pie. No matter where I tried it, I still don't like it. Too pumpkiny, if this is a word at all. But savory pumpkin recipes are something I enjoyed to experiment with for the past couple of years.
After many years of trying new recipes and experiments, I collected the must make fall recipes collection. I'm very excited to share with you one of my favorite fall savory pumpkin recipe.
Goat cheese pumpkin galette with caramelized onions and super flaky parmesan pie crust. Everything is in this sentence! Imagine the flakiest pie crust with savory hints of freshly grated parmesan cheese and infused with thyme leaves. Top it with fresh and flavorful goat cheese. Spice it up with soft and tender caramelized in your favorite white wine onions. And finish it off with slightly sweet but savory roasted pumpkin slices. The only thing that this pumpkin galette is missing is the glass of delicious wine you cooked onions with.
It is absolutely delicious. So many complex flavors complimenting each other. Even the person who is not much into pumpkins will fall in love with this fall pumpkin galette. Every single year I make it and enjoy it until the last flaky crumb on the plate.
I encourage you to give this savory pumpkin galette recipe a try. Maybe it will become a staple fall recipe in your house too.
Happy Baking 😉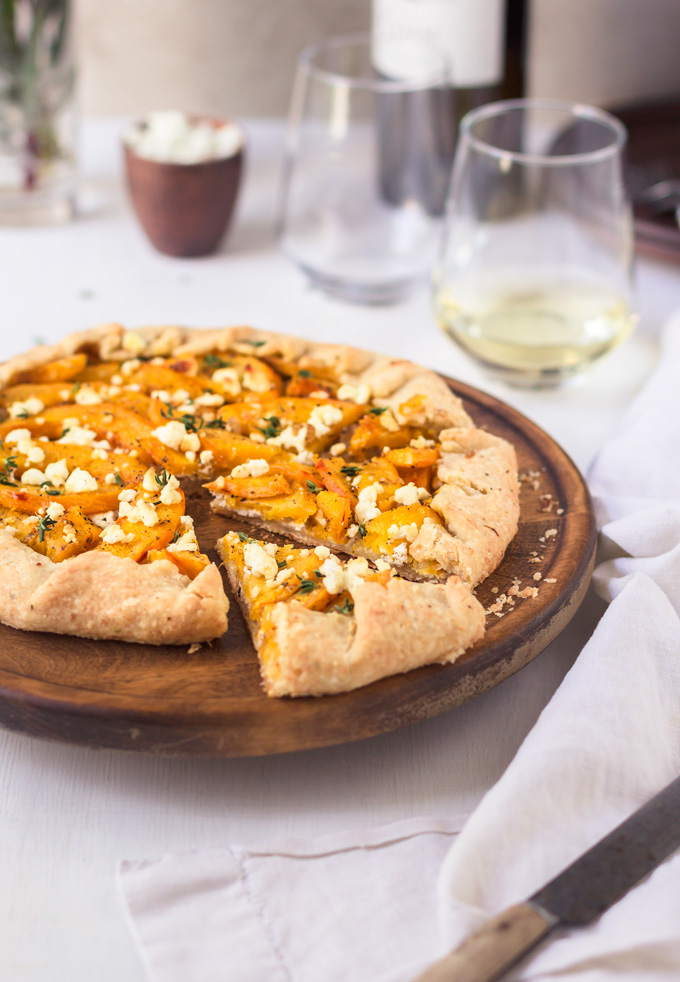 Pumpkin Galette Tips and Tricks:
Cutting the pumpkin is a real struggle. Watch Chef Tip – How to prepare a Pumpkin to safely peel and prep pumpkins.
Use freshly grated parmesan cheese. It tastes whole lot differently!
The secret taste in this galette is sauteed Make sure not to brown them. Low and slow is the key.
Use only the good Never cook with the wine you wouldn't drink! I cook with Sauvignon Gris.
Melt the butter for brushing in the same pan you cooked onions. First, less cleaning. Second, butter infuses the leftover aroma.
The galette can be refrigerated, but I doubt you'll need to. The galette is good for 4 people, but two of us can finish it in one day.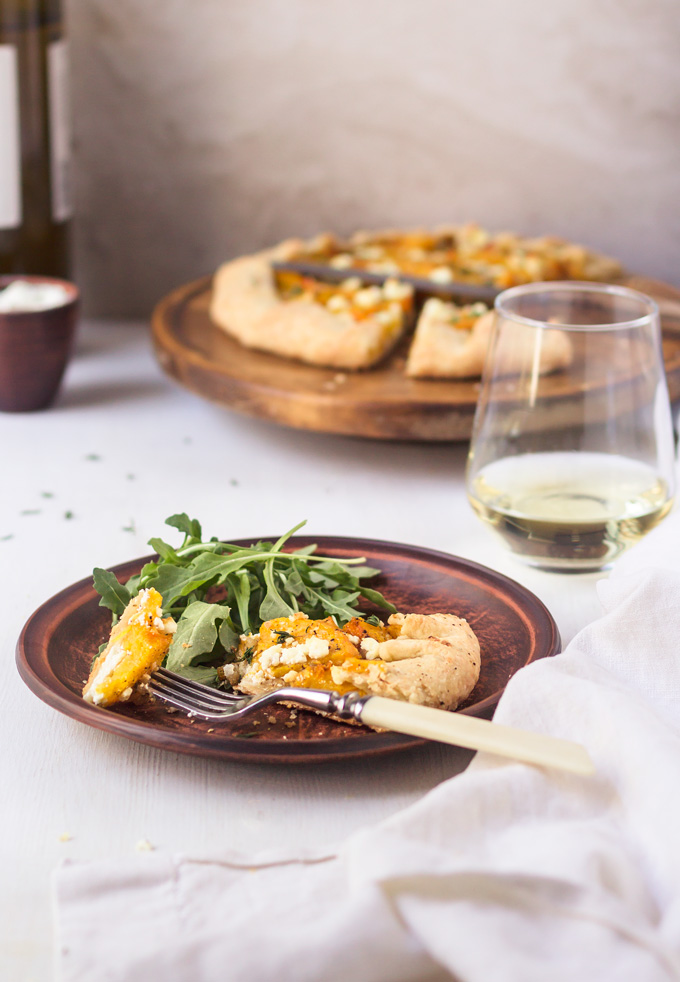 If you make this recipe, please share your picture with me by tagging it #thepuretaste on Instagram. Or share your results in the comment section down below. It means a whole world to me knowing someone is making my recipes.
Thank you for sharing and support ❤️❤️❤️
Maria
Yields: 8-9 inch round galette
Savory Pumpkin Galette With Flaky Parmesan Crust
Savory fall pumpkin galette with flaky parmesan pie crust and caramelized onions
30 minPrep Time
1 hrCook Time
1 hr, 30 Total Time
Ingredients:
For the crust:

¾ cup + 2 tablespoons (120 gr) all-purpose flour
¼ cup + 1 tablespoon (20gr) freshly grated parmesan cheese
½ teaspoon kosher salt
1/8 teaspoon black pepper
1 teaspoon fresh thyme leaves
½ stick (4 tablespoons – 55 gr) cold unsalted butter, cut into small cubes
2-3 tablespoons cold water

For filling:

A quarter of medium sugar pumpkin (around 350 gr.)
3 tablespoons olive oil, divided
1 small white onion
2 tablespoons unsalted butter, divided
70 ml. white wine
Salt and black pepper
120 gr. crumbled goat cheese
1 teaspoon fresh thyme leaves
Instructions:
To make the dough by hand:
In a large bowl combine flour, parmesan, thyme leaves, black pepper, and salt. Using your hands mix the cold butter into flour mixture until you see small pea-sized chunks. Slowly start adding cold water and mix with hands until the dough comes together. You may not need all the water. Stop when the dough holds its shape when you squeeze it. Shape the dough into a disc. Wrap tightly in a plastic wrap. Refrigerate at least 1 hour or overnight.
To make the dough in a food processor:
Combine flour, parmesan, thyme leaves, black pepper, and salt. Pulse couple of time to aerate the mixture. Add cold cubed butter. Pulse a couple of times until you see coarse pea-sized crumbs. Slowly start adding cold water and pulse until everything just comes together. You may not need all the water. Stop when the dough holds its shape when you squeeze it. Invert the dough onto the surface. Knead the dough until it just comes together. Shape into a flat disc. Wrap tightly in a plastic wrap. Refrigerate at least 1 hour or overnight.
To make the filling:
Preheat oven to 380 F.
Wash, peel and cut the pumpkin into quarter-inch thin slices. Arrange on a baking sheet. Pour 1 1/2 tablespoons of olive oil over the slices, making sure all pieces are coated. Sprinkle with salt and pepper. Roast in the middle of the oven for 15 minutes. Remove and let cool completely.
Cut onion in half and slice. Heat a frying pan over medium-low heat. Melt 1 tablespoon butter + 1 ½ tablespoons olive oil. Add onions, sprinkle with some salt. Sauté onions until almost cooked. Make sure not to brown them. If they are browning reduce the heat and keep sautéing them until nearly translucent, about 10 minutes. When onions are almost done pour white wine into the pan. Keep cooking until wine is evaporated, about 3 minutes. Taste the onion mixture and adjust the seasonings with salt and pepper. Remove from heat and let cool completely.
To assemble the pumpkin galette:
Dust the surface with flour. Roll the crust into a 9-inch circle. Sprinkle half of the goat cheese over the dough leaving about an inch from edges. Spread the onion mixture on top. Sprinkle thyme leaves. Arrange pumpkin slices. And finish with rest of the goat cheese. Fold the edges.
Melt the remaining 1 tbsp. of butter in the pan from onions. Brush the edges. Bake in the middle of the oven for 30 minutes.
Remove from heat. Let it cool slightly. Serve warm or cold.
Adapted from igra so vkusom
Notes:
Please, note total time does not include resting time for the pie crust. Plan accordingly!
7.8.1.2
60
https://thepuretaste.com/savory-pumpkin-galette/
Disclosure: This post contains affiliate links, which collects some cookies.  If you purchase a product through one of my links, I will earn a small commission at no extra cost to you. I only recommend products that I use and love myself. Thank you in advance for your support! It means a lot!
Products used in this post: