Alright, it's time to share some Ukrainian cuisine with you. Since spring is a season of all fragrant and fresh herbs, I landed my choice on traditional Ukrainian piroshki recipe. In English- fresh herbs, egg and rice hand pies 😉.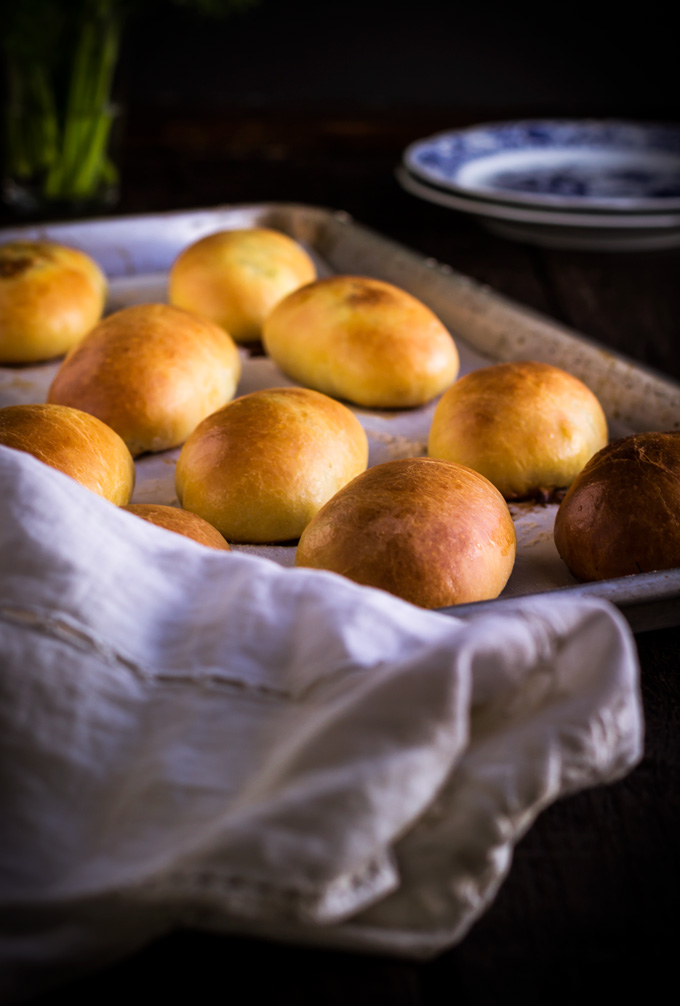 I'm very excited to share the family recipe with you. Luckily, my mom doesn't know English so she cannot read the next sentence. I tried other ukrainian and russian sweet dough recipes, and they were not as soft, fragrant, and delicious as hers. Now I'm confident to say this is the best piroshki recipe to make.
What is piroshki anyway?
Piroshki, pirozhki, pyrizhky are both sweet and savory hand pies made from yeasted dough. They are an essential part of the Ukrainian and Russian cuisine. We make them all year round using different fillings. Honestly fresh herbs and the egg have always been my favorite filling.
I don't know why, but unfortunately, dill is not popular here, in the US. It is such a fragrant, delicious and versatile herb that pairs so well with different produce. If you never tried dill or didn't know what to do with it earlier, then this recipe is an excellent option to give it a chance. And it is a perfect time for it. Fresh herbs are the first thing that pops in spring. The price is dropping, and bunches are getting bigger. This makes me buy fresh herbs like crazy.
After I chop dill, parsley, scallions the aroma is released, and it always feels like spring to me. Combine it with boiled eggs, and I'm back in the kitchen with my mom and grandma.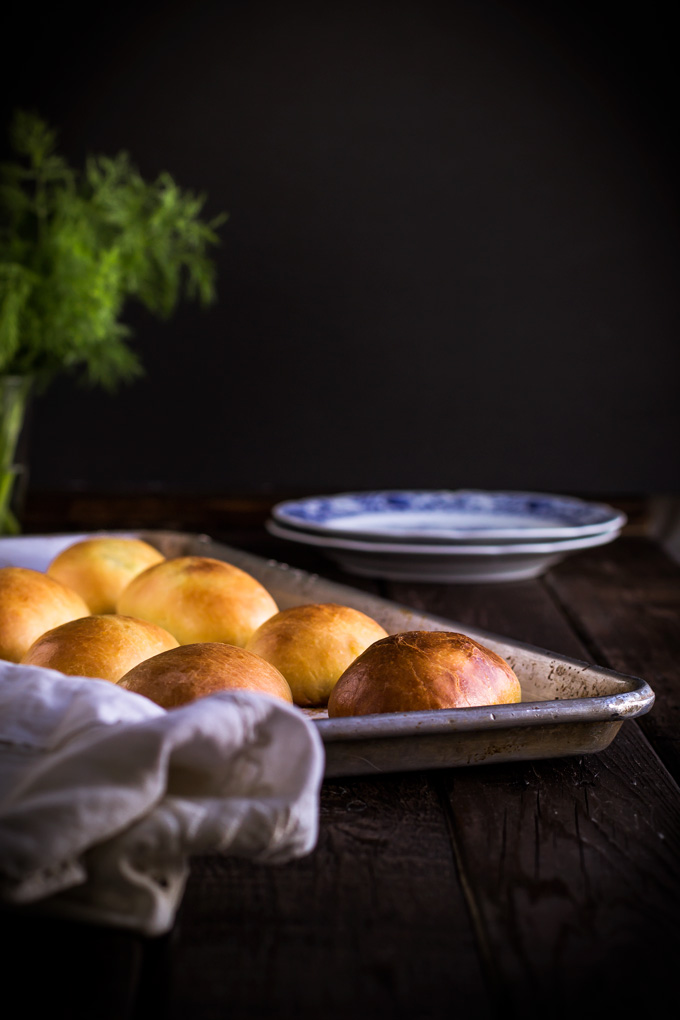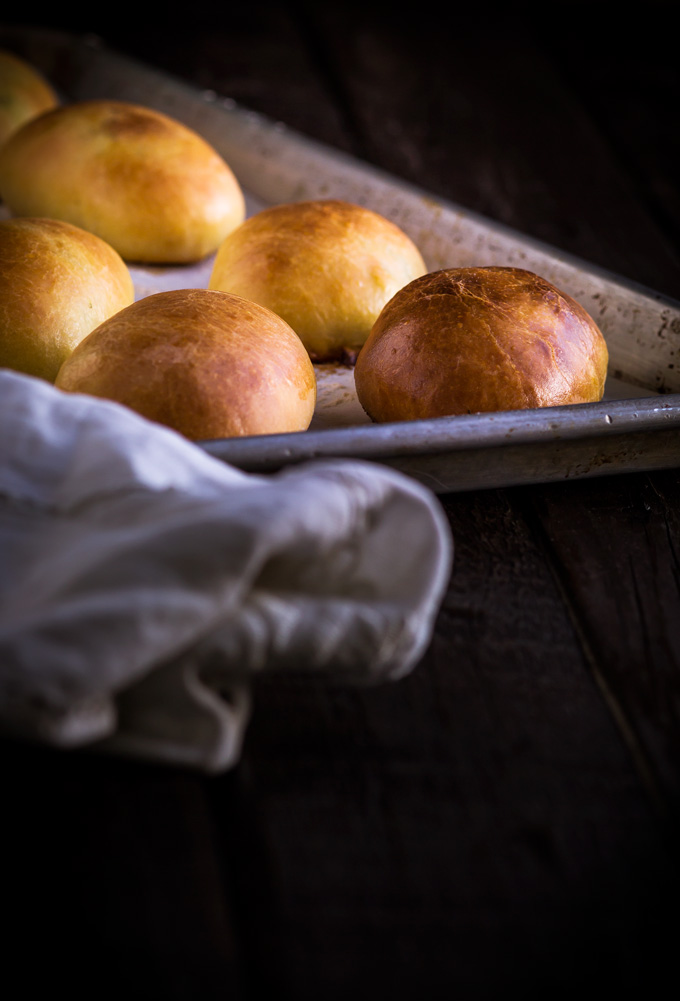 I don't know what I like more the fresh and delicious vegetarian filling or soft and fragrant piroshki dough. I need to make a separate post with a sweet Ukrainian piroshki dough recipe. It is absolutely fantastic and versatile. You can use it for everything: pies, sweet hand pies, savory hand pies, dinner roll, etc. The list can go on and on. The prove is Ukrainian savory egg and fresh herbs pie. Same dough recipe, slightly different filling, and fancier presentation.
And the dough smell… There should be a sweet yeasted dough candle for sale. Sound weird, but I would buy it. The aroma that fills an entire place always brings warmth and comfort to my heart. It is a throwback to childhood. When you were busy with your kid's stuff and then suddenly you sense the warm and sweet smell. You drop everything and check what's cooking and patiently waiting to be first in a row to grab still hot, fresh from the oven baked goodies. I hope you guys know what I mean.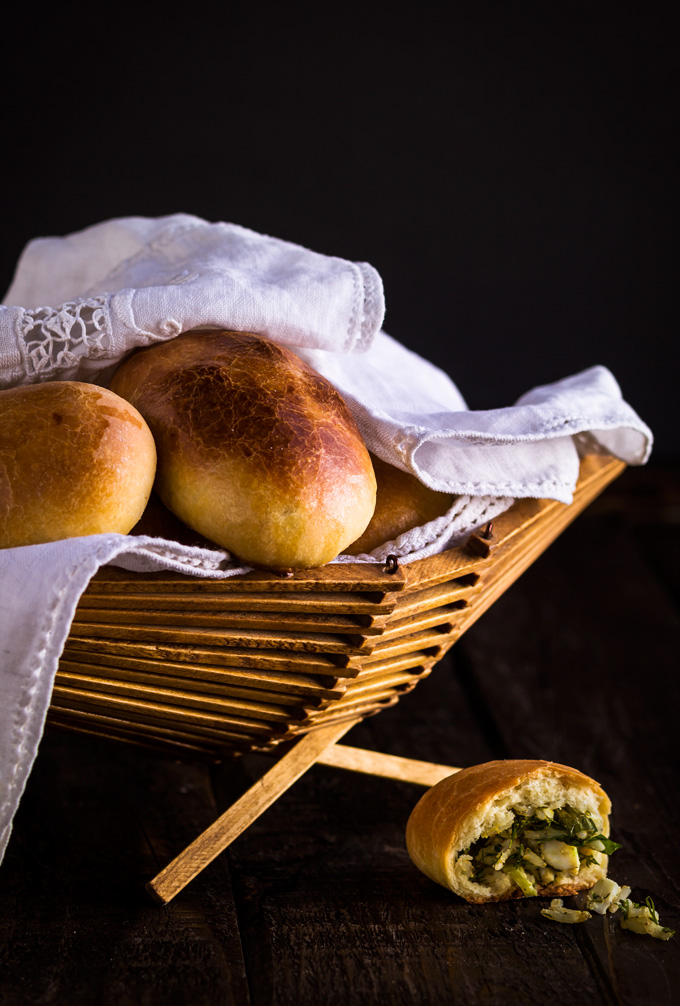 Anyway, there are two types of pyrizhky: fried and baked. This time I share baked piroshki recipe because it is little healthier choice and The Pure Taste is about lightened up recipes. Plus it is a much cleaner option. Shape them, put in the oven and in about 3o minutes you have a golden brown, soft and yummy ukrainian vegetarian hand pies.
Take them to work, enjoy during lunch or pack for a picnic. One thing is for sure; one hand pie is never enough! So prepare yourself to eat at least two.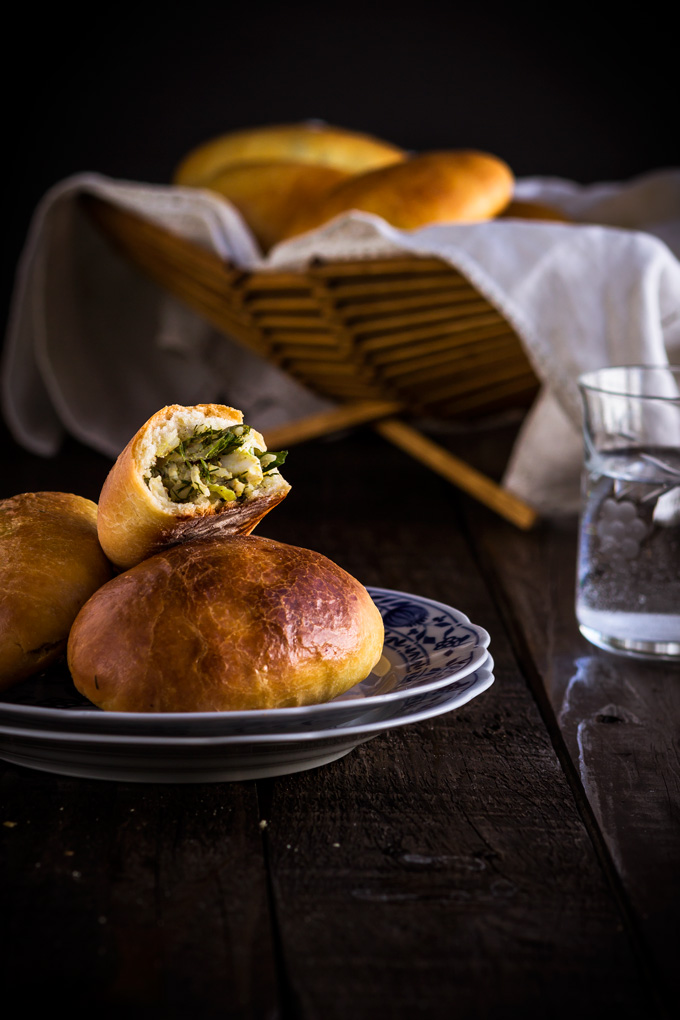 Next time you shop and see big bunches of fresh herbs, grab them to make piroshki vegetarian recipe! And as always below are tips and tricks on how to make piroshki from scratch.
Happy Baking 😉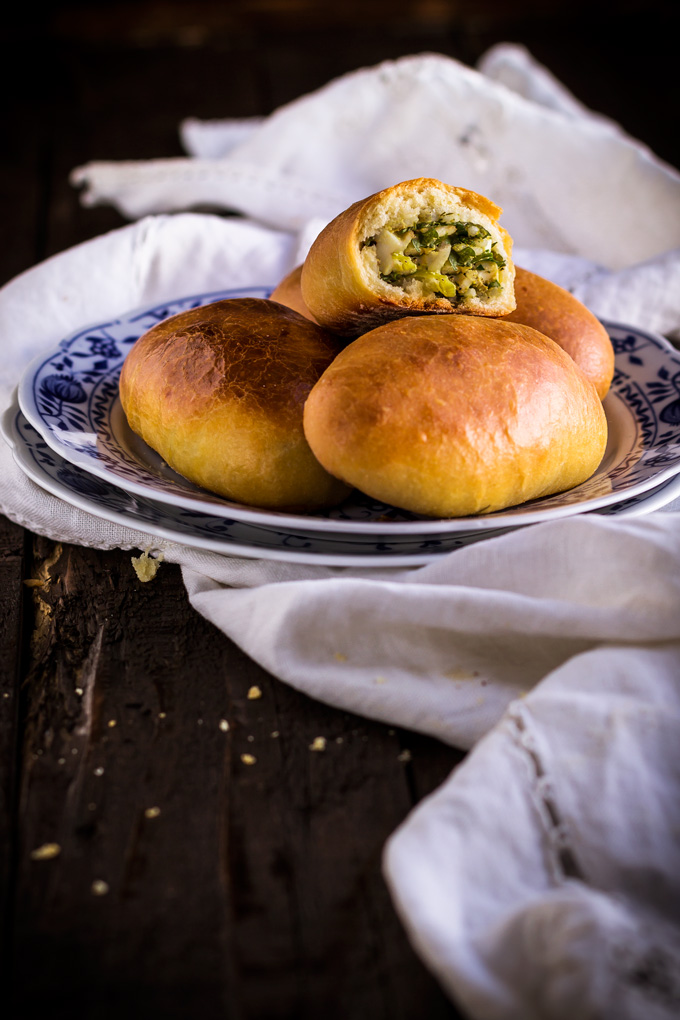 Tips and Tricks for ukrainian piroshki recipe:
This recipe yields 12 palm size hand pies. If it is not enough, double the recipe and use two trays for baking.

How to Fold Your Bread Like a Pro

is a helpful video illustration of my instructions in the recipe below.
The sweet dough is freezable. How to freeze yeast dough: After the dough has risen for the first time roll it into the rectangular shape. Fold it like a letter. Flip it over. With the shorter edge fold it once again the same way. You should end up with a small square. Place it back in the bowl with the sealed side down. Cover with plastic wrap and refrigerate for up to a day. It will slightly rise in the fridge. Take it from the refrigerator and wrap it in a parchment paper. Put it in a ziplock, mark the date and freeze for up to a month. When ready to use, take it from the freezer one day ahead of baking and place it in the fridge to thaw properly. When ready to bake, leave it at room temperature for about an hour.
There are two tricks on how to raise the dough faster:
Method 1: Fill a big bowl (smaller than the one with dough) with warm water. Place the bowl with dough on top of it. Cover with a towel and let the magic do its thing.
Method 2: Slightly preheat the oven, no more than 100 F. Place the bowl with dough in it. Cover with a towel and turn off the oven. Check back in about 1.5 hours.
The golden brown color secret: egg wash! We use it all the time. Egg wash recipe: whisk together 1 egg yolk and 1 tablespoon of whole milk.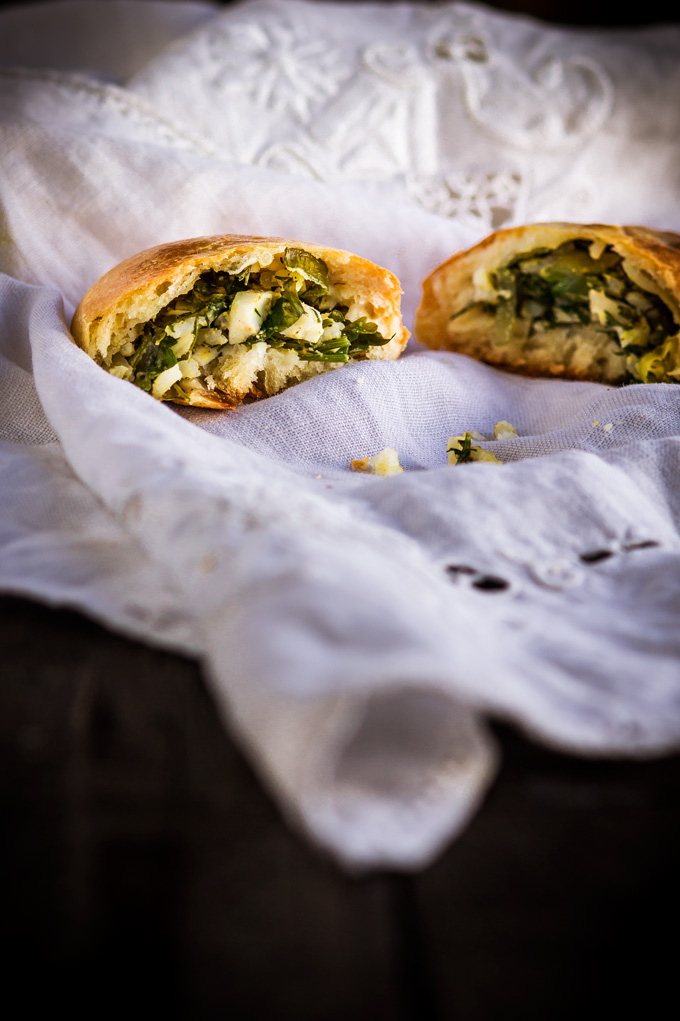 If you make this recipe, please share your picture with me by tagging it #thepuretaste on Instagram. Or share your results in the comment section down below. It means a whole world to me knowing someone is making my recipes.
Thank you for sharing and support ❤️❤️❤️
Maria
Yields: 12 piroshki - hand pies
Traditional Ukrainian Piroshki Recipe – Egg and Rice Hand Pies
40 minPrep Time
30 minCook Time
1 hr, 10 Total Time
Ingredients:
For the yeast dough:

180 ml. warm milk
2 teaspoons (8 gr.) dry yeast
2 tablespoons (30 gr.) granulated sugar
1 ½ teaspoons (5 gr.) kosher salt
1 large egg
2 cups (300 gr.) all-purpose flour
¼ cup (1/2 stick / 57 gr.) unsalted butter, softened
More flour for add-ons and dusting

For the vegetarian filling:

4 large boiled eggs
½ cup cooked rice (1/4 cup uncooked)
1 bunch of fresh herbs: dill, parsley, and cilantro
1 small bunch of scallions (about 4)
2 tbsps. melted unsalted butter
Salt and ground black pepper

For the egg wash:

1 egg yolk
1 tablespoon whole milk
Instructions:
To make the yeast dough:
Dissolve yeasts in warm milk. Set aside in a warm place for 10 minutes to wake them up. When the yeast mixture has bubbles on the surface add egg, sugar, and salt. Briefly whisk everything together.
With the dough hook in a stand mixer or with your hands slowly start adding flour. The dough should be sticky at the beginning. Continue mixing until the dough becomes smooth and soft, about 7-10 minutes with a mixer or 15 minutes by hand. Start adding soft butter piece by piece. The dough will be sticky again. Continue mixing until you have the beautiful soft dough, about 7 minutes with a mixer or 10 minutes by hand. If the butter does not fully incorporate with batter, add a tablespoon of flour.
Shape the dough into a ball and place in a large bowl. Grease the dough slightly to keep it moist. Cover with towel and place in a warm place. Let it rise for 1-2 hours, depending on how warm your kitchen is. See tips and tricks on how to help the dough rise faster.
Gently deflate the dough and place it on a lightly floured surface. Roll it into the rectangular shape. From the shorter edge make a fold to the middle of the rectangular. Place the other shorter edge on top of it (fold it like a letter). Flip it over. With the shorter edge fold it once again the same way. You should end up with a small square. With the folded side down place back in the bowl.
From this point, you may place the dough in the fridge for up to one day or let it rise in the bowl for 1-2 hours to use it the same day.
To make the filling:
Roughly chop the boiled eggs. Chop all the herbs and scallions. Place eggs, rice, and herbs in the large bowl. Add melted butter, salt, and pepper. Mix everything.
To make piroshki:
Preheat oven to 400 F.
Line the baking sheet with parchment paper and lightly flour it. Divide the dough into 12 equal parts. Roll each piece with a rolling pin or stretch it using your hands. Add a heaping tablespoon of filling in the center of each piece. Starting from the middle seal two sides together. Make sure the filling stays secure. Place sealed side down on baking tray.
For softer piroshky, let it rise for additional 20 minutes. I usually not patient enough and place them in the oven right away.
When ready to bake, brush hand pies with egg wash and place in the middle of the oven.
Bake for 27 minutes or until beautiful golden brown color.
Let it cool for 20 minutes.
Serve warm or chilled. Store in airtight container in the fridge up to 4 days.
Enjoy!
Notes:
Total Time does not include resting time, which is about 2 hours two times.
7.8.1.2
43
https://thepuretaste.com/ukrainian-piroshki-recipe/
Disclosure: This post contains some affiliate links.  If you purchase a product through one of my links, I will earn a small commission at no extra cost to you. I only recommend products that I use and love myself. Thank you in advance for your support! It means a lot!
Products used in this post: