This Ukrainian savory egg and fresh herbs pie is a family recipe and one of my favorite pies from the childhood. The combination of fresh eggs from a local farm and fragrant seasonal dill, parsley and scallions wrapped in a soft, lightly sweetened yeast dough will make you fall in love with this recipe.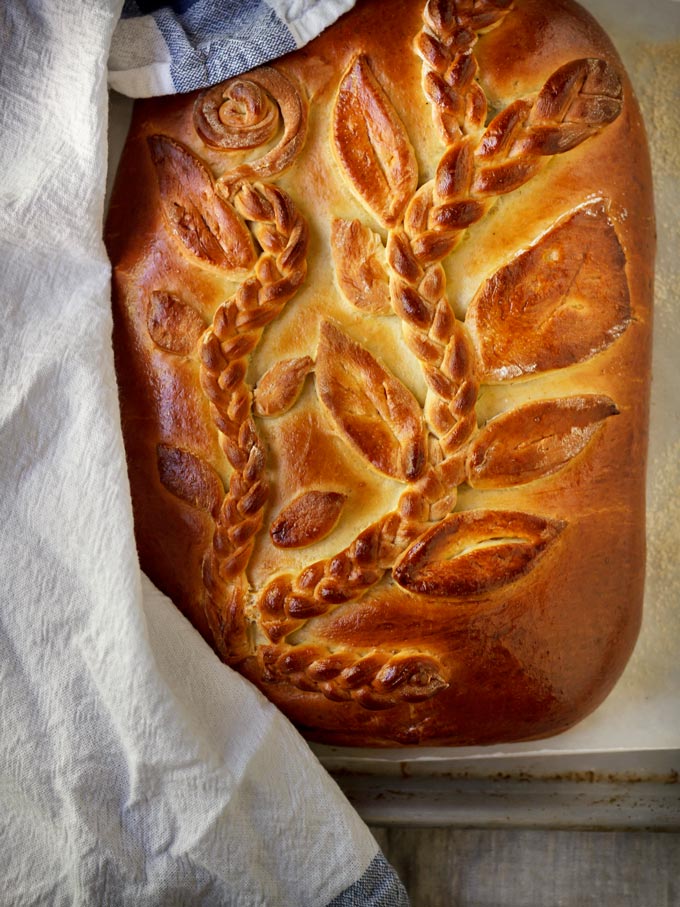 For me, the summer begins with juicy berries and fragrant fresh herbs. Fresh herbs are something I cannot live and cook without. I like the smell, the taste, and the color they add to any dish. When I see local, seasonal herbs, I buy them like crazy. The downside they never last long, and you have to use them as fast as you can to feel it's fresh taste. This savory egg and fresh herbs pie is a simple celebration and appreciation of the fresh and seasonal herbs.
My grandparents have an enormous amount of chickens at their farm. We ALWAYS have fresh eggs and sometimes just too many. I love days when the fridge is full of eggs. This means my mom will make my favorite egg and herbs hand pies. This is a good way to use the extra eggs you have. In some way, this pie reminds me an egg salad but lighter and with an added summer freshness from herbs.
The combination of dill, parsley, and scallions is an original mix of herbs my mom uses. Sometimes when I have a little cilantro left I also add it to a mixture. If you don't like specific herb just replace it with the one you love. The idea is to feel the crisp taste of the fresh herbs. However, I would avoid the strong herbs like rosemary, thyme, sage, etc.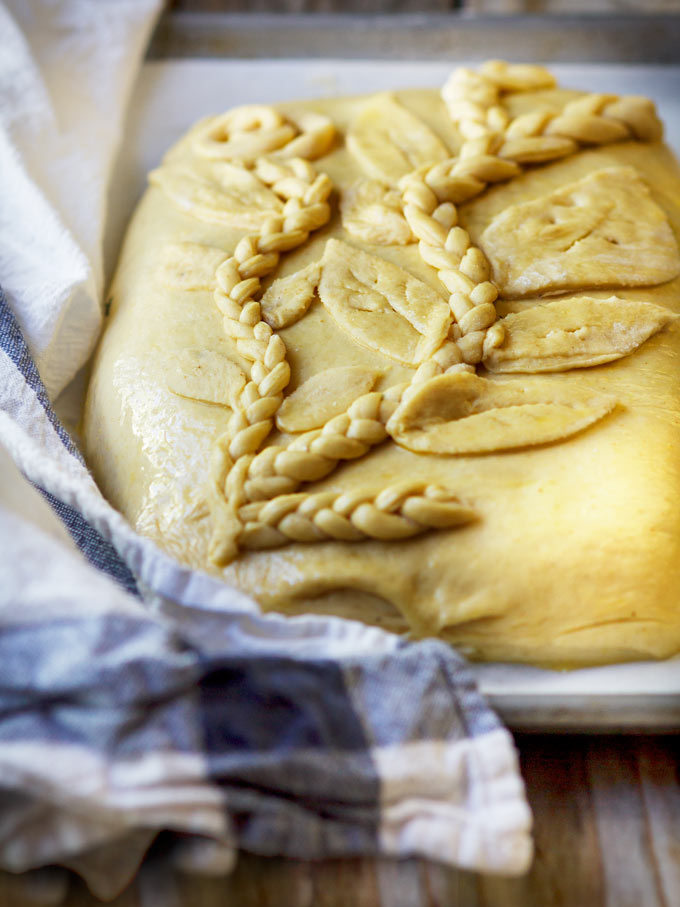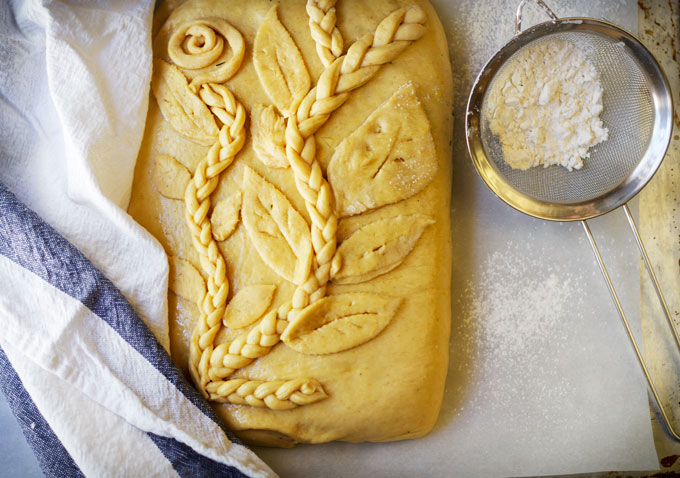 Let me quickly talk about the dough for this pie. It is absolutely universal. I use it for all kinds of fillings. It has all the good stuff yeast dough should have: milk, butter, and egg yolks. It is rich yet very light and fluffy yeast dough with a beautiful dairy notes. And the egg yolks create this gorgeous golden-brown color.  I usually make a double batch of this dough, use one-half and freeze the other half. In tips and tricks, you'll find how to freeze and defrost this yeasted dough.
You don't have to go crazy and make it as fancy as I did with all the braids and swirls. Most of the time my mom and I make them as simple small hand pies. My love for this egg and fresh herbs pie woke up creative inner me, and I decided to go the extra mile for it. Also, braids give an extra authentic Ukrainian look to this pie. It may seem complicated, but in reality, it is very easy to decorate it. Please check this video on How to braid a three strand loaf. And there is nothing complicated to make leaves and swirls. Use the sharp knife to make a leaf shape and stick it to a pie with an egg wash.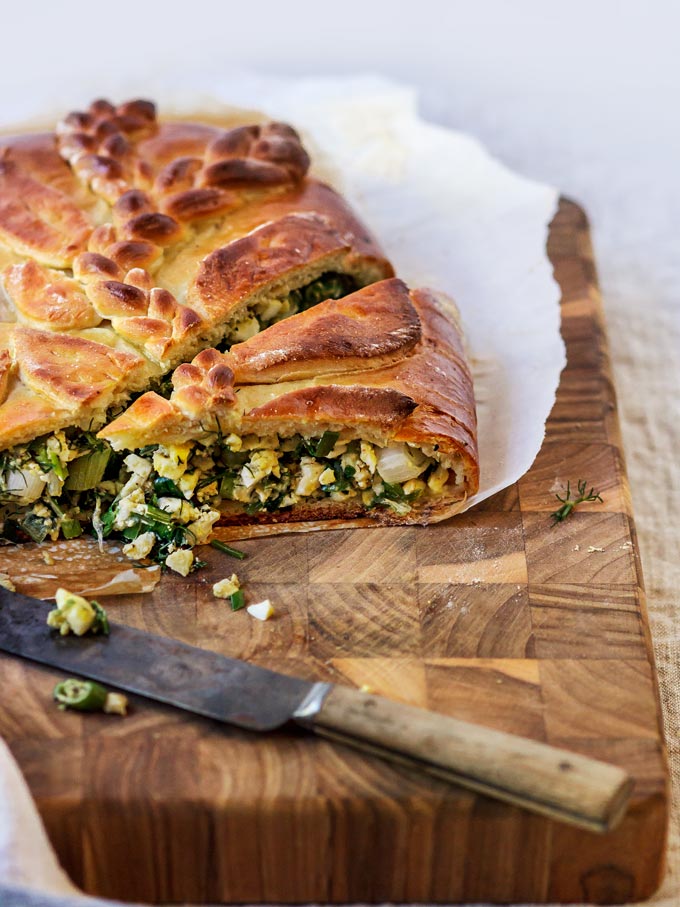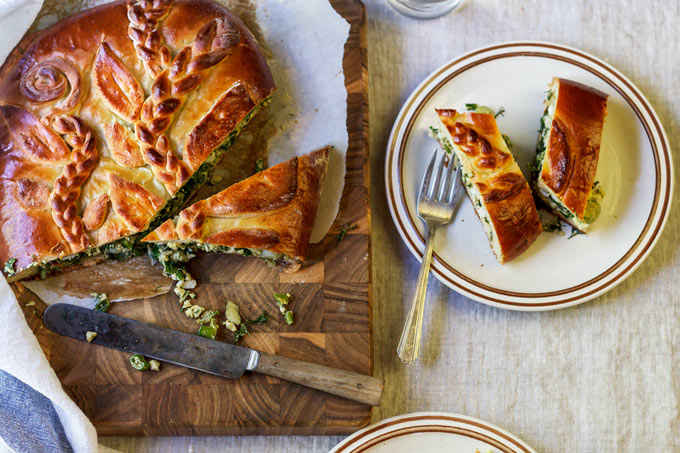 These hand pies never lasted long. Mom usually made them after work when I was playing with my friends outside. Once in a while, I ran into the kitchen to check if they were ready. When they were, I grabbed the whole bunch of them, stopped but the powerful evil eye look of my mom. Put them back on the table, washed my filthy dirty hands, grabbed them again and stormed out. I have to say my mom was popular among my friends as a lady who cooks delicious food, so she had a good fan base.
To me, this egg and fresh herbs pie is a very special cake that reminds me a lot of Ukraine in many ways. This is not a quick recipe because of the yeasted dough, but the result is well worth every effort you put in.  I truly hope you will make it and like it. Please, share your thoughts if you make this pie. It will mean a lot to me.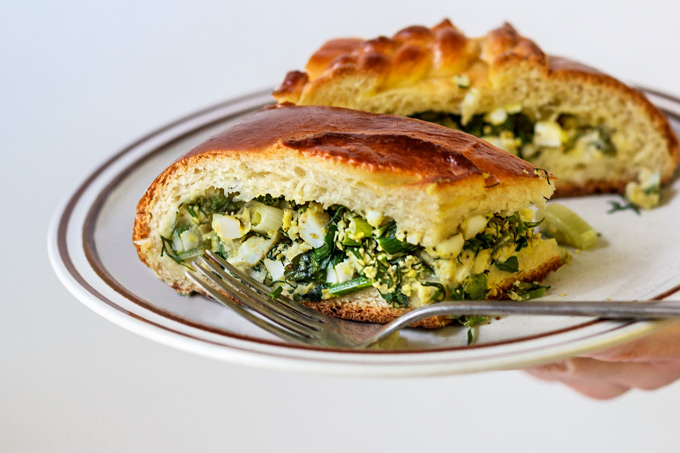 Tips and Tricks for Egg and Fresh Herbs Pie:
How to freeze this yeast dough recipe: After the dough has risen for the first time roll it into the rectangular shape. Fold it like a letter. Flip it over. With the shorter edge fold it once again the same way. You should end up with a small square. Place it back in the bowl with the sealed side down. Cover with plastic wrap and refrigerate for up to a day. It will slightly rise in the fridge. Take it from the fridge and wrap it in a parchment paper. Put it in a ziplock, mark the date and freeze for up to a month. When ready to use, take it from the freezer one day ahead of baking and place it in the fridge to thaw properly. When ready to bake, leave it at room temperature for about an hour.
To make small hand pies: Divide the dough into equal small balls, about 1/3 cup each. Flatten on the surface or in your palm. Add about 3 tablespoons egg filling. Seal the dough with your fingers and put sealed side down on the baking sheet. Reduce baking time to 30 minutes.
If the top of the pie browns too quickly, cover it with the lightly oiled aluminum foil and continue baking.
It is equally delicious to eat warm or chilled.
How to properly store delicate herbs (parsley, dill, and cilantro): Clean the stems from old leaves and dirt. With kitchen scissors cut the ends of the stems. Pour some water into a tall glass. Place the bouquet in water. Cover the glass and herbs with the plastic bag you herbs came in. Store the herbs in the warmest place in your refrigerator. This way, they can stay fresh for up to a week.
Maria
Yields: 1 large pie or 12 small hand pies
Ukrainian savory egg and fresh herbs pie (family recipe)
1 hrPrep Time
40 minCook Time
1 hr, 40 Total Time
Ingredients:
For the yeast dough:

170 ml. warm milk
2 teaspoons (8 gr.) dry yeast
1 ½ tablespoons (20 gr.) granulated sugar
1 ½ teaspoons (5 gr.) kosher salt
2 large egg yolks
2 cups (300 gr.) all-purpose flour
¼ cup (1/2 stick / 57 gr.) unsalted butter, softened

For the egg fillings:

5 large boiled eggs
1 small bunch of dill
1 small bunch of parsley
1 small bunch of scallions
1/3 cup sour cream
1 ½ teaspoon kosher salt
½ teaspoon ground black pepper
Instructions:
To make the yeast dough:
Dissolve yeasts in warm milk. Set aside in a warm place for 10 minutes to wake them up. When the yeast has bubbles on the surface add 2 egg yolks, sugar, and salt. Briefly whisk everything together. With the dough hook in a stand mixer or with your hands slowly start adding flour. The dough should be sticky at the beginning. Continue mixing until the dough becomes smooth and soft, about 10 minutes with a mixer or 15 minutes by hand. Start adding butter piece by piece. The dough will be sticky again. Continue mixing until you have the beautiful soft dough, about 7 minutes with a mixer or 10 minutes by hand. Butter the large bowl and put the dough in it. Cover with towel and place in a warm place. Let it rise for 1-2 hours, depending on how warm your place is.
Gently deflate the dough and place it on a lightly floured surface. Roll it into the rectangular shape. From the shorter edge make a fold to the middle of the rectangular. Place the other shorter edge on top of it (fold it like a letter). Flip it over. With the shorter edge fold it once again the same way. You should end up with a small square. With the folded side down place back in the bowl. From this point, you may place it in the fridge for up to one day or let it rise in the bowl for 1-2 hours again, depending on how warm your place is.
To make the filling:
Roughly chop the boiled eggs. Chop all the herbs and green onions. Place everything in the large mixing bowl. Add sour cream, salt, and pepper. Mix everything together.
To make the pie:
Line the baking sheet with parchment paper and lightly flour it. If you decided to make decoration, snip a small amount of dough and set aside. Roll the dough into the desired shape (mine was rectangular). Transfer the dough to a baking sheet with ½ of the dough hanging out of the baking sheet. Place all the fillings on the half of the dough that is on a baking sheet. Fold the other half over the filling. Close all the edges and tuck them underneath of the dough.
You can decorate the pie to your liking by sticking the elements with an egg wash. Cover the pie with the plastic wrap and leave it to rise for about 30 minutes. Meanwhile, preheat oven to 385 F.
When ready to bake, brush the pie with egg wash and place in the middle of the oven.
Bake for 40 minutes. If the top of the pie browns too quickly, cover it with the lightly oiled aluminum foil and continue baking.
Let it cool for 20 minutes.
Serve warm or chilled.
Enjoy!
Notes:
* Timing does not include the resting time.
7.8.1.2
24
https://thepuretaste.com/egg-and-fresh-herbs-pie/
Disclosure: This post contains some affiliate links.  If you purchase a product through one of my links, I will earn a small commission at no extra cost to you. I only recommend products that I use and love myself. Thank you in advance for your support! It means a lot!
Products used in this post: