This simple strawberry mousse is a regular dessert I make during the strawberry season. Its delicate and fragrant taste combined with the soft and airy texture will make you fall in love with this strawberry dessert.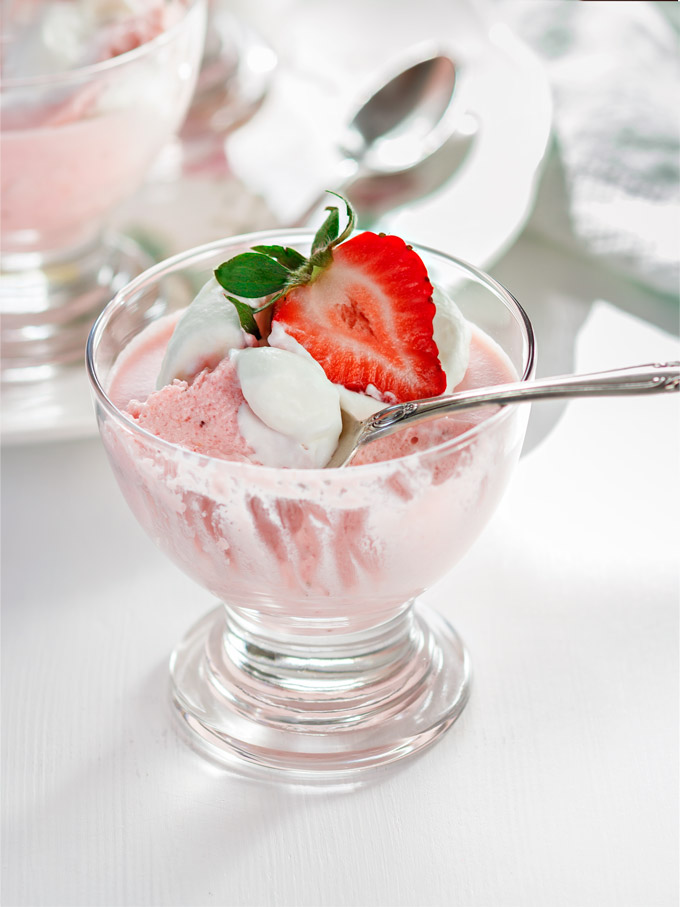 Can you believe it is already strawberry season?! That means summer is just around the corner. If you check my dessert category, you will see the majority of my sweet treats are made with berries. And I talked about my obsession about berries in previous posts. This beautiful and simple strawberry mousse recipe once again will show my love for the berries.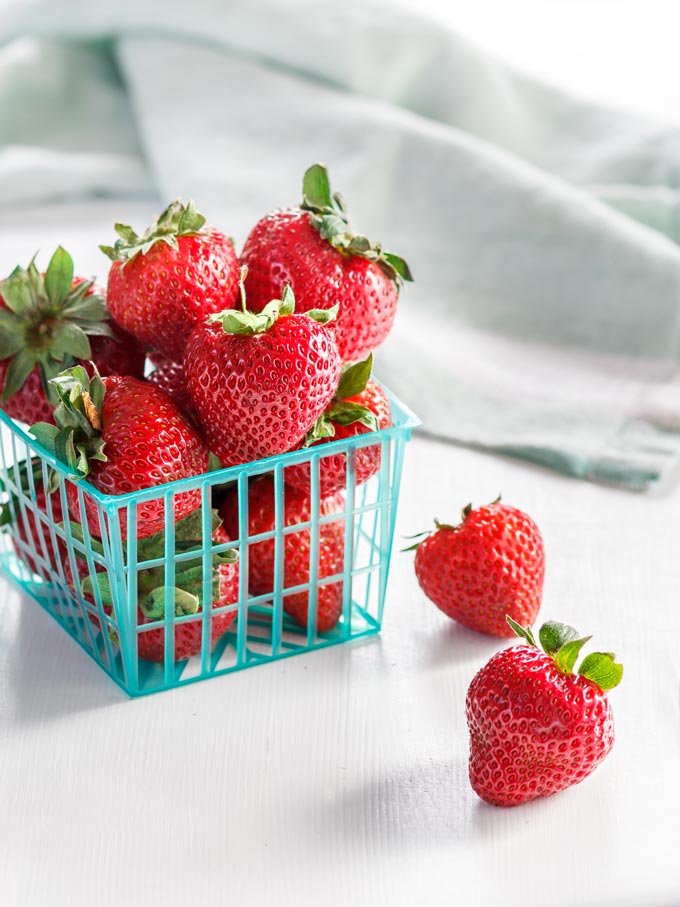 This strawberry mousse recipe was inspired by my childhood very favorite dessert. All my summers I spent at my grandparent's farm. My grandmother had a huge garden filled with different varieties of strawberries. The best part every variety had its own ripening time. By the time I had enough of one variety, the new one was ready to be picked and eaten. I was blessed to have access to all the juiciest and most delicious berries my little soul could find.
Now, are you ready to see what a little gourmet I was? Here is the recipe of my favorite childhood dessert. Take a basket and pick the freshest juiciest strawberries you can find. Wash them, sometimes not 😋. Go to a grandmother and ask for the freshly made cream. Spoon a GREAT amount of fresh cream on strawberries. Sprinkle some sugar on top. Find a peaceful scenic place, dig in and let the joy spread through the body.
This was my daily treat, and I was crazy about it. The organic combination of the fresh seasonal strawberries and the creamiest cream inspired me to create the simple dessert to celebrate strawberry season.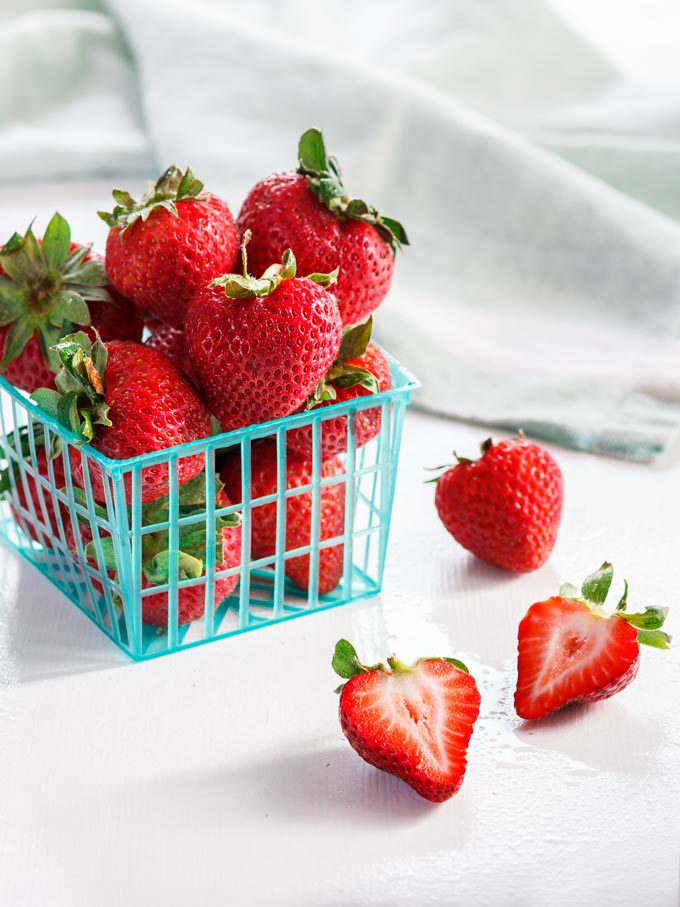 BUT there is no grandparent's farm here with the best strawberries and the freshest cream. However, there is a Wilson Farm that I discovered a couple of years ago and have been a regular shopper since. I still cannot find the same taste of strawberries in the US, but the seasonal local strawberries are the closest to that taste, and Wilson Farm is where I buy them.
The same with the cream. The cream, which is whipping cream here in the US, is significantly different from what we have in Ukraine. The American one is much lighter, and you have to whip it to make it stable. Our cream is creamier, heavier and sort of already whipped. If you ever visit Ukraine go to a local market and find whole milk cream that we call slivki. Try it, and the meaning of whipping cream will turn upside-down.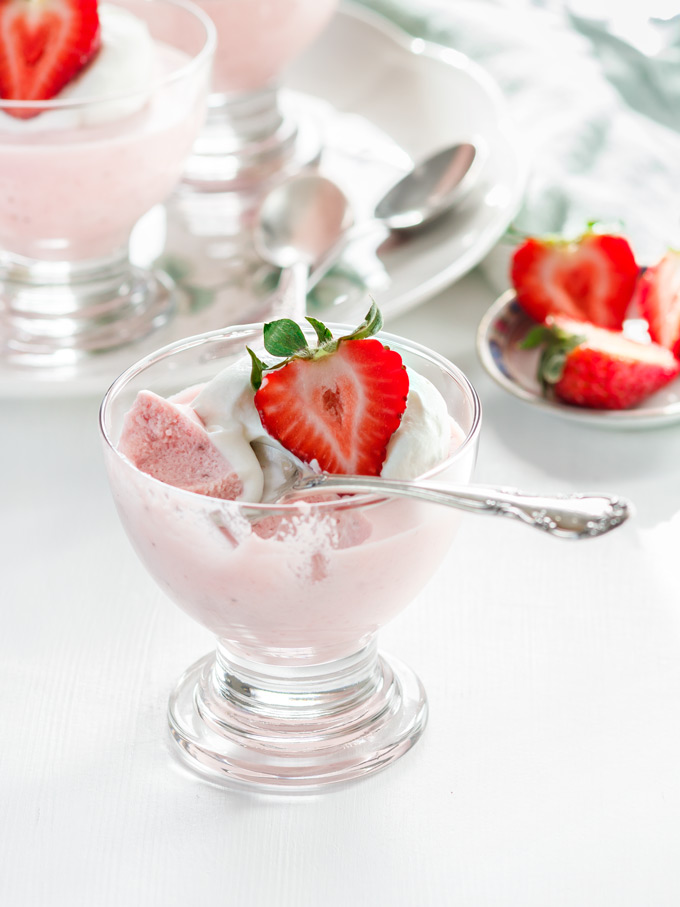 With the US ingredients, I wanted to make something as close as possible to that dessert, and when I finally finished perfecting it, it became the most favorite strawberry dessert in my little family of two. The magic lies in the combination of fragrant, juicy strawberries with the rich yet light whipping cream and a tiny hint of lemon and vanilla are finishing this bouquet. Not only aroma of this strawberry mousse is the best but the texture. The fluffy, airy texture is melting in your mouth, and in just about a couple of seconds, the summer bouquet begins blooming, and all the flavors open up.
I tried to make this strawberry dessert as close as possible to my childhood version. The only flavors I added are lemon zest and vanilla extract. A long time ago I fell in love with the combination of lemon zest and strawberries. Every time I have a chance to use this combination I go for it. As though vanilla extract, I just add it to everything. Vanilla extract and salt are my secret weapons in desserts.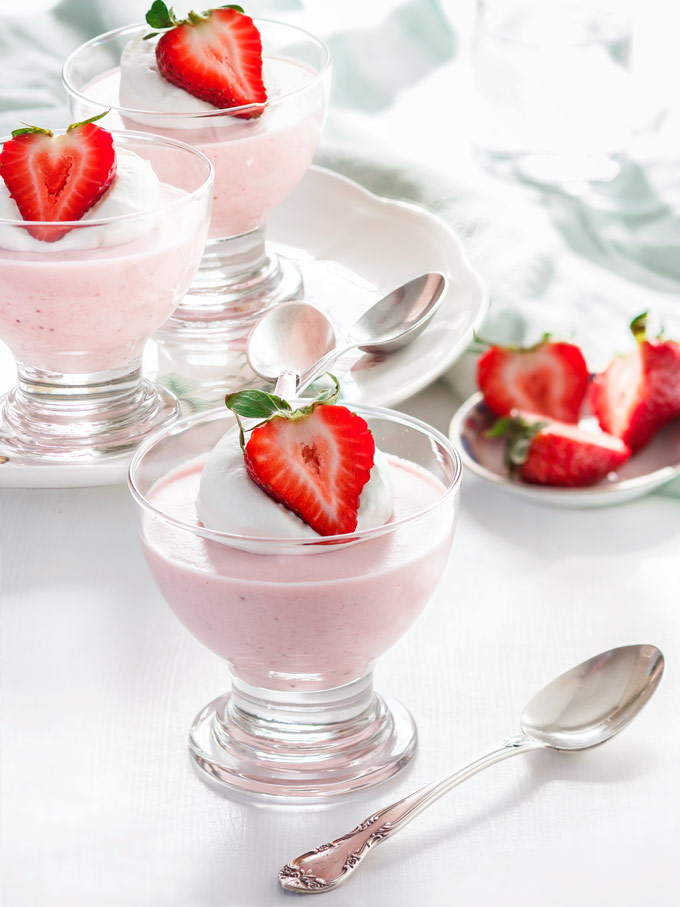 This eggless strawberry mousse is especially helpful when it is melting hot outside, and you just don't want to turn your oven on. When the mousse is set, it is a true pleasure to enjoy it on a hot day.
I can go on and on why you should make this simple strawberry mousse.  Just try it once you and you will fall in love with it. There are not that many people who can resist the fragrant creamy strawberry mousse, especially when it is so easy to make and requires such simple ingredients.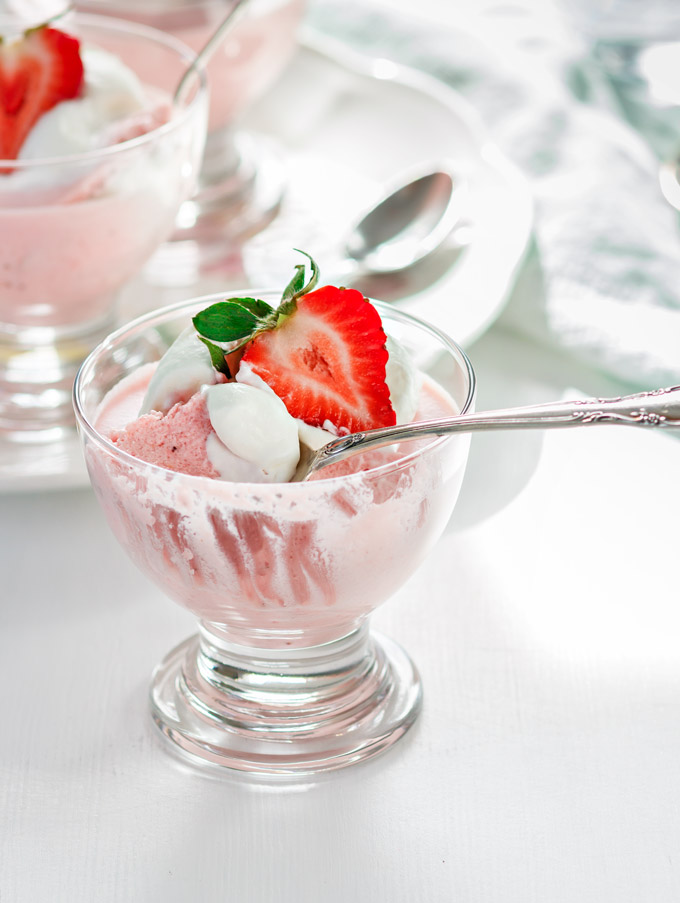 Tips and Tricks for the Simple Strawberry Mousse:
Before whipping the cream, place the bowl and a whisk in the freezer. This makes the whipping process faster and yields more stable cream.
If you want a smoother texture, press the strawberry puree through the fine mesh to remove the seeds.
Maria
Yields: 6-8 ramekins or glasses
Simple Strawberry Mousse (eggless)
10 minPrep Time
15 minCook Time
8 hr, 25 Total Time
Ingredients:
1 Cup whole milk
¾ cup granulated sugar
Zest of half lemon
1 tbsp. + ½ tsp. powdered gelatin
1 lb. (about 3 ½ cups) strawberries, halved
Juice of half a lemon
1 tsp. vanilla extract
300 ml. whipping cream
Instructions:
In a small bowl combine powdered gelatin with 2 tablespoons of cold water. Set aside and let it bloom.
In a small pot combine sugar and lemon zest. With your fingers rub the sugar and zest together for sugar to soak essential oil from the lemon. Add milk and bring it to almost boil. Remove from heat.
In the microwave heat the gelatin until liquefied, about 30 seconds. Add gelatin to a milk mixture and stir until fully combined. Set aside and let it steep for a while. Do not cover the pot because we need it to cool down to a room temperature.
In a blender combine strawberries, lemon juice, and vanilla extract and make a puree.
When the milk mixture is at room temperature, strain it through the fine mesh to a large bowl. Add a strawberry puree to a milk mixture.
In a separate, preferably stainless steel bowl whip the cream to soft peaks. Gently fold a portion of whipped cream into the strawberry mixture. Gently adds the rest of the whipped cream.
Divide into the ramekins or glasses and let it set in the fridge until completely set, preferably overnight.
Serve cold with more whipped cream and strawberries on top.
Enjoy.
7.8.1.2
23
https://thepuretaste.com/simple-strawberry-mousse/
Disclosure: This post contains some affiliate links.  If you purchase a product through one of my links, I will earn a small commission at no extra cost to you. I only recommend products that I use and love myself. Thank you in advance for your support! It means a lot!
Products used in this post: