The strawberry season is slowly coming in !!! YAY!!! I'm losing my mind when I see fresh seasonal strawberries and buying them like crazy. When I have a chance to buy a huge plastic shell or even better the tray with 5+ pounds of strawberries, I never miss such an opportunity and ending up with two or three trays . I guess I don't have to mention strawberries as well as other berries are my true weakness . As you can imagine, I have a decent collection of strawberry recipes. And today I want to share with you these cute, soft and airy strawberry coconut muffins that are hard to resist.
Even though it is officially spring here, in Massachusetts, but doesn't feel like. The weather has been nasty for the past few weeks. But the mood for the spring is already here. I don't know about you, but I'm ready to change the cozy comfort food for a light and festive one.
We recently went to a local farm, and I saw these beautiful, juicy, seasonal strawberries. I bought 4 pounds of them (this is just the warm up, waiting for the price to drop so I can buy my beloved 2+ trays), went home and divided them intro three recipes. The rest of strawberries went straight into our bellies.  YUM!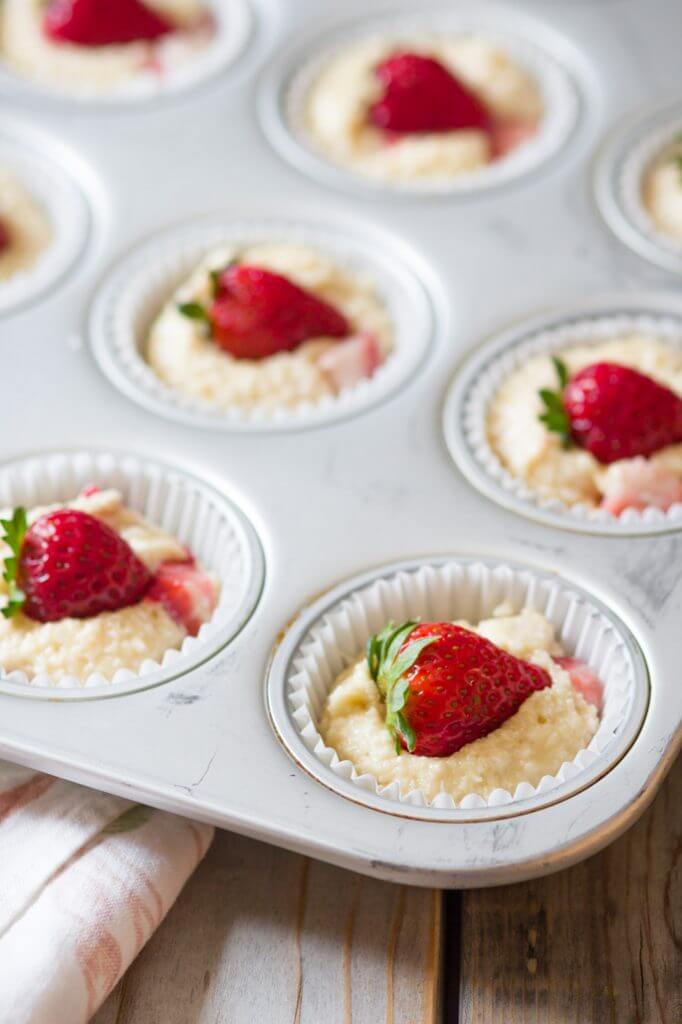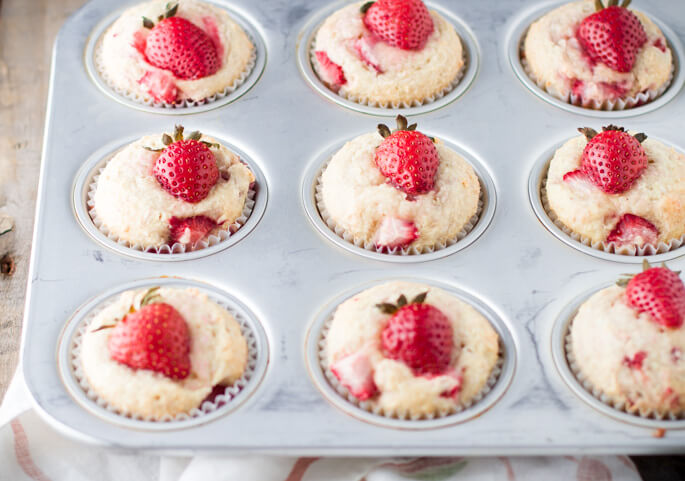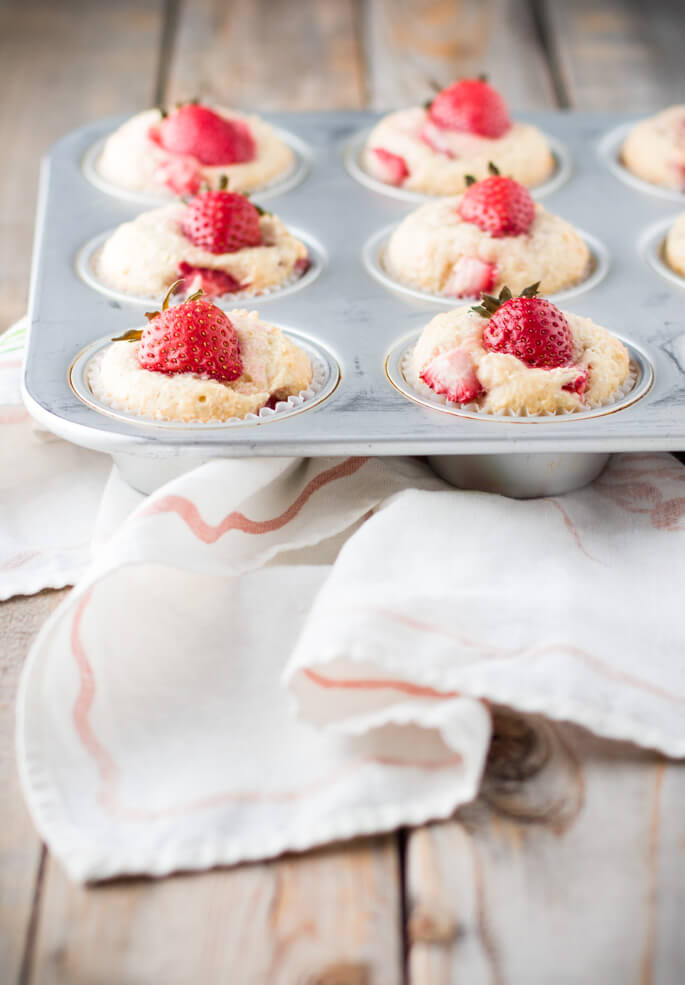 These strawberry coconut muffins usually are a must-make dessert during spring, and I like to make them right at the beginning of the strawberry season. They are quick and easy to make, low on sugar, light and extremely delicious. Only one look at them already makes me happy. They are cute, playful and childish. Muffins just in general bring happy feelings and joy.  And I bet kids will like strawberries on top of the muffins.
I can stuff my mouth with a bunch of them and still do not feel guilty about it. Well, maybe a little bit. So beware when you finish the first muffin you automatically reach for the 2nd, then 3rd one … It is better to have an adult supervision nearby
Please, note because strawberries are juicy it is better to eat these muffins the day they are baked. Don't see it as a problem, but just a reminder. Otherwise, store them in an airtight container for up to 3 days.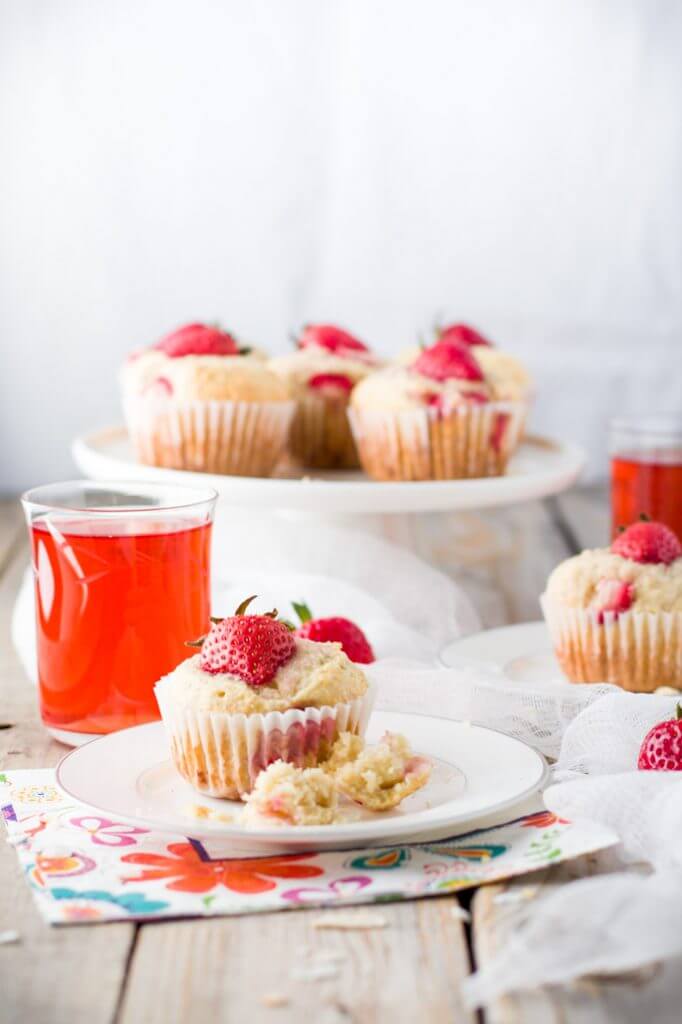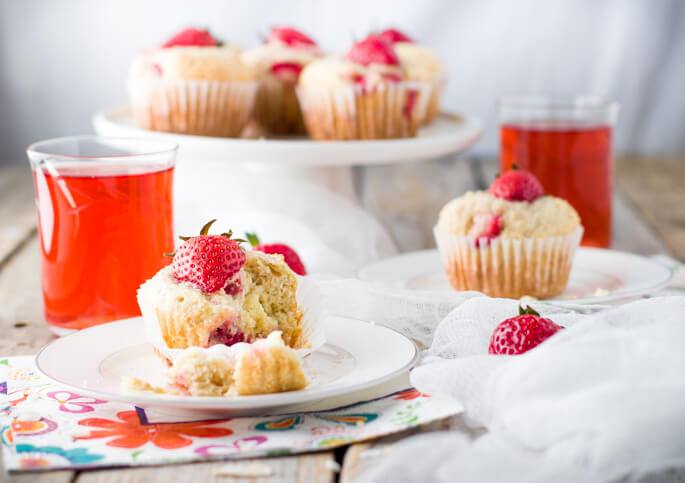 Because of the year-round strawberry supply, you can make these muffins any time of the year.  I like to make them when strawberries are in season. For me, it is better to eat flavorful, nutritious, juicy strawberries rather than flavorless grassy one during winter. And because the seasonal strawberries are naturally sweet, you can go light on sugar in this recipe. However, if you missed the season and still want to make these strawberry coconut muffins use organic strawberries instead.
As a person who consumed pounds of strawberries organically grown on my grandparent's farm, I can 100% assure you that there is a huge difference between organic, locally/responsibly grown and conventionally grown strawberries. I have this rule that I always follow:"If you cannot buy organic or locally and responsible grown strawberries than better to avoid them at all cost." The point is, organic and responsibly grown strawberries are more flavorful and nutritious VS the conventionally grown, let's just say in the nicest way, are just NO GOOD for you.
By the way, I recently came across this article regarding the 2016 Dirty Dozen report from Environmental Working Group (EWG) and guess what topped the Dirty Dozen list?!  That's right STRAWBERRIES!  And yes, every single year I check the Dirty Dozen and Clean Fifteen lists, and I highly recommend you doing this as well. More on this in future blog posts because I feel like this is a very important topic to discuss.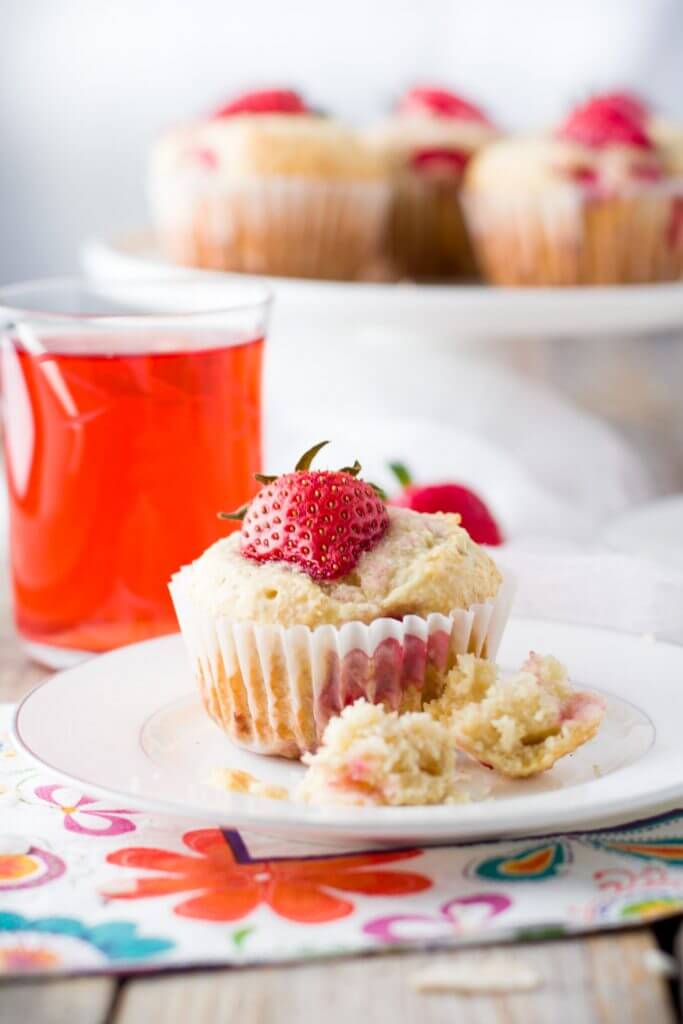 Let's finish this post on the positive side.  The spring is here , and I hope you are already in the spring mood! But if not these soft and airy strawberry coconut muffins will at least cheer you up and will make your day brighter . And don't forget to check Tips and Tricks for this recipe down below.
Have fun baking and enjoy the spring!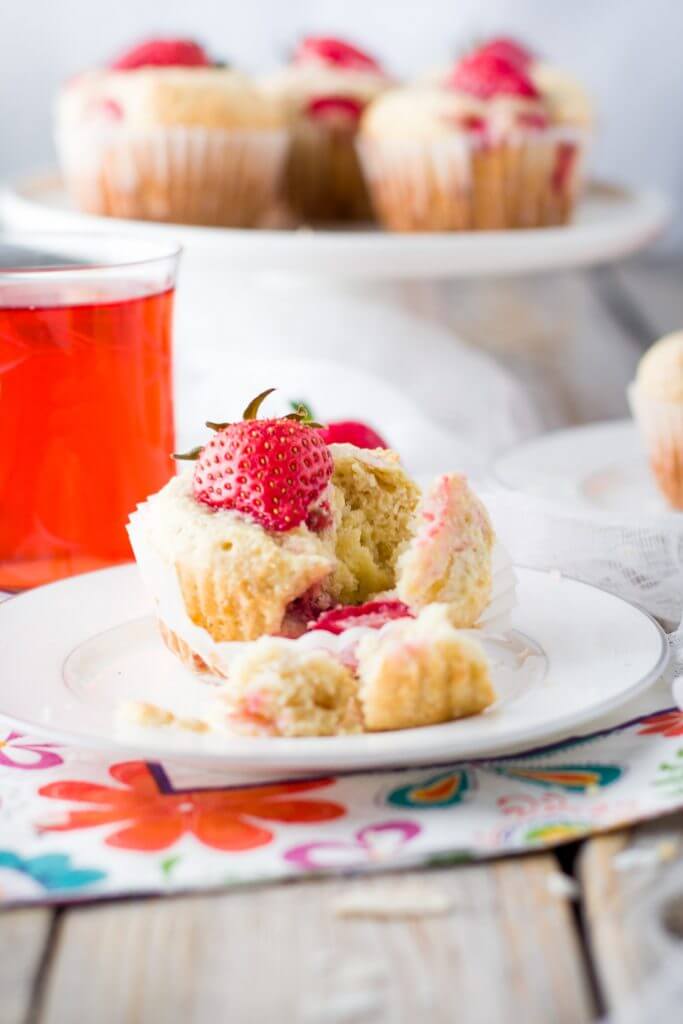 Strawberry Coconut Muffins Tips and Tricks:
Yields: 10-12 muffins
Soft and airy strawberry coconut muffins
7 minPrep Time
20 minCook Time
27 minTotal Time
Ingredients:
210 gr. all-purpose flour
1/2 teaspoon baking powder
1/2 teaspoon soda
1/4 teaspoon salt
140-150 gr. strawberries + 6 large or 12 small strawberries for decoration
85 gr. shredded unsweetened coconut
65 gr. canola oil
90 gr. granulated sugar
1 large egg
95 ml. whole milk
1 teaspoon vanilla extract
Instructions:
1. Preheat the oven to 365ºF. Line a muffin pan with paper liners or spray with cooking spray. Set aside.
2. Sift together the flour, baking powder, baking soda, salt. Set aside.
3. Cut strawberries into small cubes and gently mix with shredded coconut.
4. With an electric hand mixer beat oil with sugar for about 3 minutes. Add egg, milk, vanilla and mix until combined. Add dry ingredients and mix until just incorporated.
5. With the silicone spatula or wooden spoon gently fold in the strawberry-coconut mixture. Don't overwork it; the strawberries need to retain their shape.
6. Using an ice cream scoop, divide batter into the muffin cups filling ¾ full. Top with the halves or whole strawberries.
7. Bake for 17-20 minutes, until the muffins just become pale golden on top or until a toothpick stuck in the middle comes out with just a few crumbs. Do not over bake muffins.
8. Transfer muffins to a wire rack and let cool. Muffins can be stored in an airtight container at room temperature for a few days.
Enjoy!
7.8.1.2
3
https://thepuretaste.com/soft-airy-strawberry-coconut-muffins/
Disclosure: This post contains some affiliate links.  If you purchase a product through one of my links, I will earn a small commission at no extra cost to you. I only recommend products that I use and love myself. Thank you in advance for your support! It means a lot!