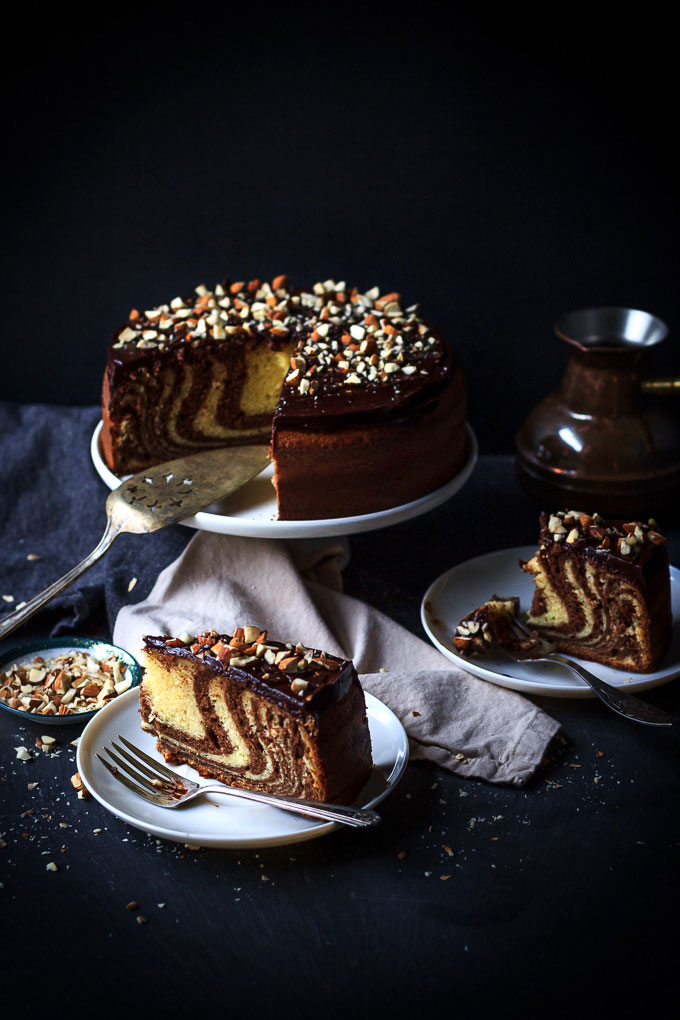 I promised you some Ukrainian recipes in my About Page but haven't posted any yet 😊.  This is not quite traditional Ukrainian cake, but it was a regular guest in my family. I want to share with you a very simple yet sophisticated Zebra cake with chocolate glazing that my mom used to make us very often.
She was baking zebra cake for us all the time. I never actually was interested in recreating it. I always thought those stripes are a tough thing to create, and some "special skills" required. However, once I read my mom's recipe it sounded simple and really doable. Despite how fancy it looks, it is absolutely easy to make, and you will be amazed how effortless and fast it is.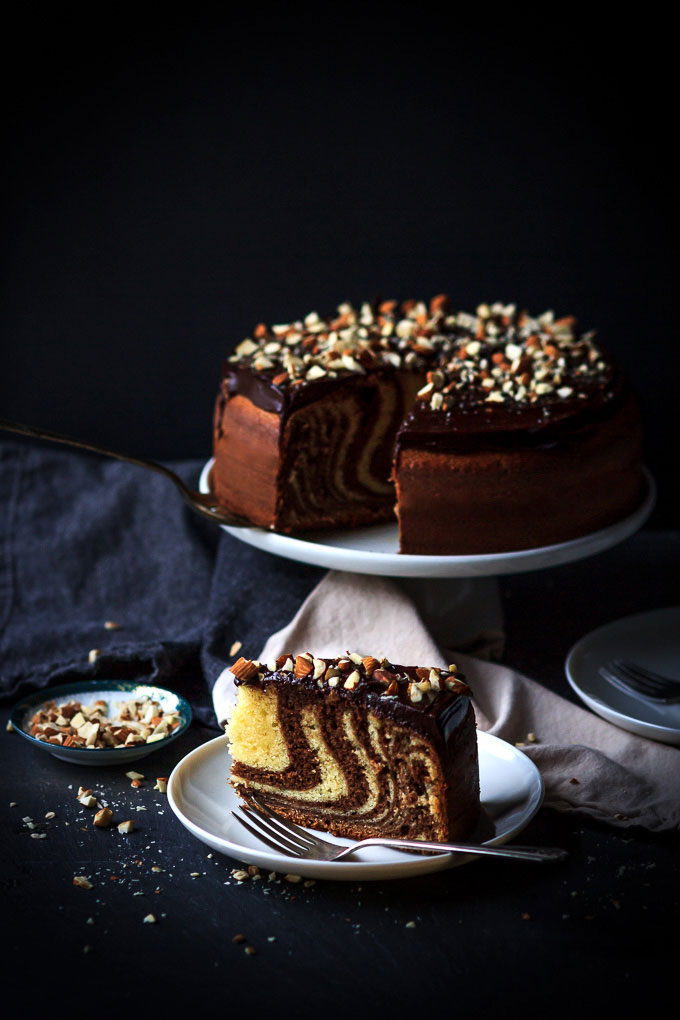 Because of the busy schedule, my mom used to make it plain, only sometimes she topped it with jam and nuts. Otherwise, this is exactly the same recipe. I only changed two things:
Added vanilla extract because we didn't have it back in the Ukraine, only artificial vanillin.
And chocolate glazing, because I'm a chocoholic. Oh, and nuts are also optional but my husband is nuts about nuts. Two happy people sharing one cake.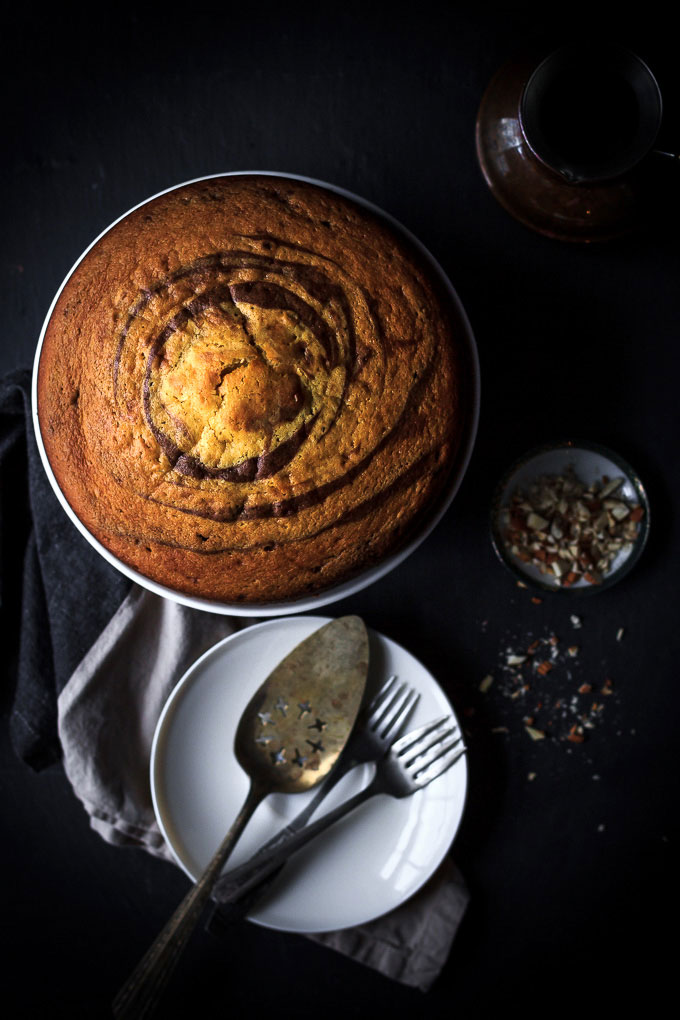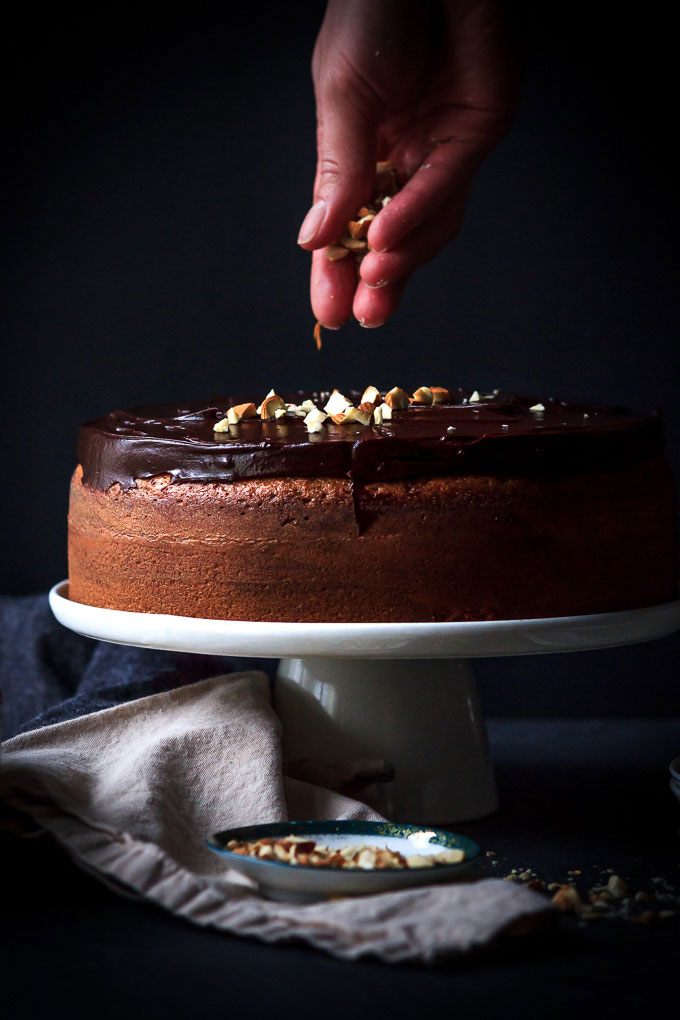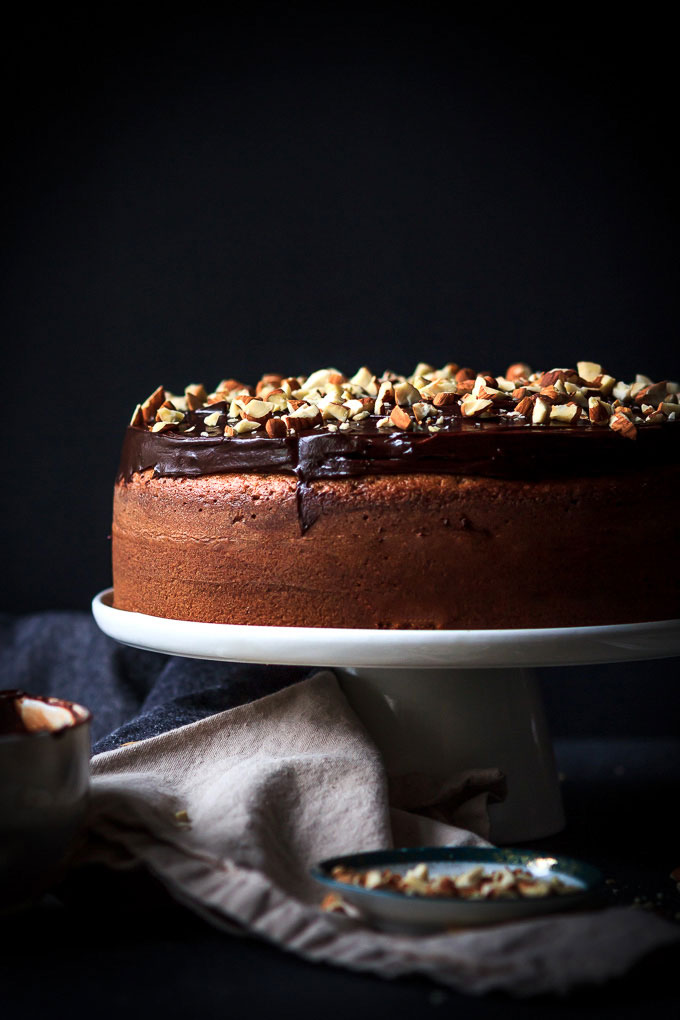 In one way this zebra cake reminds me the coffee cake, texture and taste wise. Have you ever had a cup of coffee with the perfect melt in your mouth coffee cake? When you take a bite, and the soft air bubbles begin to melt in your mouth, and the smile spreads on your face!? Add a melting chocolate glazing to it and your whole soul will sing a song of happiness. The aroma of vanilla combined with chocolate, the air bubbles, and cloudy texture, melting chocolate glazing all of this is combined in one cake. And it looks absolutely stunning.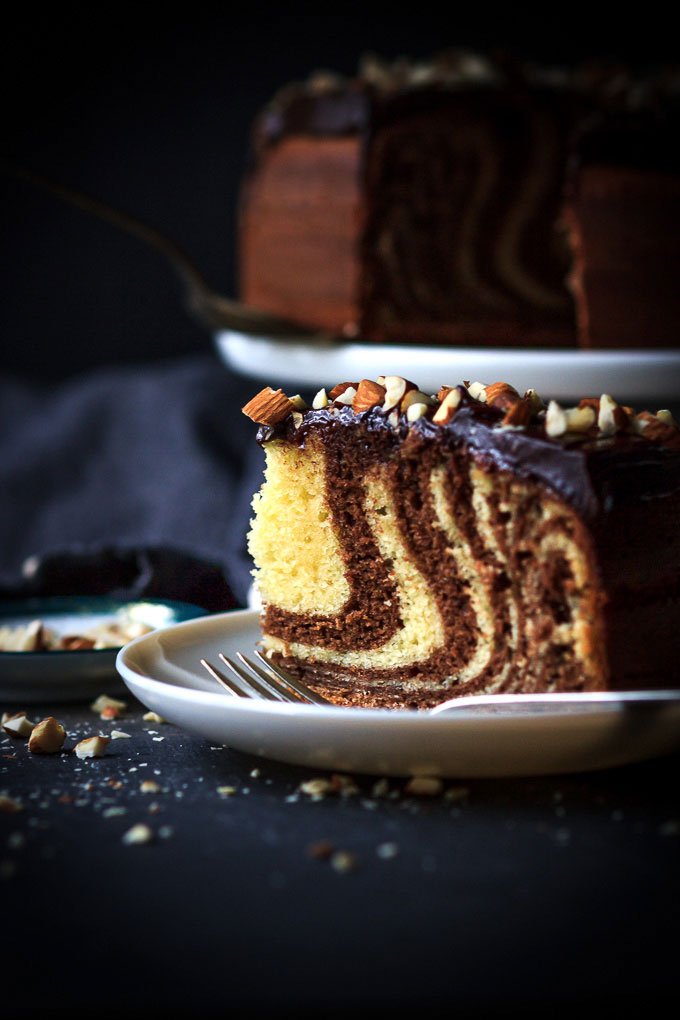 Every bite of this cake brings me back to my childhood. I used to cut ¼ of the cake, poured a hot cup of tea, turned on cartoons and my mind went far away. Now, I'm a grown up and supposed to control my cake portion. But because of its lightness, this cake is hard to stop eating. Every airy bite makes you want more so be careful with the size of your slice.
I swear I thought this cake is very complicated to make but in reality, you get the gorgeous looking cake with fancy zebra patterns, and all of this can be done in one and a half hour, including baking time. If you don't have time or strength but want to impress someone this is the cake to make. It is delicious, easy to make, easy ingredients and the zebra stripes make this cake sophisticated enough to interest any person.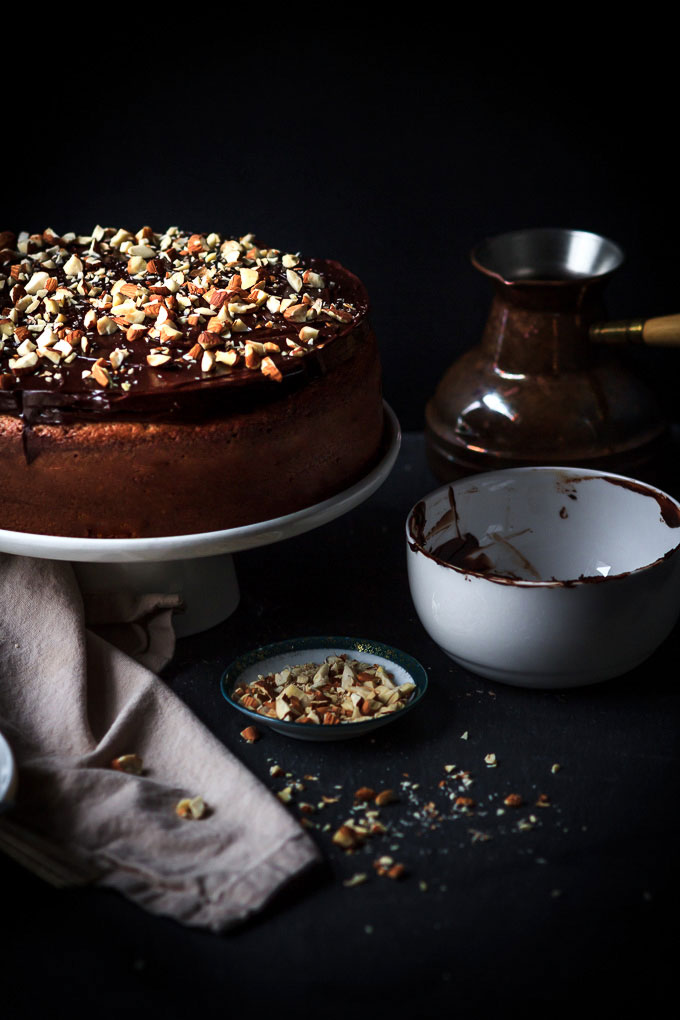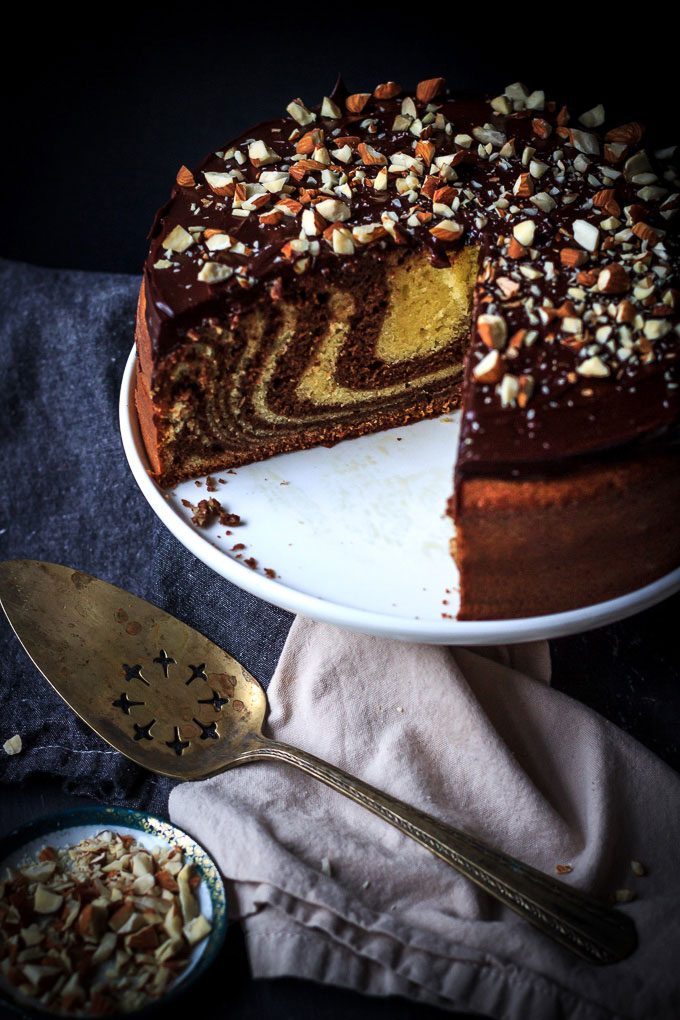 Zebra Cake Tips and Tricks:
If you don't want to make chocolate glazing warm 1/3 cup of your favorite jam and spread it on top of the cake. Sprinkle with nuts and serve. This is the way my mom sometimes did, and it is absolutely delicious.
There are two major ways to melt chocolate: microwave and double boiler method. I always prefer double boiler because it is the safest and best way to treat chocolate. Here is a very detailed instruction on How to Melt Chocolate.
If you see the center of the cake is underbaked, but the top is browning too quickly place an aluminum foil on top and continue baking.
Try to avoid dark cake pans. They will brown the outside of the cake too quickly. I always recommend anodized aluminum cake pans. Cakes are always evenly baked, they are durable and relatively cheap. My absolutely favorite brand is Fat Daddio's Anodized Aluminum Round Pan with removable bottom or Regular Fat Daddio's Anodized Aluminum Round Cake Pan. And you have an option to choose the size you want.
For even zebra stripes I used ice cream scoop. It makes the whole process easy, quick and clean. If you don't have one, the ¼ cup will do the same effect.
Below is the demonstration how the zebra stripes are actually done.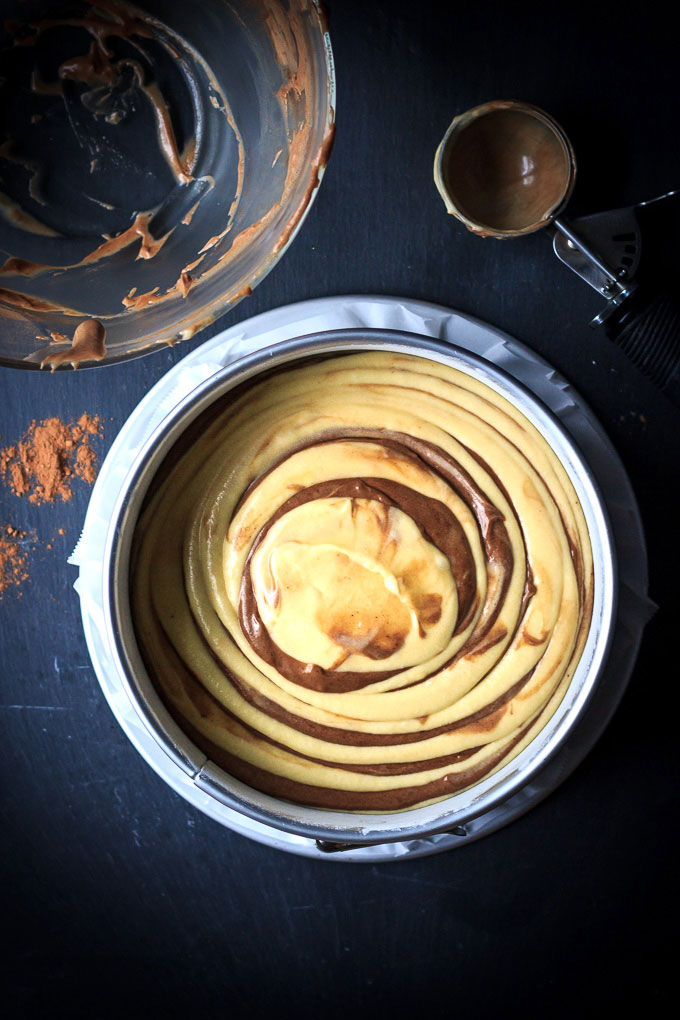 Yields: 8 or 9-inch cake
Zebra Cake with Chocolate Glazing
15 minPrep Time
55 minCook Time
1 hr, 10 Total Time
Ingredients:
For the cake:

5 large eggs
320 gr. sugar, divided
113 gr. (1 stick) unsalted butter, room temperature
1 1/2 teaspoon vanilla extract
200 gr. sour cream
½ teaspoon baking soda
250 gr. all-purpose flour, sifted
1 teaspoon baking powder
½ teaspoon kosher salt
2 tablespoons cocoa powder, sifted
¼ cup chopped nuts (almond, hazelnuts, walnuts or pecans)

For the chocolate glazing:

100 gr. chopped dark chocolate (60-70%)
70 gr. heavy cream
12 gr. unsalted butter, room temperature
Instructions:
1. Position a rack in the center of the oven and heat the oven to 350ºF. Butter an 8 or 9-inch round pan and lightly coat with sifted flour. Tap out any excess flour.
2. In a large bowl with an electric hand mixer, cream the butter and half (160 gr.) of sugar on medium speed until smooth, about 2 minutes. Stop to scrape the sides of the bowl as needed. In a separate bowl lightly whisk eggs, rest of the sugar and vanilla extract. Add egg mixture to a butter and beat with the hand mixer until fully combined, about 3 minutes. Mix well sour cream and baking soda together and add it to a batter. Beat until everything is combined.
3. Sift together the flour, baking powder, and salt. With the mixer on low speed slowly incorporate the flour into the batter.
4. Divide the batter into 2 equal parts. Add cocoa powder to one part and mix until fully combined.
5. Using an ice cream scoop or a ¼ cup pour the white dough in the center of the cake pan. Scoop the dark dough on top of the white dough. Place every scoop on top of each other alternating white and dark dough. When finished, lightly shake the cake pan to spread the dough evenly.
6. Bake in the preheated oven for 45-55 minutes or until toothpick comes out clean.Cool the cake slightly and then remove from the pan. Let it cool completely before glazing. Spread the chocolate glazing on top and sprinkle with chopped nuts of your choice.
For the chocolate glazing:
Melt chopped dark chocolate in the microwave or using the double boiler method. Warm the heavy cream in the small saucepan. Pour it over the melted chocolate and gently combine together. Avoid whipping it. Less air in the glazing is better. If you see too many air bubbles tap the bowl lightly to release them. When the chocolate mixture cools down to a room temperature, add butter in small pieces and combine everything together.
7.8.1.2
17
https://thepuretaste.com/zebra-cake-with-chocolate-glazing/
Disclosure: This post contains some affiliate links.  If you purchase a product through one of my links, I will earn a small commission at no extra cost to you. I only recommend products that I use and love myself. Thank you in advance for your support! It means a lot!
Products used in this post: