This is one of those ridiculously
easy apple chicken dinner recipes
to cook at any time of the year. Since apples are in season and I insanely keep bringing home pounds and pounds of apples decided to share this
effortless and healthy apple chicken thighs dinner.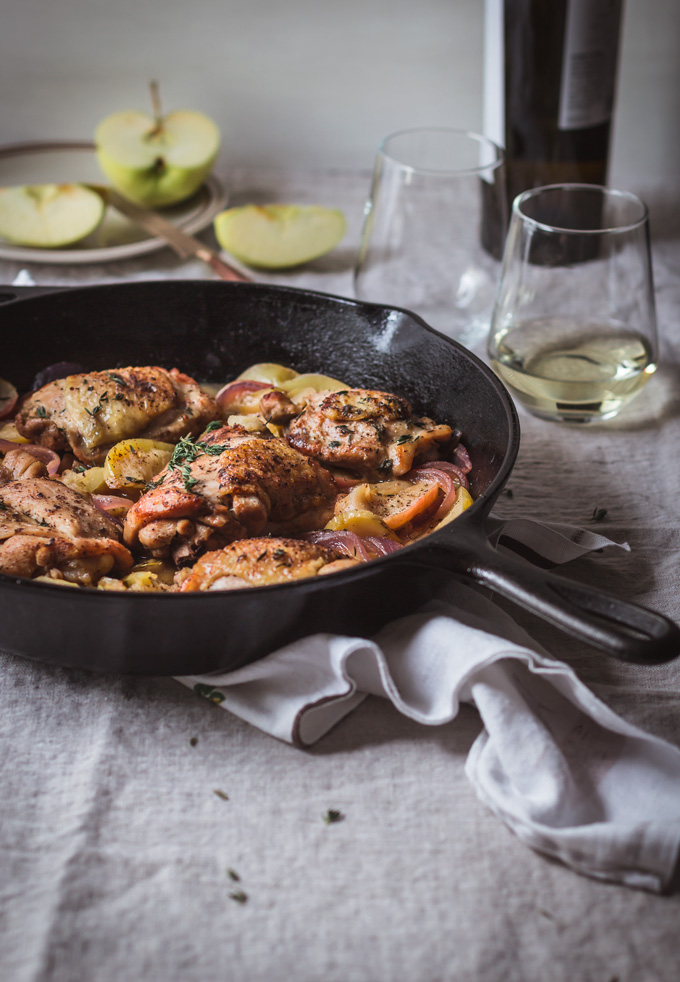 Honestly, this is such a simple recipe that not much I can write in this post. I even debated whether I should post it. But my love for simple, easy chicken dinner convinced me to share it. There are a couple of notes to mention though.
As always the quality of your ingredients affects the end result. Go with at least cage-free chicken. Better to use either locally grown from a reputable farm or organic apples. They are among a dirty dozen, so they do contain a lot of chemicals. And wine… I said it once will say it many more times. Never cook with the wine you won't drink. The more flavorful your wine is, the richer aroma of your apple chicken dinner will be.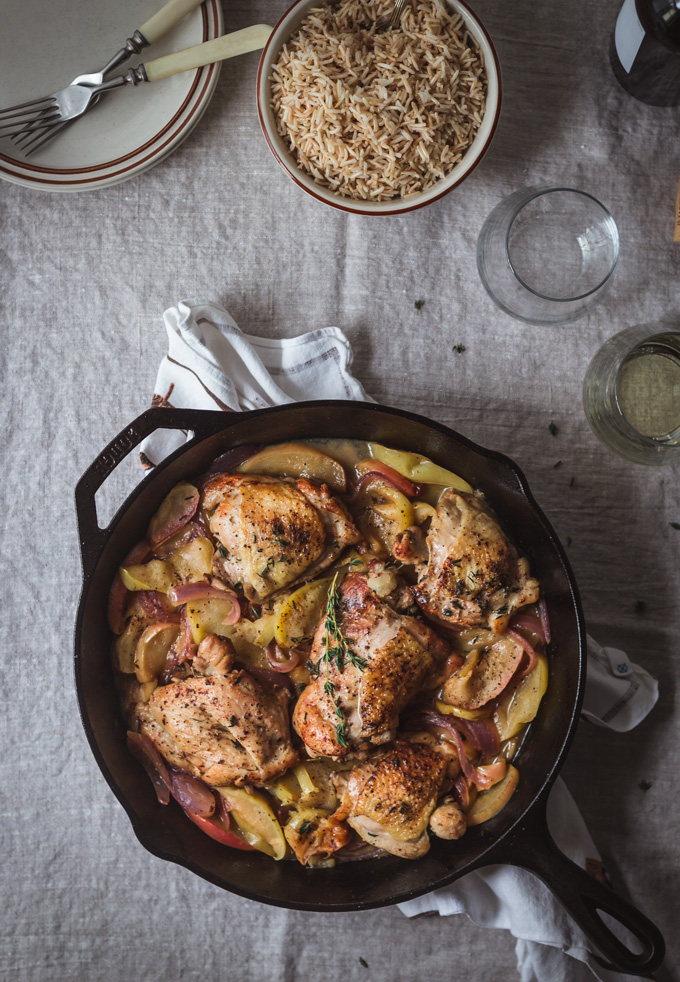 If you have a large cast iron pan, this is a good time to give it some job. No other pan makes a better golden brown crispy skin then cast iron. If you don't own one buy it. It is cheap, versatile and must have if you like perfect sear on any meat. Lodge 10.25 inch cast iron is my choice, and I highly .ecommend it. The stainless steel pan works just fine too.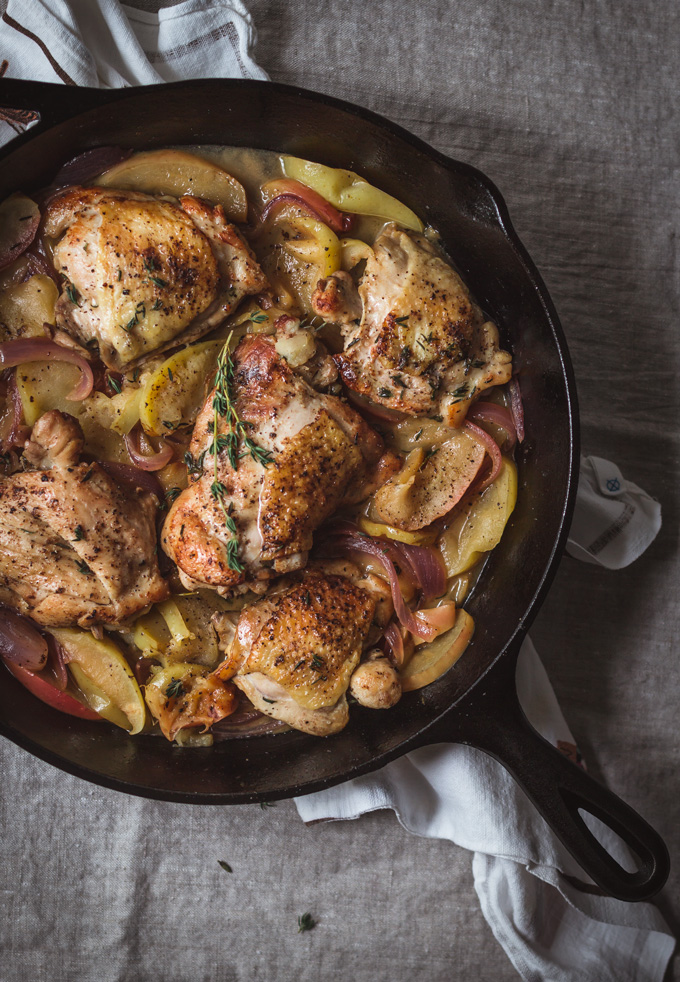 Other than that this is definitely a recipe to try.
In a way, this is my fall comfort food. I have a strong love for the combination of chicken and apples. Add wine and thyme to it, and you have fancier comfort chicken dinner. After all fall cooking is about simplicity and comfort. This recipe combines both!
Happy Cooking 😉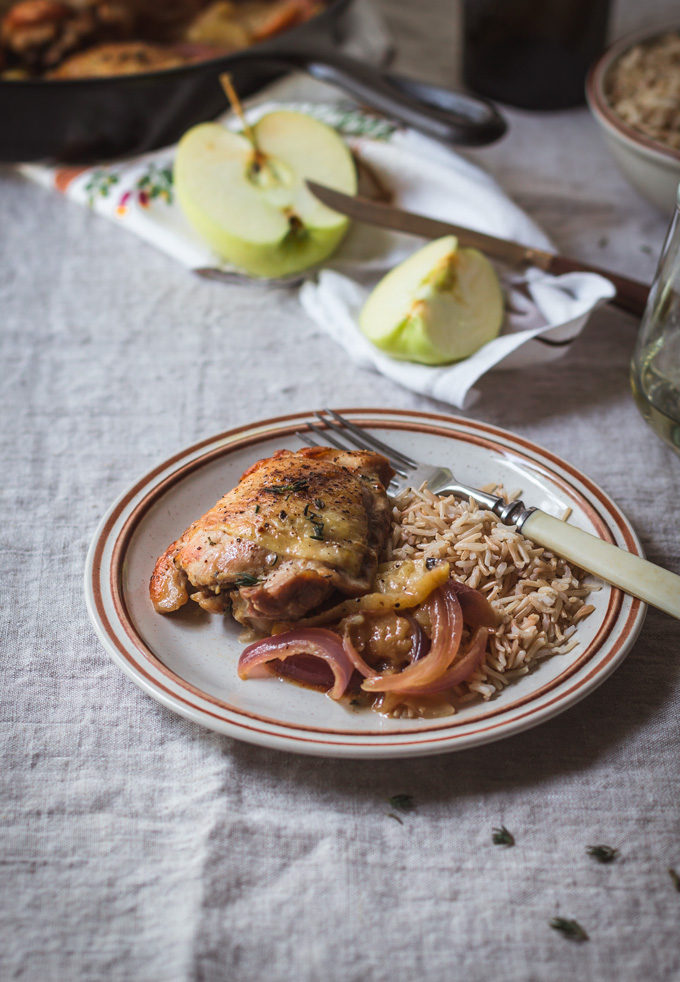 Apple Chicken Thighs Tips and Tricks:
For even faster-cooking substitute bone-in, skin on chicken thighs for boneless, skinless. Reduce cooking time accordingly.
Do not use extra virgin olive oil. It is not suitable for frying. Regular or blend works great.
Choose firmer apple variety, like golden delicious, gala, Honeycrisp, Fuji, etc. Take some tips from this comparing apple to apple guide.
I never peel apples for this recipe. Skin helps retain their shape. If for some reason you don't like apple skin, peel it but add apples at last step with chicken.
Other fresh herbs to use are rosemary and sage.
Serve this fall apple chicken dinner with rice, quinoa or your favorite grains.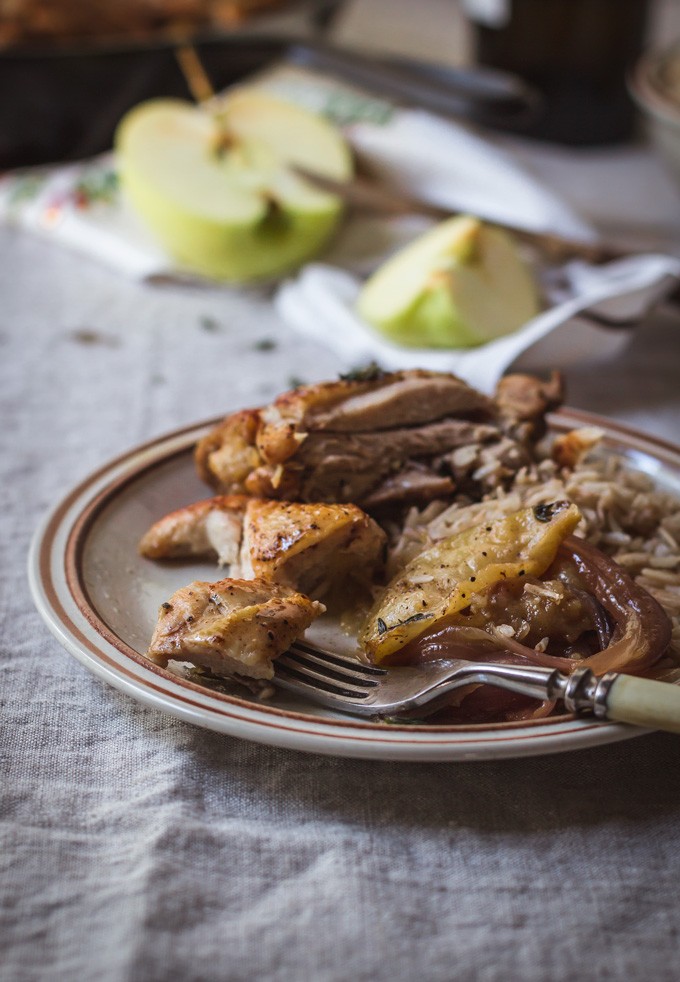 If you make this recipe, please share your picture with me by tagging it #thepuretaste on Instagram. Or share your results in the comment section down below. It means a whole world to me knowing someone is making my recipes.
Thank you for sharing and support 
Maria
Yields: 2-4 servings
Easy One Pan Apple Chicken Thighs Dinner
Simple and easy sauteed apple chicken thighs with wine and thyme
10 minPrep Time
20 minCook Time
30 minTotal Time
Ingredients:
5 bone-in, skin on chicken thighs
1 tablespoon olive oil
2 tablespoons unsalted butter, divided
2 medium apples, cut into ¼ inch slices
1 small red onion, cut in half and sliced into ¼ inch slices
1 ½ teaspoons fresh thyme leaves
½ cup chicken stock
¼ cup white wine
Kosher salt and black pepper
Instructions:
Wash and pat dry chicken thighs. Sprinkle generously with kosher salt and black pepper on both sides. Heat large skillet over medium-high heat. Melt 1 tablespoon of butter. Add olive oil. Swirl the pan to combine them both. Fry chicken until nice golden color, about 5 minutes per side. Remove to a plate.
Lower the heat to medium. Add remaining butter, apples, red onion, and thyme leave to the pan. Sprinkle lightly with salt and pepper. Cook for 3 minutes stirring occasionally. Pour chicken stock and wine into the pan. Arrange chicken slices into the mixtures, so it touches the bottom of the pan. Cook uncovered on medium heat for an additional 7 minutes or until chicken is done.
Timing depends on the thickness of chicken thighs. If the liquid is reducing to fast either cover the pan with a lid or lower down the heat.
Enjoy!
7.8.1.2
61
https://thepuretaste.com/apple-chicken-thighs-dinner/