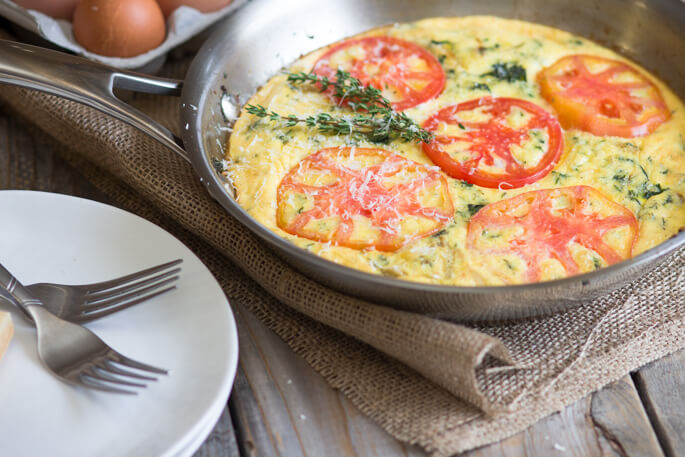 Have you ever had the situation when you open the fridge, and you see the true color of the walls and the shelves of it? This means only one thing – you need to do some grocery shopping ASAP! But you are not quite there yet, and the mood is just not right. But a sore subject "What should I eat?" or "What's for dinner?" is keep bothering you.  Then you remember how many take outs you did lately, and you are trying to stick to a healthy living… All these mixed thoughts are rushing in, and you disappointedly close the fridge. Then you check it again in a couple of minutes, and… nothing changed, still empty. Well, you are not alone in this epic battle, and frittata might be the answer for you as it was for me for so many times. This is how I created most of my frittatas, and in this post I will share my Kale, fennel, and parmesan frittata.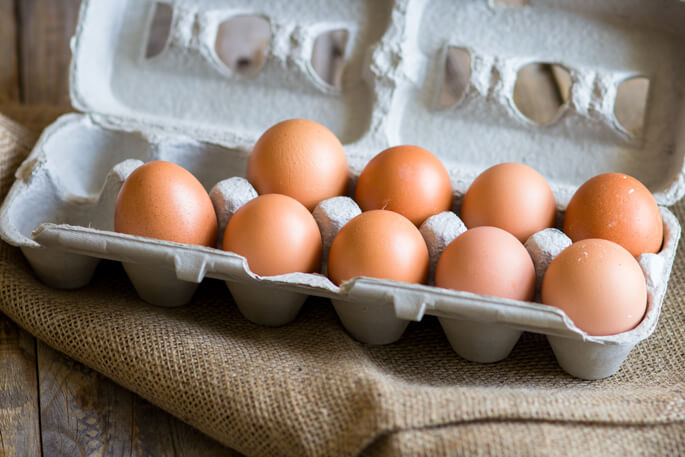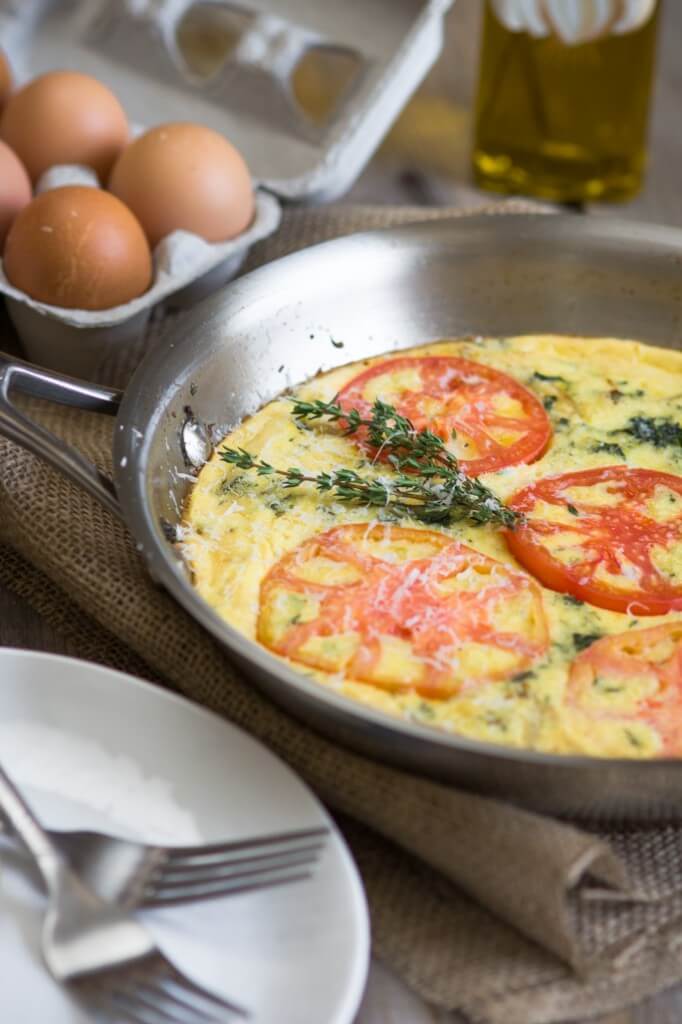 Most of the time we have left a bit of this, and a little bit of that in the fridge. I bet there are some eggs in your fridge. Somehow these guys are the last heroes in this empty fridge battle. And maybe you have some milk left, and a bit of different veggies that did not fit in the previous recipes or leftovers from your past dinners. In my case, I had some leftover veggies from the Tuscan soup: half of the fennel bulb, a few kale leaves, one tomato and a whole bunch of thyme.
The magic of the frittata is that you can make it with almost anything you have on hand: chicken, beef, sausages, vegetables, any leftovers that pair well with eggs.
You must have the main ingredients, though – eggs and milk. The rest is just your flight of fancy.
There are just so many good things about frittata:
Incredibly easy to make
Super-fast to put together
One-pot meal (less cleaning and mess)
Healthy and nutritious
Customizable and utilizable 😉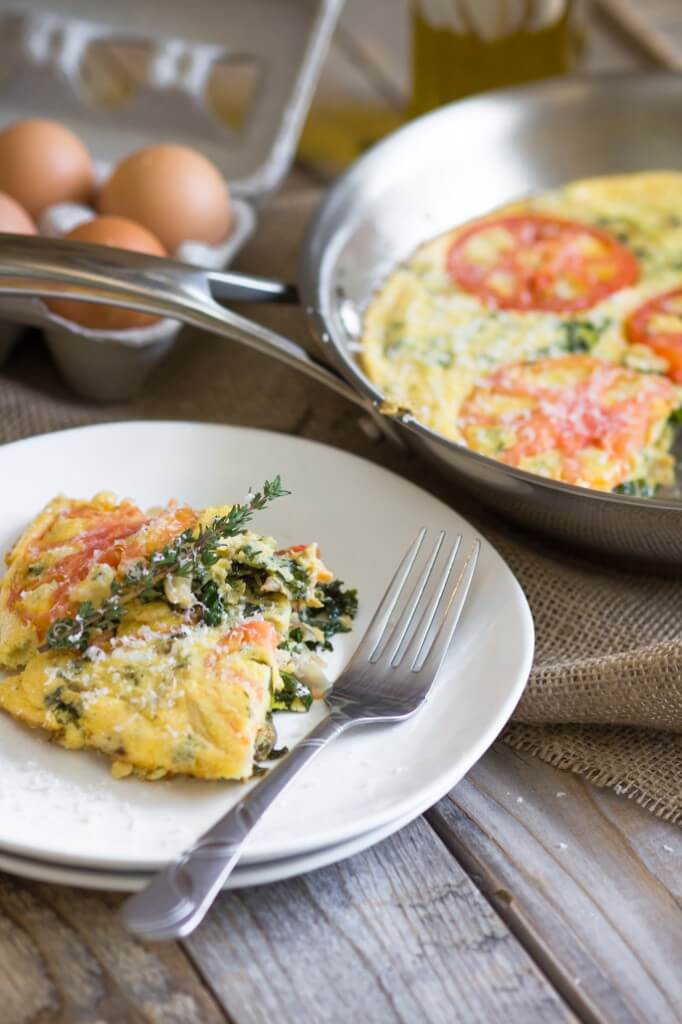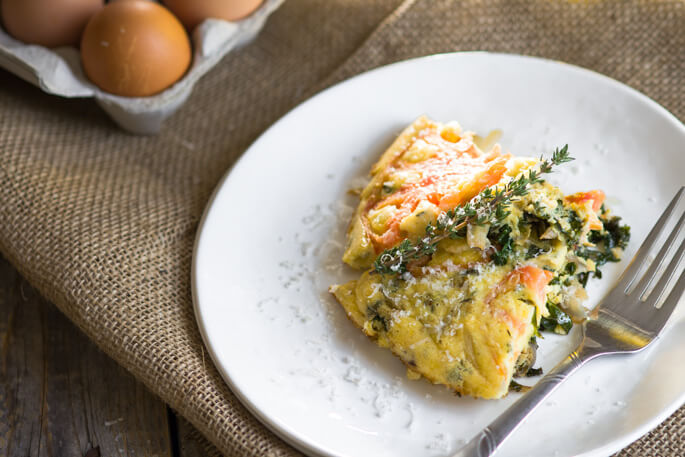 Frittatas are usually made for breakfast, lunch or brunch. But a good frittata along with the green salad can be a wonderfully light and easy dinner. Most of the time I cook frittatas for dinners, although Sunday brunch frittata sounds very appealing to me.
To make it kid's friendly version:
Use the muffin cups to make individual frittatas. Just grease well or line with parchment paper the muffin tin, fill the cups and bake for 15 minutes.
As you can see frittata is a real saver and can be done in so many different ways. The whole point is that you can make it anytime with almost anything you have in your fridge or pantry, and every time it will be delicious, and creative. Use the recipe below as a starting point and build your frittatas the way you and your family like.
Tips and Tricks:
Use full-fat whole milk. It will make frittata more creamy and flavorful. However, I once was out of the whole milk and had a little of the almond So used it instead and the result was great. It wasn't that creamy, but if you can't have dairy, it's a nice substitution. Use equal amount to substitute almond milk for the whole milk. Will post a dairy-free frittata in the future.
Never over bake frittata. Always look for custard-like texture. Over baked frittata will be too dry.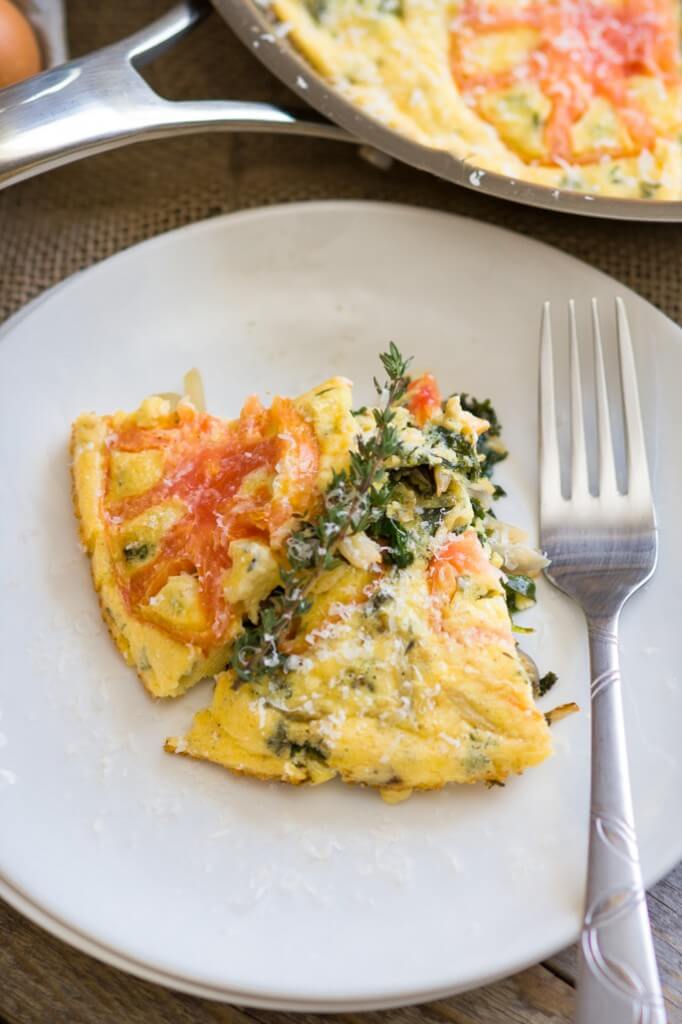 Yields: 4-6 servings
Kale, fennel and parmesan frittata
10 minPrep Time
30 minCook Time
40 minTotal Time
Ingredients:
6 large eggs
3 tbsp. Whole milk
¼ cup grated Parmesan
3 thyme springs
Salt, pepper
1 tbsp. olive oil
1 tbsp. butter
½ fennel bulb, sliced
½ small onion, sliced
1 clove of garlic, minced
a handful of chopped kale (about 2-3 leaves)
Thyme
Splash of white wine
1-2 medium tomatoes, sliced into circles
salt & pepper
Instructions:
1. Preheat oven to 375 degrees.
2. Whisk together eggs, milk, and Parmesan. Add a pinch of salt and thyme leaves. Set aside.
3. Cut tomatoes in half and clean from seeds and juice. Slice into circles. Set aside.
4. Heat an 8 or 10-inch oven-safe skillet over medium heat on the stove top. Add butter and olive oil. When butter melted, add fennel and onion. Add a generous pinch of salt. Saute until soft and lightly brown, about 5-10 minutes. Add minced garlic, chopped kale, thyme and a splash of wine. Cook for 3-5 minutes.
5. Gently pour the egg mixture into the skillet. Top with the tomato circles. Season with salt & pepper.
6. Slide your pan into the oven. Bake for 20 minutes, or until eggs are just set.
7. Remove from oven, let cool for 15 minutes. Serve warm or cold with green salad.
7.8.1.2
2
https://thepuretaste.com/kale-fennel-parmesan-frittata/