Today I want to share with you the easiest rotisserie chicken nachos recipe. You'll need about 7 minutes for prepping time, 15 minutes for baking time, simple ingredients and no efforts at all. Grab some corn chips, cheese, shredded chicken and let's learn how to make chicken nachos at home.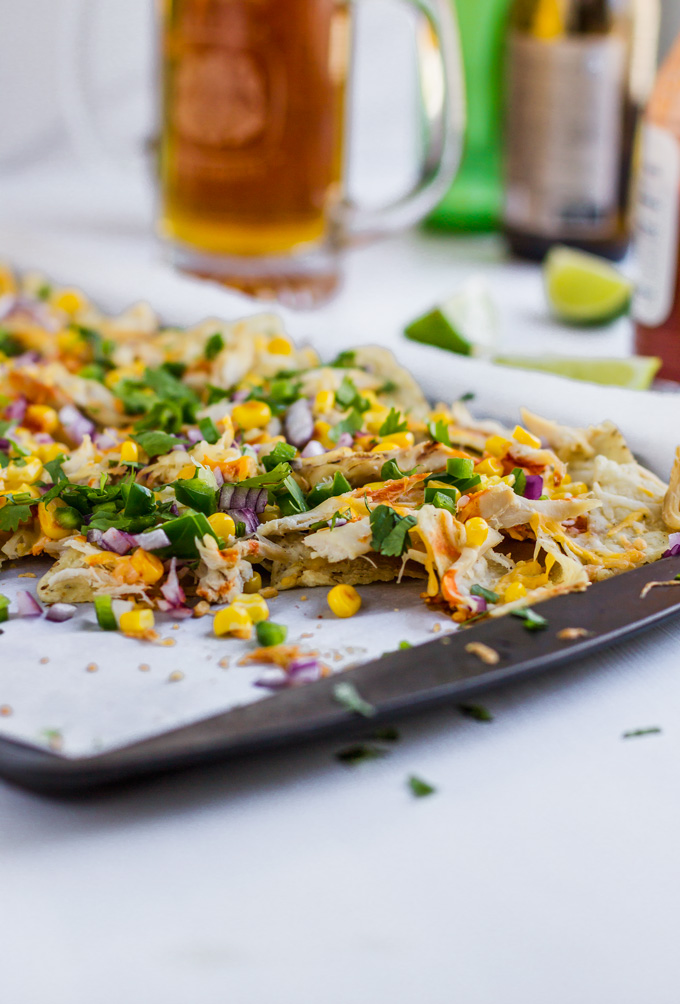 This is my final recipe for the rotisserie chicken project. When I started the project, Rotisserie chicken nachos was the first recipe on my list. I had to include it. I make it so often that it would be unfair to leave it out of the project.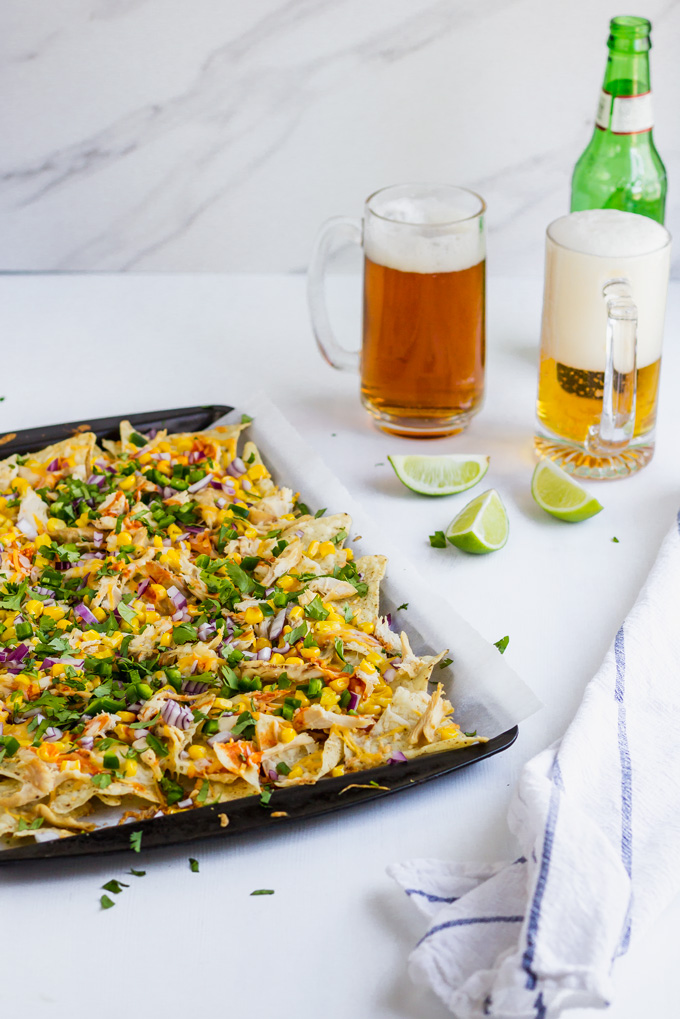 I just love nachos. This is the simplest way to put it. I don't know what's not to like. Corn chips are good. Cheese is good. Chicken is good. Top it with fresh and fragrant add-ons like cilantro, red onion, jalapeno and you have a fiesta at home anytime you want.
Nachos are pretty frequent guest in our apartment. I make it for friends to snack on and warm up the conversation. For Mexican food days. For soccer games. Or simply when I need the day off in the middle of the week.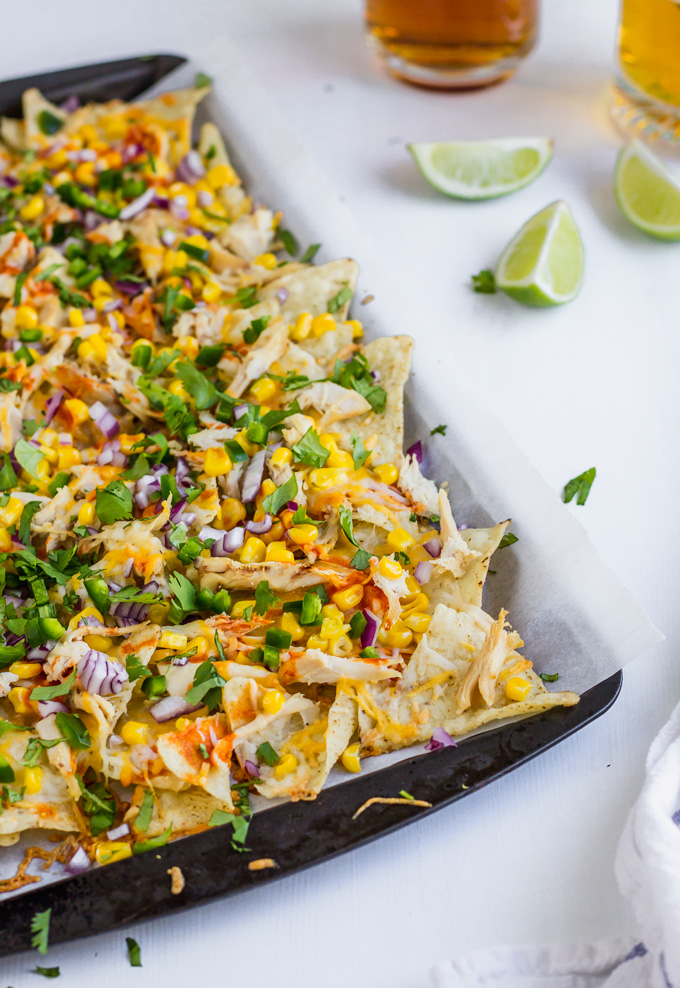 We all have days during the week when you want to take a break, have a day-off or at least part of the day and have something special. This is what happened to me this Monday. I just couldn't make myself to work. So I made a deal. I will do two things from a to-do list and will spend the rest of a day with nachos, beer, and soccer. So it happened.
It took me about 7 minutes to prep everything for nachos. 5 minutes to make homemade salsa. After 15 minutes both my husband and I were sitting with a glass of cold beer savoring colorful homemade nachos and salsa watching soccer. Barcelona vs. Roma. What a game!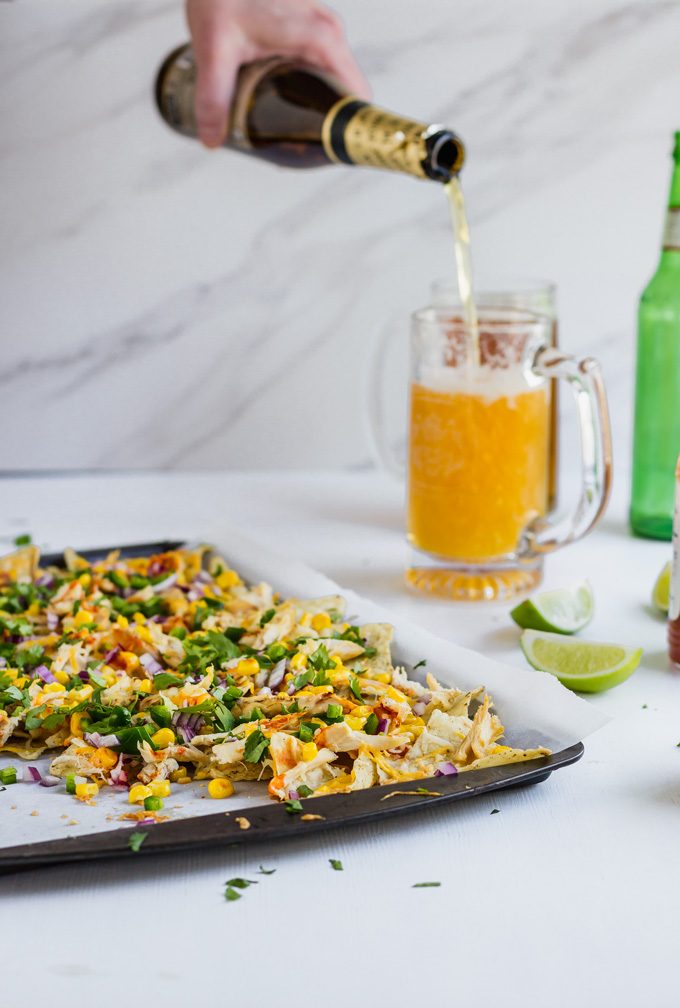 Thinks about it. Most of the time you have corn chips in your kitchen pantry, and maybe some cheese. If you are lucky enough, you have the rest of ingredients.  If you don't, head over to a grocery store, buy the rest of ingredients and make nachos to add some fiesta to your day!
All you need to do is layer all ingredients. Bake it to melt the cheese. Top it with your favs, and you have the easiest shredded chicken nachos to brighten the day.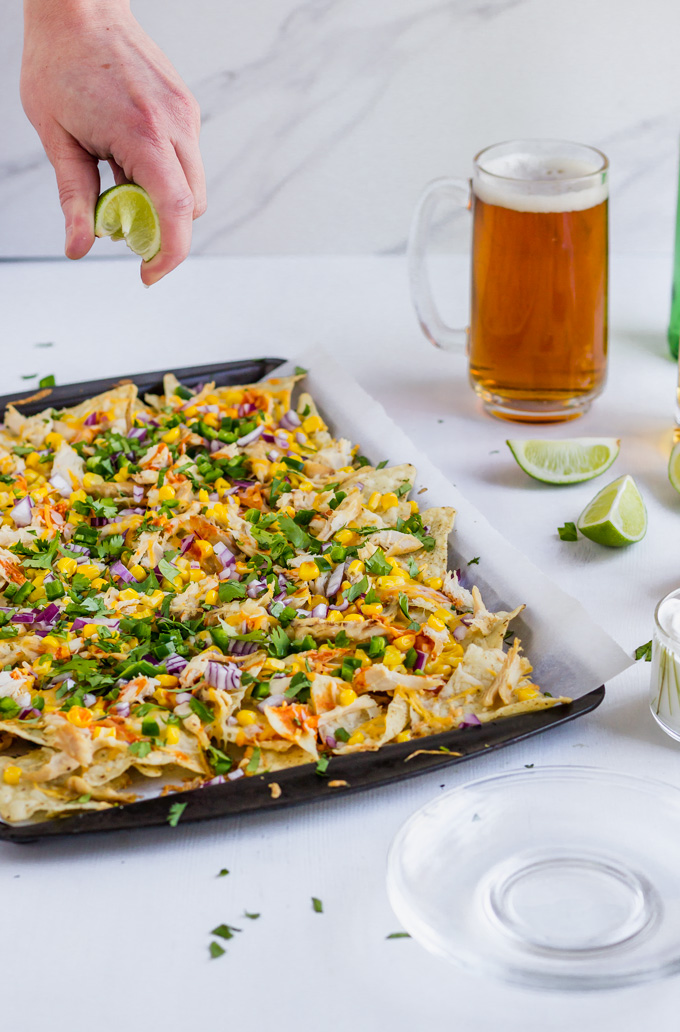 This time I used hot sauce to make buffalo chicken nachos recipe. You can use your favorite BBQ sauce to make bbq chicken nachos. The cooking instruction is the same. So use whatever sauce you prefer or have on hand.
Also, I lightened up it a bit by removing cheese sauce to make healthy chicken nachos. Well, not healthy but healthy-ish since it is still loaded with cheese but without extra unnecessary calories from flour and milk. All you need is enough cheese to glue everything together. For that reason, cheese sauce is needless here.
Now you know how to make easy shredded chicken nachos at home. This is a quick and easy Mexican food you can serve for any occasion, at any time of the day to bring good vibes and mood to your party.
Happy Cooking!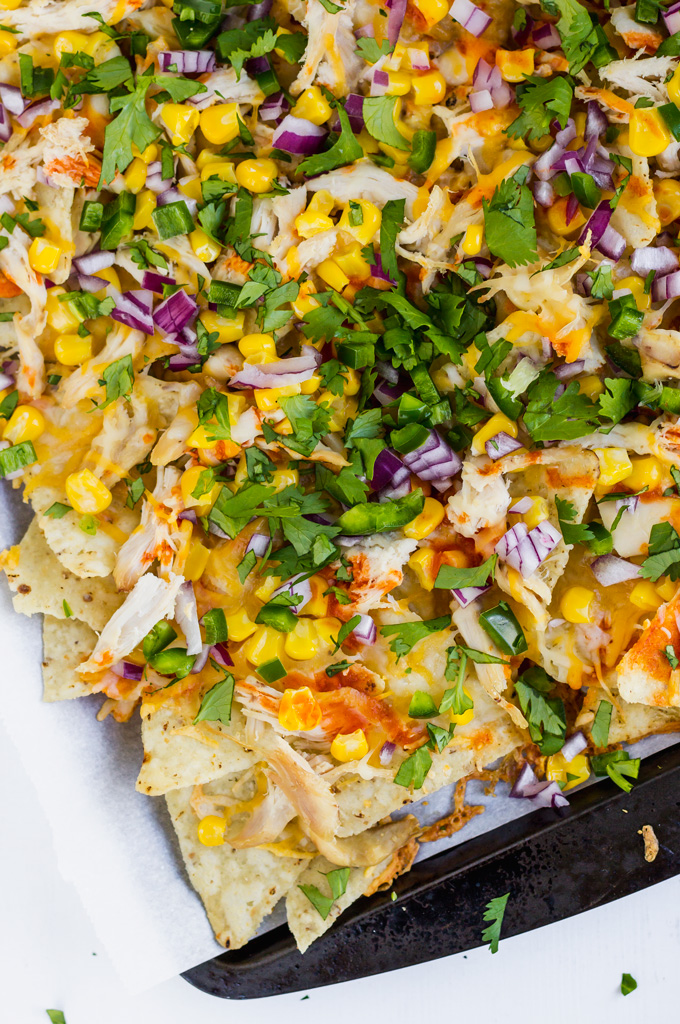 Tips and Tricks for Rotisserie Chicken Nachos:
I usually buy white corn chips because they are slightly healthier than yellow. My second choice is the blend of white and yellow.
I stopped buying canned corn a VERY long time ago. The frozen tastes much better and it is convenient portion wise. Take how much you need and return the rest to a freezer.
The best way to bring frozen corn back to life: Bring water to a full boil. Remove from heat. Add frozen corn. Wait for 3 minutes. Drain and enjoy. The simple but crucial process that helps corn retain the color and sweetness.
I find making cheese sauce for nachos time consuming and unhealthy. I use plain shredded cheese to glue everything together. Works all the time.
I recently discovered Louisiana's Pure Crystal hot sauce and in love with it. It has only three plain ingredients, and it tastes a lot better than famous hot sauces. Highly recommend.
You can substitute hot sauce for bbq or any other favorite sauce.
Previous recipes from the 5 Easy Recipes with a leftover rotisserie chicken project: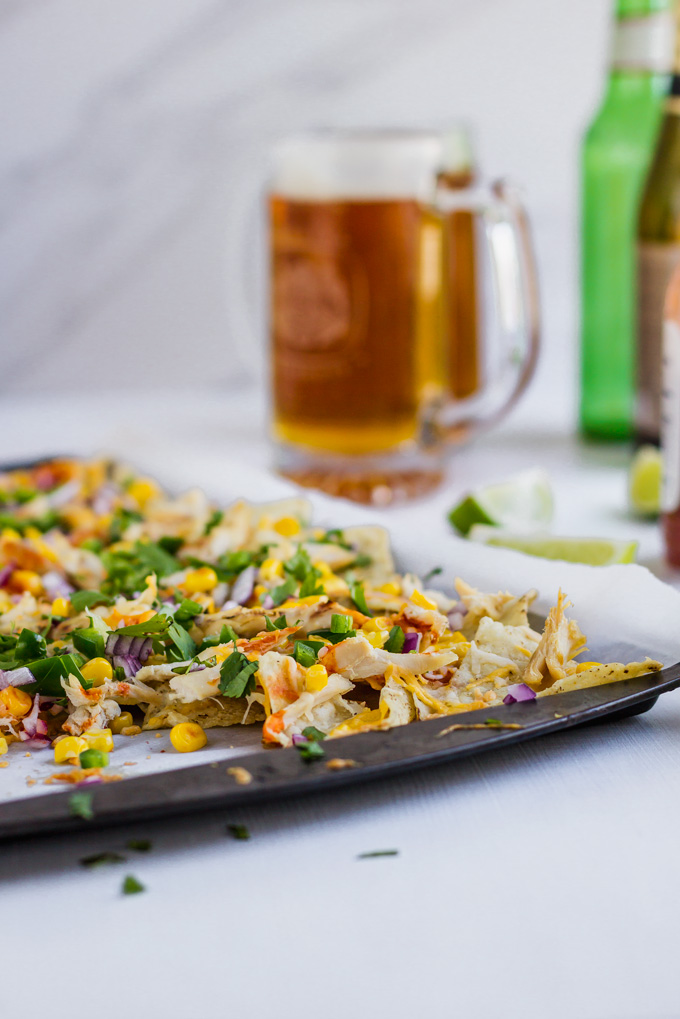 If you make this recipe, please share your picture with me by tagging it #thepuretaste on Instagram. Or share your results in the comment section down below. It means a whole world to me knowing someone is making my recipes.
Thank you for sharing and support ❤️❤️❤️
Maria
Yields: 1 baking sheet
Quick and Easy Rotisserie Chicken Nachos
7 minPrep Time
15 minCook Time
22 minTotal Time
Ingredients:
Bag of Tortilla corn chips
2 cups Mexican style shredded cheese
2 cups shredded rotisserie chicken (or cooked shredded chicken)
½ cup hot sauce (Louisiana's Pure Crystal hot sauce)
½ cup corn (canned or frozen)
½ teaspoon red pepper flakes (optional)
1/3 cup red onion, chopped
1 cup cilantro, chopped
1 jalapeno, diced
1 avocado, cubed
½ cup sour cream
More hot sauce for serving
Salt and pepper
Instructions:
Preheat oven to 350 F.
Cover baking sheet with parchment paper.
Scatter the corn chips on a parchment paper, overlapping is OK. Sprinkle 1 cup of shredded cheese. Top with shredded chicken. Pour hot sauce evenly over the chicken. Sprinkle with the rest of shredded cheese, cooked corn and red pepper flakes. Bake for 15 minutes.
Meanwhile, prep the toppings. Chop red onion, cilantro, jalapeno, and avocado.
Remove nachos from the oven. Sprinkle with toppings and serve immediately.
Serve with sour cream and more hot sauce.
Enjoy!
7.8.1.2
41
https://thepuretaste.com/rotisserie-chicken-nachos/
 Disclosure: This post contains some affiliate links.  If you purchase a product through one of my links, I will earn a small commission at no extra cost to you. I only recommend products that I use and love myself. Thank you in advance for your support! It means a lot!
Products used in this post: