This smoky rotisserie chicken soup recipe is a part of my 5 Easy Recipes with leftover rotisserie chicken project.  It is very easy to make, light and healthy.  Warming, comforting and healthy way to nourish you for lunch or dinner.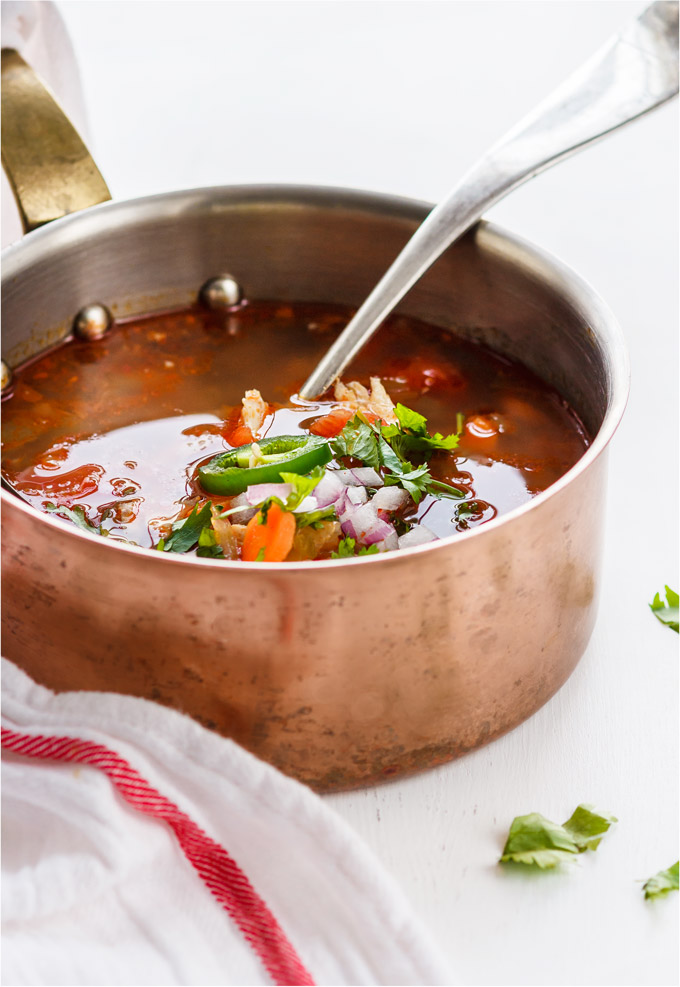 About 5 Easy Recipes with leftover rotisserie chicken project:
Rotisserie chicken has been a big saver for us on busy weeks. Yet, pretty fast it became boring eating it plain with salad or vegetables on a side. I decided to create easy and fun recipes with a leftover rotisserie chicken that requires less than 30 minutes of active time. If you have cooked leftover chicken, by all means, use it instead of rotisserie chicken. The idea is the same. Quick and easy meals with rotisserie or any leftover chicken.
Previous recipes from the 5 Easy Recipes with a leftover rotisserie chicken project: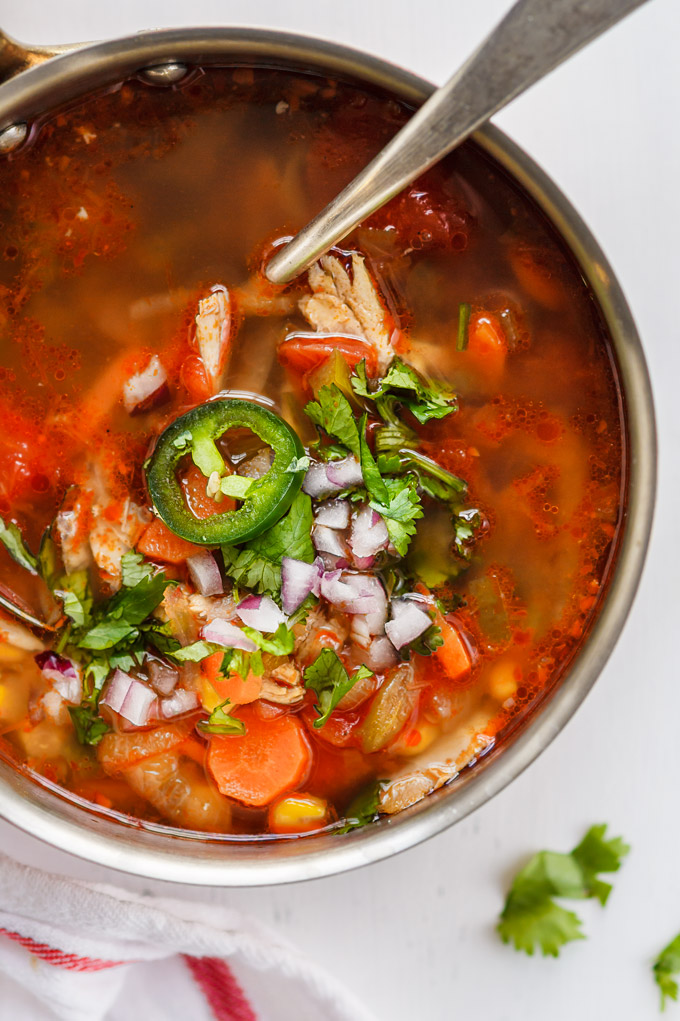 I always try to add soup to my weekly menu, but sometimes I work to pass the lunch time. As you probably know going to kitchen hungry is not a good idea. You grab everything you see and eat it as a snack, neglecting the real lunch. Lunches for me are very important. I always plan them carefully because this is one of the hardest time of the day to eat healthy food. With these points in mind, I wanted to create a soup using leftover rotisserie chicken or any other cooked chicken for a good, healthy and satisfying lunch.
The search in google for the rotisserie chicken soup recipe didn't turn out well. As much as I love old fashioned chicken noodle soup but I was looking for something more interesting. After a disappointing search, I went to take a look what was in the fridge. There were a lot of Mexican ingredients left from the dinner before. Combining some of them gave the birth to one of my favorite ways to use leftover rotisserie chicken.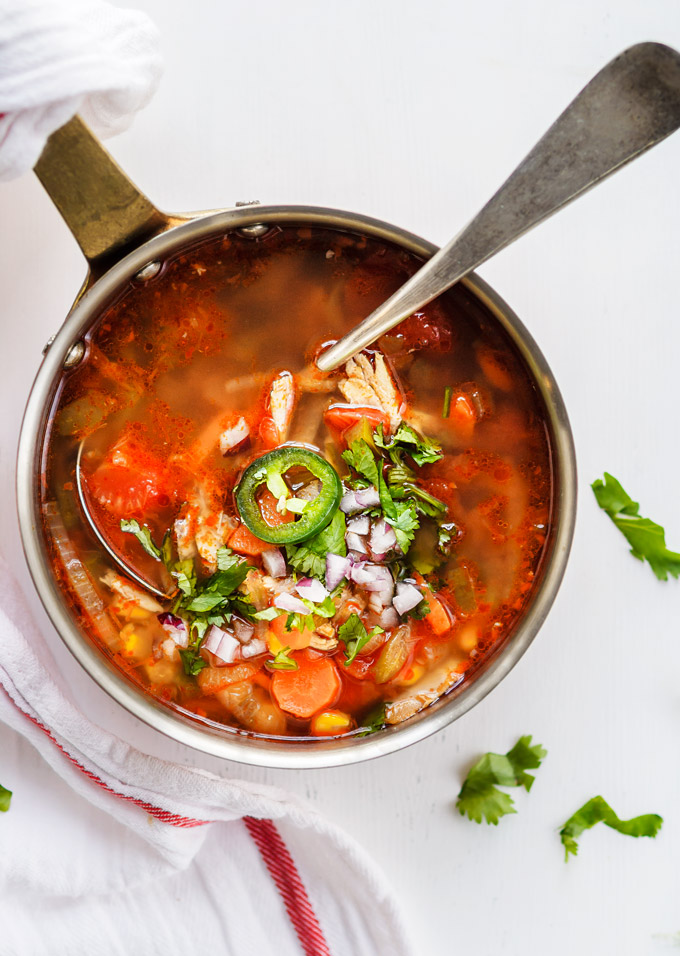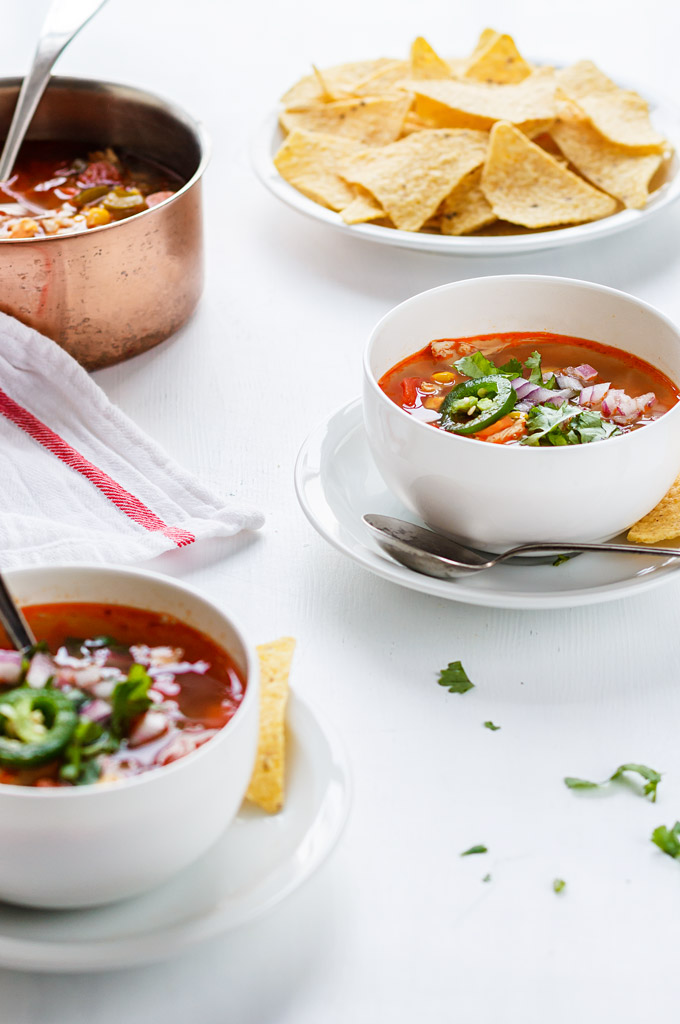 I wanted to create a different soup with unique flavors and easy to put together. Something fresh, light and bright and at the same time comforting for the winter blues.  This smoky rotisserie chicken soup meets all criteria.
I'm so happy with the result. In fact, it became one of my favorite ways to use the rotisserie chicken. It is simple, unique and satisfying soup.
Couple of added spices, smoked paprika, and cumin, brings so many flavors and interest to it. And don't skip on toppings. The freshness of cilantro and a tiny bit of spiciness from red onion add summer notes and change the whole taste.
The bright and festive colors, the smoky flavor, the combination of acidity from tomatoes and sweetness from corn helps to stay healthy and strong during the toughest winter months.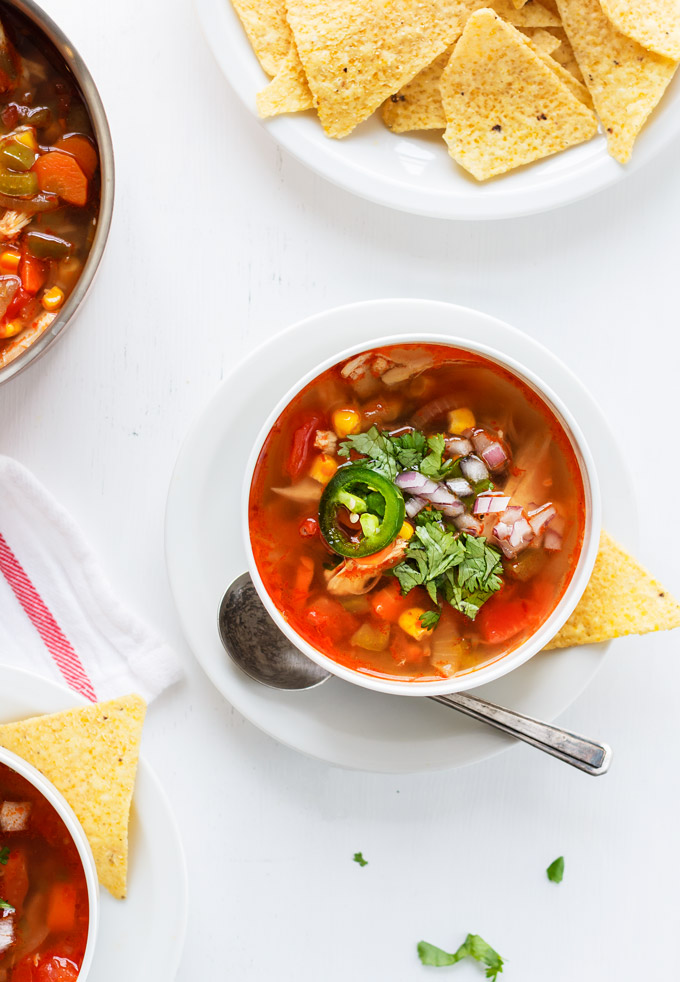 This smoky rotisserie chicken soup is by far the shortest recipe I have on my blog. Simplicity in this soup is a key ingredient.  I already made this soup many times, and every time I'm amazed how such a simple soup can bring so much joy. I hope you find a little time and give a chance to this easy and healthy recipe.
Happy Cooking 😉

Tips and Tricks for Smoky Rotisserie Chicken Soup recipe:
If you don't have canned diced tomatoes, you can substitute it for three medium tomatoes. Chop them and follow the rest of the recipe.
You can replace Rotisserie chicken with any cooked leftover chicken.
Go the extra mile and buy super sweet frozen corn. It does make a big difference.
Maria
Yields: 6 servings
Smoky Rotisserie Chicken Soup with corn & tomatoes (Simple & Healthy)
12 minPrep Time
15 minCook Time
27 minTotal Time
Ingredients:
2 tablespoons olive oil
1 large onion, quartered and sliced
2 small carrots, sliced
1 small green bell pepper, diced
1 jalapeno, diced into small cubes
2 garlic cloves, chopped
1 teaspoon ground cumin
2 ½ teaspoons smoked paprika
1 teaspoon kosher salt
¼ teaspoon red pepper flakes (optional)
¼ teaspoon ground black pepper
2 cups shredded rotisserie chicken
1 (14.5 oz.) diced tomatoes can
2 cups chicken stock
2 cups water
1 cup frozen sweet corn
Juice of 1 lime
2 tablespoons cilantro, chopped

For serving:

Cilantro, red onion, jalapeno
Corn chips
Instructions:
1. Over medium-high heat in a medium heavy bottom pot heat olive oil.
2. Add onion, carrots, green pepper and jalapeno. Sprinkle some salt and cook for 4 minutes or until vegetables are translucent. Add garlic, cumin, smoked paprika, red pepper flakes and black pepper. Cook for 2 minutes to release the spices' aromas. Add shredded chicken, diced tomatoes, chicken stock and water. Increase temperature to high and bring it to a full boil.
3. Remove the pot from heat. Add sweet corn and lime juice. Stir well. Add chopped cilantro.
4. Taste the soup and adjust any seasonings. I always add little more salt but only after I add lime juice.
Serve with chopped cilantro, red onion, jalapeno and corn chips.
Enjoy 🙂
7.8.1.2
28
https://thepuretaste.com/smoky-rotisserie-chicken-soup/
If you make this recipe, please share your picture with me by tagging it #thepuretaste on Instagram. Or share your results in the comment section down below. It means a whole world to me knowing someone is making my recipes.
Thank you for sharing and your support ❤️❤️❤️