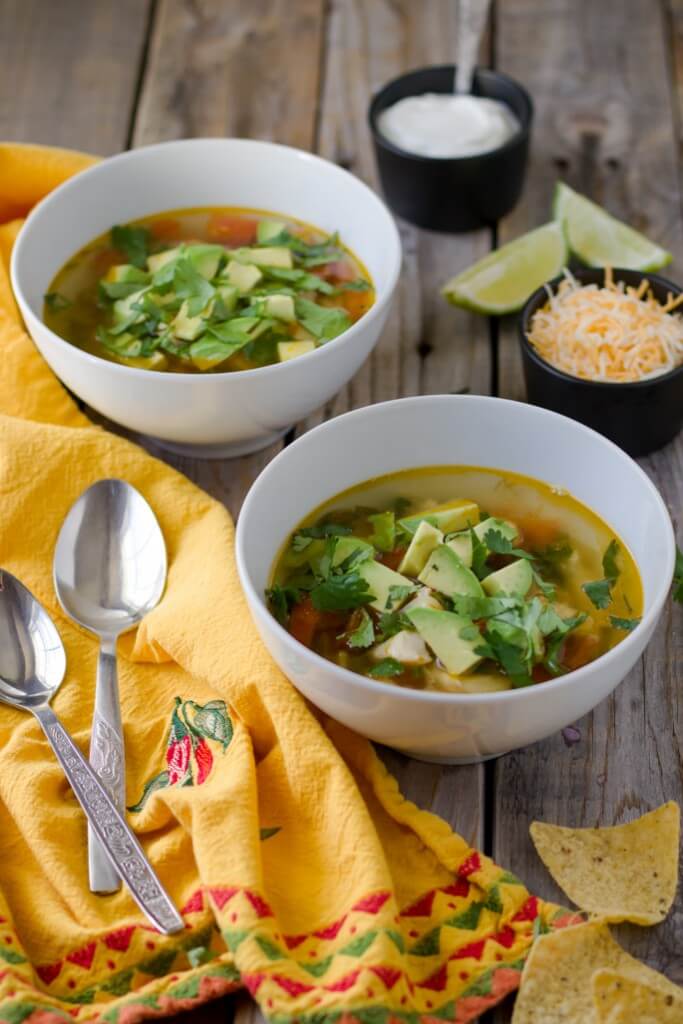 Spring is here! This means cheaper avocados, cheaper mangos, pineapples, etc. And I have a perfect use for the cheap avocados – a delicious Mexican-inspired Chicken avocado lime soup. It is refreshing, beautiful and easy to make. The colors are so bright, and the taste is so light that you immediately feel the spring spirit and cheered up. What else do you need for a perfect spring soup?!
And I did not even mention how nutritious this soup is! I like to give my body a spring cleanse after the winter meals, and soups are a great way to it. Your stomach will definitely thank you for this multivitamin nutritious spring treat 🙂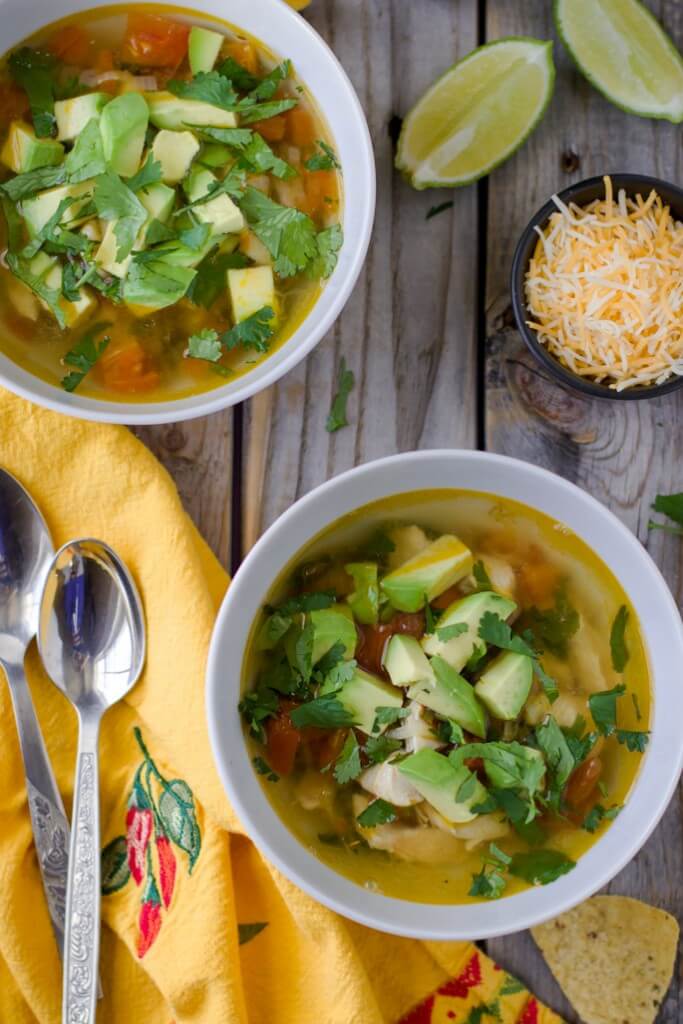 You can omit some garnishes (sour cream and cheese) for even lighter version. This is what I do. But my husband never missed an opportunity to add cheese to anything, and he loves it. I have to admit it TASTES GOOD with cheese. However, I still prefer to eat it without cheese and sour cream. I add more avocados instead. When avocados are perfectly ripe, they have this buttery taste and texture that goes well with this soup. The choice is yours.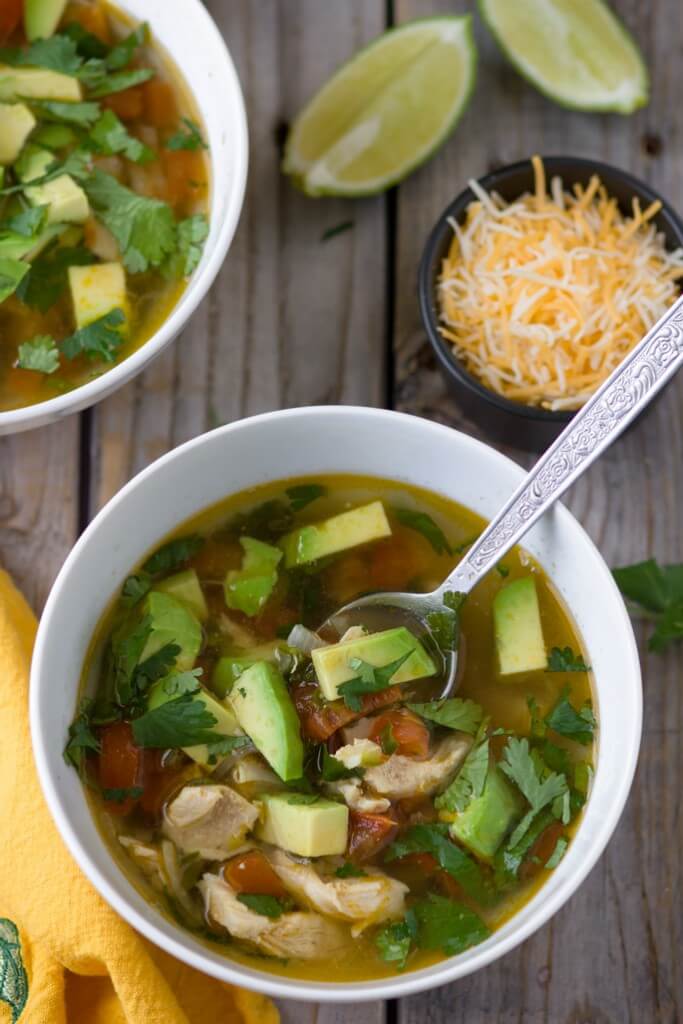 This soup is great during spring and summer. I like to make it during spring because it gives a nice transition between winter hearty soups and summer light chilled ones. And it is indeed one of my favorite spring soups. But I'm not gonna lie to you, I make it during summer too… What can I say; I'm a soup lover, especially good ones 😉 You basically can make it any season. Thankfully avocados, as well as all other ingredients in this soup, are available all year round.
I hope I convinced you to make it and let me know how it turned out for you.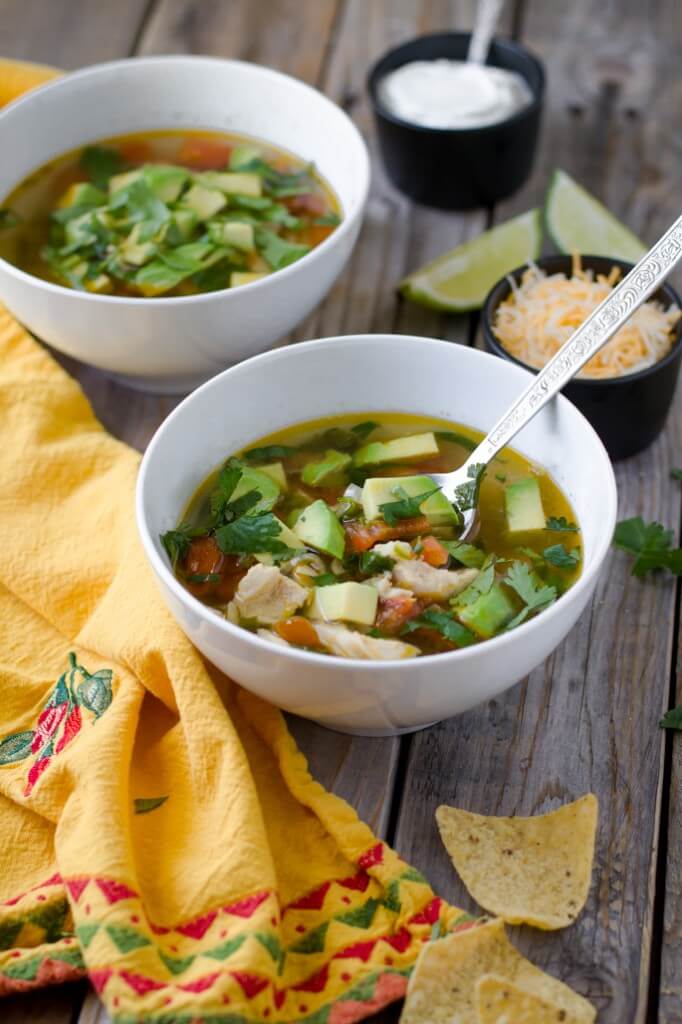 Chicken Avocado Lime Soup Tips and Tricks:
I usually buy a bag of avocados at Costco because it is much cheaper and always good quality. Most of the time they are still unripe. But keep in mind, it is better to buy them unripe rather than overripe (dark, mushy and not delicious). Buying them unripe gives you an opportunity to control the ripening process and have them ready whenever you need it.
To speed up the ripening process, just put avocado in the brown bag and hide it in a dark place. Usually, it takes 1-3 days to have a nice ready to use avocado. To make the process even faster add a banana or an apple to the bag.
Here is a great resource on buying, ripening, handling and storing avocados.This is the most useful information on the web about avocados. Learn it once and you'll always have perfect avocados.
Have fun learning!
Yields: 6 servings
Chicken Avocado Lime Soup
15 minPrep Time
20 minCook Time
35 minTotal Time
Ingredients:
1-2 lbs. boneless skinless chicken breasts
1 Tbsp. olive oil
1 cup chopped green onions (including whites)
2 jalapeños, seeded and minced
2 cloves garlic, minced
7 cups low-sodium chicken broth
2 Roma tomatoes, seeded and diced
1 tsp. whole cumin seeds
Salt and freshly ground black pepper
1/3 cup chopped cilantro
3 Tbsp. fresh lime juice
3 medium avocados, peeled, cored and diced
Tortilla chips, shredded cheese, sour cream, lime wedges for serving (optional)
Instructions:
1. In a large heavy bottomed pot heat 1 Tbsp. Olive oil over medium heat. When hot add green onions and jalapeno. Sauté over medium heat until tender, about 2-3 minutes. Add garlic and cumin seeds and stir for about 30 seconds to release the flavors.
2. Add tomatoes, chicken broth and chicken breasts. Season with salt and bring to a full boil over medium-high heat. Reduce heat back to medium, cover with lid and cook until chicken is cooked through, about 15-20 minutes (depending on the size of the chicken breast). Stir occasionally. When chicken breasts are fully cooked, remove to a cutting board. Reduce heat to low. When chicken is cool enough to handle, shred it and return to pot.
3. Stir in lime juice. Taste the soup and adjust seasoning to your liking (salt and pepper). Add cilantro.
4. Ladle soup into the bowls. Add chopped avocados to each bowl individually. Garnish with more cilantro, shredded cheese, sour cream, lime wedges and tortilla chips.
Serve and enjoy!

Adapted from Cooking Classy
7.8.1.2
7
https://thepuretaste.com/chicken-avocado-lime-soup/