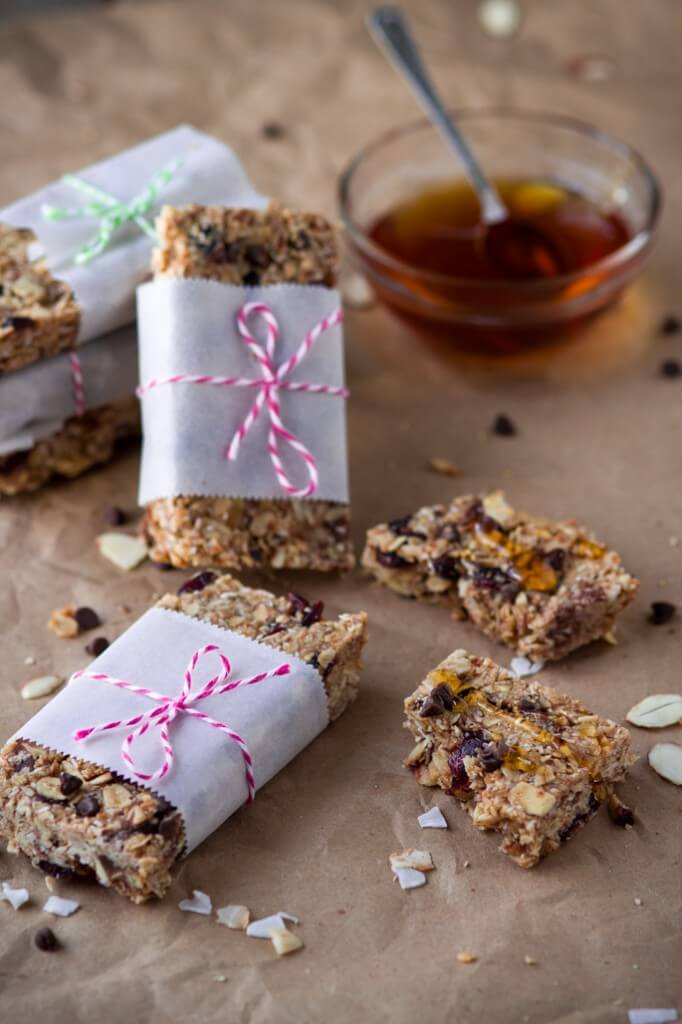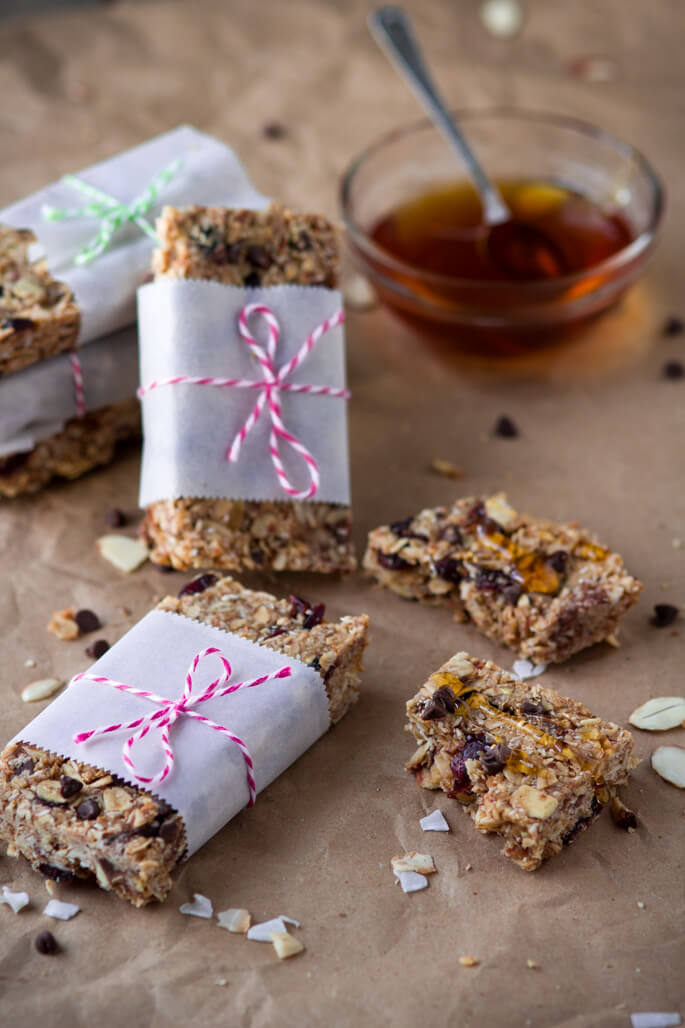 Ever since I tried the granola bars in the US, I got hooked on these sweet little treats. There is something convenient and awfully delicious about them, and you cannot stop eating them.
When you finished the first bar, your brains start to whisper: "Stop there, enough for you. Think about your sugar intake!" BUT here come your emotions… Next thing you know, you are happily finishing your 2nd bar, completely blocking your brain's little health speech. Have you ever experienced this battle? I had numerous times. Then I got into a reading product's labels rule. And the ugly truth revealed itself. Try to read labels of the store-bought energy and granola bars. You will be shocked how much sugar is in it and ingredients you cannot even pronounce!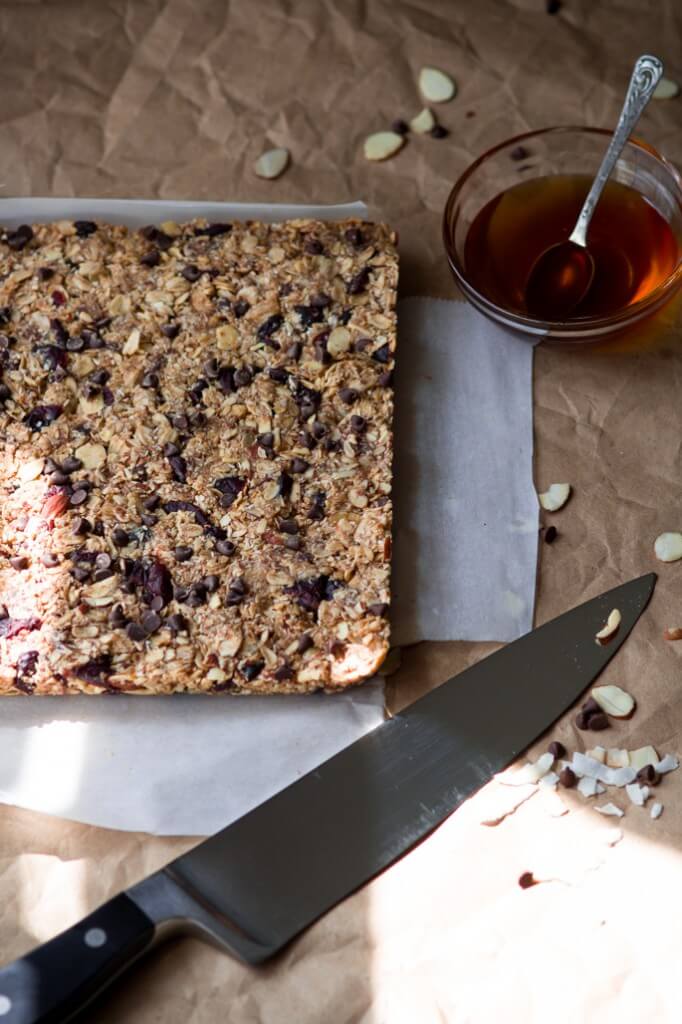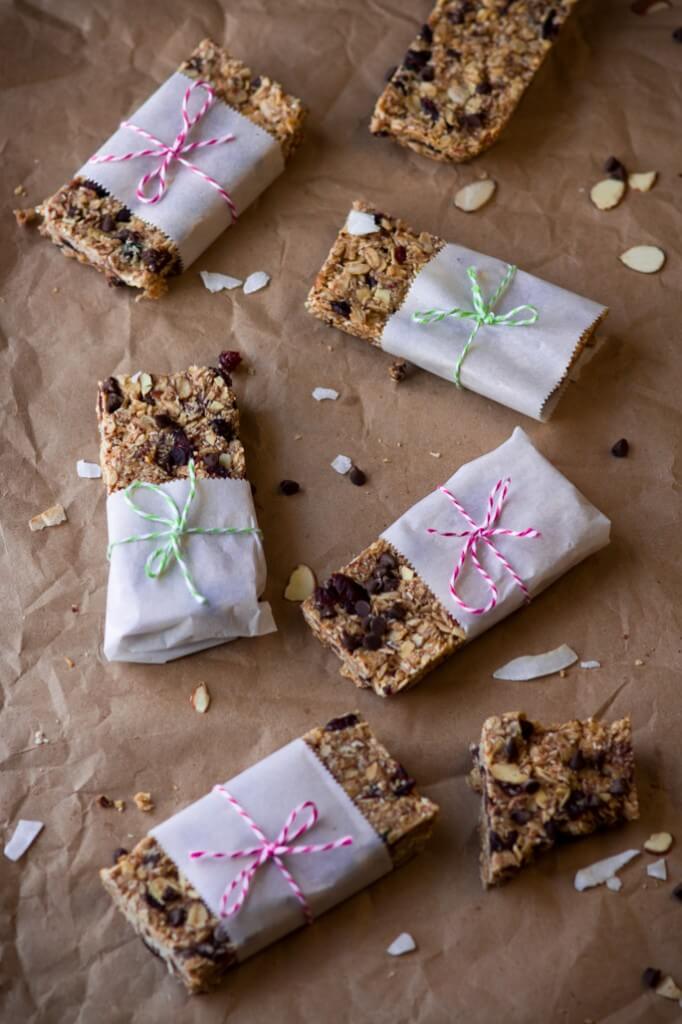 Because of my granola bars love, the new plan was born: learn how to make homemade granola bars to control what goes in them. It turned out it is extremely easy to make and, more importantly, you have a choice what to put in it! Not to mention, it is a much healthier choice. You get some healthy fats and proteins from the nuts, lots of fiber from the oats and a whole lot of benefits from honey. These granola bars are less sweet than store-bought ones. I like all baked goods and desserts be on a less sugary side to avoid sugar overload. And I use only natural sweeteners (honey and maple syrup) in this recipe.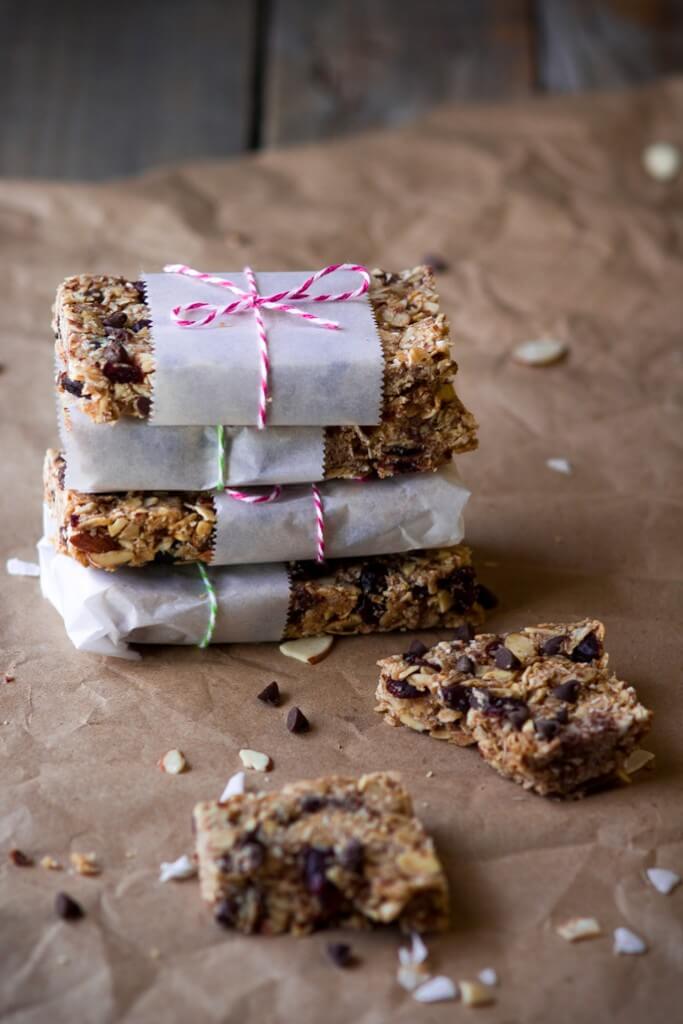 I want to share with you my personal favorite granola bars recipe. I have a couple of other granola bars recipes that I really enjoy and make them often. I will post other ones (because they are equally good) so you can have a variety.  This one is the most customizable, easy to make and filled with the ingredients that you very likely have on hand. Not to mention, you can completely substitute almost anything in this recipe:
Almonds for chopped walnuts;
Cranberries for raisins, cherries, chopped apricots;
Maple syrup for agave syrup;
Peanut butter for almond butter (healthier option).
Simple, customizable, delicious!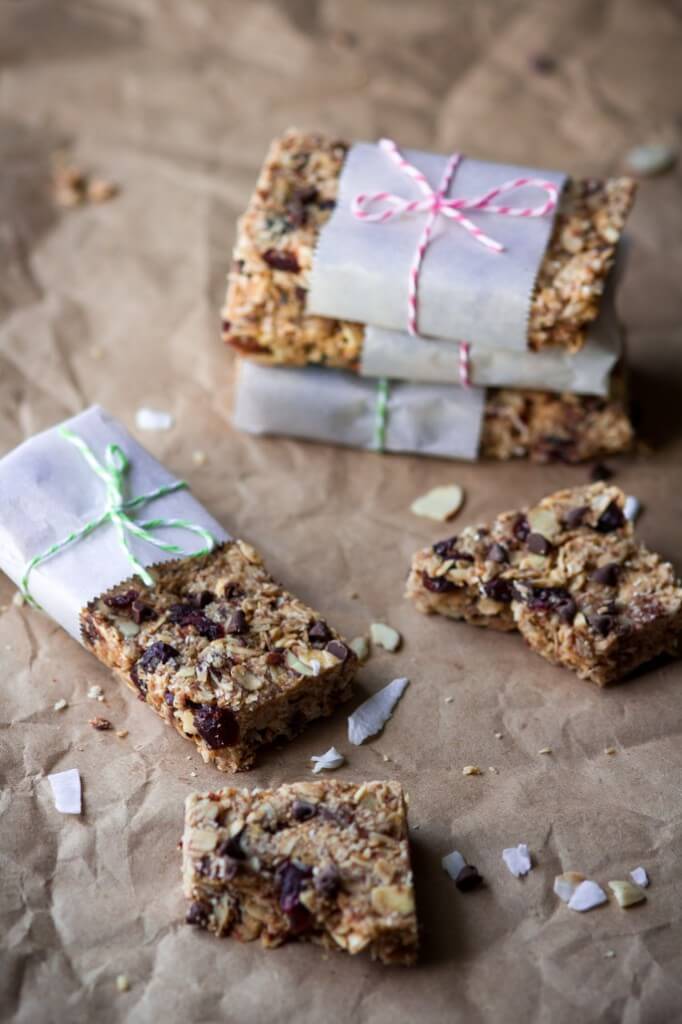 This is one of my favorite snacks during the day. It keeps you full for hours without any health damage. Take it to work, share with loved ones. Take it on a trip, hiking, beach, have it as a snack during a day, or before grocery shopping, etc. Whenever I know, we will be outside for the whole day or on the road, I always make and take them with us. The use of it is endless.
Let's just forget about store-bought energy and granola bars and start making our owns. I encourage you to make these peanut butter granola bars. There is a big chance you will never go back to store-bought ones.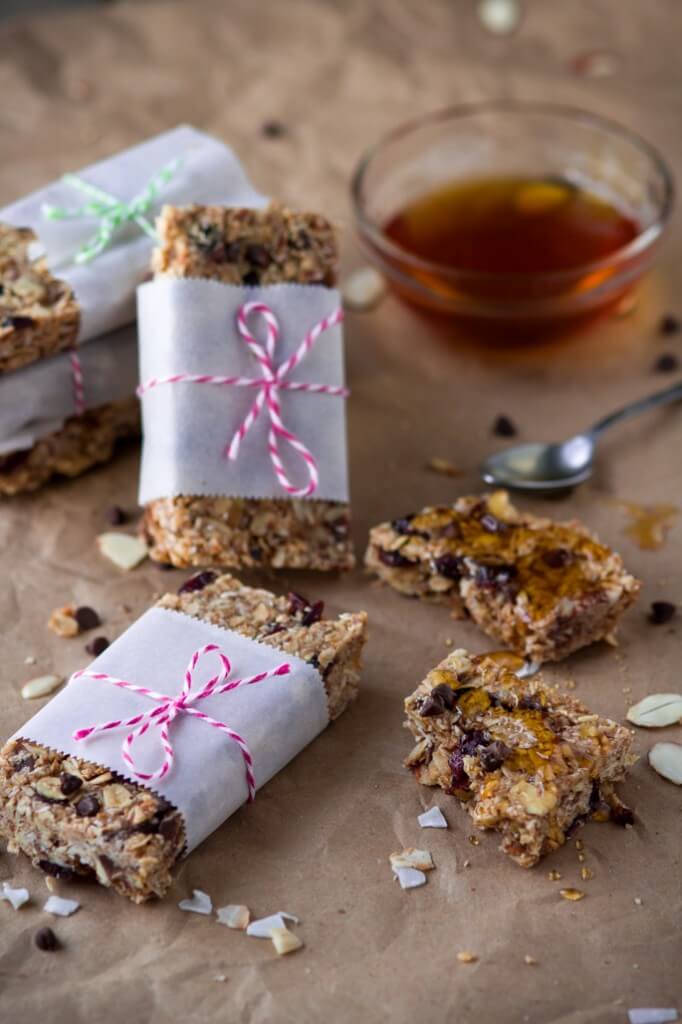 Peanut Butter Granola Bars Tips and Tricks:
You can store granola bars in an airtight container at room temperature for up to 5 days. However, with time they become soggy. For longer storage just keep them in an airtight container in the fridge for up to 2 weeks. Maybe even longer, good luck with that! Now you know the trick and can make a double batch and enjoy them whenever you want.
Use mini chocolate chips. It is easier to press them into the mixture for an even texture. The regular chocolate chips are fine too, but you need to put a little extra effort in pressing them.
Yields: 8-12 bars
Healthy Peanut Butter & Honey Granola Bars
15 minPrep Time
25 minCook Time
40 minTotal Time
Ingredients:
1 1/2 cups Old-Fashioned Oats
3/4 cup slivered almonds
2/3 cup unsweetened shredded coconut
1 cup dried cranberries
1/4 cup miniature chocolate chips + 1 heaping tbsp. for sprinkling
½ tsp. salt
1/3 cup peanut butter
1/4 cup honey
2 tbsp. maple syrup
1 teaspoon vanilla
Instructions:
1. Preheat oven to 350° F. Line an 8x8-inch baking dish with parchment paper overlapping on opposite sides to easy lift bars from the dish when finished.
2. Spread almonds on a baking sheet and toast for 5-7 minutes. Check regularly so they don't burn. Remove from the oven, let it cool completely. Reduce oven temperature to 300° F. Combine oats and toasted almond in a food processor and give it a couple of pulses to make pieces smaller. Don't overdo it. You need smaller pieces, not flour.
3. In a big bowl combine oats, almonds, unsweetened shredded coconut, dried cranberries, mini chocolate chips, and salt. Mix together until fully combined.
4. In a small pot combine peanut butter, honey, maple syrup, and vanilla. Heat it slightly over medium heat. You need it warm enough, so the ingredients are easy to combine, but not too hot to melt chocolate chips. Whisk the mixture well until fully incorporated.
5. Add this mixture to dry ingredients and stir until completely combined. Press the mixture into prepared baking dish using a 1 cup measuring cup (bottom covered in oil or butter) or with your hands. Sprinkle with the remaining 1 tablespoon of mini chocolate chips and press it gently onto the top. Bake for 20-25 minutes.
Remove and let it cool completely for 1-2 hours. Transfer to the refrigerator and chill for another hour or longer. When ready remove and cut into 8-12 equal bars.
Store in an airtight container at room temperature for up to 5 days or in the fridge for up to 2 weeks.
7.8.1.2
4
https://thepuretaste.com/healthy-peanut-butter-honey-granola-bars/