This roasted eggplant dip recipe is our favorite way to use seasonal eggplants. Roasted eggplant with a smoky hint combined with fresh raw vegetables makes an irresistible dip/spread. A family recipe called eggplant caviar (Ukrainian and Russian authentic food).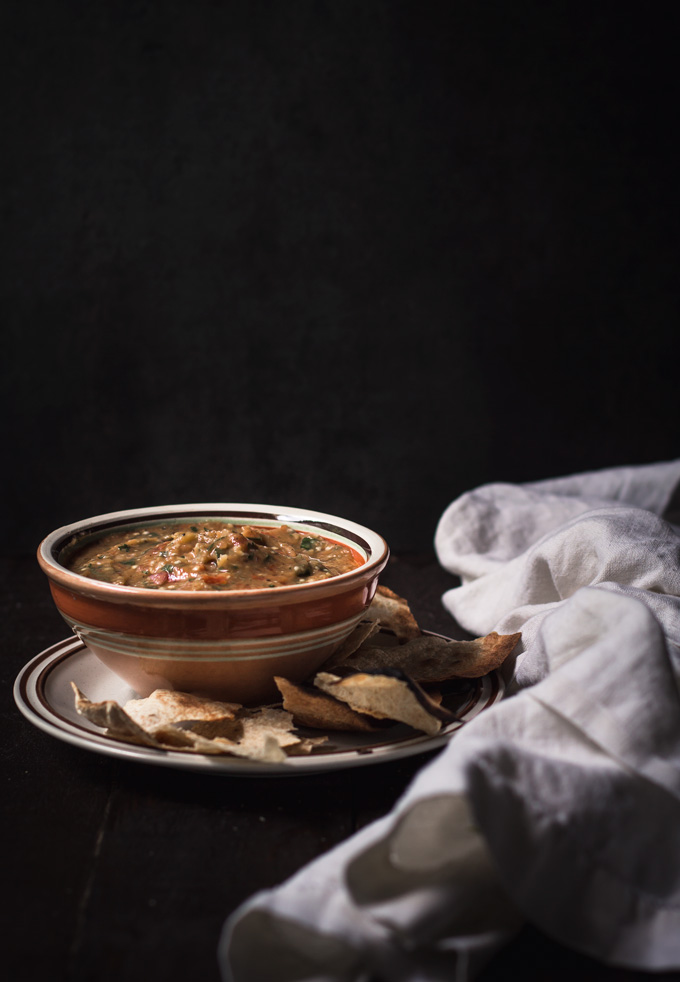 Time for some Ukrainian food recipe. And since eggplants are in season, I want to share with you my favorite way to use them. Eggplant caviar. This is a literal translation of how we call it in Ukraine. But it has nothing to do with real caviar. Do not panic and keep reading 😉
What is Ukrainian eggplant caviar anyway? Honestly hard to tell. I don't know which category it is. Is it an eggplant dip? Is it an eggplant appetizer? Or eggplant spread? Don't know. We serve it as it is and any time of the day or occasion. Most of the time once it is on the table it is finished within an hour. We like to eat it either as an eggplant dip with chips and crispy flatbread or as an eggplant spread on fresh sourdough. The choice is always yours.
The Russian and Ukrainian cuisine is very similar. And as in any cuisine, there is always a family twist on any recipe. There is no THE ONE recipe for anything. Everyone does it differently. I have always been making my mom and grandma recipes. But since I started the blog, the pressure rose, and I need to be 100% sure that I'm posting the best Ukrainian recipes. Because I want you to taste authentic Ukrainian food and fall in love with it. So I cheated couple times on my mom's recipe thinking there will be something better. But NO. Every time the experiment proves that indeed my mom's recipes are the best. Is it a fair judgment? Don't know. But I firmly believe in it.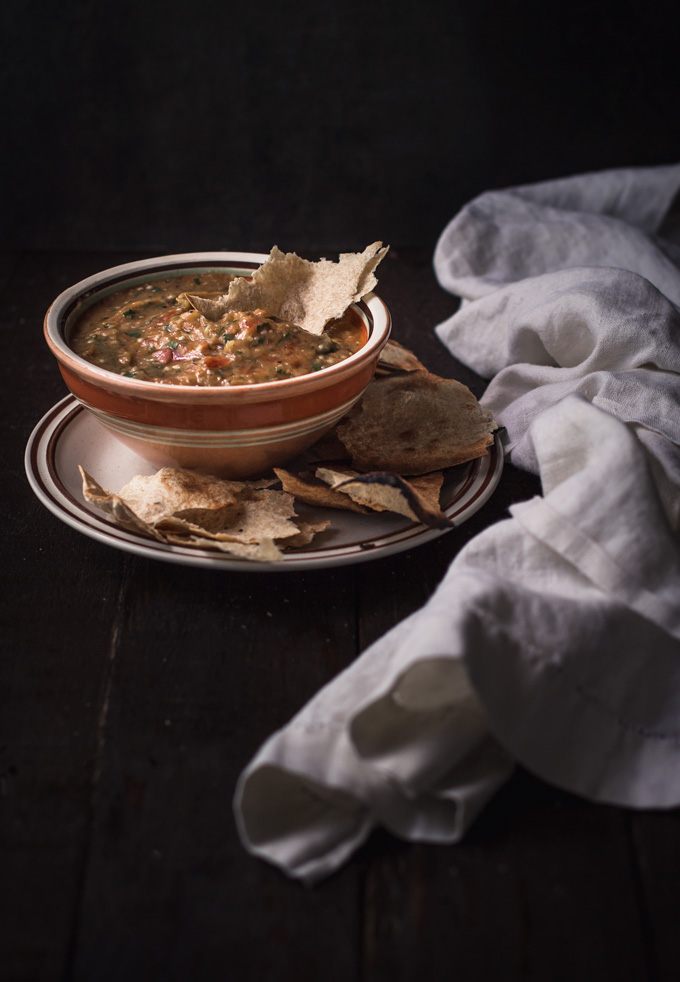 So this eggplant caviar is our family recipe except for one adjustment. The broiling part. We didn't have a broil option, so we roasted the eggplant. With broiler, I find it faster and it if you leave it for a little longer it will burn the skin slightly and will add the smoky flavor to it. So now I only make it with the broiling method, and I love it.
The rest in the recipe remains the same.
All you need is roast eggplants and chop everything together. If you have a food process – great! Put everything there and pulse to desired consistency. If you don't have it – no worries. Do it the old-fashioned way. Chop everything with a chef knife. That is it.  That's how easy it is.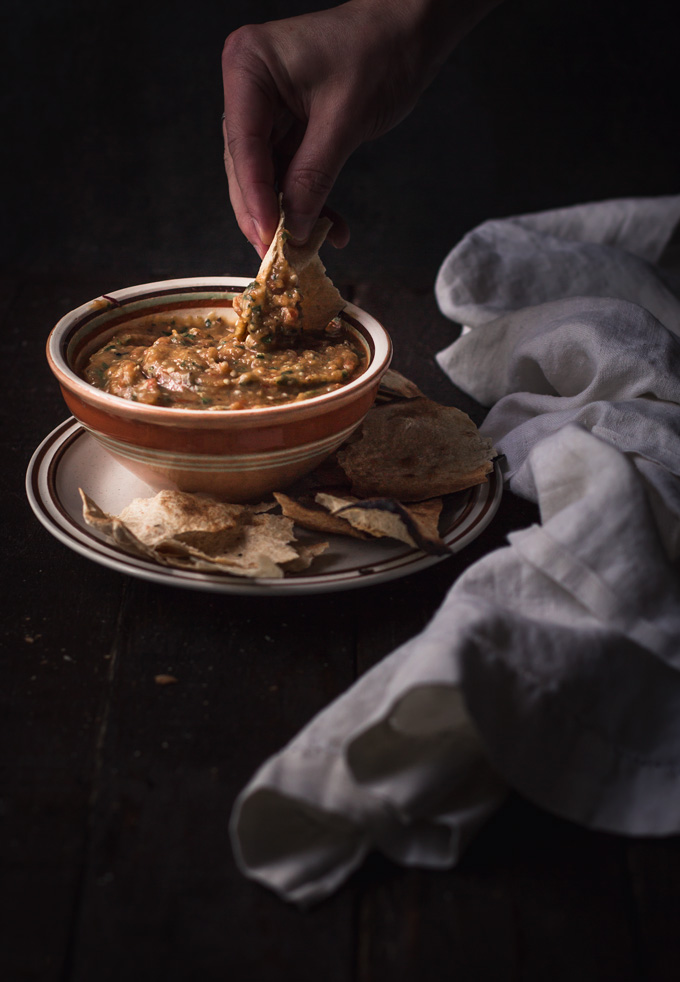 The only thing I should mention is sunflower oil. Authentically speaking it is necessary. Ukraine is a significant producer of sunflower oil, so it is our primary oil we use. I made this eggplant spread many times with olive oil as well. The taste definitely differs.  But not in a  bad way. For me adding sunflower oil is a nostalgic thing, it tastes like home. If you cannot find a good unrefined sunflower oil, then use extra virgin olive oil instead. But if you want to taste authentic Ukrainian eggplant dip the sunflower oil is a must. Plus, sunflower oil is delicious, and you can use it in many other recipes.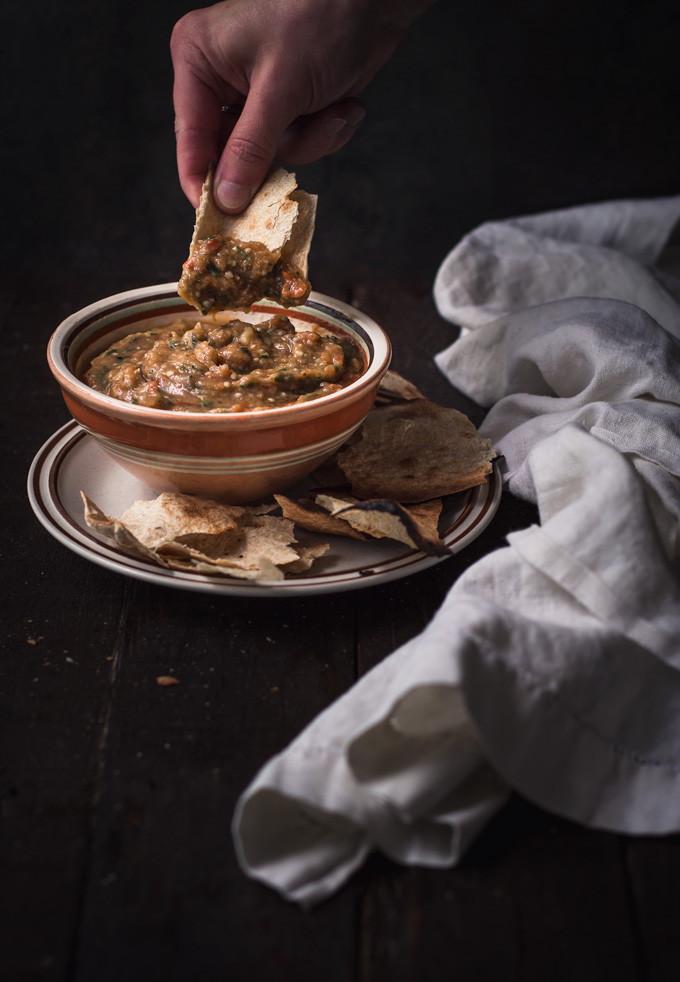 As you can see this is super easy eggplant recipe to make. If you like eggplants and always wondered what to make with them, then try this roasted eggplant dip recipe. It may become your go-to eggplant recipe.
And please do share your thoughts about it. Posting authentic Ukrainian food is a challenging thing. I would appreciate if you post comments if this is go or pass recipe.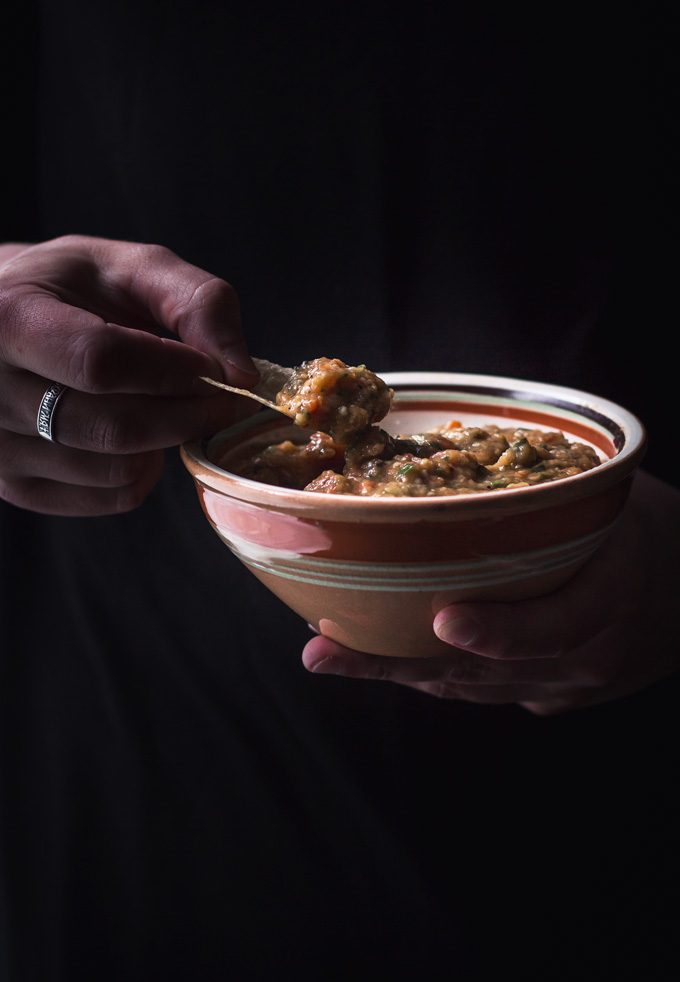 Roasted Eggplant Dip Tips and Tricks:
Don't forget to poke eggplant all over. Otherwise, you may end up with eggplant explosion.
Cooking eggplant under the broiler is the easiest and fastest way. If you don't have broiler bake in 400 F oven for 30 minutes (less or more, depending on the eggplant size).
The authentic way is to use sunflower oil. If you don't have it, use extra virgin olive instead.
Try to use the best tomatoes you can find. They really shine here.
You may substitute parsley for cilantro.
The dip gets better with time. Try to make it overnight and enjoy it the next day.
Can be stored in the fridge up to a week.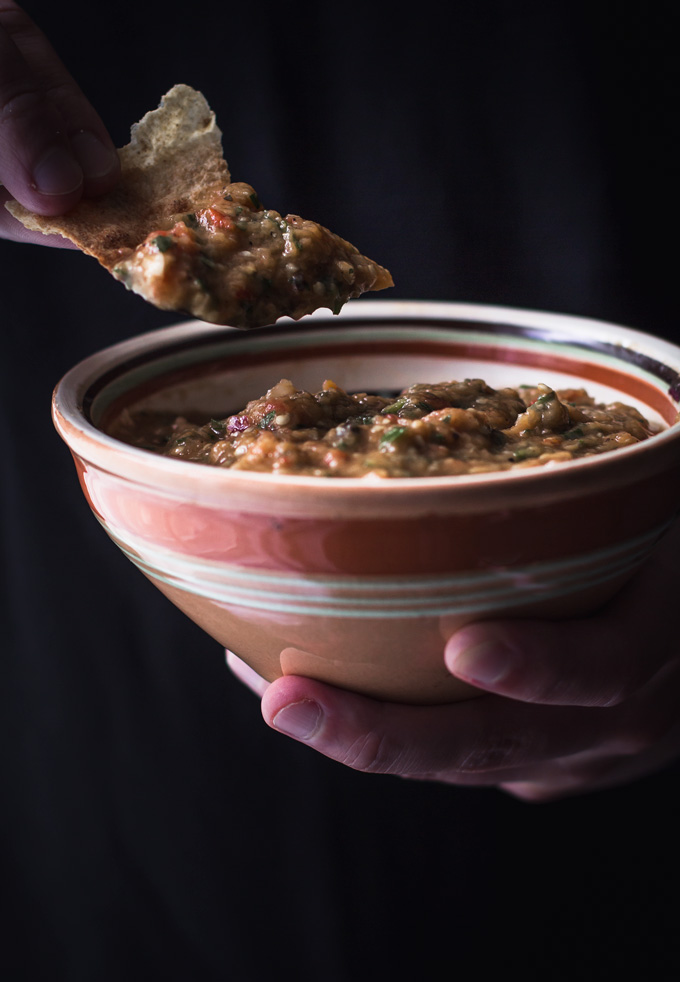 If you make this recipe, please share your picture with me by tagging it #thepuretaste on Instagram. Or share your results in the comment section down below. It means a whole world to me knowing someone is making my recipes.
Thank you for sharing and support ❤️❤️❤️
Maria
Yields: about 2 cups
Easy Roasted Eggplant Dip – Ukrainian Eggplant Caviar
Roasted eggplant dip recipe called eggplant caviar in Russian and Ukrainian cuisine
15 minPrep Time
30 minCook Time
45 minTotal Time
Ingredients:
2 medium (about 2 pounds) eggplants
1 large tomato
1 large garlic clove, chopped
3 tablespoons red onion, chopped
3 tablespoons parsley, chopped
3 tablespoons sunflower or extra virgin olive oil
1 ½ teaspoons kosher salt
¼ teaspoon ground black pepper
Instructions:
Set the broiler on high. Wash and dry eggplants. Line baking sheet with foil. Carefully poke eggplants with a knife. Rub in oil. Broil for 10 minutes per side or until they flatten and have slightly burned skin (see pictures). Total time depends on the eggplant's size. Mine took 25 minutes. Let cool. Alternatively, roast in 400 F oven for 30 minutes (less or more, depending on the eggplant size).
To make in a food processor:
Cut tomato in half. Gently squeeze the juice out. Cut into small pieces and add to food processor. When eggplants are safe to handle, remove the skin. With a small knife scrape the rest of the eggplant from the skin. Add to food processor along with chopped garlic, red onion, parsley, salt, and pepper. Pulse couple of times. Scrape the sides and add oil. Pulse to desired consistency. Taste and adjust seasoning.
To make by hand:
Cut tomato in half. Gently squeeze the juice out. Chop with a chef knife and place in a medium bowl. When eggplants are safe to handle, remove the skin. With a small knife scrape the rest of the eggplant from the skin. Chop and add it to a bowl along with chopped garlic, red onion, parsley, sunflower oil, salt, and pepper. Mix everything. Taste and adjust seasoning.
If you can, let it develop flavors overnight in the fridge. If not, serve with chips, pita bread or any other favorite flatbread.
Can be refrigerated up to a week.
7.8.1.2
55
https://thepuretaste.com/roasted-eggplant-dip/
Disclosure: This post contains affiliate links, which collects some cookies.  If you purchase a product through one of my links, I will earn a small commission at no extra cost to you. I only recommend products that I use and love myself. Thank you in advance for your support! It means a lot!
Products used in this post: