Just in time for the healthy movement, I made these delicious Ukrainian all Beef Stuffed Peppers Recipe. It has everything that healthy diet is promoting: grains in the form of rice, protein in the form of beef and vegetables in the form of peppers, carrots, onions, etc.
Not that Ukrainians are advocating healthy diet because we don't. But this recipe definitely falls under the wholesome food category. It is nutritious, light and healthy.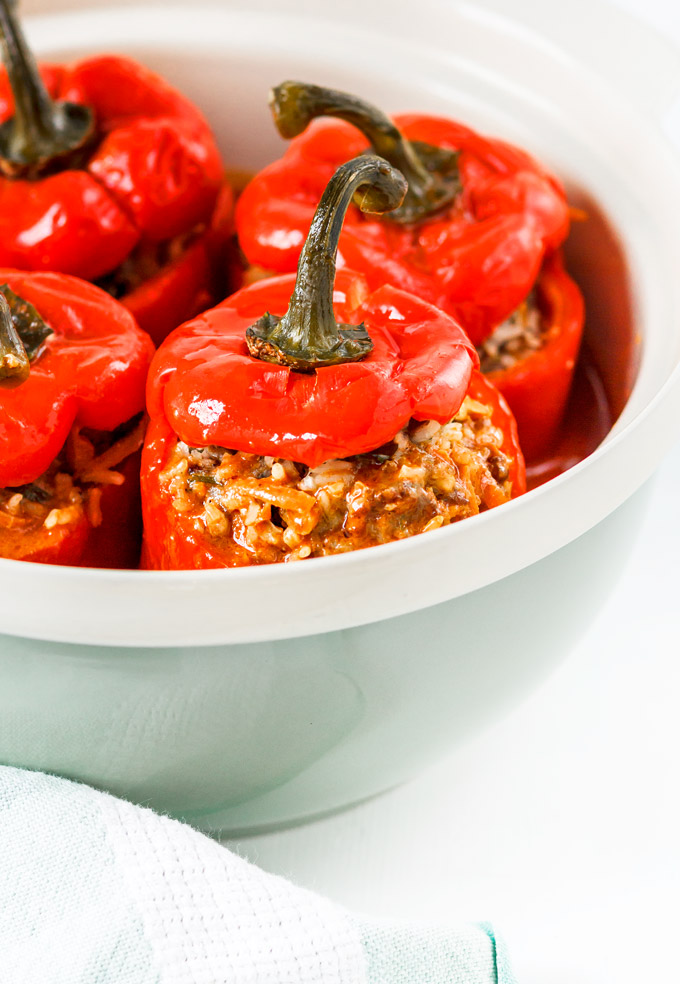 Usually, people think stuffed peppers are hard to make. In reality, all you need to do is mix rice, meat, and other ingredients. Make a tomato sauce. Stuff the peppers, and in about an hour you have a delicious and nutritious dinner. The prep takes under 30 minutes. Total of 1 hour and 30 minutes is a well worth time spent for a wholesome dinner for a couple of days.
One pepper per serving is plenty to satisfy the hunger. When I know I have the busy week ahead I always make either stuffed peppers or golubtsi (later on my blog). With 30 minutes spent in the kitchen, I don't have to think what's for dinner for the next three days. If you are more than two-person family, you can easily double this recipe. Just make sure you have a big enough pot to hold all the peppers. Alternatively, use two pots and rotate them halfway through the baking process.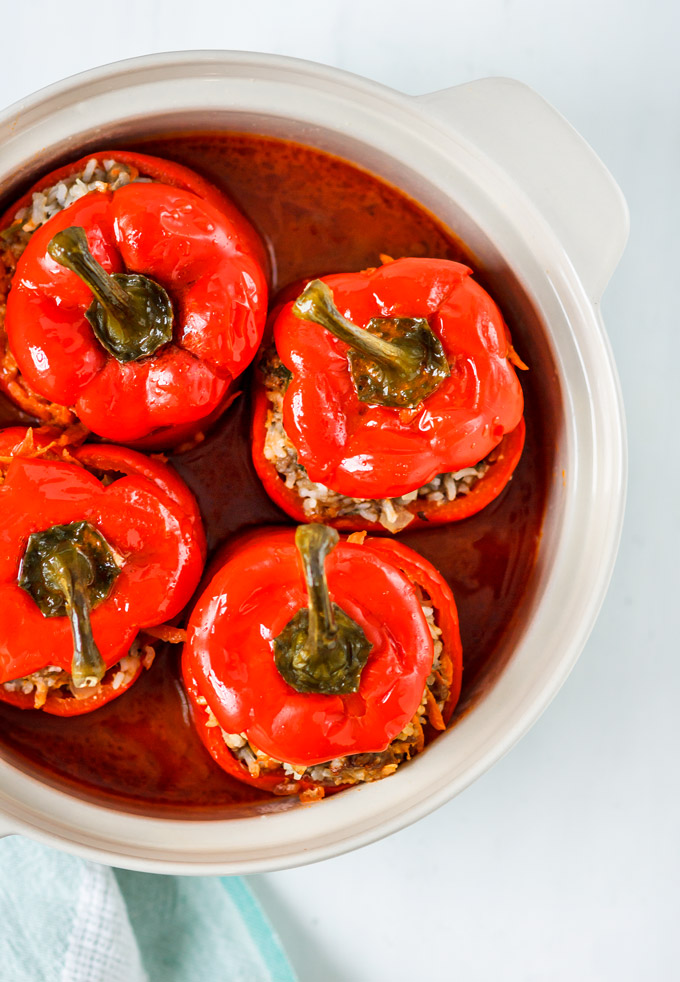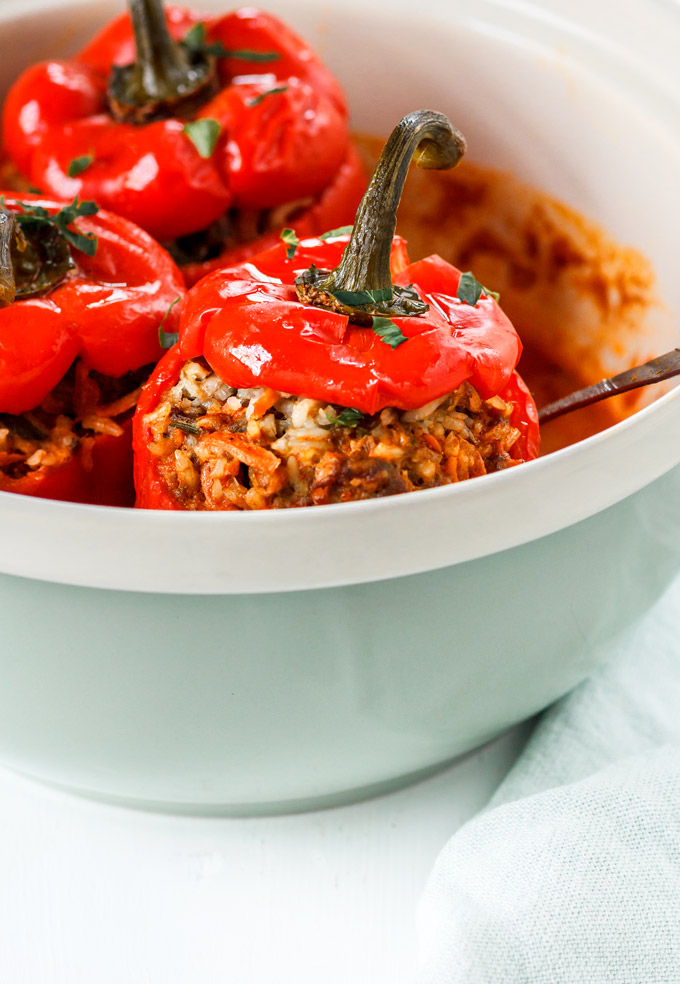 The recipe and ingredients are so simple that there is not much to write about. Except for my very favorite part of this recipe-zagarka.
Zagarka (the Ukrainian tomato sauce) is the TOP-secret part of this recipe. It is a family recipe passed from my grandma, and god knows for how many more generations before. And this is what got me into so many troubles. Every time mom made it I was spying for the moment for her to leave the kitchen. When I saw the opportunity, I grabbed a spoon, sometimes when the moment was just a couple of seconds, I did it with hands and ate it like crazy. I don't claim you will be crazy about it as much as I am but this stuff is so darn delicious.  In this recipe, though you add a liquid to zagarka so it will be enough to create plenty of sauce to spoon over your stuffed peppers.
Don't be afraid to make this Ukrainian beef stuffed peppers recipe. Make it once, and you'll learn how easy and delicious it is!
For the best results and some extra information, read the tips and tricks for all Beef Stuffed Peppers Recipe down below.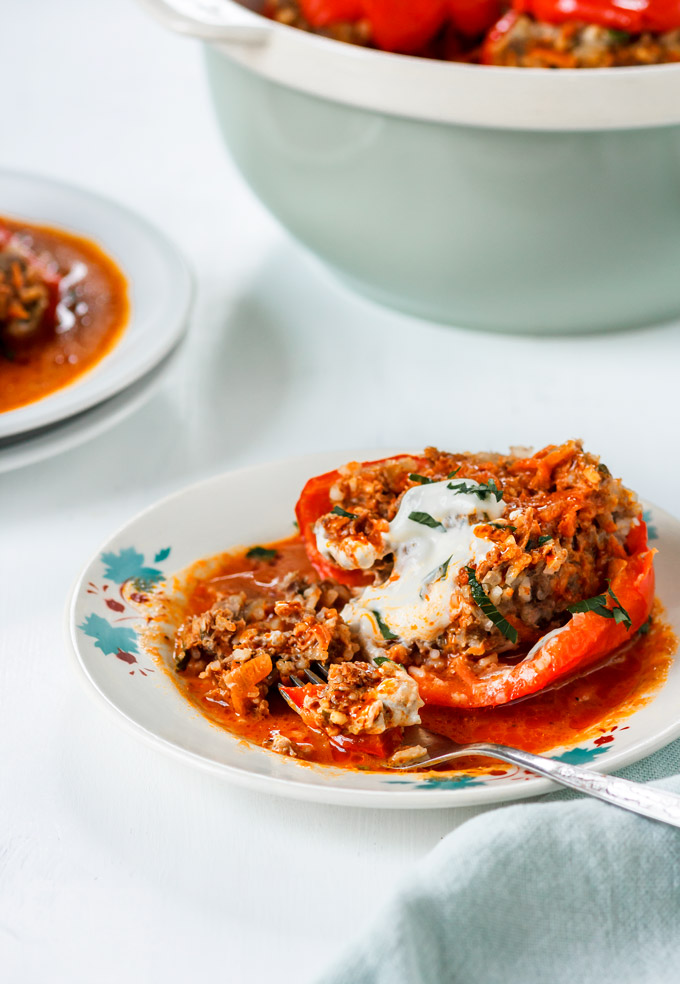 Tips and Tricks for Beef Stuffed Peppers Recipe:
It is very important to find the same size peppers so that they will cook evenly.
The liquid you add to zagarka can be chicken, beef or vegetable stock. Even plain water works.
Baking time varies on the peppers' size. The bigger size, the more time it needs, the smaller-lesser time.
Traditional Ukrainian stuffed peppers are made with half ground beef and half ground pork. For a healthier alternative, I made it with ground beef.
You may substitute ground beef for ground chicken or turkey for the even healthier option. My mom and I made all the variations, and all of them are equally Experiment and find your favorite stuffed peppers recipe.
Sour cream is necessary here. First, because it is an inalienable part of Ukrainian cuisine. Second, because it is too darn good with these peppers to pass.
Do not over mix the stuffing. Preferably use a spoon. Otherwise, you will end up with the stiff filling.
You can use any rice in this recipe. However, the healthier rice is, the tougher and drier your filling will be. Also, if your rice is transparent, boil it only for couple minutes. This type of rice tends to cook super quickly. You need al dente rice for this recipe.
The color of the peppers doesn't matter. But I like festive colors and usually buy red, yellow and orange. The food should be fun, right?!
These Ukrainian all Beef Stuffed Peppers Recipe is freezer friendly.
How to freeze stuffed peppers:
Make stuffed
Line a cookie tray or plate with parchment paper. Place stuffed peppers on it. Wrap with plastic wrap and freeze. When they are solid frozen place them in a ziplock. Mark the date and place in the freezer.
When ready for a delicious dinner make zagarka (tomato sauce) by following the recipe below.
Preheat oven to 350 F. Place frozen stuffed peppers in the pot with the tomato sauce. Bake for 1 hour 15 minutes. Maybe little longer depending on the size of your peppers.
Happy cooking 😉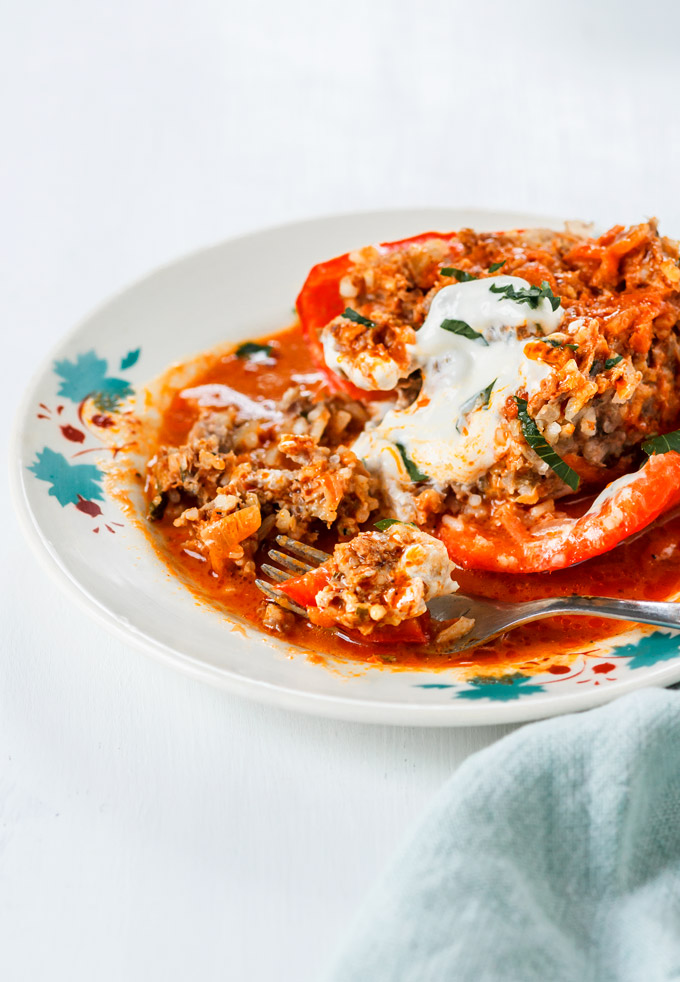 Please share this recipe with your friends and family. Also, if you make this recipe, please share your picture with me by tagging it #thepuretaste on Instagram. Or share your results in the comment section down below. It means a whole world to me knowing someone is actually making my recipes.
Thank you for sharing and your support ❤️❤️❤️
Maria
Yields: 5 stuffed peppers
Ukrainian all Beef Stuffed Peppers Recipe
35 minPrep Time
1 hr, 15 Cook Time
1 hr, 50 Total Time
Ingredients:
For the stuffed peppers:

1 cup uncooked rice
1 pound and 6 oz. 85% ground beef
1 medium carrot (grated with a big hole grater)
1 small onion, finely chopped
3 tablespoons fresh parsley, finely chopped
1 big garlic clove, finely chopped
1 teaspoon kosher salt
½ teaspoon ground black pepper
5 medium size bell peppers (color doesn't matter)

For zagarka (tomato sauce):

1 ½ tablespoons olive oil
1 medium onion, quartered and sliced
1 large carrot (grated on the grated on a big hole grater)
1 medium garlic clove, finely chopped
3 tablespoons good quality tomato paste
3 tablespoons sour cream
1/2 teaspoon kosher salt
½ teaspoon ground black pepper
2 cups chicken, beef or vegetable stock or plain water

For serving:

Chopped parsley
Sour cream
Instructions:
To make zagarka (tomato sauce):
Heat a large oven-safe pot (preferable Dutch oven) over medium-high heat. Add oil. Add onions, salt, and pepper. Fry for 3 minutes, Add carrots and fry for additional 3 minutes. Add garlic and stir for I minutes. Add tomato paste, mix well with the rest of ingredients and caramelize it slightly, about 3 minutes. Reduce heat to medium. Add a little of the chicken stock, so everything comes together. Then add sour cream. Mix everything. Taste and adjust seasoning. Add the rest of the chicken stock. Bring to boil. Taste and adjust seasoning. Remove from heat.
To make stuffed peppers:
Preheat oven to 360 F. Wash the rice very well. In a medium pot bring the rice to a boil and cook for 3-5 minutes (depending on your rice variety) until al dente. Strain and let it cool completely.
In a large bowl combine ground beef, carrot, onion, garlic, parsley, salt, and pepper. Add chilled rice and mix everything with the spoon. All ingredients must distribute well but do not over mix it. Otherwise, the mixture will be stiff.
Remove the top and insides of pepper. Wash them well.
Stuff peppers with the mixture. Place peppers vertically in the pot with the sauce. Cover the pot with the lid or foil tightly, so the steam does not escape.
Bake for 1 hour. Baking time depends on the size of your peppers. It may require less or more time. Mine took 50 minutes. To check for doneness cut the peppers slightly to make sure the beef is cooked.
Remove from oven.
Serve stuffed peppers with plenty of sauce, sour cream, and freshly chopped parsley.
Enjoy 😉
7.8.1.2
57
https://thepuretaste.com/beef-stuffed-peppers-recipe/
Disclosure: This post contains some affiliate links.  If you purchase a product through one of my links, I will earn a small commission at no extra cost to you. I only recommend products that I use and love myself. Thank you in advance for your support! It means a lot!
Products used in this post: