This buffalo rotisserie chicken calzone recipe is a part of my 5 Easy Recipes with leftover rotisserie chicken project. It is easy to make, fast to put together and a fun dinner to enjoy on the weekends or when you crave for some not so healthy food.  You will also learn a lot of Tips and Tricks on how to make a perfect calzone with any filling!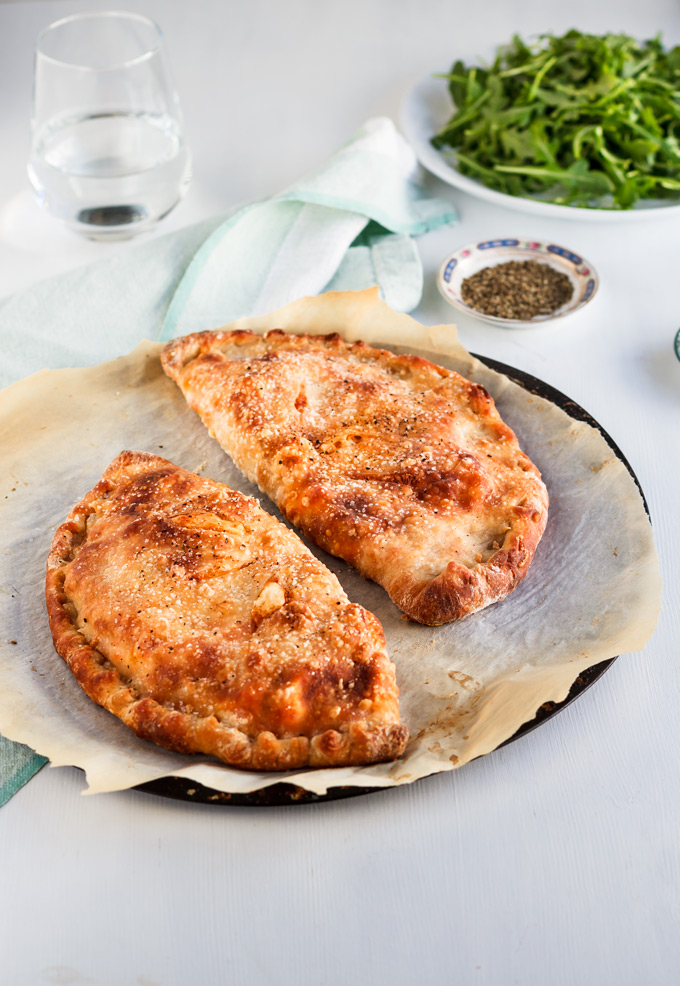 Little about 5 Easy Recipes with leftover rotisserie chicken project:
Rotisserie chicken has been a big saver for us on busy weeks. Yet, pretty fast it became boring eating it plain with salad or vegetables on a side. I decided to create easy and fun recipes with a leftover rotisserie chicken that requires less than 30 minutes of active time. If you have cooked leftover chicken, by all means, use it instead of rotisserie chicken. The idea is the same. Quick and easy meals with rotisserie or any leftover chicken.
Previous recipes from the 5 Easy Recipes with a leftover rotisserie chicken project: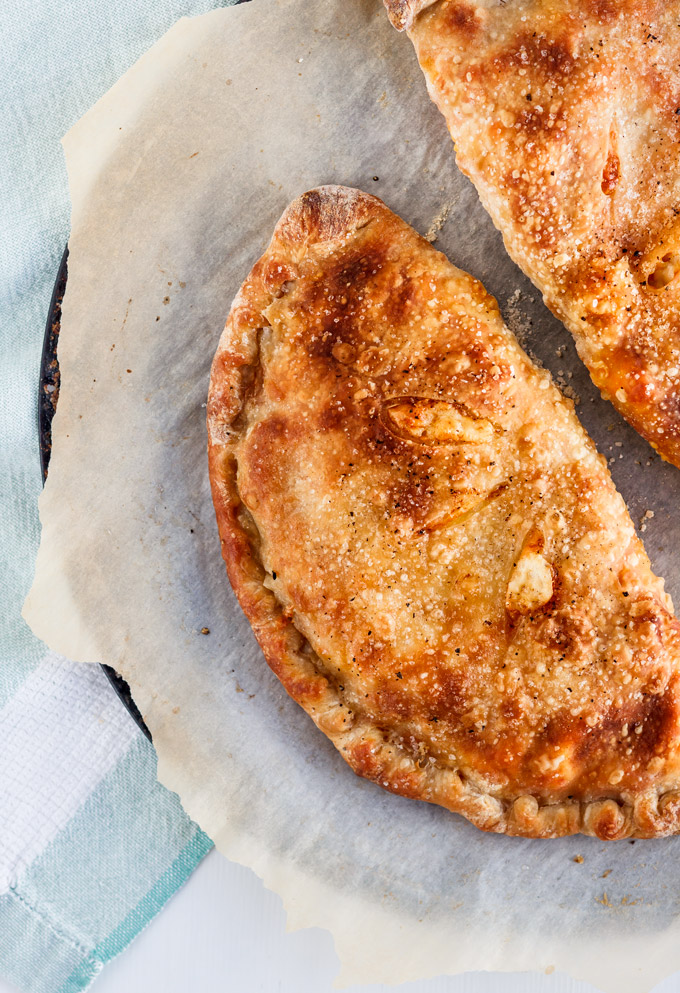 Let's be honest pizza is not healthy food. Although it is very delicious food to skip in your life. When I feel this way about the particular food, I always try to make a homemade alternative. Many pizza places don't care that much about the quality of food, especially proteins. It is unbelievably hard to find the place you can trust all the way. We still order pizza and calzones from time to time from our favorite places. But most of the times I'm enjoying to make a homemade pizza or calzone. This way I'm sure about the quality of the produce, can adjust it to my taste, can add as many extras as I want without additional charges! Customize it to fit your family needs, make it half and a half, make it light or heavy and so many more reasons why you should try to make calzone at home.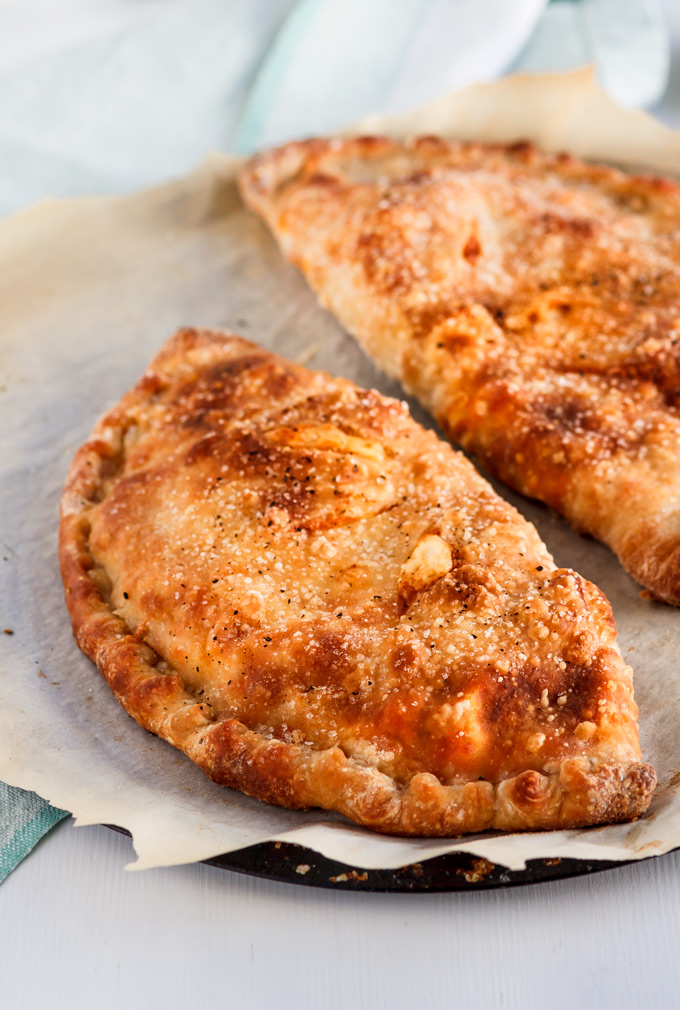 Embarrassed to say that only couple of years ago I discovered what calzone is. We were ordering pizza, and my husband decided to try and see what calzone was. That was a disappointing experience. The soggy inside didn't make it taste good. But I thought maybe this place doesn't make good calzones. So we tried calzone from a different place. Same story. But on top of the soggy inside the filling had the only a couple of sad, tasteless chicken pieces. The last try was at the famous pizza place. Calzone there was relatively good. Not soggy, perfectly crisp. However, once again had a super shy amount of filling. Don't you hate when you order pizza, patiently and excitingly wait for it, open a box and see just a couple sad chicken pieces scattered over the pizza? I disapprove such businesses, who put quantity over the quality. Pizza should not be overwhelmed with filling, but it also should not be all cheese when you ordered chicken pizza.
Three not so great experiences with the calzone made me create my recipe I can go to anytime we want calzone. And I had to include at least one chicken calzone recipe to the leftover rotisserie chicken recipes project. It passes all the criteria, it is a fun dinner, and you can enjoy the process of making it.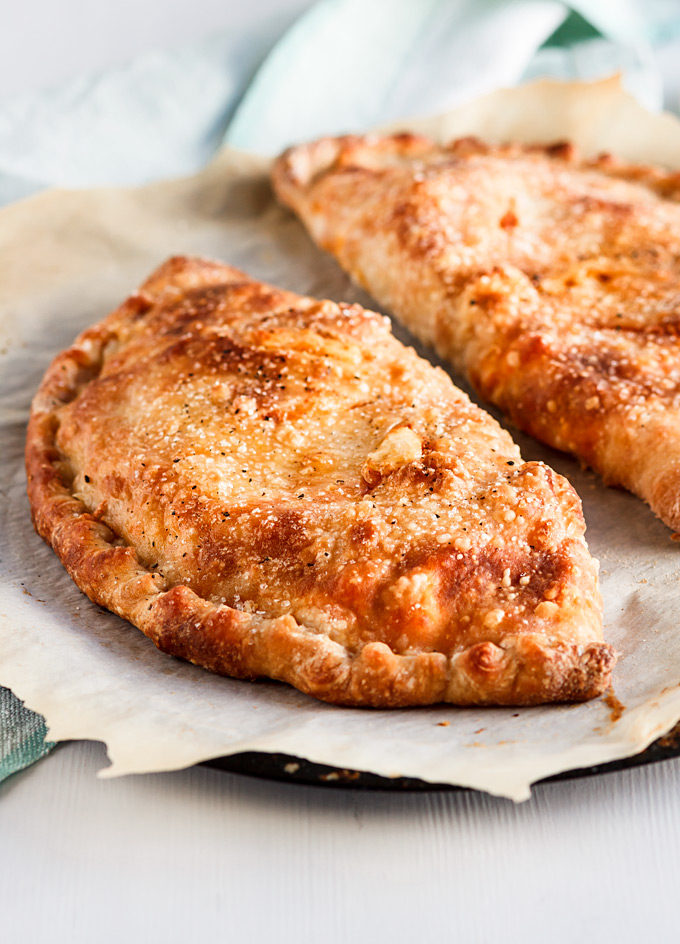 Although this is Buffalo chicken calzone recipe, you can use any sauce you want with your leftover chicken. Make it BBQ calzone, or traditional marinara chicken calzone and many other delicious options to try.
Don't be afraid to experiment with the filling. You pretty much can put anything you want in it. Great way to utilize leftovers! Use your imagination or see what fridge will whisper to you… The only must-have ingredient to glue everything together is cheese.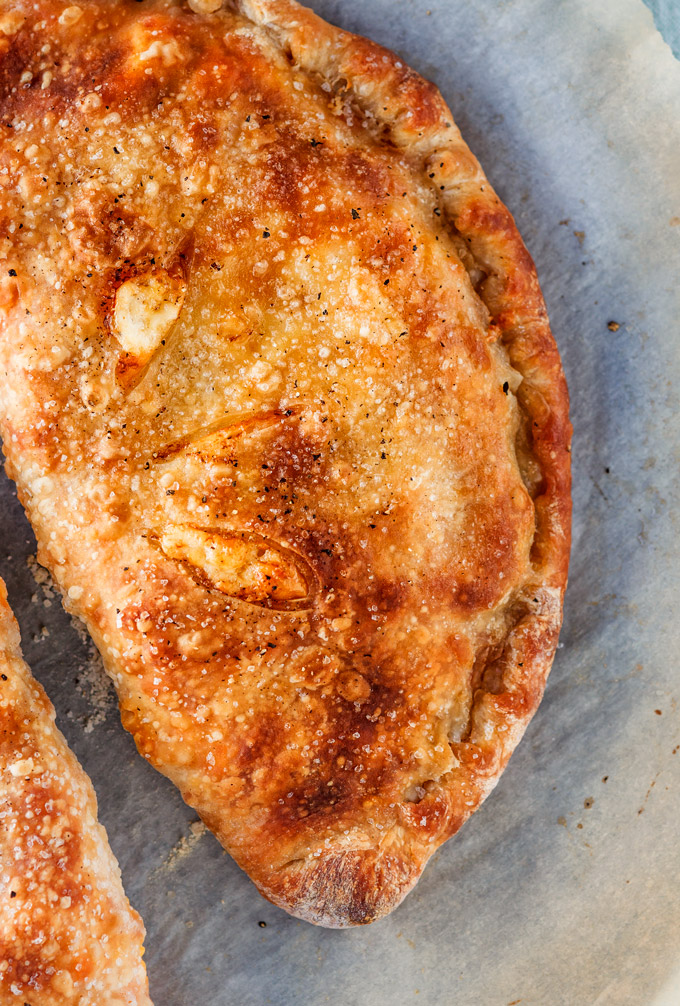 I pretty often make homemade pizza dough. I make a double batch. Use one and freeze another one for later use. It freezes nicely and it is always great to have a backup plan in your freezer when you crave for something nasty 😉. Wolfgang Puck Pizza Dough Recipe is my go-to for fast and easy homemade pizza dough. I genuinely trust the owner of high-end pizzerias and believe he knows what pizza dough should taste like.
If you feel adventurous and have a little more patience, this Life-Changing Pizza Dough With Joe Heffernan is not life-changing but definitely a game-changer.  If you appreciate the chewy crust, then try out this recipe. It yields the best pizza crust I have ever tried. And once again don't forget to make a double batch.
By the way, if you are not up to make homemade pizza dough, go and buy one. No judgments here. I purchased many pizza doughs at whole foods. And think this is a brilliant idea to sell it to make our lives a little bit easier and a whole lot tastier.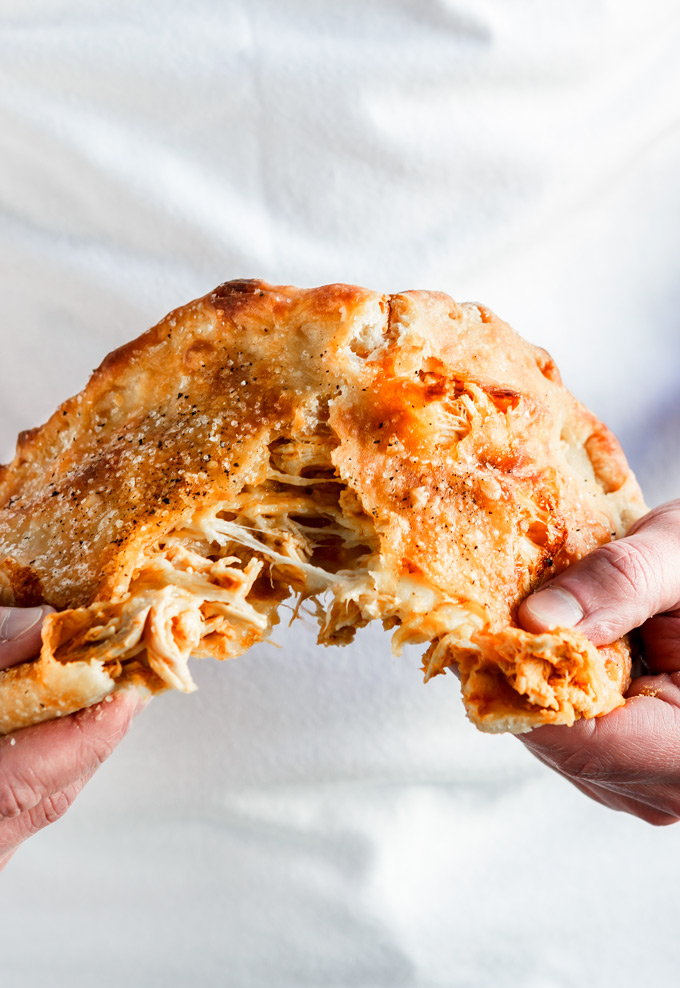 Also super essential to have a pizza stone if you want to enter the homemade pizza game. I'm the minimalist person and trying to keep my kitchen free of useless gadgets. I'm very picky when it comes to buying new additions. Most of the times I never buy stuff for only one use. It has to offer 2+ uses. Pizza stone provides at least 5+ uses for me: pizza, calzone, bread, hand pies, savory dough recipes. I bought mine 5 years ago. It is simple medium thickness stone that is easy to manage and carry around. As a bonus, it came with the metal stand, and I usually serve pizza right on this stone on top of the stand to make it more epic.
Overall I recommend to invest in a baking stone and find a place in your kitchen for it. Buy it from a reputable place, and the headache will be gone. I'll talk more about it in Tips and Tricks section down below.
This post is heavy on Tips and Tricks. Don't skip this part. I want to encourage and show you how easy it is to make chicken calzone recipe with pizza dough at your home.
This is a long post, and I should wrap things up. I hope I reassure you regarding homemade calzone and you will give it a try. With a little of practice and knowledge, you will know how to make the best buffalo rotisserie chicken calzone or any other homemade calzone you want. Don't be afraid and give it a try!
Happy Cooking 😉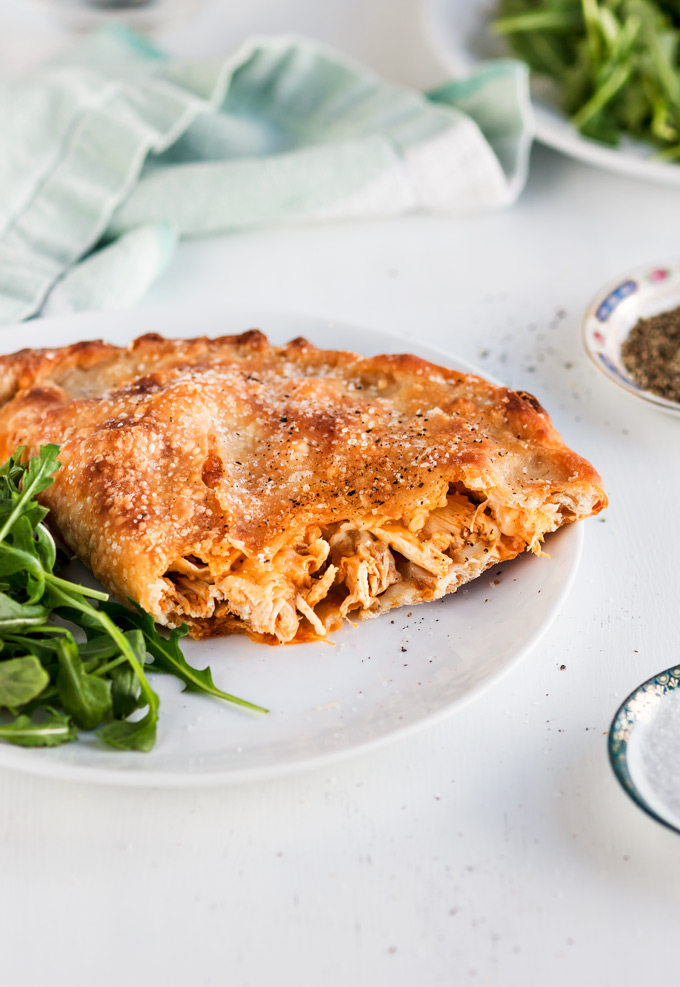 Tips and tricks for Buffalo Rotisserie Chicken Calzone:
Requirements for the baking stone:
Medium heaviness. You need to be able to lift, carry and clean it.
Medium thickness. Mine is about half an inch. It is enough to carry and store the heat.
Where to buy pizza stone:
TJ MAX, Marshalls or any other discounted home stores. This is where I bought mine.
Amazon options:
Where to buy pizza dough:
The best place for me is Wholefoods. I know it is fresh and made with quality ingredients.
If you have your favorite pizza place near you, next time you order from them ask whether they sell pizza dough. Almost all pizza places sell it. Especially if they value their customers.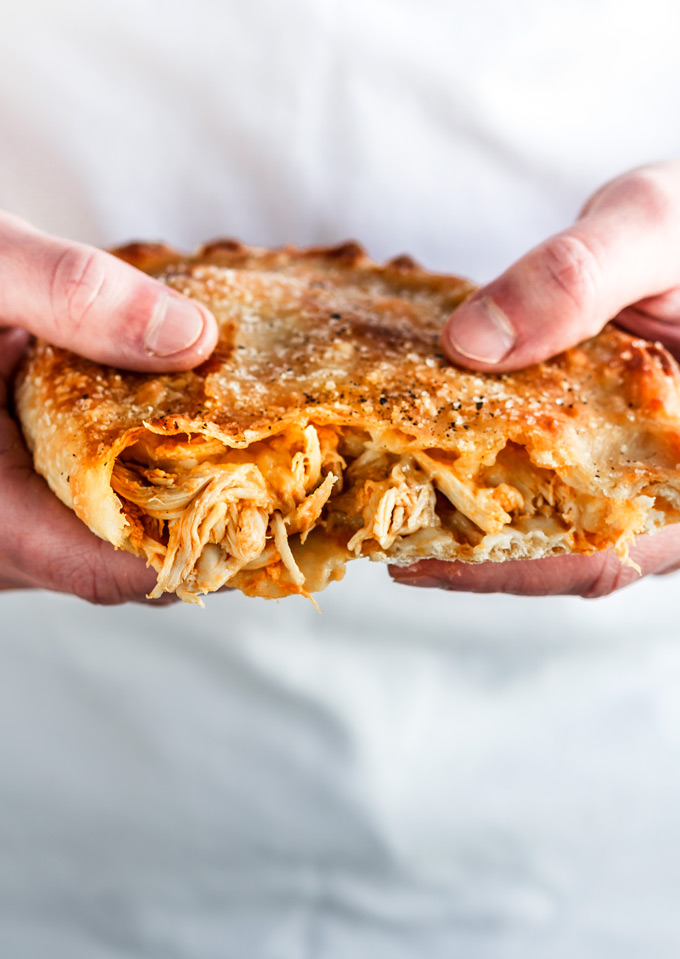 If you make this recipe, please share your picture with me by tagging it #thepuretaste on Instagram. Or share your results in the comment section down below. It means a whole world to me knowing someone is making my recipes.
Thank you for sharing and support ❤️❤️❤️
Maria
Yields: 2 calzones
How To Make The Best Buffalo Rotisserie Chicken Calzone
25 minPrep Time
20 minCook Time
45 minTotal Time
Ingredients:
2/3 cup hot buffalo sauce
3 tbs. unsalted butter
4 cups shredded rotisserie or cooked chicken
½ small onion, thinly sliced
1 lb homemade or store-bought pizza dough, divide into 2 equal parts
About 1 cup of your favorite semi-soft cheese (mozzarella, Havarti, manchego, Muenster)
2 tbs. extra virgin olive oil
Kosher salt
Freshly ground black pepper
Instructions:
To make with baking stone:
Place the stone on a rack in the upper third of the oven. Preheat oven to 500F.
To make with a baking sheet:
Preheat oven to 450F positioning the rack on the lower third of the oven. Line a standard (non-stick) baking sheet with parchment paper and set aside.
Place shredded chicken in a medium bowl. Thinly slice red onion and add it to chicken.
In a small saucepan combine buffalo sauce and butter. Simmer over medium heat until the butter is melted. Pour sauce over chicken mixture. Stir everything together. Taste and add salt and pepper to your liking.
Flour the surface well and roll out 1 piece at a time into about 9-10 inch circle.
If you are baking with pizza stone take the baking sheet flip it upside down and place parchment paper on top. Place the rolled out dough on the parchment paper.
If you are baking with a baking sheet, then place the rolled out dough directly into it.
Spread half of the chicken mixture on one half of the dough. Sprinkle with cheese. Using a pastry brush or your finger moisten the edge of the dough with water. Fold the dough over the mixture. Lightly tap the dough with your fingers and crimp the edges. Repeat the process with the second calzone.
With a sharp knife cut 3 slits on top of each calzone.
Brush both calzones with olive oil. Sprinkle some flaky sea or kosher salt and freshly ground pepper on top.
Baking with pizza stone:
Carefully slide the parchment paper with calzones on the stone. Bake for 18 minutes.
Baking with a baking sheet:
Place the baking sheet in the oven. Bake for 15 minutes. Move baking sheet to an upper third of the oven and bake additional 5 minutes.
Remove from oven and let cool for 10 minutes.
Serve warm with your favorite pizza sides.
Enjoy!
7.8.1.2
30
https://thepuretaste.com/buffalo-rotisserie-chicken-calzone/
Disclosure: This post contains some affiliate links.  If you purchase a product through one of my links, I will earn a small commission at no extra cost to you. I only recommend products that I use and love myself. Thank you in advance for your support! It means a lot!
Products used in this post: