This roasted beets and goat cheese galette will prove that beets can be delicious and fancy. In this recipe, you will learn how to cook beets the right way, how to make 100% white whole wheat crust and how to use the underdog vegetable to create the beautiful galette.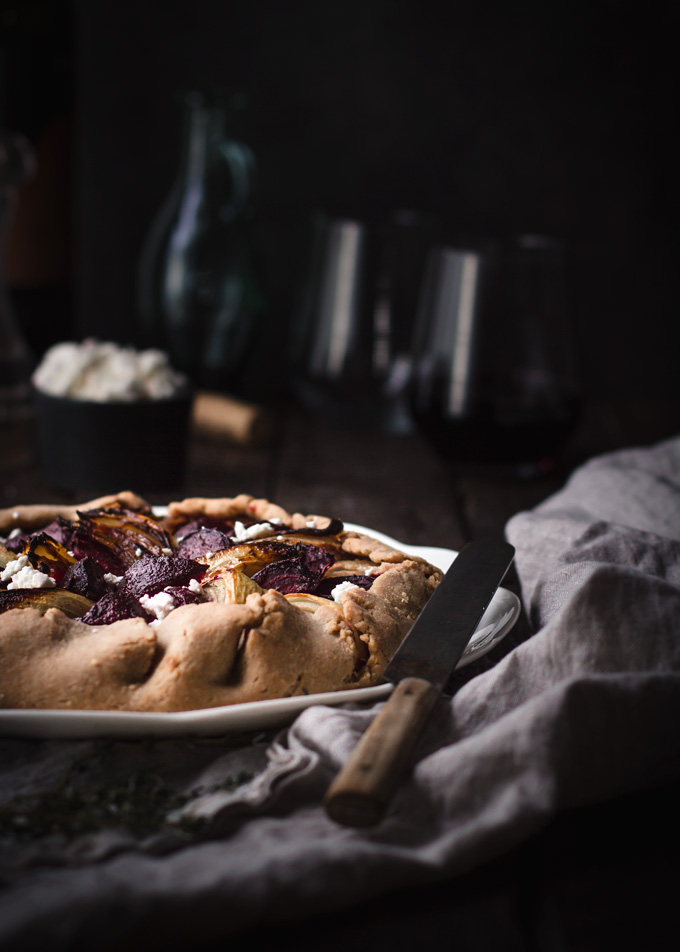 The main hero in this vegetable galette is one of the underappreciated veggie – beets. Few people like them, few can't stand, and the majority just doesn't know what to cook with beets. For that reason, I hardly see beets in someone's shopping cart.
I can't say beet is my favorite vegetable, but I think it deserves more attention. When you know what to do with them and how to cook beets the right way, they will shine. I decided not only to offer you a recipe to use beets but create something beautiful with unique flavors.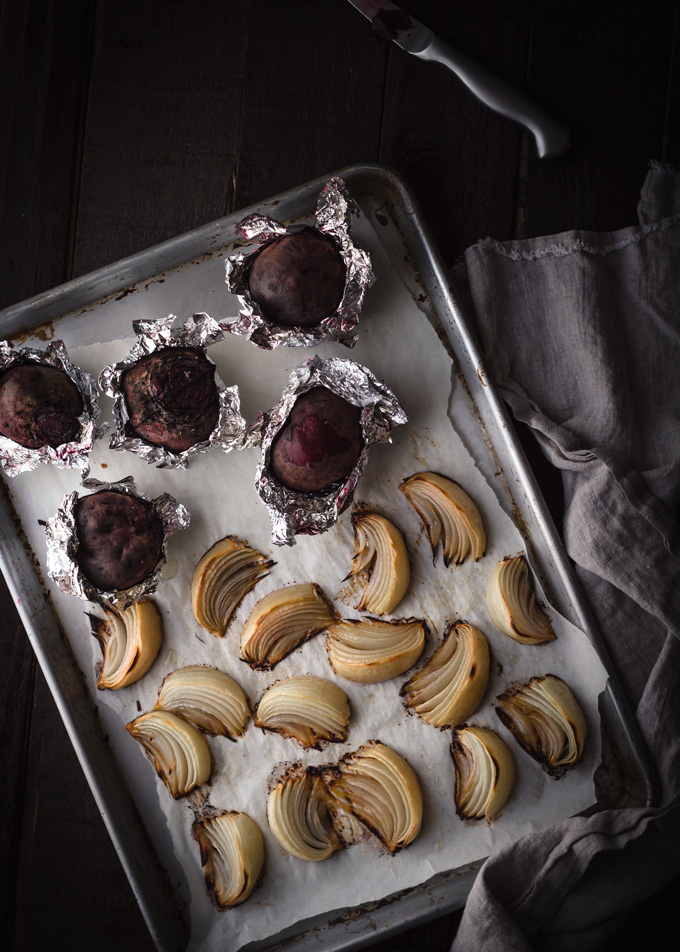 Moreover, I know not many people also love goat cheese. To spice things up, I decided to add this as well. Goat cheese and beets are a perfect marriage. They complement each other so much and create such a complex flavor. To go even further I added one of my favorite vegetable –onions. To mellow down the flavor, you need to roast them first, though. Combining two fall root vegetables and adding other flavors gave birth to this rustic beet galette.
And I mean rustic. I think the process of making galette is rustic. The feeling when you fold the dough over the vegetables without any fuss and trimming brings you to a country house where you just picked fresh vegetables from the garden and decided to make a quick galette. The soothing flow makes me go back to galettes every time, and mostly I prefer them to pies.
I chose to go 100% whole wheat for the crust. Not only it brings nutty flavor to it but also the color. First, we eat with the eyes, and I wanted to make this beet recipe as appealing as possible. The brown whole wheat pie dough with tiny thyme leaves here and there completed my goal.
In the end, I'm delighted the way this roasted beets and goat cheese galette recipe turned out. The flaky whole wheat crust, the sweetness of beets, the savoriness of goat cheese, the aroma of balsamic vinegar and thyme leaves and tender roasted onions created the unique complex flavor. This savory galette is a true fall celebration.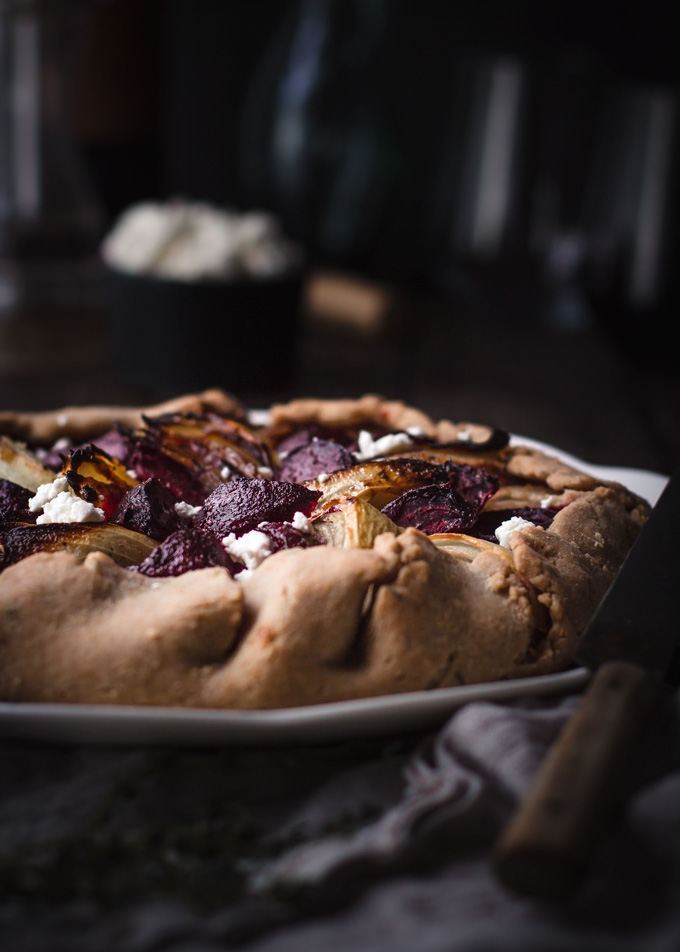 Even thou it looks little complicated, but the whole process is very easy. Roast the vegetables, make the pie crust, assemble everything together and bake. The cooking time is longer than active time. But it worth the wait.
Hopefully, the picture and the post inspire you to give beets a chance, and they'll no longer be a strange vegetable to you.
Happy Cooking 😉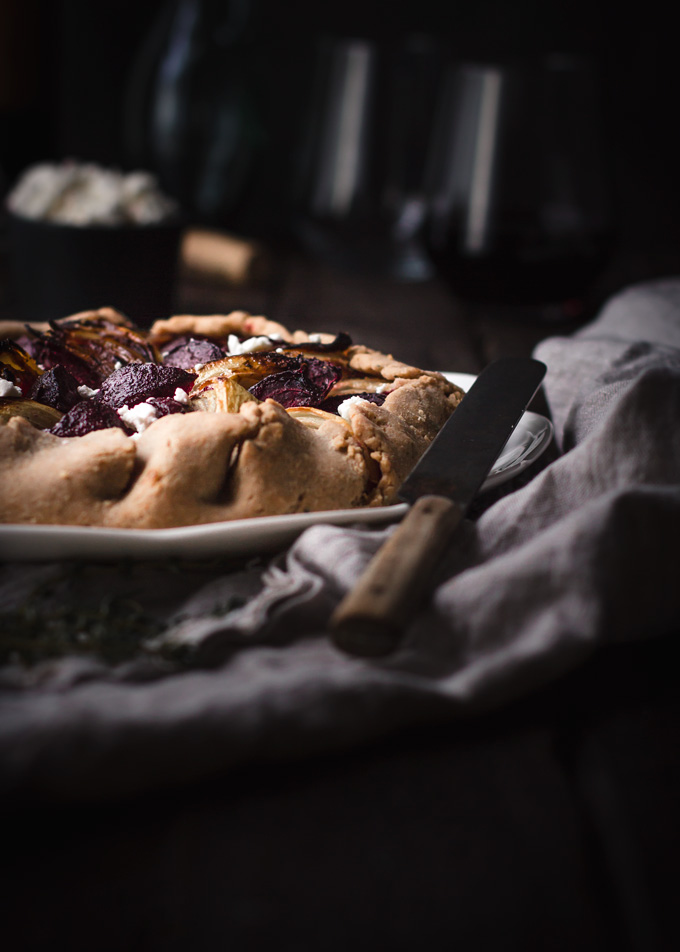 Roasted Beets And Goat Cheese Galette Tips and Tricks:
This guide will show you How to cut the onion into wedges Method #4.
Use white whole wheat flour. I haven't done it yet with regular whole wheat flour. I think it will be too dense.
If you use regular all-purpose flour, make sure to reduce iced water.
Use only good quality balsamic vinegar.
You may need more sugar or honey. It depends on the sweetness of the beets. Some beets are very sweet, some are tasteless. If your beets have to be more on a flat side, bring the flavor back with a bit of brown sugar.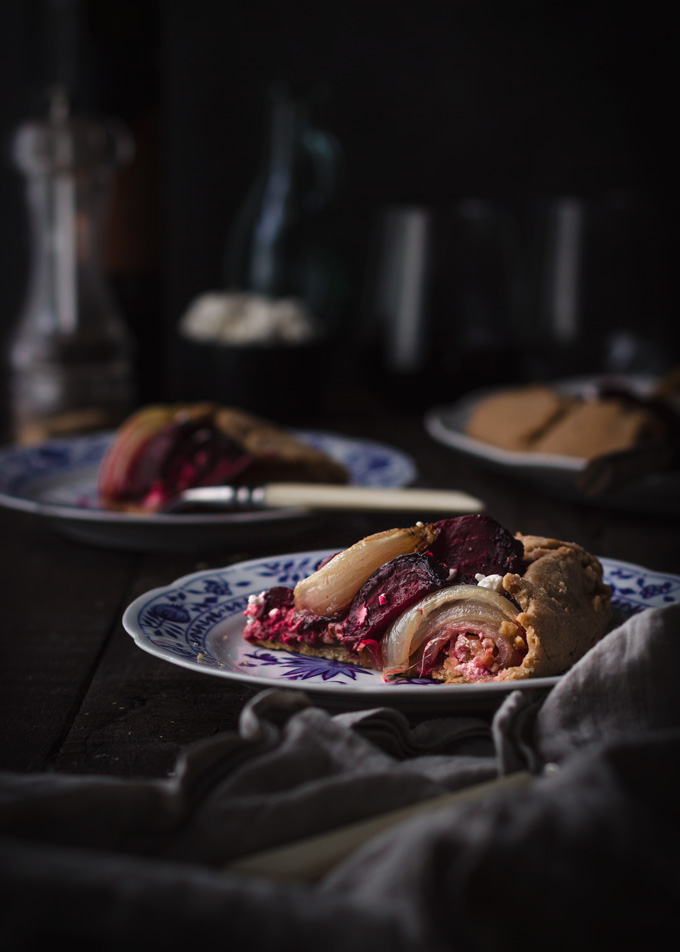 If you make this recipe, please share your picture with me by tagging it #thepuretaste on Instagram. Or share your results in the comment section down below. It means a whole world to me knowing someone is making my recipes.
Thank you for sharing and support ❤️❤️❤️
Maria
Yields: 1 about 9 inch galette
Rustic Roasted Beets And Goat Cheese Galette
Rustic roasted beets and goat cheese galette recipe
30 minPrep Time
1 hr, 30 Cook Time
2 hrTotal Time
Ingredients:
For the dough:
1 1/2 cups (200 gr.) white whole wheat flour + extra for dusting
¾ teaspoon kosher salt
1 teaspoon fresh thyme leaves
113 gr. (1 stick) cold unsalted butter, cut into small chunks
1/4 cup ice-cold water
1 tablespoon melted unsalted butter, for brushing

For the filling:

5 small red beets
2 medium onions
1 tablespoon olive oil
150 gr. (about ¾ cup) goat cheese, divided
1 teaspoon fresh thyme leaves
2 tablespoons balsamic vinegar, divided
1-2 tablespoons brown sugar or honey
Sea salt and freshly ground black pepper
Instructions:
To make the dough by hand:
In a large bowl combine flour, thyme leaves and salt. Using your hands mix the cold butter into flour mixture until you see small pea-sized chunks. Slowly start adding cold water and mix with hands until the dough comes together. You may not need all the water. Stop when the dough holds its shape when you squeeze it. Shape the dough into a disc. Wrap tightly in a plastic wrap. Refrigerate at least 1 hour or overnight.
To make the dough in a food processor:
Combine flour, thyme leaves and salt in a food processor. Pulse couple of time to aerate the mixture. Add cold cubed butter. Pulse a couple of times until you see coarse pea-sized crumbs. Slowly start adding cold water and pulse until everything just comes together. You may not need all the water. Stop when the dough holds its shape when you squeeze it. Invert the dough onto the surface. Knead the dough until it just comes together. Shape into a flat disc. Wrap tightly in a plastic wrap. Refrigerate at least 1 hour or overnight.
To make the filing:
Preheat the oven to 400 F.
Line the baking sheet with parchment paper. Wash and dry beets thoroughly. Wrap each beet in aluminum foil. With knife poke couple of holes to let the steam out. Place on one side of the baking sheet. Bake in the middle of the oven for 15 minutes.
Meanwhile, prepare onions. Peel, wash and cut into 8 wedges each onion. Make sure to leave the root end to keep onion from falling apart. Add onions to the tray with beets. Drizzle with olive oil and a pinch of salt. Continue roasting them together for additional 40 minutes.
Remove from the oven. Let cool slightly and unwarp beets. Let everything cool down completely. When cooled peel and cut beets into 8 wedges each.
To assemble the beet galette:
Flour the surface with lots of flour. Roll out the dough into round shape. Crumble goat cheese on top of the dough leaving an inch from the edges. Sprinkle thyme leaves, some salt, and black pepper. Drizzle with 1 tablespoon of balsamic vinegar. Arrange cut beets and onions on top of the goat cheese mixture. You may arrange it the nice way as on pictures or any way you like. Drizzle rest of the balsamic vinegar over the veggies and sprinkle with brown sugar or honey.
Fold the edges. Brush the sides with melted butter.
Bake for about 30 minutes or until the crust is crispy and brown color.
Remove from oven and let cool. Serve with more goat cheese.
Enjoy 😉
7.8.1.2
58
https://thepuretaste.com/roasted-beets-and-goat-cheese-galette/
Disclosure: This post contains affiliate links, which collects some cookies.  If you purchase a product through one of my links, I will earn a small commission at no extra cost to you. I only recommend products that I use and love myself. Thank you in advance for your support! It means a lot!
Products used in this post: