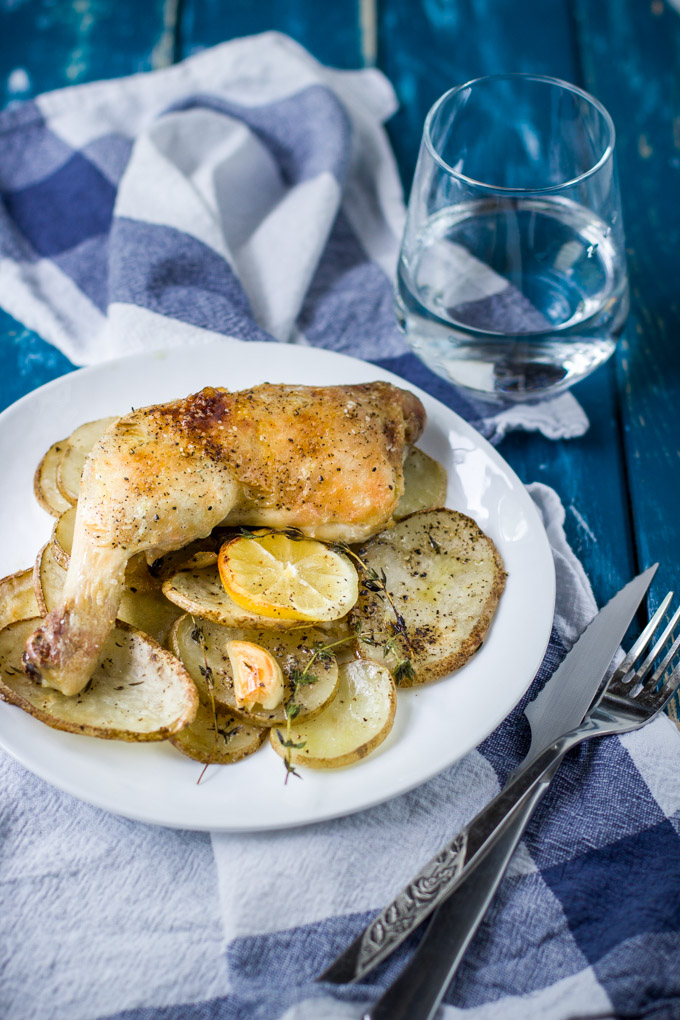 If you are not into grilling today, not in the salad mood, and take out is not an option, then I have a simple, quick and easy roasted chicken legs with lemon and potatoes recipe for you. I know it's the middle of the summer, and summer is the season for salads, smoothies, and vegetarian dishes, but we all human, right?! Eating rustic roasted chicken with lemon and crispy potatoes in the middle of the summer will do no harm. Sometimes we just need something simple yet satisfying no matter what weather is outside.
When I just started blogging, I didn't expect it to be so time-consuming. Everything is new and needs to be learned. Currently my every day reminds me of a beehive. I get up and start to fly all over the place doing all the tasks for the day 🐝🐝🐝. So sometimes by evening I have no idea what is going to be for a dinner. Many times roasted chicken was a saver for me. While it's cooking, I have time to finish some things, and when I sit at the table, everything is just slowing down. Maybe it's only me, but when I eat roasted chicken, I feel like my mom cooked it for me. There is always a warm feeling inside, it always reminds childhood and you just simply sit down, forget about everything and enjoying it.
I love roasted chicken recipes for its simplicity. It is very easy to put together; you only need four main ingredients, and it requires 10 minutes of active time. It is a one-pan dish, what means less cleaning, and we all love that. So there you have a simple yet very delicious dinner for busy days that we all have…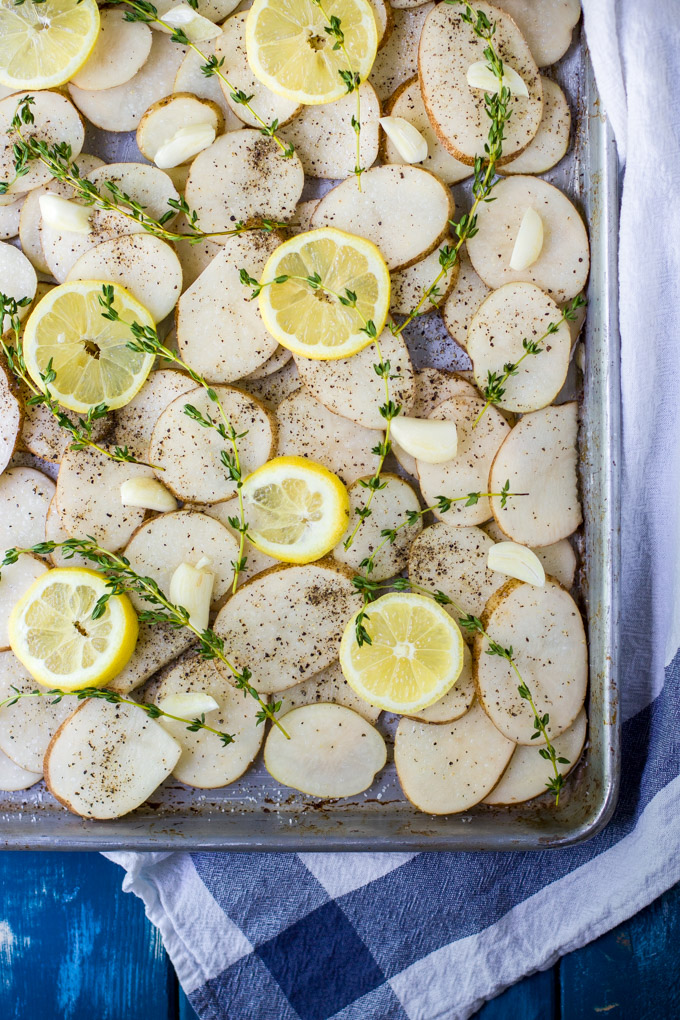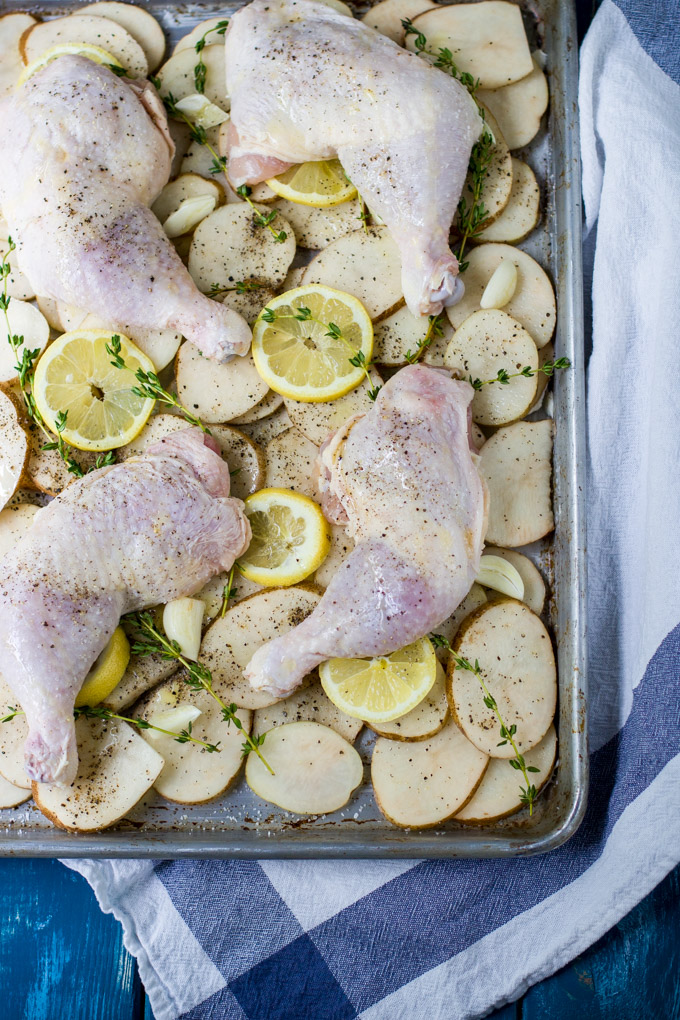 As always I will guide you through the ingredients and possible substitutions.
I used chicken legs in this recipe, because, first, they were on sale at the Whole Foods, and second, my husband loves chicken legs the most. You can use drumsticks or thighs, just make sure they are bone-in and skin on. Otherwise, you will end up with dry chicken parts.
Thyme is my go to herb for the chicken, and it pairs beautifully with the lemon in this recipe. Other herbs that go well with the chicken are rosemary and sage. You need tougher herbs to withstand roasting time and temperature. So parsley or any other soft herbs, unless dry, are not good for this recipe.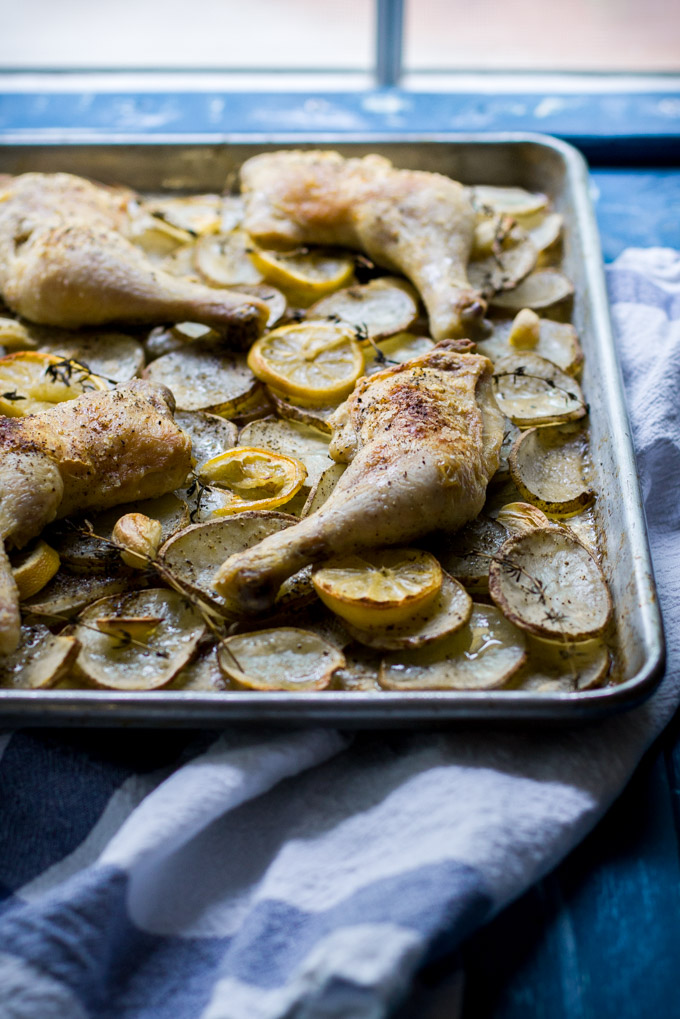 For the potatoes the best option is russet. For crispier potatoes, slice them thin, about 1/8 inch. I have a great time-saving kitchen tool for such a job.  I'm talking about mandoline. Let me sing praises for this mandolin for a bit. Ever since I bought it, it became one of the most-used kitchen tools. It's a time saving, make every dish pretty, a fun tool to have. You can slice potatoes to the desired thickness in less than 2 minutes. Almost everything that needs to be sliced can go through this mandoline. Your dishes will always look fancy as though you are a professional chef and have been slicing fruits and vegetables all your life. This specific model by Benriner is absolutely a winner. I tried a couple of other brands, and this one stands out from the rest. I've been using mine for more than two years, and it is still sharp as brand new. I highly recommend this specific mandoline. You will see it pretty often in the "Products I used" section below the post.
Last but not least is a lemon. Don't skip on lemon in this recipe. It brings such a light aroma to the whole dish, and suddenly you have an Italian roasted chicken smell in your kitchen. Not only it smells delicious, but it tastes even better. The gentle lemon sourness on the potatoes and lemon aroma make regular potatoes taste completely different.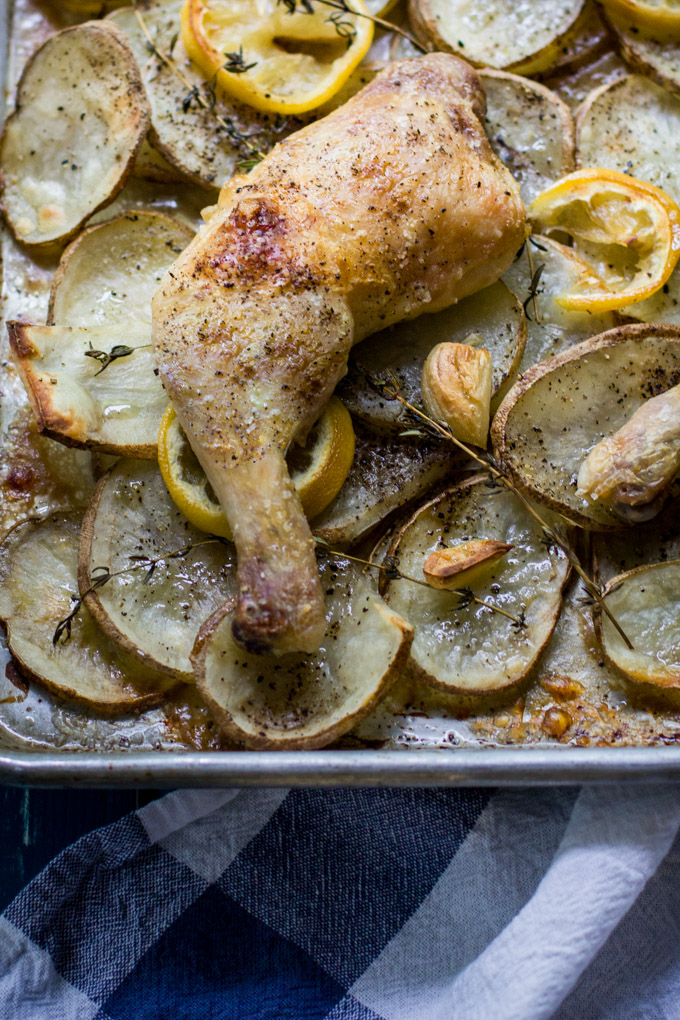 As you can see the ingredients are very simple, and the process is even simpler.
When you are tired, don't have a lot of time to spend in the kitchen or simply want a little spare time for yourself, consider making this roasted chicken legs with lemon and potatoes for a dinner. Just find 10 minutes to prep it, throw it in the oven and while it's cooking enjoy your free time. In 45 minutes you will be glad you made a right choice for today's dinner.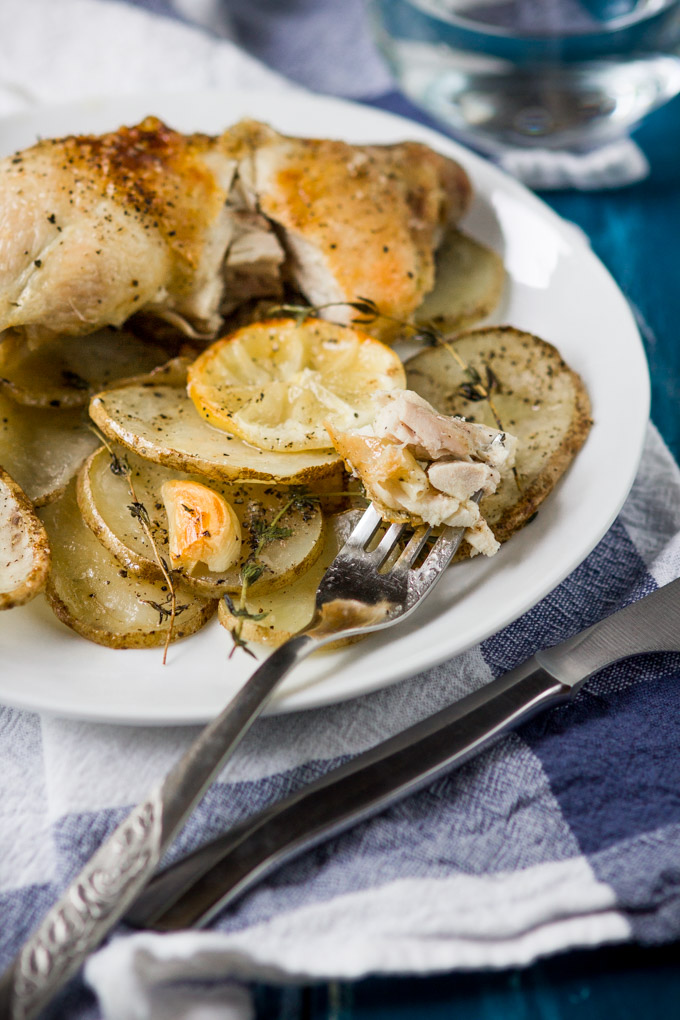 Roasted Chicken Legs Tips and Tricks:
To make chicken juicier loose the skin slightly with your fingers and put a few small pieces of cold unsalted butter. The chicken will be much tastier and juicier with this trick.
To make crispy golden-brown skin at the end of the cooking put the tray under the broiler for a couple of minutes. Keep a close eye on it. You want a golden-brown skin, not charcoal.
For crispier potatoes don't overlap them too much.
For exact same potato slices (and many other uses) use this mandoline. Quick, effortless, precise slices.
Yields: 2-4 Servings
Roasted chicken legs with lemon and potatoes
10 minPrep Time
45 minCook Time
55 minTotal Time
Ingredients:
2-3 medium russet potatoes
1 lemon, thinly sliced
3-5 garlic cloves
a handful of thyme
4 chicken legs (or bone-in, skin on chicken thighs)
3 tbsp. cold unsalted butter
olive oil
salt and pepper
Instructions:
1. Pre-heat oven to 400 F.
2. Lightly grease a baking sheet with olive oil or unsalted butter.
3. Using a mandolin or a knife, slice unpeeled potatoes into approximately 1/8-inch rounds. Place the potatoes on the baking sheet not overcrowding them too much. Season with salt and pepper.
4. Cut lemons into thin rounds. Peel the garlic and smash it with the knife lightly. Scatter the lemon slices, the garlic cloves and some thyme over the potatoes.
5. Wash and pat dry the chicken legs. Slightly loose the skin, season the inside lightly with salt and pepper and place cold unsalted butter under the skin. Generously salt and pepper both sides of the chicken legs. Place over the potatoes.
6. Roast in the middle of the oven for 40 minutes or until chicken is done. For golden brown and crispy skin place the tray under the broiler for a couple of minutes.
7.8.1.2
12
https://thepuretaste.com/roasted-chicken-legs-lemon-potatoes/
Disclosure: This post contains some affiliate links.  If you purchase a product through one of my links, I will earn a small commission at no extra cost to you. I only recommend products that I use and love myself. Thank you in advance for your support! It means a lot!
Products used in this post: