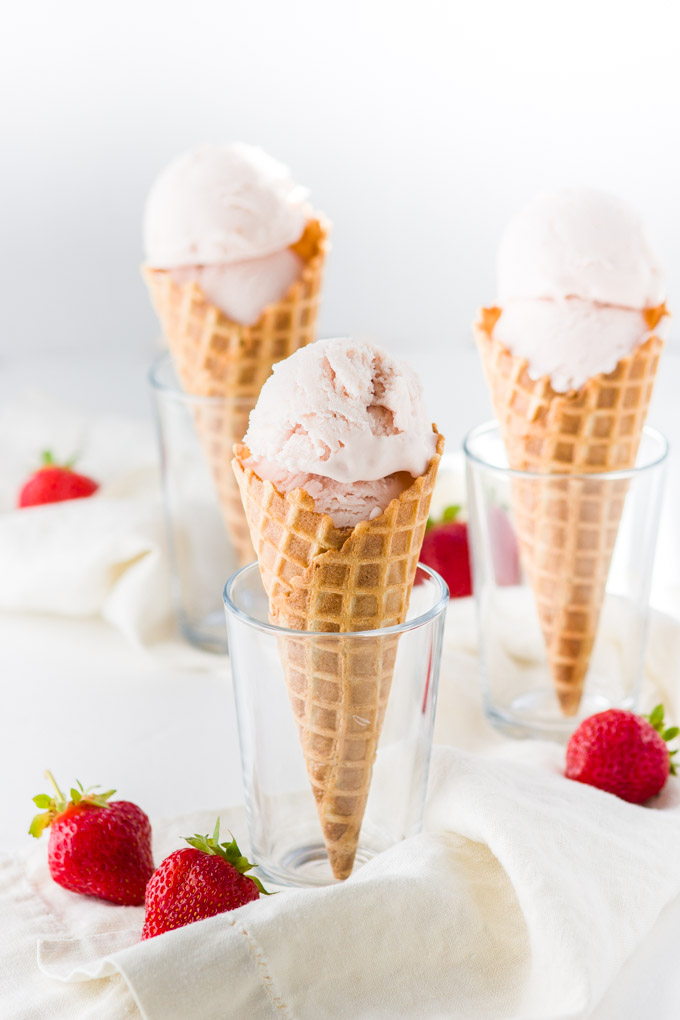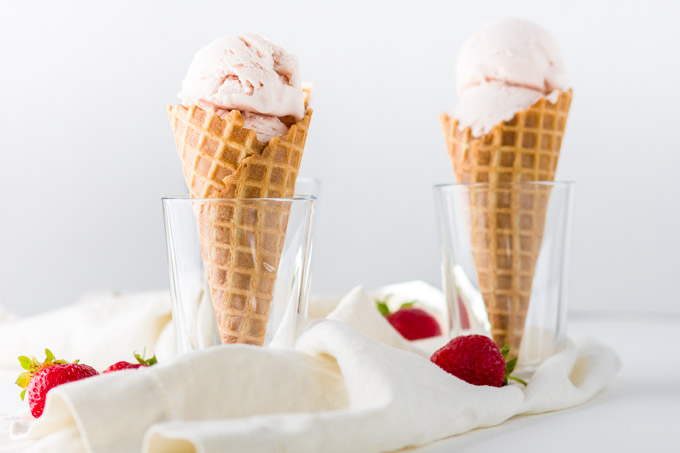 If you love strawberries and can't get enough of them, then you definitely will be interesting in making this roasted strawberry and buttermilk ice cream.
Strawberry ice cream is not my primary choice in frozen treat section or ice cream places. However,  a GOOD strawberry ice cream can definitely find some space in my freezer.
This Roasted strawberry and buttermilk ice cream requires a couple of extra "moves" like roasting and pureeing the strawberries. But in the end, you will be rewarded with soft, light and airy, fragrant ice cream that you can't stop eating. Sometimes the small extra step is something that takes a regular dish to a great one.
There are only two extra steps:
Roasting the strawberries.
Pureeing them.
When you roast strawberries even for a short time, it evaporates some water from them and intensifies the strawberry flavor. You will have some leftover strawberry sauce, but it shouldn't be a problem. You can use it on top of your ice cream, yogurt, oatmeal, pound cake, etc. Another option is strawberry margarita (this is what I did, and it was gooooood).  The use of it is endless.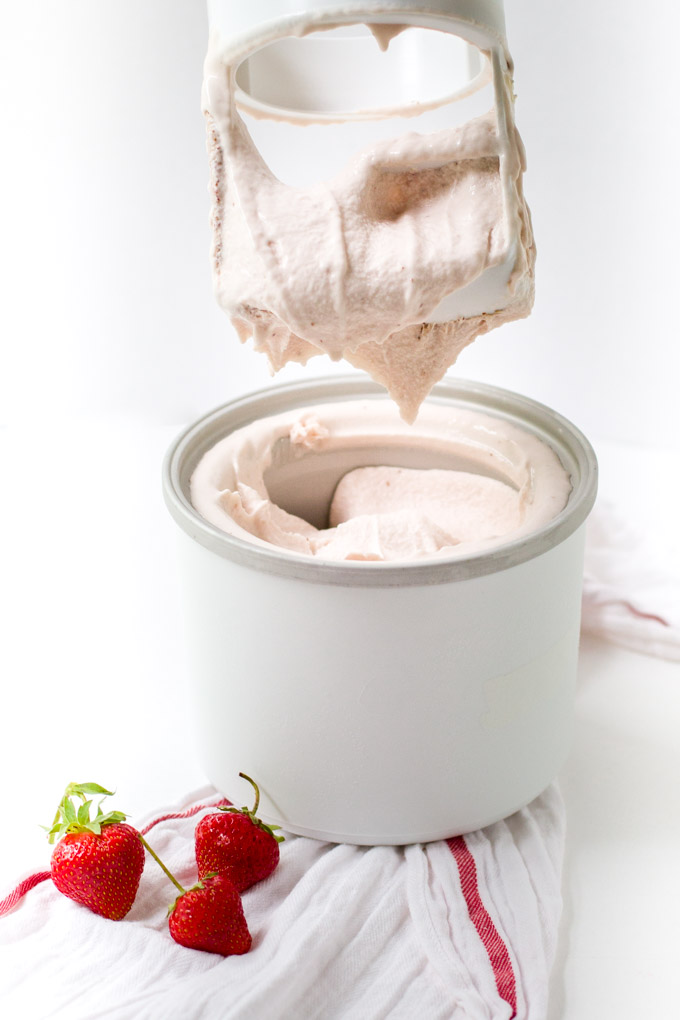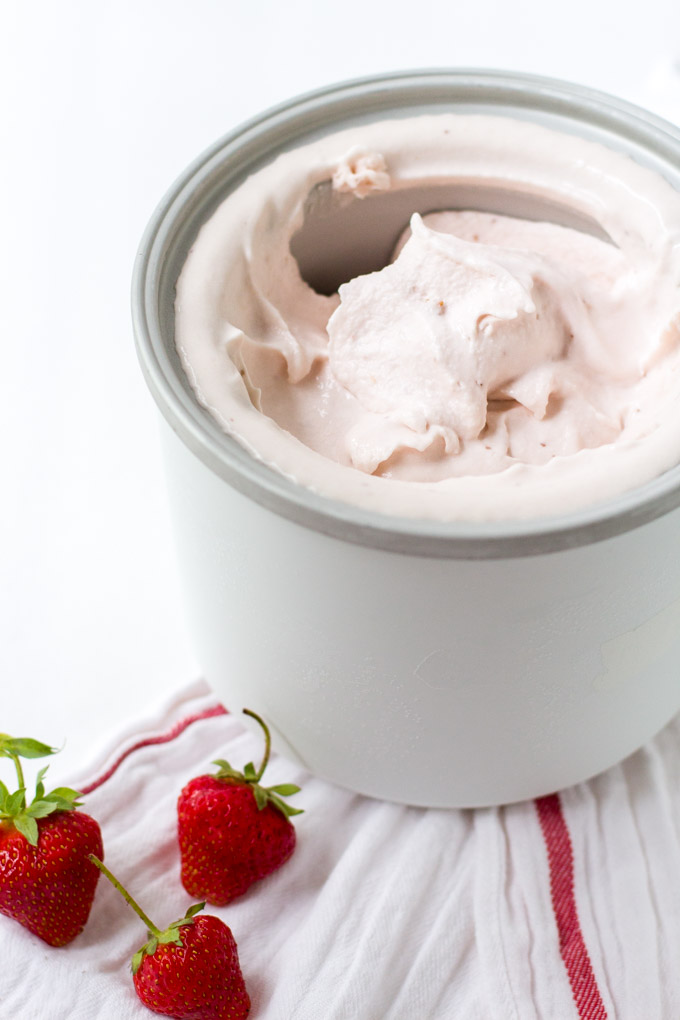 There is a good reason for pureeing the strawberries instead of leaving it whole.  My husband and I recently went for a walk and bought some gelato. One of the flavors that I chose was Crème Brule with the berries. Sounds delicious, right? But after the first bite came a disappointment. Gelato is a very delicate, soft, quick melting frozen custard (ice cream), and when I made a bite with the frozen rock-hard berries, it ruined the whole gelato texture and wasn't enjoyable at all.  The same goes with the ice cream or any other frozen dessert. Berries, as well as any other fruits, have high water content. When they are frozen, they become rock-hard. Even when you incorporate them in a creamy ice cream, their own structure remains the same. In the end, you have a perfect soft ice cream texture and rock-hard pieces of berries that you can't neither chew, nor swallow. Sounds not right and not fun at all.
Roasting and pureeing strawberries make a whole lot of a difference and make this ice cream tastes completely different. Don't skip these two steps, and I promise you will notice a difference.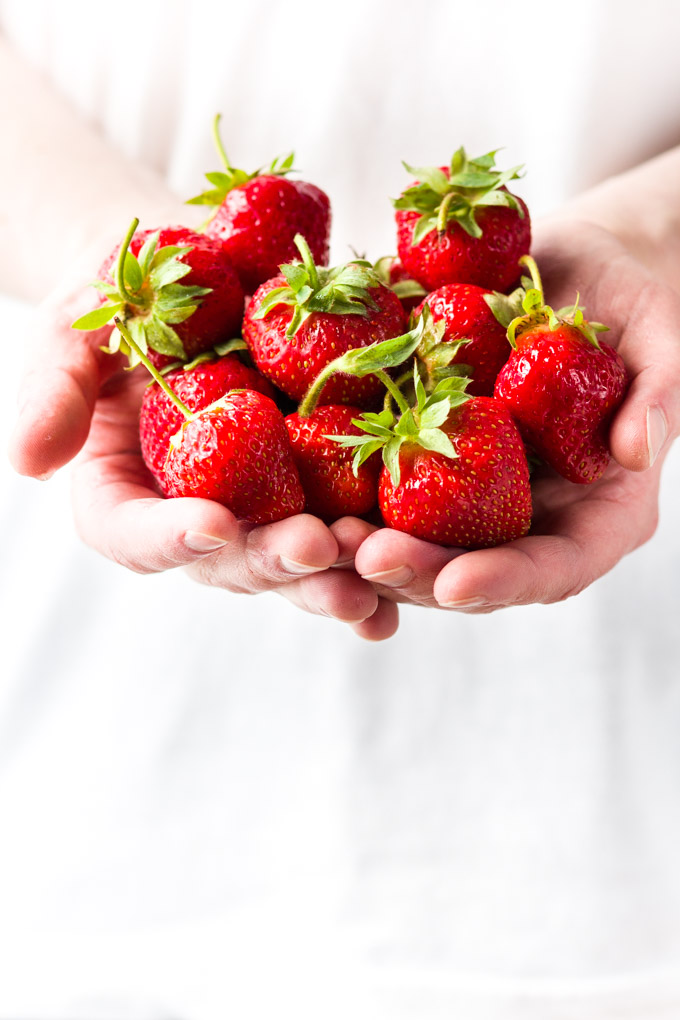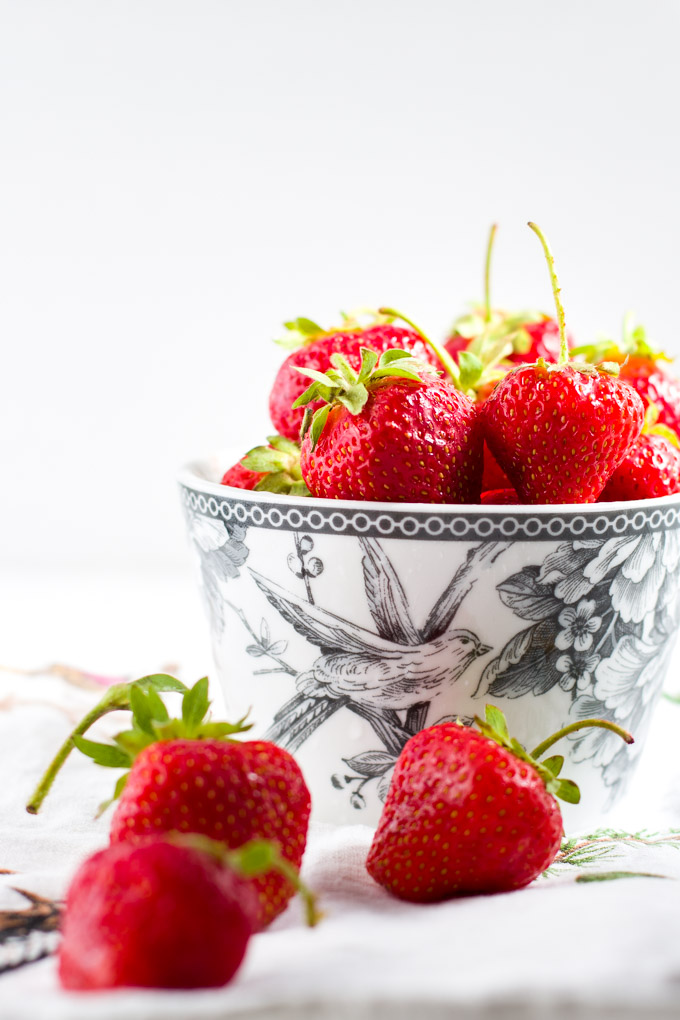 Try to get strawberries at their peak. They are flavorful, juicy and smell delicious. You can't get the same strawberries during colder seasons. I always stock up on fresh seasonal strawberries, use some and freeze the rest for another use. By freezing fresh strawberries at their peak, I can enjoy summer flavor any time of the year. And you can always make this ice cream during the colder seasons using your seasonal frozen strawberries. Just pop strawberries from the freezer and roast them according to a recipe. And there you have a piece of summer whenever you want 😉
The delicate roasted strawberry flavor, the sourness, and fragrance of the lemon, the tartness of the buttermilk makes this ice cream a perfect treat during summer. Serve it in the sugar cone or bowl, top it with the rest of the sauce, get outside and enjoy the summer to the fullest! 🍦🍨🌞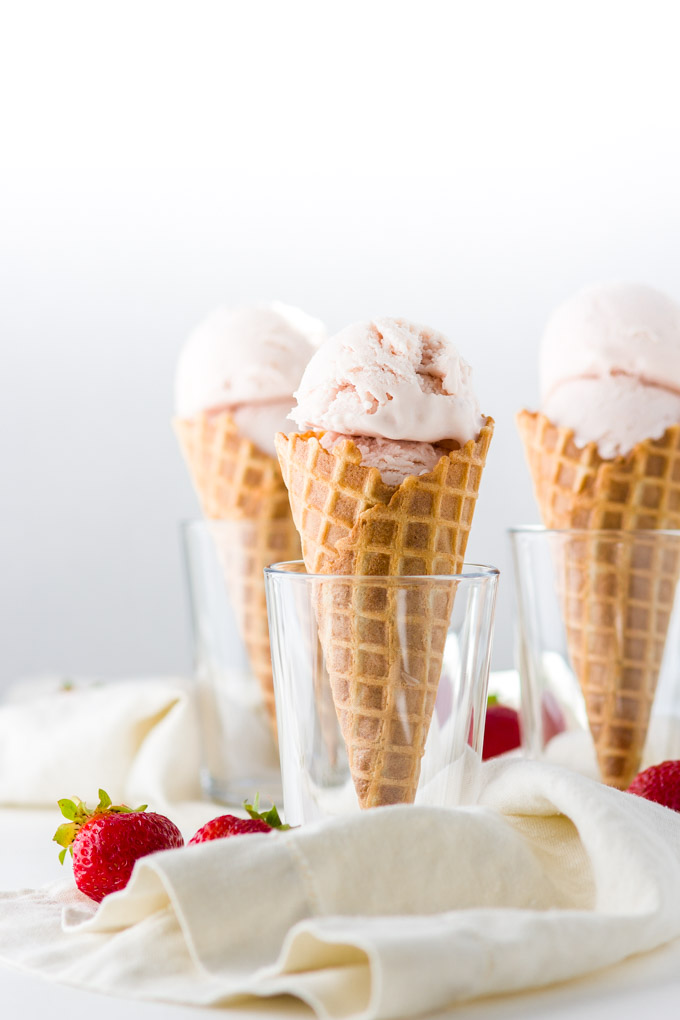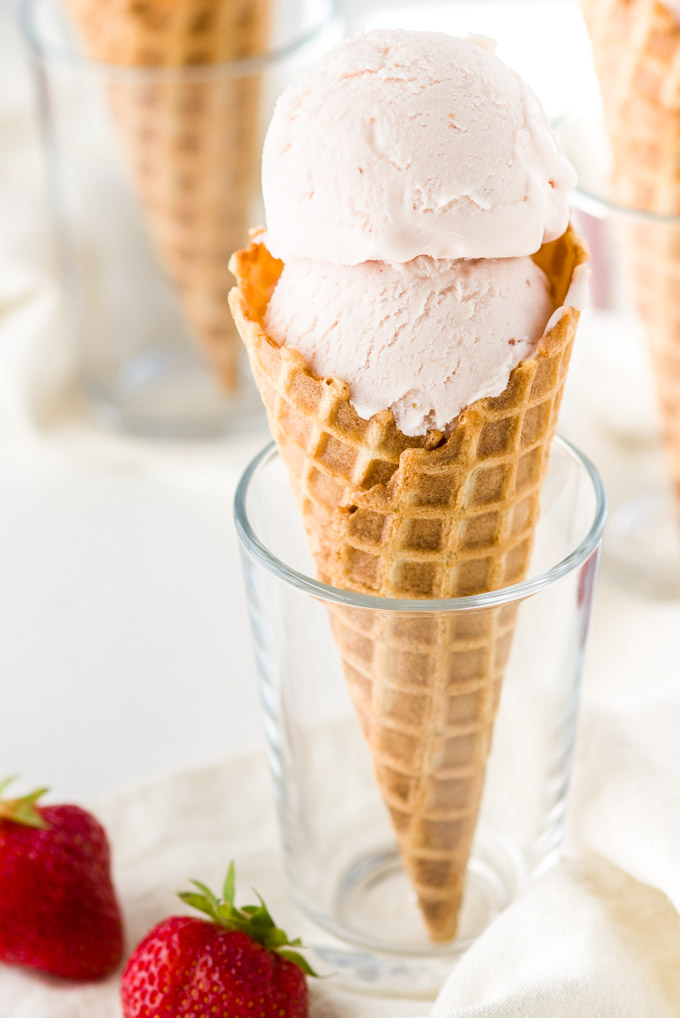 Roasted Strawberry and Buttermilk Ice Cream Tips & Tricks:
Press a piece of parchment paper against the ice cream surface. This help to prevent condensation and protects from crystallization and air.
Roast strawberries for a short period to evaporate some water and intensifies the flavor.
Yields: Makes about 1 quart
Roasted strawberry and buttermilk ice cream
10 minPrep Time
20 minCook Time
30 minTotal Time
Ingredients:
Roasted strawberries:

1 1/2 cups strawberries, hulled and quartered
3 tbsp. Granulated sugar
3 tbsp. Fresh lemon juice
Zest from one lemon

Ice cream base:

2 cups whole milk
2 tbs. + 2 tsp. cornstarch
¼ tsp. kosher salt
1 2/3 cup heavy cream
3/4 Granulated sugar
2 tbsp + 2 tsp. light corn syrup
1/3 cup buttermilk
Instructions:
To roast strawberries:
Preheat the oven to 375 F. Combine strawberries with the sugar in a small glass or ceramic baking dish. Roast for 8-10 minutes or until just soft. Let it cool slightly. Transfer to a blender. Add lemon juice and lemon zest and puree the mixture. Set aside 1 cup and refrigerate the rest for another use.
To make an ice cream:
1. Mix cornstarch with a 2 tbsp. of milk. Set aside.
2. Combine the remaining milk, heavy cream, sugar, corn syrup in a heavy bottom stainless steel pot. Bring it to a boil over medium-high heat. Boil for 2 minutes. Remove from heat and gradually whisk in cornstarch mixture. Cook over medium heat constantly stirring until slightly thickened, about 1 minute. Remove from heat.
3. Add the strawberry puree and buttermilk. Whisk until combined. Pour the mixture into a ziplock and place sealed bag it in a large bowl filled with cold water and ice.
4. When the mixture is completely chilled, churn an ice cream in the ice cream machine according to the manufacturer. Spin until thick and creamy.
5. Pack in a storage container and freeze until firm.
Recipe adapted from Jeni's Splendid Ice Creams at Home
7.8.1.2
11
https://thepuretaste.com/roasted-strawberry-buttermilk-ice-cream/