Because the internet is full of peach pies and peach cobbler recipes I decided to take a different route and offer you another alternative to use the fresh seasonal peaches. Peach cake recipe – moist, flavorful, delicate peach dessert! It is super easy to make, one bowl recipe that is ready in about 1 hour altogether.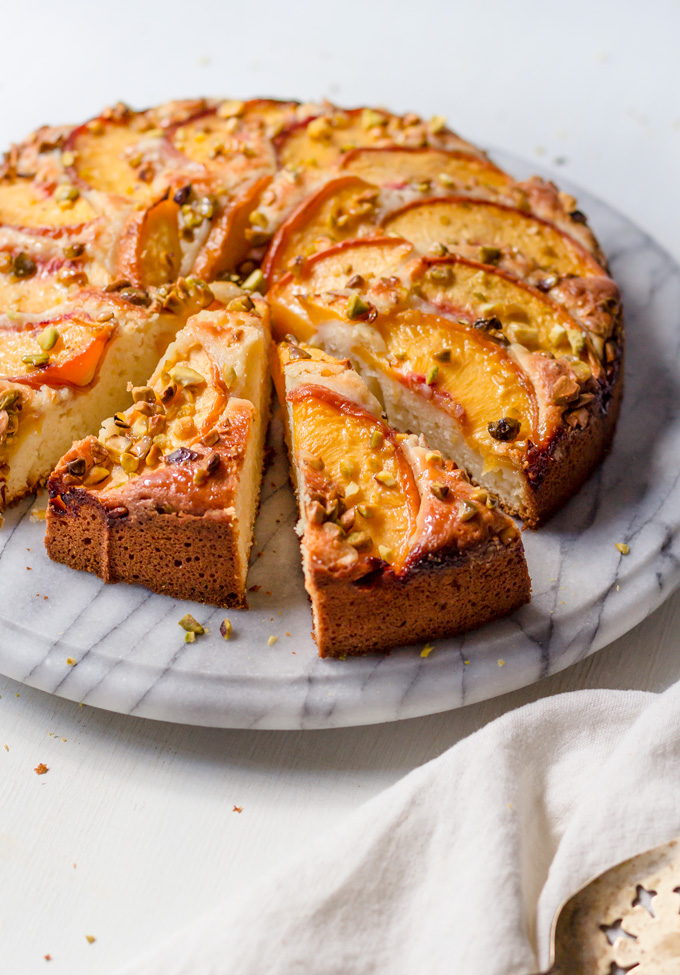 During the summer I like to take things easy. And this easy peach dessert definitely satisfies the busy summer routine. What I also like is how such a simple peach cake looks so gorgeous and appealing. Only look at it makes the day better. The pretty yellow-orange color, the green pistachios, the sponge texture. Everything is so simple yet so delicate and cheerful. Forgive me for the poetry here, but I really enjoy when a simple recipe yields the delightful result!
I'm a tea + cake person, but this summer cake goes well with everything. Scoop an old-fashioned vanilla ice cream on top or maybe whipped cream or add an extra flavor layer with strawberry jam (husband's thing). Top it with everything you want or enjoy it as it is.
I'm already thinking to make this cake with different stone fruits. I'm sure it will go well with any stone fruits. A couple of ideas are to substitute peaches for plums, nectarines or apricots.
The same with pistachios. Original idea was to make it with sliced almonds. That plan failed when I tasted rancid almonds in my pantry. Oh boy, that tastes gross! Anyways, pistachios were fresh, so I used them. Plus, for the photography point, orange and green colors look good.
And couple notes on olive oil. Please, don't use the fancy extra virgin olive oil here. Save it for salad dressing or fancy cooking. Use regular good quality olive oil.  I use Kirkland Olive oil (Refined olive oil with 15% extra virgin olive oil). Works best in this recipe. Flavorful, not overwhelming, not too green and not bitter at all! And the 15% add a beautiful aroma to this peach cake.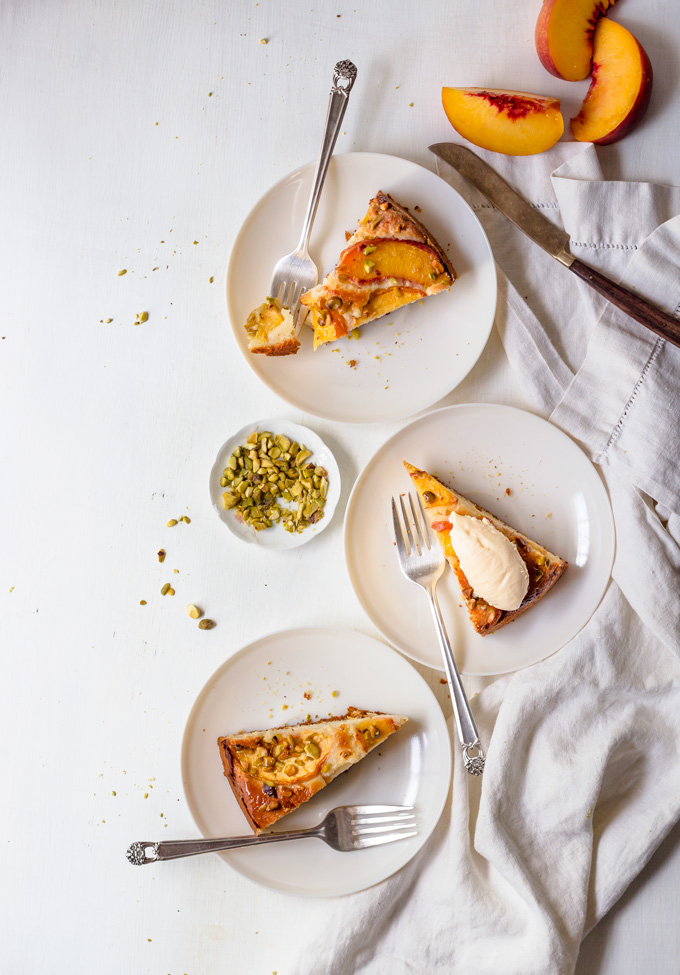 If you are looking for the easy peach dessert then try this fresh peach cake recipe. Utterly different from cobblers and pies, but equally delicious alternatives! If you make it, please let me know what you think.
Happy Baking!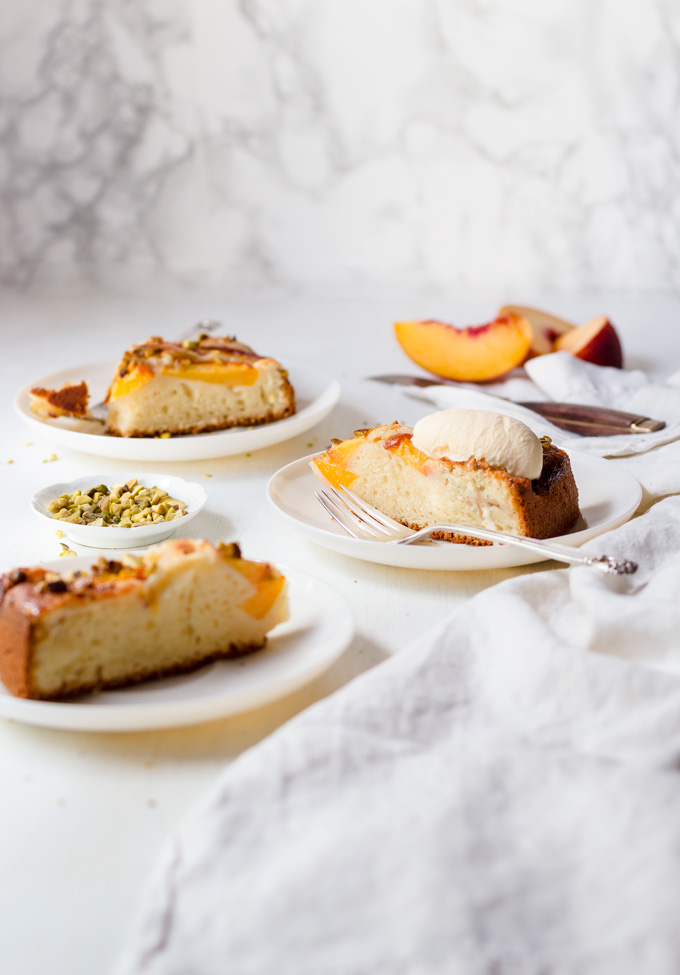 Peach Cake Recipe Tips and Tricks:
Use the firm peaches, so they retain their shape while baking.
Use a good quality regular olive oil. Don't waste extra virgin olive oil in this recipe. Not good flavor-wise and budget-wise.
Substitute peaches for nectarines, plums or apricots.
Substitute pistachios for sliced almonds.
Any plain yogurt will work. I used Stonyfield double cream plain yogurt. I usually prefer thicker yogurts.
Don't overbake the cake. Check with the toothpick after 40 minutes of baking. It should come out with a few moist tiny crumbs.
If you want to add shine, microwave 1 tablespoon of honey for 10 seconds and bush top of the cake with it.
Serve warm with ice cream or room temperature with tea or coffee.
Store in airtight container or wrapped in plastic wrap up to 3 days. It will become soggy after that due to the moisture of peaches.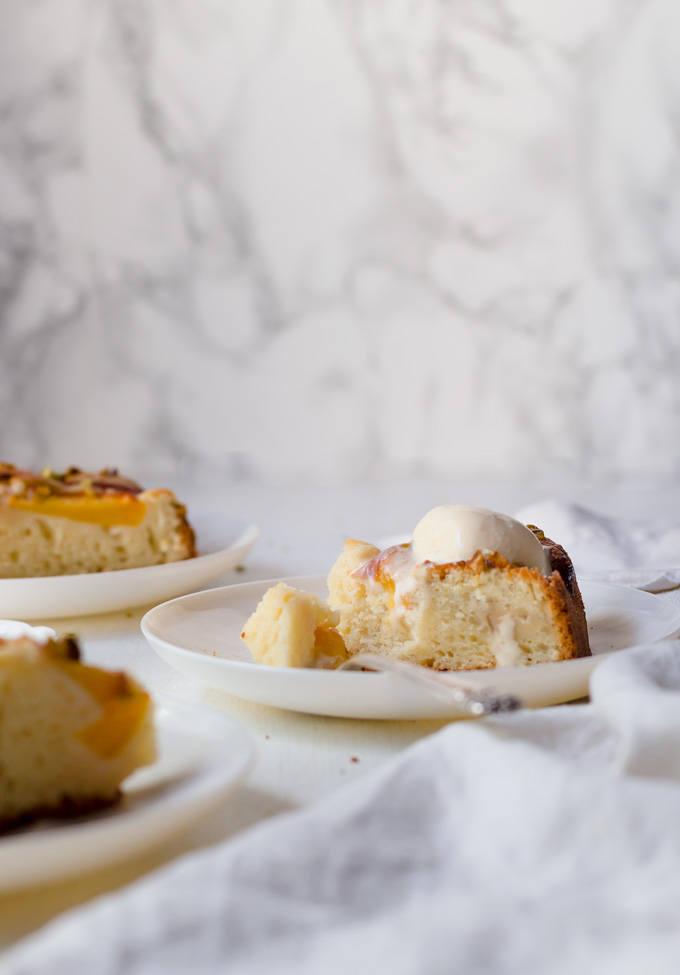 If you make this recipe, please share your picture with me by tagging it #thepuretaste on Instagram. Or share your results in the comment section down below. It means a whole world to me knowing someone is making my recipes.
Thank you for sharing and support ❤️❤️❤️
Maria
Yields: 1 9-inch round cake
Fresh Peach Cake Recipe (Quick and Easy)
15 minPrep Time
45 minCook Time
1 hrTotal Time
Ingredients:
2 large eggs
1/2 cup (110 gr) granulated sugar + 1 tbsp. for topping
3/4 cup olive oil
3/4 cup plain whole milk yogurt
1 teaspoon vanilla extract
1 1/2 cups (210 gr.) all-purpose flour
1 1/2 teaspoons baking powder
¼ teaspoon salt
2 medium peaches, cut in half and sliced
2 tablespoons pistachios, chopped
Instructions:
Preheat the oven to 350F.
Grease and flour a 9-inch baking pan.
In a large bowl using handheld mixer beat together eggs and sugar until slightly pale color, about 2 minutes.
Add the olive oil, yogurt, vanilla extract and mix again until everything comes together about 1 minute.
Over the mixture sift flour, baking powder, and salt and mix until the batter is smooth.
Pour the batter in the prepared baking pan. Arrange peach slices on top. Sprinkle with the pistachios and remaining tablespoon of sugar.
Bake for about 40-45 minutes or until a toothpick inserted in the middle comes out with tiny crumbs.
Let cool in the pan for about 10 minutes. Carefully transfer cake to a serving plate.
Serve plain or with ice cream.
Enjoy!
7.8.1.2
51
https://thepuretaste.com/peach-cake-recipe/
Disclosure: This post contains affiliate links, which collects some cookies.  If you purchase a product through one of my links, I will earn a small commission at no extra cost to you. I only recommend products that I use and love myself. Thank you in advance for your support! It means a lot!
Products used in this post: