With just a little effort and time spent in the kitchen, you will have this delicate effortless mixed berry cake. The buttery and nutty texture, the sweet and tangy taste, the pops of colors are just hard to resist.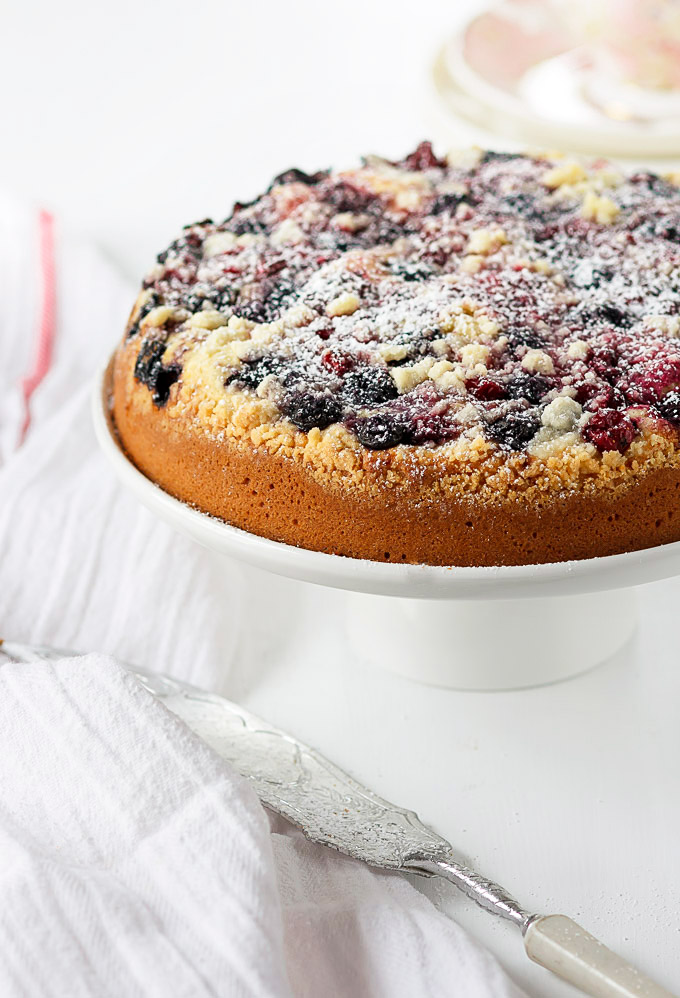 I don't know about you, but I have moments, when I need something sweet right here right now but too lazy to go to a grocery store. Sometimes you just want something sweet and delicious, and it has to be fast and easy. This cake combines it all. Plus, because it is light on sugar, it will do less damage to your body than a store bought one. So today I want to share with you effortless mixed berry cake that is super fast and easy to make.
I always go for this berry cake when I don't have much time or low on energy but want something sweet to go with my cup of coffee. Apart from how delicious this cake is the best thing is how quick and easy it is to put together. Honestly, you will mix everything together in 10 minutes, put in the oven and in 45 minutes you have a beautiful golden brown aromatic mixed berry cake to enjoy. The buttery and fruity taste combined with nutty, crumbly texture is just hard to pass.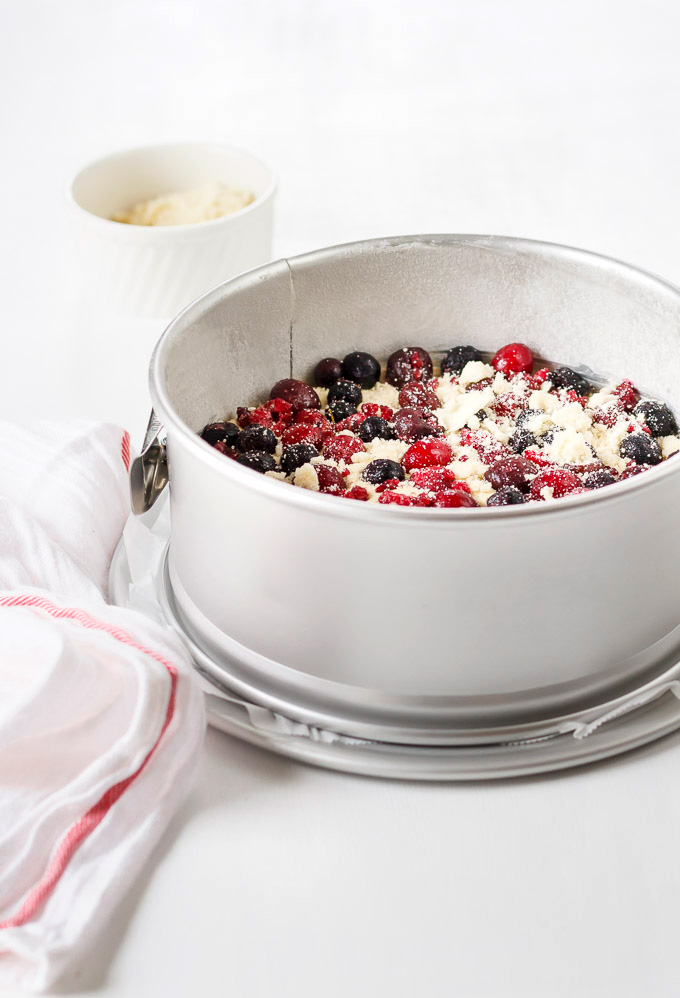 I'm all about the berries and pretty much all the time I have a bag of frozen berries in my freezer. I mostly use frozen berries for this recipe. However, one time I went crazy on the local farm and bought the whole bunch of different fresh berries. I made this cake with them, and it turned out the same. It was messier on top of the cake, but the taste was the same. Don't be afraid to use a mix of fresh berries instead of frozen. I just find it convenient to use frozen berries since I always have them, and you can get them year round.
The only thing I recommend regarding the frozen berry mix is to leave out strawberries. They are just too big to put on top of the cake and impossible to cut when frozen. My favorites mix for this recipe is raspberries, blueberries, cranberries, and blackberries. The pop of the different color makes this cake even prettier and more joyful.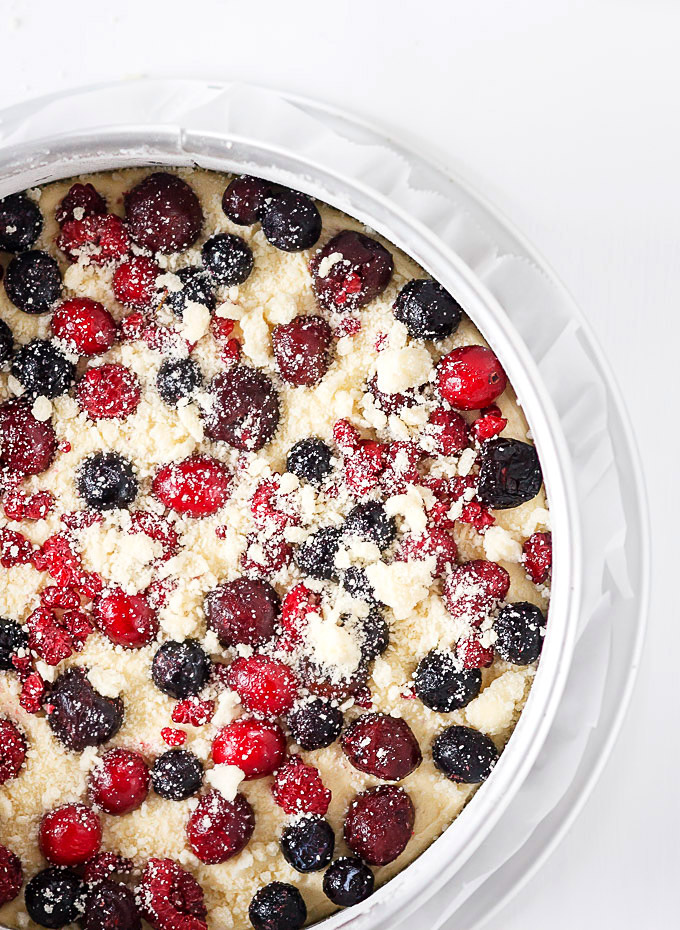 Sour cream… In Ukraine, we put sour cream almost in any baked goods. And it is a staple ingredient in Ukrainian cuisine. I like the sour cream in this particular cake because it adds tanginess that blends beautifully with the sweet and sour berries. Mind you this cake is not super sweet. It has this perfectly sweet and tangy balance that I really like.
The only thing that may stop you from making this berry cake is the almond flour. Not all of us have the almond flour in our kitchen pantry. Here are a couple of thoughts on almond flour that may help you:
If you have whole almonds, you can make your own almond flour. Add whole, sliced or slivered almonds in the blender (has to be a powerful one. Otherwise, it will not grind well). Pulse until you have a fine almond flour/meal. Don't overdo it or you may end up with the almond butter. Adding a tablespoon of the powdered sugar helps to avoid small clumps on the bottom of the blender.  Here is a detailed description on How to make almond flour at home.
I did my own almond flour at home a couple of times but eventually decided it is easier to purchase it. I absolutely love Bob's Red Mill almond flour. The quality is amazing, and it will last a long time if you store it in the fridge.
I know almond flour may turn you away from making this cake, but it is essential. Almond flour adds a moist to this cake. There is nothing worse than a dry cake, and almond flour is fixing it. It also adds the crumbled, melt in your mouth texture, which is irresistible. Don't let almond flour be on your way to make this effortless mixed berry sour cream cake.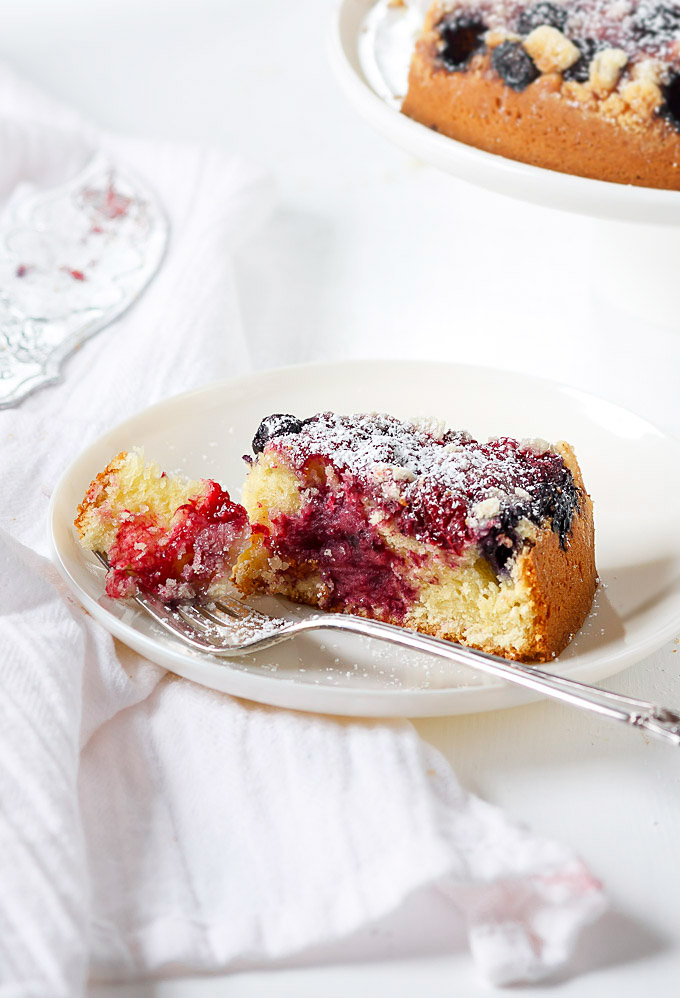 It is always nice to have recipes, especially sweet ones, that you can make in no time. It adds an extra enjoyment when with so little moves in the kitchen you're ending up with the delicious aromatic berry cake. There you have a super fast and effortless mixed berry cake to enjoy anytime you want. I have the feeling you will save and make this recipe a couple of times 😉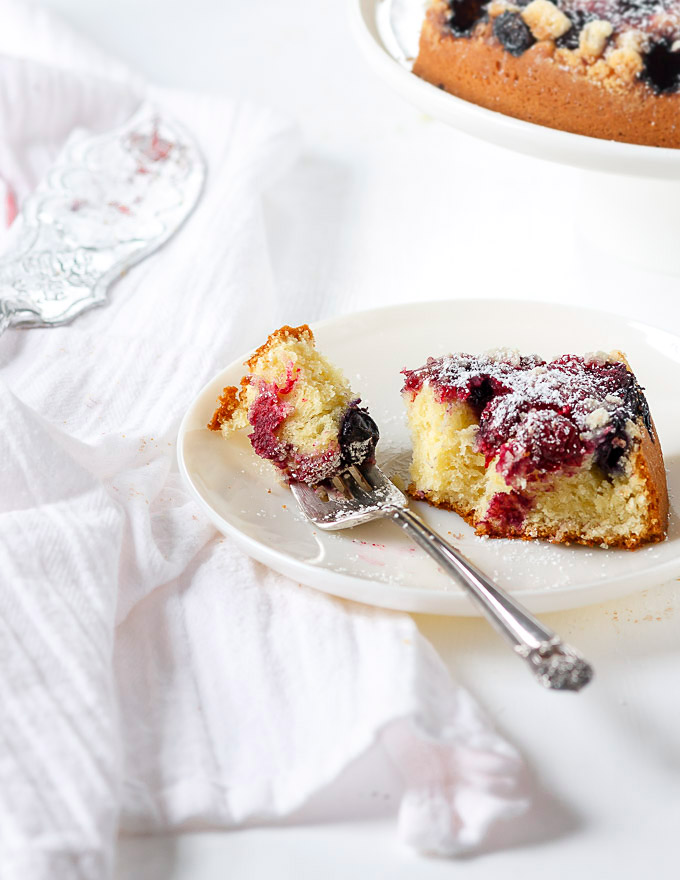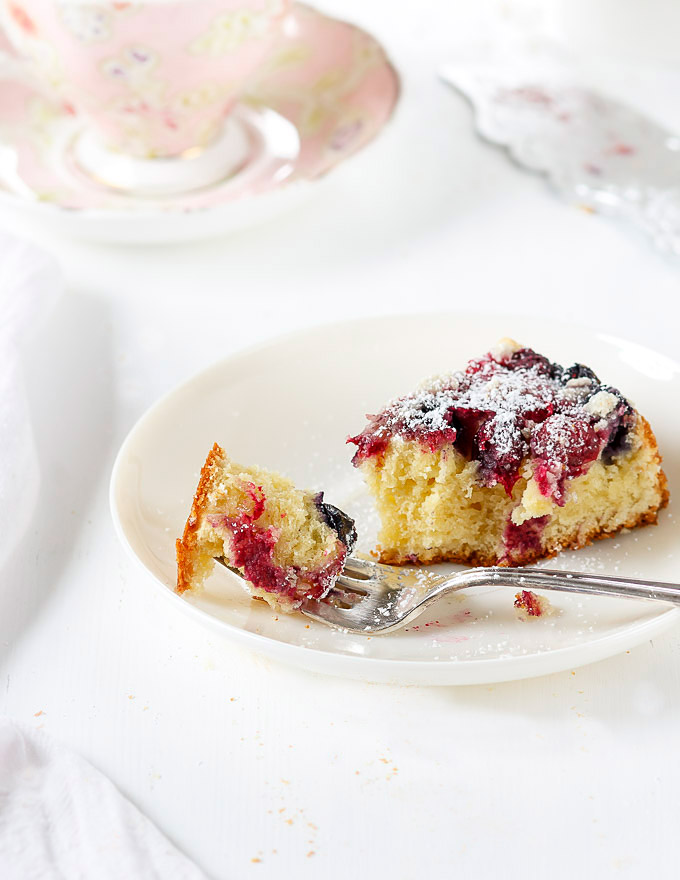 Mixed Berry Cake Tips and Tricks:
You may substitute frozen berries for fresh ones. The cake will be a bit messier, but the taste will be the same.
If you don't have almond flour, here is a tutorial on how to make almond flour at home. 
If the cake is browning too quickly, and the center is still wet, cover the pan with aluminum foil and continue baking.
This cake should be eaten withing a couple of days because berries are getting soggy. But this shouldn't be a problem at all 😉
Maria
Yields: 8-inch round cake
Effortless mixed berry sour cream cake
15 minPrep Time
45 minCook Time
1 hrTotal Time
Ingredients:
For the cake:

100 gr. unsalted butter, room temperature
½ cup (100 gr.) granulated sugar
1/3 cup (70 gr.) sour cream
3 tablespoons whole milk
2 large eggs
1 teaspoon vanilla extract
¾ cup (170 gr.) all-purpose flour
1/2 cup (40 gr.) almond flour
1 1/4 teaspoons baking powder
1/4 teaspoon kosher salt
About 1 cup (150 gr) frozen mixed berries

For the streusel:

2 tablespoons almond flour
2 tablespoons granulated sugar
2 tablespoons all-purpose flour
1 tablespoon cold unsalted butter
Instructions:
1. Preheat oven to 365 F.
2. Line the bottom of an 8-inch springform cake pan with parchment paper. Butter, and flour the sides of the pan.
3. In a medium bowl with the handheld mixer beat butter and sugar until light and fluffy, about 3 minutes. Add sour cream, milk, eggs, and vanilla extract to a butter mixture. Beat until everything comes together, about 2 minutes.
4. In a separate bowl sift flour, almond flour, baking powder, and salt together. Combine flour and butter mixture, and mix until everything comes together, about 2 minutes.
5. Pour the batter into the prepared pan. Even out the top with the rubber spatula or spoon. Sprinkle berries on top and gently press them into the batter.
To make a streusel:
6. In a small bowl combine flour, sugar, almond flour, and butter. Using your fingers work the butter into the dry ingredients to create a crumbly mixture. Sprinkle the streusel on top of the cake.
7. Bake the cake on the middle rack for about 35-50 minutes. Look for the golden-brown color and a dry toothpick. Let it cool on the wire rack for 10 minutes, remove from the pan and let cool completely.
Enjoy.
7.8.1.2
21
https://thepuretaste.com/effortless-mixed-berry-sour-cream-cake/
Disclosure: This post contains some affiliate links.  If you purchase a product through one of my links, I will earn a small commission at no extra cost to you. I only recommend products that I use and love myself. Thank you in advance for your support! It means a lot!
Products used in this post: