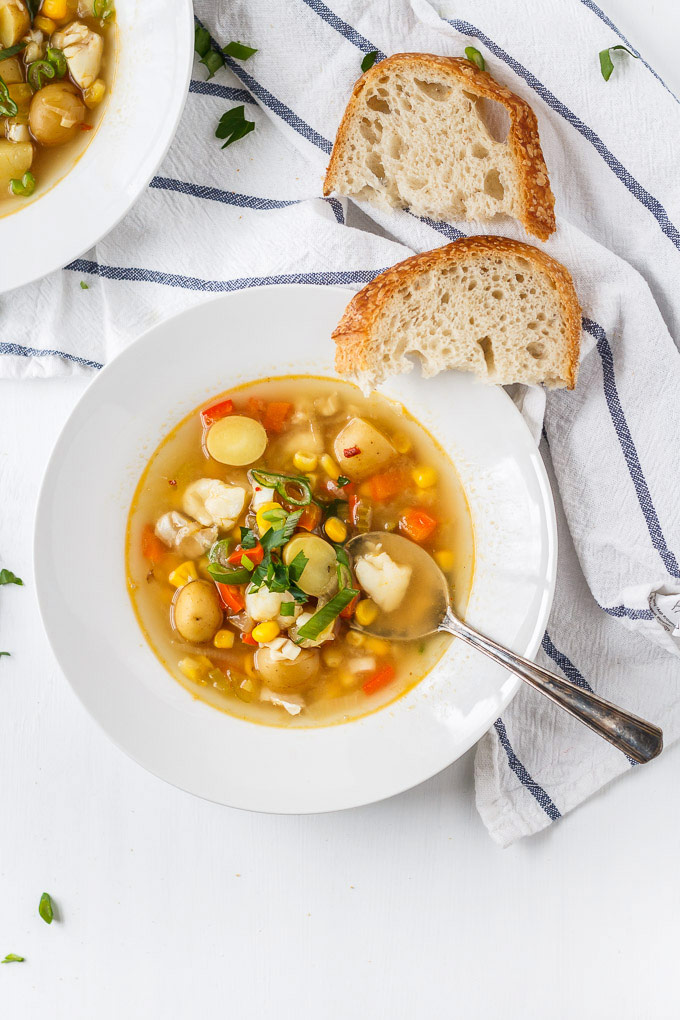 There are not that many light and easy fish soup recipes out there. The most popular fish soup is of course fish or clam chowder. Chowders are for sure delicious, but oh boy, they are heavy and fatty. So I decided to make a good fish soup with the chowder ingredients but omit all the unhealthy stuff. The result is very delicate, easy to make, healthy cod and corn chowder.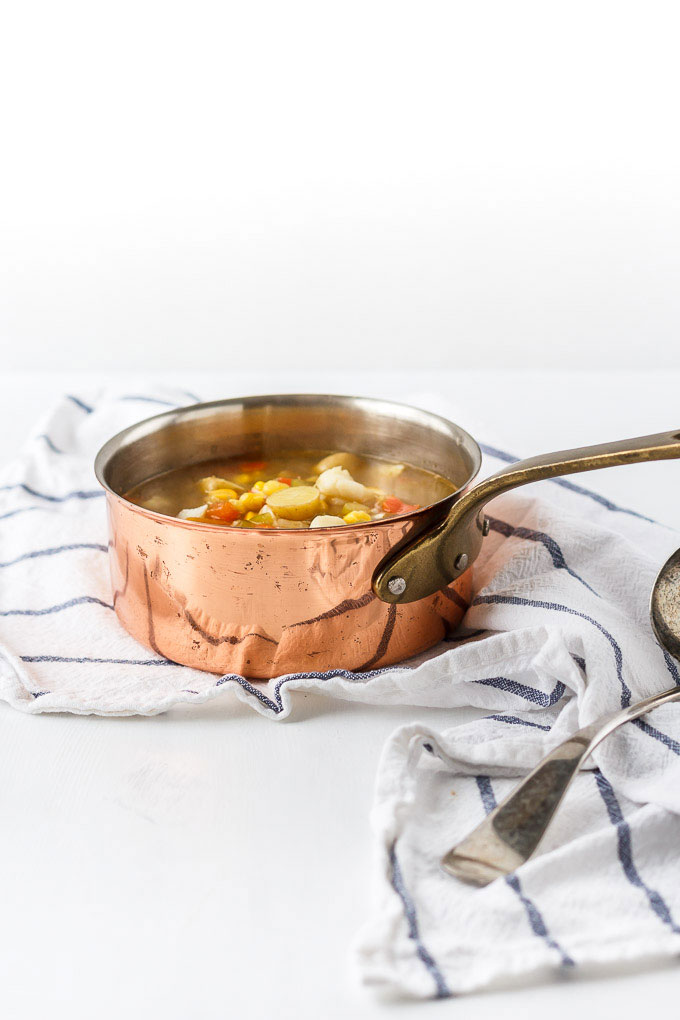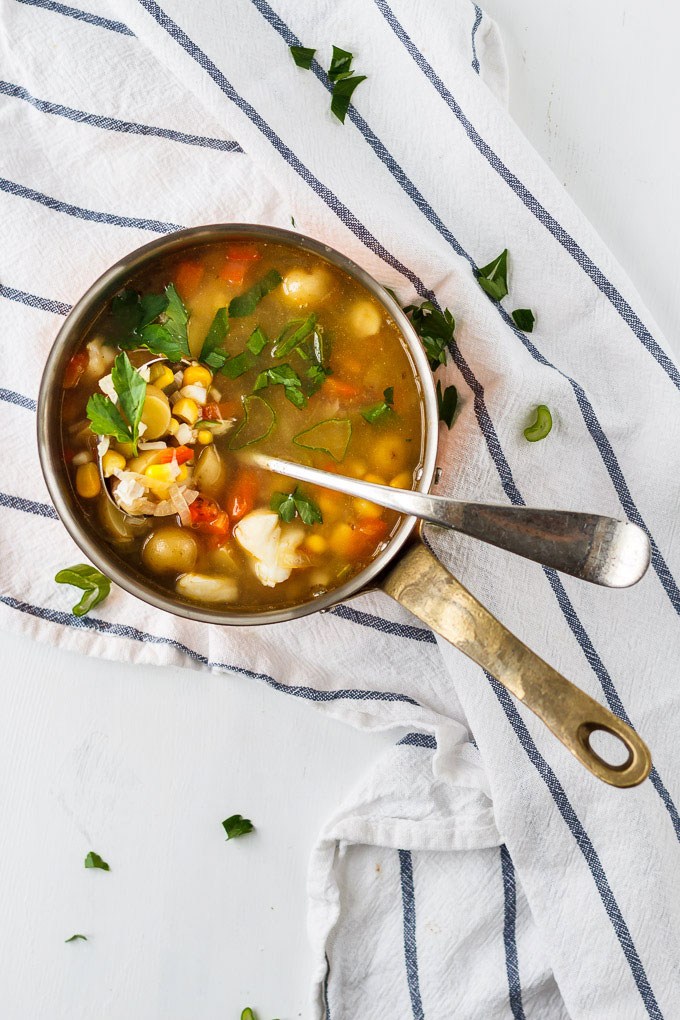 I do understand the creaminess in classic New England chowder, but I feel like fish in it is always losing its taste. It is buried so deep with the flour, butter, cream, and potatoes that the only reminder of fish is unrecognizable white chunks. The fish is such a tremendous food and deserves to be the main unhidden ingredient.
For this chowder, I chose Atlantic Cod fish. It is one of the universal and affordable fish on the market. The flaky and medium firm texture is the key. The texture is strong enough to hold its shape in soup, yet delicate enough to make the soup light and tasty.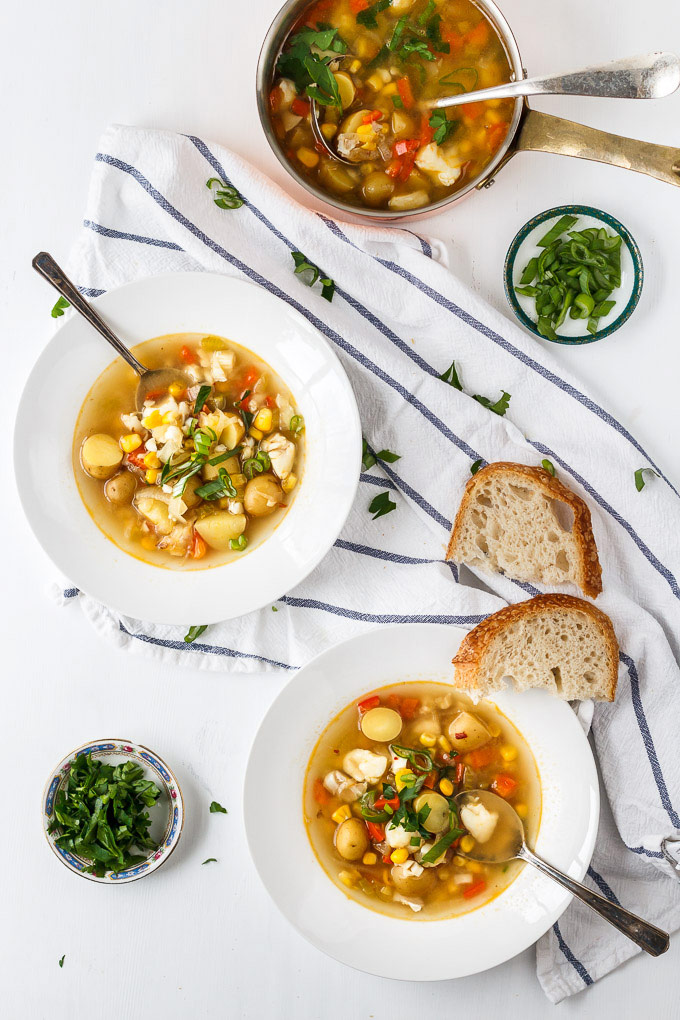 I wanted cod to stand out in this soup still not to overwhelm with the fishy smell. Corn evens out the fishy taste by adding a sweet, delicate touch. You feel and taste the fish, but it is not overwhelming. And this is what I like in this soup the most. All the ingredients are complimenting each other and make this soup well balanced.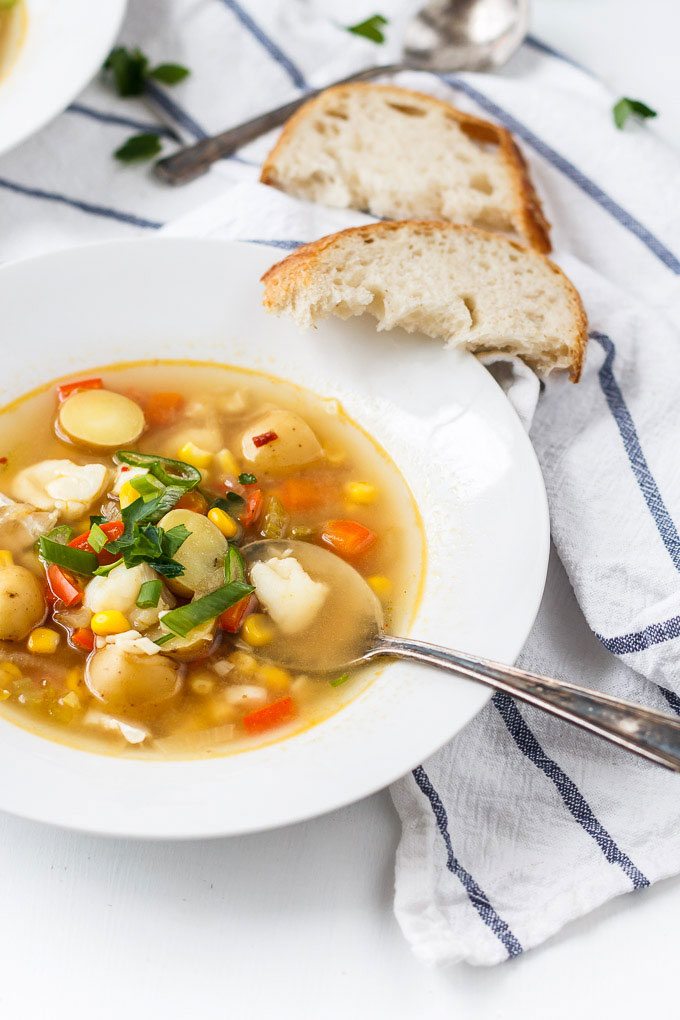 And don't forget to top the soup with the fresh scallions and parsley. I like to add it just before serving. It tastes better, in my opinion, and it looks fresher. You are welcomed to add it during cooking, though.
Oh, and a piece of hearty bread is a must. In my case, it was sourdough and oh boy it goes well with this healthy cod and corn chowder.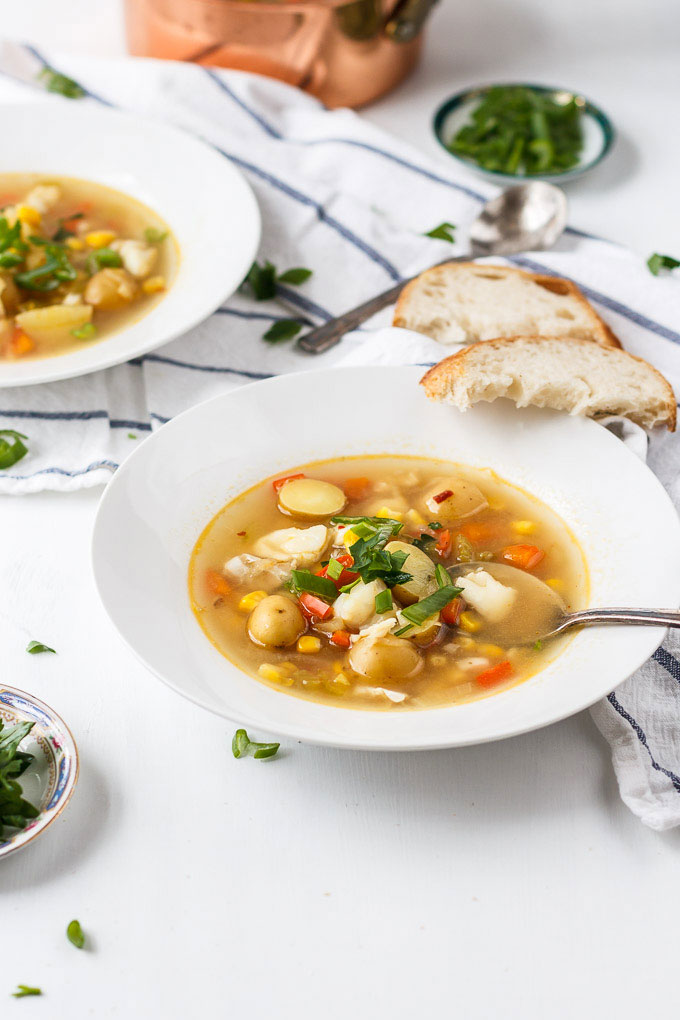 The true beauty of this soup is how easy it is to make and how delicately light it is. After one bowl, you feel satisfied and happy. You will be amazed at how simple and short the recipe is and how quickly it is to make. I feel like this healthy cod and corn chowder is a perfect beginning of the spring menu.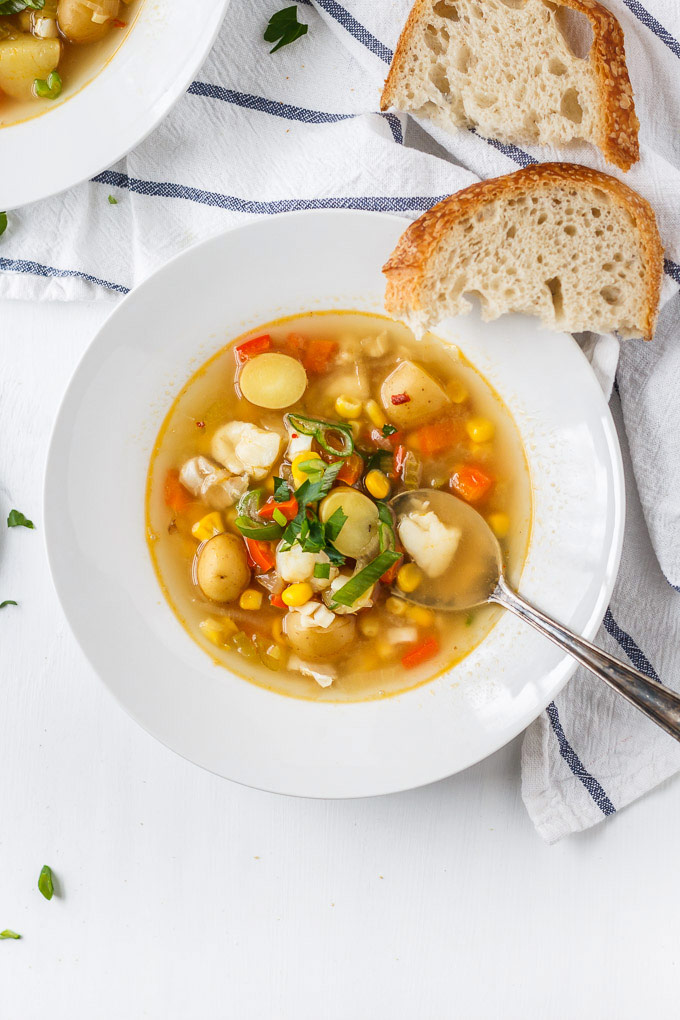 Cod and Corn Chowder Tips and Tricks:
Cod substitution:  Pollock, haddock, and tilapia
Maria
Yields: 4-6 servings
Healthy Cod and Corn Chowder
5 minPrep Time
30 minCook Time
35 minTotal Time
Ingredients:
1 tablespoon unsalted butter
1 tablespoon olive oil
1 medium yellow onion, chopped
3 stalks celery, chopped
½ teaspoon red pepper flakes (optional)
1 sweet red, orange or yellow bell pepper, seeded and chopped
2 cups young red or yellow potatoes, quartered or halved
5 cups low-sodium vegetable or chicken stock
2 cups frozen corn
1 1/2 pounds cod, cut into 1 inch pieces
2 scallions, minced
2 tablespoons parsley, minced
salt and pepper to taste
Instructions:
1. In a large heavy-bottom pot or Dutch oven, heat butter and olive oil over medium heat. Add the onion, celery, and pepper. Season with salt and pepper. Cook vegetables until translucent and begin to brown, about 7-10 minutes. Add potatoes, red pepper flakes (if using) and pour in a vegetable or chicken stock.Bring soup to a boil and then reduce heat to low or simmer. Cook for 10 minutes, or until potatoes are fully cooked.
2. Add corn and cod, and cook for 10 minutes more. Taste the chowder and adjust seasoning.
3. Serve warm with fresh scallions, parsley and a piece of bread.
7.8.1.2
20
https://thepuretaste.com/healthy-cod-and-corn-chowder/
Disclosure: This post contains some affiliate links.  If you purchase a product through one of my links, I will earn a small commission at no extra cost to you. I only recommend products that I use and love myself. Thank you in advance for your support! It means a lot!
Products used in this post: