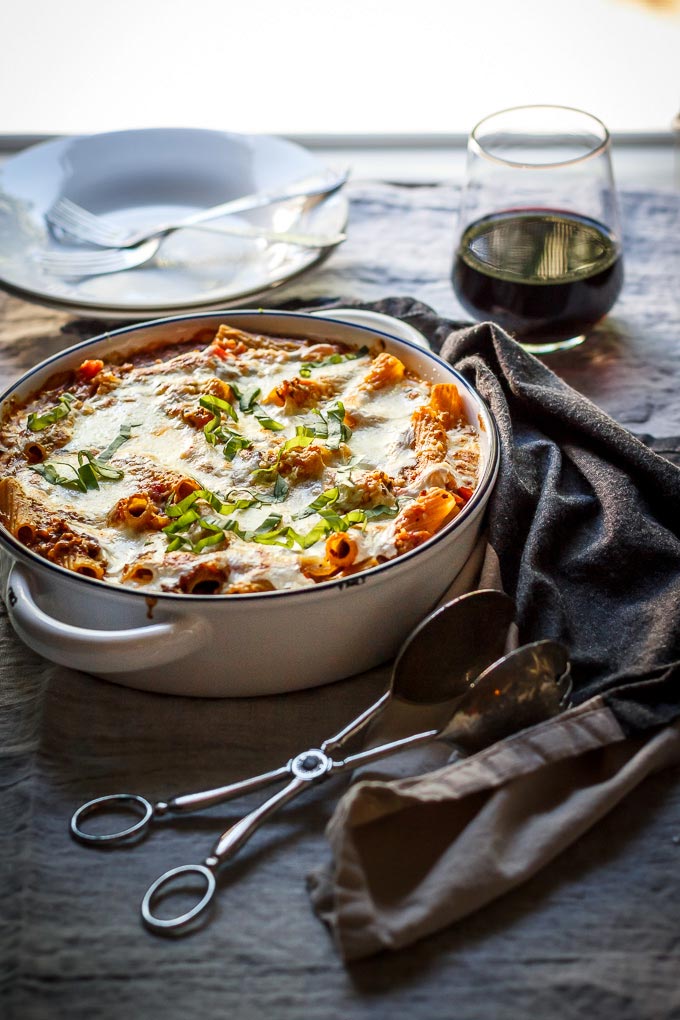 Being on the busy schedule lately I stopped cooking complicated dinners and switched to easy ones. I like the put together dinner in 15 minutes style, but pretty soon my foodie soul begins to crave for something different. Not complicated different, but something relatively easy to make and interesting enough to satisfy my food soul. Today I want to share with you an easy and lighter ground beef pasta casserole to keep your weekly meals enjoyable.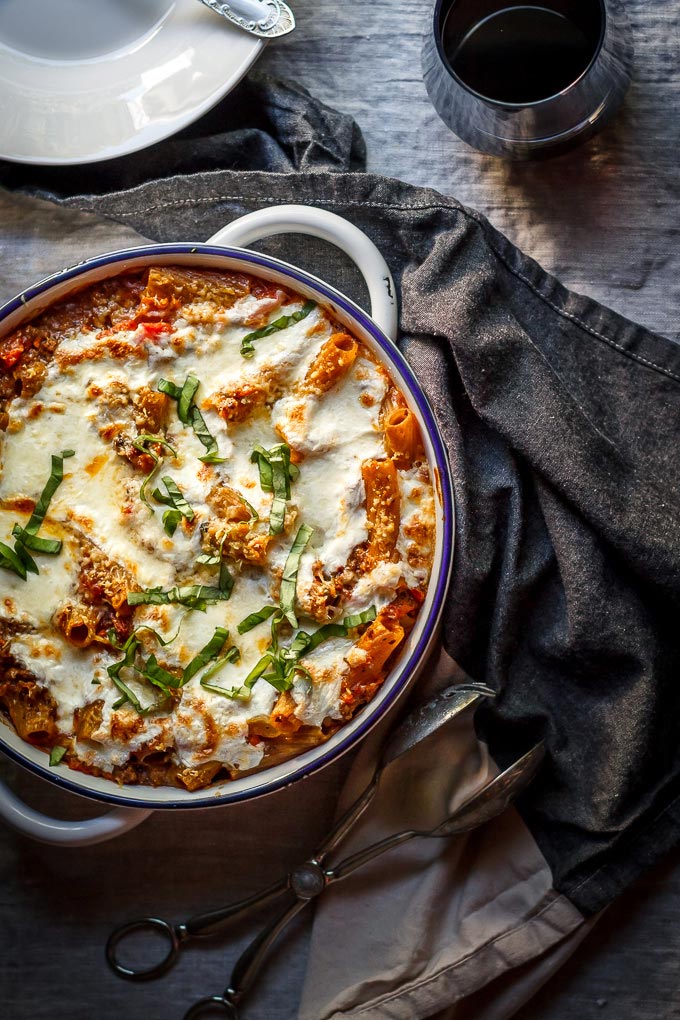 I like this recipe because it makes weekly meals different. At the same time, it is easy to put together and yield at least six servings so that I can relax for the next couple of days. This casserole is big enough to feed a family for a couple of days, of course depending on your family size. In such case, I feel like the little extra time spent on the dish like this ground beef and pasta casserole is well worth it.
The prep time is about 15 minutes. Then once in a while, you stir it and do your things for the next 15 minutes. Finally, you just pop it in the oven to melt and brown the mozzarella, because honestly the browned mozzarella on top of the casserole worth an extra 15 minutes. And in about 30 minutes of active time, you have this gorgeous beef dinner that looks like you spent hours cooking.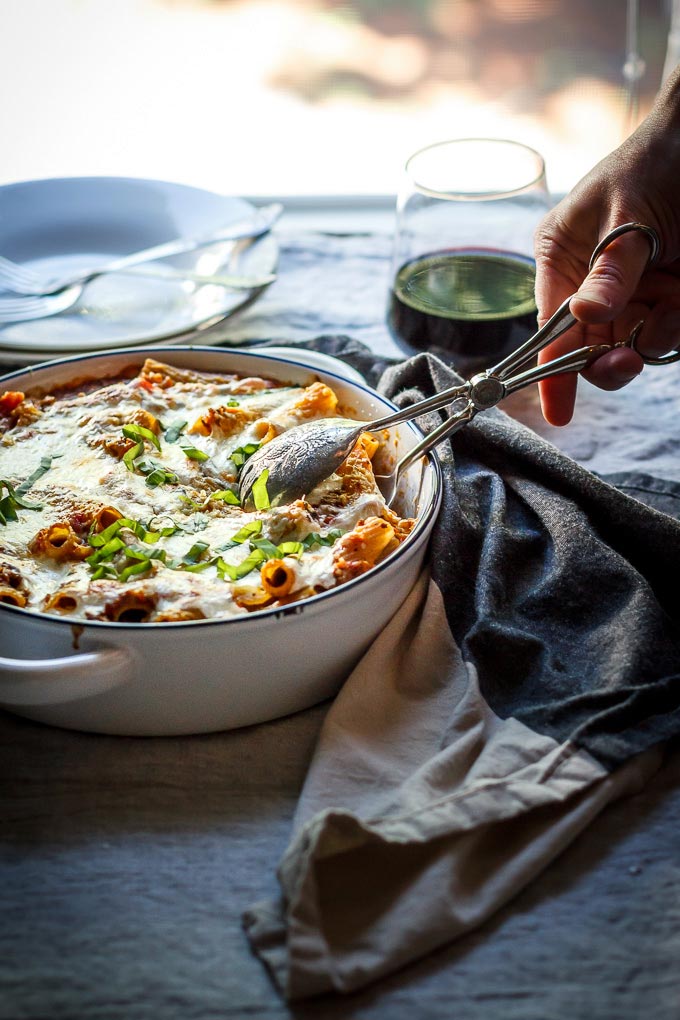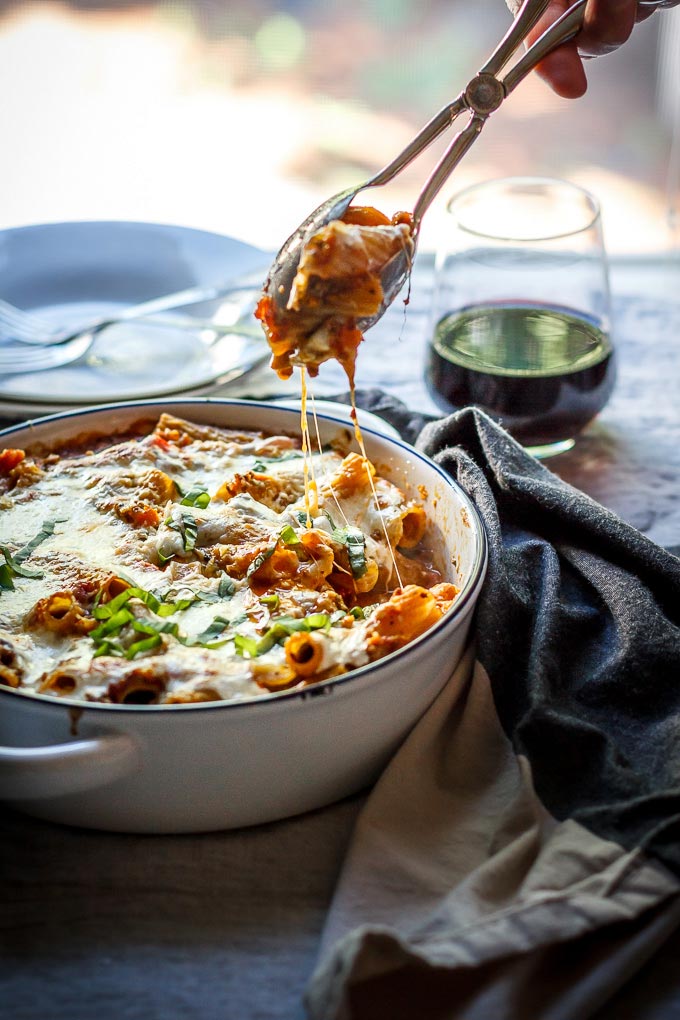 As you may already know I'm an advocate for the healthy eating. Casseroles are not the lightest meals, but I did my best to lightened-up this ground beef and pasta casserole. The result is a comforting, delightful casserole that will satisfy your soul and body without extra avoidable calories.
The slightly browned pasta edges on top are my favorite part. There is something irresistible in the browned crunchy pasta. Add the melt in your mouth ground beef simmered in tomato sauce, and browned mozzarella and parmesan to it and of course top it with the fresh, fragrant basil, and you have an irresistible dinner.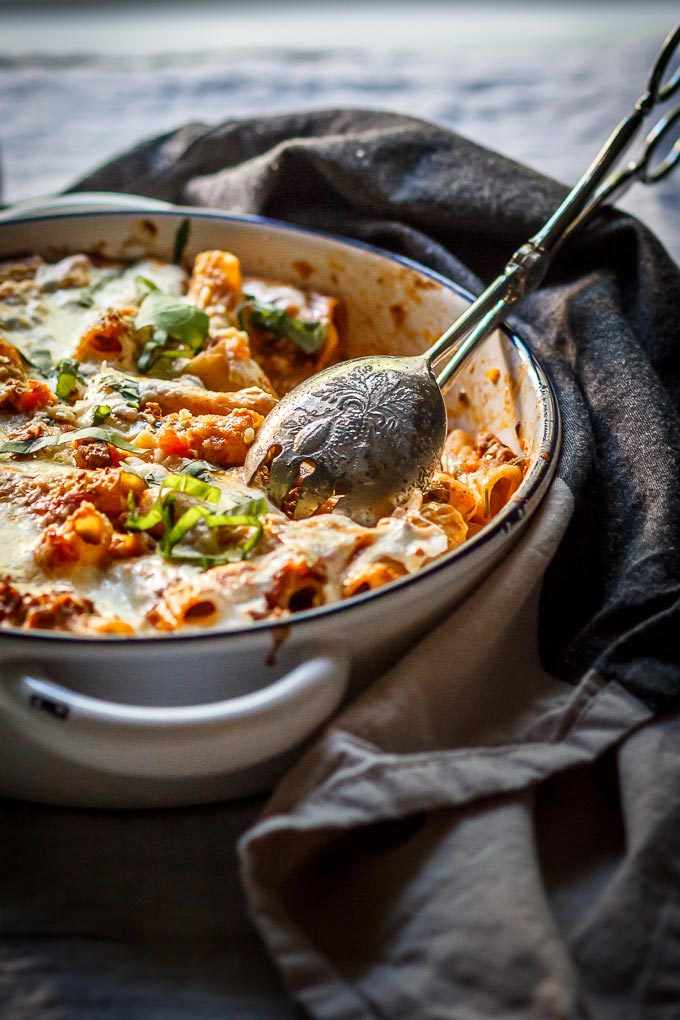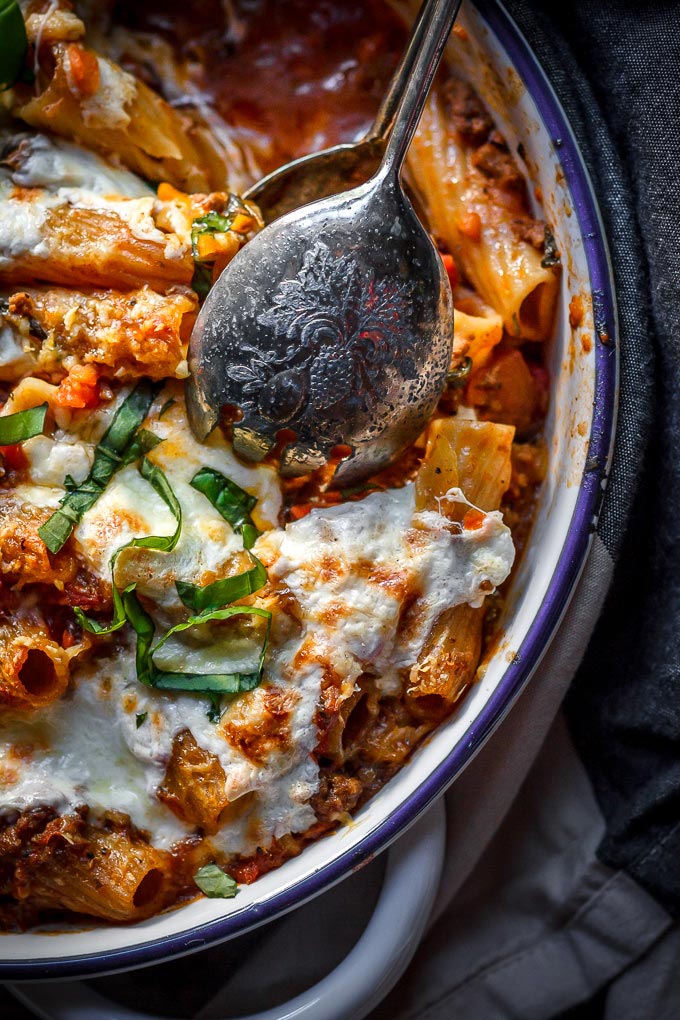 And the aroma that fills the kitchen is absolutely magnificent. The Italian cooking always brings the comforting aroma in the house. The combination of smells of fried ground beef with the tomato sauce and browned cheese just makes my soul feel calm and cozy.
If I still did not convince you to make it, then here is more. This is an ONE-POT recipe. Let's face it, the extra time you spend cleaning the dishes and kitchen after prepping the dinner is irritating. ONE-POT meal is a hero in busy or lazy days or weeks.
There you have a lighter ground beef pasta casserole that does not require too much time, easy to put together and last but not least very delicious and comforting. The extra 10-20 minutes spent in the kitchen, and you will be rewarded with the delicious, hearty dinner.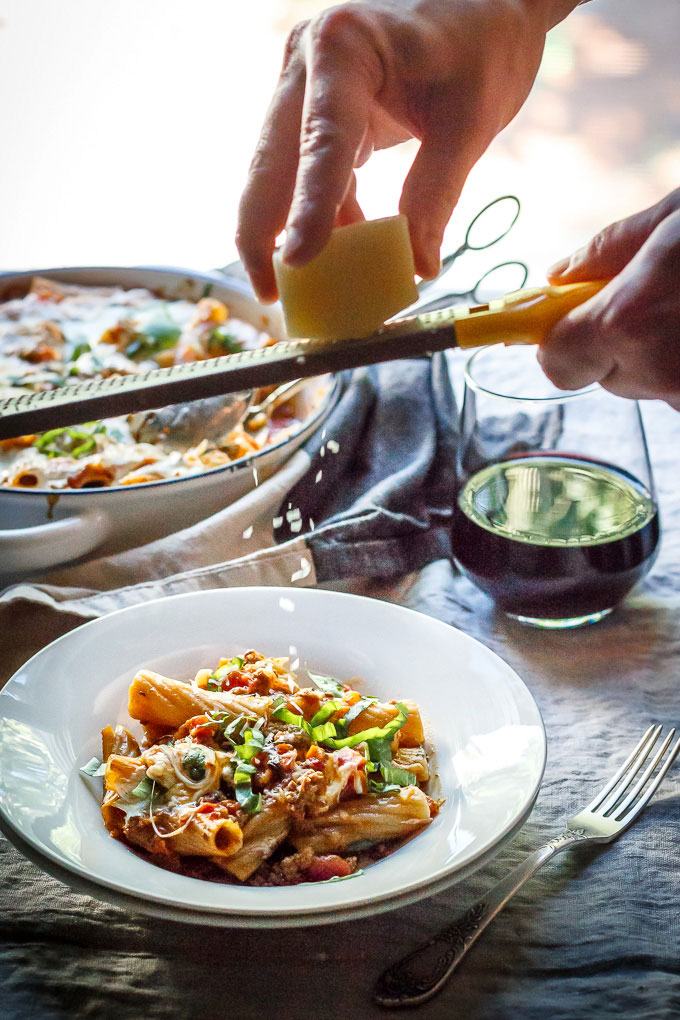 Ground Beef Pasta Casserole Tips and Tricks:
Pasta choice: Ideally the Rigatoni, but I experimented with the medium shells, and it worked out well. Other pasta choices are penne, medium-size shells, and tortiglioni. Please, don't use a small type of pasta. It will cook too fast and will turn into mush.
For the past two years since I learned the trick, I always brown/caramelize tomato paste with the vegetables. It gives such an incredible deep taste.
Have you ever opened the can of tomato paste, used two tablespoons, put the rest in the fridge and waited until the nasty mold got it faster than you? I've been there hundred times. Trick how to store extra tomato paste: Lay plastic food wrap on the counter, pour the rest of tomato paste and make a tight roll, like a sausage. Put the roll in the ziplock and freeze for up to 3 months. If you need only a small amount, cut with a sharp knife and return the rest to the freezer.
Maria
Yields: 6+ servings
Lighter Ground Beef and Pasta Casserole
15 minPrep Time
30 minCook Time
45 minTotal Time
Ingredients:
1 tablespoon olive oil
1 pound 85% ground beef
1 medium onion, diced or chopped in a food processor
1 large carrot, diced or chopped in a food processor
4 garlic gloves, minced
1 1/2 teaspoon dried oregano
1/2 teaspoon crushed red pepper flakes (optional)
2 tablespoon tomato paste
3 ½ cups low sodium chicken stock
2 14 oz. crushed canned tomatoes
3 tablespoons chopped fresh basil
3 tablespoon chopped fresh parsley
12 oz. uncooked whole wheat rigatoni or other pasta (see Tips & Tricks)
4-5 oz. fresh mozzarella, sliced
1/2 cup Parmigiano-Reggiano cheese, grated
Salt and Pepper
Fresh basil and parsley for serving
Instructions:
1. Preheat oven to 350 F.
2. Heat a large heavy-bottom oven-safe pot or Dutch oven over medium-high heat. Add oil to a hot pan. Add ground beef and cook until done and browned. Remove the cooked meat from a pot. Reserve 2 tablespoon grease and pour out the rest.
3. Use the reserved grease and add chopped onion and carrot to a pot, season with salt and pepper and cook until soft, about 4 minutes. Add garlic and cook for an additional 1 minute. Add oregano, red pepper flakes, and tomato paste. Cook until tomato paste starts to brown/caramelize, about 2-3 minutes.
4. Return beef to a pot and stir well. Add chicken stock, crushed tomatoes, basil, and parsley. Mix well. Add pasta, stir everything together, cover the pot and cook until paste is almost done, close to al dante, but not there yet, about 15 minutes. Stir frequently, every 4 minutes. Don't overcook pasta, as it will continue cooking in the oven.
5. When pasta is almost done, taste the dish and season with salt and pepper if needed. Remove a pot from heat. Scatter the mozzarella pieces over the top and sprinkle on the parmesan cheese. Bake uncovered in the oven for an additional 15 minutes. Remove from oven. Let it rest for 5-10 minutes.
Serve warm with extra basil and parsley on top.
7.8.1.2
19
https://thepuretaste.com/lighter-ground-beef-pasta-casserole/
Disclosure: This post contains some affiliate links.  If you purchase a product through one of my links, I will earn a small commission at no extra cost to you. I only recommend products that I use and love myself. Thank you in advance for your support! It means a lot!
Products used in this post: