This fresh herbs and feta cheese stuffed leg of lamb recipe is a stunning way to impress your guests. A beautiful make-ahead recipe that cuts tons of time and let you enjoy your guests on the day of the event.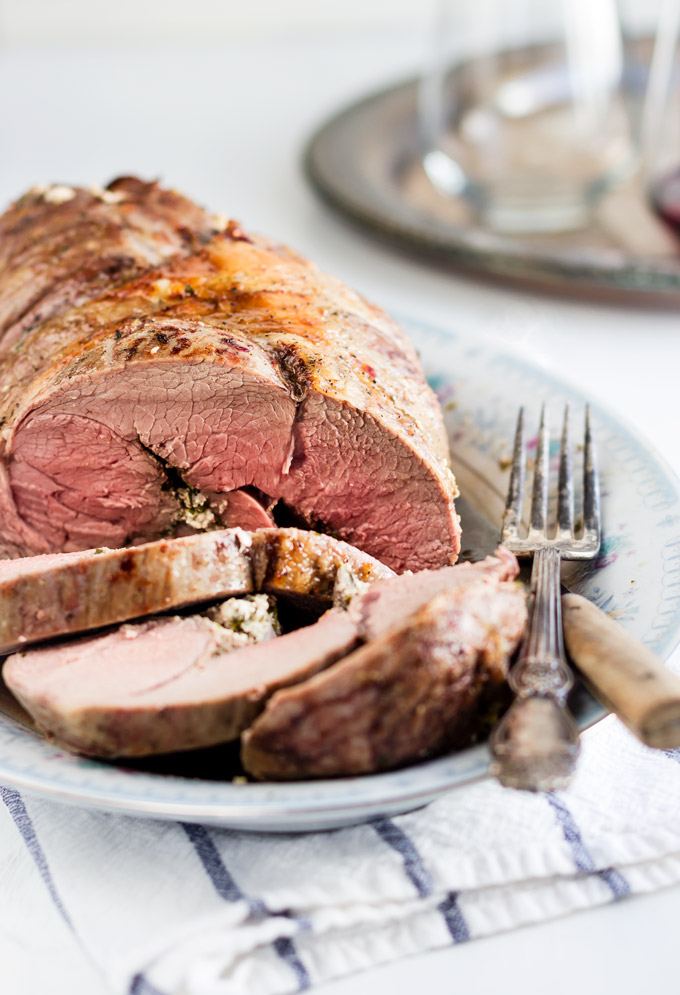 Easter is a family gathering event. And if you are a host, you always want to impress. Sometimes the preparation can be too overwhelming and too expensive. With years I developed a simple rule for cooking when I have guests. Focus on 2-3 main dishes and make them shine. This reduces the stress, time spent in the kitchen and makes you enjoy the cooking process.
On Easter, the hero is always a meat main dish. Unfortunately, most of the time it is ham. For big crowds, rack of lamb or beef stand roast is super expensive. Leg of lamb is a brilliant alternative to all. It costs less, much healthier than ham, easy and fast to cook. When you present the leg of lamb the right way, the dinner will look expensive, taste delicious and you save time and money.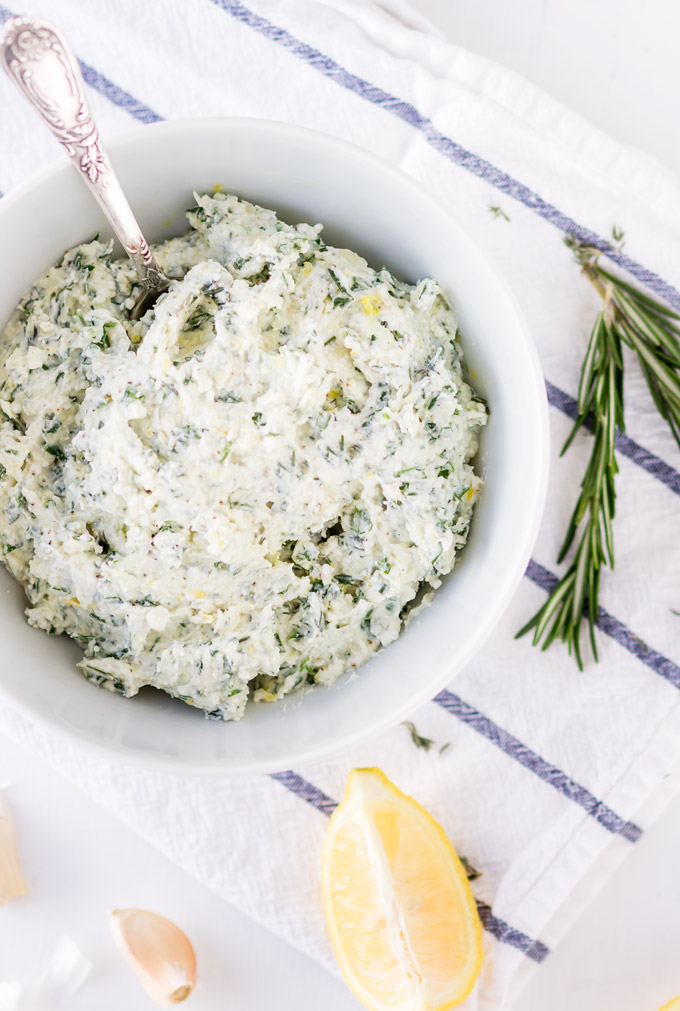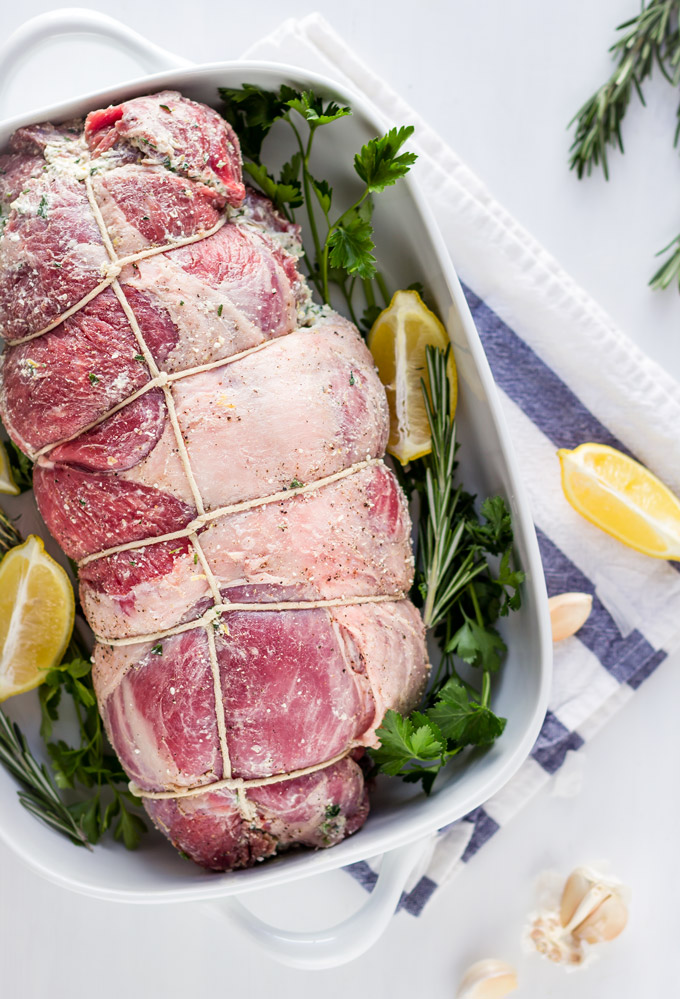 This fresh herbs and feta cheese stuffed leg of lamb recipe cover all the criteria above. Devote some time to the lamb a day ahead. On the next day pop it in the oven, make a sauce and you will be rewarded with a stunning and delicious dinner to impress friends and family. Plus you'll have much more time to spend the important day with your loved ones.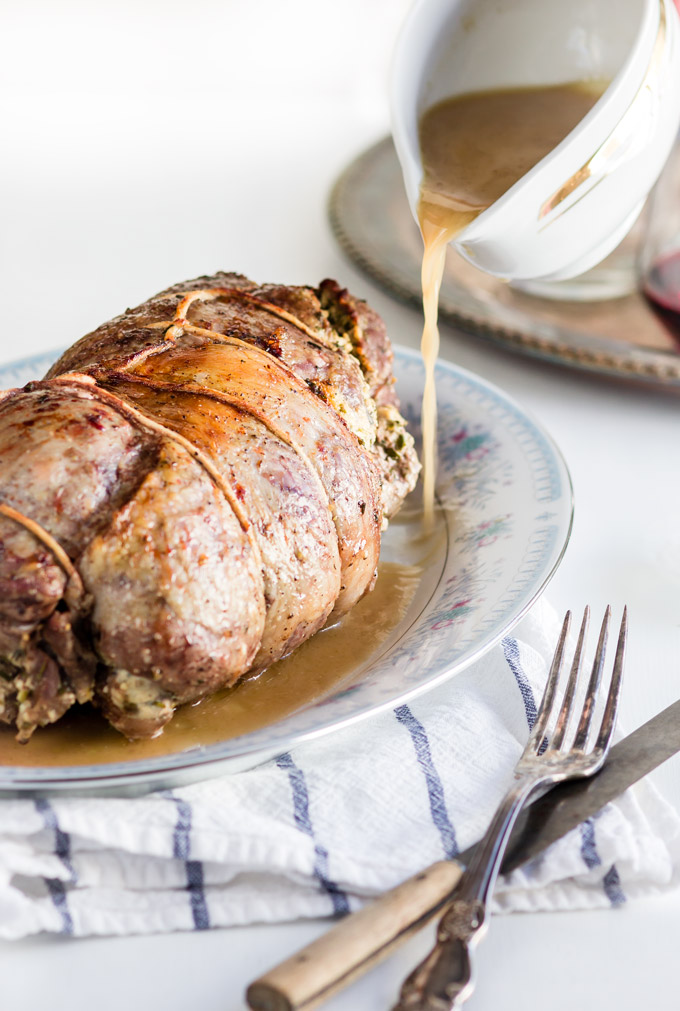 Down below I will include a lot of tips and tricks on how to treat a beautiful piece of meat. Even if you decide to make another recipe, still read tips and tricks. They are very helpful and applicable to many meat recipes.
A little confession here! I'm not a fan of lamb in general. Too sensitive to smell and I always found it a bit overwhelming. No matter how fresh it is, it still has a unique aroma and flavor that I'm not a fan of. On the other hand, my husband loves lamb. Every time he requests it I need to come up with the recipe to aromatize lamb so we both can enjoy it. That is why I recommend using fresh herbs in this and any other lamb recipes.
When I made the feta cheese filling and smelled it, I instantly knew this would be a winner. The salty smell and taste of feta, combined with the lemon zest fragrance and the aroma of fresh herbs made this lamb shine. My husband approved this recipe. He hardly denies any lamb recipes since I rarely make it. But even I enjoyed it very much and will make it again.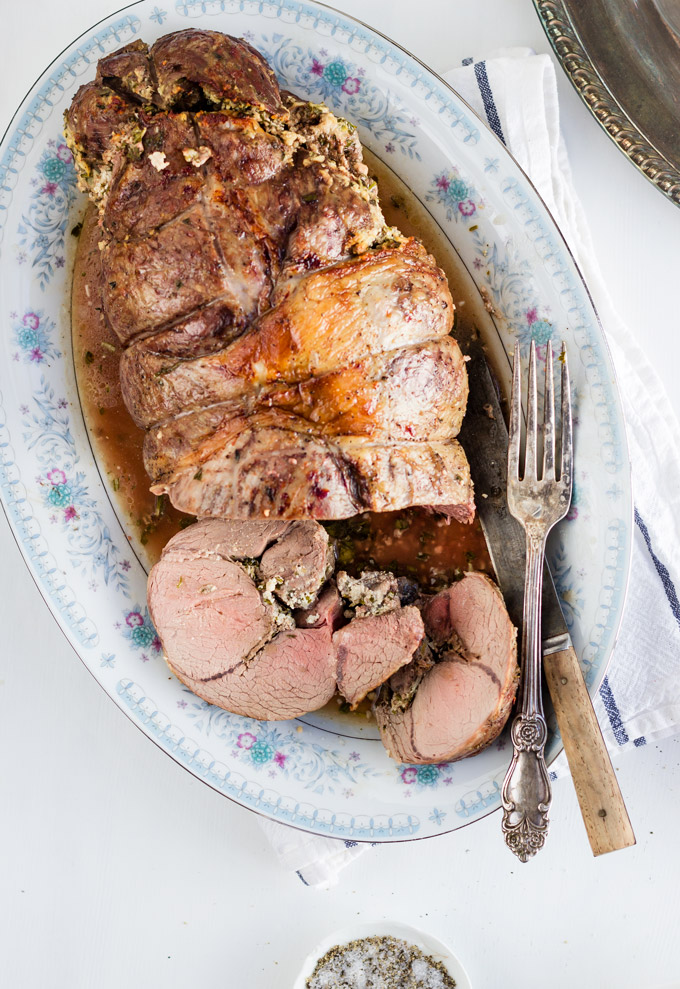 I had my doubts whether I want to share any Easter recipes on The Pure Taste blog. Easter is such an important holiday. The last thing I want to share a recipe that will ruin the dinner. After I tried this recipe, I'm confident this will not only save you a lot of time on the Easter day but will also make you look like a professional chef. This stuffed boneless leg of lamb recipe will surely stand out on your dinner table.
I hope you will have a wonderful and blessed Easter this year 🌸🌷🌺🌼💐
Lots of love,
Maria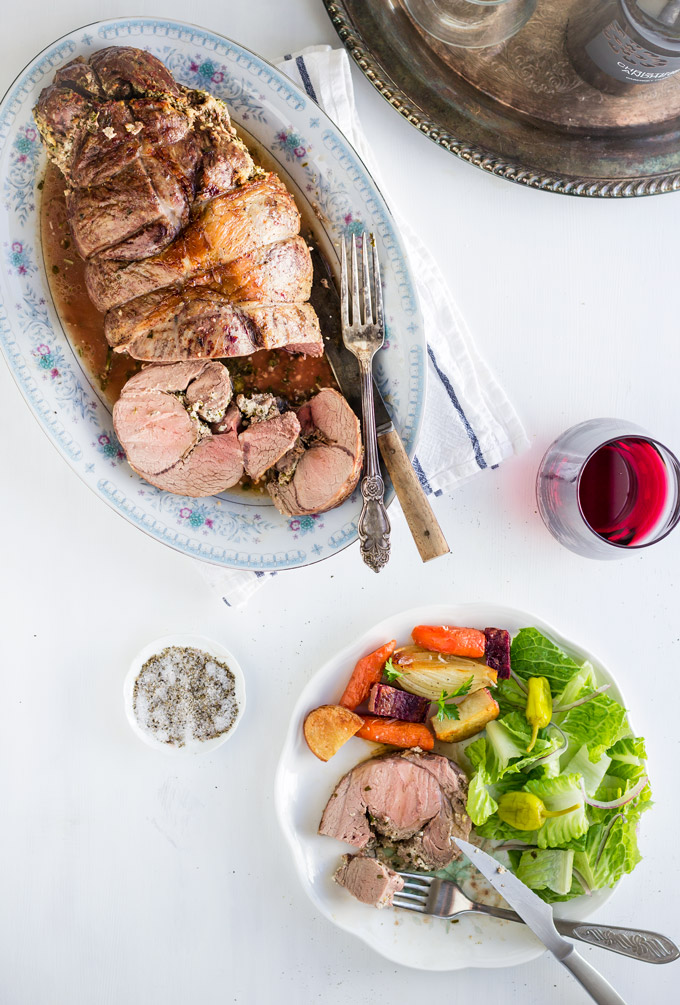 Tips and Tricks for Fresh Herbs and Feta Cheese Stuffed Leg of Lamb:
This recipe is better to make one day ahead. First, to let the lamb absorb all the flavors and aromas of the filling. Second, it saves a lot of time on cooking day.
Always use fresh herbs for the lamb recipes.
Learn how to twine the meat once, and you will always present beautifully shaped pieces of meat. This How to Tie a Roast with a String video from LeCordon Bleu is the BEST!
My leg of lamb was d-boned poorly, so I had to deconstruct it to make a rectangular shape. Make sure to start rolling with the deconstructed part. Twine the roll to make sure filling will stay inside and roll will hold its shape.
ALWAYS let meat come to room temperature (at least 1 hour) before cooking.
Use an instant thermometer to check for doneness. Boneless leg of lamb temperature for medium doneness is 135 F.
I recommend investing in a good expensive instant thermometer. I bought mine MANY years ago, and it serves me well on a daily basis. This Thermapen is a #1 thermometer on the market. It is expensive kitchen gadget but the one you should invest in.
After the lamb is cooked, turn the broiler on high and brown it for 2 minutes. Keep an eye on it. We all have different broilers. Last thing you want to burn and make a fire of twine.
ALWAYS let meat rest before carving.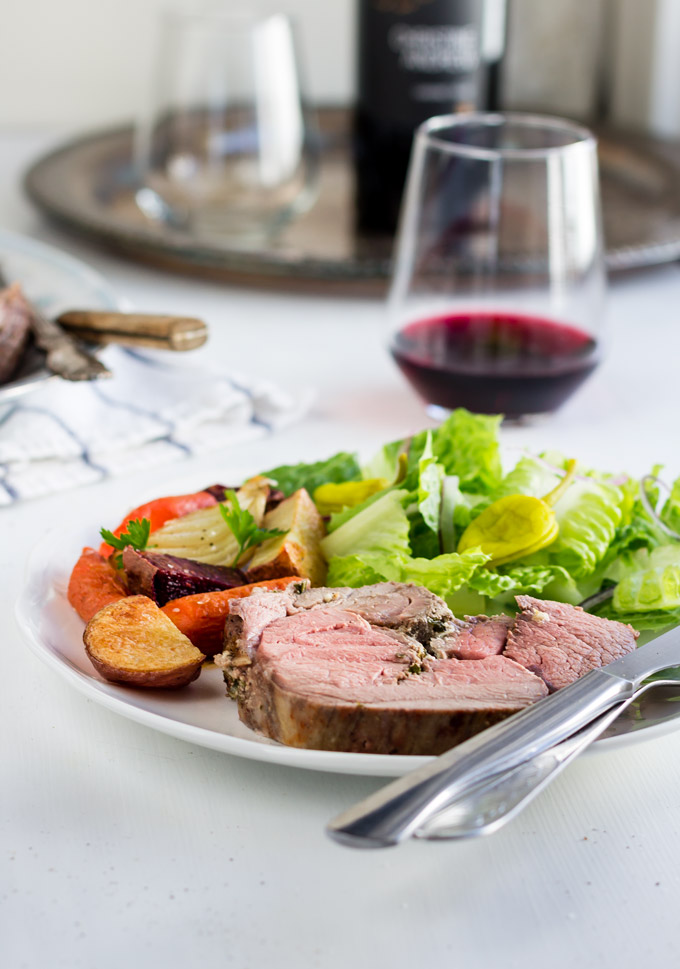 If you make this recipe, please share your picture with me by tagging it #thepuretaste on Instagram. Or share your results in the comment section down below. It means a whole world to me knowing someone is making my recipes.
Thank you for sharing and support 
Maria
Yields: 10 8 oz. servings
Fresh herbs and feta cheese stuffed leg of lamb
30 minPrep Time
1 hr, 40 Cook Time
2 hr, 10 Total Time
Ingredients:
5 lb. boneless leg of lamb
2 tbsp. kosher salt
1 1/2 tbsp. ground black pepper
7 medium cloves of garlic
1 1/2 cups (6 oz. / 170 gr.) crumbled feta cheese
Zest and juice of 1 large lemon
2 1/2 tbsp. extra virgin olive oil
1/2 cup chopped parsley
2 tbsp. chopped fresh rosemary
2 tbsp. fresh thyme
1 tbsp. extra virgin olive oil
½ cup dry white wine
½ cup chicken stock
Instructions:
Wash and dry leg of lamb. Trim any excess fat but do not remove all the fat. Season both sides with salt and pepper. Place the side with the fat down. Butterfly the thicker portions of the lamb to make it evenly thick. Lightly pound the lamb with a meat tenderizer to even it out. If some parts of your lamb are smaller than others, carefully rearrange to make a rectangular shape. My leg of lamb was not d-boned very well, so I had to build the shape on my own. If yours is the same remember to start rolling with the deconstructed part.
To make feta cheese filling:
Pulse garlic cloves in a food processor. Add feta cheese, lemon juice, and olive oil. Pulse couple of time to make a paste. Chop parsley, rosemary, and thyme. Add it to a food processor along with lemon zest. Pulse only until everything comes together.
Using your fingers spread the filling evenly over the lamb. Starting at the shorter end roll the lamb up tightly. Make sure all the small meat pieces go inside. Tie the roast with the twine to secure the shape and filling. Wrap tightly in plastic wrap and refrigerate up to 1 day.
Bring the roast to room temperature before baking, at least 1 hour.
Meanwhile, preheat oven to 425 F and position the rack in the middle of the oven.
Unwrap the lamb, place it in a roasting pan and rub with 1 tbsp. Olive oil. Place the lamb in the oven and lower the temperature to 325 F.
Cook for 1 hour 40 minutes (depending on the size) or until lamb register 135 F for medium.
When lamb reaches the desired temperature turn the broiler on high. Broil the lamb for about 2 minutes to make a beautiful golden brown top. Just keep an eye on it while broiling.
Remove from oven, transfer to a cutting board or plate and cover loosely with foil.
To make the sauce:
Pour all the juices from roasting pan to a medium heavy bottom pan. Remove extra fat with the spoon. Bring to a full boil. Add white wine and chicken stock. Boil for 5-7 minutes or until slightly thickens. Strain the sauce, taste and adjust seasoning.
Remove the twine and slice lamb, about ½ inch thick.
Serve warm with the sauce.
Enjoy!
Notes:
The timing does not include the resting time. Start making this recipe a day ahead.
7.8.1.2
36
https://thepuretaste.com/fresh-herbs-and-feta-cheese-stuffed-leg-of-lamb/
Disclosure: This post contains some affiliate links.  If you purchase a product through one of my links, I will earn a small commission at no extra cost to you. I only recommend products that I use and love myself. Thank you in advance for your support! It means a lot!
Products used in this post: