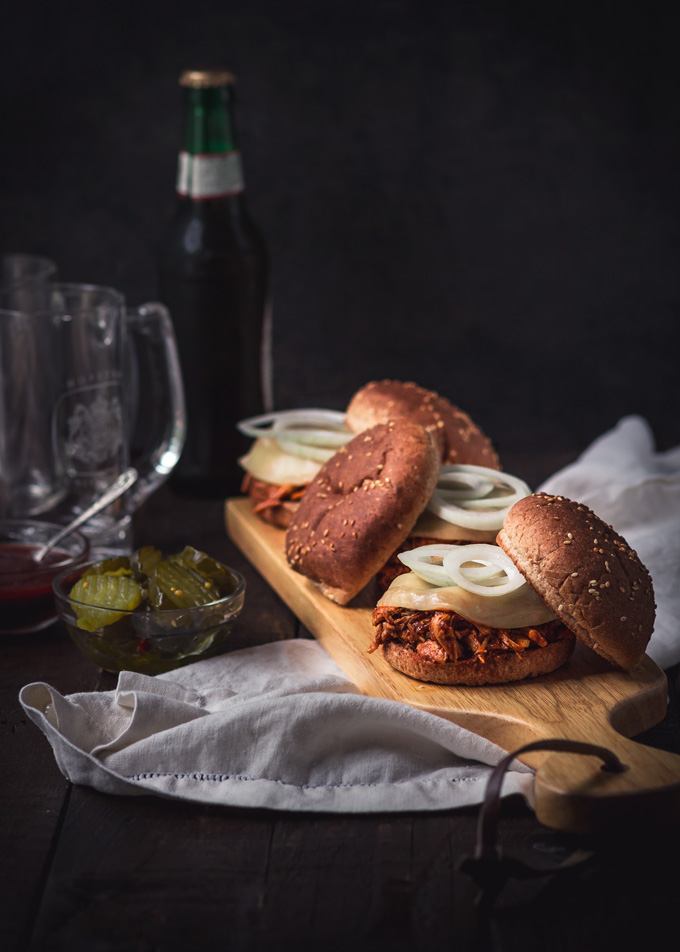 Alright the final recipe in BBQ chicken trilogy: BBQ chicken sliders.
You guys it is so good! Shredded bbq chicken made with homemade full of flavors sauce. Soft slightly toasted whole wheat buns. Creamy, chewy cheese. And a thinly sliced onion. All of these layers combined create the best chicken sliders.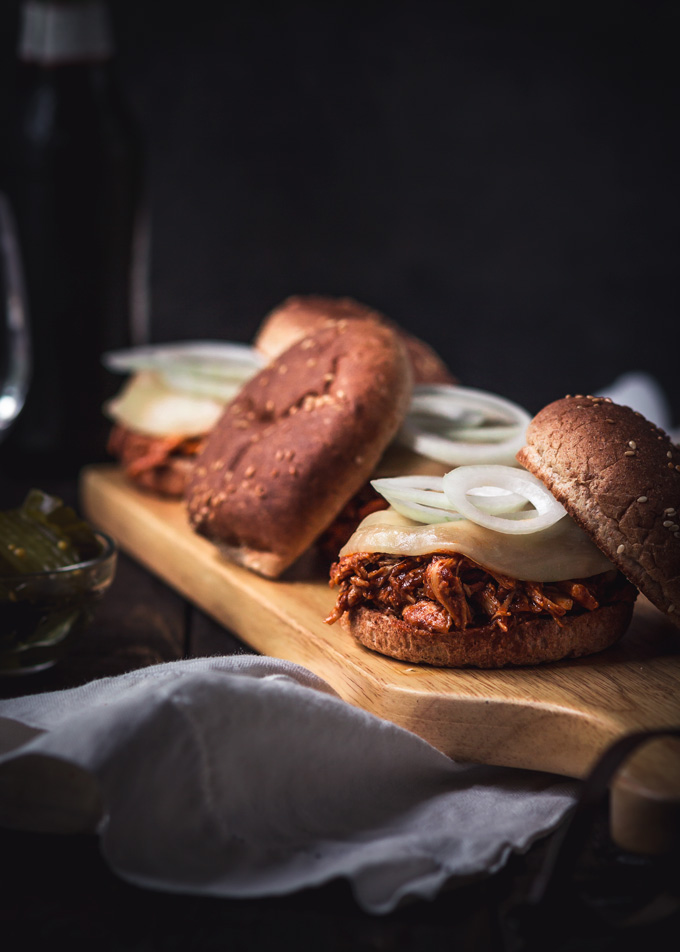 I made it once for a football game party, and it was a real hit. Not that someone can refuse barbecue pulled chicken sliders with melted cheese on top.  But everyone definitely enjoyed and appreciated them.
But don't limit it to parties. These chicken sliders are a regular guest in our house. I usually make it for my husband day-offs. It's the day when he chooses what to do. Often, it is a sports game (soccer most of the time) and finger food. And these chicken sliders definitely make the soccer game more fun to watch. To me of course. So anyways make them whenever you feel like beer and finger food is tonight's dinner. Because food always should match the atmosphere.
About the barbeque chicken sliders recipe. It consists of two previous ones: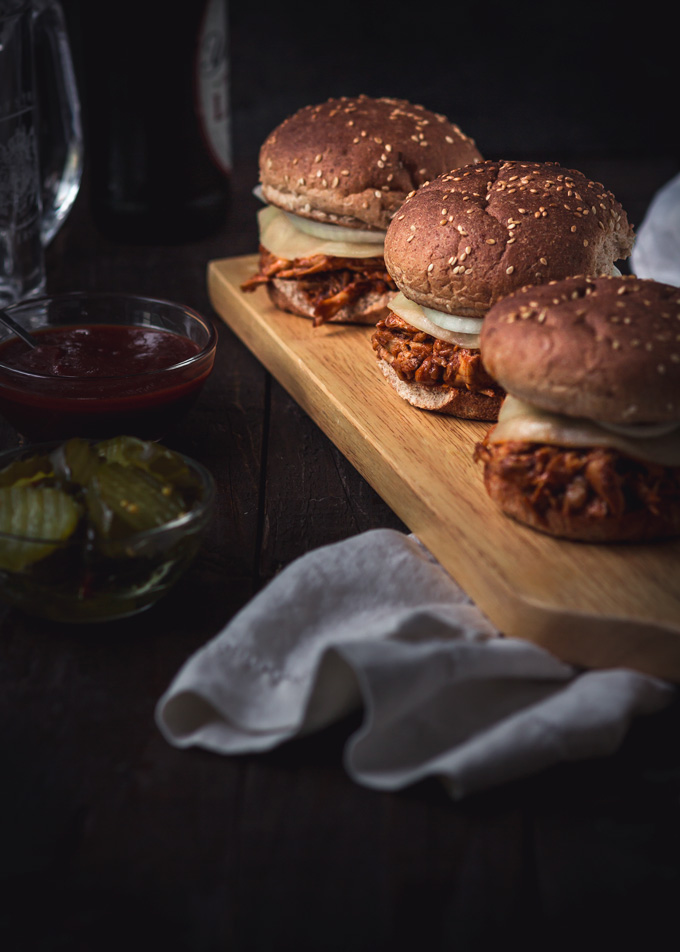 For the BBQ sauce part, you can make the recipe I shared or make your favorite one. If you don't feel making it at all just buy a good one and use it instead.
For the pulled chicken part you have two options: make it in a pressure cooker or in a dutch oven. I included both methods in my shredded BBQ chicken post. Definitely check it out. I'm very proud of that post. It is full of information, tips, and tricks on how easy it is to make shredded chicken at home.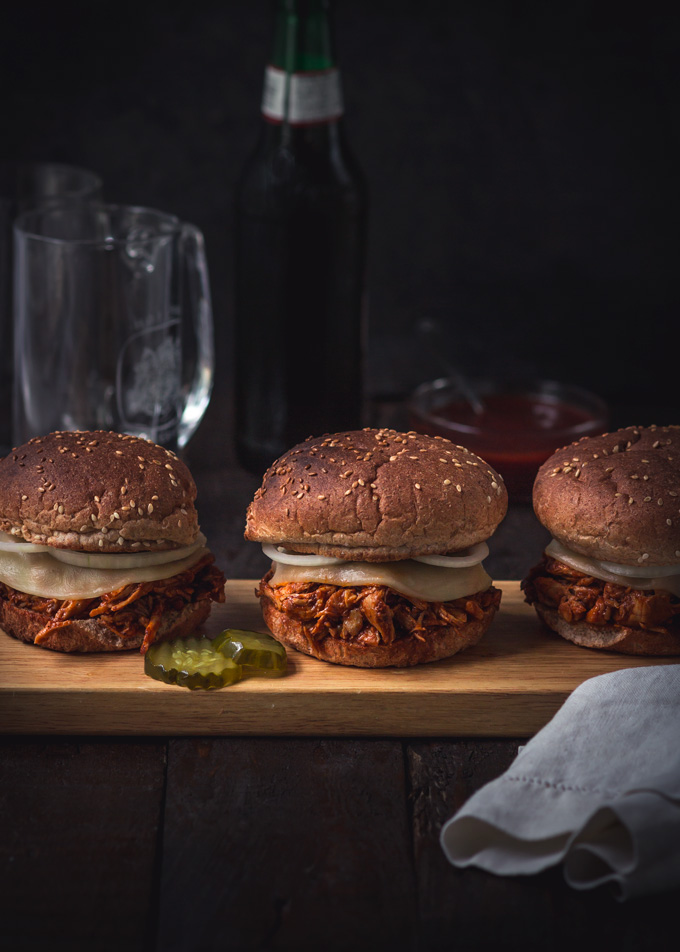 Also, I don't like jumping from one post to another to collect all recipes to print.  For that reason, I will include all three recipes for easy printing option.
If you are ready to make melt in your mouth, full of flavors BBQ chicken sliders, then let's just do it! You are not going to regret it.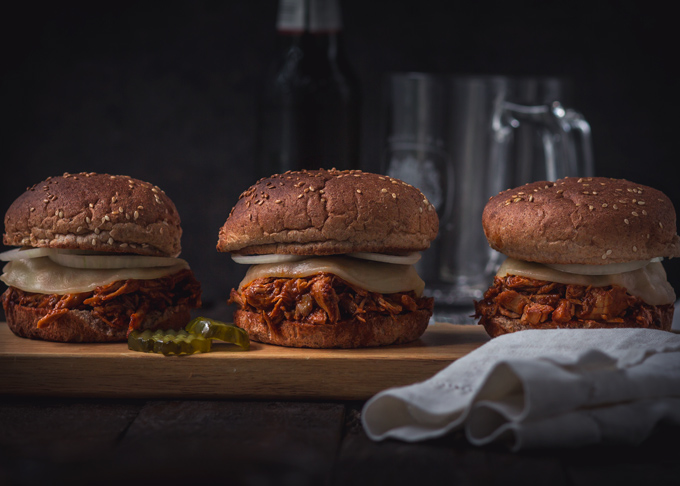 BBQ Chicken Sliders Tips and Tricks:
Cheese option: My favorite is provolone. Other great options are fontina, Muenster, or if you must American cheese.
You can make BBQ sauce and BBQ chicken ahead of time and assemble chicken sliders on the day of serving. Saves tons of time and reduces hassle. Which mean more relaxing time.
Serve them immediately. They become soggy with time.
Best not to refrigerate them. Make as many to feed you and guests.  And leave rest of the chicken for another use.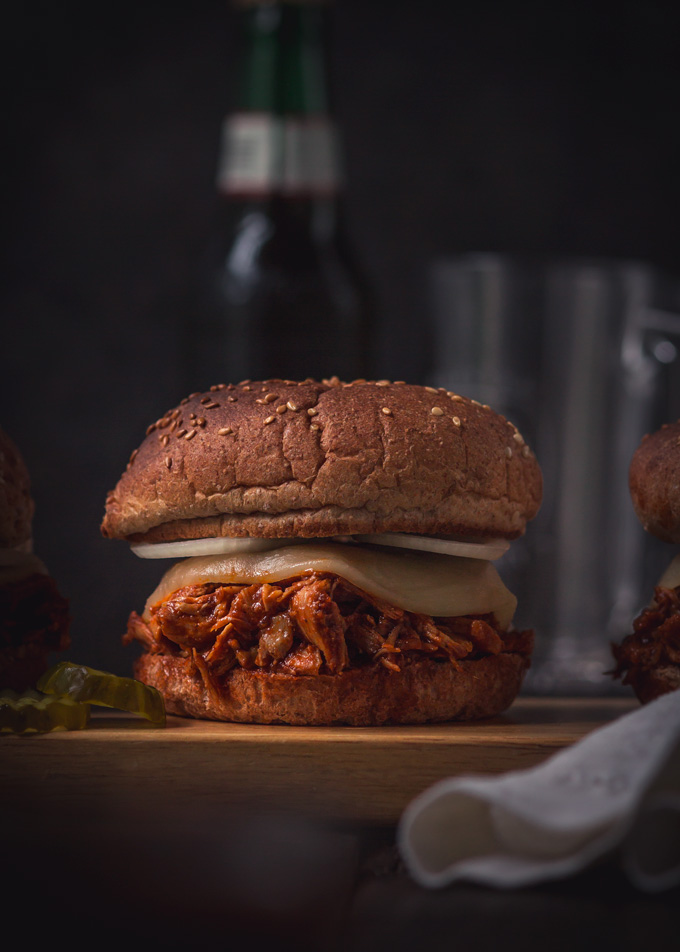 If you make this recipe, please share your picture with me by tagging it #thepuretaste on Instagram. Or share your results in the comment section down below. It means a whole world to me knowing someone is making my recipes.
Thank you for sharing and support ❤️❤️❤️
Maria
Yields: 6 sliders
BBQ Chicken Sliders Recipe
BBQ chicken sliders recipe 2 ways: Instant Pot and Dutch Oven
15 minPrep Time
15 minTotal Time
Ingredients:
Homemade BBQ sauce

1 (15 oz.) can tomato sauce,
1 cup ketchup,
1/2 cup apple cider vinegar,
1/3 cup honey, maple syrup or brown sugar,
1/4 cup molasses,
2 Tbsps. Worcestershire sauce,
1 tsp. smoked paprika,
1 tsp. garlic powder,
1 tsp. onion flakes or 1/2 tsp. onion powder ,
1/2 tsp. red pepper flakes (more or less),
1/2 tsp. salt,
1/2 tsp. ground black pepper,
¼ tsp. ground cinnamon

Pulled BBQ Chicken

1 1/2 - 2 cups homemade BBQ sauce or good quality store bought one
2 split (bone in skin on) chicken breasts (about 3 pounds)
1 teaspoon kosher salt

BBQ Chicken Sliders:

6 whole wheat buns
2 cups pulled bbq chicken
6 provolone cheese slices
½ medium onion, thinly sliced
Instructions:
Homemade BBQ sauce:
In a medium saucepan whisk all ingredients. Bring it to boil over medium heat. Reduce heat to medium-low and simmer uncovered for 15 minutes, or until the sauce has slightly thickened.
Remove from heat. Taste and adjust seasonings.
Can be refrigerated in an airtight glass jar or container up to 2 weeks.
Stovetop pulled BBQ chicken:
Wash and dry split chicken breasts. Sprinkle with salt all over. Place skin side up in the large Dutch oven. Pour 2 cups of your favorite BBQ sauce.
Bring to boil over high heat. Reduce heat to simmer and cook for about 1 1/2 hours.
You may need to reduce or increase the cooking time. It depends on the thickness of chicken breasts. Transfer chicken to a big deep dish or plate. Let chicken cool slightly. When safe to handle, shred it with two forks or your hands.
Instant pot pulled BBQ chicken:
Wash and dry split chicken breasts. Sprinkle with salt all over. Place skin side up in the pot and pour 1 1/2 cups of your favorite BBQ sauce over.
Close the lid and adjust pressure release valve to airtight. Press manual and adjust the time for 25 minutes. Allow the cycle to complete. Turn off the keep warm mode and allow pressure to release naturally. After 15 minutes carefully remove the lid and turn pressure cooker off.
Transfer chicken to a big deep dish or plate. Let chicken cool slightly. When safe to handle, shred it with two forks or your hands.
BBQ Chicken Sliders:
Toast whole wheat buns. Divide 2 cups of chicken among 6 buns. Top with cheese. If chicken is hot the cheese with melt slowly. If chicken is warm, place sliders with cheese on cooking tray and broil for about 1-2 minutes. Keep an eye on them. Cheese melts very fast. Top with sliced onion and bun.
Enjoy!
Notes:
Please note! The total time includes assembling chicken sliders only. The whole timing depends on which way you choose to cook chicken and BBQ sauce.
7.8.1.2
56
https://thepuretaste.com/bbq-chicken-sliders-recipe/
Disclosure: This post contains affiliate links, which collects some cookies.  If you purchase a product through one of my links, I will earn a small commission at no extra cost to you. I only recommend products that I use and love myself. Thank you in advance for your support! It means a lot!
Products used in this post: