This easy to make Muffuletta Sandwich Recipe is a must for the Italian antipasto lovers. It is made of muffuletta bread infused with olive oil dressing, layers of gorgeous Italian cold cuts and Italian cheeses. Make it a day ahead to save some time because this New Orleans pride gets better as it sits.
What is a Muffuletta anyway?
Muffuletta is a name for both a type of the Italian bread and New Orleans sandwich that is made with this bread.
The muffuletta bread is soft round Italian bread with sesame seeds. It is not widely accessible outside of New Orleans. If you cannot find it use any bread that is crusty on the outside and soft on the inside. My choice is ciabatta, focaccia or recently found in Costco artisan burger buns that became my favorite choice for sandwiches and burgers.
The muffuletta sandwich was created in 1906 by Salvatore Lupo in New Orleans, Louisiana. Fast it became famous New Orleans sandwich.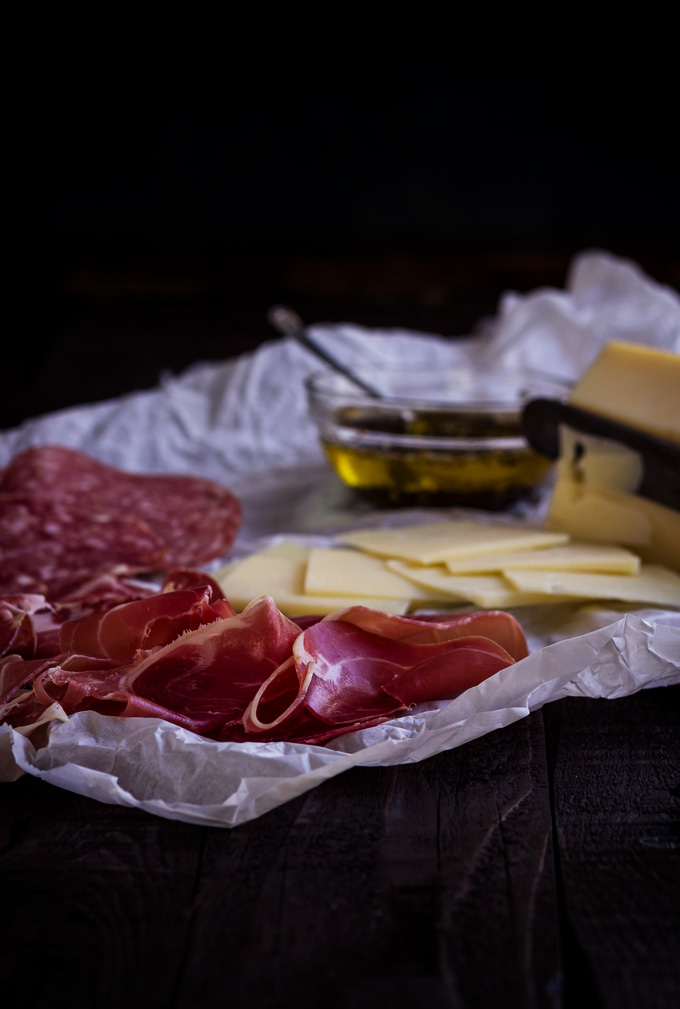 A traditional muffaletta sandwich recipe consists of olive salad and layers of Italian cold cuts and cheeses. However, as much as I love original muffaletta sandwich, I found olive salad to be somewhat too much.
Also, the long ingredient list in the sandwich recipe is such a turn away. This is what I felt when I discovered authentic muffuletta recipe. I was intrigued and discouraged at the same time. The long list of the olive salad dressing wasn't exciting at all. But I wanted to make this Italian sandwich badly because I'm a huge fan of Italian antipasto. Every time I'm in Italian shop I buy a different selection of charcuterie. The first choice is usually to enjoy it with a nice glass of wine, and my next option is expensive and impressive antipasto sandwich.
So I simplified muffaletta recipe to make life easier and tastier. The result is delicious and easy to make olive oil dressing infused with garlic, oregano, red pepper flakes and other fragrant add-ons. With this easy muffuletta recipe, you can use your gorgeous selection of Italian antipasto without any extra hassle.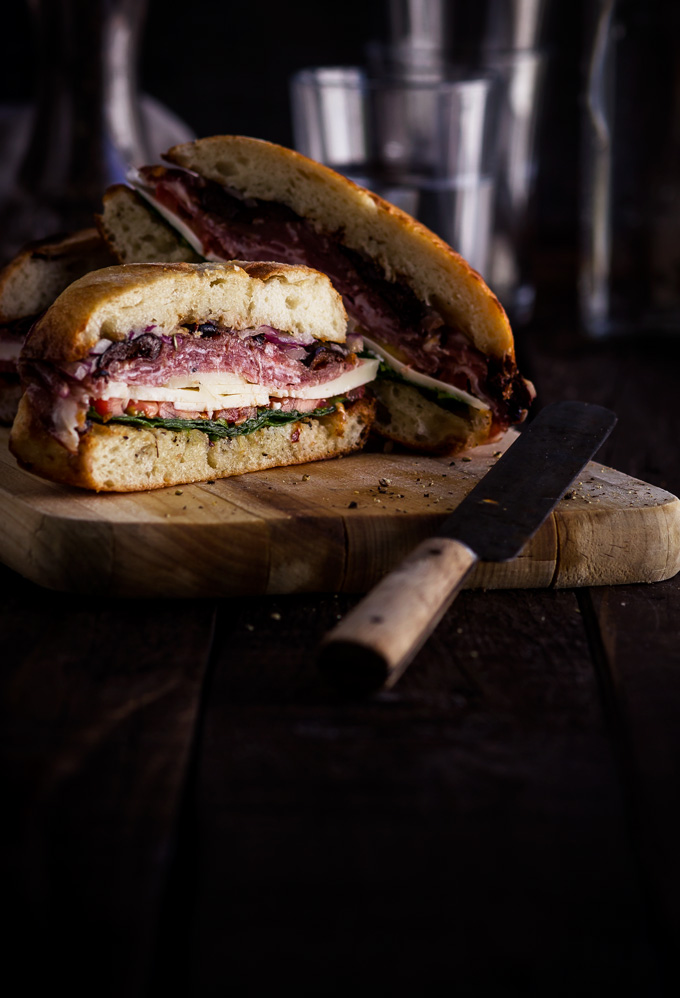 As with any sandwich adjust and adopt layers to your liking. Of course, changing the original olive dressing doesn't make an authentic muffuletta sandwich, but it does make an impressive cold cut sandwich!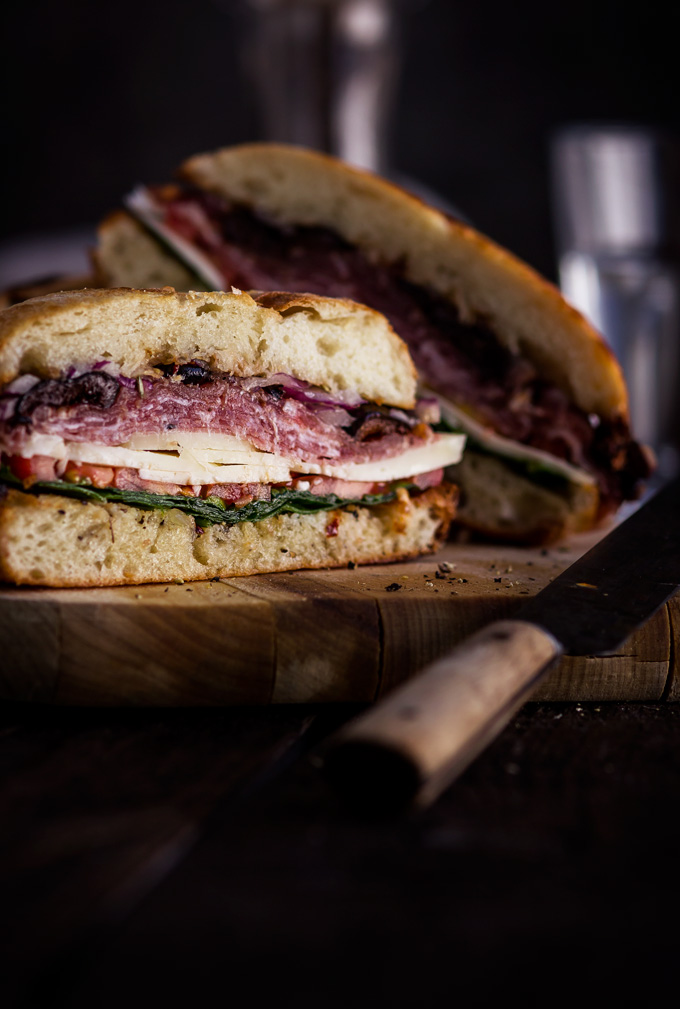 The key ingredient to the best muffuletta sandwich is patience. I know it is difficult to put aside this sandwich for a while, but resting and pressing is what makes a sandwich to go from good to one of a kind. While the sandwich under the press, bread is slowly soaking all the fragrance and taste form olive oil dressing. So make it a day ahead at evening and put it in the fridge. Next day your patience will be rewarded!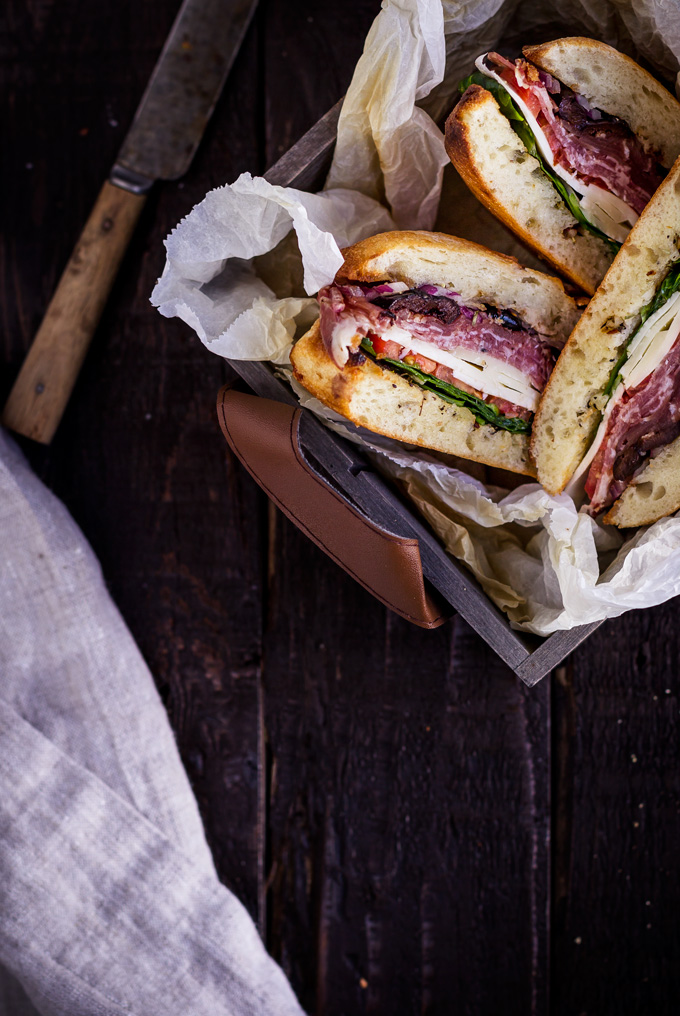 There is no better summer sandwich then muffuletta. Make it overnight and take with you to a beach, picnic, road trip, you name it. Or make it for a party to feed an entire crowd. Anyway, this is easy to make a sandwich that steals the show!
Happy Cooking 😉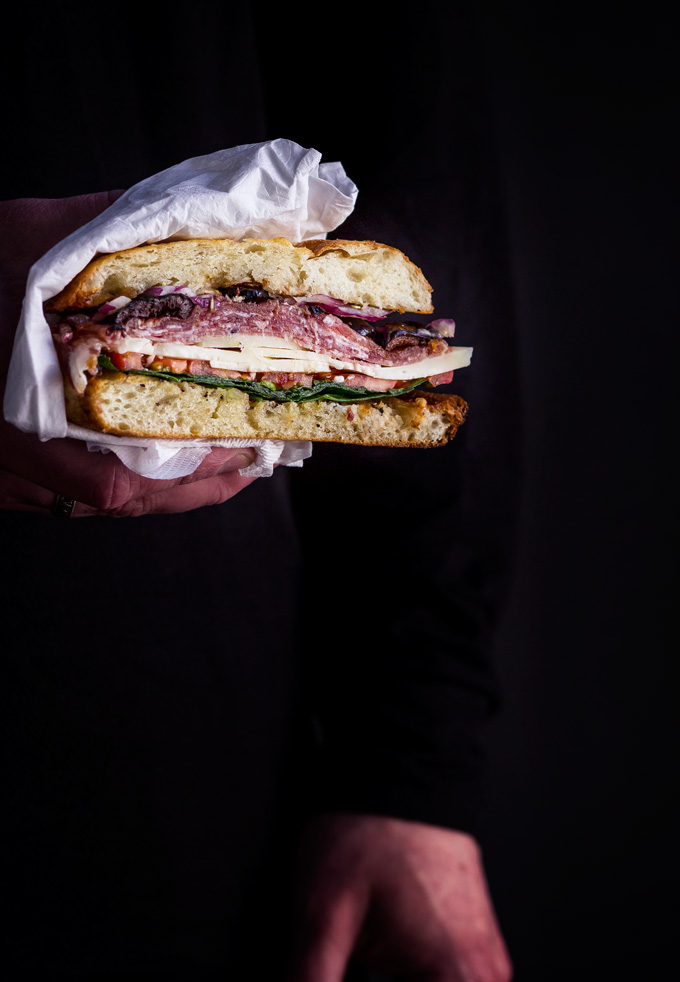 Tips and Tricks on how to make a muffuletta sandwich recipe:
Resting time is crucial. It lets all layers come together while bread absorbs all the juices from ingredients. Don't skip on pressing step.
The Italian charcuterie selection in the ingredient list is just a suggestion. Use your favorite Italian cold cuts and cheeses. Salumi 101: Your Guide to Italy's Finest Cured Meats guide will help you to choose the right selection.
Muffuletta bread substitutions: ciabatta, focaccia or any other crusty on the outside and soft on the inside bread or buns.
Toast the bread slightly. This prevents sandwich from becoming too soggy.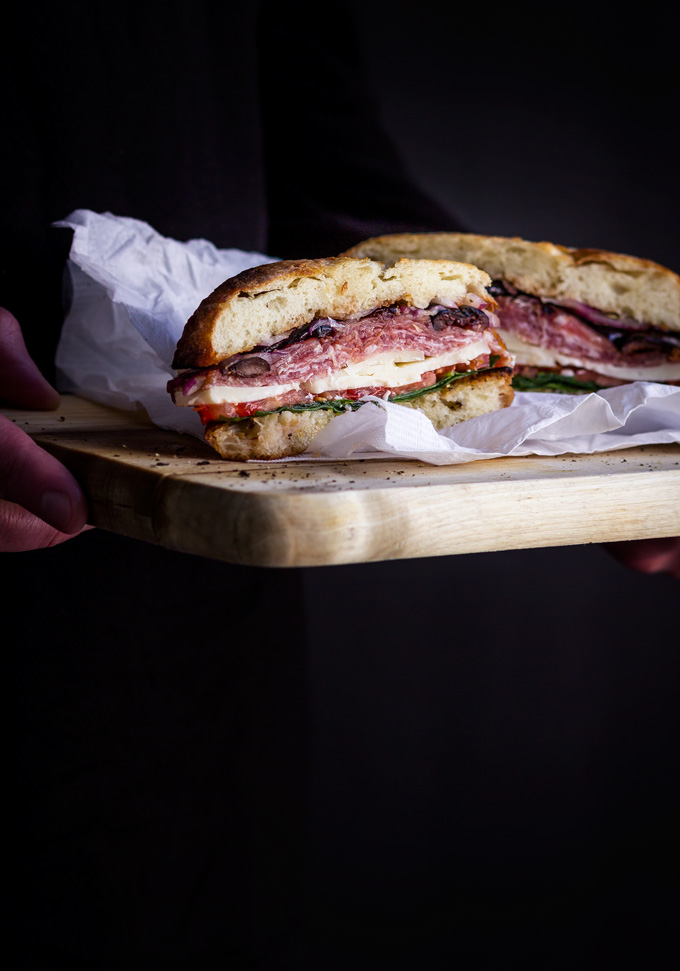 If you make this recipe, please share your picture with me by tagging it #thepuretaste on Instagram. Or share your results in the comment section down below. It means a whole world to me knowing someone is making my recipes.
Thank you for sharing and support ❤️❤️❤️
Maria
Yields: 1 large bread or 4 regular size sandwiches
Famous New Orleans Easy Muffuletta Sandwich Recipe
25 minPrep Time
25 minTotal Time
Ingredients:
For Olive oil dressing:

1/3 cup extra-virgin olive oil
1 teaspoon red pepper flakes
¾ teaspoon dried rosemary
3/4 teaspoon dried oregano
½ teaspoon ground black pepper
2 garlic cloves, minced
1 ciabatta bread, or focaccia or 4 sandwich buns
1 ½ cups fresh greens (arugula, or lettuce, or mixed greens)
2 medium tomatoes, sliced
4 large or 16 small cheese slices of your choice (usually provolone and/or mozzarella)
Your selection of Italian charcuterie, example:
8 soppressata slices
8 salami slices
12 coppa slices
4 prosciutto slices
½ cup black dry olives
½ red onion, sliced
1 teaspoon kosher salt
Instructions:
1. In a small bowl combine extra virgin olive oil, red pepper flakes, dried rosemary, dried oregano, ground black pepper, and garlic. Mix and let it sit for 15 minutes while you prep rest of the layers.
2. Cut bread in half. Slightly toast it under the broiler or on a grill. Brush both insides with the olive oil mix.
3. Place a handful of greens, then tomato slices. Sprinkle with kosher salt. Continue with cheese, then antipasto selection, then olives, then sliced red onion. Top with the second half of the bread.
4. Wrap super tightly with plastic wrap. Arrange on a baking sheet or plate so it will catch any drippings. Place a cutting board on top of sandwiches. And put something heavy, like brick or cast iron pan, on top of cutting board. Refrigerate the whole construction overnight or at least 4 hours.
If you used the whole bread, cut into desired serving sizes and savor!
Notes:
Total Time does not include resting time, which is 4 hours to overnight.
7.8.1.2
45
https://thepuretaste.com/muffuletta-sandwich-recipe/