A quick pop with this beautiful cucumber and avocado sandwich. In about 15 minutes you have a healthy vegetarian sandwich full of flavors and vitamins to enjoy. Even though it is a veggie sandwich, it will keep you full and satisfied for many hours.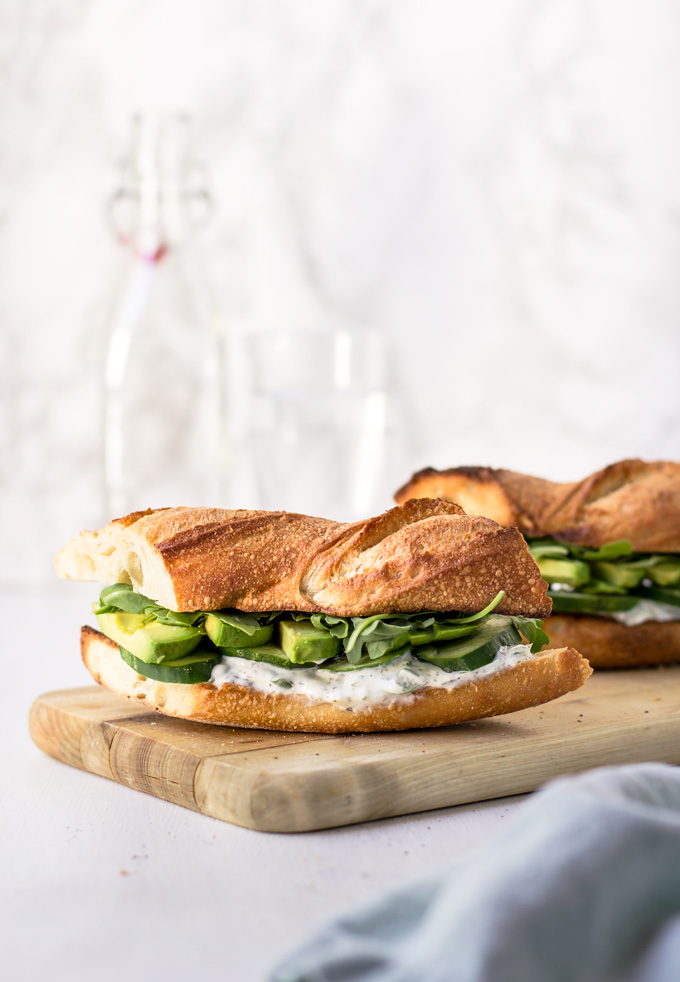 I never thought a vegetarian sandwich could be delicious. The idea of all veggies and no meat in sandwich always made me suspicious. For that reason, I have never ordered any vegan sandwiches in my life.
But then on Pinterest, I saw the gorgeous green goddess sandwich, and the flavor ideas started spinning in my head. The last thing that pushed me to create a green sandwich was my love for cucumbers. No doubts the crispy pickling cucumber is my favorite vegetable. Every summer I wait for the seasonal local cucumbers at Wilson Farm. Then I fill the whole bag hoping to make homemade pickles. But by the time I'm ready, the bag is already empty. Same story every season. No matter how many pounds I buy, I will eat them all.
Not only is it tasty but also a healthy sandwich. If you care about your diet, you already know how vital green vegetables are. Basically, almost all green vegetables are your daily multivitamin. Add the yogurt, and you are doing a huge favor to your metabolism. If you want to know more about each ingredient click on the links below. I trust these sources. Plus, they make pretty short but informal posts to have a general idea.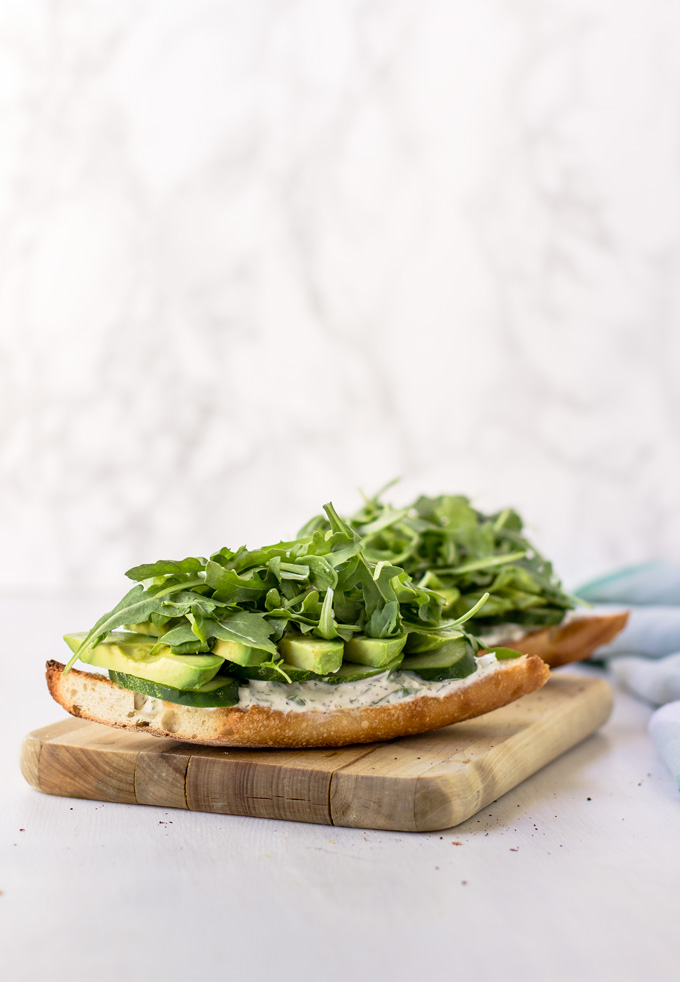 The only "evil" ingredient in this veggie sandwich is bread. But my love for a good artisanal bread has never concerned me how unhealthy it is. To tell you the truth I believe eliminating bread without a good medical reason is unnecessary and ludicrous. Buy the local in-house made fresh bread, preferable sourdough and enjoyed it without too much thinking.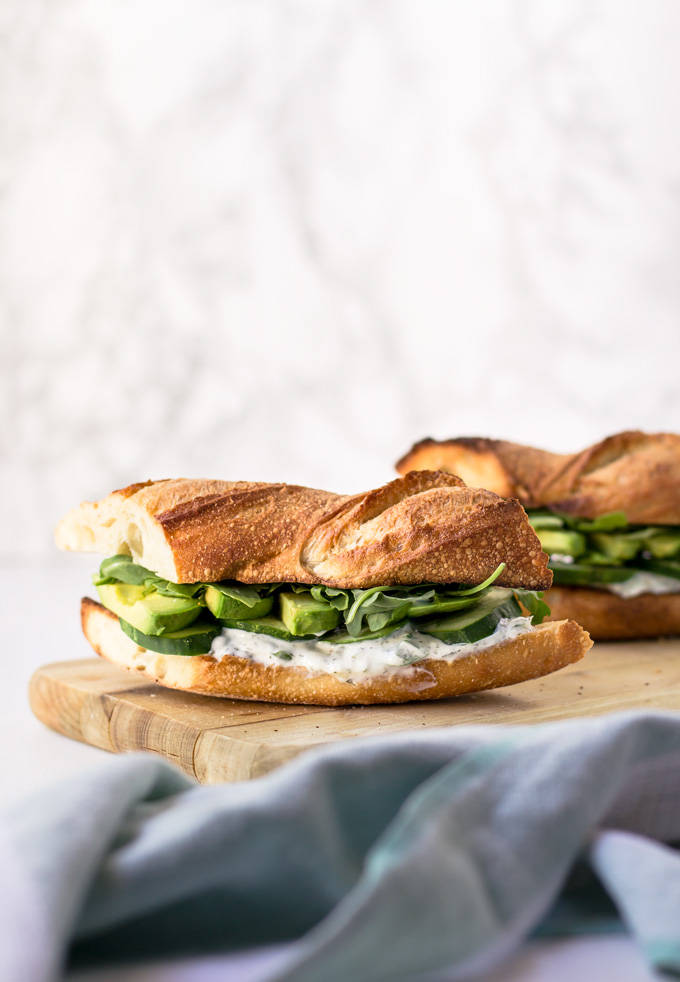 And the last thing I want to touch is the yogurt spread. So simple, fresh, tasty and HEALTHY. We liked it so much that now I make it as a dip on a regular basis. If you like this dip idea, reduce lemon juice for thicker consistency. Every time I make it I can't stop tasting it. Usually, almost half is gone by the time I serve it. Simple ingredients = great flavors…
This supposed to be a short post. What can I say, I can talk and talk about the food. Especially about good food. This cucumber and avocado sandwich definitely falls under great food category. Give this sandwich with avocado a chance. I was surprised how delicious and luscious vegetarian sandwich can be. Hopefully, you will too.
Happy Cooking 😉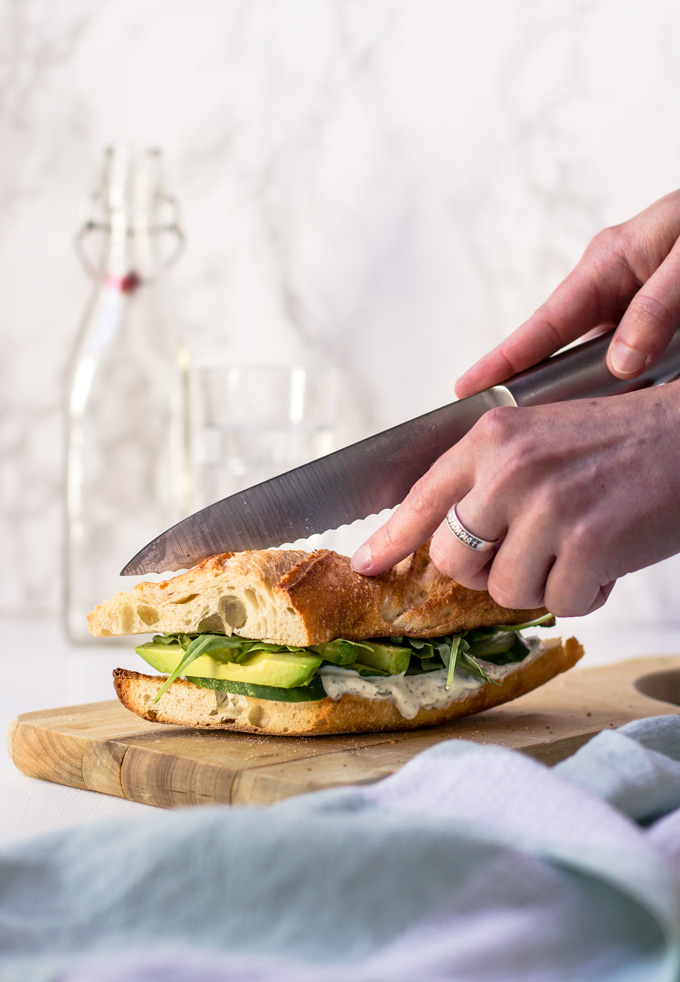 Vegetarian Avocado Sandwich Tips and Tricks:
Use thick whole milk yogurt for the yogurt spread. I use Stonyfield double cream whole milk yogurt.
To make a dip instead of spread, reduce lemon juice to one tablespoon.
Add your favorite spices or seeds to yogurt spread, like sesame seeds or dried turmeric.
Use your favorite artisanal bread. I used a sourdough baguette. And already thinking to make it with multigrain bread.
This cucumber sandwich does not store well. It is better to eat it the same day you make it.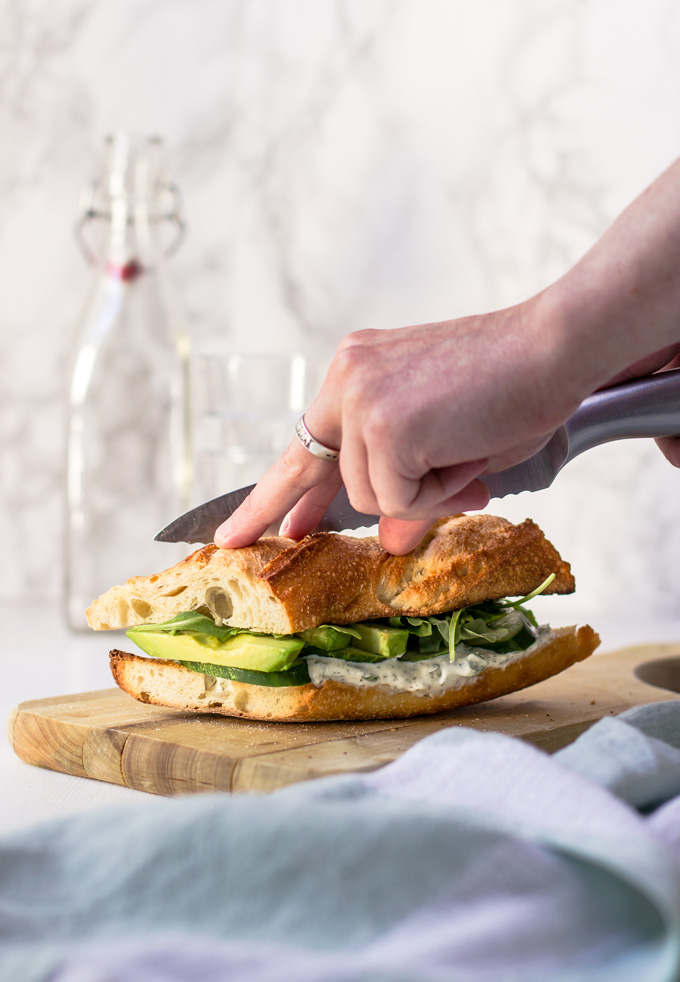 If you make this recipe, please share your picture with me by tagging it #thepuretaste on Instagram. Or share your results in the comment section down below. It means a whole world to me knowing someone is making my recipes.
Thank you for sharing and support ❤️❤️❤️
Maria
Yields: 4 sandwiches
Healthy Vegetarian Cucumber and Avocado Sandwich
Healthy vegetarian cucumber and avocado sandwich
15 minPrep Time
15 minTotal Time
Ingredients:
For the yogurt spread:

1 cup thick whole milk plain yogurt
1 large garlic clove, minced
2 scallions, thinly sliced
½ lemon, juiced (about 2 tablespoons)
1 ½ teaspoons dried dill
¾ teaspoon kosher salt
1/8 teaspoon ground black pepper
Optional add-ons: sesame seed, dried turmeric, or your favorite spices and/or seeds

For the green sandwiches:

8 slices of your favorite bread
4 medium cucumbers, sliced
2 medium ripe avocados, sliced
2 cups fresh arugula
Instructions:
For the yogurt spread:
Combine all ingredients in a medium bowl. Taste and adjust to your liking.
For the green sandwiches:
Toast the bread.
Spread the yogurt spread evenly on one side (bottom) of the bread. Arrange sliced cucumbers on top. Sprinkle with some salt. Layer sliced avocados. Top with fresh arugula and the second half of the bread.
Enjoy.
7.8.1.2
54
https://thepuretaste.com/cucumber-and-avocado-sandwich/