This Rotisserie chicken wrap with Greek yogurt dressing is a saver for busy weeks. When you work too many hours and don't have enough energy to prep meals this chicken wrap will save your day. It is super easy to make, includes light and healthy ingredients, and you need about 10 minutes to put everything together!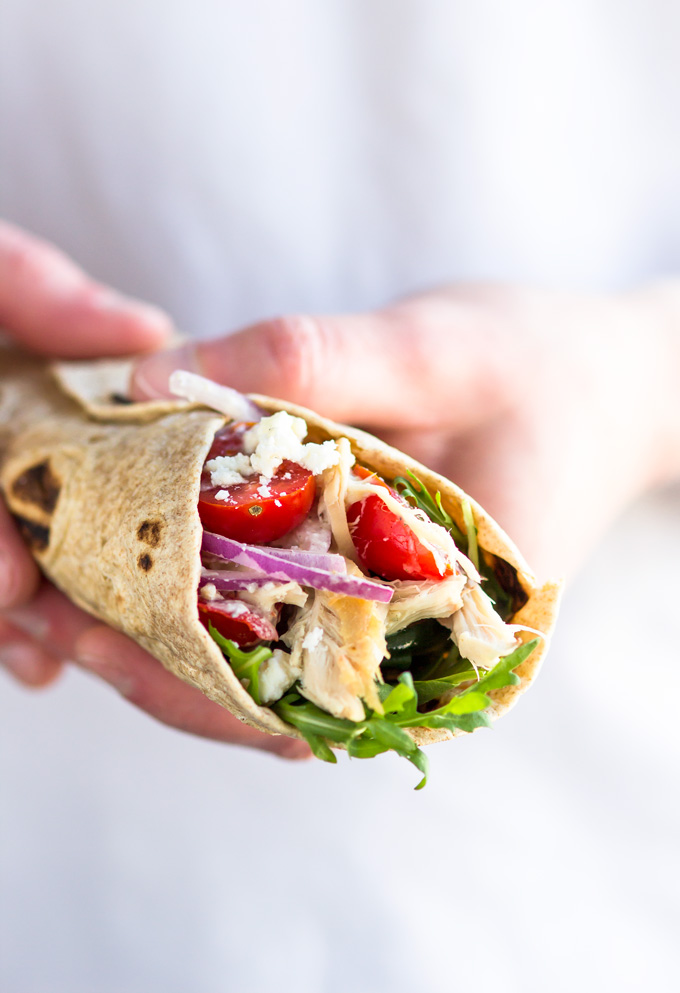 Today I want to share with you the fourth recipe from the 5 Easy Recipes with leftover rotisserie chicken project.
About 5 Easy Recipes with leftover rotisserie chicken project:
Rotisserie chicken has been a big saver for us on busy weeks. Yet, pretty fast it became boring eating it plain with salad or vegetables on a side. I decided to create easy and fun recipes with a leftover rotisserie chicken that requires less than 30 minutes of active time. If you have cooked leftover chicken, by all means, use it instead of rotisserie chicken. The idea is the same. Quick and easy meals with rotisserie or any leftover chicken.
Previous recipes from the 5 Easy Recipes with a leftover rotisserie chicken project:
Have you ever made a sandwich that tastes far better than in a deli shop or café? This Rotisserie chicken wrap with Greek yogurt dressing is from this category. It looks good, taste great, minutes to make and very healthy!
You can prep it a day ahead, wrap it in parchment paper and take it to work next day, or to a picnic, or simply enjoy it in the middle of the busy day.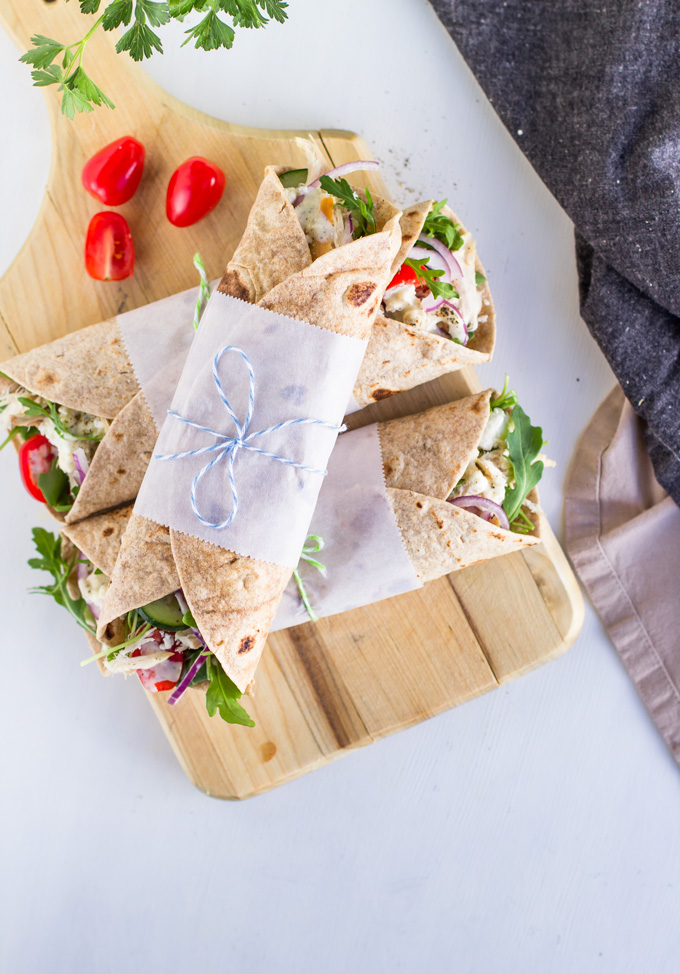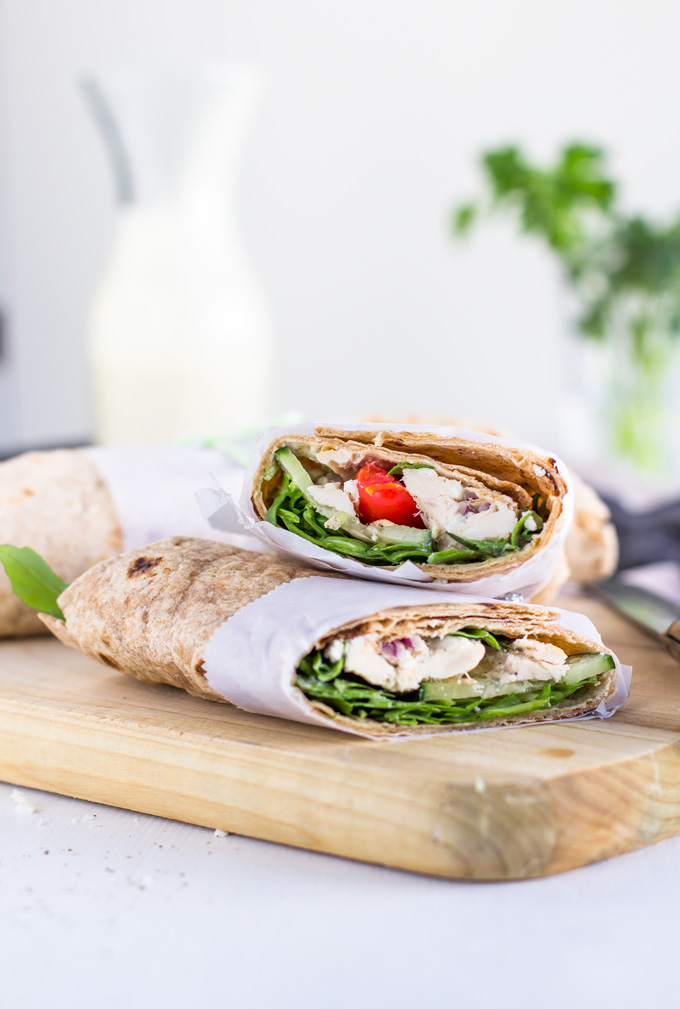 I like this recipe for simplicity. What can be simpler then piling the veggies, protein, make a dressing and wrap it all up? Plus, it is a perfect way to use up any leftover rotisserie chicken. Sometimes you have just a little amount of cooked chicken left that is not enough for dinner, but perfect for lunch. So use it to make a Greek style chicken wrap.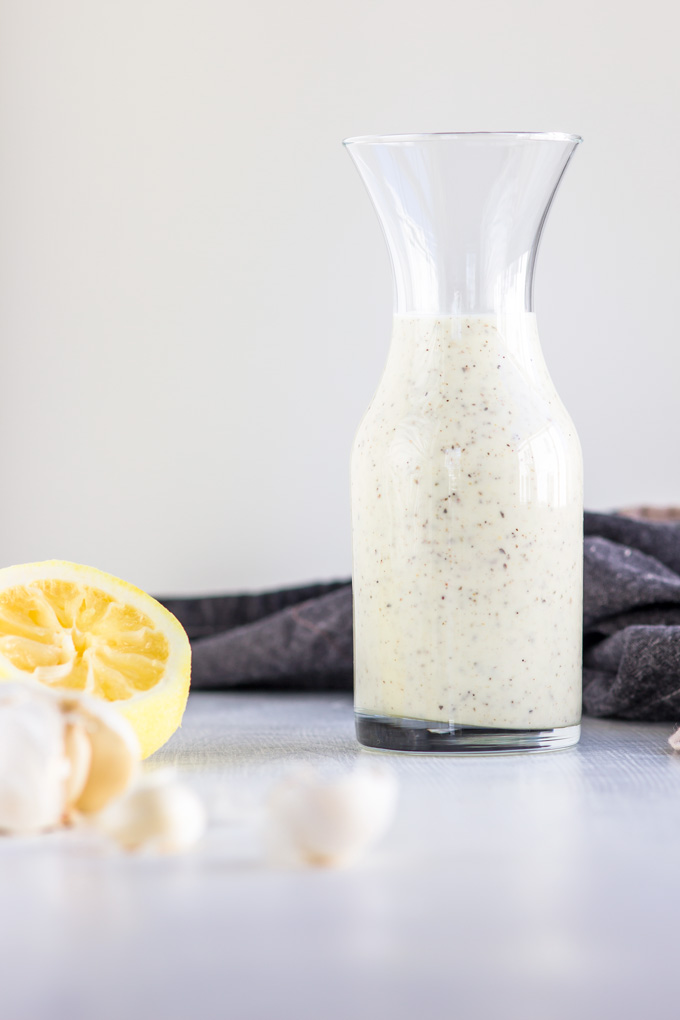 I also created a healthy Greek Yoghurt Dressing to go with this chicken wrap. It is entirely free of mayo, packed with nutritious ingredients, and can be used as salad dressing. With a few pulses in your food processor, you have a healthy dressing to enjoy with sandwiches or salads.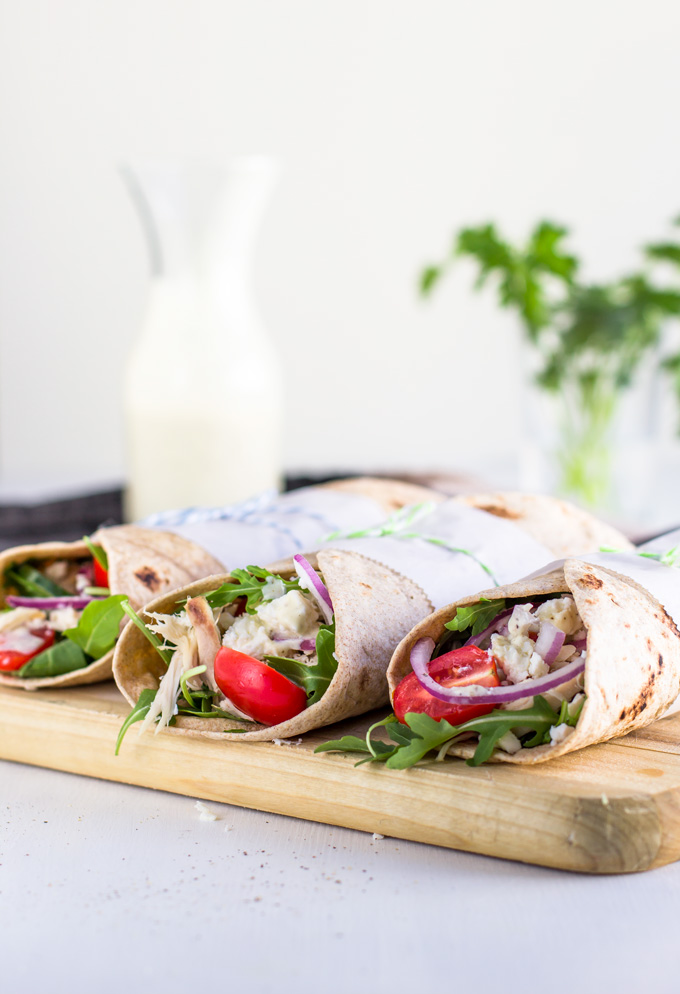 So there you have Rotisserie chicken wrap with Greek yogurt dressing to keep you healthy and satisfied throughout the day.
Happy Cooking 😉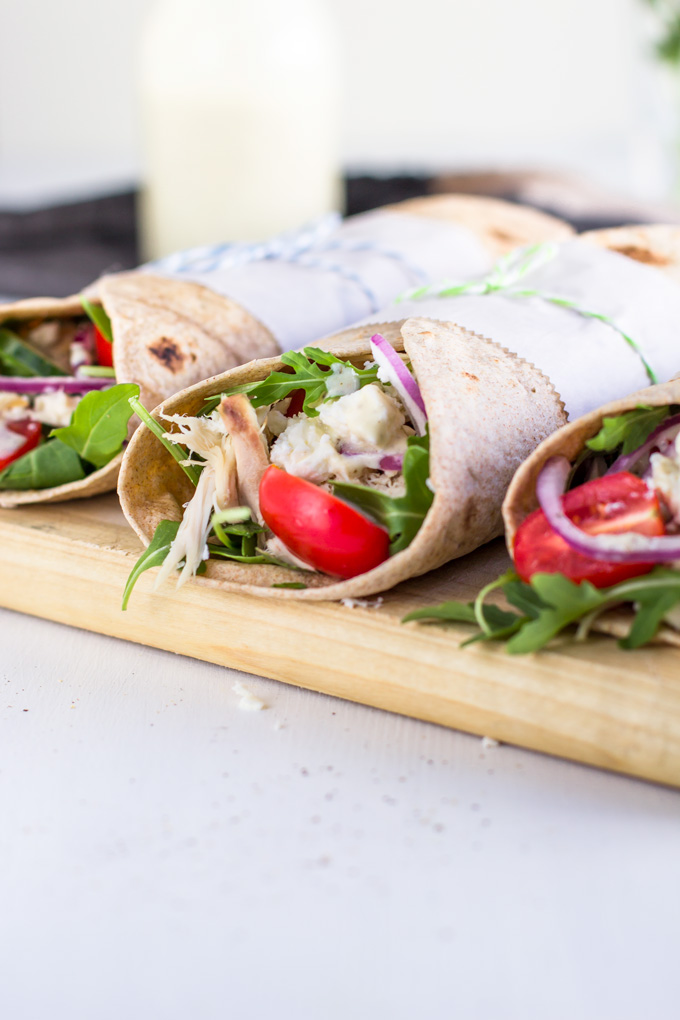 Tips and Tricks for Rotisserie Chicken Wrap with Greek Yogurt Dressing:
Please note depending on your wrap size you may need to adjust ingredients. With the following ingredients, you can make six small 8 inch wraps.
The Greek yogurt dressing is also good for salads. Add a little water to thin it out.
When I eat wrap at home, I pile a lot of filling. For pic nicks or to-go add the right amount so you can wrap it and secure all the fillings.
Most of the times I prefer whole wheat wrap. You can also sub it for pita, lavash or bread.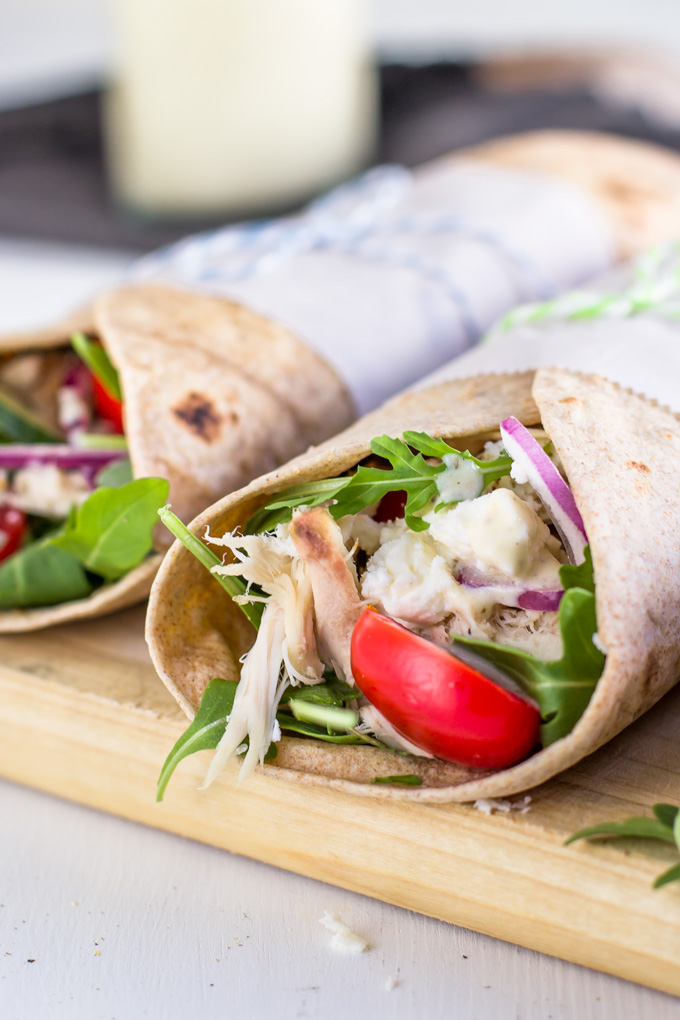 Maria
Yields: 6 8-inches wraps
Healthy Rotisserie Chicken Wrap with Greek Yogurt Dressing
10 minPrep Time
5 minCook Time
15 minTotal Time
Ingredients:
For the Greek Yoghurt Dressing:

2 garlic cloves, chopped
1 tsp. dried oregano
½ lemon, juiced
½ cup Greek yogurt
¼ cup extra virgin olive oil
Salt and pepper
Water as needed

For the Wrap:

6 small 8 inch whole wheat wraps
1 small Arugula package
½ English or any other cucumber, sliced
3 cups Rotisserie chicken
1 ½ cups Cherry tomatoes, halved
½ Red onion, thinly sliced
1/3 cups Olives (optional)
1 ½ cups Crumbled feta cheese
3 tbsps. Parsley, chopped
Salt and Pepper
Instructions:
To make the dressing:
Place all ingredients in the food processor. Pulse couple of times. Taste and adjust seasonings. Thin it out with water if needed. Keep refrigerated up to 5 days.
If you don't have a food processor. Chop garlic, add the rest of ingredients and mix with the whisk.
To make a wrap:
Place wrap on the plate. Spread arugula, sliced cucumbers, shredded rotisseries chicken pieces, cherry tomatoes, red onion, olives (optional). Sprinkle with crumbled feta cheese and chopped parsley. Add salt and pepper. Pour 2 tbsps. of Greek yogurt dressing. Starting at one edge tightly roll up the wraps.
Enjoy.
7.8.1.2
38
https://thepuretaste.com/rotisserie-chicken-wrap-with-greek-yogurt-dressing/
If you make this recipe, please share your picture with me by tagging it #thepuretaste on Instagram. Or share your results in the comment section down below. It means a whole world to me knowing someone is making my recipes.
Thank you for sharing and support ❤️❤️❤️