This Rotisserie chicken enchiladas recipe is a part of my 5 Easy Recipes with leftover rotisserie chicken project. It is extremely easy to make, can be adjusted to a family-friendly meal and healthier alternative to takeouts.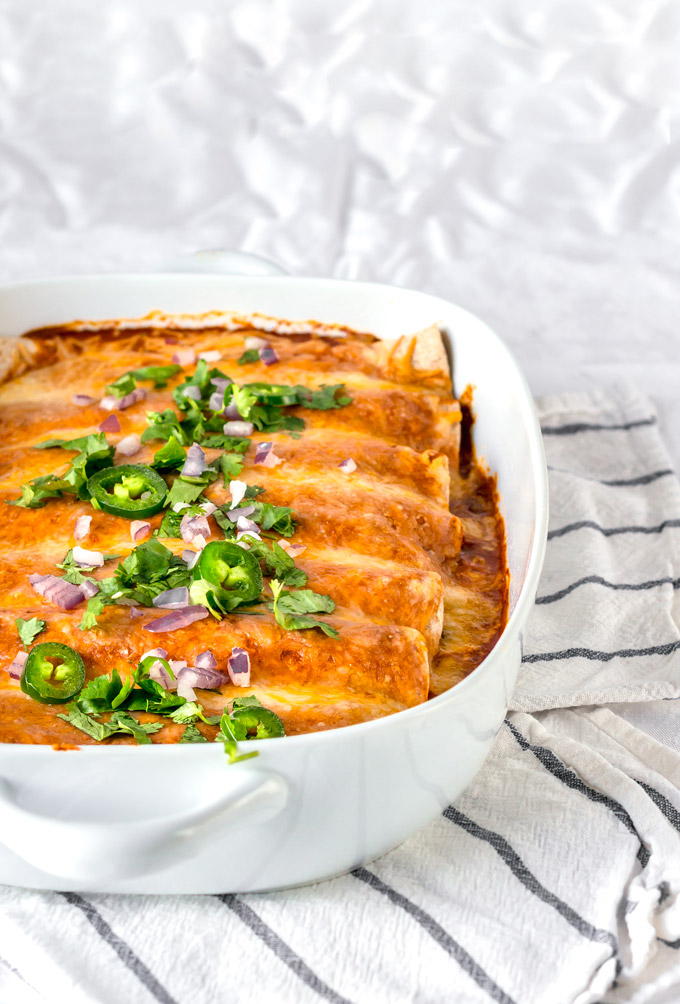 Little about 5 easy recipes with leftover rotisserie chicken project:
Rotisseries chicken has been a big saver for us on busy weeks. Yet, pretty fast it became boring eating it plain with salad or vegetables on a side. That is why I decided to create easy and fun recipes with a leftover rotisserie chicken that requires less than 30 minutes of active time. If you have cooked leftover chicken, by all means, use it instead of rotisserie chicken. The idea is the same. Quick and easy meals with rotisserie or any leftover chicken.
The first recipe is Rotisserie chicken enchiladas with a simple homemade enchilada sauce. A comforting quick and easy dinner for the busy days we all have.  A much healthier alternative to take out.  The active prep time will take the same amount as takeout delivered to your door. Or even less then you going to pick it up. Not to mention so much cheaper.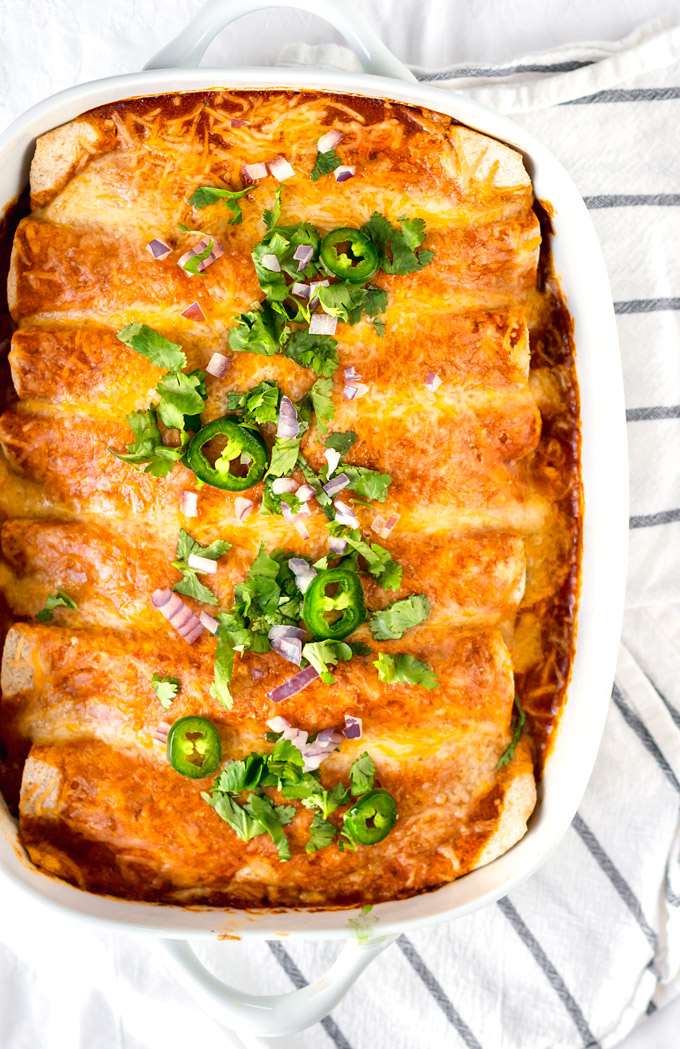 Enchiladas are on my quick and easy dinner recipes list. The prep time takes only about 15-20 minutes depending on how fast you roll them up. The cooked rotisserie chicken saves even more time which is a huge bonus to this recipe.
The quantity of enchiladas depends on the size of tortillas and the amount of filling you put in. I use 8-inch tortillas and put a good spoonful amount of filling. This yields about 7 enchiladas. Experiment and you will find your magic number.
The recipe yields total of 3 servings for 2 people. If you make a double batch and freeze one (the instruction in tips and tricks) that makes 6 servings! We put a lot of sour cream on top of our enchiladas. This is the Ukrainian nature, and we can't and don't want to get rid of this habit. So because of the beans, chicken and sour cream, one enchilada is always enough for me and even for my husband.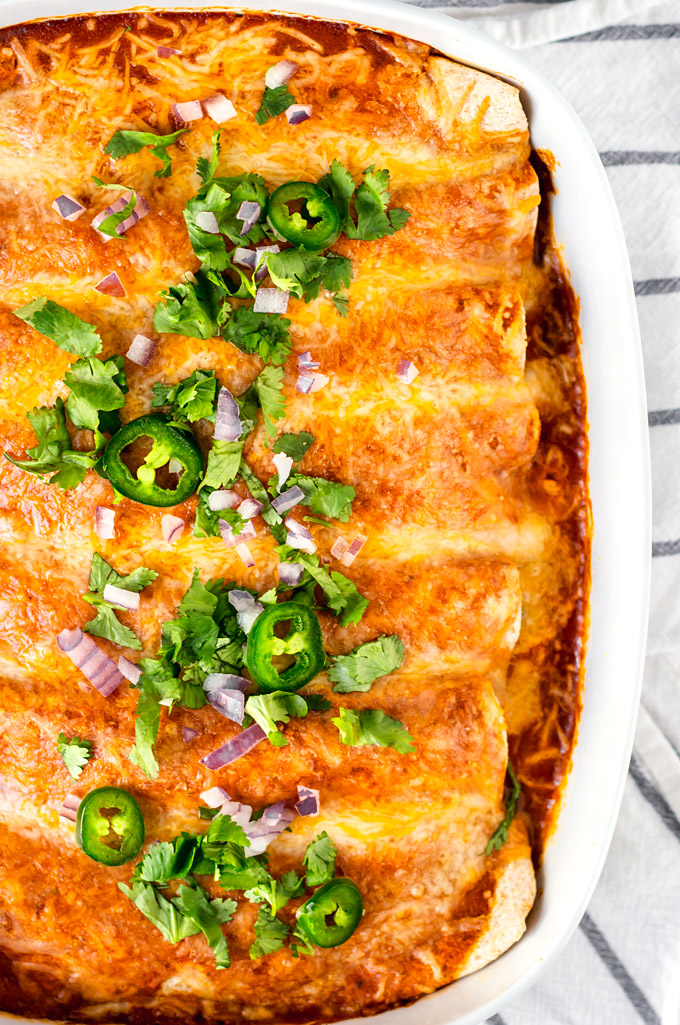 This Rotisserie chicken enchiladas can be a family-friendly meal. However, significantly reduce or remove at all chili powder. I first bought my chili powder from Costco. It was good and mild. Then a nice Indian grocery store opened in our town with all the fresh and delicious spices at extremely low prices. So I bought my next chili powder from them. Used the same amount in the recipe and it went straight to garbage. The chili powder was so strong, by the way, it was marked as mild on the package, that it was impossible for us to eat. The burning sensation was all over my body, and I felt  I could breathe with a dragon flame. So be very cautious with the amount you use for yourself and family. All chili powders are different. Learn the spiciness level of yours and use it accordingly to your taste.
And don't skip on homemade enchilada sauce recipe. I'm not a fan of a can sauces. They taste a little weird to me, and I cannot adjust them to my liking. I was experimenting with the recipes found on the web and created the one I absolutely love. It has a balance between spices and tomato acidity and full of flavors. Some enchilada sauce recipes do not contain tomatoes, but I found tomatoes bring a depth to the sauce. Without tomatoes, the sauce is too watery and lacks the flavors. Also, my priority was to make a super quick and easy enchilada sauce recipe to encourage myself and my readers to make it for any enchiladas. Putting all ingredients in a blender and blend them beats all my expectations.
If you don't have time to make a homemade enchilada sauce by all means by a store-bought one. It will not be as delicious and customizable as a homemade one but will save you a fraction of the time.
We all get busy days, weeks or months, so I hope this Rotisserie chicken enchiladas with a simple enchilada sauce will help you manage this kind of days. And will help you to stay on a healthy track.
Happy Cooking!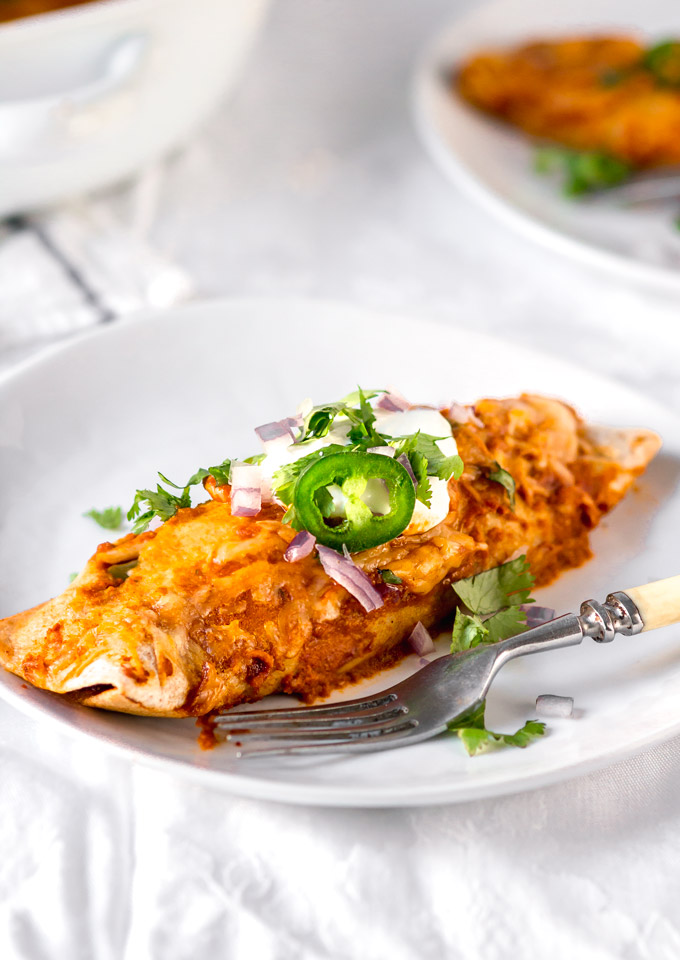 Tips and Tricks for Rotisserie chicken enchiladas recipe:
Buy whole wheat tortillas. A little healthier and tastier alternative to regular flour tortillas.
You can replace Rotisserie chicken with any cooked leftover chicken.
Be cautious with the spiciness level of your chili powder. Adjust the recipe according to your taste.
For this recipe and all my enchiladas, I use 8-inch tortillas. Perfect serving size and fit well in a 9×13 baking dish.
Enchiladas are perfect for freezing. You may double the recipe and freeze one half.
How to freeze enchiladas:
Make enchiladas filling.
Roll up enchiladas.
Take a big piece of parchment paper and roll them one by one in parchment paper. They should not touch each other. This way the parchment paper protects them from getting soggy, from freezer burns and you can take the desired number to cook.
Place them in a freezer friendly ziplock bag. Mark the date and freeze.
When ready to cook. Make a sauce. Take the frozen enchiladas and follow the rest of the recipe. Increase baking time for 10 minutes.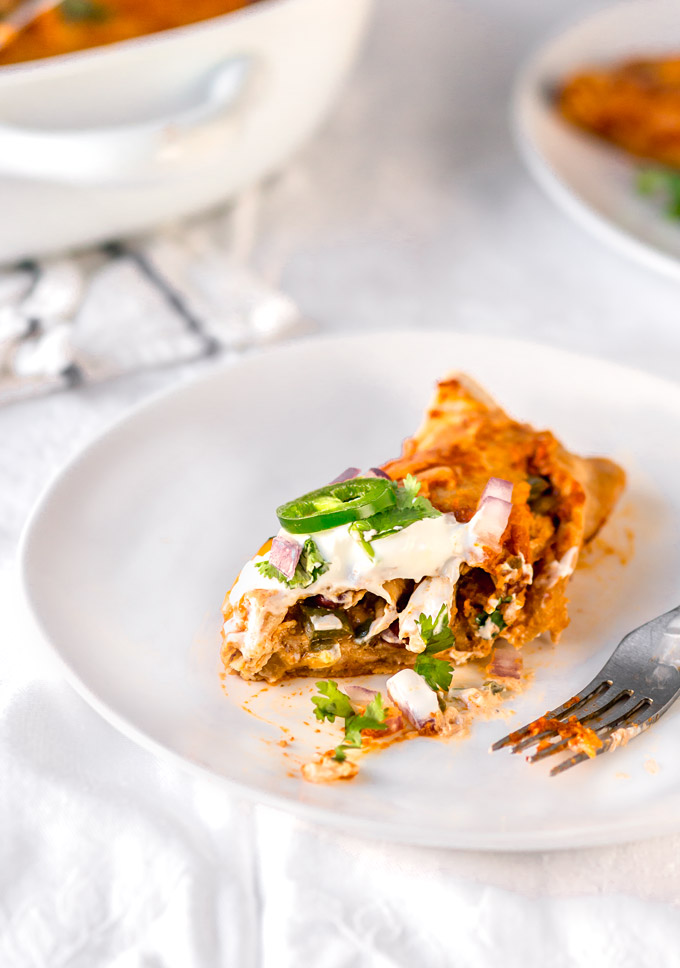 Maria
Yields: 7 enchiladas
Rotisserie chicken enchiladas with a simple enchilada sauce (EASY & Healthy)
20 minPrep Time
25 minCook Time
45 minTotal Time
Ingredients:
2 tablespoons olive oil
1 medium onion, diced
1/2 medium green bell pepper, diced
1 ½ jalapenos, diced into small cubes
2 garlic cloves, chopped
1 teaspoon ground cumin
1/2 teaspoon kosher salt
¼ teaspoon ground black pepper
2 cups shredded rotisserie chicken
1 (15.5 oz.) red kidney beans can, rinsed and drained
2 tablespoons cilantro, chopped
1/4 cup enchilada sauce
2 cups shredded Mexican style cheese
7 whole wheat flour tortillas
1 batch of enchilada sauce

Homemade enchilada sauce:

1 14.5 oz. diced tomatoes can
1/2 cup vegetable stock or plain water
2 tablespoons olive oil
1 teaspoon apple cider vinegar or lime juice
1/2 teaspoon kosher salt
1/2 teaspoon dried oregano
1 teaspoon ground cumin
1 teaspoon garlic powder
1 ½ teaspoons smoked paprika
2 teaspoons chili powder (depending on your taste)

For serving:

Cilantro, red onion, jalapeno
Sour cream
Instructions:
To make enchilada sauce:
Place all ingredients in a blender. Blend on high speed for about a minute. Taste and adjust seasonings.
To make chicken enchiladas:
Preheat oven to 350 F.
In a large skillet heat olive oil over medium-high heat. Add onion, green bell pepper, jalapenos, salt, and pepper. Sauté occasionally stirring for about 3 minutes or until beginning to soften. Add garlic and cumin. Cook for 2 minutes to release all the aromas. Add chicken, beans, cilantro and ¼ cup enchilada sauce. Remove from heat. Stir everything together. Taste and adjust seasonings.
Pour ¼ cup enchilada sauce in the 9x13 inch baking dish.
On a counter lay tortilla and spread about 2 tablespoons of sauce. In the middle of tortilla place a spoonful of chicken mixture. Sprinkle with about ¼ cup shredded cheese. Roll up tortillas and place in the baking dish sealed side down. Repeat the process with the remaining tortillas.
Spread the remaining enchilada sauce over tortillas and sprinkle with the remaining shredded cheese.
Bake in the middle of the oven for 20 minutes. Move to a top rack and bake for additional 5 minutes to brown the cheese slightly.
Remove from oven. Let it cool slightly.
Serve warm with toppings like sour cream, chopped cilantro, red onion, and jalapeno.
7.8.1.2
27
https://thepuretaste.com/rotisserie-chicken-enchiladas/
Disclosure: This post contains some affiliate links.  If you purchase a product through one of my links, I will earn a small commission at no extra cost to you. I only recommend products that I use and love myself. Thank you in advance for your support! It means a lot!
Products used in this post: