5 easy leftover rotisserie chicken recipes project is finished! The project was born from my necessity of quick and easy but healthy meals using leftover rotisserie chicken. In this post, you will find five meals using leftover cooked chicken that are fun and easy to make, delicious and can be served as a full dinner. Plus, to save you some time I gathered all five recipes in one free downloadable e-book!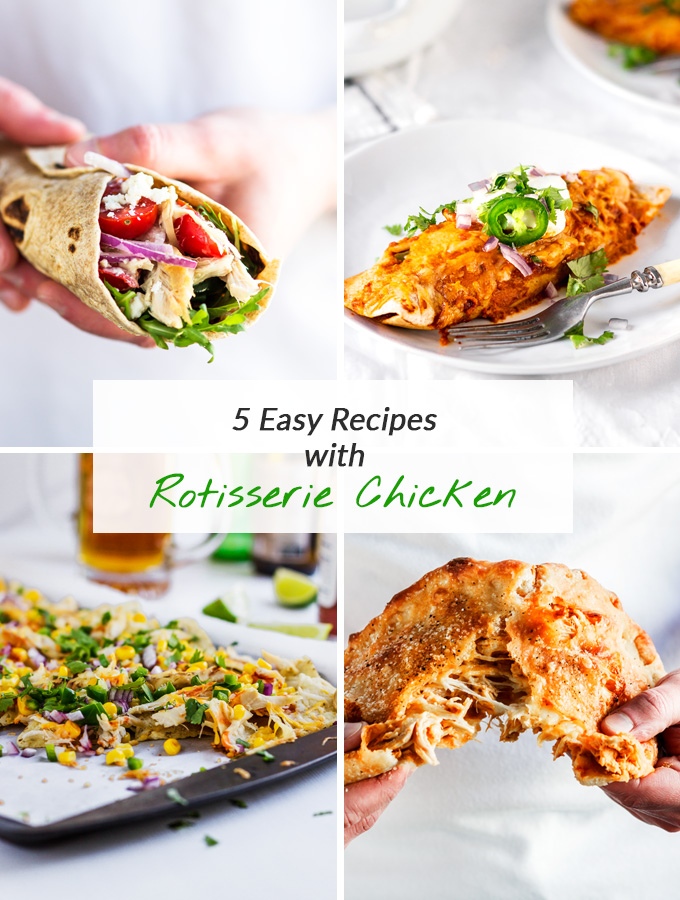 I love rotisseries chicken. It is delicious, convenient, healthy, depending on where you buy it, and fast food, in a good sense. But for some reason, I don't like eating it as it is, plain.
Most of the time when I buy it I use it as an eliminated step of cooking chicken. After tons of salads and good old-fashioned chicken noodle soups, I decided it is a good time to expand my use of leftover rotisserie chicken.
When I searched on Pinterest recipes for leftover rotisserie chicken, there were not that many good options. Mostly salads, casseroles and once again chicken noodle soup, no wonder, right ?! So I decided to create 5 easy recipes with rotisserie chicken that will be fun to make and enjoy for dinner.
At first, the plan was to make five healthy rotisserie chicken recipes. But, many times I used leftover rotisserie chicken for pizza topping and calzone and decided to include one. To tell you the truth the buffalo calzone is my favorite recipe from this collection. With the store bought pizza dough and already cooked chicken in little time I have the weekend dinner to enjoy with a glass of wine or beer. And it tastes far better than in some local pizza places.
The rest four are truly healthy leftover cooked chicken recipes 😉
Also, feel free to use leftover cooked chicken in any five recipes. The result will be the same.
5 easy leftover rotisserie chicken recipes include:
If you like homemade meals but short on time. If you prefer healthy-ish dinner to take-outs. And finally, if you don't know what to make with leftover rotisserie chicken than you will enjoy this 5 easy recipes with leftover rotisserie chicken collection.
On your next grocery shopping grab some juicy rotisserie chicken, make a delicious dinner with it and enjoy your saved time!
Happy Cooking 😉
*******
To download Free 5 Easy Leftover Rotisserie Chicken Recipes E-BOOK please subscribe to The Pure Taste blog using any form on the web. After sign up, you will receive free e-book directly to your inbox.
If you make any recipe from this e-book, please share your picture with me by tagging it #thepuretaste on Instagram. Or share your results in the comment section down below. It means a whole world to me knowing someone is making my recipes.
Thank you for sharing and support ❤️❤️❤️