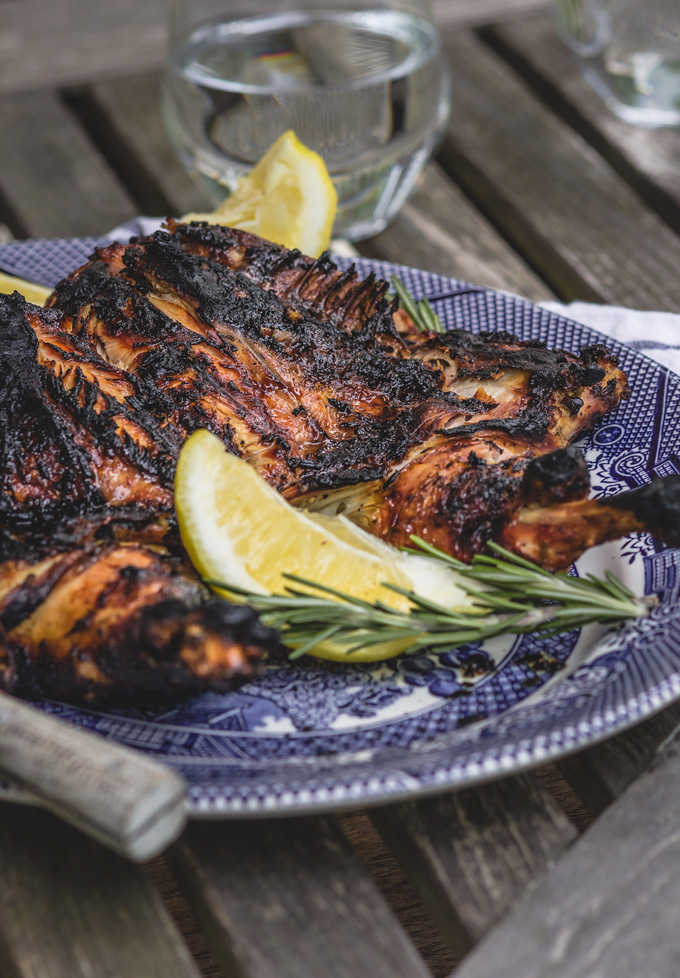 First things first! Thank you so much for letting me take a July break. Not one of you unsubscribed, and even more of you subscribed! You guys are the best. And I'm genuinely thankful for your trust and patience.
In short, July was still busy for me. We had a couple of overwhelming questions to take care of, unfinished projects and of course summer. I think we handled everything well, but time will show.
I also thought a lot about how I see The Pure Taste in the future. The picture is still unclear, and a whole lot of ideas are flying around. What I definitely can tell you that I decided to lean toward easy and healthy-ish recipes. Years adjusted my food perspective. If before I was into fancy cooking, that sometimes required two days, then now, I prefer to spend that time more intentionally. So in future expect recipes that don't take too much of our precious time but yield unbelievably delicious results. Of course, once in a while I may go crazy and post the fancy cake or some special dinner recipe to keep my skills sharp. 😉
So to swoop in from a break, I decided to share this juicy Tuscan lemon grilled chicken recipe with you.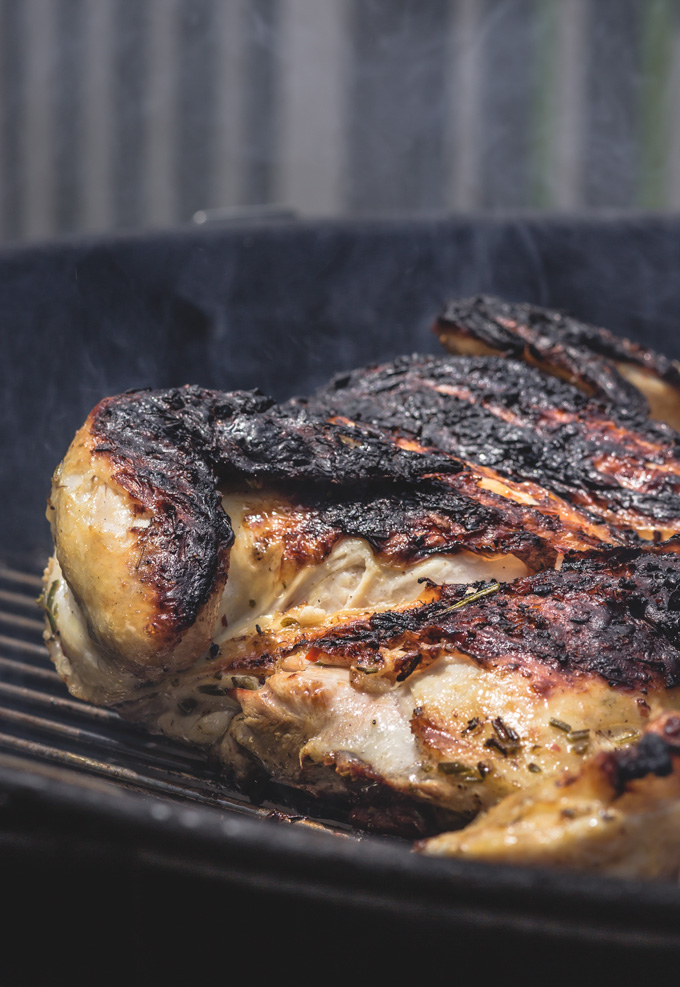 It is very juicy and tender grilled chicken with a beautiful crispy skin. The meat easily comes off the bones and melts in your mouth. To me, the juicy meat and crispy skin is always a winner in grilled chicken recipes. Unfortunately, the oven cannot yield such results. So this specific grilled lemon chicken is better to make on the grill.
What type of grill you use doesn't matter at all. I always prefer charcoal for the extra smokiness, but again any grill will do. Just make sure not to cook chicken over high heat. Medium-high for gas and the passing of the bright red color charcoal stage is your golden temperature!
As though for the chicken part, I made both whole butterflied chicken and chicken thighs.
Butterflied chicken is where a good relationship with local butcher pays off. Almost all meat I use comes from Dedham Wholefoods, where the best butcher I've ever met works. Not once did Brian let me down with a meat choice, or specialty cut, or unanswered question. He helped the countless time with choosing the right cut for my food experiments. When Mr. Bezos took over Wholefoods, we saw a lot of employees rotation. Every time I go there I worry I will never see Brian anymore! He is that good of a butcher and person!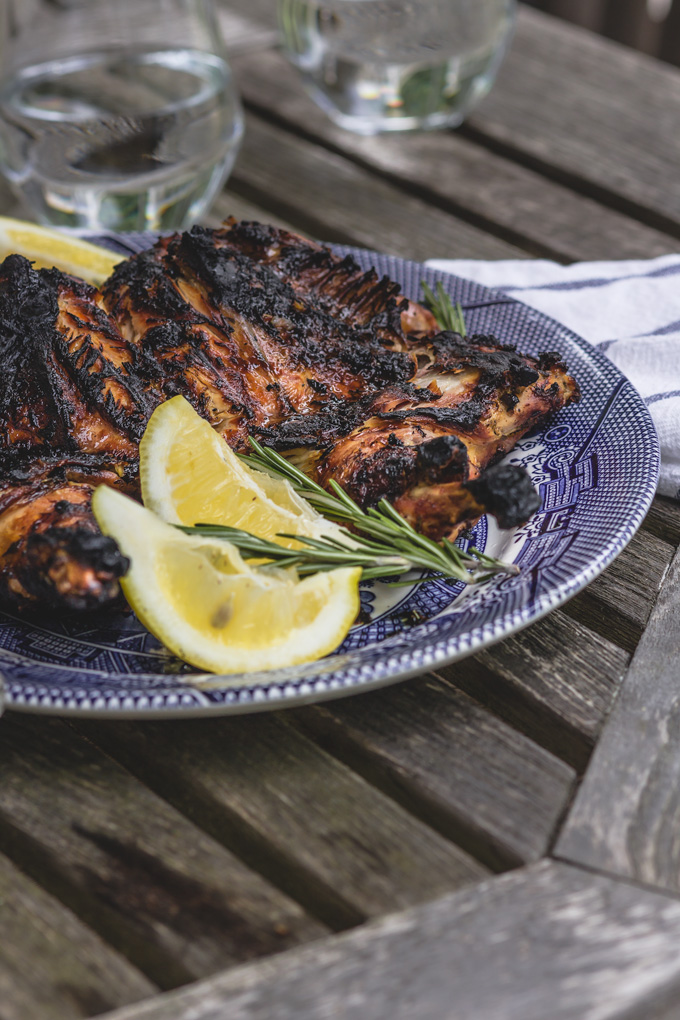 So if you have a favorite place where your meat comes from – become a friend with your butcher. You will be amazed at how much they know, how friendly and helpful they are. And if you have a specialty request like to butterfly chicken, they will never say no to you.
BUT if your local store doesn't offer extra help or the butcher there doesn't care much, then you need to do it yourself. Which is not that hard as it seems. This How to Butterfly a Chicken 1-minute video shows how easy it is. Don't forget to freeze backbone for the homemade chicken stock.
I prefer whole grilled chicken. Much easier to handle, cheaper, and everyone can enjoy their favorite chicken part. If whole grilled chicken is not your thing, then make grilled chicken thighs. They are even juicer then whole chicken, because marinade will soak in better, and they require less cooking time.
Speaking of the marinade! This Tuscan grilled chicken marinade is so simple and straightforward. Nothing fancy, nothing unusual. But oh so fragrant and delicious. After summer is gone, I probably will make chicken thighs with the same marinade, bake and then broil for a golden skin.  Of course, the result will be completely different, and there will be plenty of juice in the cooking tray, but you can always pour it over the rice. Just a thought.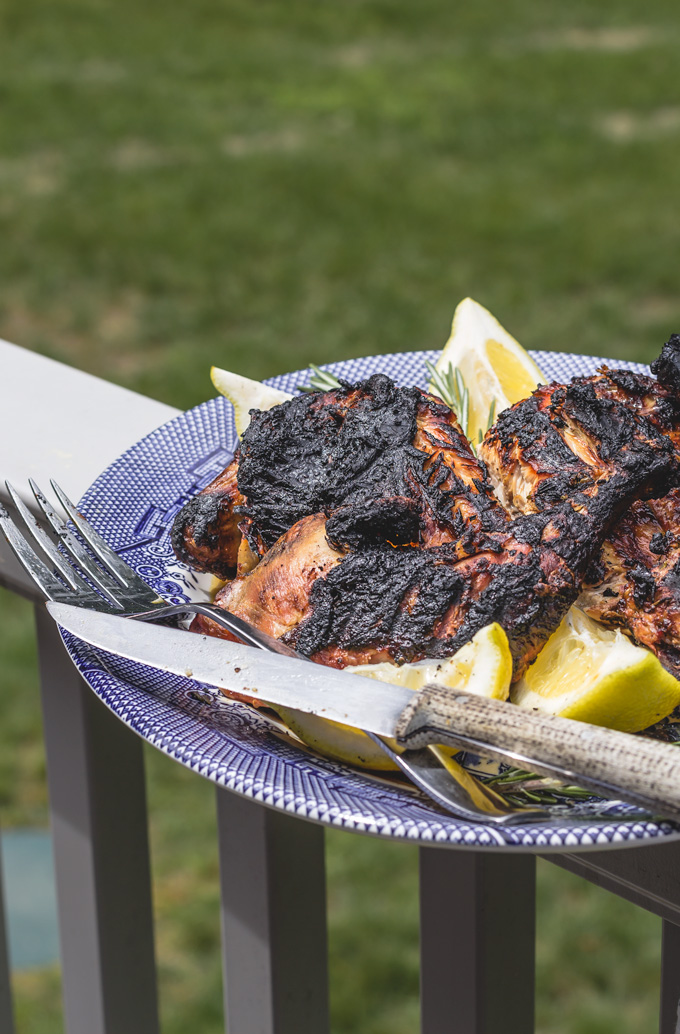 Almost forgot. The first time I made this marinated grilled chicken I used only ½ teaspoon of pepper flakes. We went to our friends for a BBQ, and I worried the kidos would not eat it because of the spiciness. It turned out it barely was spicy, and they even didn't notice it. And they are little picky eaters. So, confirmed, not only this is the best grilled chicken recipe I made but also kids friendly chicken recipe!
Alright. So there you have the easy, healthy grilled chicken recipe for your next grill fun. I have the feeling you will like it. Because it is easy, healthy, simple and delicious.
Have fun grilling!
Lemon Grilled Chicken Tips and Tricks:
Usually, for to go grilled chicken, I marinate it in the plastic resealable bag. But when the situation allows I always prefer glass container or bowl. If you cook it in your backyard, then please go with glass.
This How to Butterfly a Chicken 1-minute video will teach you once and for the rest of your life how easy it is to butterfly a chicken.
Before it is time to grill remove chicken from fridge and let it come to room temp, about 30 minutes.
Don't forget to tuck chicken wings. During this shoot, I forgot to do it, and they burned a little.
Use more or less pepper flakes. I like more and last time used 1 ½ teaspoons. To be on a safer side in the recipe, I noted 1 teaspoon. All depends on your taste buds.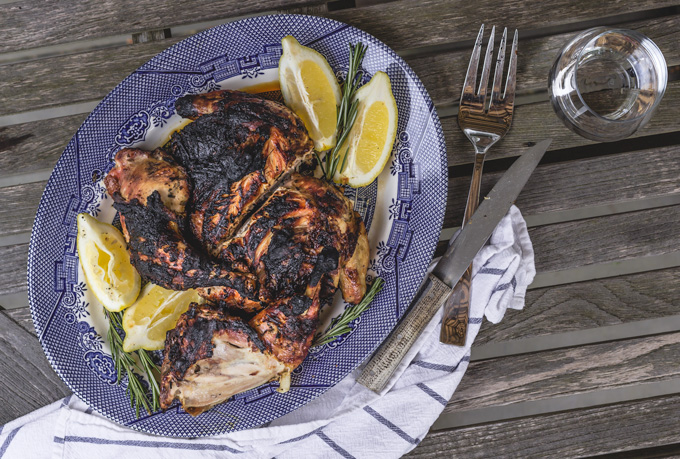 If you make this recipe, please share your picture with me by tagging it #thepuretaste on Instagram. Or share your results in the comment section down below. It means a whole world to me knowing someone is making my recipes.
Thank you for sharing and support ❤️❤️❤️
Maria
Yields: 1 3 1/2 whole chicken
Juicy Lemon grilled chicken (Tuscan Style)
15 minPrep Time
40 minCook Time
55 minTotal Time
Ingredients:
1 (3 ½ pounds) butterflied chicken or equal amount of chicken thighs
2 sprigs of fresh rosemary (about 1 1/2 tablespoons), chopped
2 garlic cloves, chopped
½ teaspoon dried oregano
1 teaspoon kosher salt
1 teaspoon red pepper flakes (more if you like spiciness)
2 lemons, juiced
¼ cup olive oil
Instructions:
Wash and dry butterflied chicken or chicken thighs. Put in plastic zip lock or glass container.
In a small bowl combine chopped garlic, rosemary, oregano, salt, lemon juice and olive oil. Whisk everything together and pour over chicken. Rub chicken all over with marinade. Refrigerate at least 2 hours or up to overnight.
Preheat a grill to medium-high or wait until the charcoal is no longer bright red.
Remove chicken from a bag and place on a grill skin side down.
Grill butterflied chicken for 20 minutes then flip on the other side and cook for another 20 minutes. Depending on the size and thickness of a chicken breast it may take little less or little longer. I suggest checking internal temperature (165 f) after the 30 minutes mark.
For chicken thighs, timing is about 10 minutes on each side, a total of 20 minutes.
Remove from heat and let rest for 5 minutes.
Serve with fresh lemon wedges.
Enjoy!
Notes:
* Total Time does not include resting/marinating time - at least 2 hours and up to overnight
7.8.1.2
50
https://thepuretaste.com/lemon-grilled-chicken-recipe/