This Irish Guinness Beef Stew recipe is a simple and light dish to celebrate St. Patrick's Day. I eliminated all unnecessary fat and other heavy stuff to make it a healthier dinner. Enjoy it with crusty bread to soak all the flavorful Guinness broth.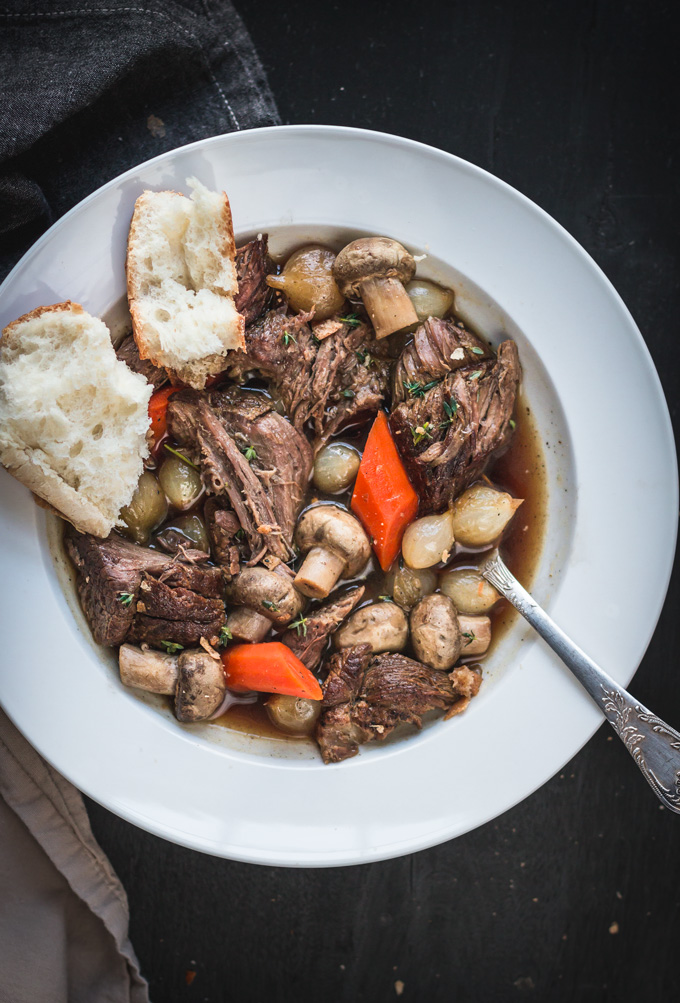 My husband loves St. Patrick's Day. I don't know why Ukrainian guy likes it, but he does. He even dragged me a couple of times to Boston St. Patrick's Day Parade. After many complaints and being cranky at a parade he gave up, and we didn't go there ever since.
As a compromise, I either cook an Irish-ish dinner at home or we go to a decent Irish pub, depends on his mood. To be honest, I much prefer when someone invites us over or to stay at home. The reason why I don't like going to the Parade or pubs on this day is there are TOO MANY drunk people. Some of them barely stand on their feet yet keep drinking… Unfortunately, St Patrick's Day became more of going crazy day rather than religious or proud to be Irish holiday.
This is actually why my husband likes St. Patrick's Day. He loves Ireland and some Irish traditions. For him, this is more of the Irish culture celebration day. Plus Irish cooking is very close to Ukrainian. Lots of cabbage, potatoes, butter, meat and simple yet delicious desserts.
For the past years, we celebrated this holiday at home, I made many Irish dishes. From traditional corned beef to creative Guinness recipes. In the end, I realized I prefer to eat corned beef at the pub. Too much fuss for me to cook it at home.
This year I decided to make an easy stew with Guinness beer. The one you can put together in no time. Put it in the oven and forget about it until dinner time. Also having healthy criteria in my mind.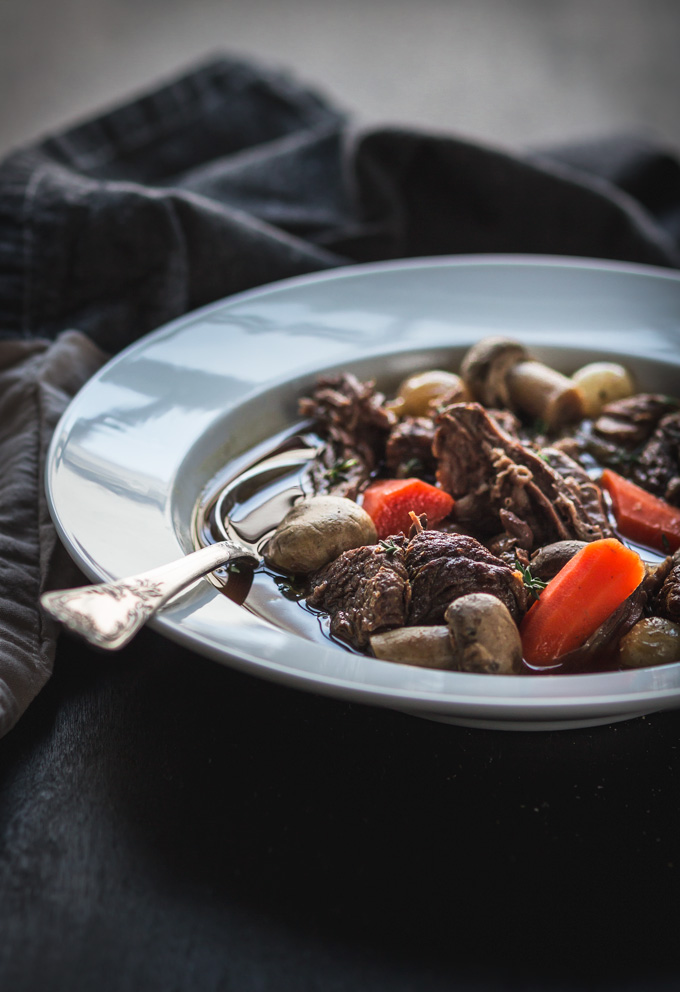 I love tasty old-fashioned creamy stews, but I never liked adding flour to them. I think it's unnecessary to add flour just for the sake of thickening. Plus I love to enjoy the stew with crusty bread without too much of gluten piling.
For the healthier reason, I also skipped on bacon.  And I like it this way.
This Guinness beef stew recipe came out very light, yet it has a richness and depth of flavors because of the Guinness beer in it.
Also, don't skip on the fresh thyme. It pairs so well with the Guinness. I was choosing between two herbs rosemary and thyme. Was standing in the kitchen sniffing thyme, then Guinness, then rosemary, then Guinness. A couple of sniffing rounds and my choice landed on thyme. That was a right decision after all.
I even went one step further to simplify the process. Instead of cutting the beef into small chunks and browning them in a couple of batches, I bought a beautiful big beef chunk. Browned the whole piece on all sides and left it alone in the oven to simmer with the Guinness beer.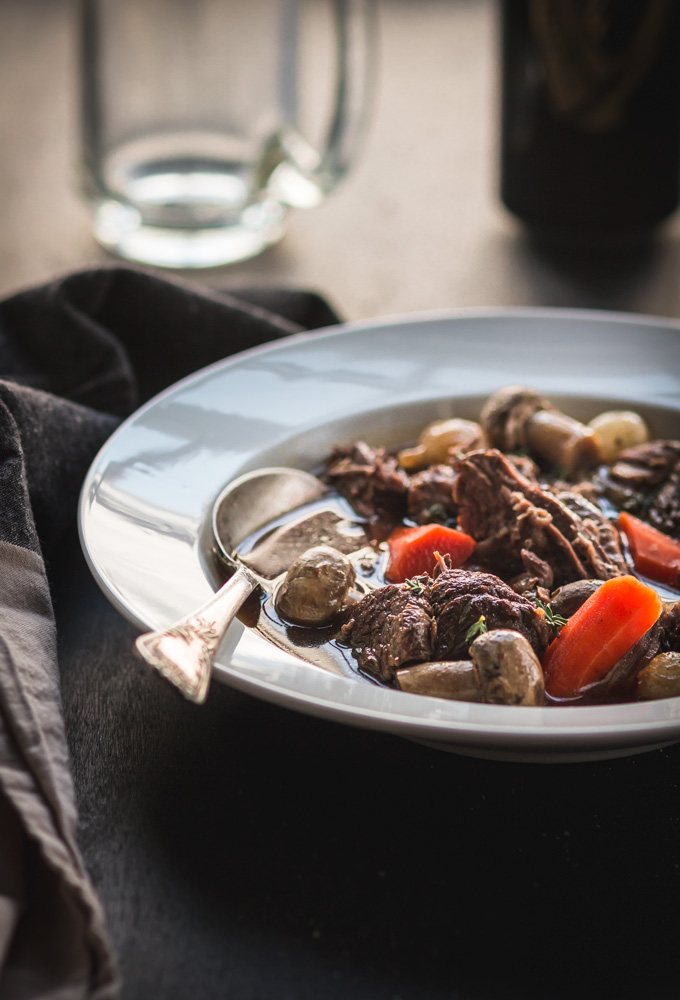 So if you don't have time and don't want to fuss much. If you want to make a light yet deep flavored Irish beef stew from the comfort of your home. And finally, if you have some Irish people in their souls to make happy, then this beef stew with Guinness should be your choice.
And if you need some Irish inspired St Patrick's Day dessert recipes, I have two great recipes for you:
Dark Chocolate Guinness Brownies with Creamy Guinness Frosting
Baileys Chocolate Cake with Chocolate Frosting (Rich & Luxurious)
Both of them are equally good, rich and melt in your mouth chocolate desserts. The choice is yours.
Happy St. Patricks Day to all Irish people and people with Irish souls!
Happy Cooking and Happy Celebration!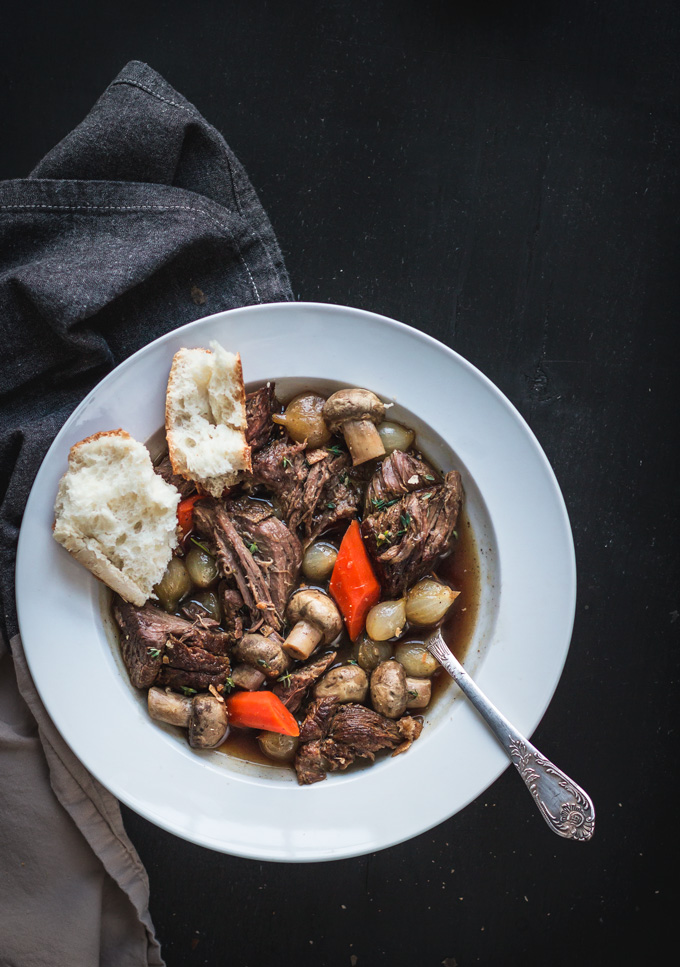 Tips and Tricks for Irish Guinness Beef Stew:
ALWAYS take the meat out of refrigerator 1 hour before cooking. Let it rest and come to room temperature. This is especially crucial for the big beef cuts.
Trick you should learn and always use when making stew. Add veggies in the last hour of cooking. This makes them stay crunchy, retain their color and shape.
It is Ok that liquid does not thoroughly cover your meat. Just don't forget to turn it from time to time. Adding too much liquid will result in some flavor losses.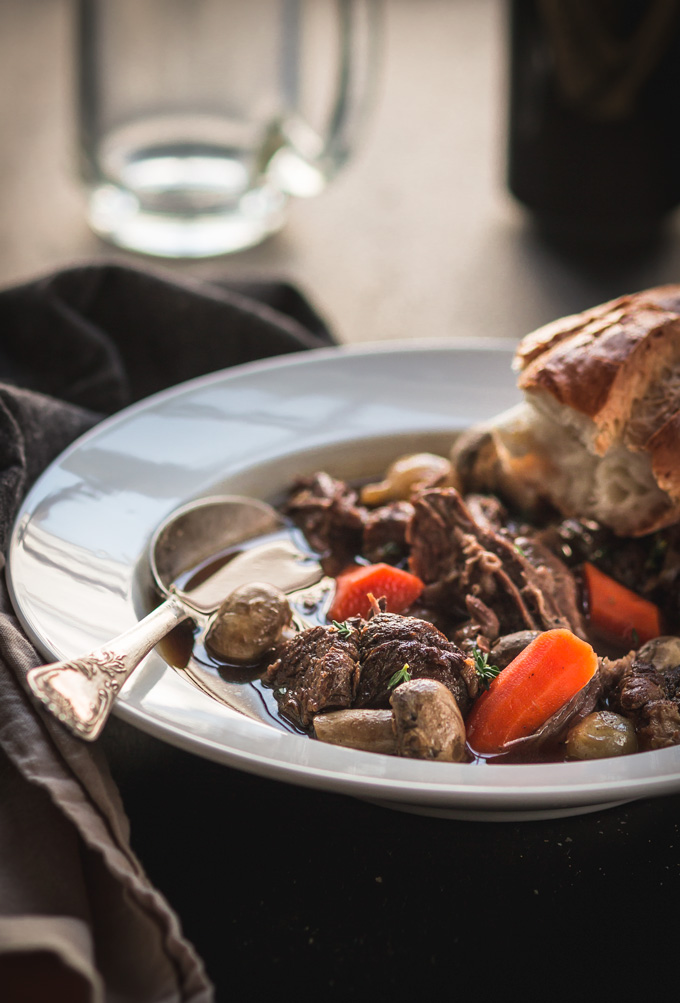 If you make this recipe, please share your picture with me by tagging it #thepuretaste on Instagram. Or share your results in the comment section down below. It means a whole world to me knowing someone is making my recipes.
Thank you for sharing and support ❤️❤️❤️
Maria
Yields: 8 servings
Light and Easy Irish Guinness Beef Stew
15 minPrep Time
4 hrCook Time
4 hr, 15 Total Time
Ingredients:
3-4 pounds Bottom or Eye Round Roast
2 tablespoons kosher salt
2 teaspoon ground pepper
1 ½ tablespoons canola oil
1 (14.9 oz) Guinness beer can
2 cups beef or chicken stock
5 thyme sprigs
1 (14.4 oz) bag frozen pearl onions
1 pound white or cremini mushrooms, halved
5 medium carrots, cut into 1-inch pieces
1 pound baby potatoes
Kosher salt and pepper
Sourdough or any other crusty bread for serving
Instructions:
Take the beef out of the fridge 1 hour before cooking.
Preheat oven to 275 F.
Rub meat all over with kosher salt and black pepper.
Heat a large Dutch oven over medium-high heat. Add oil. Brown beef on all sides, about 2 minutes per side. Remove from heat.
Add chicken or beef stock and Guinness to a pot with beef. Cover with the lead and place in the oven.
Cook meat for 3 hours, turning meat on different side every 45 minutes.
After 3 hours remove thyme sprigs and add all the veggies at once. Cover with lid and cook for additional one hour. Remove from oven. Taste and adjust seasonings. Let cool down slightly so you can handle meat with your hands.
I usually tear the meat apart with my hands and return pieces to the pot. You may cut it with the knife if you prefer.
Serve warm with crusty bread to soak in all the juices.
Enjoy!
7.8.1.2
35
https://thepuretaste.com/irish-guinness-beef-stew/
Disclosure: This post contains some affiliate links.  If you purchase a product through one of my links, I will earn a small commission at no extra cost to you. I only recommend products that I use and love myself. Thank you in advance for your support! It means a lot!
Products used in this post: