These Dark Chocolate Guinness Brownies is a perfect way to celebrate St Patricks Day and Irish culture. Guinness stout beer adds richness and depth of flavor that is hard to resist. I also did my best to make a lighter and healthy-ish version to enjoy these brownies even more.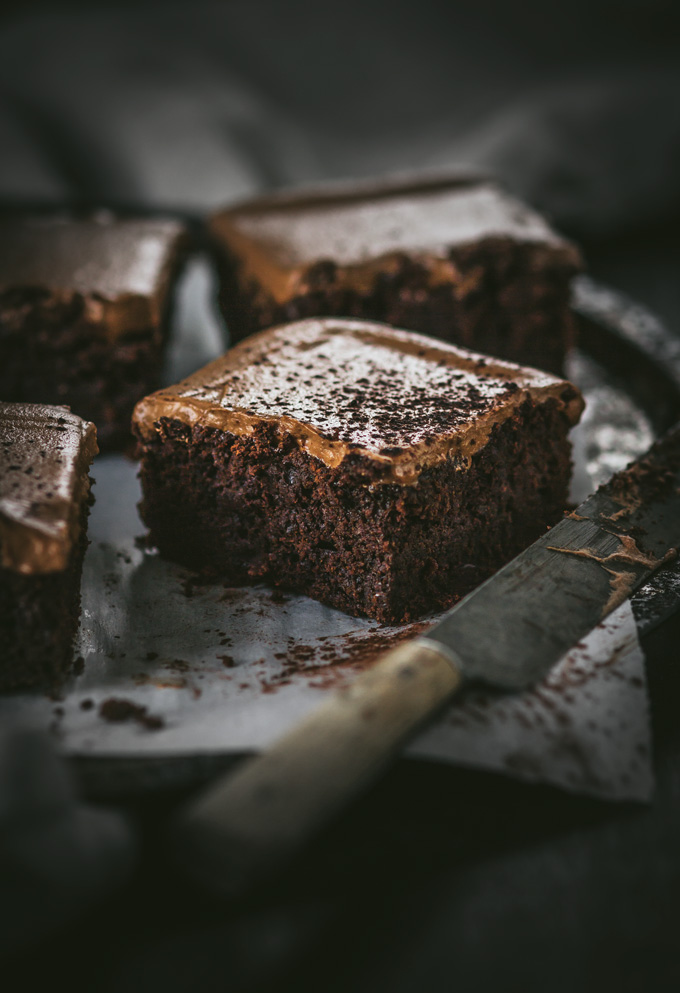 If you go to Pinterest and search for the St Patricks Day dessert recipes, you will find a LOT of green stuff. To make it short, I strongly dislike food colorings. Although it is fun to have something green on St Patricks Day. But I prefer to have something green outside of my body. Green food just doesn't sound and look appealing to me. If you are with me on this, then you are going to like this St Patrick's Day dessert idea.
There are three the most popular Irish alcoholic drinks:
Irish cream, well-known as Baileys in the US
Whiskey
Guinness beer
Since I already have the Baileys Chocolate Cake with Chocolate Frosting on my blog, I decided to make Guinness dessert recipe. After going back and force with the ideas for a simple dessert to showcase the Guinness beer I stopped on brownies. Brownies are easy to make, delicious, and marriage between chocolate and Guinness is hard to go by.
By the way, don't be scared of using Guinness beer in baking treats. Guinness has unique and specific coffee flavor. I'm not a beer person, but I definitely like Guinness. I even think this is more of a female drink because of the coffee and chocolate hints in it.
For the brownies or any chocolate cakes, stout beer is a perfect addition. When you use the appropriate amount, you will not taste the beer at all. Only gentle, slightly bitter taste that enhances the chocolate flavor.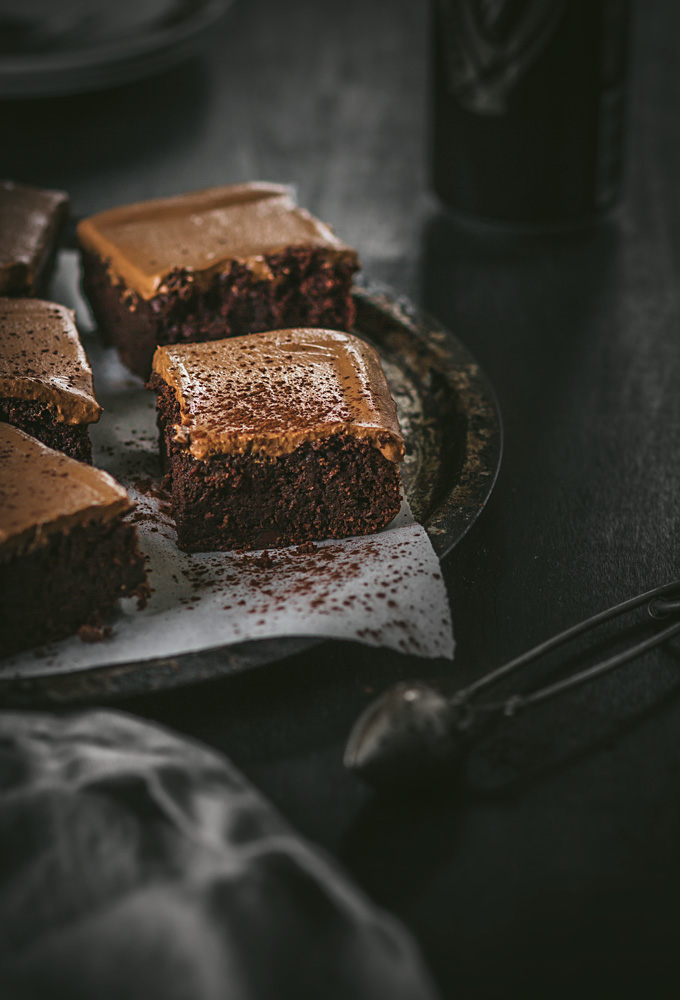 Guinness stout chocolate brownies are a perfect treat to end the St Patrick's Day feast. Furthermore, I decided to make it lighter and healthy-ish to enjoy it even more.
I replaced all-purpose flour with the white whole wheat and super happy with the result. It adds extra depth and nutty flavor to chocolate brownies. Also, whole wheat flour keeps your brownies moist for up to three days. Maybe even more but this is the top for us to finish them.
I also significantly reduced the amount of sugar. I explored and made many brownie recipes. And almost all of them call for 2 CUPS of sugar. You guys this is just way too much. I slowly started decreasing the amount of sugar in my recipe because the first time I made it with 2 cups of sugar, it was impossible for us to eat it. In the end, I stopped on the ¾ cup of sugar, which is perfect for the structure of the brownies, not too sweet and better for your health.
And last but not least, instead of the frosting, I made whipped chocolate ganache with no added sugar. Simple four ingredients create the airy chocolate Guinness frosting that adds more interest to Guinness Chocolate Brownies. Of course, you may skip the glaze altogether, but I wanted to showcase the Guinness even more.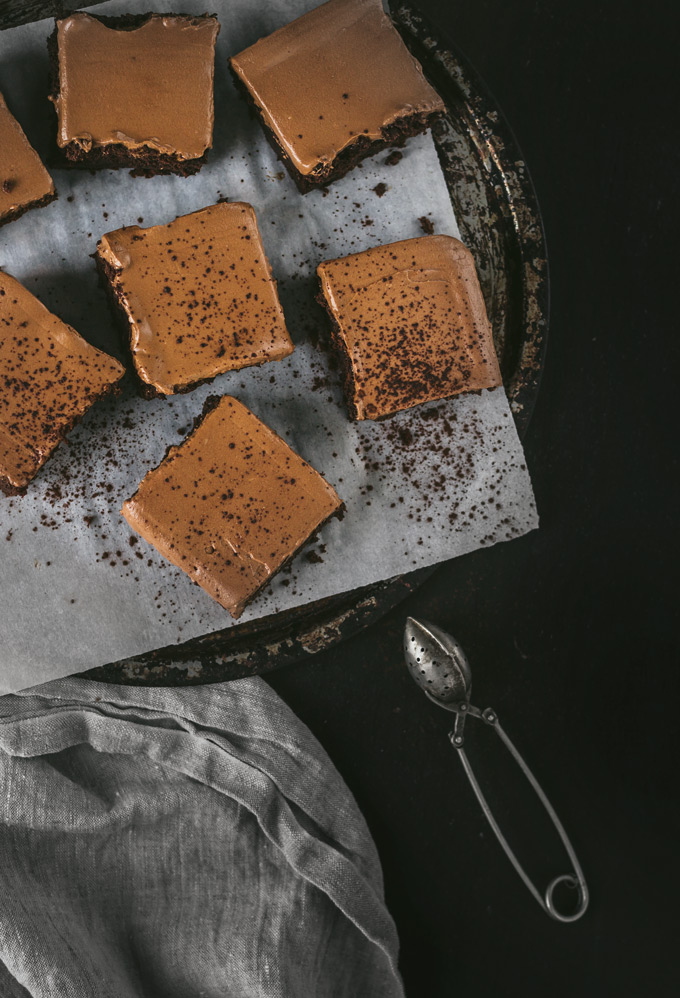 My husband and I have different preferences in sweets. I like everything creamy and airy. He likes more heavy stuff. We had a difference of opinion in the whipped chocolate Guinness frosting. I made it light and airy; he said better to make the dense chocolate ganache. I leave it up to you. In tips and tricks section down below you will find the simple chocolate Guinness ganache which is more firm. The printed version recipe includes whipped chocolate Guinness ganache. My blog, my choice of frosting 😎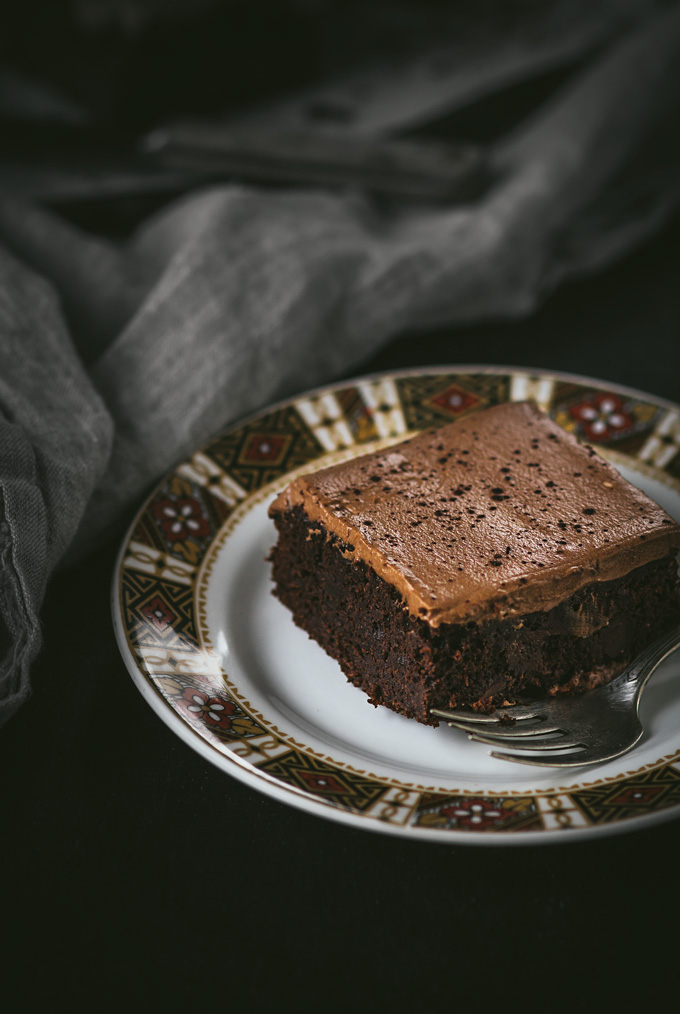 There you have a simple, rich with deep flavor Dark Chocolate Guinness Brownies to celebrate St. Patricks Day. It doesn't matter whether you make it for yourself or bring it to a party it sure will be a hit. So much better and more pleasant than all the green sweets out there.
Have fun celebrating St. Patricks Day. Enjoy all the food and drink Guinness but in a decent amount 😉
Happy St. Patricks Day to all Irish people and people with Irish souls! 🍀🍀🍀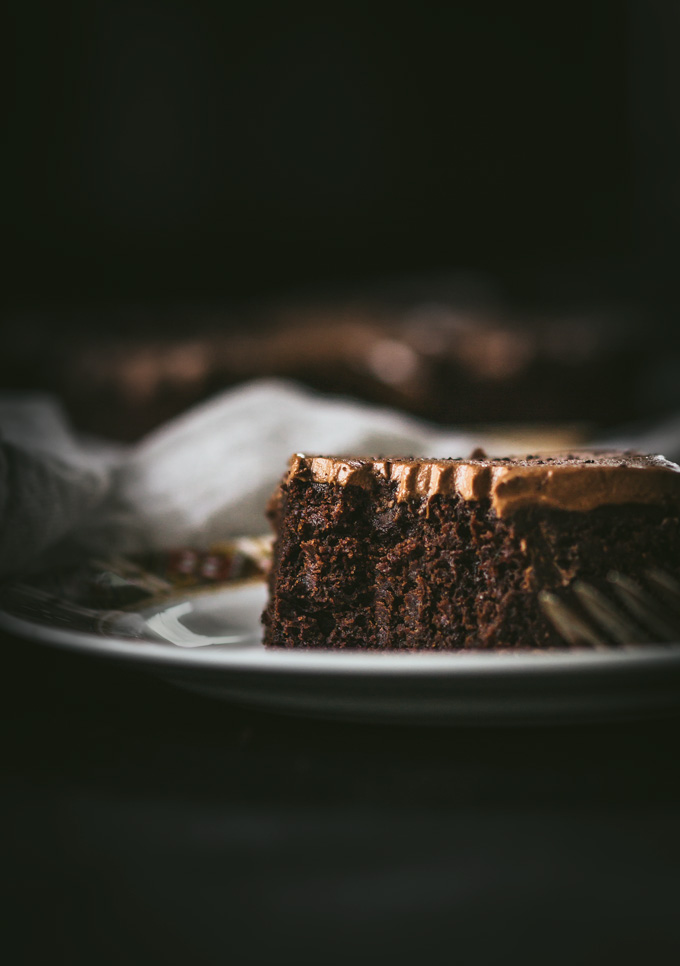 Tips and Tricks for Chocolate Guinness Brownies:
The main rule in making brownies NOT TO OVERBAKE them. This is the dessert you better underbake. My two clues it is done. First, shake the pan and when you see it is almost set, take it out. It will continue baking for couple more minutes which will bring it to a perfect structure. Second, check it with the toothpick. If it has a couple of wet crumbs on the toothpick, take it out immediately. This is the perfectly baked brownies. If the toothpicks come out super clean, you overbaked it. If the toothpick is covered with chocolate you either "luckily" poked a piece of chocolate or it is underbaked.
If you don't want to fuss around with the whipped chocolate ganache make a simple one instead. The ingredients are:
½ cup (100 gr) dark chocolate, chopped
1/4 cup (50 gr) heavy whipping cream
1/4 cup (55 gr) Guinness
1 tablespoons unsalted butter, room temperature
Follow the cooking instruction in recipe section but omit the chilling and whipping step. Spread the ganache over cooled brownies.
Good brownies depend on good quality chocolate. I always have high-quality block or bar of 70% dark chocolate in my pantry. Use chocolate chips for sprinkling on top. I buy chocolate from different sources to try new brands. But my go-to places for a quality chocolate are Aldi, Traders Joes, and of course Amazon. Don't go over 70% for this recipe.
Use a kitchen scale for chocolate measurements. Mine was chopped, and it is hard to measure different sizes of chocolate correctly.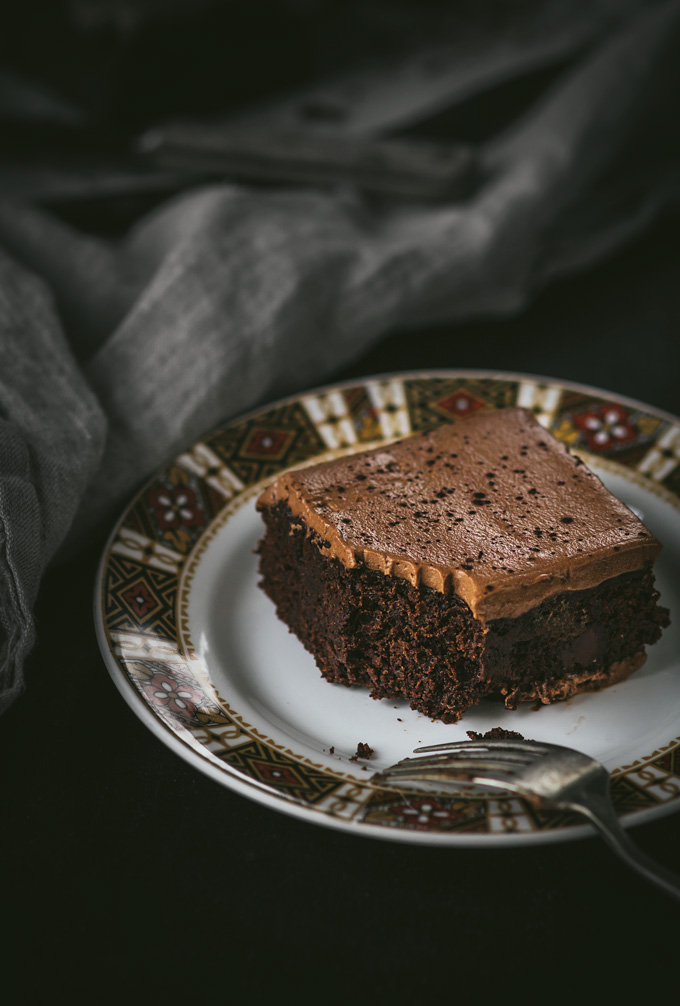 If you make this recipe, please share your picture with me by tagging it #thepuretaste on Instagram. Or share your results in the comment section down below. It means a whole world to me knowing someone is making my recipes.
Thank you for sharing and support ❤️❤️❤️
Maria
Yields: 9x9 inch square pan
Dark Chocolate Guinness Brownies with Creamy Guinness Frosting
30 minPrep Time
30 minCook Time
1 hrTotal Time
Ingredients:
For the chocolate Guinness brownies:

1 1/2 sticks (170 gr) unsalted butter
1 1/4 cups (260 gr) 70% dark chocolate, chopped
1/4 cup semi-sweet chocolate chips or chopped chocolate
3/4 cups (170 gr) granulated sugar
1/2 cup Guinness beer
3 large eggs
1/2 cup (70 gr) white whole wheat
1/2 cup (45 gr) unsweetened cocoa powder
3/4 teaspoon baking powder
3/4 teaspoon sea salt

For the chocolate Guinness frosting:

½ cup (100 gr) dark chocolate, chopped
½ cup (100 gr) heavy whipping cream
½ cup (105 gr) Guinness
2 tablespoons unsalted butter, room temperature
Instructions:
Preheat the oven to 350 F. Line a bottom of 9x9 inch square pan with parchment paper.
In the double boiler or the microwave, melt together the butter and 1 1/4 cups chopped chocolate. Stir it until both butter and chocolate are fully melted. Stir in the sugar.
Slowly start adding eggs one by one. Stir until eggs are incorporated, and the mixture is glossy. Whisk in Guinness beer. Add the flour, cocoa powder, baking powder, and salt. Stir everything together until just combined.
Pour batter into the pan. Sprinkle the remaining ¼ cup of chocolate chips on top.
Bake in the middle of the oven for 30 minutes or until the brownies are just set. Check with the toothpick. It should come out with a few wet crumbs on it.
Let cool completely.
While brownies are baking make the ganache.
To make whipped Guinness frosting:
Melt the chocolate in the microwave or a double boiler. In a small saucepan heat whipping cream. Pour cream over melted chocolate. Let it sit for 1 minute. Stir it together until fully incorporated. In the same saucepan bring Guinness to a simmer. Add to chocolate mixture. Stir everything together and let it cool down.
When the mixture comes to room temperature add butter and mix everything. Cover with plastic wrap and refrigerate for at least 1 hour. Using a hand-held mixer beat the cream until light and fluffy.
Spread the frosting over the brownies. Dust with cocoa powder and enjoy!
7.8.1.2
31
https://thepuretaste.com/chocolate-guinness-brownies/
Disclosure: This post contains some affiliate links.  If you purchase a product through one of my links, I will earn a small commission at no extra cost to you. I only recommend products that I use and love myself. Thank you in advance for your support! It means a lot!
Products used in this post: