Today I want to share with you the fragrant rosé wine and strawberry gelee recipe. Perfect summer dessert that combines two delicious things: fresh seasonal strawberries and tasty rosé wine. Make it for parties, guests, on hot summer days or enjoy it anytime you want.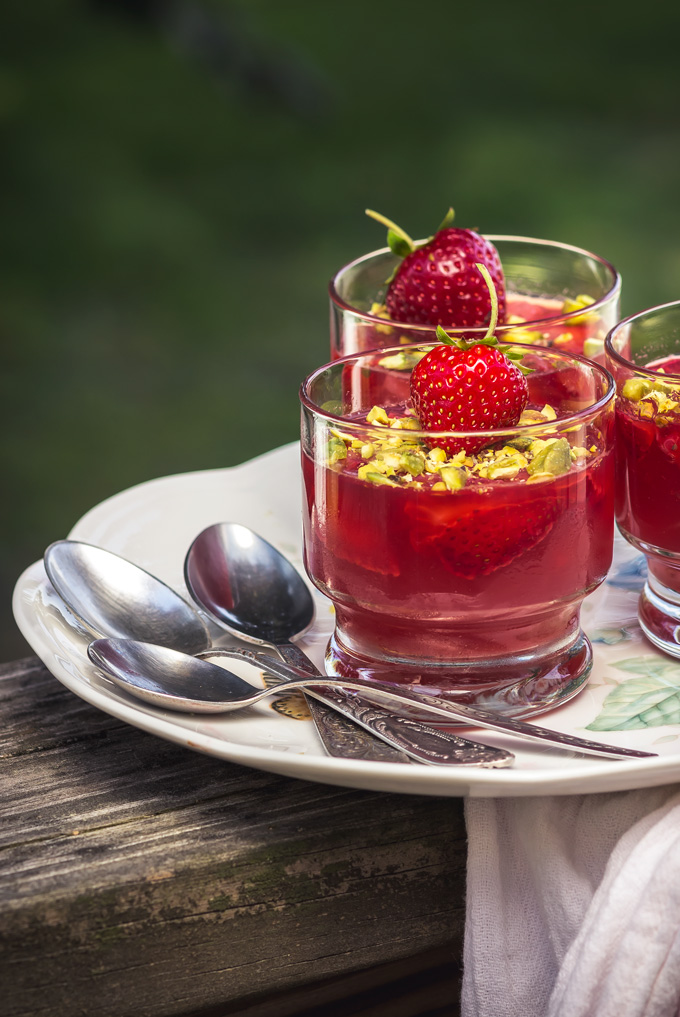 If you like strawberries and wine, and who doesn't, then you will love the idea of combining both into a joyful gelee dessert.
I mean who doesn't like gelees?! It is delicious, easy to make, cheery to look at and fun to eat. There is always something childish in these jiggling things. Add wine to it, and more joy is coming your way…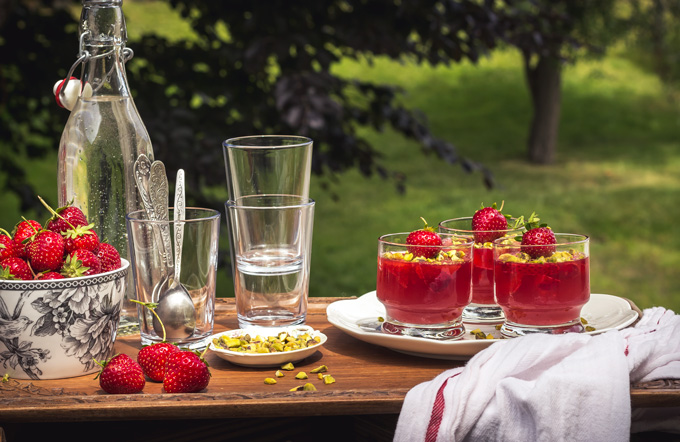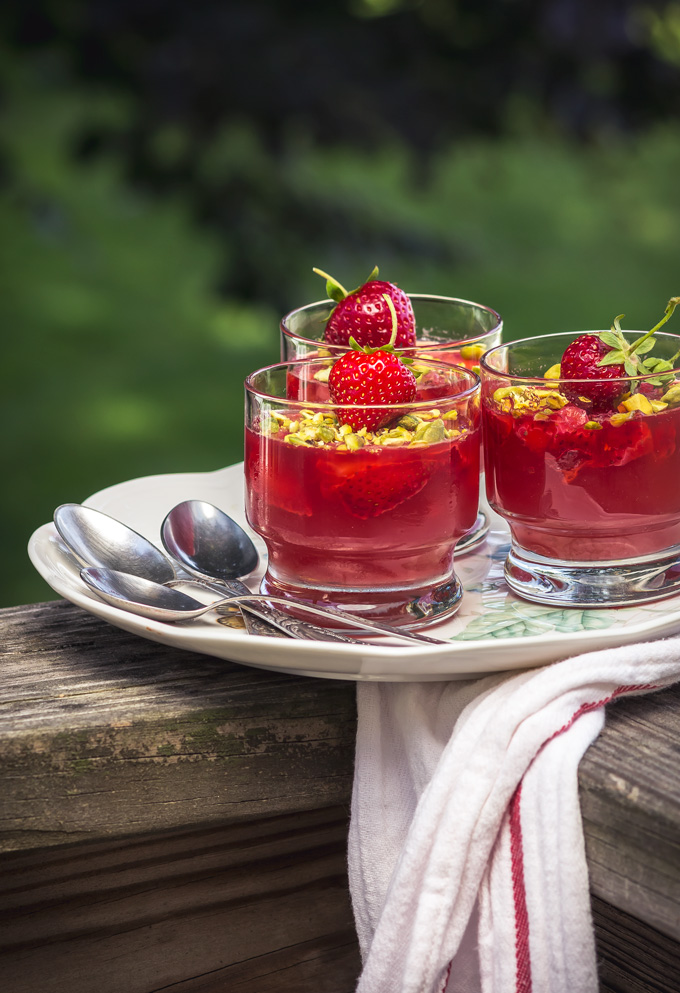 I'd say summer is a perfect time for these strawberry wine gelees. Fresh seasonal strawberries are GOOD. Rose wine is GOOD. Combine these two in the form of gelee, and you have a refreshing cocktail / dessert to enjoy all day long.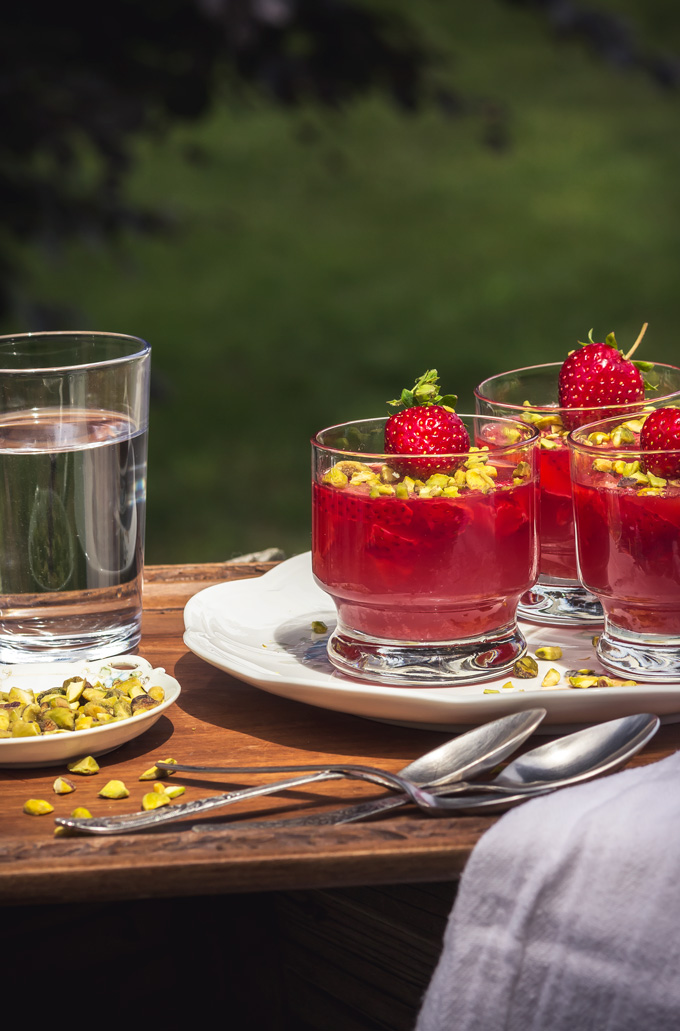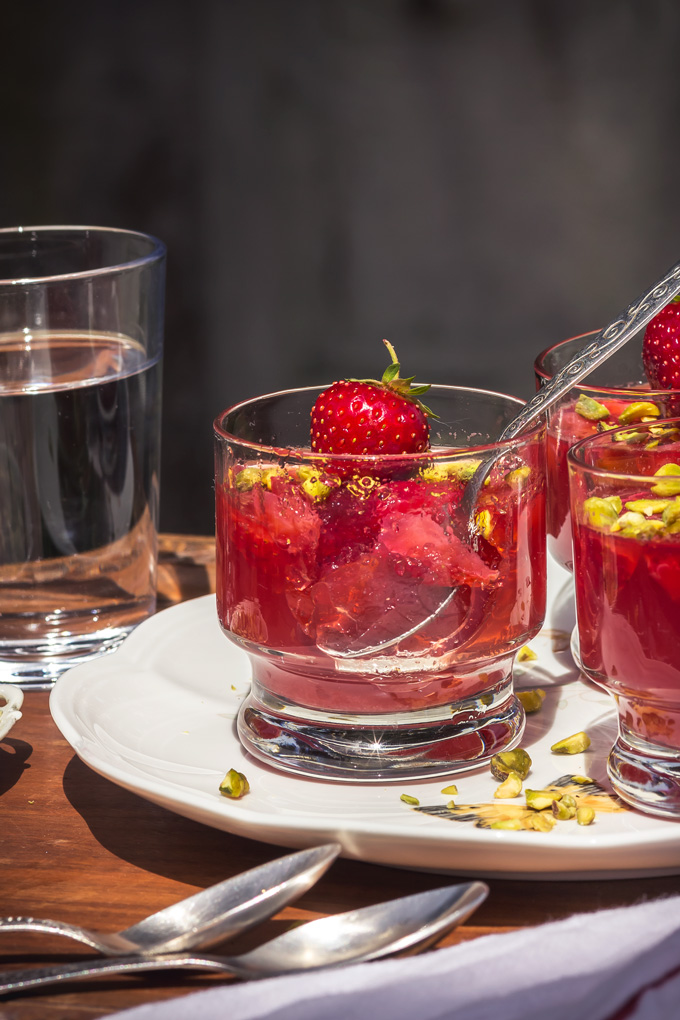 Not only it tastes like summer in a glass, but it also smells delightful. What I like most about rose wine is its fragrance. And it complements the strawberry aroma so much that I figured it would be the best match. If you are not a fan of rose wine, you can always use your favorite wine, like prosecco, port wine, Muscat or Champagne. All are beautiful choices and will have different taste in gelee.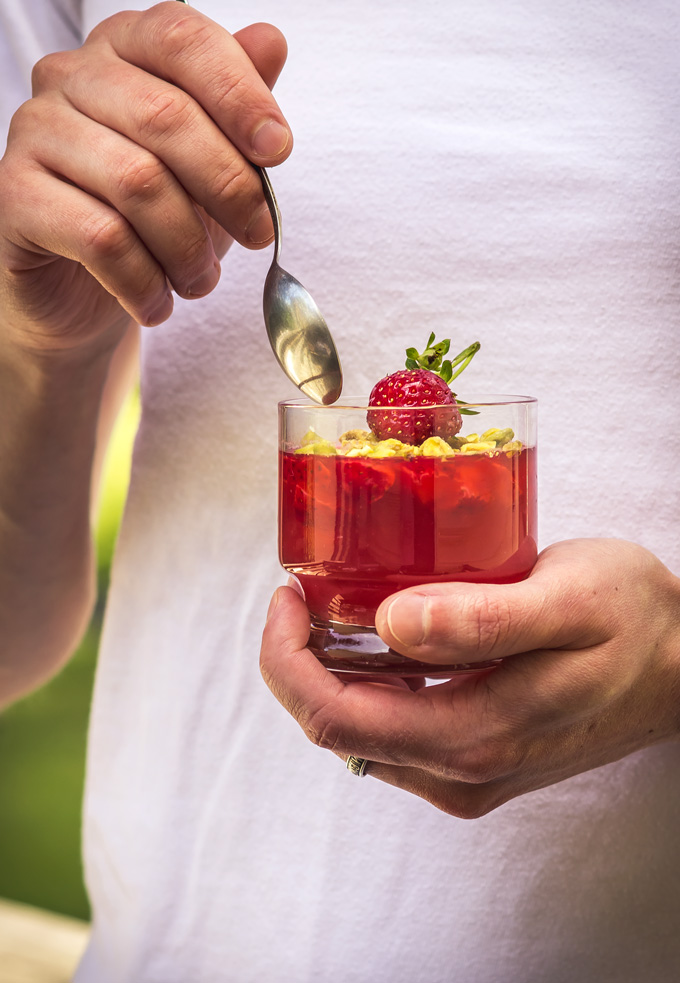 And since rose wine gelee looks alluring, you can make it for parties to impress your guests. For sure your guests will be grateful for the refreshing dessert on hot summer days. Just make sure they eat it right away. Otherwise, it will melt, but you can always save the day and serve it as a cocktail 😉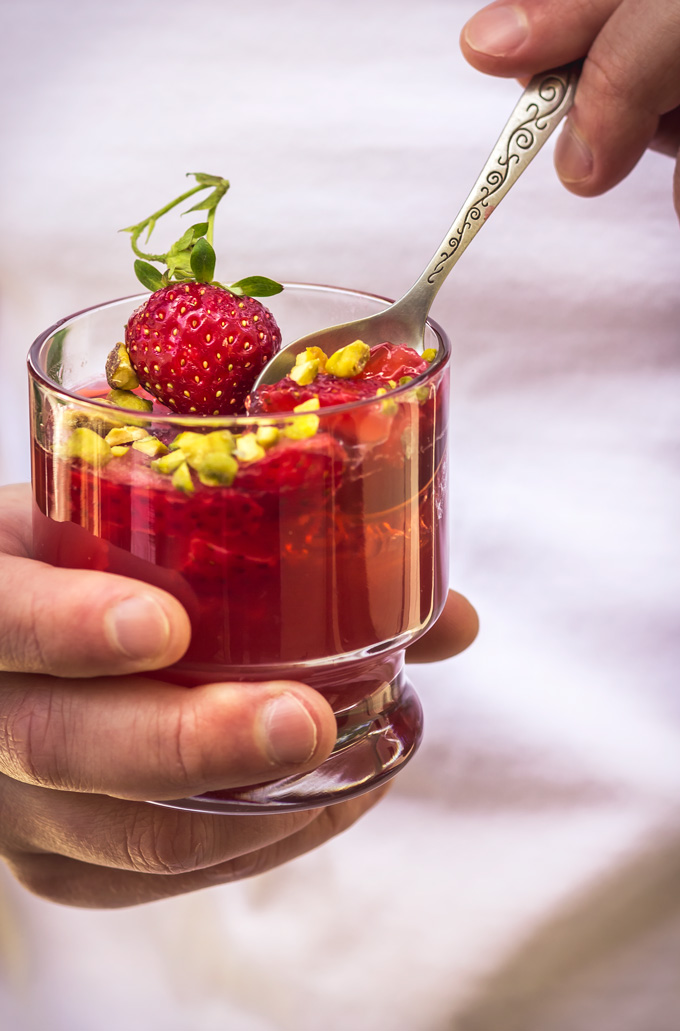 Although kids love gelees, but I don't think they will appreciate wine gelee. It is safe to give it a try, they won't get dizzy, but I'm pretty sure they are not going to like it. The taste and fragrance of wine that adults love and find notes and palettes, for kids is nothing more than spoiled juice. Which is Ok. Adults also have to have the adultio desserts they don't want to share with kids!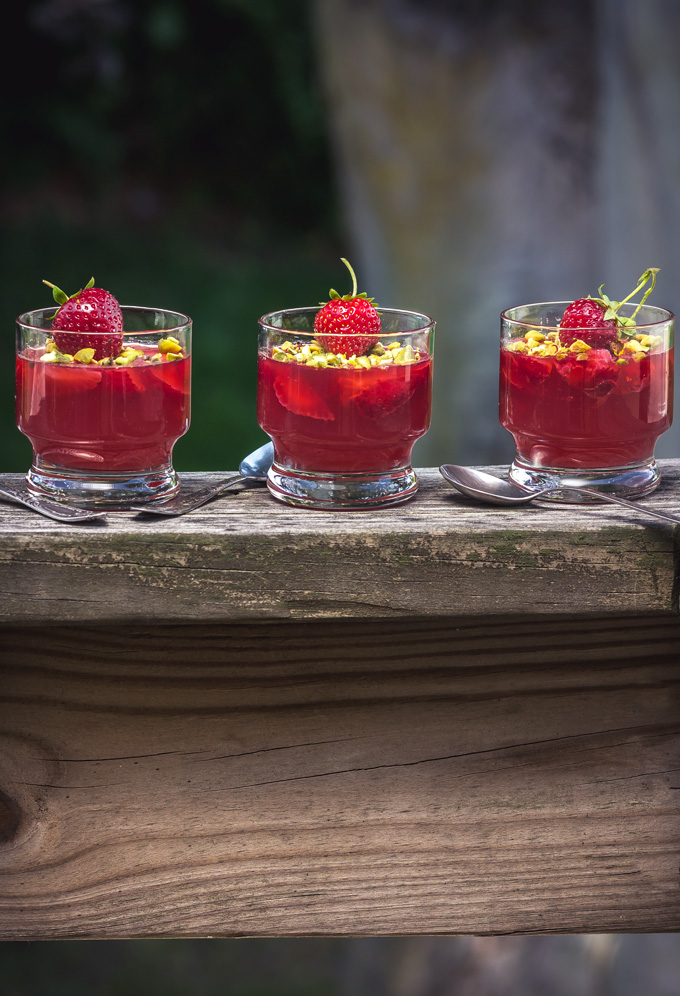 Regarding instruction for this strawberry gelee recipe, there is not much to tell. You take strawberries, extract as much liquid from them as possible. Mix everything and pour into preferred glasses. The only thing I want to mention is a quality of strawberries and rose wine. For both fragrance and taste is crucial. If you buy tasteless strawberries, then none of the rosé will fix the taste. And vice versa. That is why it is a perfect summer dessert. When you can buy cheap but flavorful and tasty seasonal strawberries, and rose wine is popping all over liquor stores. Choose wisely, and you will be rewarded with some tasty treat.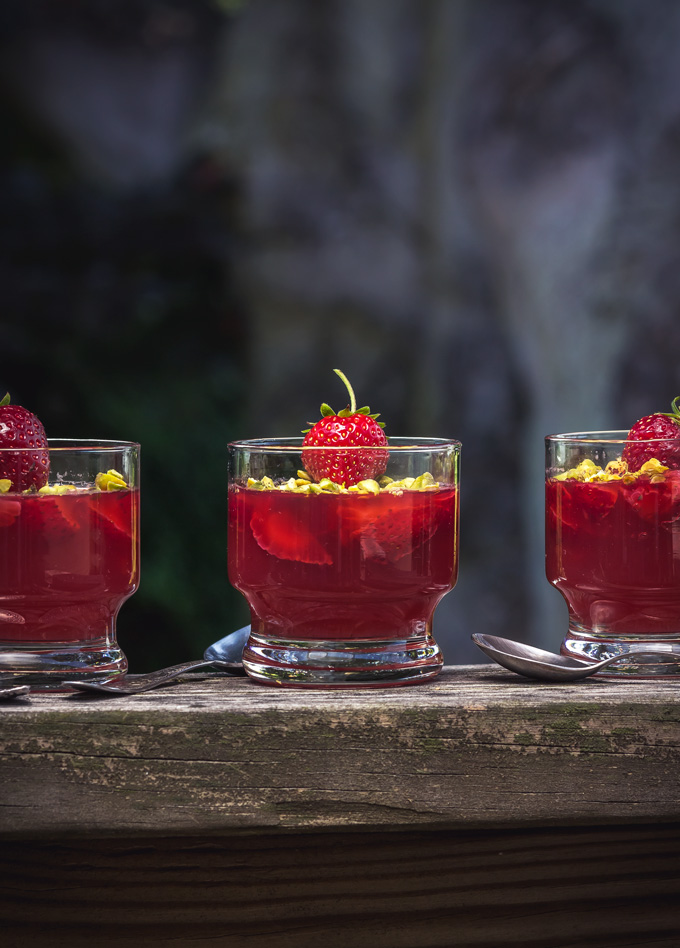 So there you have a simple summer dessert, that is easy to make, flavorful and joyful. Grab some fresh strawberries and your favorite wine and make some strawberry gelee. Because gelees mean fun and this is all summer should be about!
Happy Cooking 😉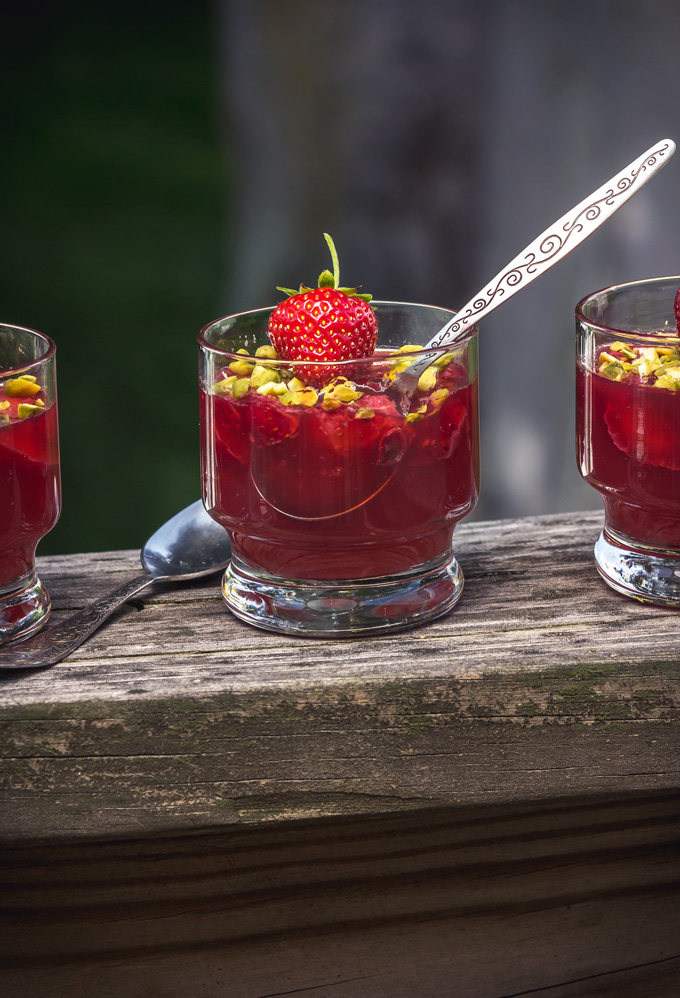 Strawberry Gelee Tips and Tricks:
Use the fresh organic or local strawberries. They are the base for the gelee, and you want to make sure it is flavorful and tasty.
After extracting the liquid from strawberries don't discard the solids. Use them as topping for your oatmeal, in smoothies or with yogurt.
It is better to use your favorite rose in this recipe. The more fragrant the rose is, the better taste of you gelees will be.
Instead of rose, you can use any fragrant wines like Riesling, port wine, prosecco or even champagne.
I usually make gelee desserts in glasses. This saves times and always looks impressive.
If you use molds to serve your strawberry wine gelee than this

How to Unmould a Jelly

.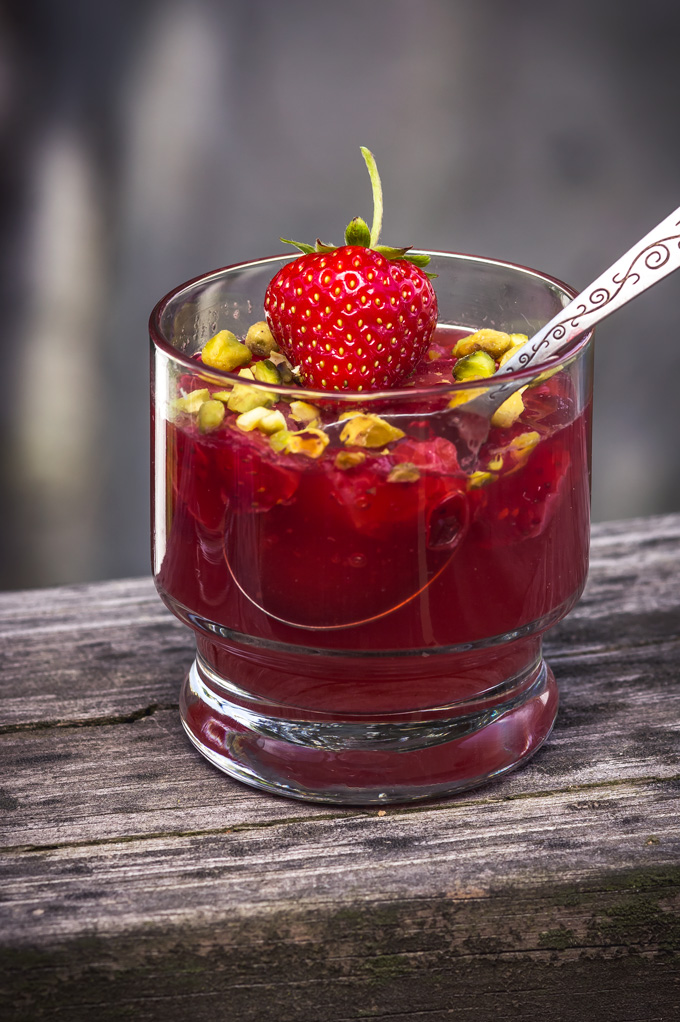 If you make this recipe, please share your picture with me by tagging it #thepuretaste on Instagram. Or share your results in the comment section down below. It means a whole world to me knowing someone is making my recipes.
Thank you for sharing and support ❤️❤️❤️
Maria
Yields: 8 small glasses
Rosé Wine and Strawberry Gelee with Pistachios
20 minPrep Time
15 minCook Time
35 minTotal Time
Ingredients:
2 lb. fresh strawberries, divided into 24 oz and 8 oz
½ cup sugar
1 cup water
1 cup rose wine
1 ½ tablespoons powdered gelatin
¼ cup water
¼ cup roasted unsalted pistachios
Instructions:
Wash, hull and cut into small pieces 24 oz. of strawberries. In a medium saucepan combine chopped strawberries and sugar. Let it sit for 3o minutes to release the strawberry juice. Bring to boil over medium heat. Turn heat to low cover and cook until strawberries are soft, about 5 minutes. Remove from heat. Strain the strawberry mixture through a fine sieve into a medium bowl pressing lightly to extract as much juice from strawberries as possible. Return the liquid to a saucepan. Save strawberry solids for another use.
Add rose wine to strawberry liquid and gently stir.
In a microwave-safe cup dissolve gelatin in ¼ cup of cold water. Let it sit for 3 minutes. Microwave gelatin for 15 seconds or until warm and liquefied. Add it to a saucepan with strawberry rose mixture. Heat it over medium heat stirring gently. You want to make sure the gelatin is completely dissolved, but do not bring mixture to a boil, 2-3 minutes is enough.
Remove from heat and let it cool slighly.
Meanwhile, wash and hull the rest 8 oz. of strawberries. Slice them and divide evenly into glasses. Pour over cooled mixture. Refrigerate for at least 6 hours or overnight.
When ready to serve remove from fridge. Serve in the glasses or unmold the gelees.
To unmold gelees:
Run a thin knife around the molds. Dip each mold into a bowl with warm water for about 5 seconds. Invert mold onto a serving plate. Gently shake the mold to release gelees on the plate.
Chop roasted unsalted pistachios and sprinkle on top of gelees.
Top with fresh strawberries and serve immediately.
Notes:
The Total Time does not include resting time, which is at least 6 hours.
7.8.1.2
49
https://thepuretaste.com/rose-wine-and-strawberry-gelee/