This breakfast egg sandwich recipe is healthy, easy to make and a delightful option to make for breakfast or brunch. With just 5 ingredients and 15 minutes, you'll have a delicious, healthy egg breakfast sandwich to comfort you and make your day little better and happier.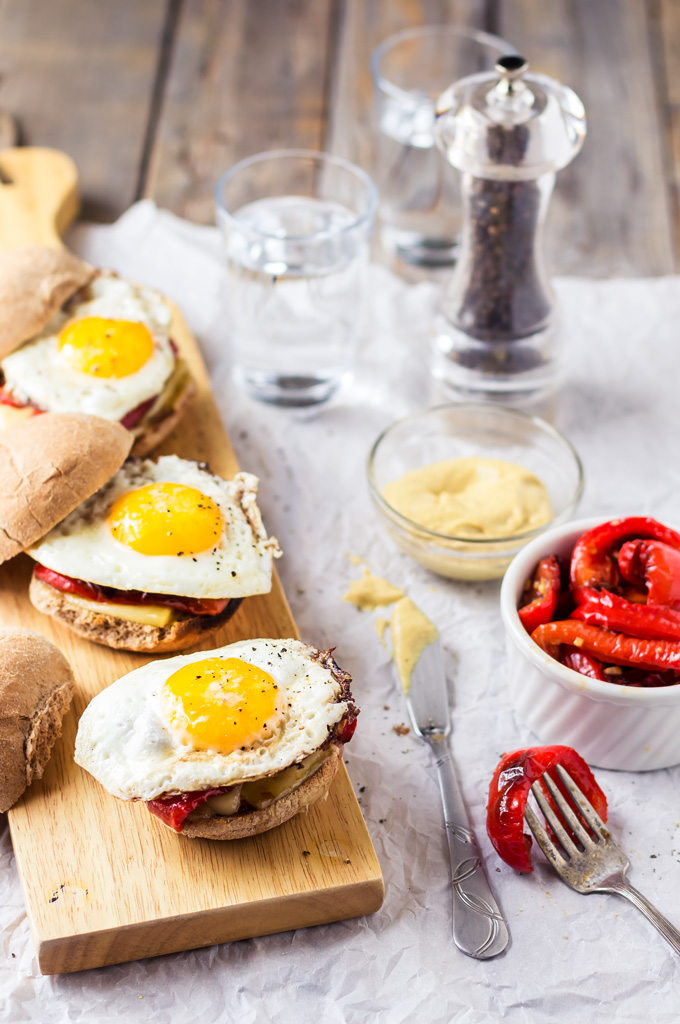 Aint't nothing better sometimes to treat yourself with a beautiful and delicious egg breakfast sandwich.
There is something homey in the smell and taste of fried eggs. As much as I love egg salad sandwich, but I always lean my choice toward fried egg sandwich. Because after the first bite I feel comfort and happiness. Just like when you were a kid and mom fried an egg for you the way you like it, put in on toasted bread and you immediately dig in.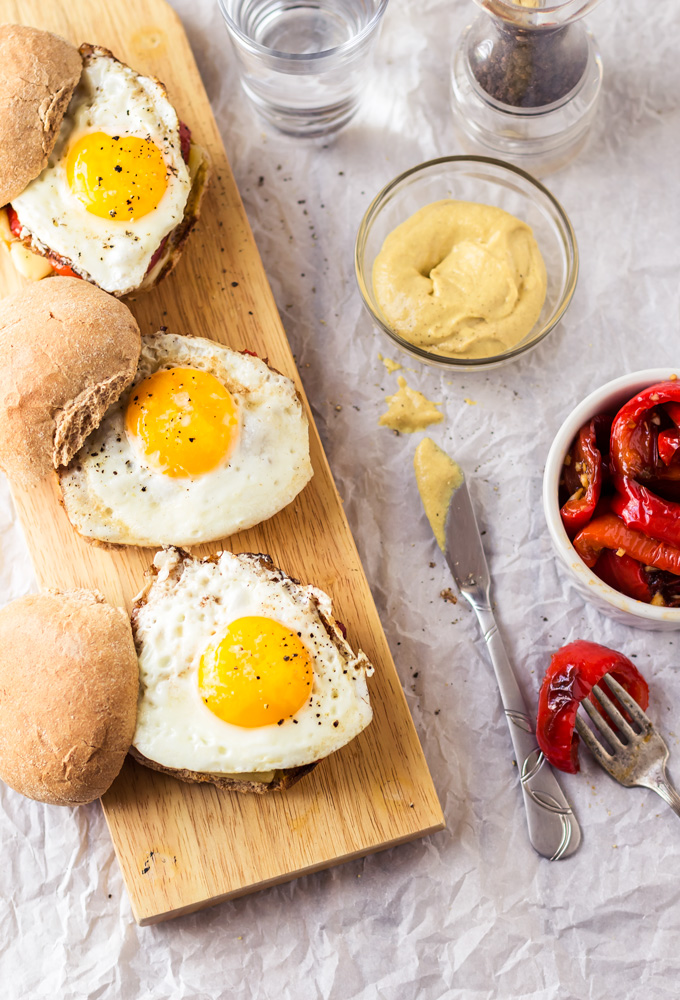 I went a step further and fancied it up with the Dijon mustard and roasted red peppers. From simple egg sandwich, it went to café style sandwich.
The sandwich is made with only five ingredients, but those ingredients are complimenting each other. The slightly crusty on the outside and soft on the inside bun. Your favorite melted cheese with marinated roasted peppers. The runny egg yolks soaked into the top of the bread. All of this is a pure breakfast pleasure.
And it only takes about 15 minutes to make. Don't have 15 min during busy mornings, fine, make it as a special weekend breakfast or even better as a brunch sandwich. I also made it many times for lunch and enjoyed it as well.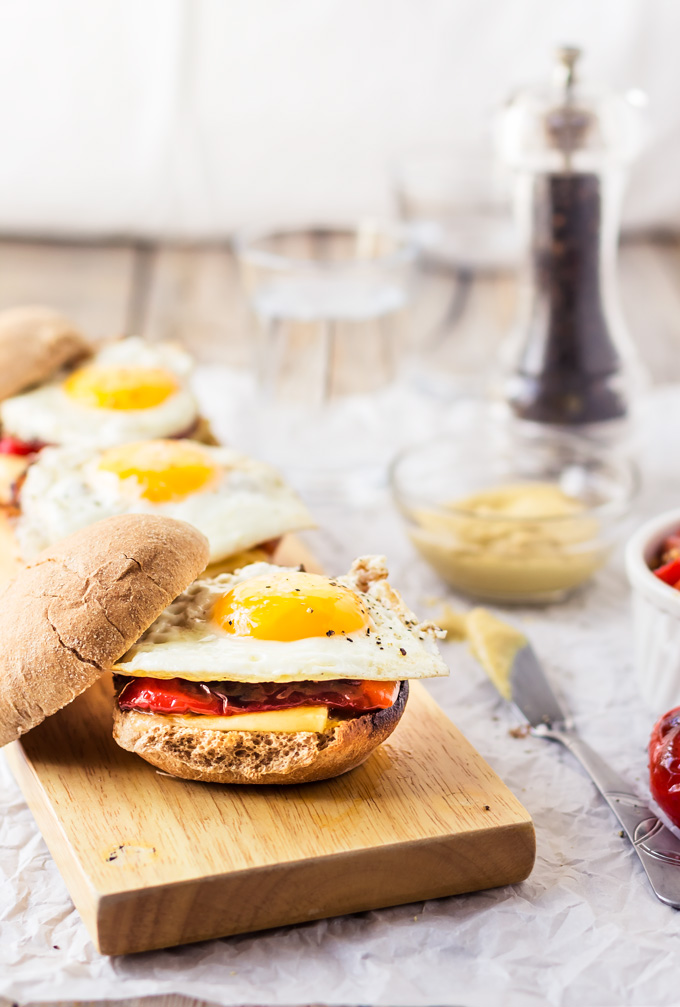 Most of the time you have all ingredients for this sandwich except for one – roasted peppers. But maybe roasted peppers is something you can't live without, and you always have it in your fridge?! Then you can stop reading and make this breakfast egg sandwich recipe. But if you don't have it, I encourage you to make homemade roasted bell pepper. Yesterday I created the post about How to make oven roasted peppers and marinate them. Make it once, and you will have plenty of healthy breakfast sandwiches to make. It is also OK to use store-bought roasted peppers. They will be slightly soggy, so make sure to drain it well.
Now you know how to make egg sandwich and how easy and healthy it is.  As always the best food is the simplest food.  This healthy egg sandwich will make your day a little more comforting and happier.
Happy Cooking 😉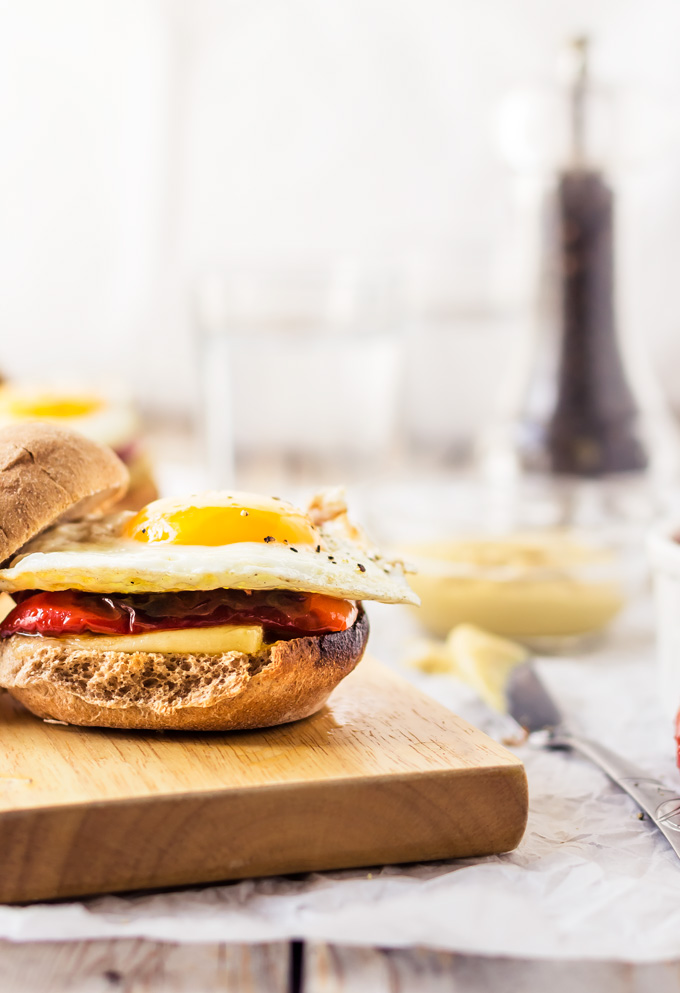 How to make a fried egg sandwich Tips and Tricks:
Any soft bread or buns are suitable for this fried egg sandwich recipe.
Melting the cheese is an optional step, but it helps to keep things together and tastes better.
We all like different eggs. Fry it to your preference. This How to Fry the Perfect Egg article will help you decide your style of fried eggs.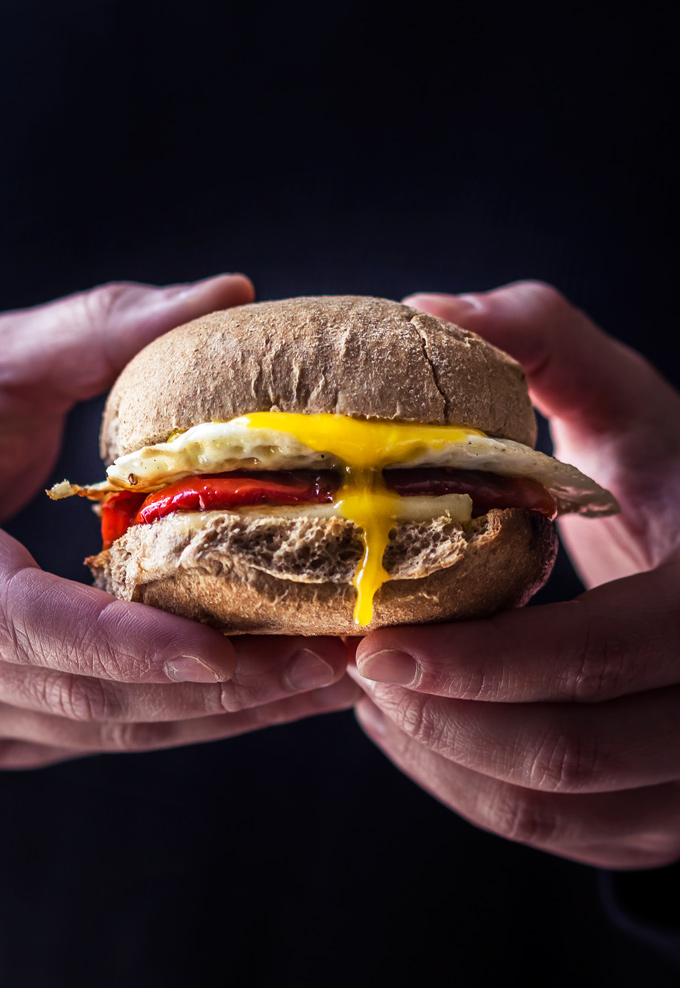 If you make this recipe, please share your picture with me by tagging it #thepuretaste on Instagram. Or share your results in the comment section down below. It means a whole world to me knowing someone is making my recipes.
Thank you for sharing and support ❤️❤️❤️
Maria
Yields: 4 breakfast sandwiches
Healthy Breakfast Egg Sandwich With Roasted Peppers
10 minPrep Time
5 minCook Time
15 minTotal Time
Ingredients:
4 whole wheat buns, toasted
2 tablespoons Dijon mustard
4 slices of your favorite cheese
12 1-inch strips of roasted peppers
4 large eggs
1 tablespoon unsalted butter
Salt and black pepper
Instructions:
Toast buns to your liking. Spread ½ tablespoon of Dijon mustard on each bun. Top with cheese and melt it slightly under the broiler (optional step). Top with roasted red peppers.
Heat a large nonstick skillet. Add butter and swirl the pan, so butter spreads evenly. Gently crack four eggs. Sprinkle with salt and pepper. Fry eggs to your liking.
Carefully with the spatula layer each egg on top of the roasted peppers. Gently place the top of the bun.
Enjoy!
7.8.1.2
48
https://thepuretaste.com/breakfast-egg-sandwich-recipe/
Disclosure: This post contains some affiliate links.  If you purchase a product through one of my links, I will earn a small commission at no extra cost to you. I only recommend products that I use and love myself. Thank you in advance for your support! It means a lot!
Products used in this post: