This oven roasted peppers recipe is super easy to make, very delicious and so versatile. Make one batch of homemade roasted red peppers and use it different dishes or eat them straight from a jar!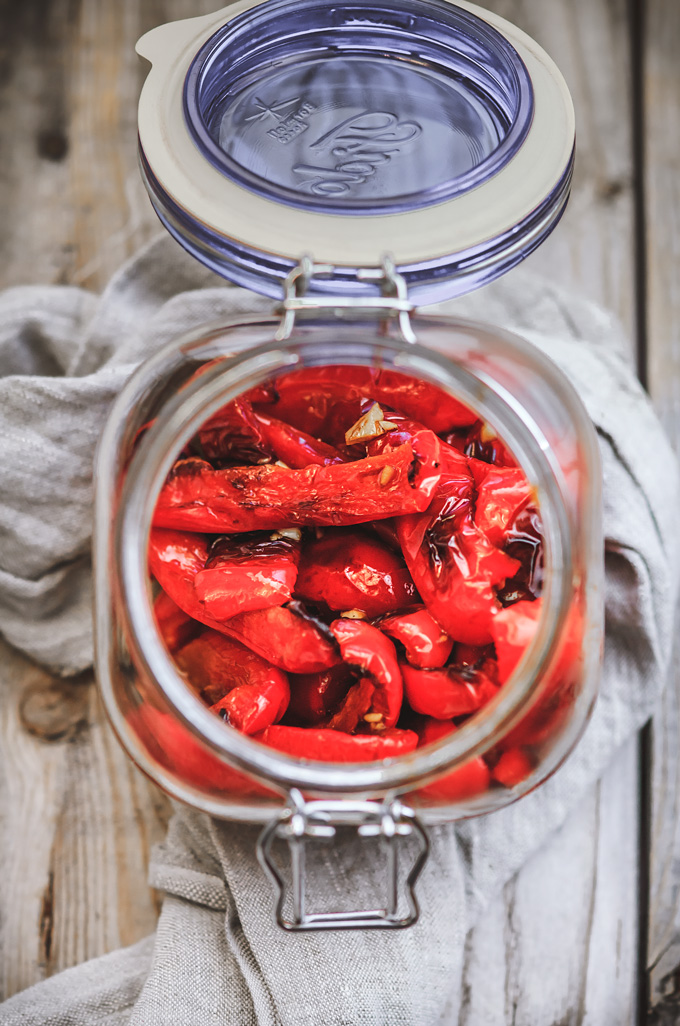 Summer finally arrived in New England. That means cheap fresh produce is just around the corner.
I'm a produce bargain hunter. When I see a bag or box of something, I'm buying it without much thinking where and how to use it. Especially when I see heavyweight produce, like bell peppers.
In Ukraine, we eat a lot of bell peppers. Every garden has it, they are very cheap to buy, and we love eating them.
My mom loves bell peppers, and I have a whole lot of recipes using them, including different ways of roasting and marinating. Eventually, I will share all of them with you. But will start with this simple oven roasted peppers in olive oil.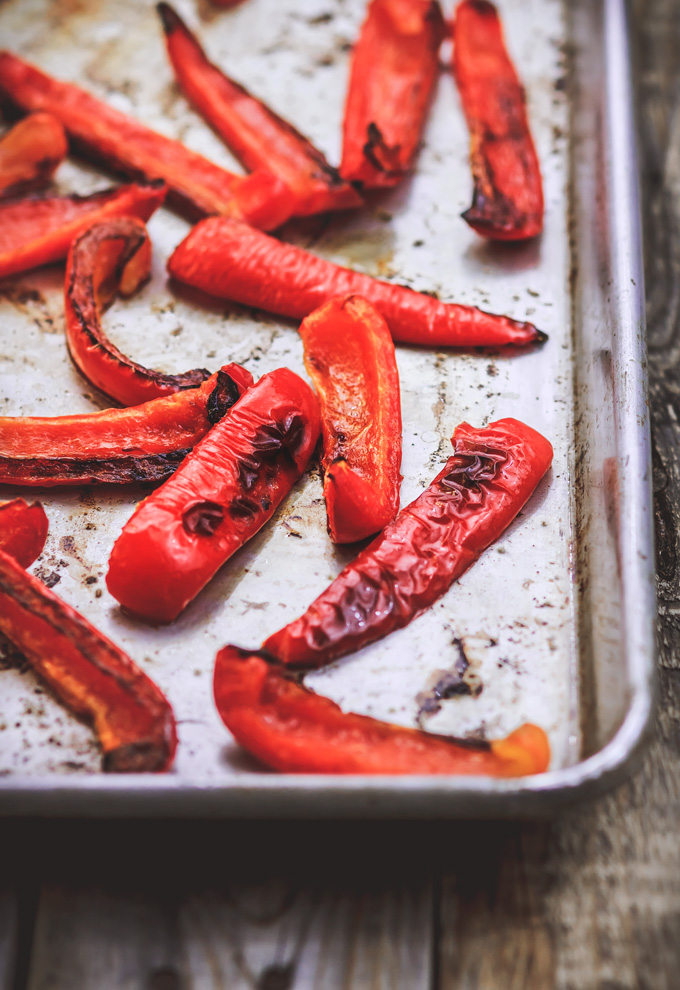 It is super easy to make. All you need is cut, roast and marinade them. The whole process takes little more than 1 hour, where active time is about 15 minutes. Little efforts yield delicious result!
I usually roast the whole bag of them, around seven peppers. Because I love to have roasted bell peppers in my fridge and use them in different recipes.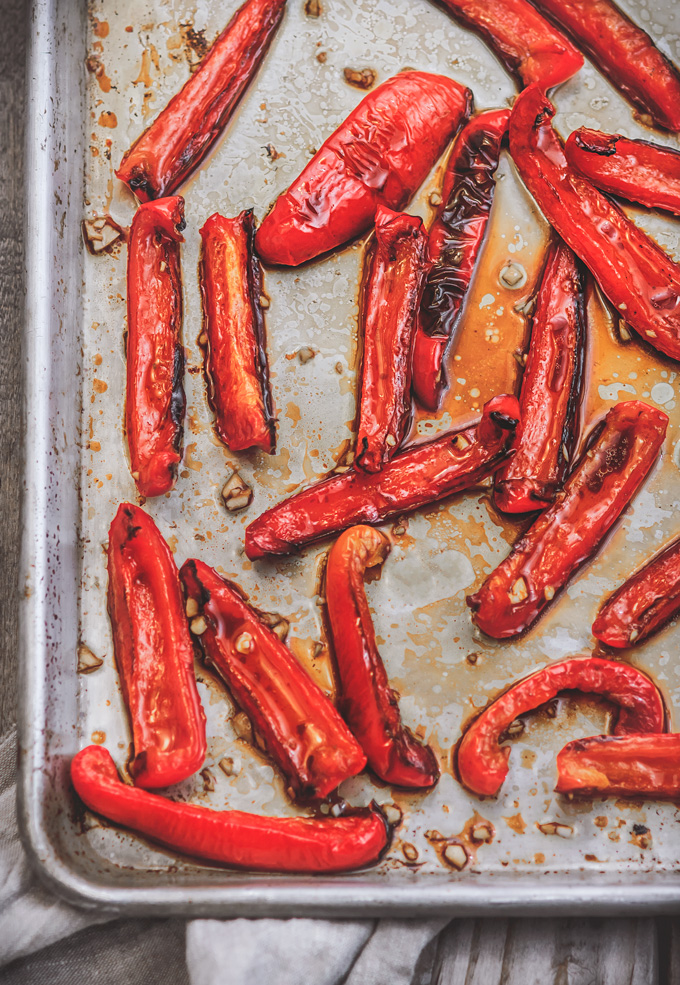 The uses of roasted red peppers are limitless, and they will save you lots of time making different breakfasts, lunches, and dinners.
My favorite ways to use roasted peppers:
Make simple roasted pepper pasta
Use as pizza topping
Add it to any salad
Make a simple roasted pepper appetizer, like crostini
Top your omelet with it
Add it to any warm vegetarian dish
And my favorite way – use it in a sandwich. This breakfast egg sandwich with oven roasted red peppers is coming up next!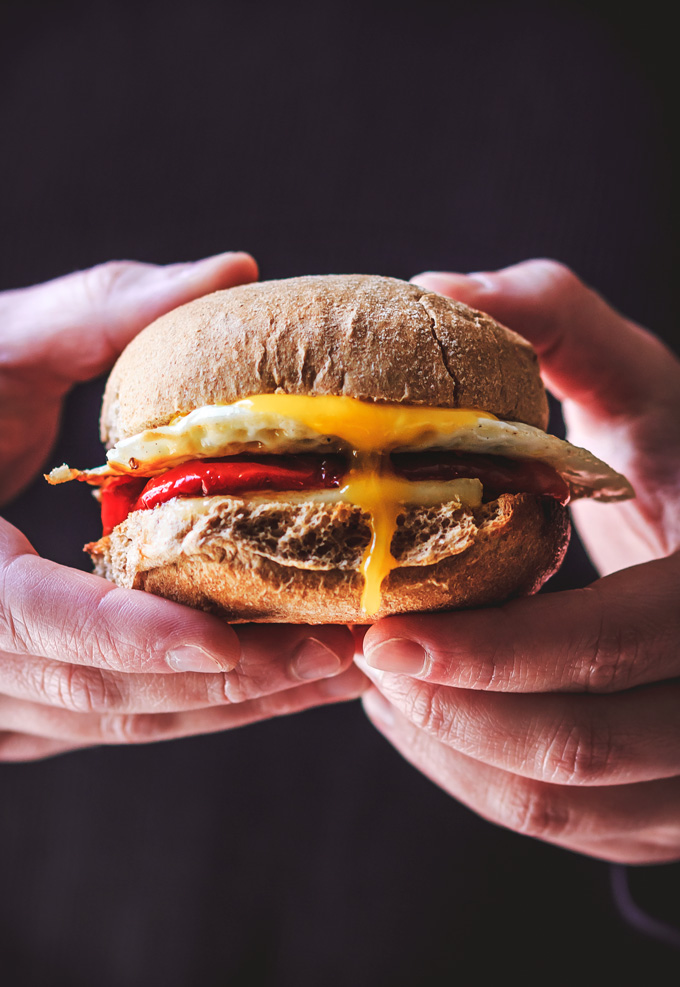 As you can see, there are a whole lot of reasons why you should try roasted red peppers in oven. Wait when they are in season, grab a bag of bell peppers and learn how to make roasted peppers in oven.
Happy Cooking 😉
How to roast peppers in oven Tips and Tricks:
Try not to overlap them in a tray. Each stripe needs a direct contact with the baking sheet. If you have too many, use two trays.
Do not use extra virgin olive oil, especially for roasting. I use pure olive oil from Kirkland.
Add less or more garlic to your liking. I'm a garlic lover and can use up to 7 garlic cloves. In the recipe, I noted three but usually I use more than that.
Use real balsamic vinegar. The taste does matter and since it will keep marinating with days don't skip on quality.
On the final cooking step, I always taste one and adjust seasonings. Maybe it needs more vinegar, or salt, or garlic. Always adjust it to your liking before putting them in a jar.
Maria
How To Make Oven Roasted Peppers
15 minPrep Time
50 minCook Time
1 hr, 5 Total Time
Ingredients:
2 pounds red, yellow or orange bell peppers
1 tablespoon kosher salt
2 1/2 tablespoons olive oil
3-5 medium garlic cloves, finely chopped
2 tablespoons balsamic vinegar
3 tablespoons olive oil
Instructions:
Preheat oven to 365 F.
Clean peppers and cut them into 1-inch strips. Scatter on a regular baking sheet. Generously sprinkle with kosher salt. Let it sit for 5 minutes. Pour olive oil over peppers and mix everything with your hands.
Roast on the middle rack for about 50 minutes, depending how many peppers you have. Flip them over in the middle of roasting. Peppers are ready when they have wrinkled and slightly burned skin (see pictures).
Remove from oven and let cool slightly.
Meanwhile, make the marinade. In a small bowl whisk together chopped garlic, olive oil, and balsamic vinegar.
When peppers are warm to touch pour marinade over and mix everything with your hands.
Let cool completely. Remove peppers to a clean glass jar or container. Let them marinate at least one day.
Can be refrigerated up to two weeks.
Enjoy!
7.8.1.2
47
https://thepuretaste.com/oven-roasted-peppers/
If you make this recipe, please share your picture with me by tagging it #thepuretaste on Instagram. Or share your results in the comment section down below. It means a whole world to me knowing someone is making my recipes.
Thank you for sharing and support ❤️❤️❤️