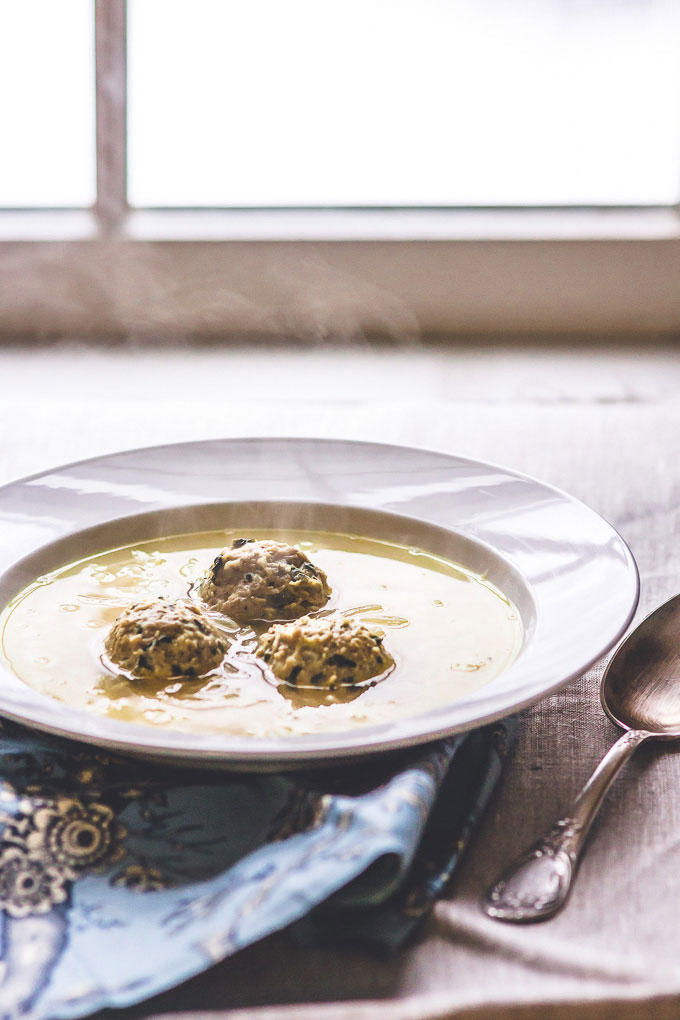 When the snow is gently laying down creating a winter wonderland, when the whole city just stops all the rush, then it's a perfect time for a beautiful walk. That was a charming and romantic walk. The result – a runny nose and stuffy head next day . My favorite and the only pleasurable way to treat a cold is a homemade soup. Not only, I crave lately for the soup because I got sick but also because it's freezing outside. When your thermostat shows 71 degrees inside, and you are still shaking, only the soup can warm and soothe you inside. So today I want to share with you one of my favorite Light and Healthy Chicken Meatball Soup.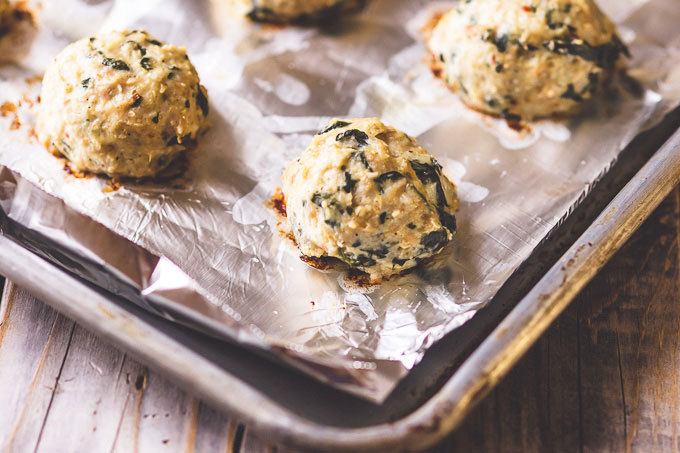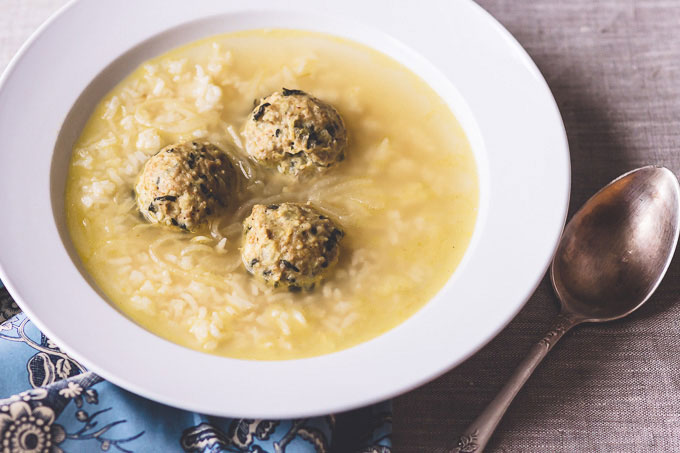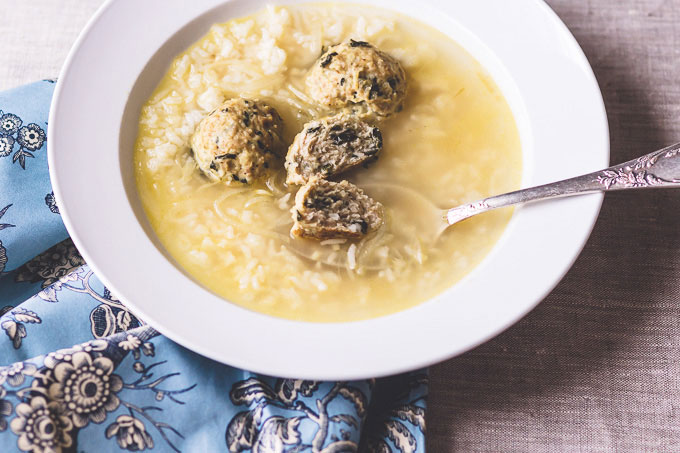 This soup is special for me because it reminds me so much of my childhood! I refused to eat almost everything at kindergarten except for this soup and maybe a few other not so bad dishes. I always had the feeling that some witches are working in kindergarten's kitchen because the mess they were feeding us looked like the witch's potion. One day, I dared to peek into the kitchen and oh boy was I right about the potion. It seemed like the dark magic was controlling the kitchen. Anyway, there is always the light even in the darkest place. I loved this light and healthy chicken meatball soup very much and actually had pleasure eating it.
For some reason, it was forgotten for many years, and I never cooked it, nor did my mom. To my surprise, I found this recipe at Joy's blog. I never expected to find such a similar taste of my childhood in American food blog. Thank you so much, Joy, for bringing this taste back into my life. When I first made this soup, it reminded me so much of the chicken meatball soup from the childhood, that I made all the adjustments and created the same taste.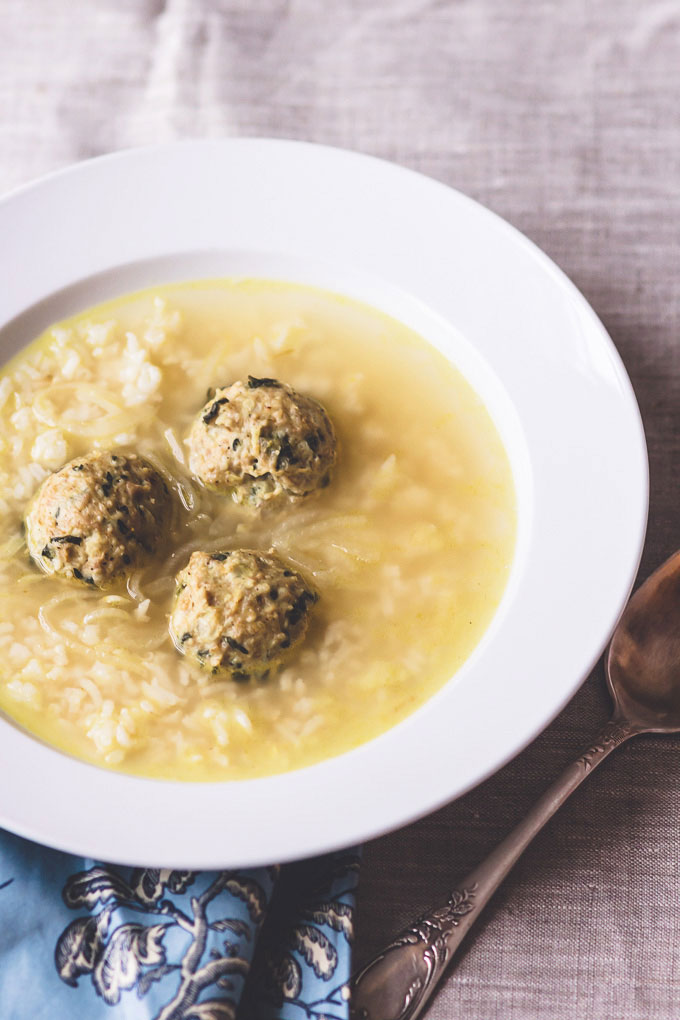 The lemon zest in the meatballs brings the delightful scent to soup what makes it so refreshing. And the lemon juice added at the end of cooking not only eliminates the salt amount but also adds a tangy flavor to it. The whole combination of chicken meatballs with ground oatmeal, lemony taste, and scent, chicken broth, fills your entire kitchen with the warming and cozy smell.
The soft melts in your mouth meatballs won my kid's heart and won it again in my adult years.  It is very light,  well-balanced and satisfying. After eating this soup, what's left in your body is light, satisfying feeling that brings you joy, happiness, and comfort. Maybe it's part of the memories, but I swear this soup is warming my heart spoon after spoon.
I loved it so much, so I wonder whether your kids will love this soup as well? Try it, and you may end up with one more warm-hearted kid. Except for the yucky spinach, there is nothing else that can upset the kids. And you can always remove the spinach at the first try and add it later.
I hope you will make and fall in love with this wonderful soup. Stay warm and healthy!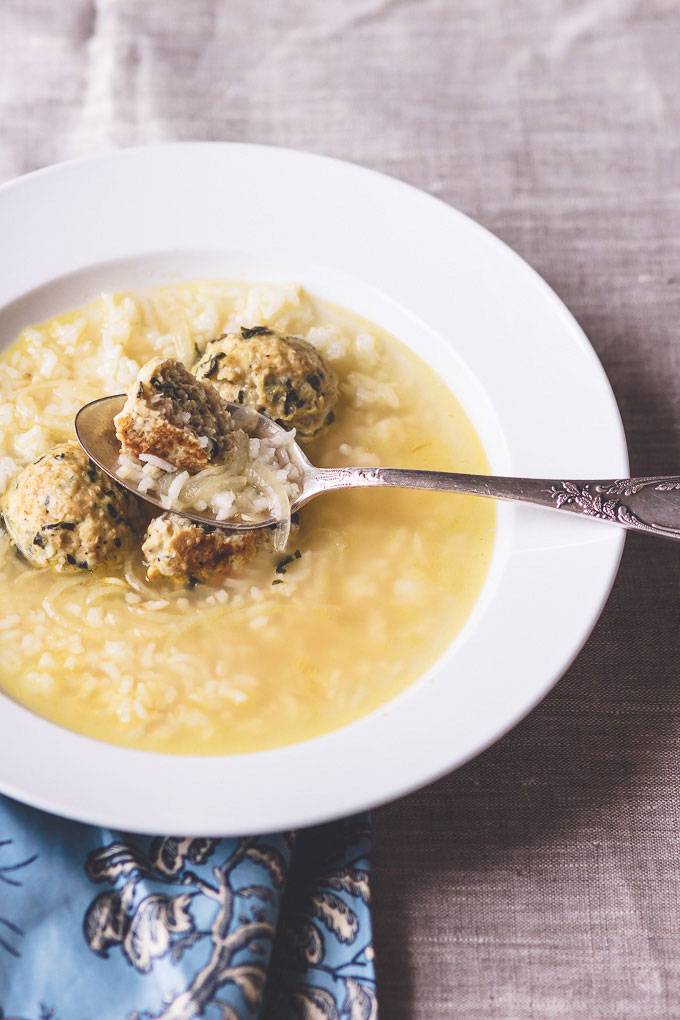 Chicken Meatball Soup Tips and Tricks:
The meatball size is solely your choice. I was in a hurry so made 

medium size (cookie dough scoop) meatballs.

For kids, it will be more fun and eye pleasing smaller size, like a tablespoon. For smaller size, you have to lower the baking time to 5 minutes to avoid overbaking.
The amount of lemon juice is also your call. My husband is sensitive to lemons, so I'm careful with it. This recipe shows the average amount I use. If you want a bit tangier, add more but be very careful, adding too much will ruin it.
Keep the cooked rice separately and add it to each bowl before serving. This helps the rice to retain its
The trick that I learned about healthy cooking is that you can always substitute ground oatmeal for the breadcrumbs. The ground oatmeal acts the same way. It absorbs all the delicious juice from the meat and does not let it escape. Such a win-win: you will end up with the tasty juicy meatballs and healthy alternative.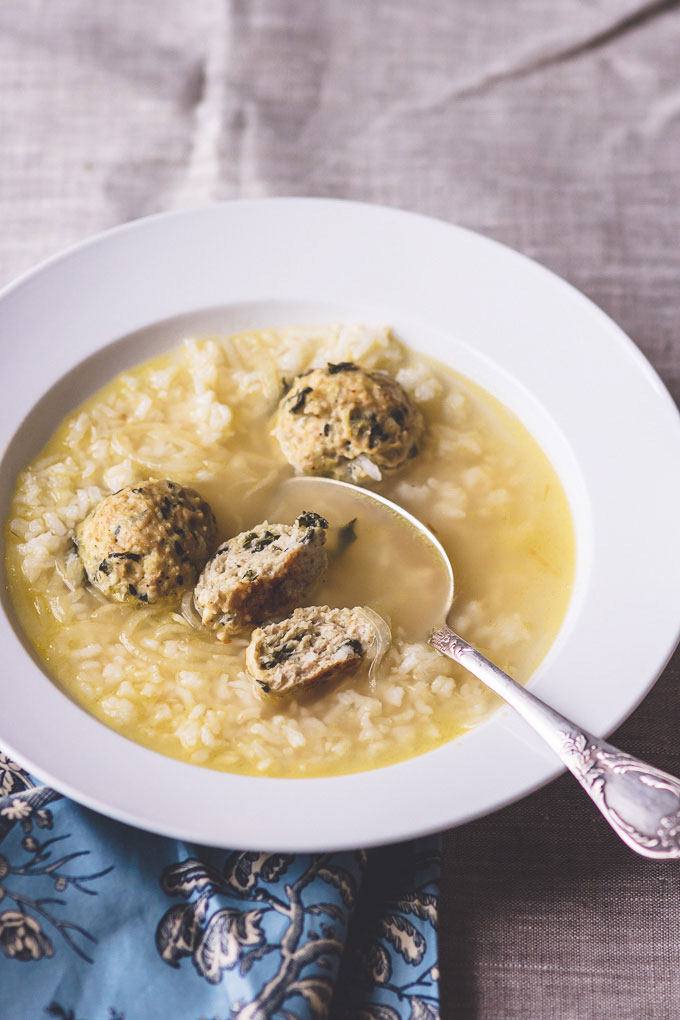 Yields: 4-6 servings
Light and Healthy Chicken Meatball Soup
20 minPrep Time
40 minCook Time
1 hrTotal Time
Ingredients:
For the Meatballs:

1 pound ground chicken
¾ cup frozen spinach, thawed and water squeezed out
1/4 cup finely diced yellow onion
1 clove garlic, minced
1 tablespoon dijon mustard
1 teaspoon lemon zest
1/2 teaspoon kosher salt
1/2 teaspoon ground black pepper
1/4 teaspoon crushed red pepper flakes (optional)
1/2 teaspoon ground coriander
1/4 teaspoon grated nutmeg
1/2 cup finely ground old fashioned oatmeal
1/2 cup grated parmesan cheese
1 large egg
2 tablespoons whole milk

For the Soup:

2 tablespoons olive oil
1 medium onion, cut in half and thinly sliced
1 big clove of garlic, sliced
7 cups good chicken broth
1 dried bay leaf
2 - 3 tablespoons fresh lemon juice
2 cups cooked white or brown rice (1 cup of uncooked)
salt and pepper
fresh parsley and grated parmesan cheese, for serving
Instructions:
For the meatballs:
1. Preheat the oven to 375 F. Line a baking sheet with foil, lightly grease it and set aside.
2. In a medium bowl combine ground chicken, spinach, onion, garlic, mustard, lemon zest, salt, black pepper, red pepper flakes, coriander, nutmeg, ground oatmeal, and parmesan cheese. Mix until just combined. In a separate small bowl, whisk together egg and milk, and add it to a meat mixture. Using your hands blend everything together until all ingredients are well combined. Using a cookie scoop or a tablespoon make the same size meatballs and place on a baking sheet, spacing 1-inch apart.
3. Bake for 10-20 minutes, depending on a meatball size until cooked through and light golden-brown color.
For the soup:
Cook the rice and set aside. In a large heavy bottom pot, heat olive oil over medium heat. Sauté onions until translucent and softened, about 5 minutes, stirring often. Add garlic and sauté for 2 additional minutes. Add the chicken stock and bay leaf. Bring to a boil. Lower down the heat and add cooked meatballs. Simmer for 10 minutes. At the end add lemon juice, salt, and black pepper to your taste.
To serve:
Divide the desired amount (~ ½ cup) of cooked rice into the bowls. Ladle in broth and meatballs. Sprinkle with parsley and cheese.
7.8.1.2
16
https://thepuretaste.com/chicken-meatball-soup/
Disclosure: This post contains some affiliate links.  If you purchase a product through one of my links, I will earn a small commission at no extra cost to you. I only recommend products that I use and love myself. Thank you in advance for your support! It means a lot!
Products used in this post: