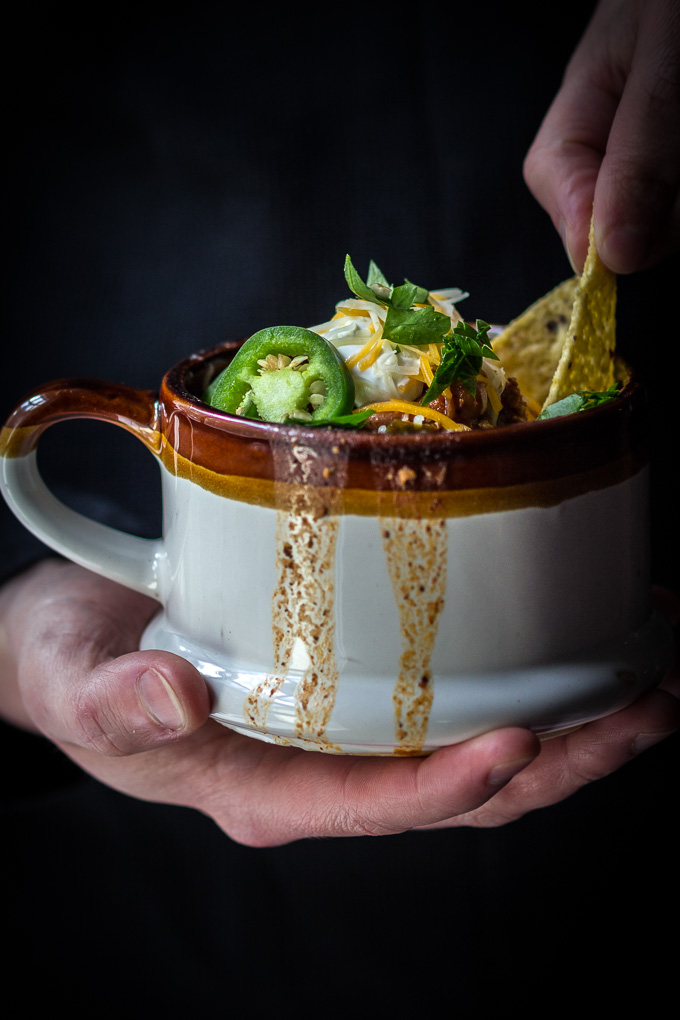 In Ukraine (where I'm from) I have never tried the chili, and I don't believe it is there yet. My comfort fall and winter food always have been soups and stews. It did not take long for chili to join my comfort food list. The warmth of spices does the magic with the body and the mood. You just feel so calm and satisfied after the bowl of chili. And because I always think how to lighten up any recipe, I decided to make chili with ground turkey. The result is the lighter turkey chili to soothe and comfort you during cold days.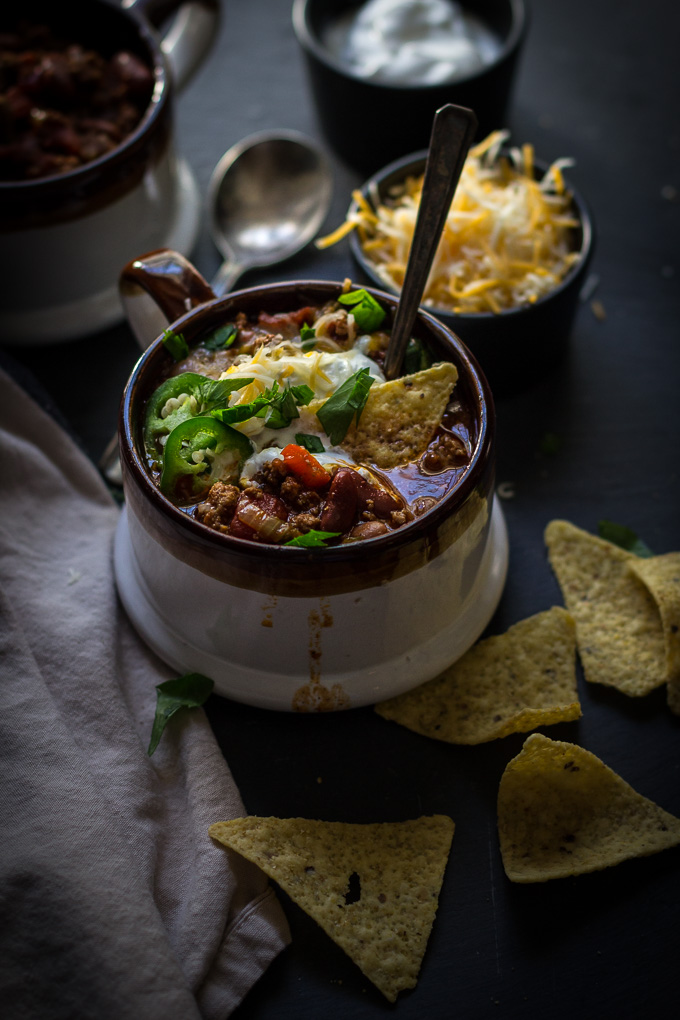 The first chili I tried was way too spicy for me. This is South American dish after all, and it should be spicy. However, I don't like it to be dragon fire spicy, when after a single bite you're reaching for a glass of water. I go for a medium level, to feel and appreciate the spiciness without burning your mouth. Everybody has their level of spiciness, and I suggest to follow your sense and adjust it to your and family liking. If spiciness is your thing, then you can always add cayenne pepper directly into your bowl 😉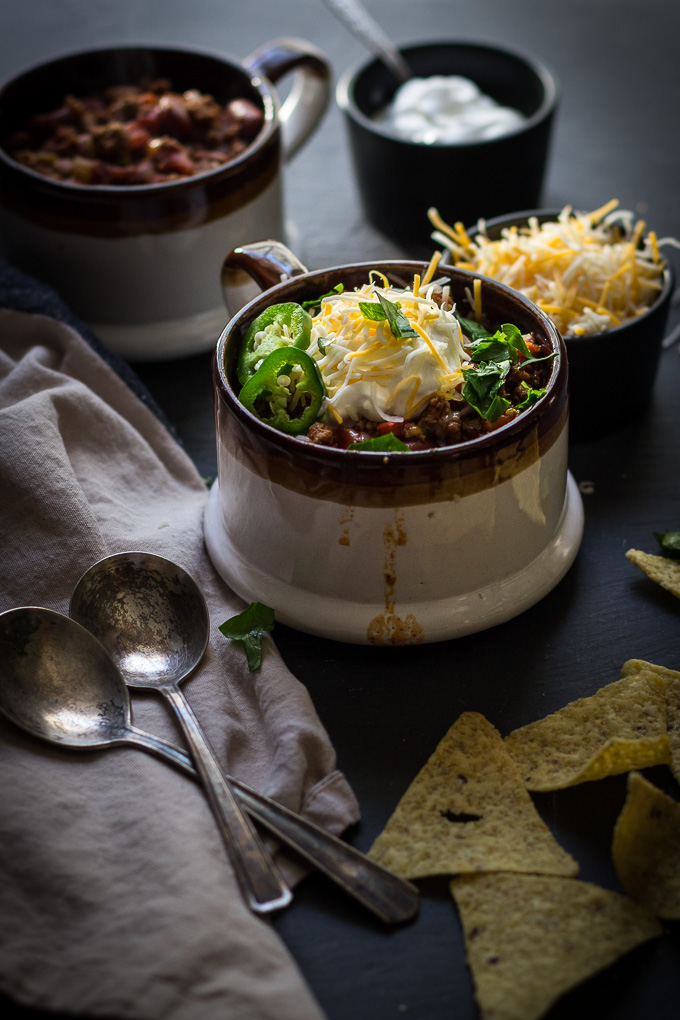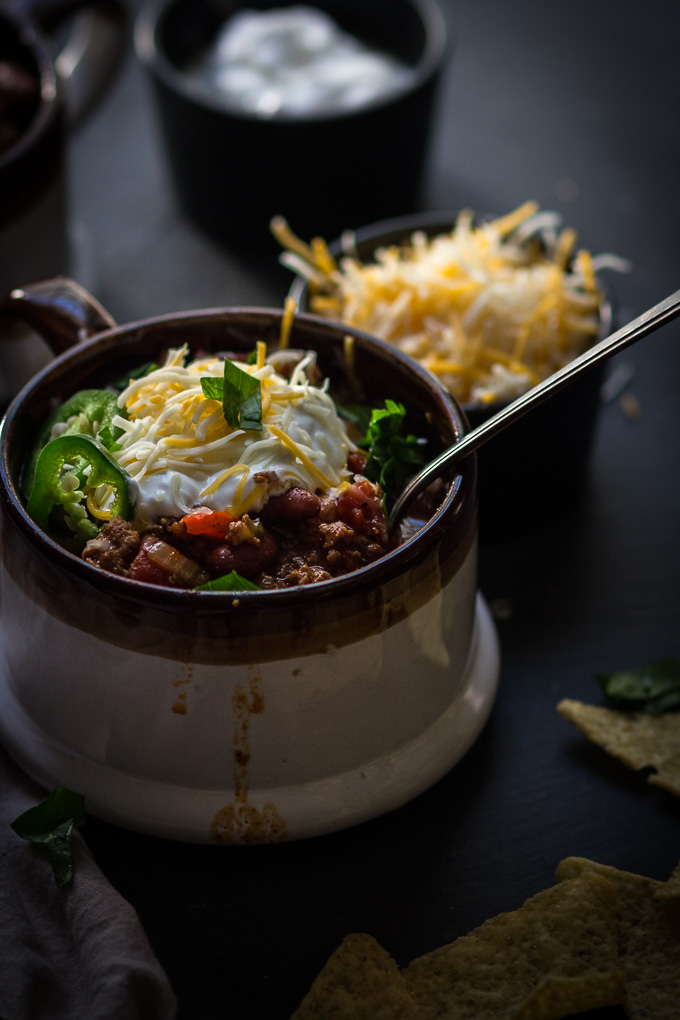 Not that I mind beef chilies, but we tend to consume a lot of beef during fall and winter. So to change things up and give the body a rest from beef, I decided to make it with ground turkey. Ground turkey is more on the dry side comparing to beef so make sure you buy 85% ground turkey. I buy mine at Costco. Whole Foods also have fresh white and dark meat ground turkey during Fall Season.  For chili, I buy 70/30 mix.
Turkey meat is very beneficial for your health, and I encourage you to read this article on health benefits of turkey meat, how to select and store it, and much more. It is one thing to take a food blogger word but other to read a trustworthy source. Putting aside all the healthy benefits of turkey, there are two facts that I love the most:
It is extremely easy to digest -> feel good in my belly feeling after eating it.
It is rich in Tryptophan (amino acid) that can transform into endorphins, which promote better mood, and this is such a must during cold seasons, at least for me.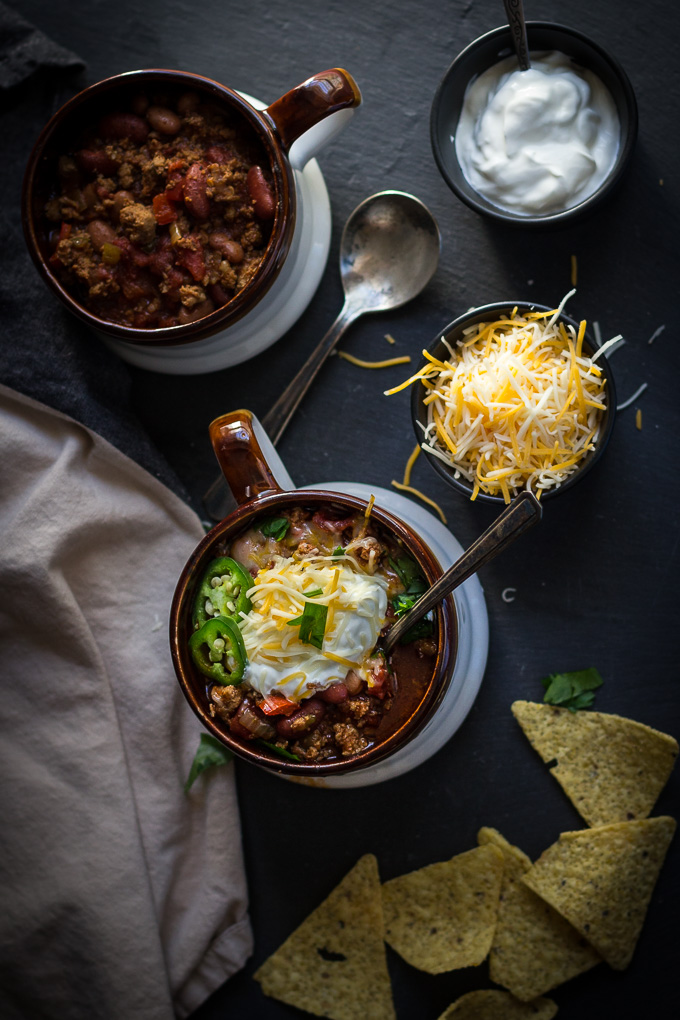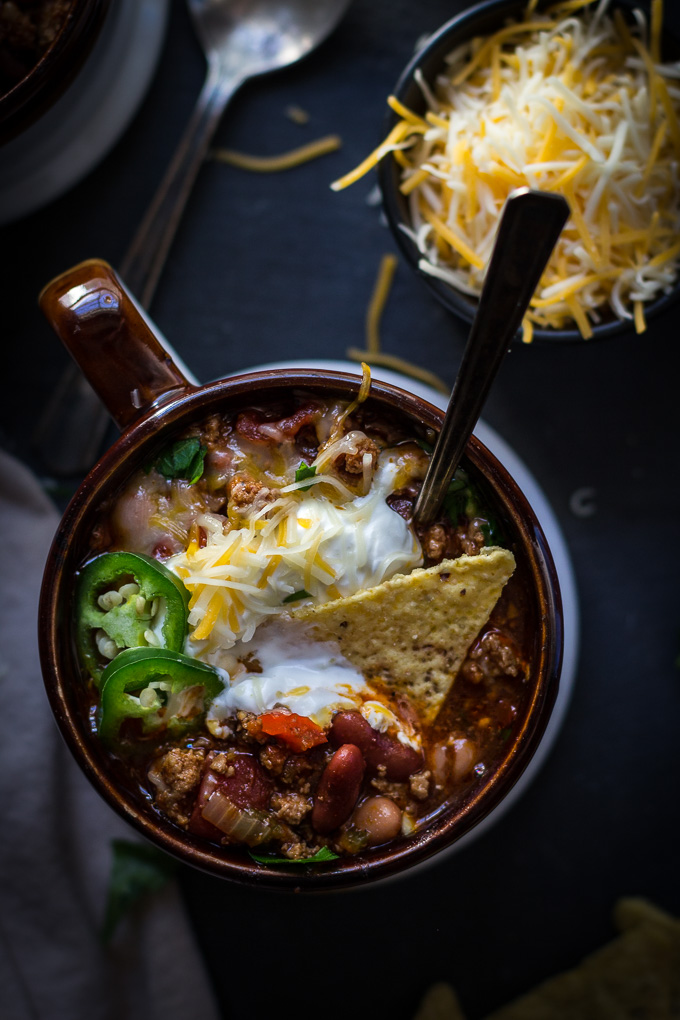 This turkey chili is definitely taste and feels lighter than beef chili. And that means I can put all the "bad" stuff on top with no guilt. I want a handful of shredded cheese and a dollop of sour cream in my chili to create a gooey mess. No playing around here… Not a requirement but I like to top my chili with some bright colors, like chopped green onions, parsley, cilantro, red onion, etc. It's almost all comfort food looks the same, and the color is always on a darker side, sometimes even not a good-looking color. The little pop of colors makes it more playful and festive. A tiny thing but makes a wonder.
The grainy browned ground turkey, a spicy kick from the chili powder and jalapenos, the aroma of the spices, the gooey melted cheese combined with the tanginess of sour cream all this scooped with the crispy corn chips will make any day if not better than at least comfier. Forget about the spoon, grab a handful of crispy corn chips and dig in.
If not my true love for soups, I would eat this turkey chili for all nasty days through the entire cold seasons. Make a chili, add a whole bunch of toppings and let this magical potion soothe your body and soul.
Turkey Chili Tips and Tricks:
Always go for a mix of white and dark meat ground turkey. If you use only white ground turkey, the chili will be too dry. 85% is best or buy fresh 70% of white and 30% of dark ground turkey.
The chili and jalapeno amount is always a suggestion. Use it with caution and adjust it to your and family liking. It is better to make it less spicy but enjoyable, rather than smoking hot and impossible to eat.
Chips' decisions: Better to go with corn chips – a bit healthier, tastier and more authentic 😉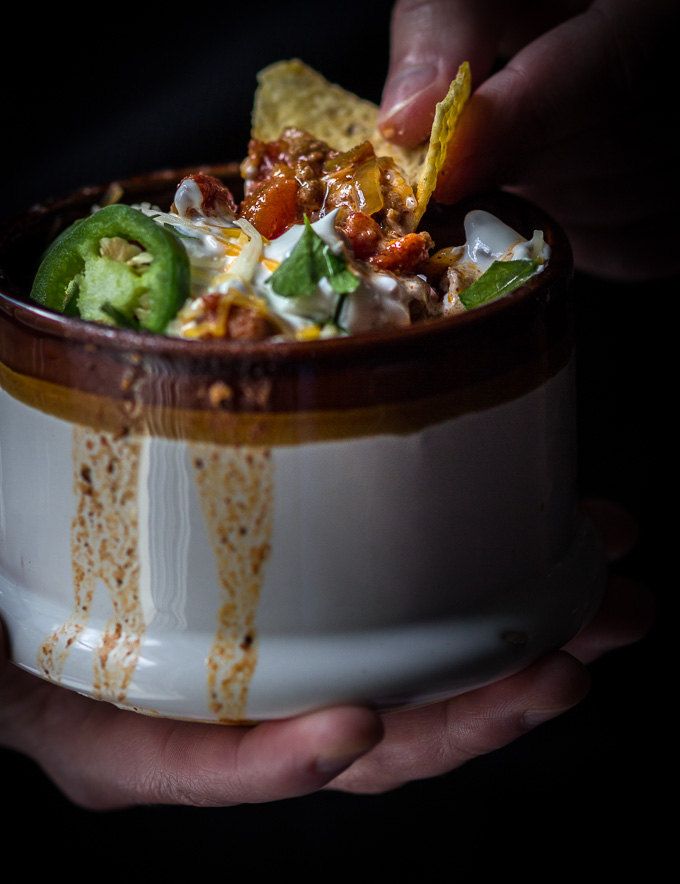 Yields: 6-8 servings
Quick and Healthy Turkey Chili
10 minPrep Time
1 hr, 15 Cook Time
1 hr, 25 Total Time
Ingredients:
2 Tbsps. olive oil, divided
1 1/2 pounds 85% ground turkey
1 medium red bell pepper, diced into small cubes
1 medium yellow onion, diced into small cubes
2 garlic cloves, minced
2 jalapenos, minced
3 Tbsps. tomato paste
2 (14.5 oz.) can diced tomatoes
1 cup low-sodium chicken stock, plus more for desired texture
2 Tbsps. chili powder
1 1/2 tsp. ground cumin
1 tsp. ground paprika
1 tsp. dried oregano
2 (14.5 oz.) cans red kidney beans, drained and rinsed
Salt and freshly ground black pepper
Cayenne pepper (optional)

To serve:

Shredded cheddar cheese, sour cream,
chopped green onions, cilantro, parsley
cayenne pepper (optional)
Instructions:
1. Heat 1 Tbsp. olive oil in a large pot set over medium heat. Add turkey, season with salt and pepper. Cook, stirring occasionally and breaking up any large pieces until cooked through, about 10 minutes. With a slotted spoon remove cooked ground turkey to a plate.
2. Heat remaining 1 Tbsp. olive oil. Add bell pepper and onion to a pot, season with salt and cook until soft and tender, about 7 minutes. Add garlic and jalapeno and sauté for 30 seconds. Add tomato paste and mix it well with the vegetables. Cook for about 1-2 minutes for a light caramelization. Add chili powder, cumin, paprika and oregano. Stir well.
3. Add diced tomatoes and chicken broth. Bring to a boil. Then reduce heat to simmer, cover the pot with a lid and simmer for 50 minutes, stirring occasionally.
4. Add kidney beans. If chili is too thick, add chicken stock. Taste the chili and adjust seasoning with salt, pepper, and cayenne.
Serve warm with your favorite toppings and corn chips.
7.8.1.2
14
https://thepuretaste.com/turkey-chili/
Disclosure: This post contains some affiliate links.  If you purchase a product through one of my links, I will earn a small commission at no extra cost to you. I only recommend products that I use and love myself. Thank you in advance for your support! It means a lot!
Products used in this post: