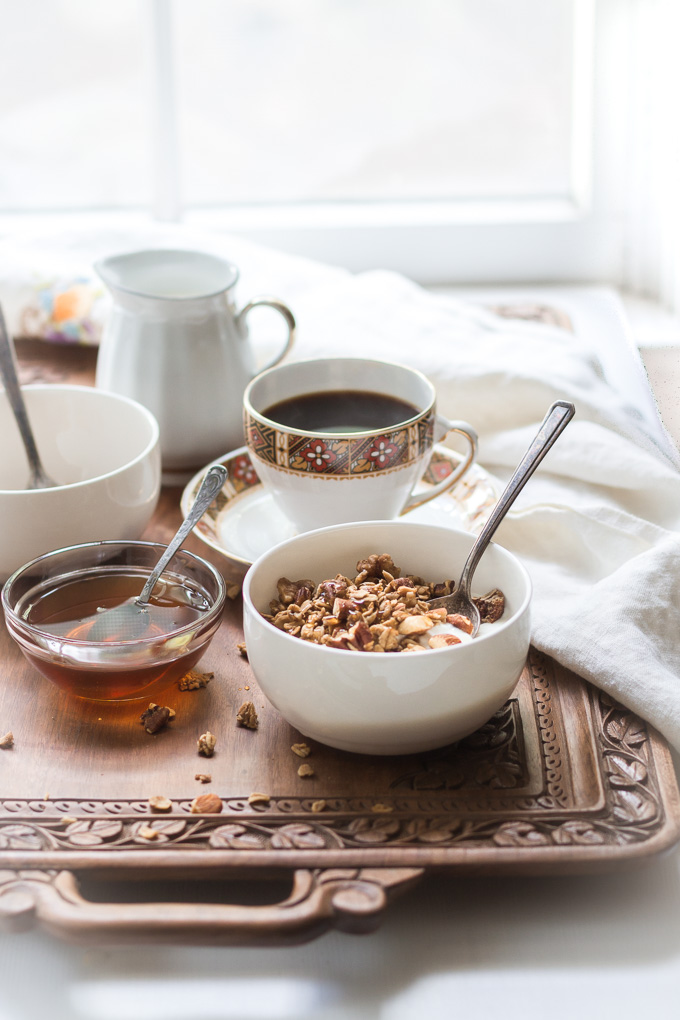 "Morning's here 
The Morning is here 
Sunshine is here 
The Sky is clear 
The Morning's here 
Get into gear 
Breakfast is near 
The Dark of Night has disappeared…"
Well, unfortunately, this is not the way all mornings begin. Have you ever woken up grumpy or overslept? Are you not in the mood to cook, or are you running all over the place to catch up the time you overslept? The main thing that we ignore in such days is our breakfast! We all know how breakfast is important, but for some reason, we ignore it many times because we don't have time for it, mood to cook morning meals or just so hungry, that we keep snacking on everything on hand. But proper breakfast is a MUST to start the day right. I want to share with you a perfect, not to mention healthy, breakfast solution for hectic busy mornings that we all have – homemade granola! But not just regular granola but unusual, interesting, cold seasons, homemade coffee granola with winter spices.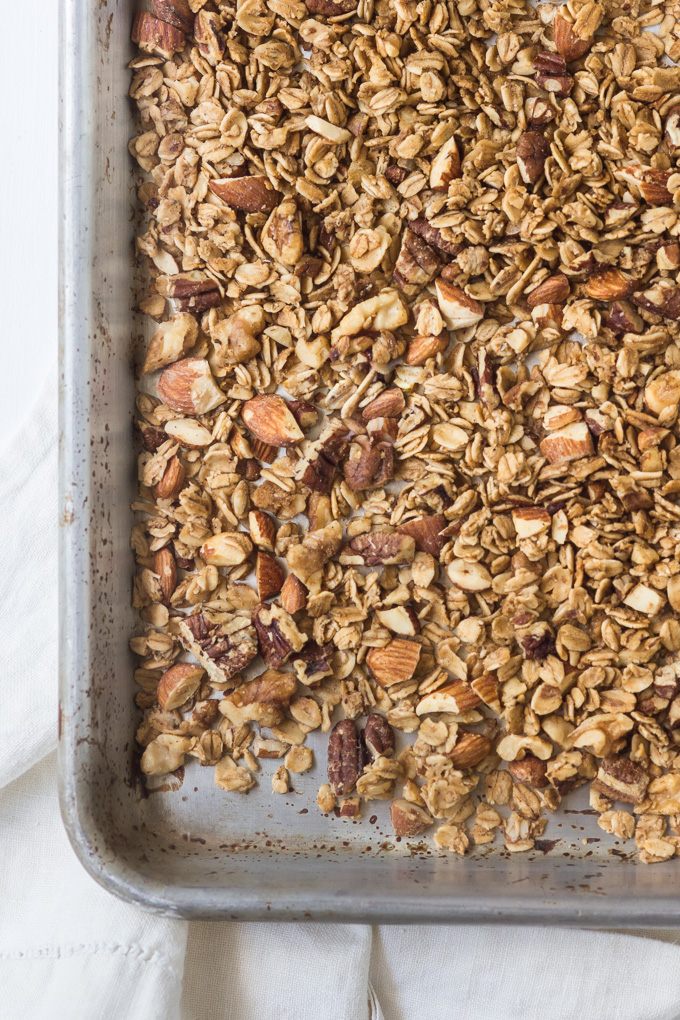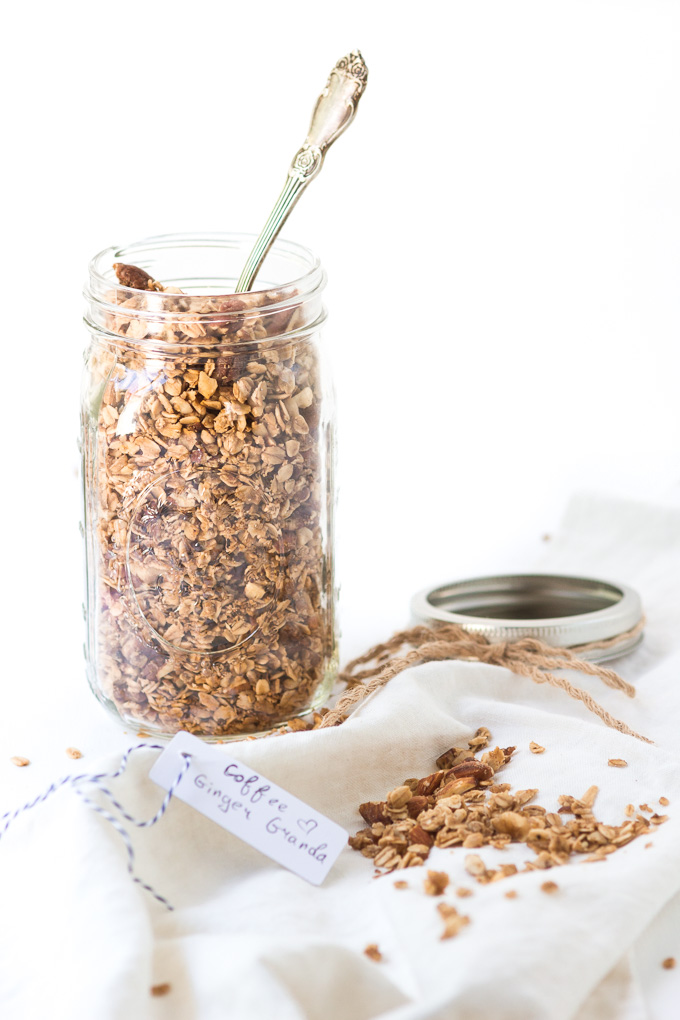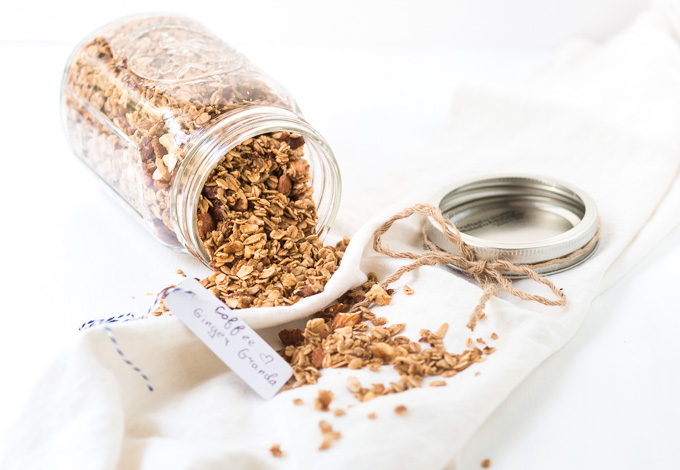 The colder days are coming, and this coffee granola is perfect for chilly, especially rainy days. You wake up early in the morning, prep the bowl the way you like it with the fresh milk or your favorite yogurt, sit at your favorite spot in your home cuddled up in a cozy blanket, and the time slows down for a while. The sourness of the yogurt combined with the sweetness of the maple syrup and honey, warming ginger, cinnamon, and nutmeg, the gentle crunch of the granola, the soothing aroma of the winter spices, the coffee notes all in your morning bowl.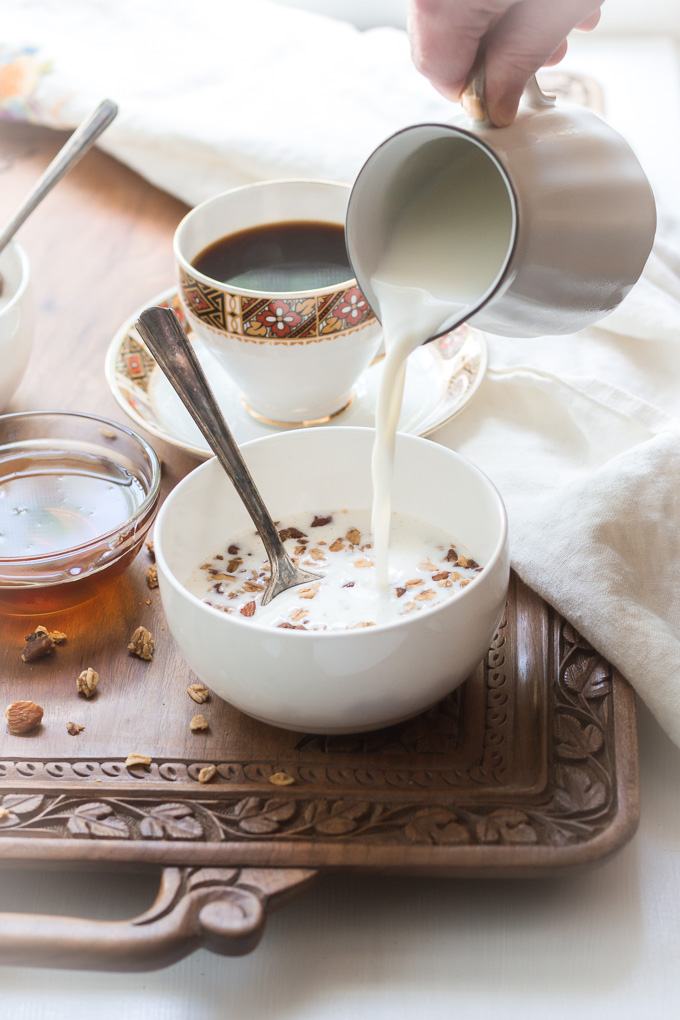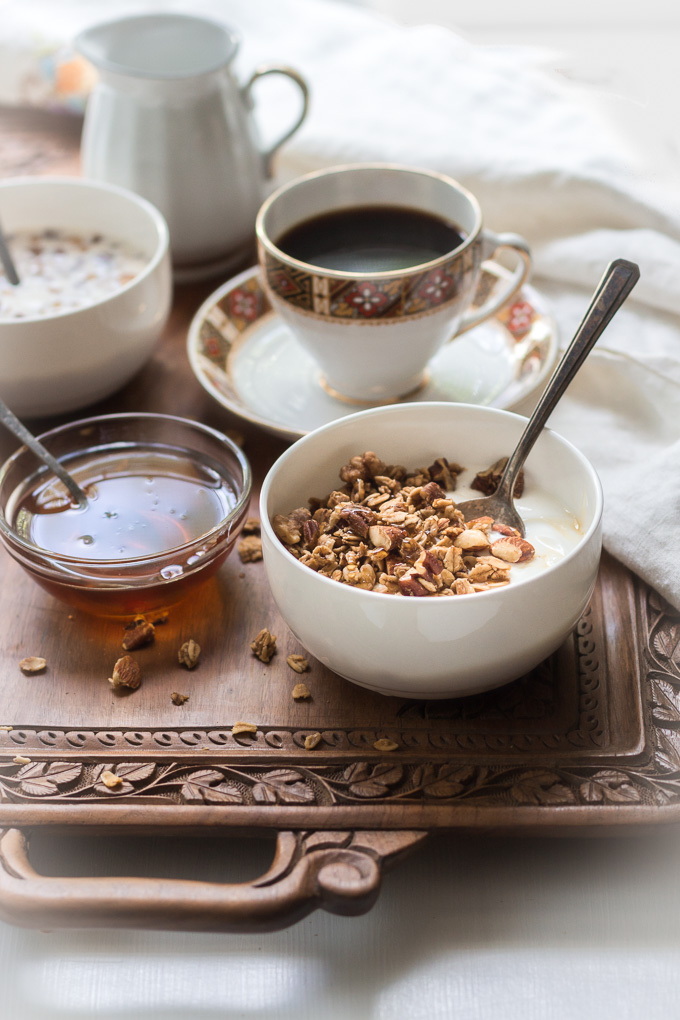 I like to add half of the sliced banana to it. It's like eating a piece of banana bread with the coffee but more of a healthy option. Try it and you will see what I'm talking about. Sometimes I even eat this coffee granola straight from a jar as a pre-lunch snack. Usually, I do this when my husband is not around not to look too desperately hungry.
Now let's talk about the benefits of making your homemade granola and eating it for breakfast.
Let's start with how delicious and satisfying it is. It is packed with fiber from the oats, omega-3 and unsaturated fat from the nuts and all the healthy benefits from the winter spices like ginger, cinnamon, cardamom, and nutmeg. Such breakfast will nourish and energize you for hours.
Homemade granola is a lot cheaper than the store bought, at least half cheaper sometimes even more. It has much less sugar which you can adjust to your liking and needs.  And if you don't like a specific ingredient, you can always substitute or omit it. You don't need to be a kitchen pro to make it. And it only requires 10 minutes to prep it. Faster than going to a local grocery store. And to all, you only need 2 minutes to make your morning bowl.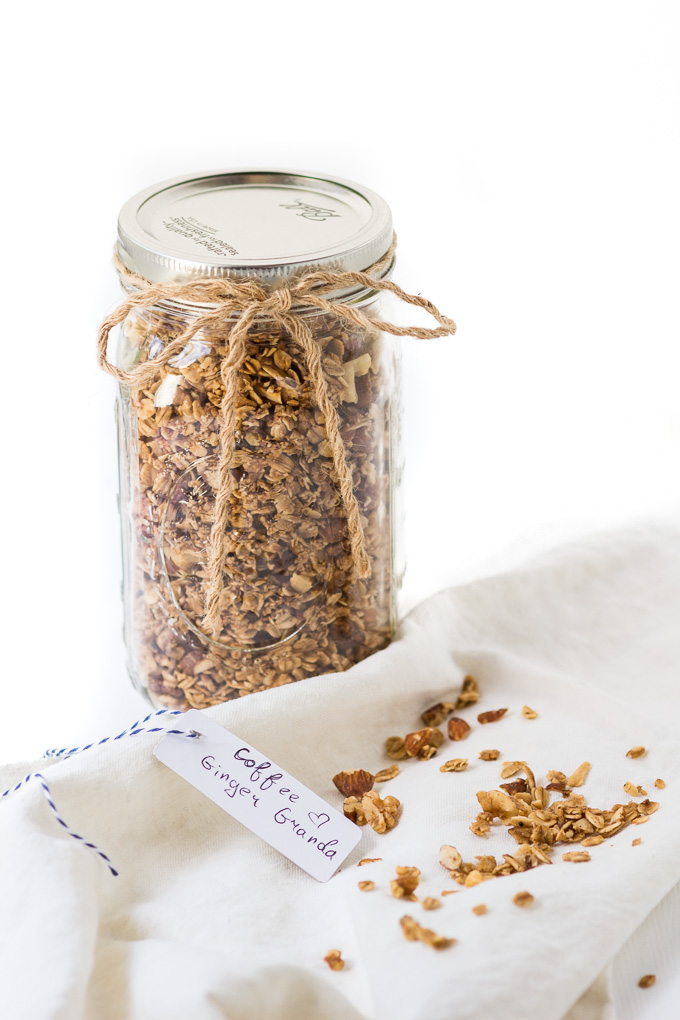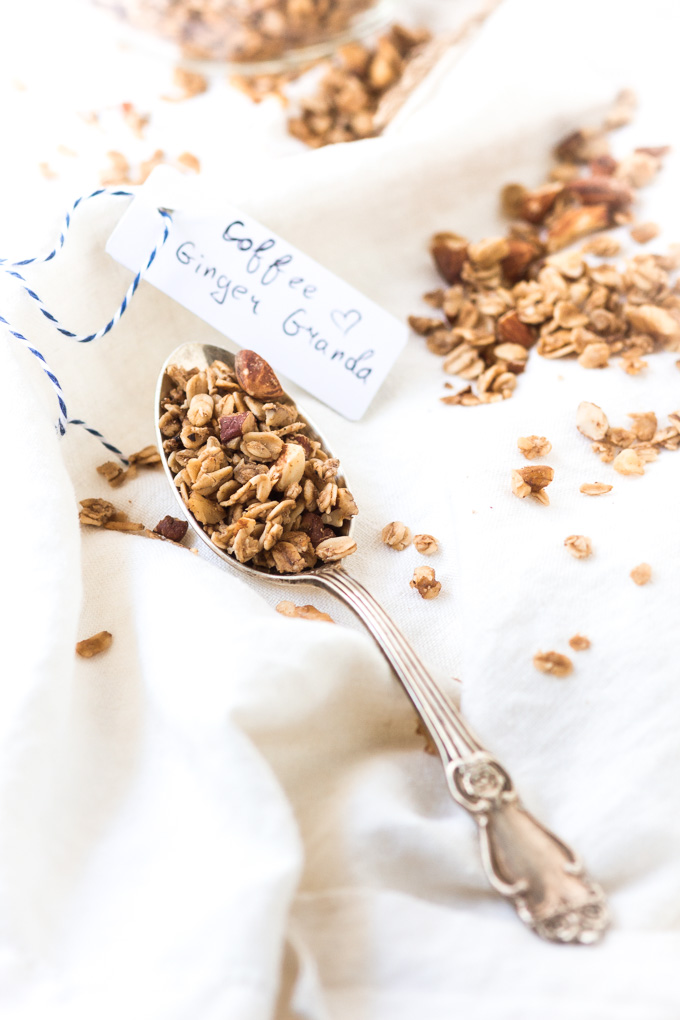 This recipe will feed one person for up to a week. About 5-7 days of a peaceful, healthy breakfasts! It can be stored it the airtight container (the mason jar is perfect for it) for up to 2 weeks. If it gets a bit soggy see tips and trick how to bring back that crunchiness. But in my experience, it never lasted this long. One week and the whole process starts over again. I could recommend you to make a double batch, but I prefer the fresh granola, and it's hard to resist not to fill your kitchen with the coffee and spices' aroma.
I promise the day you make it will lift your spirit. The aroma that fills the kitchen while it's baking is magical. The house smells like a cup of coffee accompanied with the fresh slice of gingerbread. I like to leave the oven door ajar when finished baking it to fill the room with more aromas.
So there you have a nutritious and effortless way to start your day. It's a simple, versatile, nourishing breakfast option. And remember it only took you 2 minutes to make yourself breakfast. The minute you dig in into your morning bowl will make the whole day better and calmer.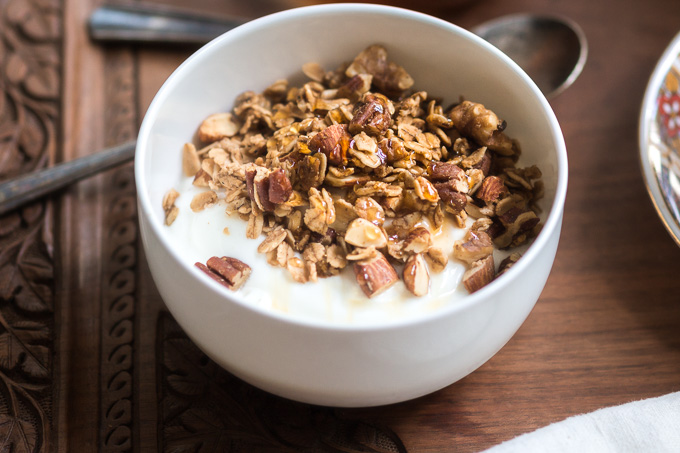 Coffee Granola Recipe Tips and Tricks:
Make sure all the dry mixture is coated well with the wet mixture.
Do not over bake your granola and don't bake it on high heat, 300-350 F is the perfect spot.
Don't overcrowd the baking tray. Otherwise, the granola will be soggy, and we want the perfect crunch.
If you find your granola softened refresh it by crisping it in a pre-heated oven (325 F) for 5-8 minutes, then cool and store.
My favorite place to shop for fresh, fragrant and top quality spices is Mountain Rose Herbs. 
Winter spices: ginger, cinnamon, nutmeg and cardamom. You can add other warming winter spices like cloves, allspice, anise stars.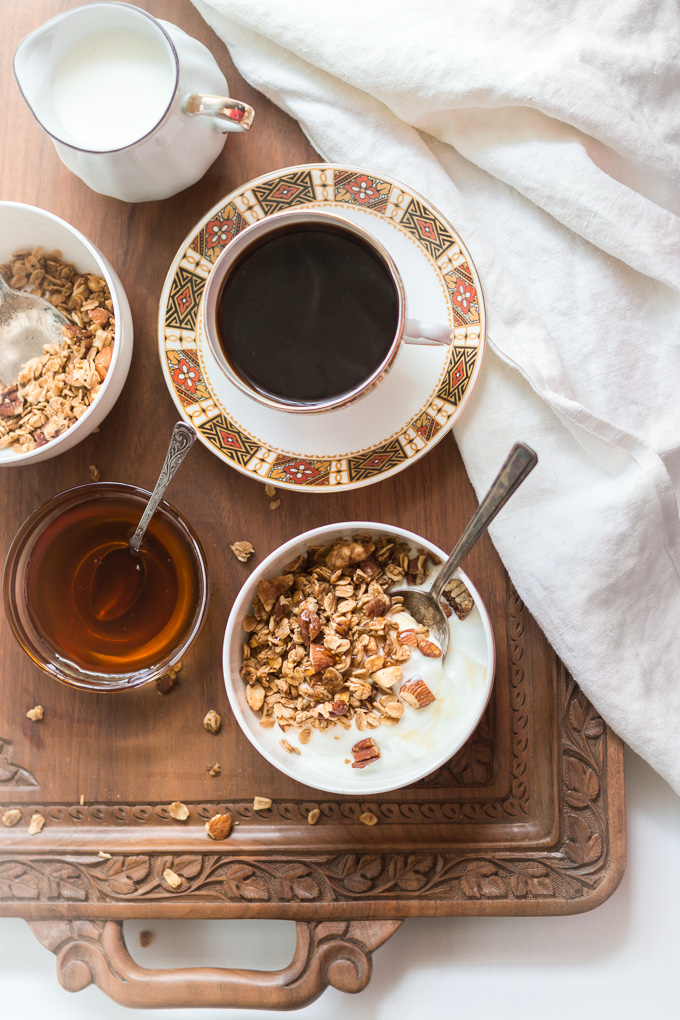 Maria
Yields: 5-7 servings
Homemade Coffee Granola with Winter Spices
10 minPrep Time
30 minCook Time
40 minTotal Time
Ingredients:
2 cups old fashioned rolled oats
½ cup chopped pecans
½ cup slivered almonds
1/2 cup chopped walnuts
60 gr. unsalted butter
¼ cup maple syrup
2 tablespoons honey
2 teaspoons ground ginger
3/4 teaspoon ground cinnamon
¼ teaspoon ground nutmeg
1/4 teaspoon ground cardamom
¼ teaspoon sea salt or ½ teaspoon kosher salt
40 ml very strong brewed espresso
Instructions:
1. Pre-heat oven to 325 F. Line a baking sheet with parchment paper.
2. Combine oats, chopped pecans, almonds, and walnuts in a large bowl.
3. Combine butter, maple syrup, honey, ground ginger, cinnamon, nutmeg, cardamom and salt in a small heavy-bottomed saucepan. Heat on low until butter is melted. Mix well. Remove from heat.
4. Add butter mixture to the dry oat mixture. Add 40 ml strong brewed espresso and mix well until everything is completely coated.
5. Spread granola mix on prepared baking sheet evenly. Press down lightly with your hands. Bake in pre-heated oven for approximately 30 minutes until fragrant and golden color. Do not over bake. Remove from oven and allow to cool completely.
6. When completely cool, transfer the granola to glass jars with sealed lids. Can be stored in a cool, dry place for up to 2 weeks.
7. To serve, add milk or your yogurt to a bowl, top with a handful of granola, drizzle with honey or maple syrup and enjoy.
Recipe adapted from Bloglovin'
7.8.1.2
13
https://thepuretaste.com/homemade-coffee-granola-winter-spices/
Disclosure: This post contains some affiliate links.  If you purchase a product through one of my links, I will earn a small commission at no extra cost to you. I only recommend products that I use and love myself. Thank you in advance for your support! It means a lot!
Products used in this post: