Healthy green Smoothie recipe with a sweet pineapple and bananas. A great way to boost your immune system and overall health. Drink this multivitamin to energize your body and feel good the whole day.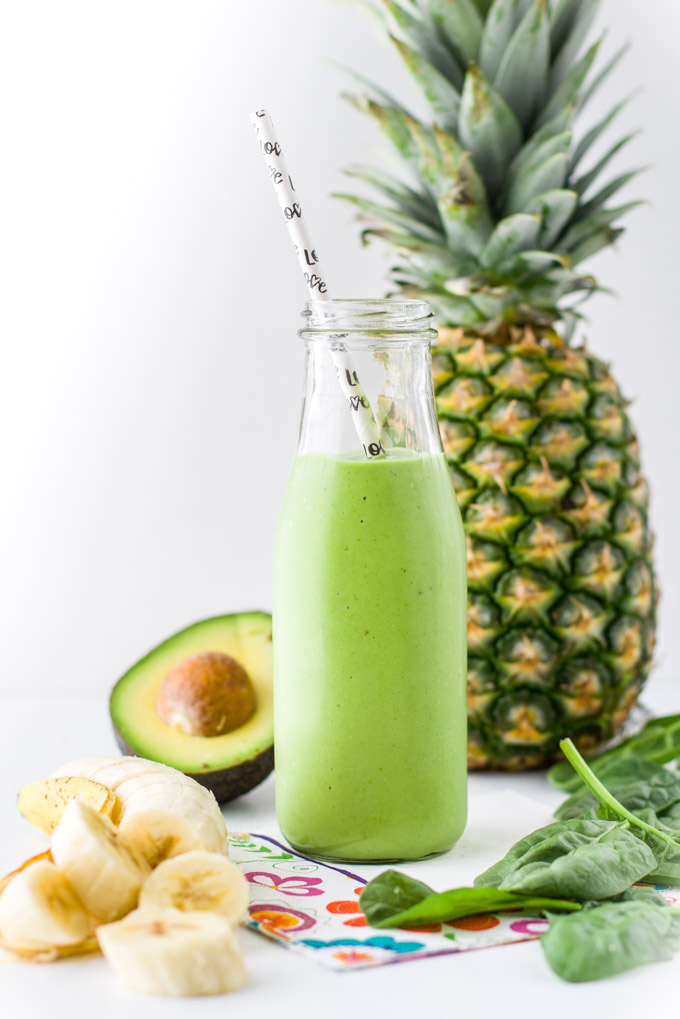 I don't even know where to start how healthy smoothies are, green smoothies, particularly. I will do my best in this post to explain why green smoothies are good for your health and will share my favorite healthy green smoothie recipe.
My husband is my main food critic and a tough judge. If he doesn't like what I made, he simply refuses to eat it. No matter how big of a speech I create about all the health benefits, or how wonderful this recipe is, or this recipe is recommended by a famous chef, food nutritionist, etc. This stuff does not work on him. He will have a couple of bites just to confirm his first opinion but then will trash the rest.
Smoothies (especially green ones) was one of the hardest foods to convince him to try. Just the idea of greens in smoothies made him stand firm with not liking it. So before introducing him the concept of green smoothies, I did my homework and prepped some articles from nutritionists and doctors on health benefits of green smoothies. He agreed to try 🙏😁. I made some green smoothies from the internet, but they all went into the disposal by him. He couldn't stand the strong leafy greens' smell and taste (don't blame him on this one).
I finally decided to ditch all the recipes and create my own to balance all the flavors so it will be not only beneficial for the health but also pleasant to drink. This is how I created my healthy green smoothie recipe, that quickly became one of my favorite. It has the proper amount of greens, no bitter taste; it has the sweetness and delight aroma from pineapples and bananas, creaminess from avocado and a hint of ginger. And of course, this smoothie is approved by my husband 👍. He is not only finishing it all the time but also not protesting on me making it often 😋!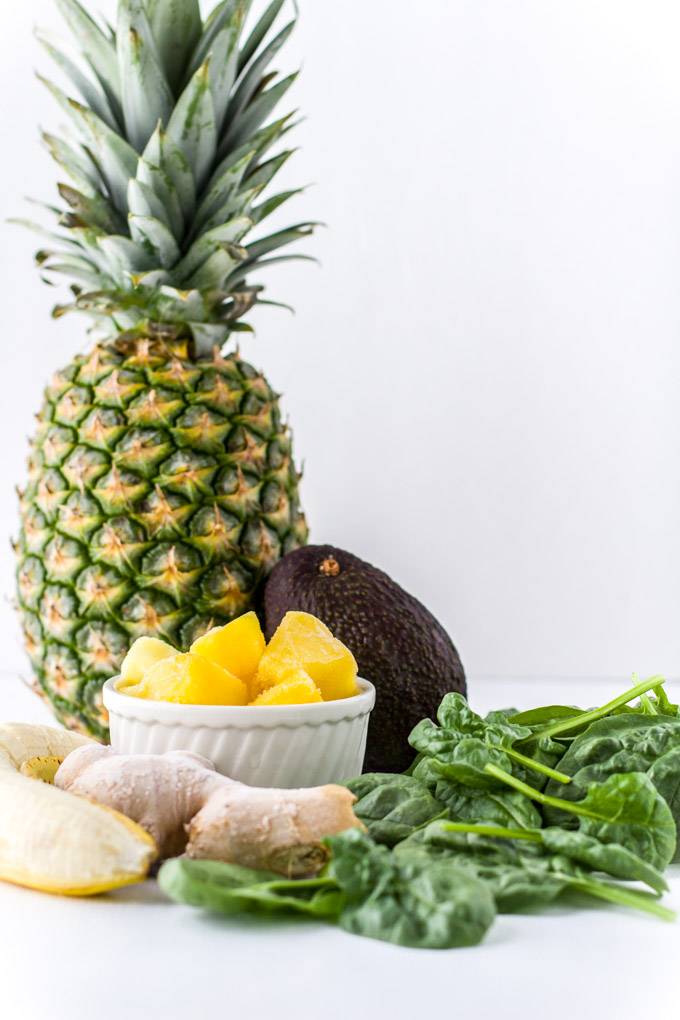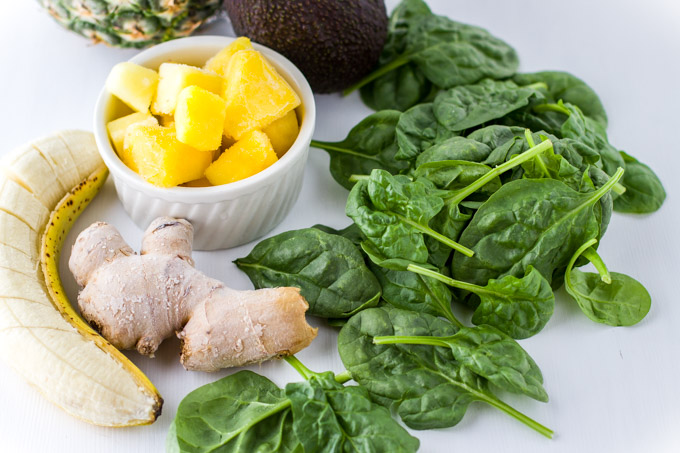 It's not a secret how green smoothies are beneficial for our health. My husband changed his mind and joined the force of green smoothies' fans so hopefully, it will be a little easier to convince you 😉.
Let's start with a short list of health benefits of Green Smoothies:
Improve your immunity.
Improve your digestion.
Increase energy.
Increase mental clarity and focus.
Natural weight loss.
Excellent source of minerals and vitamins.
Full of antioxidants.
Increase Fiber
Improve skin condition.


Now let's talk about the ingredients:
The first and the main ingredient is spinach. I tried a lot of leafy greens and found that spinach works best in smoothies. It has the softer texture, less of a green bitter taste and smell, available all year round. You can always experiment with your favorite greens, though.
Why leafy greens are so beneficial in smoothies? Blending greens break down the cells of plants, what improves digestibility and maximizes the delivery of all nutrients to your body. Think how long you chew the portion of a salad, 1 minute?  Blender breaks the whole portion down in 30 seconds, and your body will get much more nutrients from it. This is probably one of the most important things about green smoothies.
Spinach: vitamin K, vitamin A, manganese, folate, magnesium,  iron, copper, vitamin B2, vitamin B6, vitamin E, calcium, vitamin C, potassium, fiber, vitamin B11, phosphorus, zinc, protein, choline, omega-3 fats.
Banana: vitamin B6, manganese, vitamin C, potassium, fiber, copper, biotin, Magnesium.
Pineapple: vitamin C, manganese, copper, vitamin B6, vitamin B11, fiber, folate, pantothenic acid.
Avocado: Vitamin K, Folate, Vitamin C, Vitamin B5, Vitamin B6,  Vitamin E.
Ginger: Anti-Inflammatory effects, may lower cholesterol levels, immune boosting, may reduce muscle pain and soreness, can help treat chronic indigestion.
It's basically a multivitamin for your body, and what's even better, you know every single ingredient that goes into your body!
The ingredients can be fresh or frozen. If it is a pineapple season, then why not cut a fresh juicy pineapple and add it to your smoothie? If the fresh baby spinach arrived at your local grocery store or a farm stand, then why not to consume all the fresh vitamins and minerals from it? Of course, the fresher your ingredients are, the more benefits you can get from them. But frozen ingredients work just fine. We all know it is too much work to get a fresh pineapple every time you want to make a smoothie!
If you still have doubts, then consider the time it takes from the beginning to the end of making this green smoothie. It will take you about 5-7 minutes to make the smoothie and about 3 minutes to clean the blender. I make smoothies regularly and didn't like the hassle of cleaning the blender every single time. Here comes a great 34-second video on how to Make Your Blender Clean Itself. For a deeper cleaning (which I recommend occasionally doing) read this article on How to Clean a Blender with video instructions. Learn it once and all the cleaning hassle will go away.
You can make and drink green smoothies any time of the day and any season. Just limit it to a one glass per day. I prefer to drink it in the morning or before lunch as a little pick me up snack. It gives me an incredible amount of energy and very light but satisfying feel in my stomach. For me, it's a perfect start of the day. No matter what kind of the day it will be your body is prepped, energized and ready for all the challenges and excitements the day has ahead of you.
Cheers for a healthy mind and body 💕!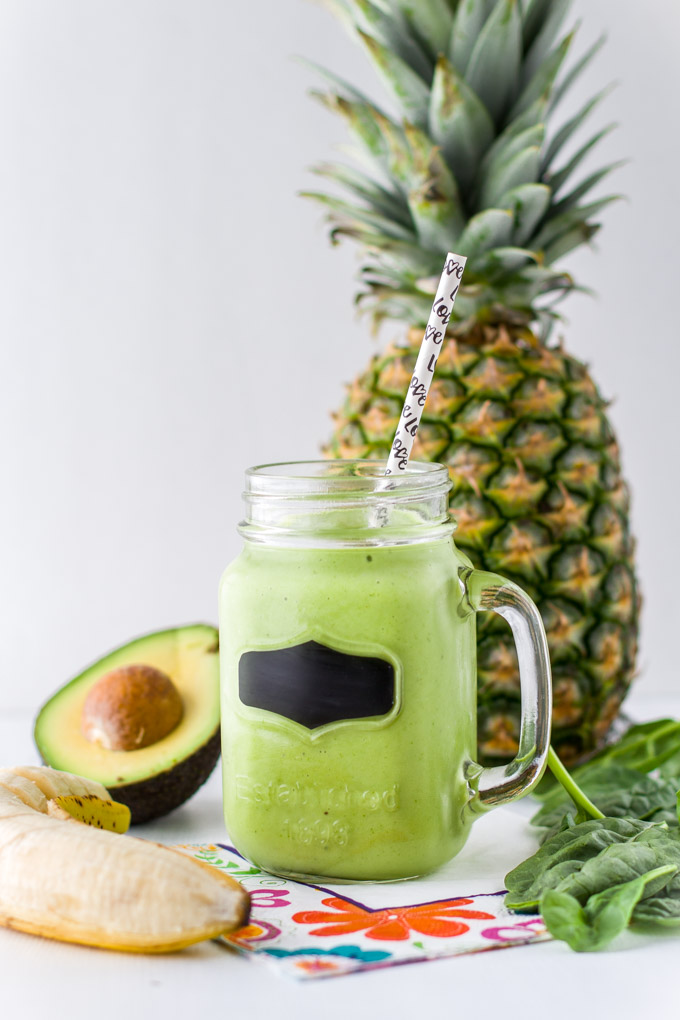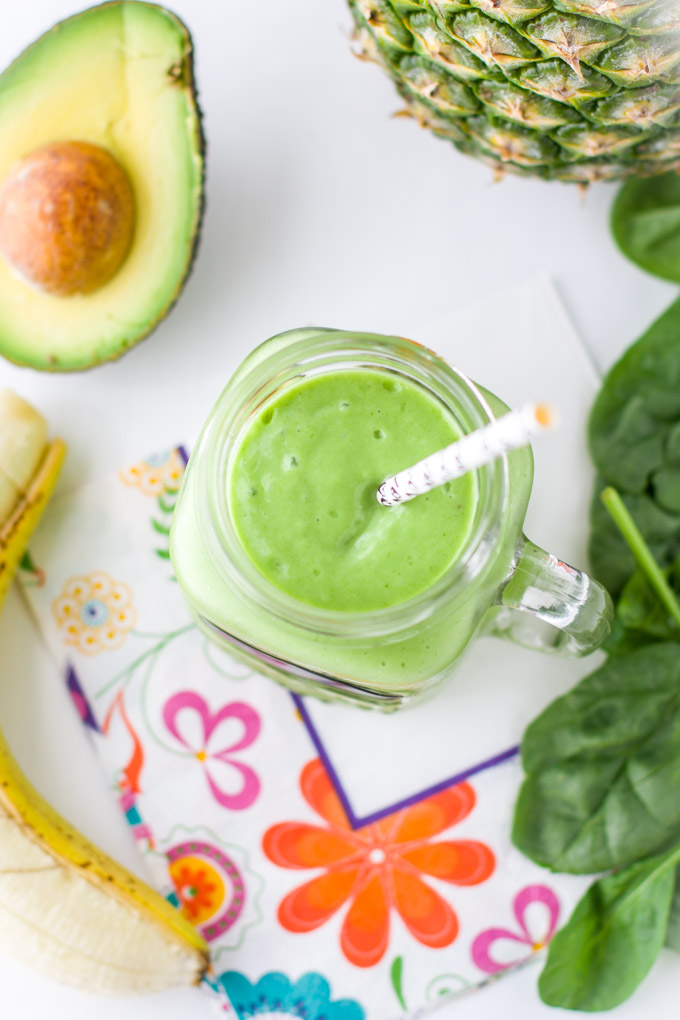 Tips and Tricks for Healthy Green Smoothie:
Ginger: I used to buy the fresh ginger root, use it a couple of times, then it wrinkles, loses the flavor, and it is time to throw it away. Follow these storage techniques and you will always have fresh, flavorful ginger:
Fresh unpeeled ginger root -> in a ziplock, air pushed out -> in a crisper drawer -> can be stored for up to two months.
Fresh unpeeled ginger root -> in a ziplock, air pushed out -> in a freezer -> can be stored for up to 6 months. When needed simply use a grater and grate the desired amount.
A Layering Guide to a Better Smoothie. Pin this guide, memorize it, and you will always have a hassle-free smoothie.
Liquid options you can use: carton unsweetened almond or coconut milk, unsweetened coconut water or plain water.
For sweeter smoothies consider the natural sweeteners: honey, agave or maple syrup.
Want more smoothies for a better health?
Download this Free 3 Healthy Smoothies E-book.
Yields: 2 medium smoothies
Healthy green smoothie
6 minPrep Time
1 minCook Time
7 minTotal Time
Ingredients:
1 cup liquid of your choice (carton unsweetened almond or coconut milk, coconut water or plain water)
1 heaping cup baby spinach (fresh or frozen)
½ cup pineapple chunks (fresh or frozen)
1 medium banana, sliced (fresh or frozen)
½ avocado, sliced
1 teaspoon grated fresh ginger
Natural sweeteners to your liking (optional)*
Instructions:
Blend greens with the liquid. Add the remaining ingredients and blend again. Pour into yout favorite glass and drink up all the nutrients.
Enjoy and stay well
7.8.1.2
10
https://thepuretaste.com/healthy-green-smoothie/
Disclosure: This post contains some affiliate links.  If you purchase a product through one of my links, I will earn a small commission at no extra cost to you. I only recommend products that I use and love myself. Thank you in advance for your support! It means a lot!