This rich and luxurious baileys chocolate cake with chocolate frosting is a must try dessert for chocolate lovers. The combination of chocolate and Baileys Irish cream liquor makes this cake irresistible. I should warn you this cake disappears within a couple of days!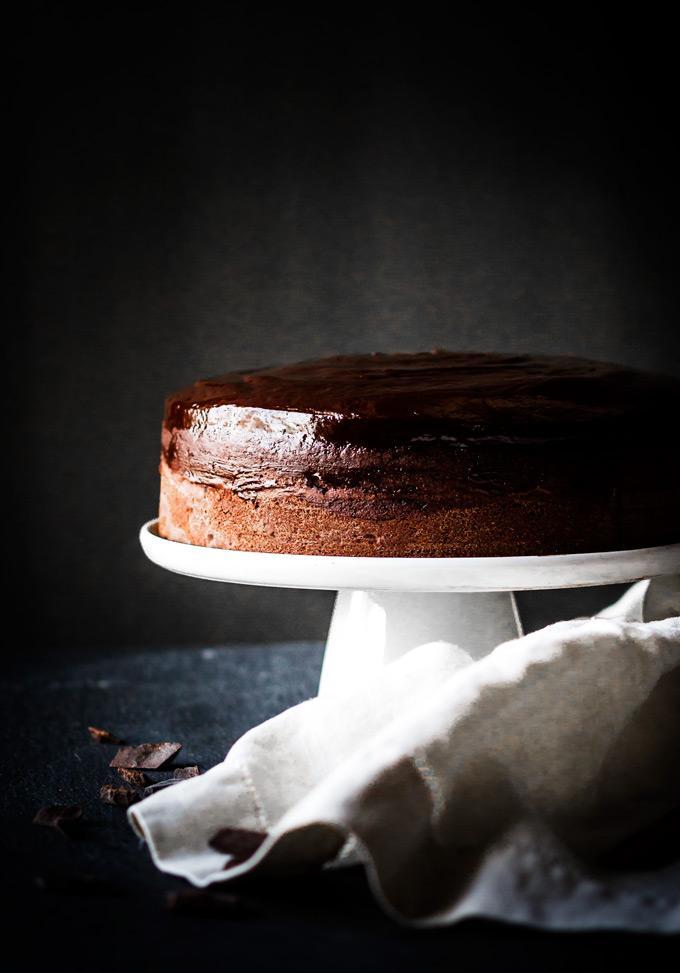 Today I want to share with you one of the most addictive chocolate cake recipe from my chocolate collection.
I haven't made this baileys chocolate cake for a long time. The pictures included in this post are at least nine months old. But I wanted to refresh my memory before putting together the post and make sure all the ingredients are correct. When I made it, I realized why I hadn't done it for a long time. It is absolutely ADDICTIVE. One slice never seems to be enough. My husband and I usually wipe up this cake in about THREE days.
Every bite of it is a pure pleasure. Rich chocolate bite with a fragrance of the baileys liquor… Topped with a creamy and smooth chocolate ganache makes you keep eating and enjoying every slice of it. Sort of the chocolate therapy. It unwinds, relaxes, and focuses your mind on how good it is.
The same with the baking process. The time slows down by a slow mixing of the fragrant ingredients. Savor the baileys aroma combined with chocolate during the whole process. It's like meditation. The swirls of chocolate hypnotize you, the smell excites you and slow whisking calms you. The perfect way to meditate in the kitchen.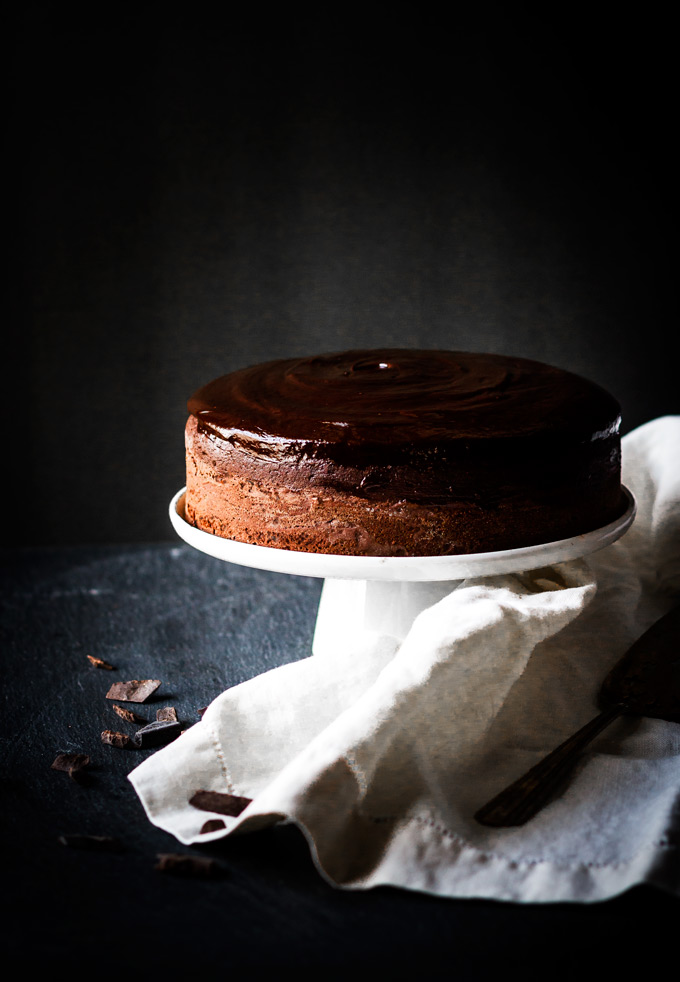 Usually, I make this Irish cream cake for the St Patrick's Day because of the Baileys liquor in it. But this can be a perfect choice for Valentine's Day cake as well. Nothing screams love better than chocolate, right?!
Also, you don't need a special occasion at all to make it. Comparing to other chocolate cakes, I dare to call baileys cake lighter than another heavy butter creamed cakes. At least I don't feel too guilty when I make it. I'd say even opposite:  satisfied, happy and calm. Remember, if you make a chocolate cake, make a good one and fully enjoy it!
We already ate the whole cake. But after writing, this post and editing the pictures, it is pure torture to stop myself from making one again. Thankfully, I have the next deliciousness ready to bake and share with you. This prevents me from making this cake again.
This Bailey's cake is definitely a special treat for the soul. If you crave for a chocolate cake, this is the one to make.  Because it is irresistible, delicious, and we can afford it from time to time!
Happy Baking 😉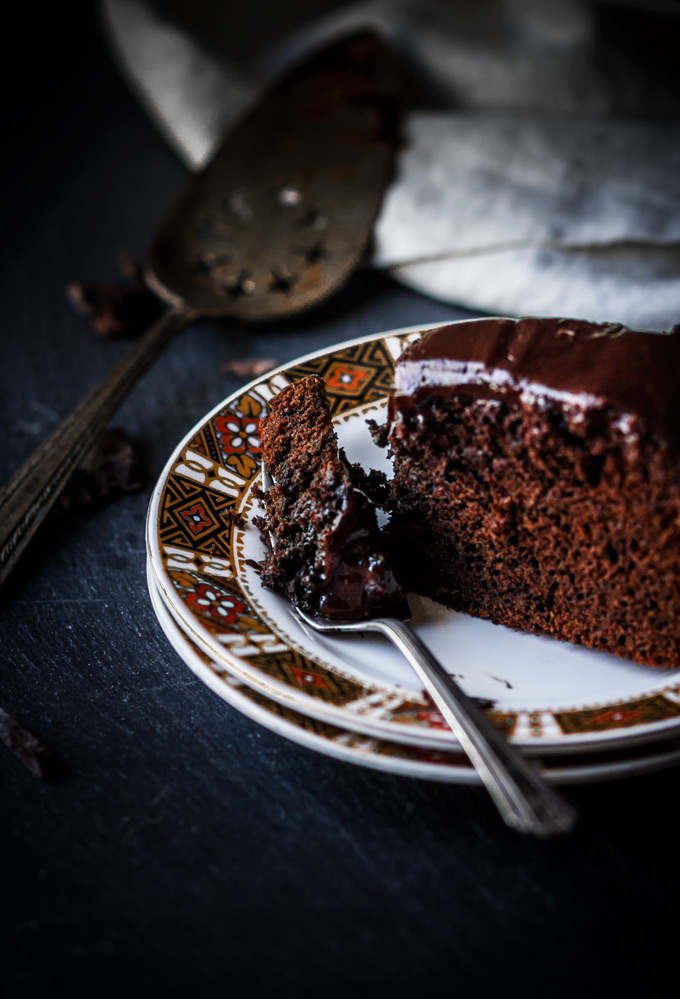 Tips and Tricks for Baileys Chocolate Cake Recipe:
Do not over mix this cake. Use just a whisk and mix everything according to instruction. This should be a mud cake, so be careful not to over mix it.
The quality of cocoa powder makes a huge difference. The more intense the cocoa powder is, the richer this cake will be. I always have the specialty cocoa powder that I only use for special cakes like this. My favorite cocoa powders are:
I usually buy them online, but when I'm out and need it asap, the Wholefood carries some of the top brands. Little pricier but you have instant access.
Do not use a smaller than 9-inch pan for this cake. Tall cakes are pretty, but this one should be moist inside. If you use a smaller pan, it will take longer the center to cook. The result super dry outside and slightly moist
Do not over bake this cake. Check the cake for doneness with the toothpick. Insert a toothpick in the center of the cake, it should come out clean with wet crumbs on it. This is a perfectly baked cake. If you see the batter on a toothpick, keep baking. If the toothpick comes out clean, you overbaked There is a thin line there. For me, 35 minutes does the magic.
Maria
Yields: 9-inch cake
Baileys Chocolate Cake with Chocolate Frosting (Rich & Luxurious)
25 minPrep Time
35 minCook Time
1 hrTotal Time
Ingredients:
For the cake:

½ cup + 2 ½ tbsps. (150g) unsalted butter, cut into tablespoon-size
½ cup (100g) around 51% dark chocolate, chopped
½ cup (100g) granulated sugar
¼ cup + 2 tbsps. (80g) brown sugar
¾ cup (50g) Dutch cocoa powder, sifted
150 ml Bailey's Irish Cream Liquor
1 tsp. instant coffee
3 large eggs, room temperature
1 ¼ cups (170g) all-purpose flour
1 1/2 tsps. baking powder
1/2 tsp. baking soda
1 tsp. kosher salt

For the Chocolate Baileys Ganache:

3/4 cup (150gr.) at least 51% dark chocolate, finely chopped
pinch of sea salt
75 ml. whipping cream
75 ml. Bailey's Irish Cream
1 tbsp. (14g) unsalted butter at room temperature
Instructions:
To make the cake:
Preheat oven to 325 F.
Line the 9-inch round pan with parchment paper and grease the sides with butter. Set aside.
In a medium bowl sift together flour, baking soda, baking powder, and salt.
In a medium heavy-bottom pot combine butter, chocolate, sugar, brown sugar, Baileys, cocoa powder and instant coffee. Over medium-low heat melt the mixture by mixing well with the whisk from time to time. Do not let it boil. Once butter and chocolate are fully melted remove from heat. Let it cool slightly about 5 minutes.
When mixture cooled down slightly, stir it and slowly start adding eggs. Add one at a time mixing until it fully incorporates with the chocolate mixture.
Add flour mixture and mix until it just comes together and you see no flour traces. Do not over mix the cake.
Pour the batter into the prepared pan. Bake in the middle of the oven for 35 minutes. Check with the toothpick. The perfectly baked cake will have some crumbs on a toothpick. If there is a batter, keep baking, but be careful not to over bake it.
Remove from the oven and let it cool completely.
To make dark chocolate ganache:
Place the chopped chocolate and salt in a medium heatproof bowl. In a small saucepan combine baileys and cream. Bring it to a simmer. Remove from heat and pour over the chocolate. Let it sit for 2 minutes. Slowly with a rubber spatula start stirring to mix everything together. The ganache should be smooth, shine and at room temperature. If it is too hot, keep stirring or set aside for 2 minutes. When at room temperature add butter and mix until completely incorporated.
Let it sit at room temperature to thicken slightly. When ready to frost the cake, give the ganache a final stir and spread it over the cake.
Serve the cake at room temperature.

Adapted from Eat More Chocolate
7.8.1.2
29
https://thepuretaste.com/baileys-chocolate-cake/
Disclosure: This post contains some affiliate links.  If you purchase a product through one of my links, I will earn a small commission at no extra cost to you. I only recommend products that I use and love myself. Thank you in advance for your support! It means a lot!
Products used in this post: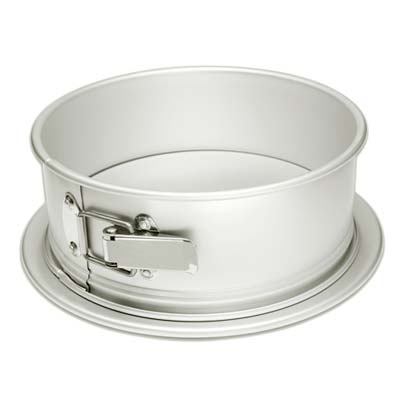 If you make this recipe, please share your picture with me by tagging it #thepuretaste on Instagram. Or share your results in the comment section down below. It means a whole world to me knowing someone is making my recipes.
Thank you for sharing and support ❤️❤️❤️