20-minute easy bbq sauce recipe. Red, robust color, slightly smoky flavor, sweetness from maple syrup and a light spicy kick is what makes a perfect bbq sauce for chicken.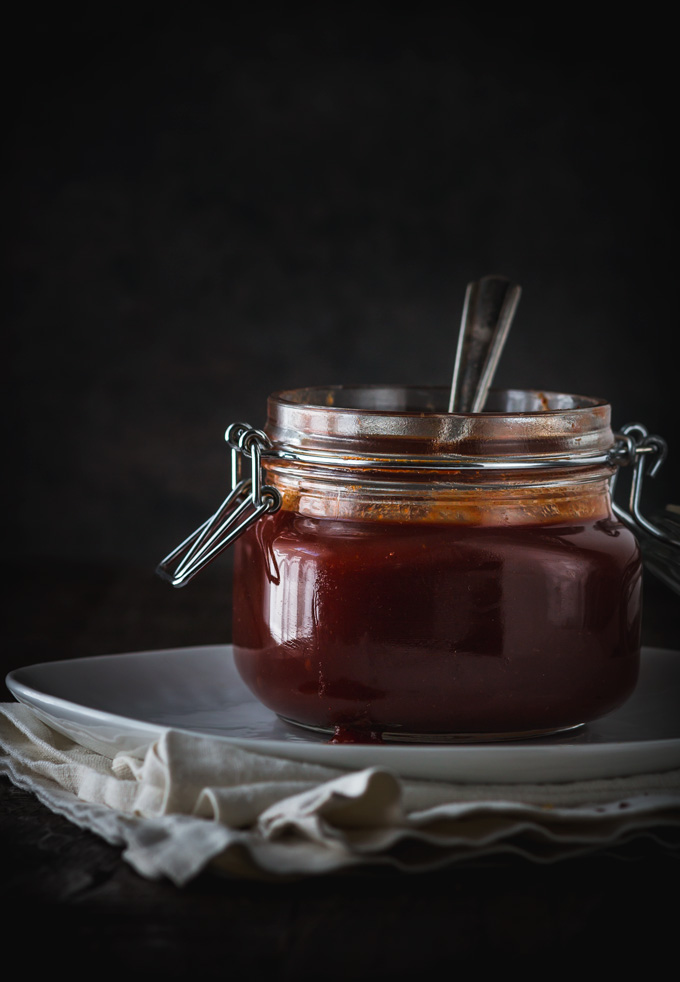 There is a thin line between going completely crazy and switch to everything homemade and choosing when it makes sense to make homemade stuff. I want to believe I'm in the middle.
I tried store bought bbq sauces. The good, the bad and the ugly ones. The problem is the good ones have steep price tags. What makes sense. Usually, it comes from a small batch company that uses the high-quality ingredients and pours the soul into every bottle. But not all of us can afford to pay $10 for a small bottle of best bbq sauce. So this is where I choose a homemade path.
There are hundreds of bbq sauce variations you can make at home. My all-time favorites are coffee and whiskey styles. But these two goes better with meat. For chicken always choose simple bbq sauce. Chicken meat is tender and delicate. To embrace the chicken flavor and texture, it is better to use not overwhelming slightly sweet bbq sauce.
And this is exactly the one I share with you in this post. Plus, this sauce is a part of my Instant Pot BBQ Chicken project that I split into three recipes
Barbeques sauce recipe
Instant Pot BBQ shredded chicken recipe
BBQ Chicken Sliders recipe
So if you haven't subscribed yet, please do. Because more BBQ is heading your inbox!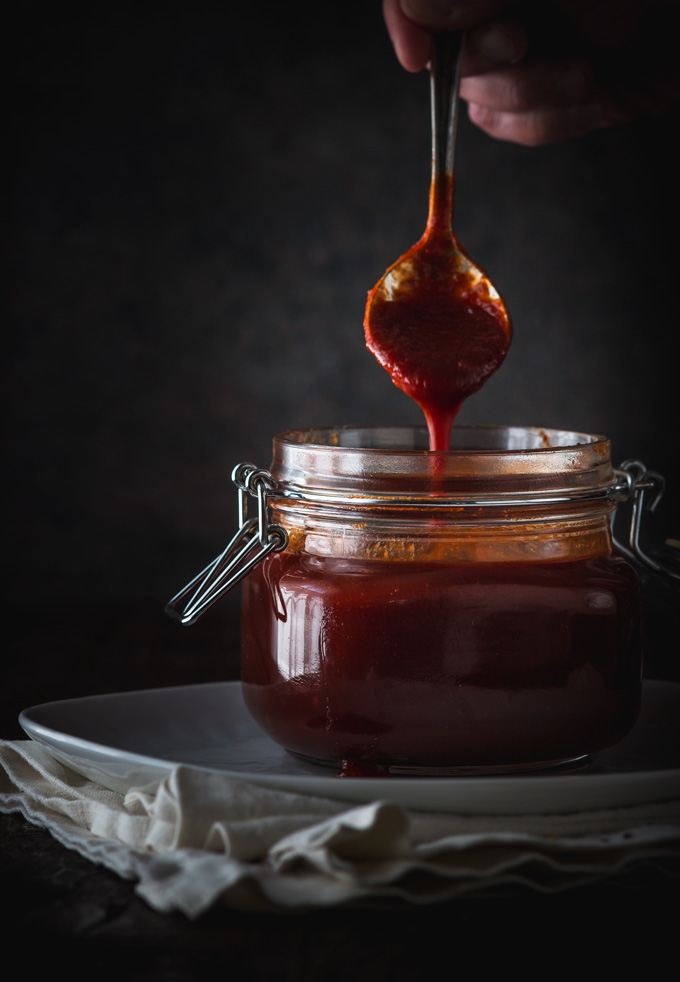 Alright, back to bbq sauce. You guys there are no such thing as best bbq sauce. We all have different tastes. For someone sweeter sauce is heaven, for others dragon fire sauce is the thing. Some hate ketchup based bbq sauces, true thing. The list can go on and on. What I learned with so many homemade bbq sauce recipes is YOU make your own best bbq sauce. Take any recipe as a starting point and always adjust it to your liking.
For me sweet and slightly spicy is my thing especially for chicken. For the sweet part, when I have on hand, I always go with maple syrup. Also in the recipe, I noted 1/2 tsp. red pepper flakes, but usually I use one teaspoon. And I love the tangy kick apple cider vinegar brings. Especially the real organic one with mother in it. Good for the sauce, great for your health.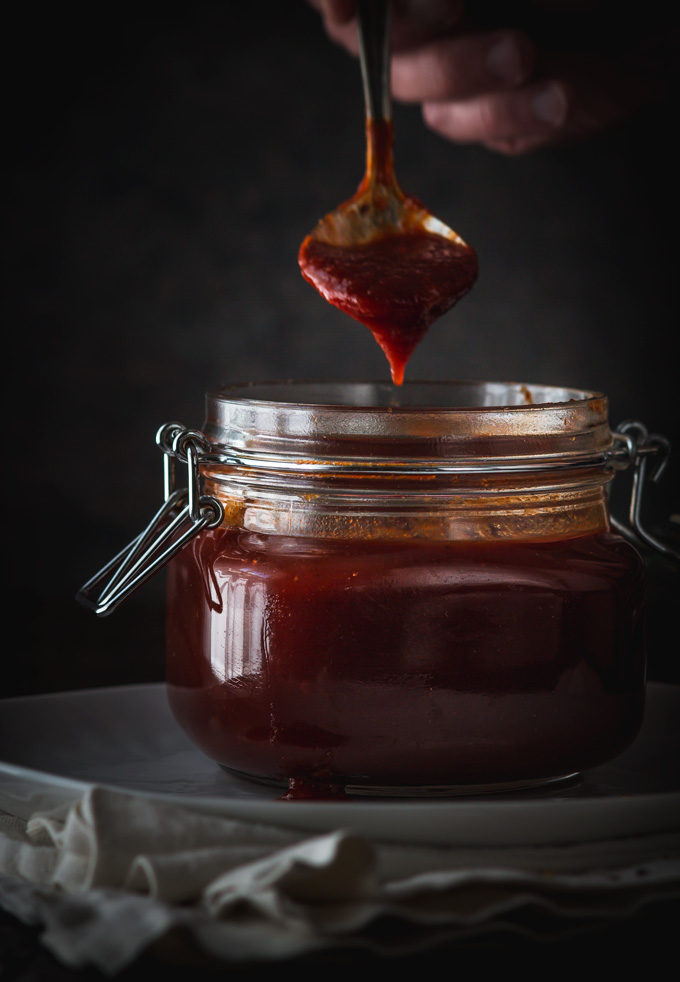 For that reason, I cannot and don't want to claim this bbq sauce as the best one. For me, it is the best chicken bbq sauce. Will it be the same for you, maybe, I don't know. Can YOU make it the best? Sure. Take this sauce as a starting point. If from the start it turns out to be your favorite. Great! Share it with me. If not keep on building the flavor, and share your adjustments in the comment section below.
For now, grab this bbq sauce recipe, tailor it to fit your taste and enjoy it with your favorite food and recipes. See you soon with the 2nd BBQ chicken recipe!
Happy Cooking 😉!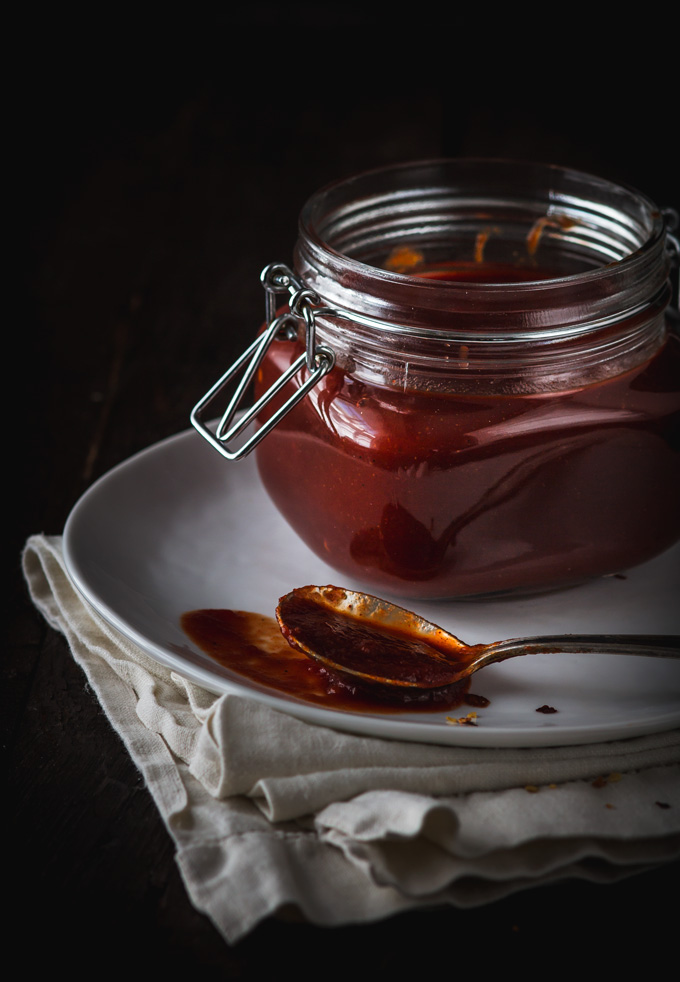 BBQ Sauce Recipe Tips and Tricks:
Sweetener options: Honey, maple syrup, and brown sugar.
Use the raw organic apple cider vinegar. Not only it tastes better but also good for your health.
For thicker sauce cook additional 5 minutes.
Refrigerate in an airtight glass container or jar. Usually, I use it within two For the experiment, I made a double batch, and after one month it is still fresh and tasty.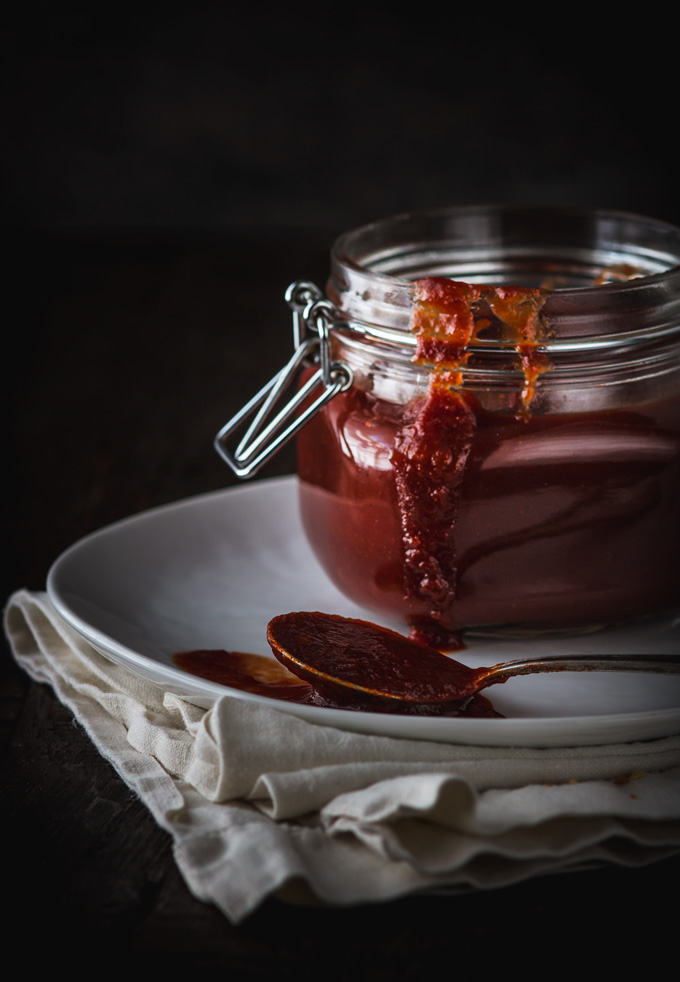 If you make this recipe, please share your picture with me by tagging it #thepuretaste on Instagram. Or share your results in the comment section down below. It means a whole world to me knowing someone is making my recipes.
Thank you for sharing and support ❤️❤️❤️
Maria
Yields: about 3 cups
How To Make BBQ Sauce Recipe
20-minute easy BBQ sauce recipe
5 minPrep Time
20 minCook Time
25 minTotal Time
Ingredients:
1 (15 oz.) can tomato sauce
1 cup ketchup
1/2 cup apple cider vinegar
1/3 cup honey, maple syrup or brown sugar
1/4 cup molasses
2 Tbsps. Worcestershire sauce
1 tsp. smoked paprika
1 tsp. garlic powder
1 tsp. onion flakes or 1/2 tsp. onion powder
1/2 tsp. red pepper flakes (more or less)
1/2 tsp. salt
1/2 tsp. ground black pepper
¼ tsp. ground cinnamon
Instructions:
In a medium saucepan whisk all ingredients. Bring it to boil over medium heat. Reduce heat to medium-low and simmer uncovered for 15 minutes, or until the sauce has slightly thickened.
Remove from heat. Taste and adjust seasonings.
Can be refrigerated in an airtight glass jar or container up to 2 weeks.
7.8.1.2
52
https://thepuretaste.com/bbq-sauce-recipe/